- A daily broadsheet published a photo of Senator Leila De Lima clad in a bikini
- Some find the choice of photo as unprofessional since it has nothing to do with the headline, while others attacked the senator
- Duterte claimed that Senator De Lima has an alleged affair with her driver and lived off drug money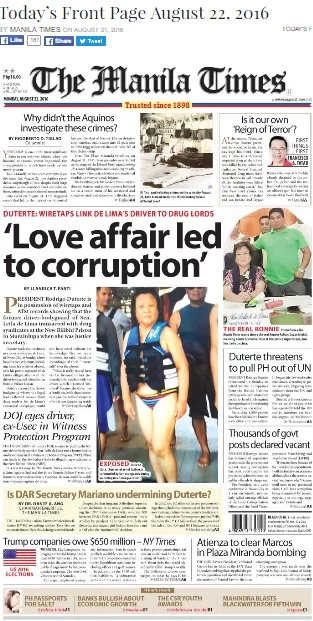 A daily broadsheet published a photo of Senator Leila De Lima wearing a bikini on its front page.
The photo of the Manila Times' front page for today, Aug. 22, is going viral online for its inappropriate and disrespectful photo of the senator.  The photo showed Senator De Lima wearing a life jacket and a rainbow-colored bikini.
The captioned reads, "EXPOSED Leila de Lima, then secretary of Justice, is surrounded by her bodyguards during an outing in a Batangas resort."
The photo is for its banner story "Love affair led to corruption" that delves into De Lima's connections and transactions with drug syndicates inside the New Bilibid Prison during her time as Justice secretary.
READ ALSO: Duterte to De Lima: She's lying
Some netizens frowned on the choice of photo of Manilla Times, with one saying,
"What's wrong here is that said picture has nothing to do with the drug allegations against her, and is being used to push the narrative that she is a promiscuous whore.
Most people here could hardly give a shit about what people wear. Its [sic] just that headlines like these are unbecoming for a supposedly professional news source.
The irony is, some people will be saying that it is accurate and not unprofessional or sensationalist because it fits their agenda. Yesterday, the media was bias for reporting on certain things, but today they are totally ok because of this headline."
READ ALSO: FIND OUT what De Lima has to say about her driver and their alleged SEX VIDEO
Meanwhile, others said that nothing is wrong with the picture and continue to attack the senator.
One commenter posted a rude comment saying, "God. Where's NSFW tag when you need it?"
Recently, President Rodrigo Duterte made a personal attack to De Lima saying that she has an alleged affair with her driver, Ronnie Palisoc Dayan.  The president added that he has proof that De Lima has collected funds from drug lords in NBP. The senator denied the allegations and said that Duterte will lose face.
READ ALSO: De Lima on Duterte's allegations: There's a bit truth but, mostly exaggerations
Source: Kami.com.ph