Korean outfit for women: 50 best ideas 2020 (photos)
Since the global boom of K-dramas and K-Pop idol groups, Korean clothes have been rapidly taking over the fashion industry. Many female fans look up to their favorite South Korean idol or celebrity as their style inspiration. This 2020, get ready to add the trendiest outfit ideas to your wardrobe and rock that K-Pop attire. What is your favorite stylish Korean outfit for women?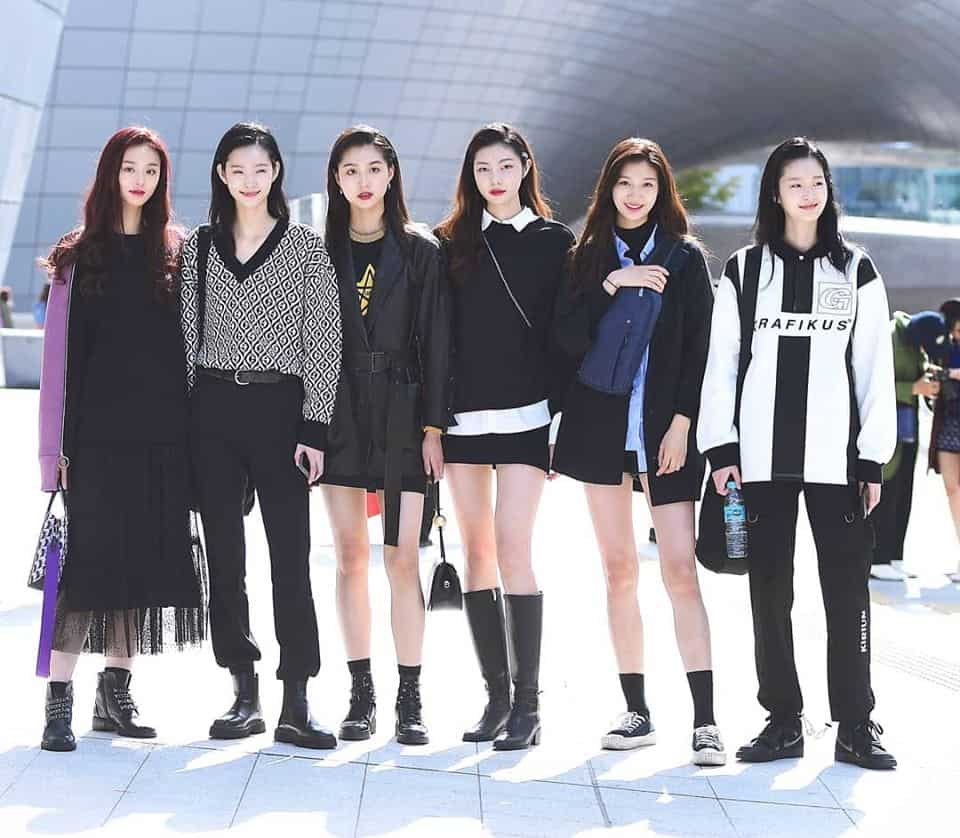 2020 is the time to get in touch with your inner K-Pop fashionista. From casual to semi-formal attire, here are the most popular Korean outfit ideas for women.
Korean fashion women
Listed below are the top 50 South Korean stylish wear that you should try:
1. Denim jackets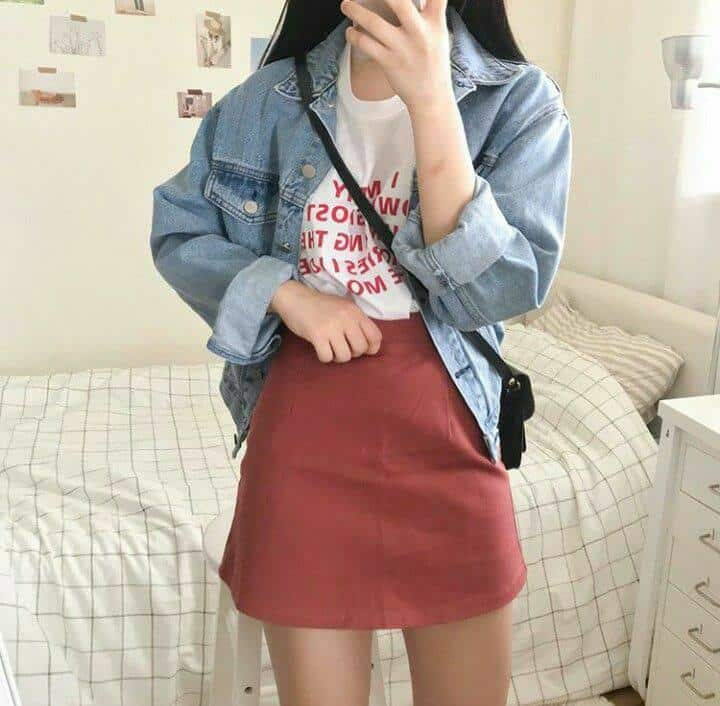 Denim jackets hardly ever go out of style. Throughout the years, fashion always had a place for this iconic jacket. In Korean fashion, the denim jacket is usually worn oversized and can suit casual outfits or street style.
Since it matches well with most outfits, it becomes a fashionista's go-to jacket for most occasions. Whether you pair it with a skirt, dress, joggers, or even jeans, it never fails to add that edgy charm to your look.
2. High-waist shorts and printed tops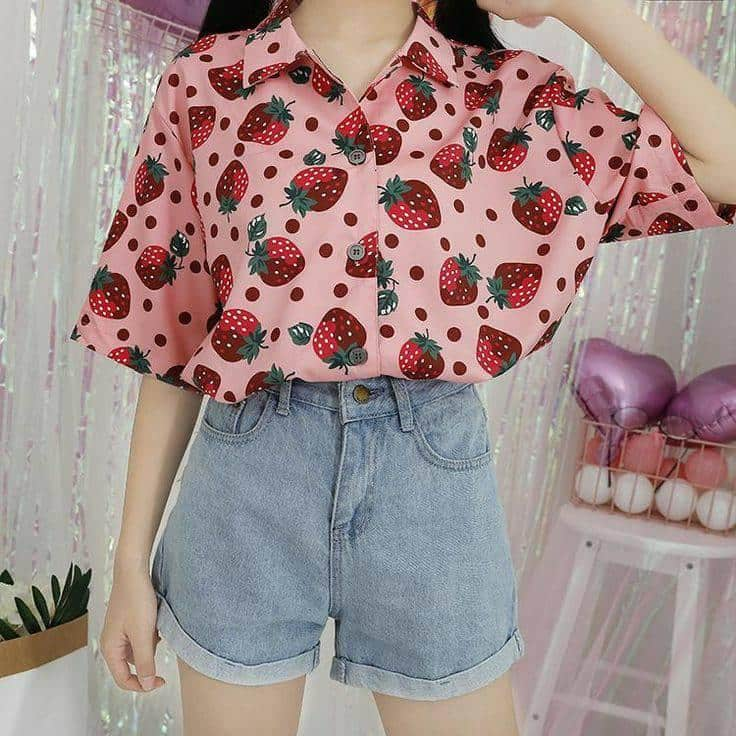 This outfit is one of the most popular choices of casual attire for women. High waisted shorts are at the top of the hottest trends right now as it magnifies a small waist and long legs. Wear it with printed polos, graphic tees, or anything with a pattern, and you are good to go.
3. Trench coats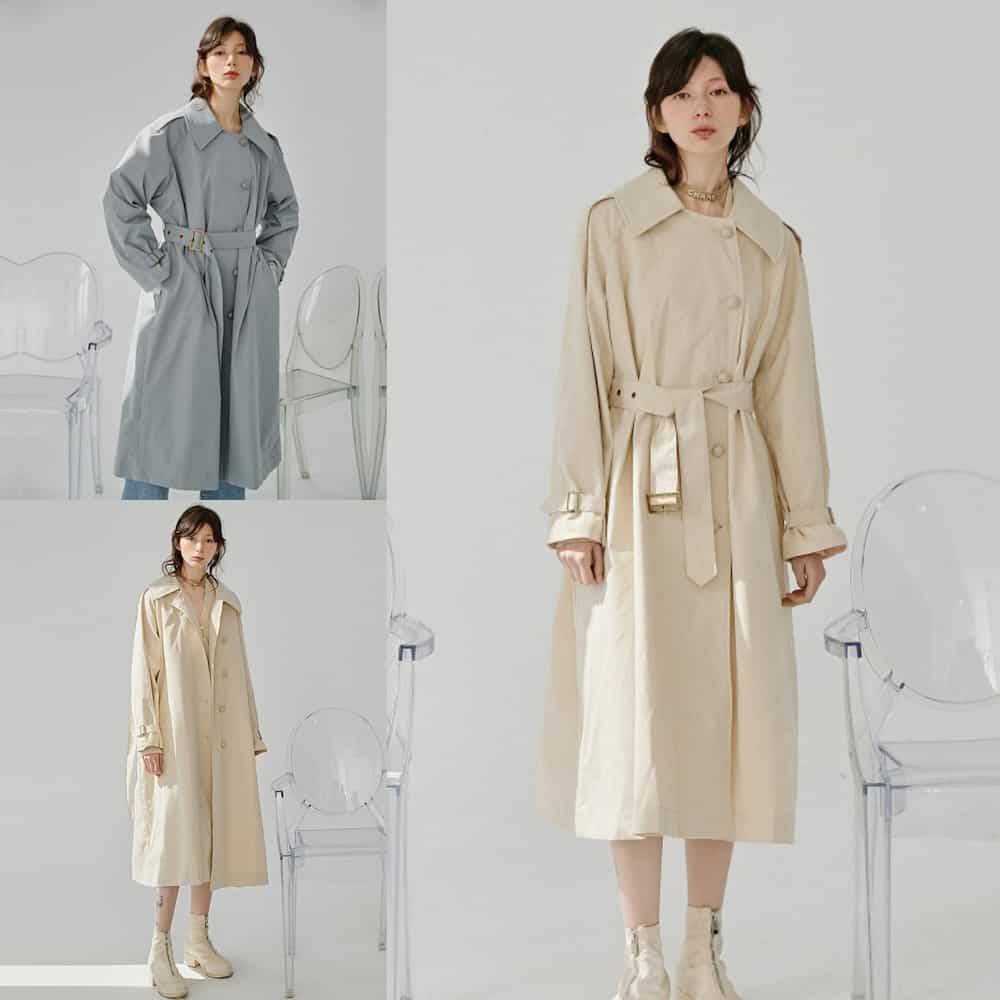 The trench coat is well-associated with Korean fashion because of K-pop idols and celebrities. Although it may come off a simple, it is a fashion must-have in adding an air of elegance and class to a simple outfit.
Additionally, it is a flexible clothing item you can wear with dresses, jeans, skirts, and more.
4. Long floral dresses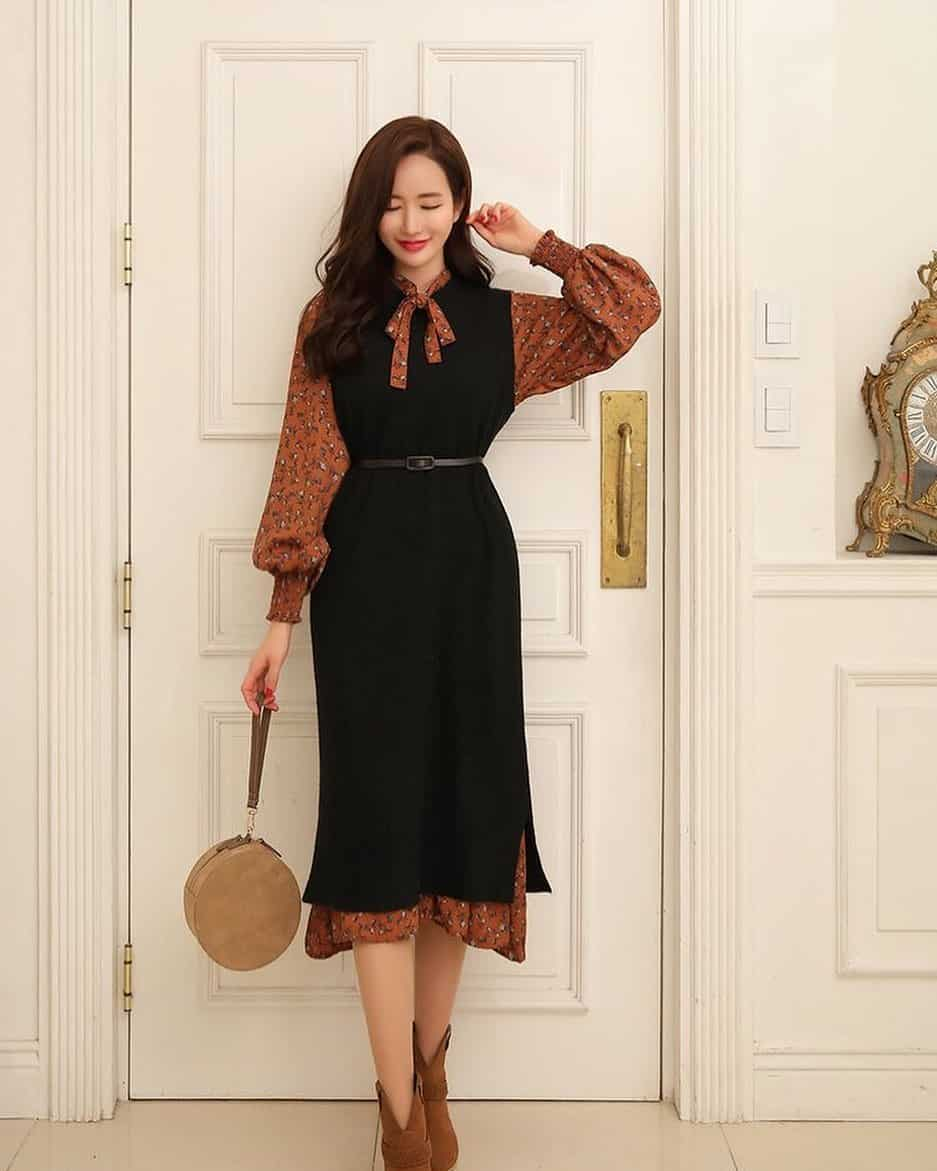 When it comes to choosing a Korean dress, floral dresses are all the rage this 2020. Choose a long and flowy flower printed dress for an eye-catching girly outfit. Finer dress details like ribbons, bell sleeves, and ruffles are a bonus for a genuinely Korean inspired outfit.
Confidently wear this dress with sandals, heels or boots, depending on the occasion. It is best worn with petite bags.
5. Long pleated skirts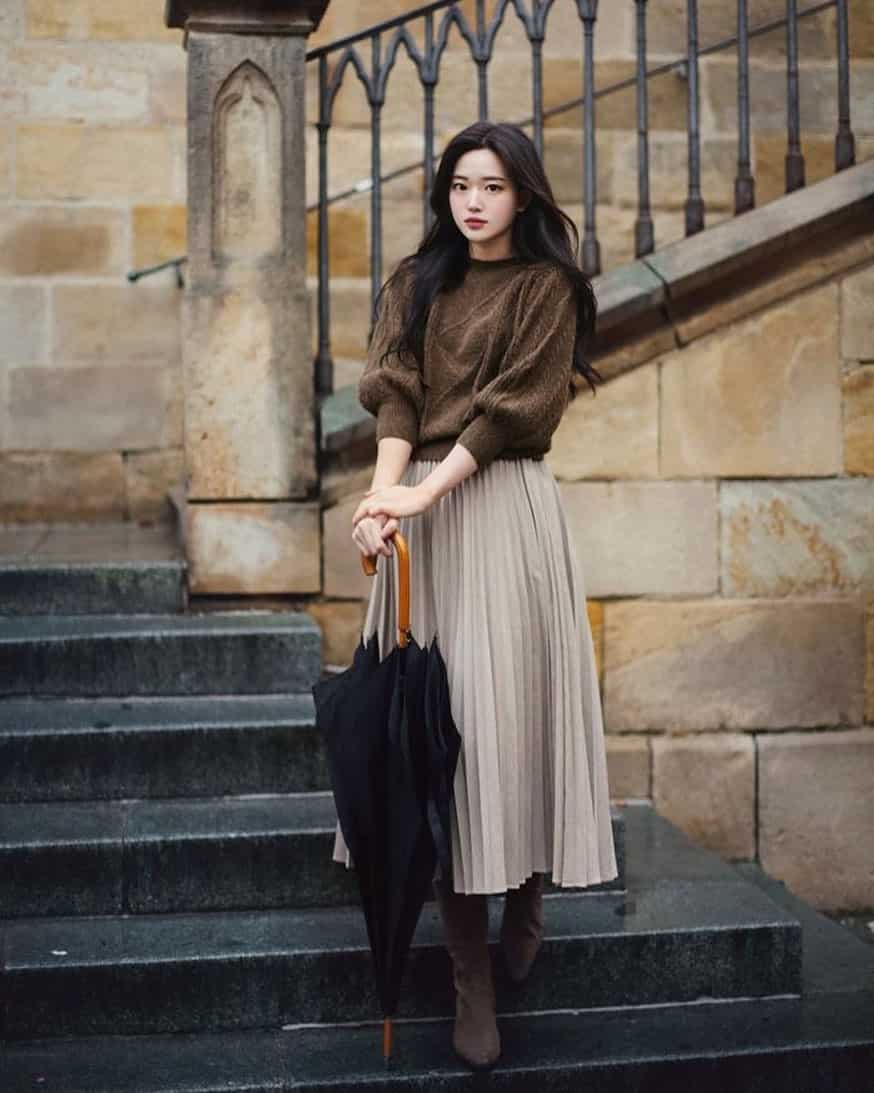 Do you want to add more skirts to your wardrobe? Grab yourself a long pleated skirt to wear with almost everything. It looks amazing layered over with a jacket or trench coat, or perhaps worn with a sweater or turtleneck.
The pleats add dimension and texture to your overall outfit plus a dramatic effect. It is a straightforward yet sophisticated style for ladies.
6. Straight cut white pants and boots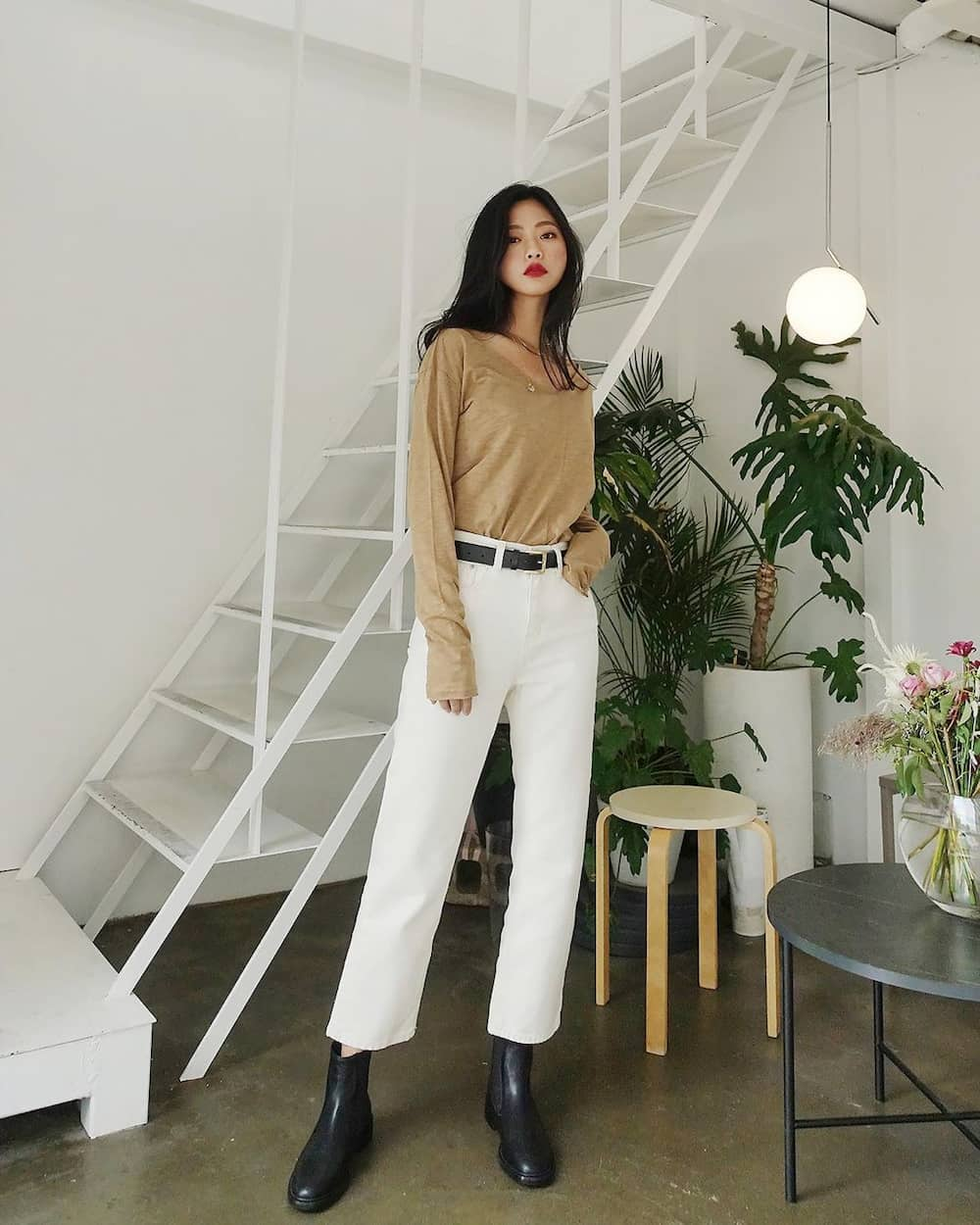 Never underestimate the fashion power of white pants. In Korean wear and K-Pop attire, high-waist, straight-cut white pants bring luster to an outfit. It goes without saying that white matches with almost everything and brings balance to the overall look.
At the same time, it accentuates the make-up and other colors worn. For an edgy and powerful touch, wear it with boots and a belt of matching color.
7. Plaid oversized polos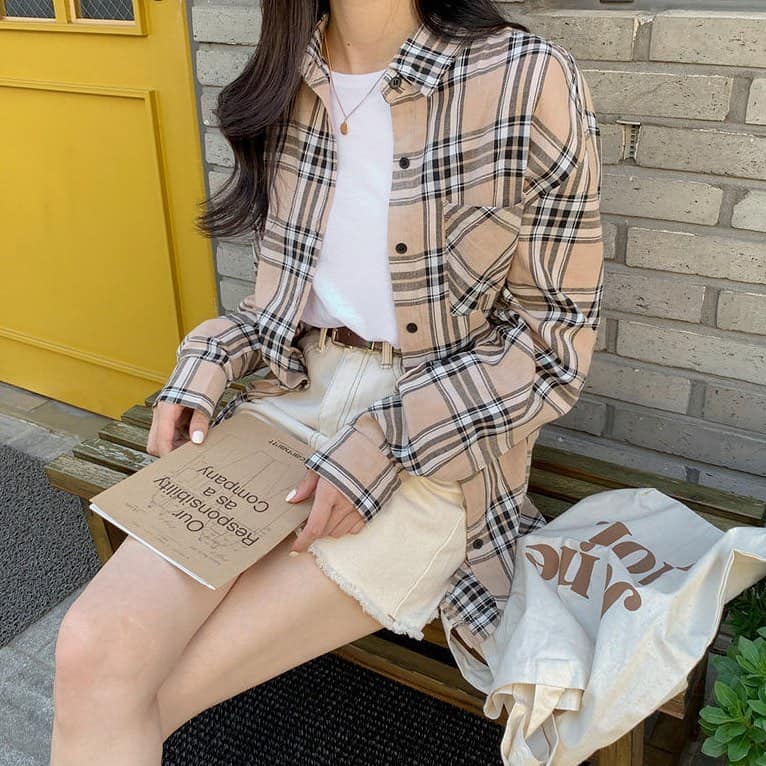 A favorite Korean casual look is the oversized plaid polo. Its pattern and fit can turn any simple outfit into a chic fashion choice, even when you are just out in the park or mall. It is usually worn unbuttoned and with plain shirts underneath.
8. Gingham dresses and tops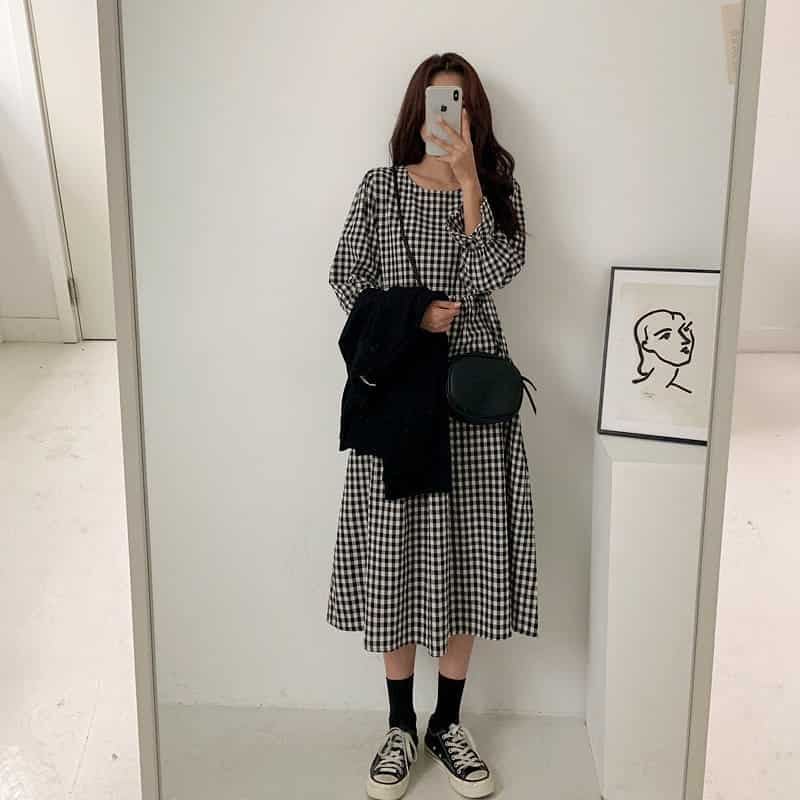 Aside from plaid, gingham outfits are all the craze this 2020. The checkered pattern is eye-catching, and it comes in bright colors as well. Pastel gingham dresses or blouses are very in-fashion as well as instagrammable.
9. Squareneck tops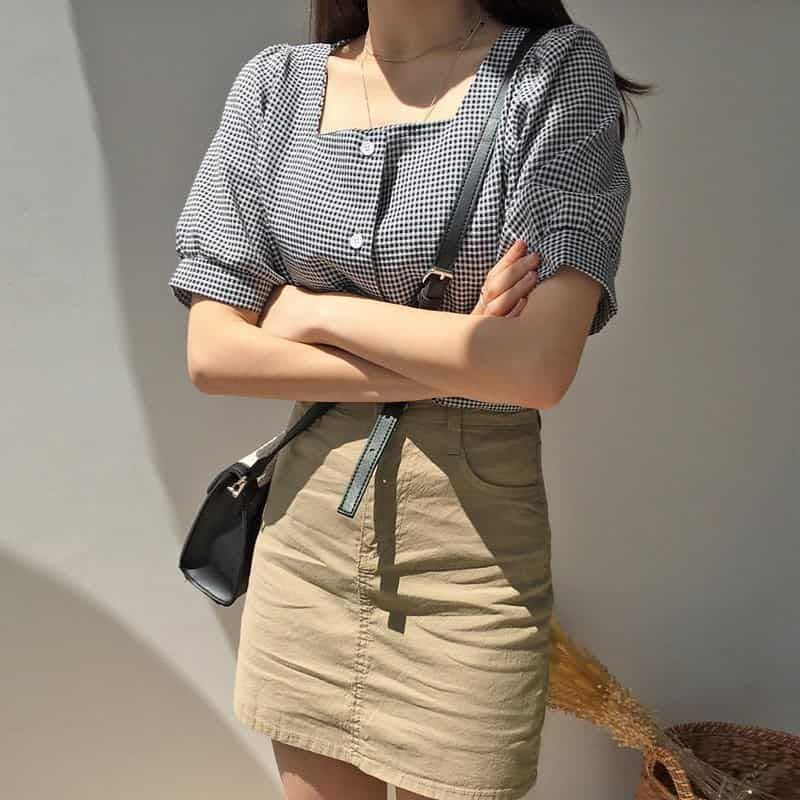 Squareneck blouses are stylish and in demand because of how they give focus on the collarbones and accentuate the shoulders. This chic top is enough for an attractive outfit, even without accessorizing as much.
10. Berets
This soft, flat-crowned hat is a vogue accessory that adds charm to your overall look. It works great as it complements your hair and does not hide your face. Berets come in various materials and designs perfect for that artsy girl vibe.
11. Crop tops
Say hello to your go-to summer pick, the crop top. Most female South Korean idols wear this as it shows off toned stomachs and gives the illusion of longer legs.
To suit different tastes, they come in many styles from basic to over-the-top. Get in with the trend of flaunting your midriff and grab yourself a crop top that suits your best.
12. Jeans and block heels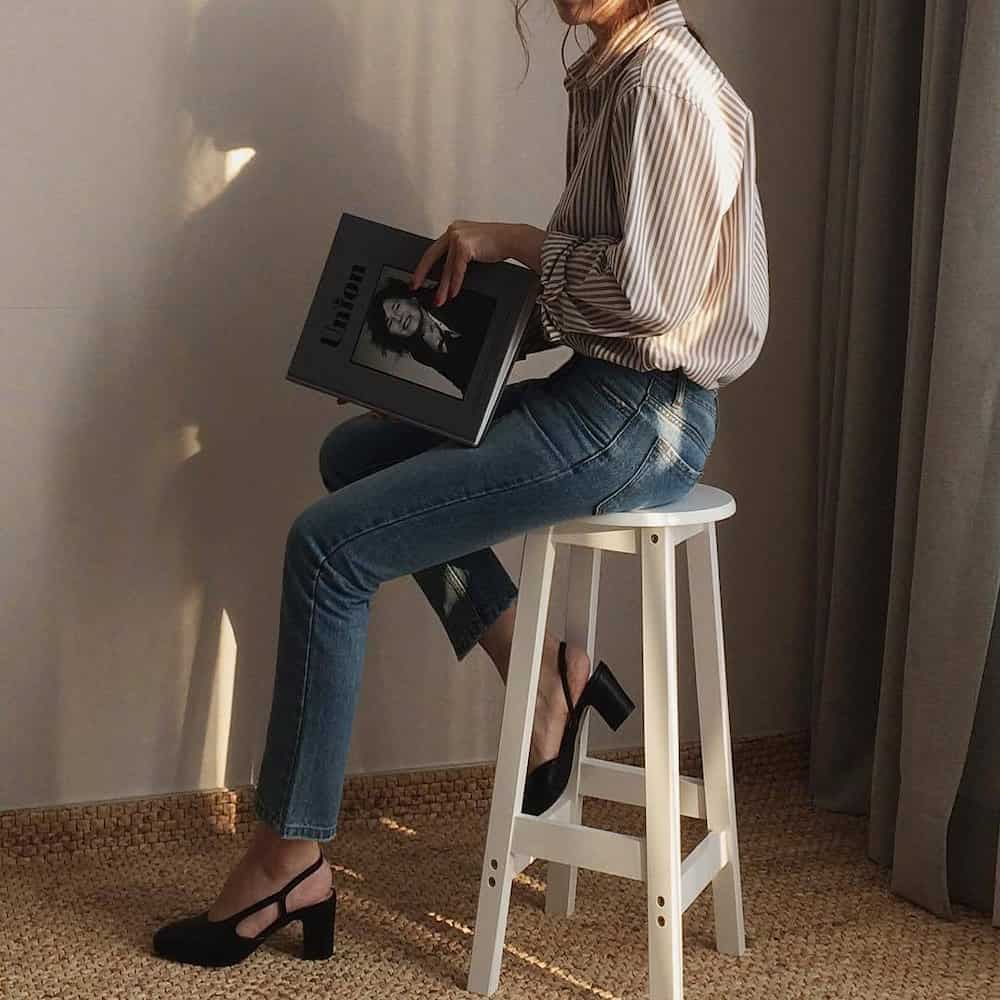 Who says heels only go with dresses? In the semi-formal attire for women category, wearing heels with form-fitting jeans is a power-dressing outfit. However, you can forego your stilettos and start wearing block heels, which are more comfortable.
READ ALSO: 50 photos of bohemian outfit ideas for men
13. Shirt dresses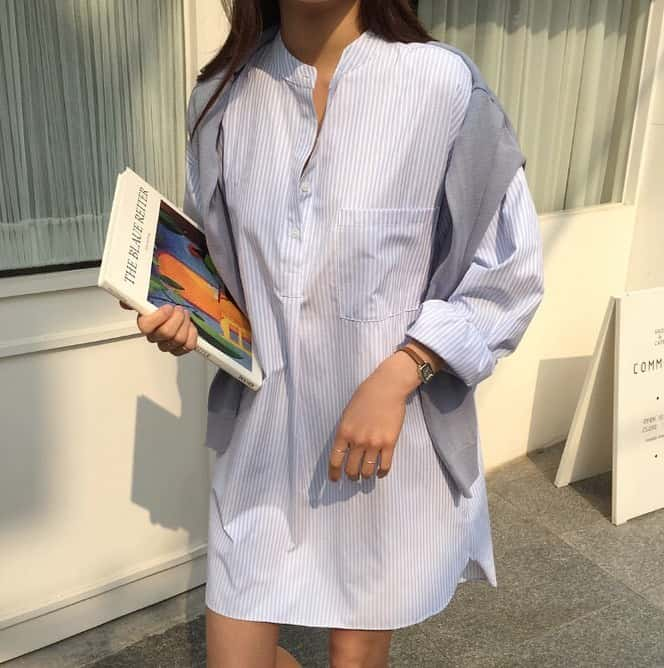 Shirt dresses are simple, comfy, and trendy. This style of Korean dress fits petite ladies the most and it is optional to wear with or without a belt. An oversized polo or sweater allows you to look like a top fashionista effortlessly.
14. Ruffled long sleeve blouse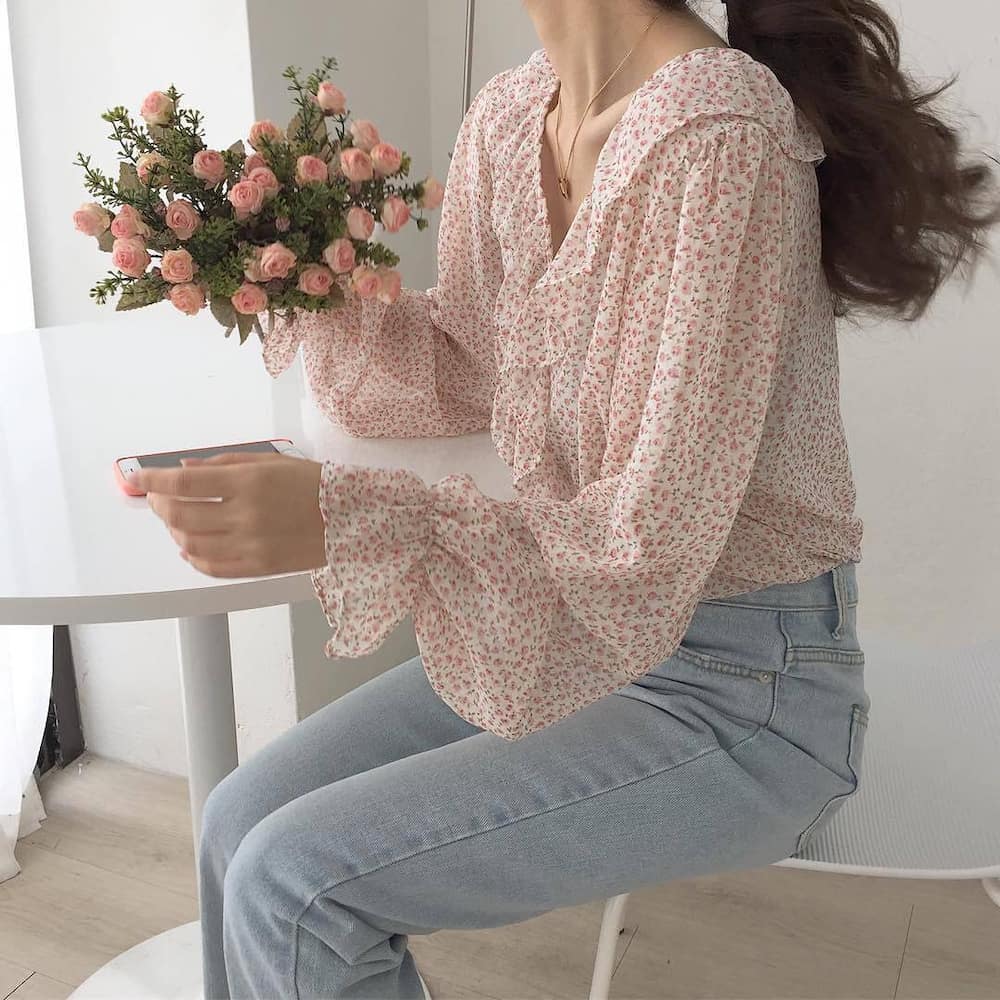 Loose clothing like ruffled long sleeve blouses makes women look slimmer while at the same time very high-fashion. The ruffled ends of the sleeve are a charming detail that is noticeable in recent Korean fashion that adds dimension and depth to the outfit.
15. Mini skirts and loafers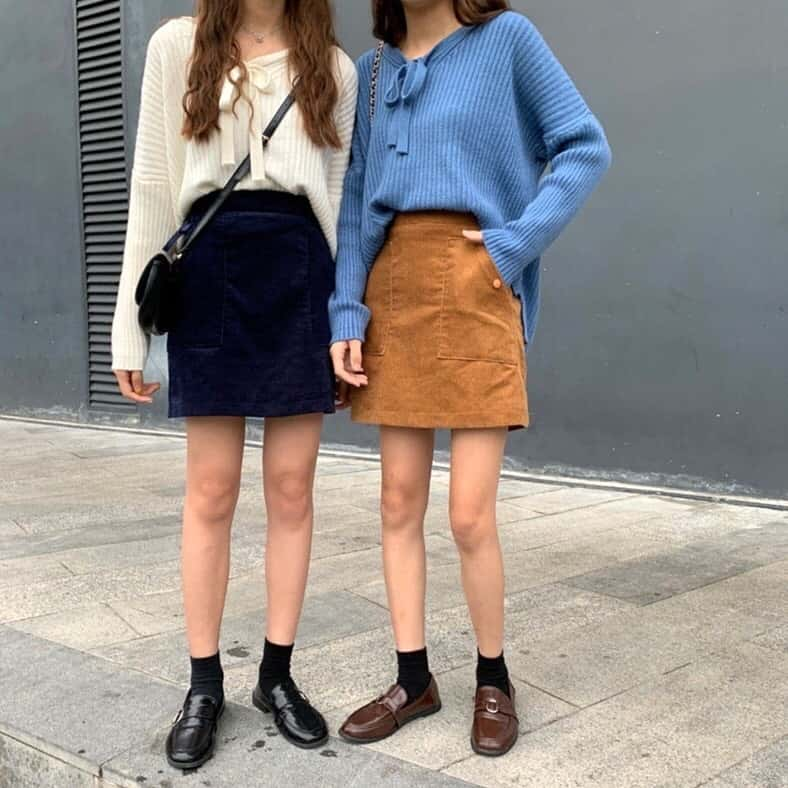 The shorter the skirt, the longer the legs look. Hence, why mini skirts are typical in K-Pop attire. Although most of the time,f they are paired with sandals or boots, wearing them with loafers and ankle socks gives you that preppy school girl look.
16. Oversized sweaters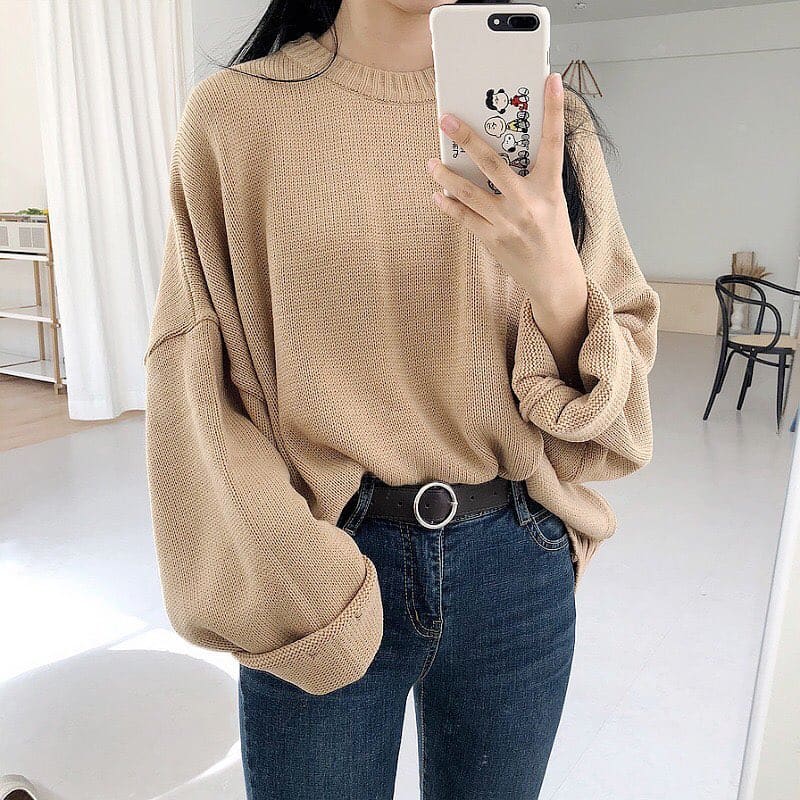 The attractiveness of baggy clothes lies in its slimming effect. At the same time, it is comfortable, simple, and very street style. Usually, oversized sweaters are worn tucked in to accentuate the waste but hide the stomach.
17. Ruffled tops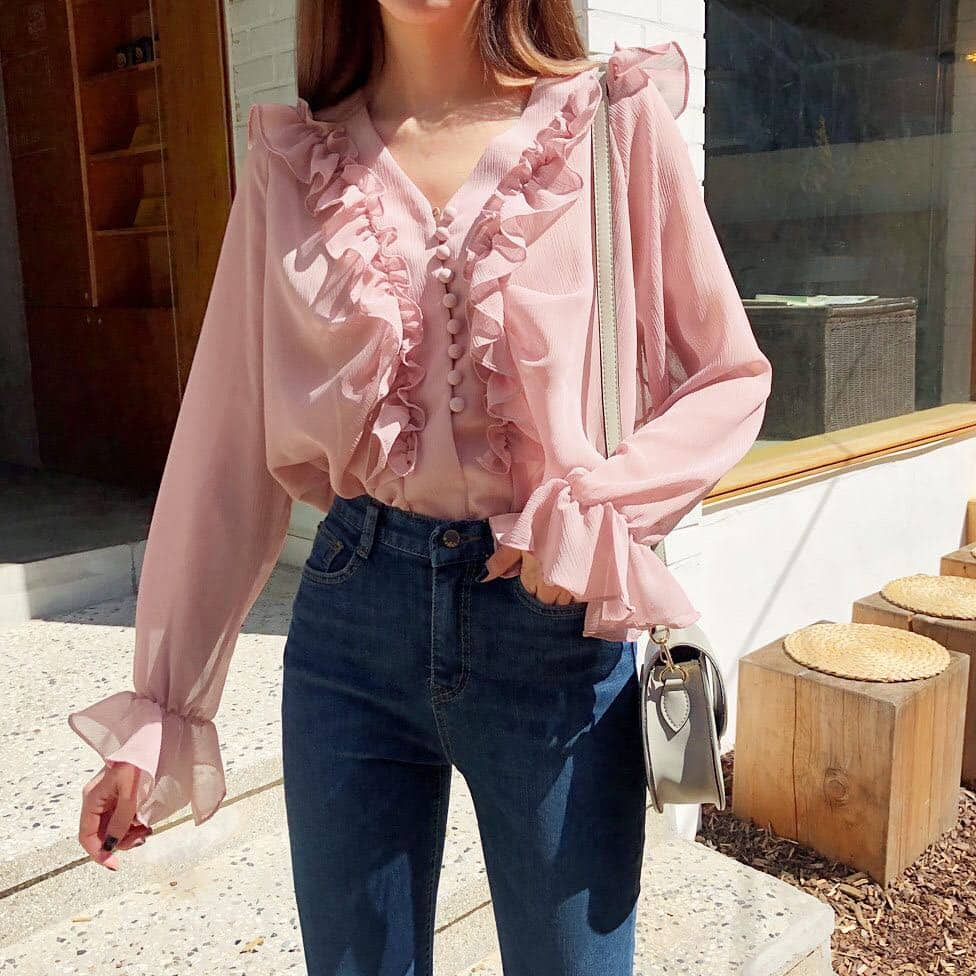 Many female idols wear ruffled tops in various styles. It is a girly style that looks high-fashion because of the clothing details.
18. Ribbed crew neck tops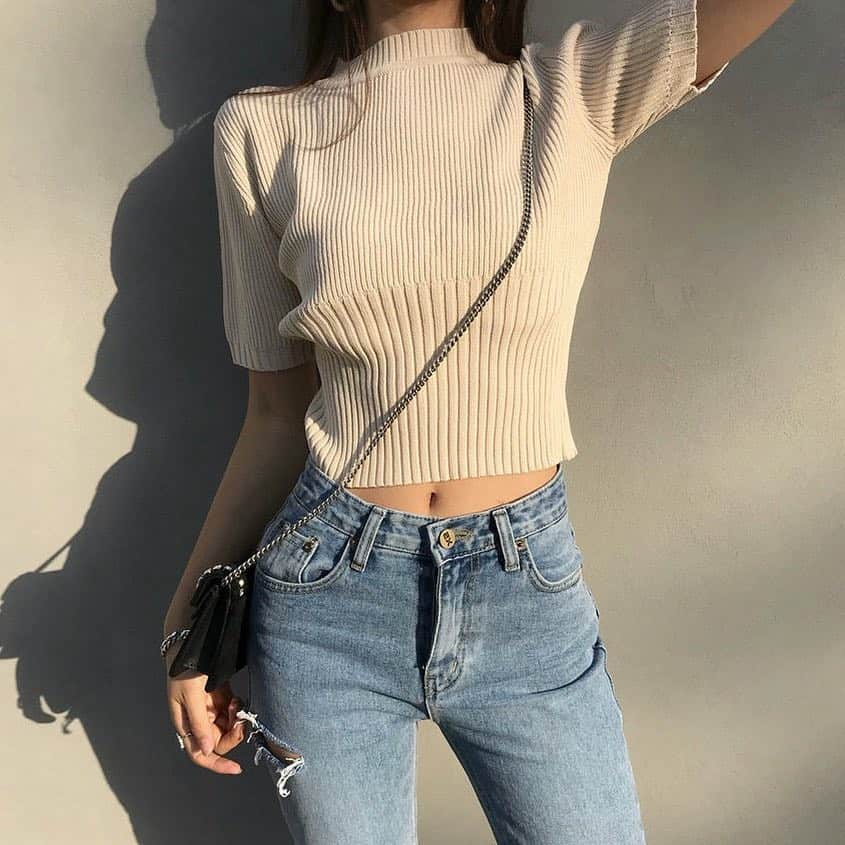 For texture and dimension, ribbed crew neck tops are a top fashion pic when it comes to Korean clothes. Not only is it very basic, but it is also easy to mix and match with several styles. Ribbed tops are usually form-fitting and give focus to curves.
19. Off-shoulder blouses and chokers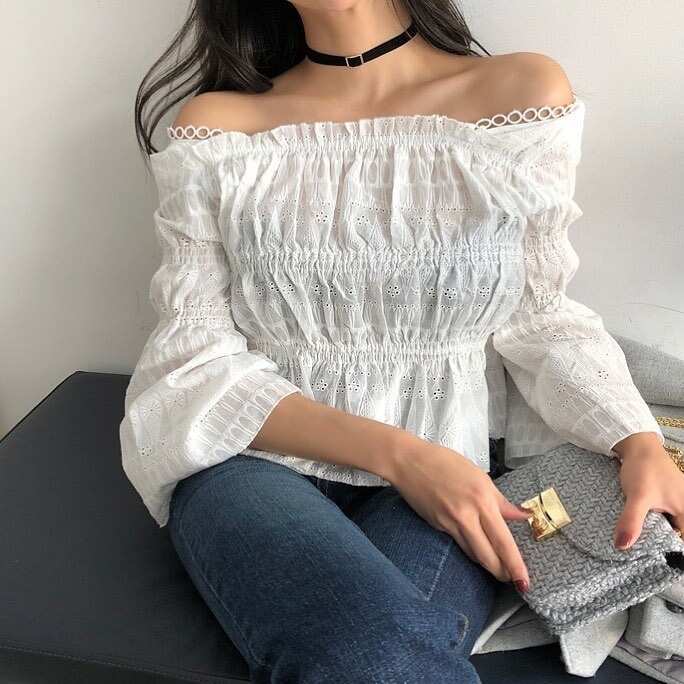 If you want to show off your collarbones and shoulders, get some off-shoulder shirts for your wardrobe. Accessorize the exposed skin with a neck-hugging choker necklace for a put-together look.
20. Bell sleeve blouses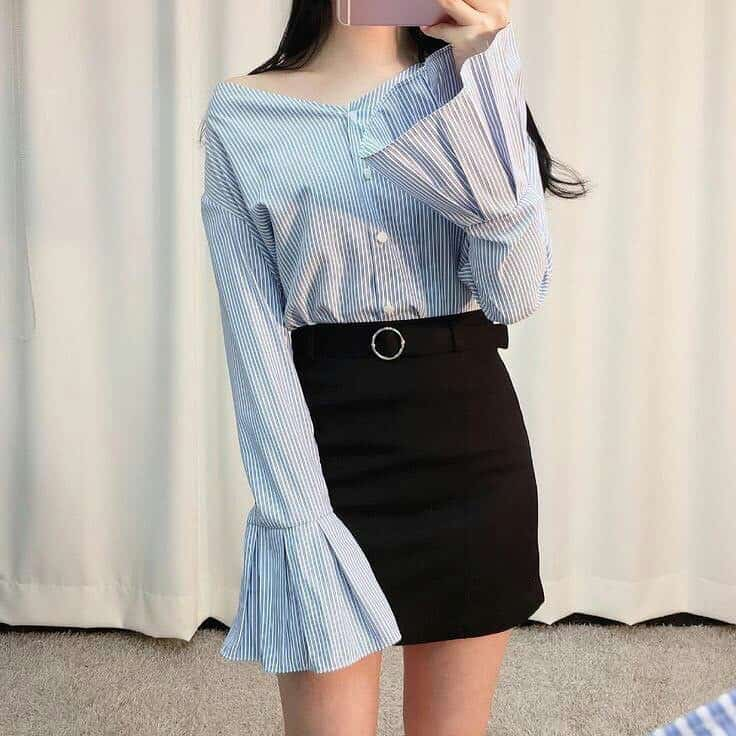 Want to dress girlier this 2020? Bell sleeve tops are a tasteful and stylish fashion choice either for your first date, going to a cafe, or even as office wear. The loose and lightly ruffled ends look great and add a unique twist to your usual blouse. They come in elbow-length and long sleeve designs.
21. Leather jacket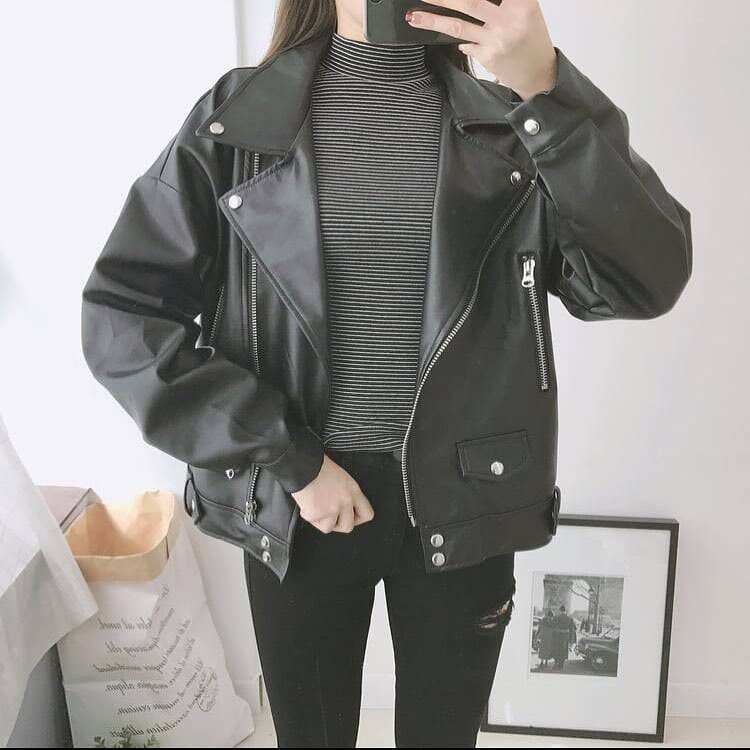 The ultracool leather jacket is a fashion favorite that is known to add edginess to your outfit of choice. Biker chick or not, have this in your closet for when you want to look extra cool.
Leather jackets may come off as intimidating to mix and match, but you would be surprised how great it looks paired with a long pleated skirt.
22. Korean outfit for women skirt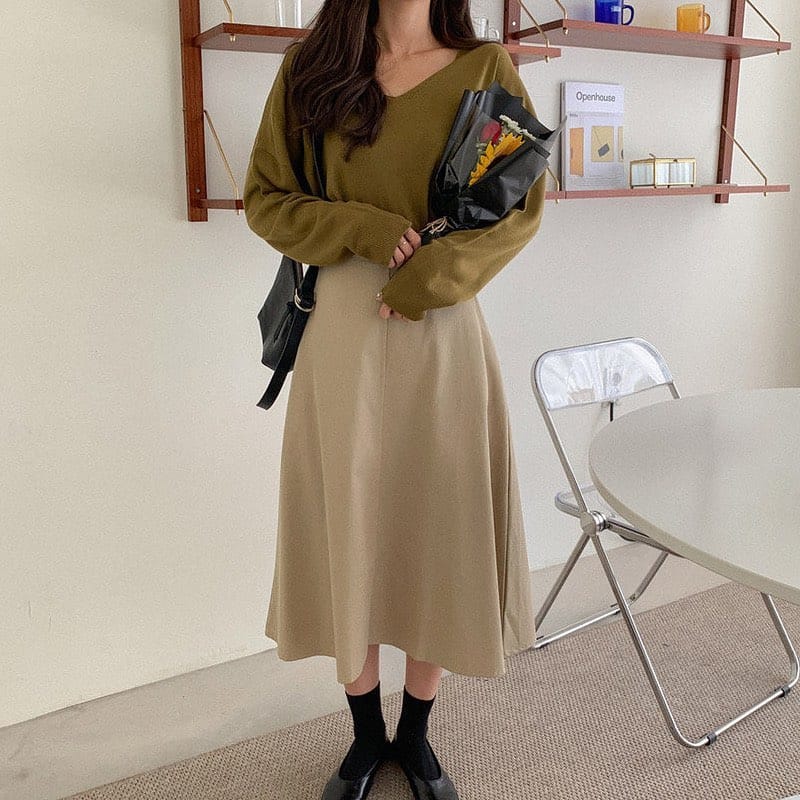 Not a fan of mini skirts? You can rock long skirts instead. As long as they look flattering on you, you can go as long as you want. However, if you are doubtful, a safe skirt length would be knee-level or a little below it. Fashionable footwear for long skirts is ankle length footwear like sneakers or boots.
23. Graphic tees and high waist jeans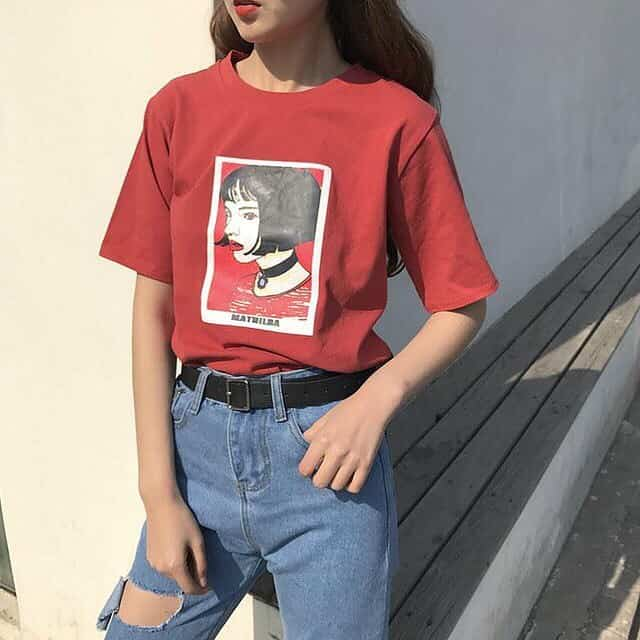 Graphic tees are an Instagram-favorite style, and what better bottom to pair it with but high-waist jeans? They go great with mom jeans and tattered pants; it all depends on your taste.
24. Thigh-high socks
A staple preppy look accessory is thigh-high socks. They are great as an offset to short skirts and dresses and put the focus on thin legs.
25. Pleated plaid skirts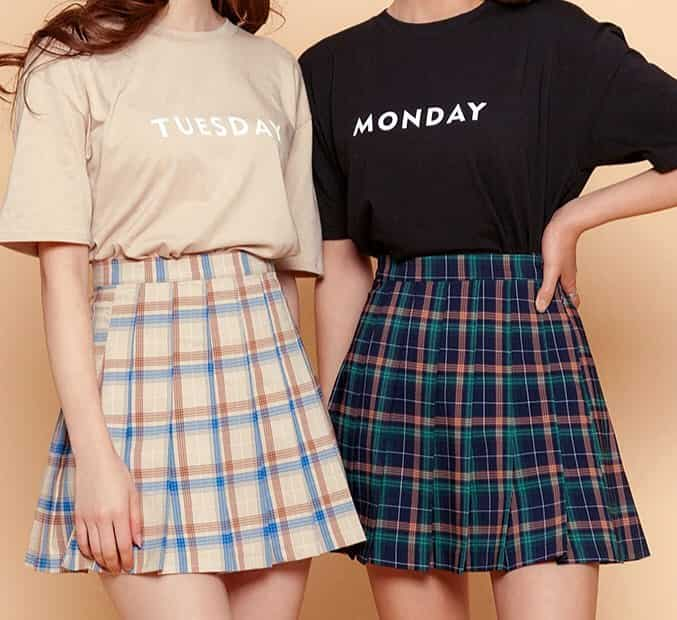 The appeal of pleated plaid skirts lies in its fresh and preppy vibe. The school girl look is popular in Southeast Asian countries, and South Korean idols have magnified its charm. The style fits a more casual look rather than formal, which is why it is best matches sneakers, rubber shoes, or boots rather than sandals or heels.
26. Overalls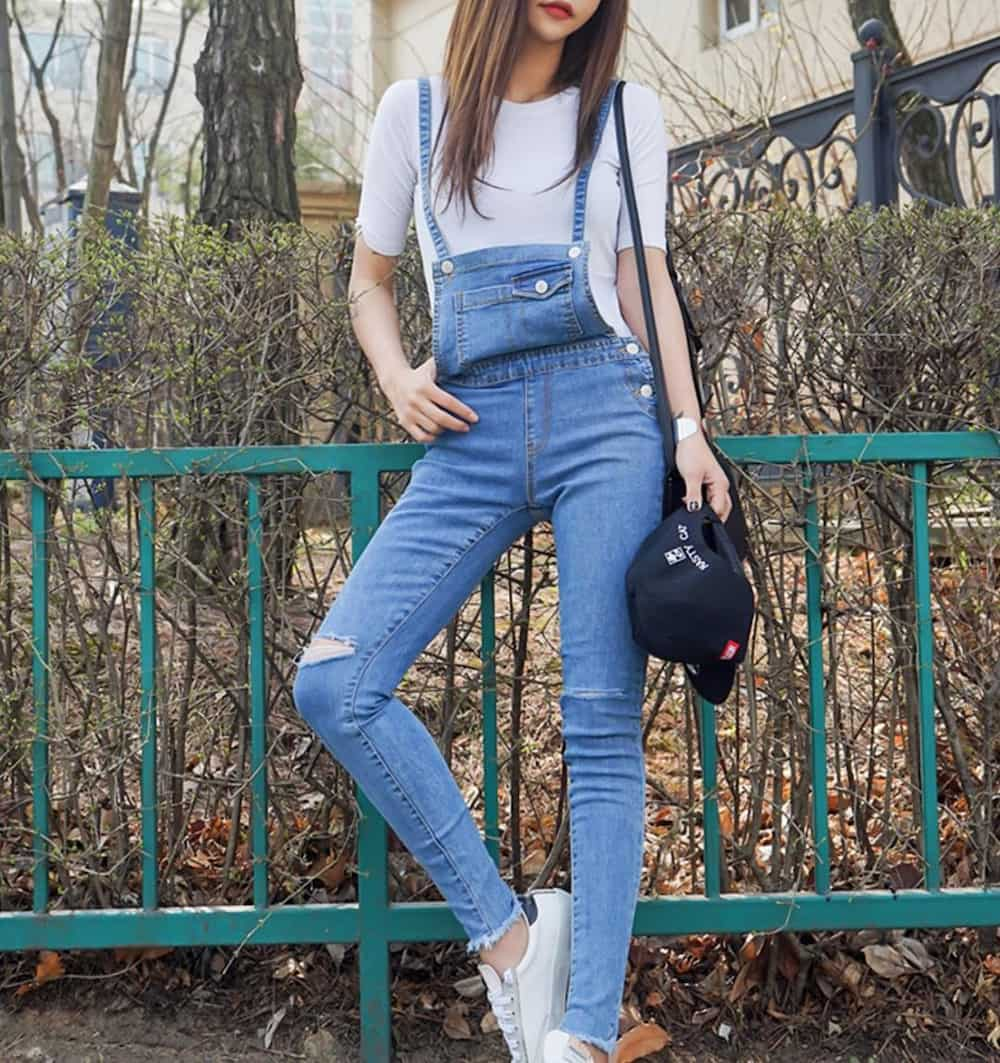 Korean fashion is bringing back the old-school overalls. This understated outfit is great for hanging out with friends or exploring the city. It is comfortable yet, it is not dull to look at. Bring back nostalgia while at the same time being stylish.
27. Oversized cardigans
Baggy clothes are a trend in Korea because of how it slims down the person. Oversized cardigans give your outfit a soft and adorable charm. This low-effort look is comfy and attractive at the same time.
28. Embroidered bomber jackets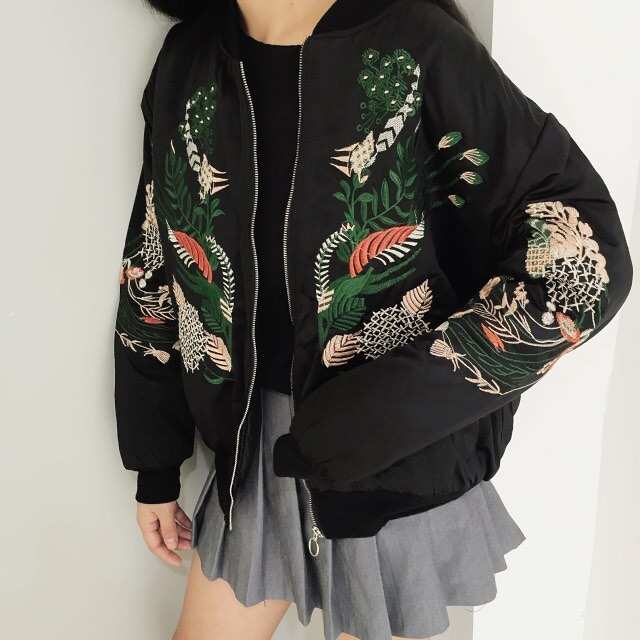 Similar to leather jackets, bomber jackets give you that cool-girl look especially embroidered ones. Designs and material vary, but their overall statement is the same; it screams edgy, cool, and aesthetic.
READ ALSO: Retro outfit for men: inspiring trendy ideas 2020 (photos)
29. Velvet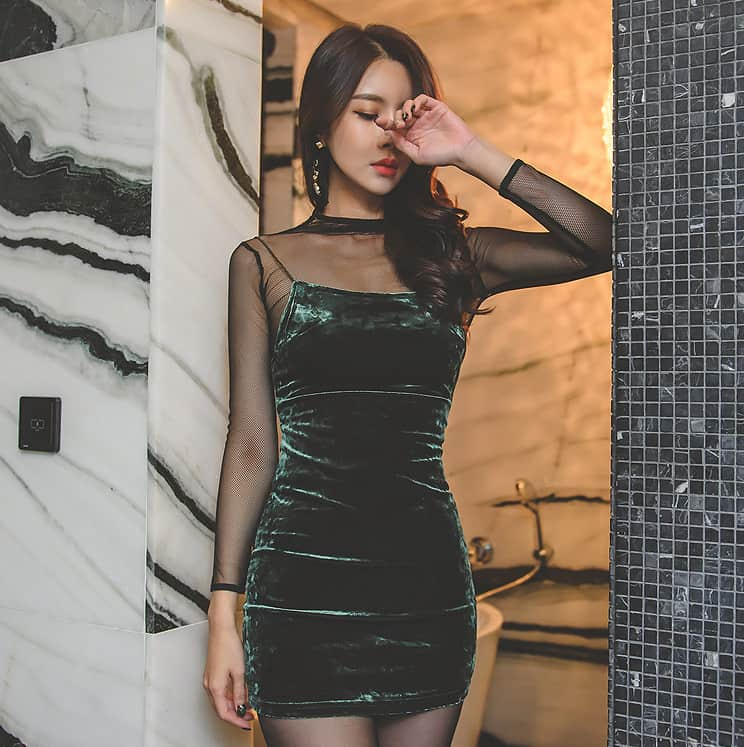 Many people love velvet outfits because the material gives off a unique effect. With every crease, light bounces of the material beautifully. Velvet dresses and tops are usually tight so that it can magnify the curves.
30. Bodycon dresses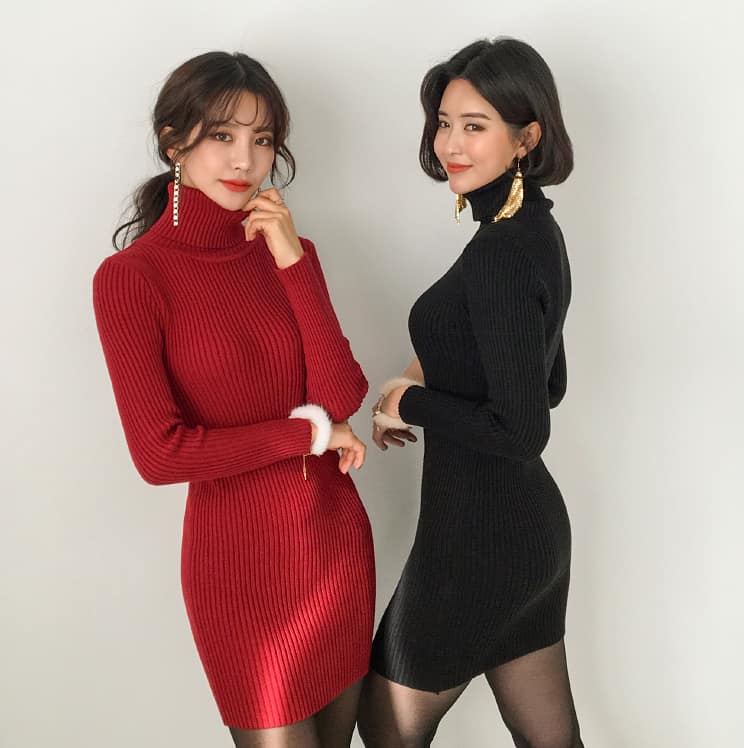 Do you want to show off your curves? Then bodycon dresses are on the top of your list. Form-hugging clothing is a sexy fashion statement ladies should wear with confidence.
31. Puff sleeves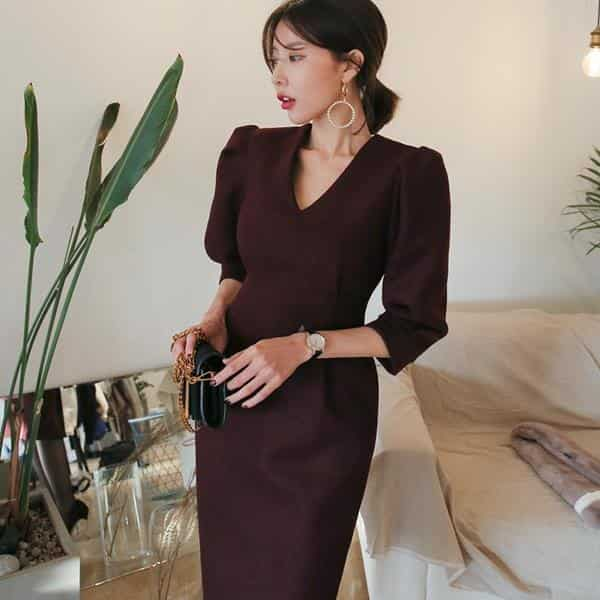 For semi-formal attire for women, puff sleeve blouses or dresses are the smart and sophisticated choice. Since they put the focus on making shoulders look broader, they have a similar effect as a shoulder pad. Wear it with slacks or a skirt, and you are good to go for your office meeting in style.
32. Wide-legged square pants
Be the girl boss that you are with wide-legged square pants. Although it can fit casual wear, these bottoms work great a comfortable yet stylish office attire. Bring out your block heels, and your power dressing outfit will have heads turning.
33. Turtlenecks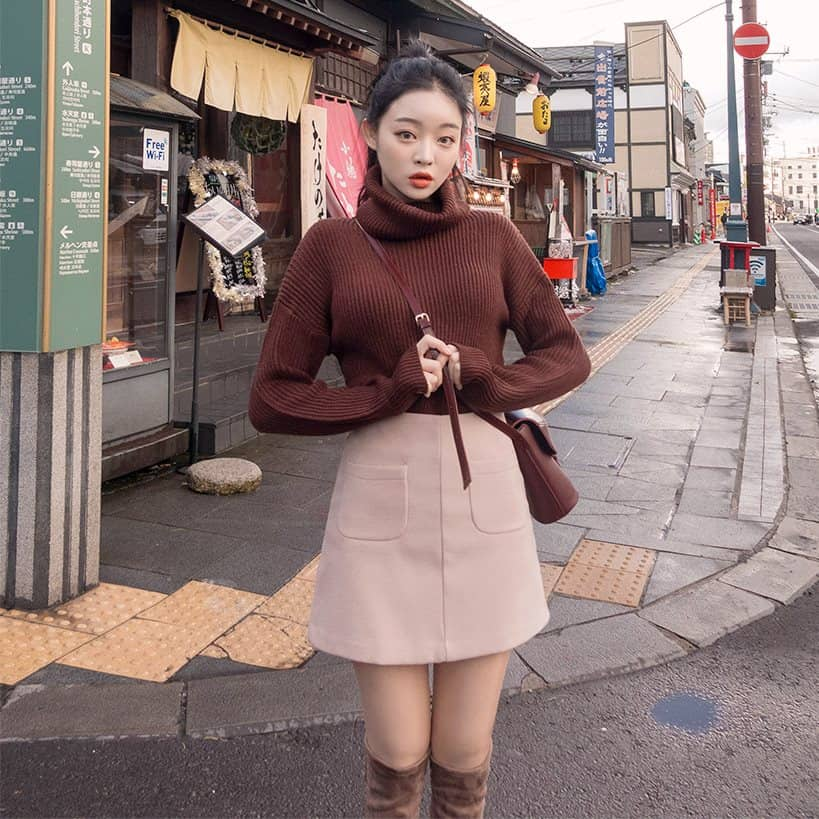 Turtlenecks, whether ribbed, velvet, or whatever design, is a 2020 fashion fad. It is a flexible article of clothing, which has numerous styles in many ways. Stop underestimating your turtleneck and get creative.
34. Shirt under dress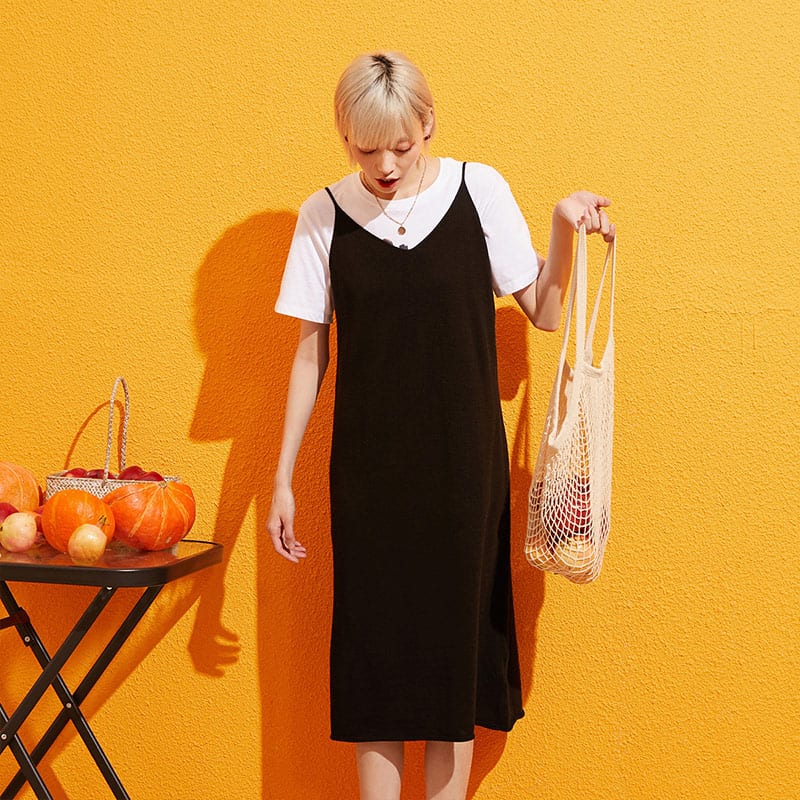 This layered clothing style is another old-school trend making a comeback in modern fashion. Layer your plain-coloured shirt under a thin strap dress and transform a drab top into a high-fashion creation. It does not have to be a dress, a top of similar style will work out too.
35. Flared pants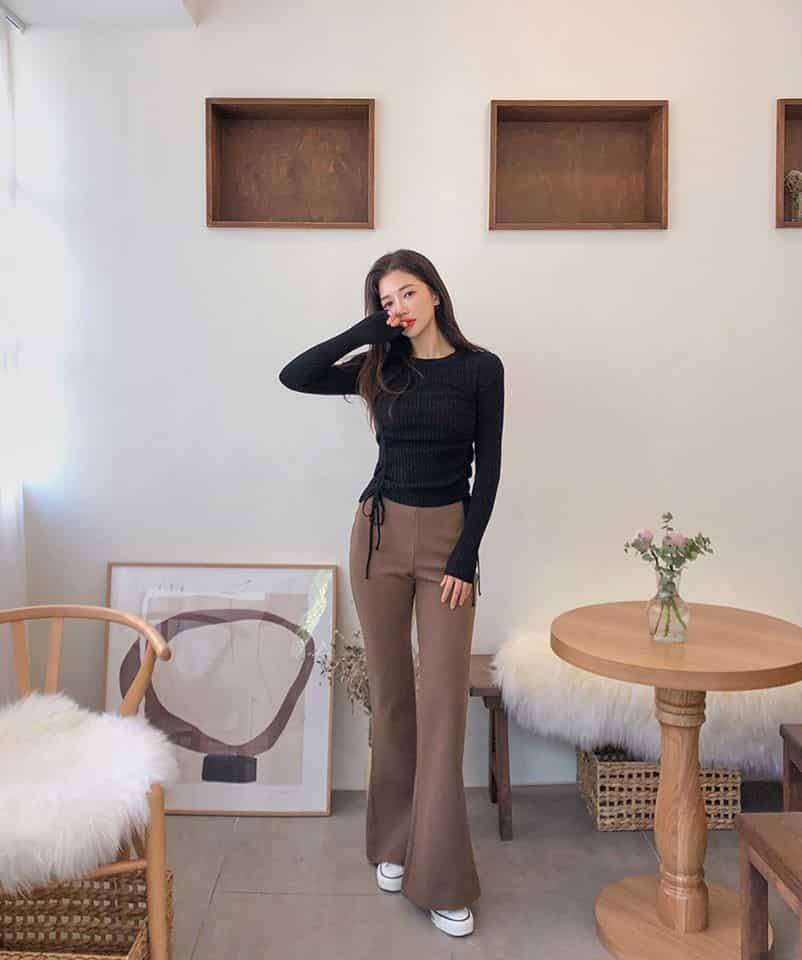 This 2020, Korean fashion is welcoming flared pants back into what is trendy. As the pants hug the hips and flare out at the ends, it shows the attractive curves of the female body. Wear it with platform sneakers or pointed heels, depending on what vibe you are going for.
36. Frilled hem midi skirts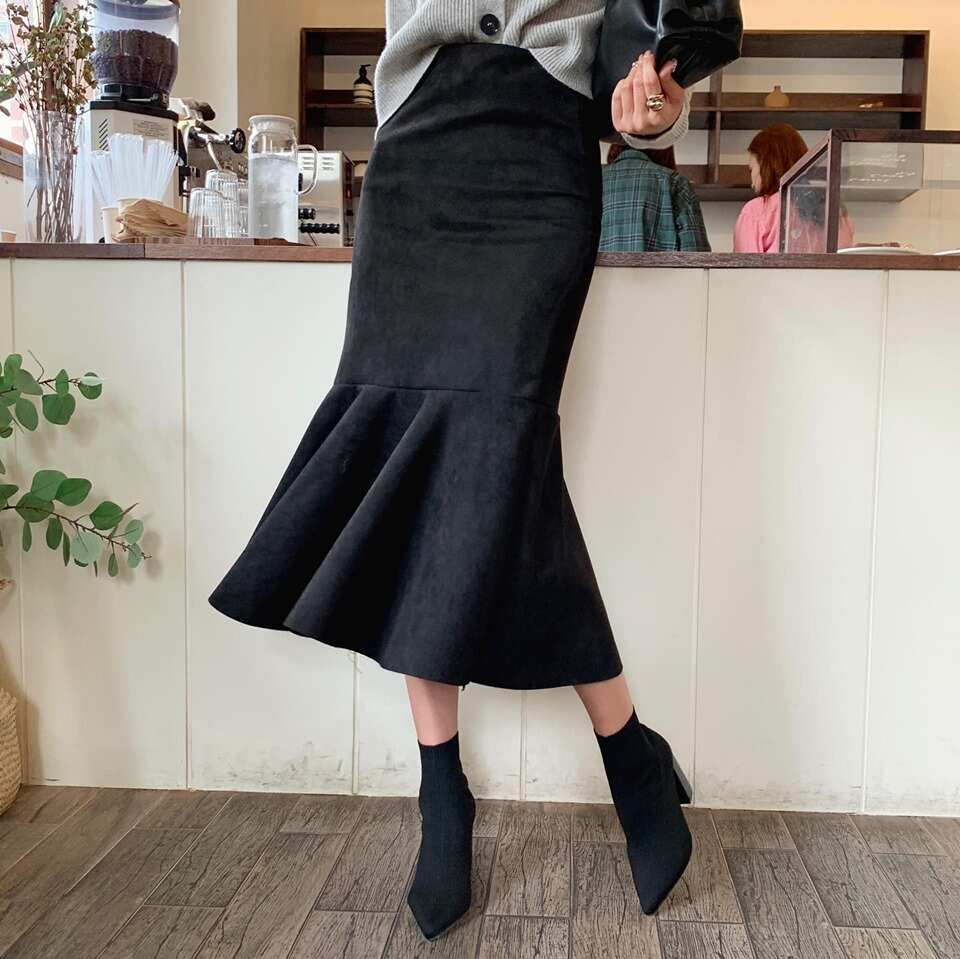 Skirts can be detailed too, like frilled hems, for example. This skirt design brings life to ordinary and drab tops and adds an air of class to your outfit. Wear to the office with pointed heels, or boots for that K-fashion touch.
37.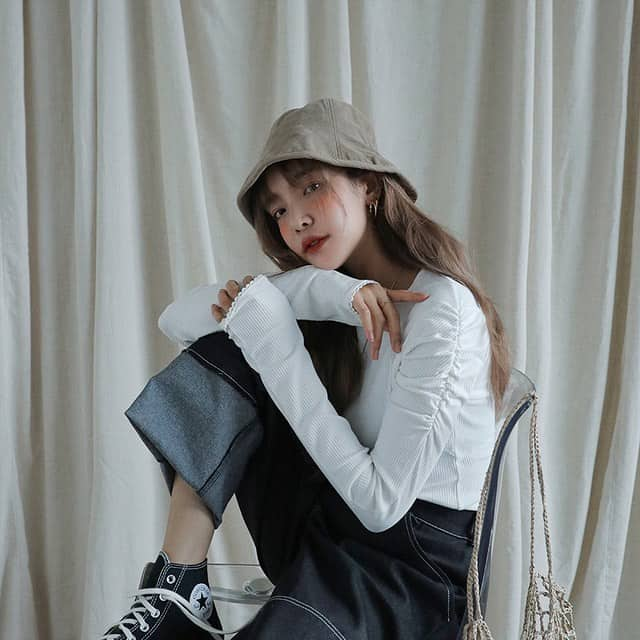 Bucket hats look great on both guys and gals. On girls, it adds that chic-cool vibe to your outfit of choice, no matter how simple it is. Many South Korean idols wear this while out in the city or when they travel.
38. Trousers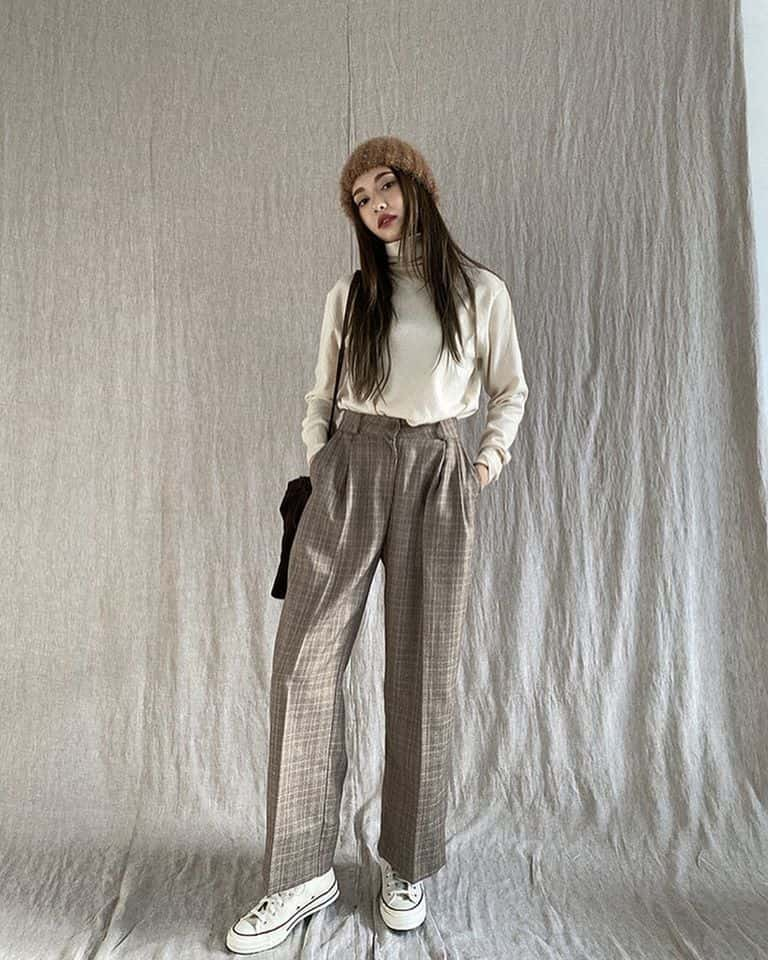 Skirts are not the only option for when you want to dress up. Trousers work great for both casual or formal attire; it all depends on how you style yourself. Either way, it is an article of clothing that can not go missing in your closet.
39. Loud colors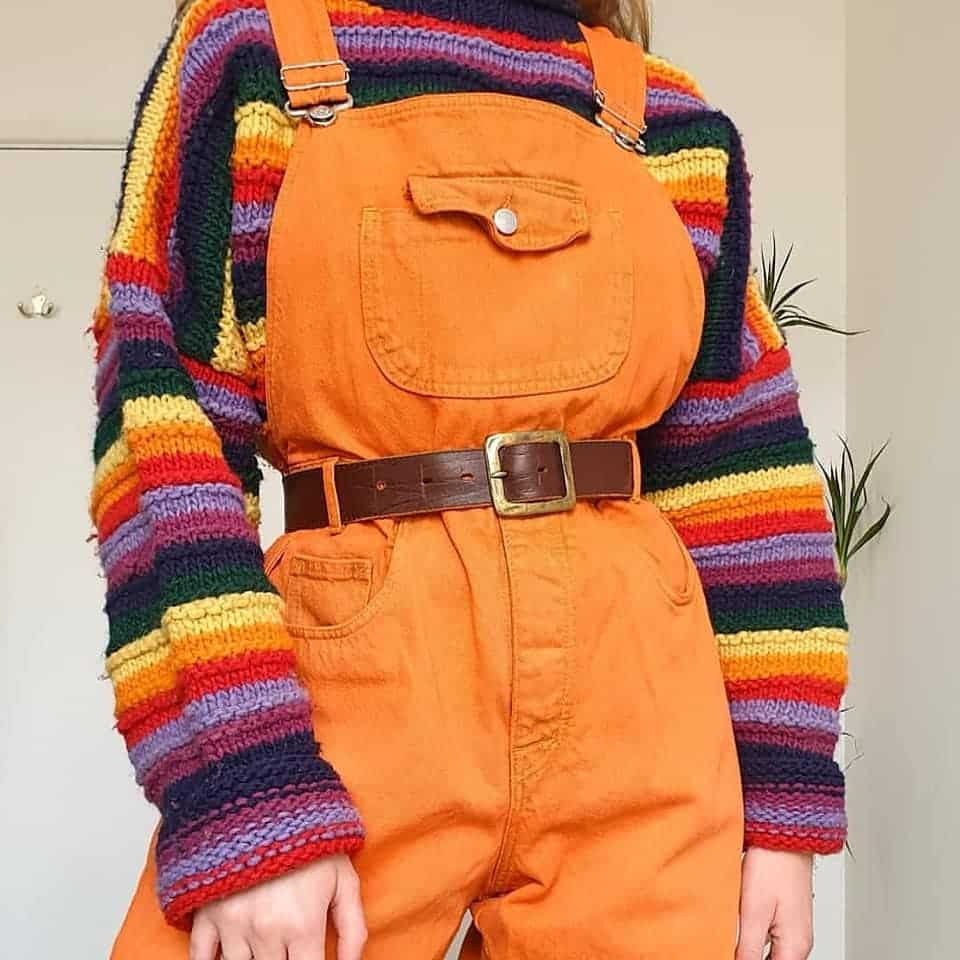 Aside from style and coordination, colors play a big part in the attractiveness of Korean fashion. Utilizing loud colors to make your outfits interesting, animated, and alive is key to becoming a queen of K-fashion. Do not be afraid to be bold with your color choices.
40. Cargo pants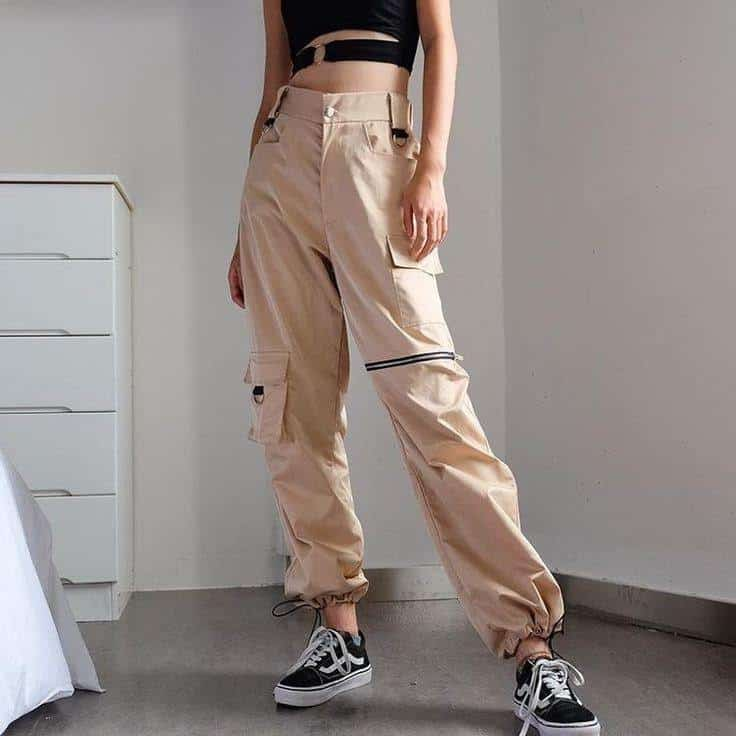 Lisa of Blackpink is one iconic style icon for rocking cargo pants. These loose-fitting bottoms with several pockets give you a carefree and cool vibe. Wear it with form-hugging tops or cropped shirts for that edgy street style.
41. Mesh skirts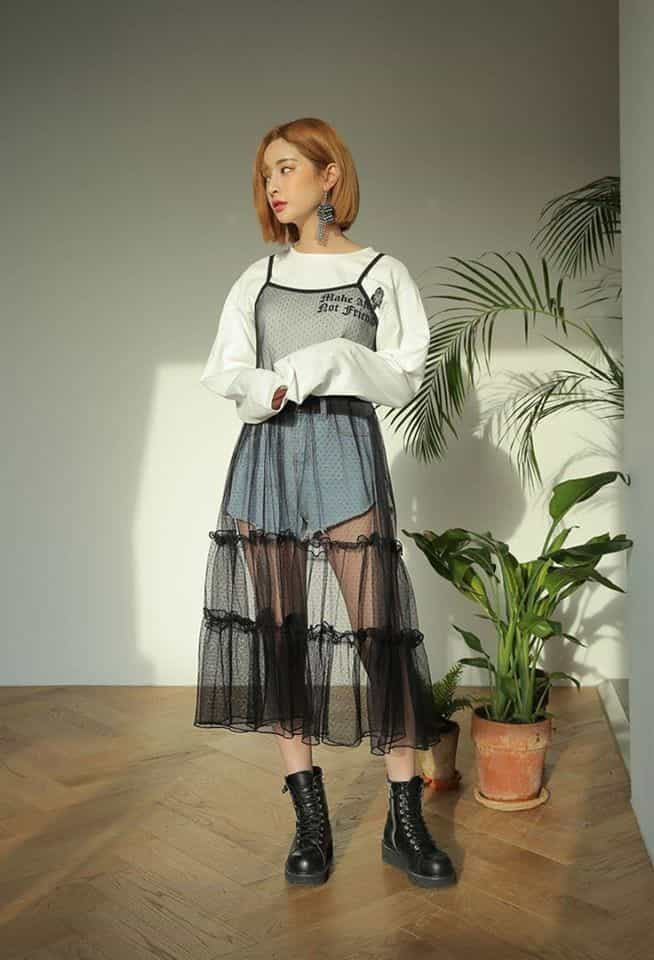 If you want to be really extra on your outfits, get yourself a mesh skirt. Since it is see-through, it works more of an accessory rather than an actual skirt. Layer it over your dress, shorts, or outfit for more texture and dimension. Depending on the mesh design, it can give off a girly or cool vibe.
READ ALSO: 30 unique retro outfit girls can wear to their next party
42. Sheer mesh dresses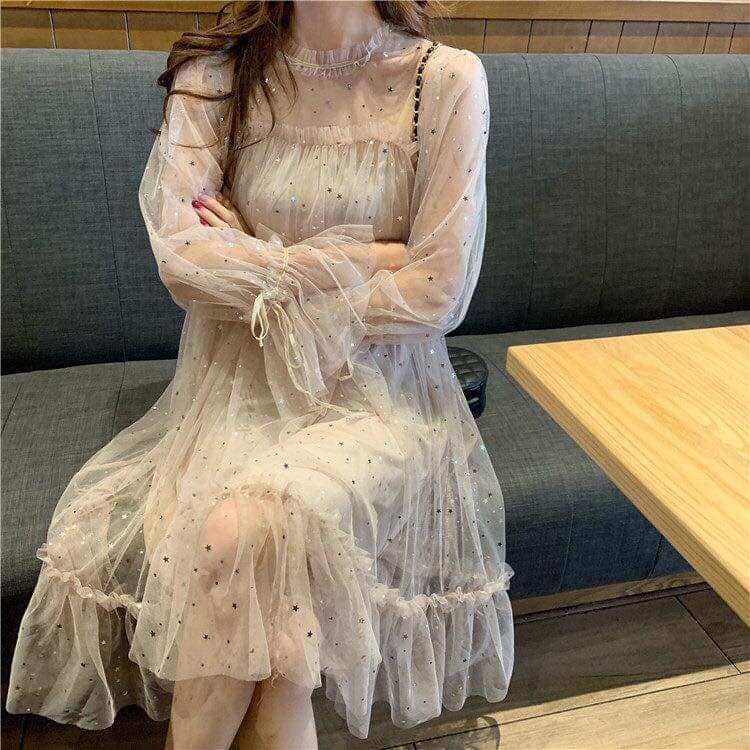 Sheer dresses are topped with mesh material, giving it an overall fluffy and soft aesthetic. It is very popular with girly individuals because of its soft and flowy material. Most designs also have ruffled details. The see-through mesh itself is sometimes printed, which adds even more style to the outfit.
43. Bulky shoes
Bulky or chunky shoes does not mean that they are too big for you. Instead, it describes footwear that looks big because of its design. Originally, these were popularized in the '90s but have now made its way back into 2020 Korean trends.
Although some may find them ugly, they match many outfits and its size becomes one of its many charms.
44. Laced boots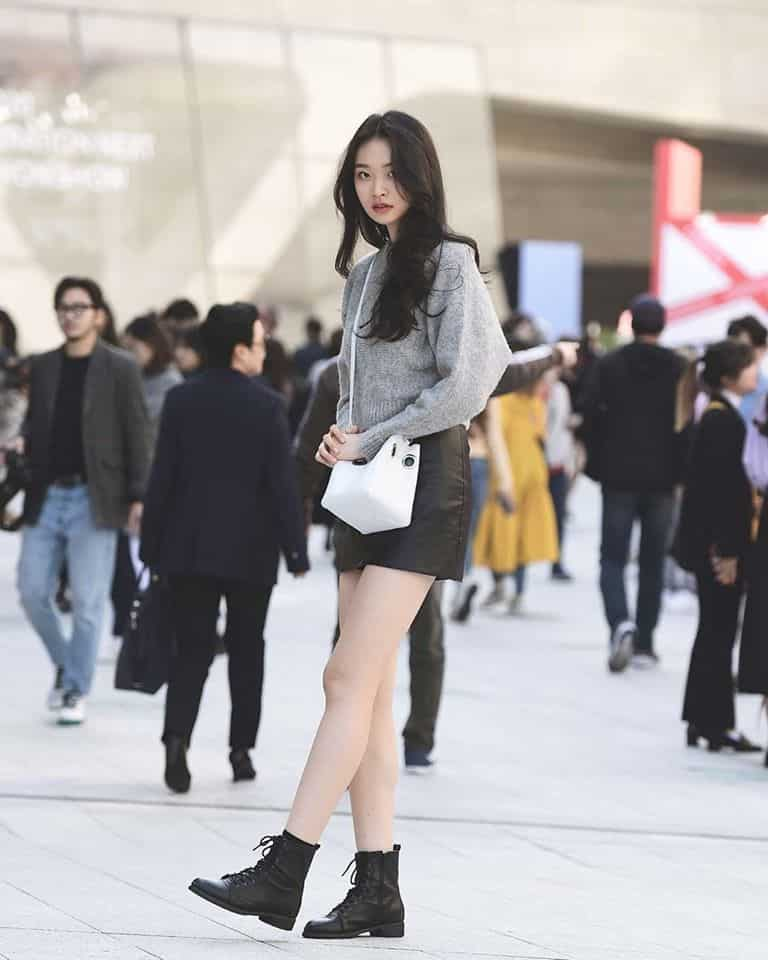 Are you tired of heels? Why not try laced combat style boots? Your feet can be relaxed and stylish with this type of footwear. It matches almost all outfit styles and is a low-effort yet trendy touch to looking your best. For that chic-boots look, the best colors are black or dark brown.
45. Baggy pants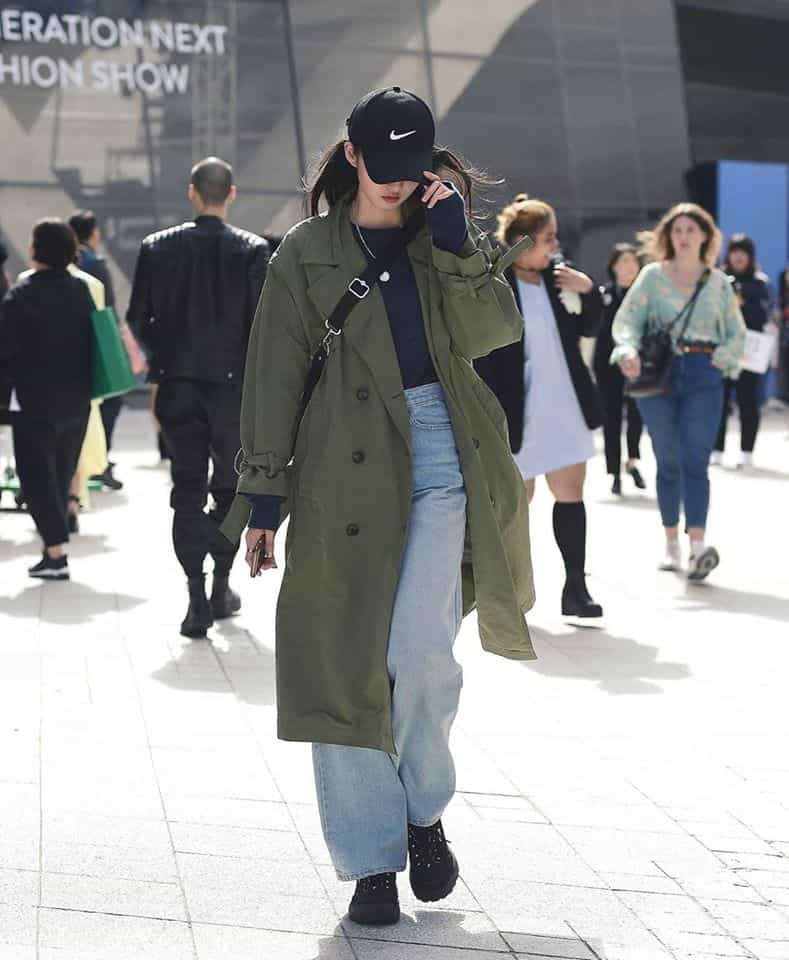 Finding perfect fitting jeans is such a hard task for some, so why not opt for baggy pants? Now that it is back in style, walk the streets as if it is your runway with these must-have jeans.
46. Sweetheart neckline tops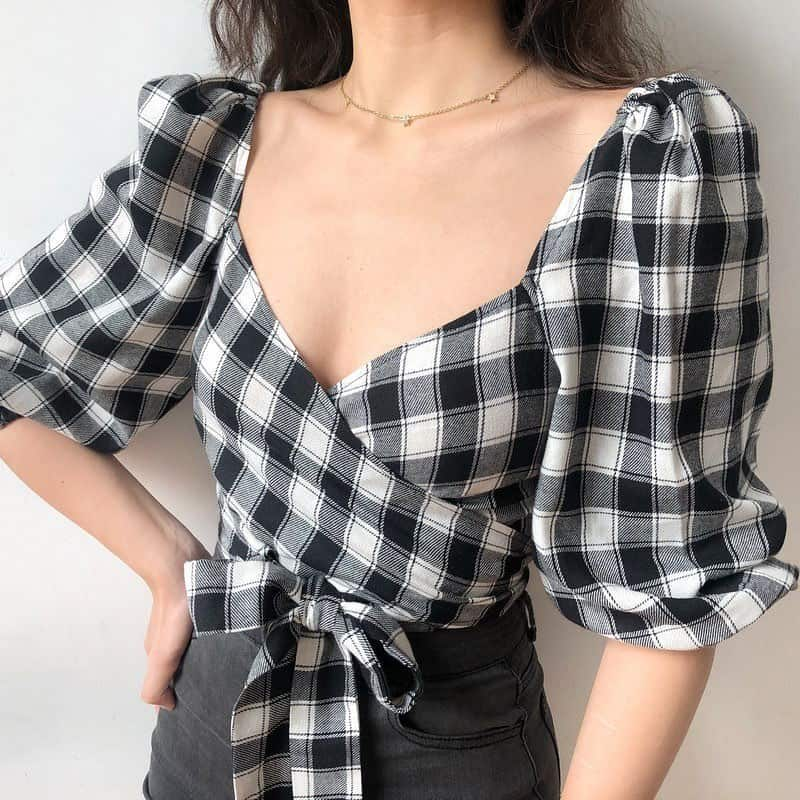 Sweetheart necklines lean more on the revealing side, but showing a little skin is not all bad. This intricate blouse type is high-fashion, feminine, and stunning. Depending on your taste, accessorize with a choker or a soft silver necklace.
47. Wrap-around dress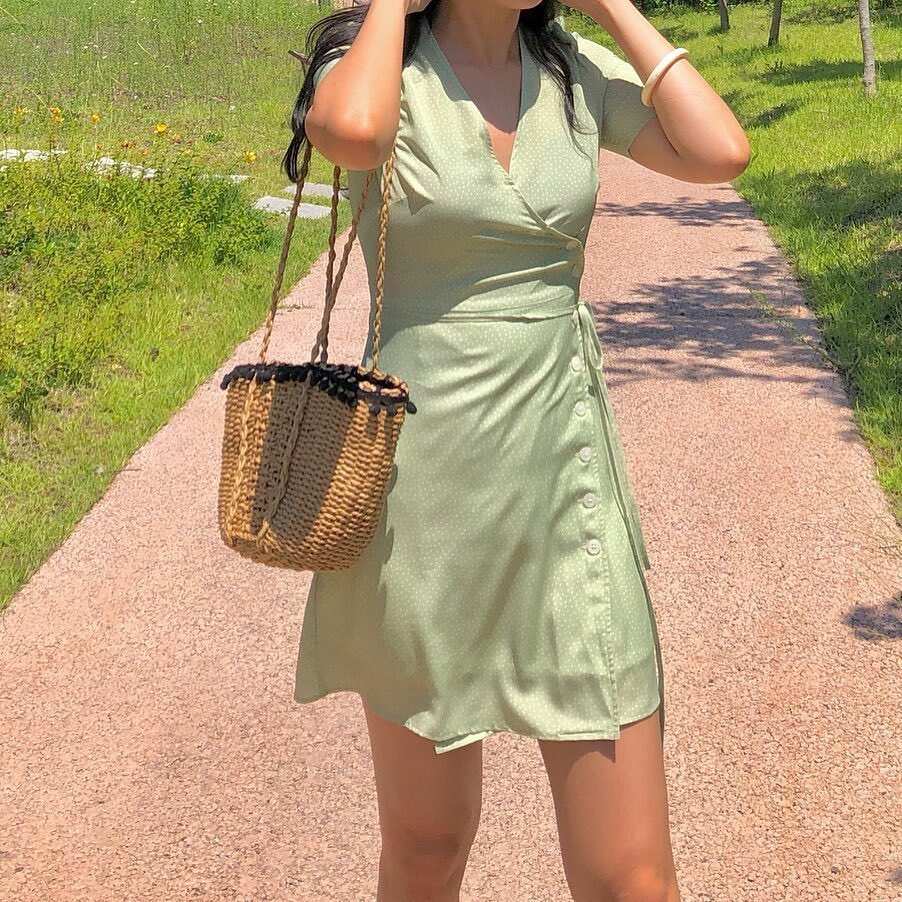 Complete your summer lookbook with a wrap-around dress. Just like its name, you wrap the outer part of the dress around and tie it. Some designs have buttons while others are more complicated. It is a prime outfit for going to the beach or going out on a sunny day.
48. Matching skirt and blazer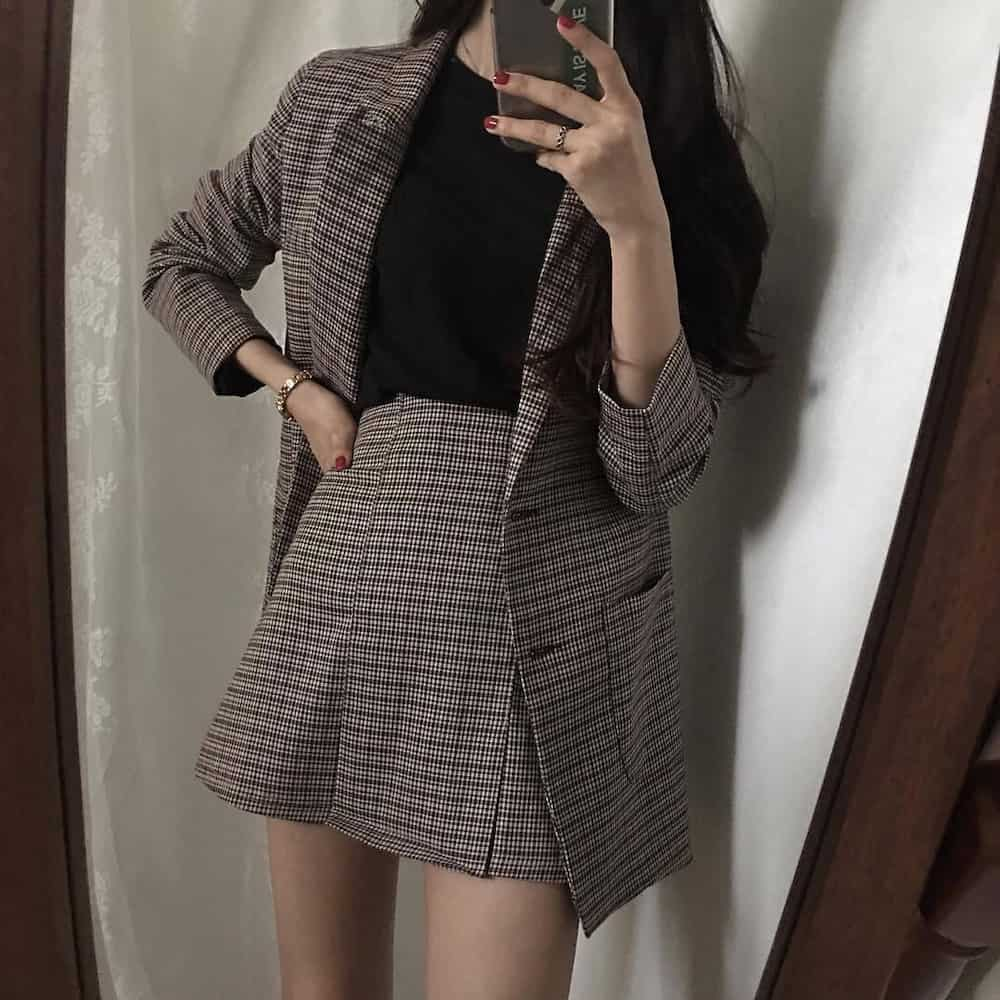 Skirts and blazers look great when worn separately, but when you style your outfit with matching a matching coat and skirt, it sends a totally different aura. Not only does it look put-together, but coordinated outfits are also getting a newfound appreciation in the latest trends.
49. Tulle skirts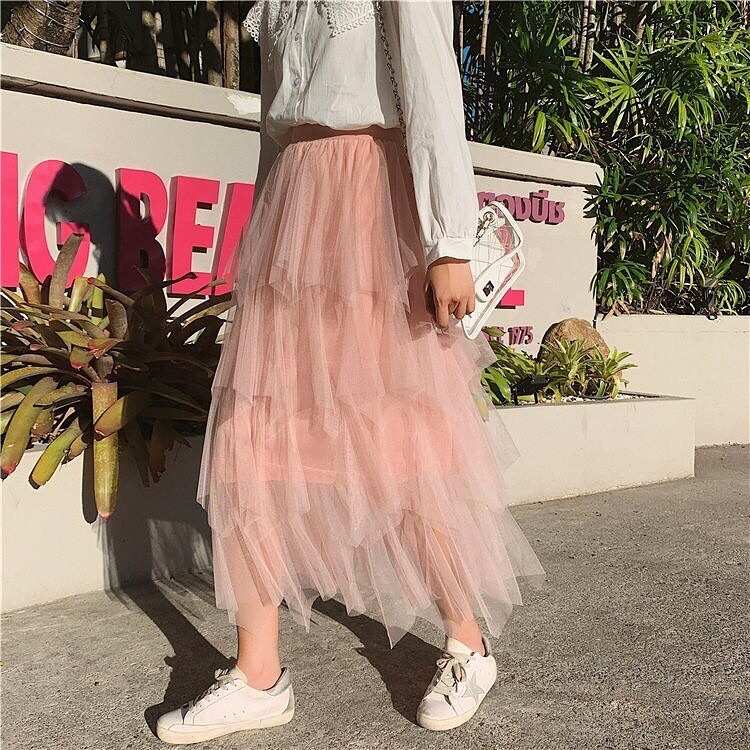 Live your ballerina dreams with this layered soft tulle skirt. This unique and chic choice of bottom wear is distinctive and dramatic. The layers add a multidimensional effect as compared to your usual long skirt.
50. Cami top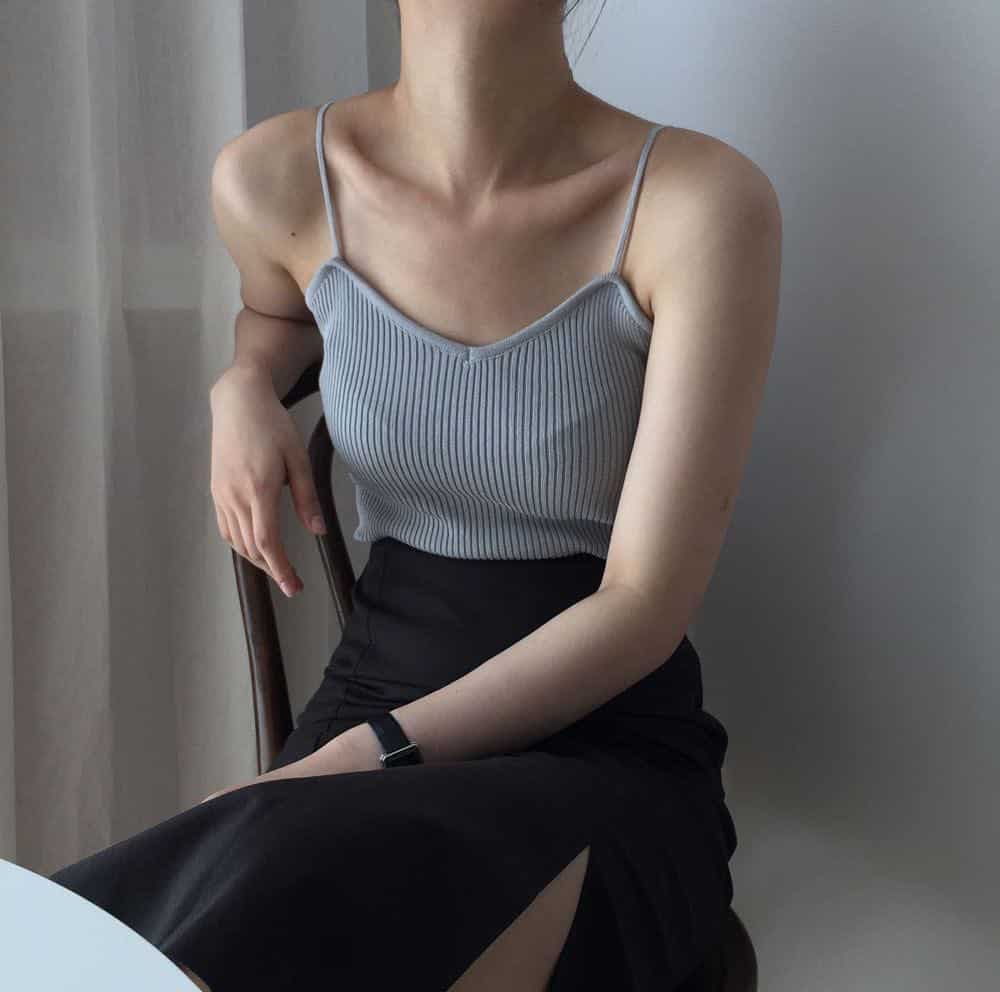 The sleek and chic style of cami tops allows a minimalist fashion statement. The thin straps accentuate the collarbones, shoulders, and upper back. Since it is also sleeveless, those who wear it can flaunt toned arms.
Take this chance to strut the streets with the trendiest Korean outfit for women. Whether you are going to work or out in the city, look your best in the latest K-fashion inspired looks.
READ ALSO: Top 15 trendiest outfits for men this 2020
Source: KAMI.com.gh