Vintage outfit for women: Inspiring ideas of 2020 (photos)
When it comes to vintage fashion, many consider it to be timeless and aesthetic. Although these outfits come from a simpler time, its air of elegance and sophistication still stands until today. Even in 2020, fashionistas still scout for the trendiest vintage outfit for women to add to their wardrobe.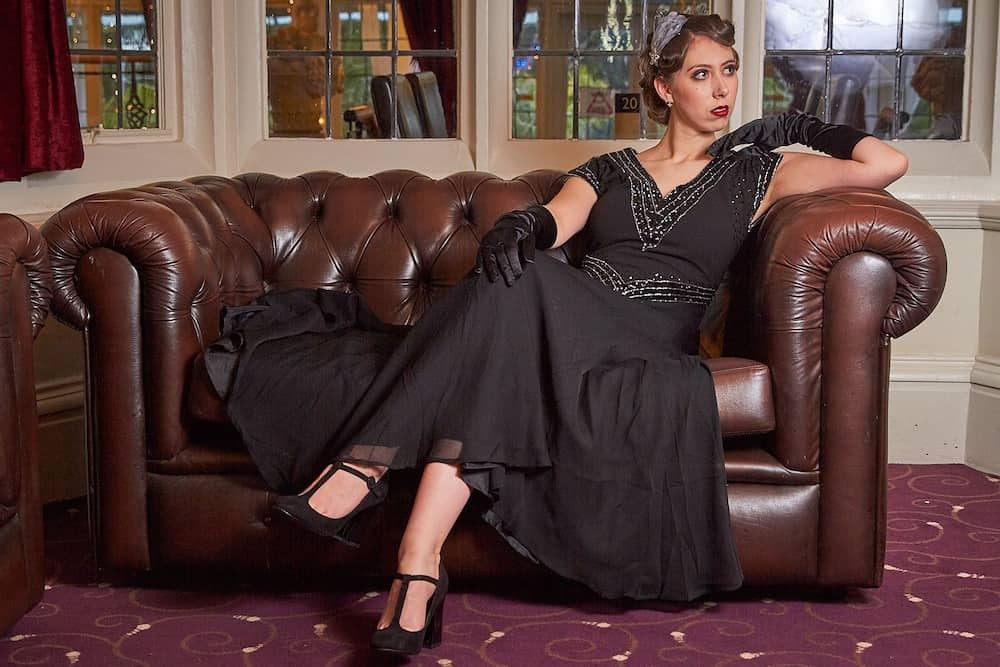 Whether you are going to attend a vintage-themed party or just want to dress classy, these traditional outfits are worth space in your closet.
Vintage outfit ideas
Check out the most fashionable old-fashioned garb you need to add to your lookbook:
1. Ankle socks and loafers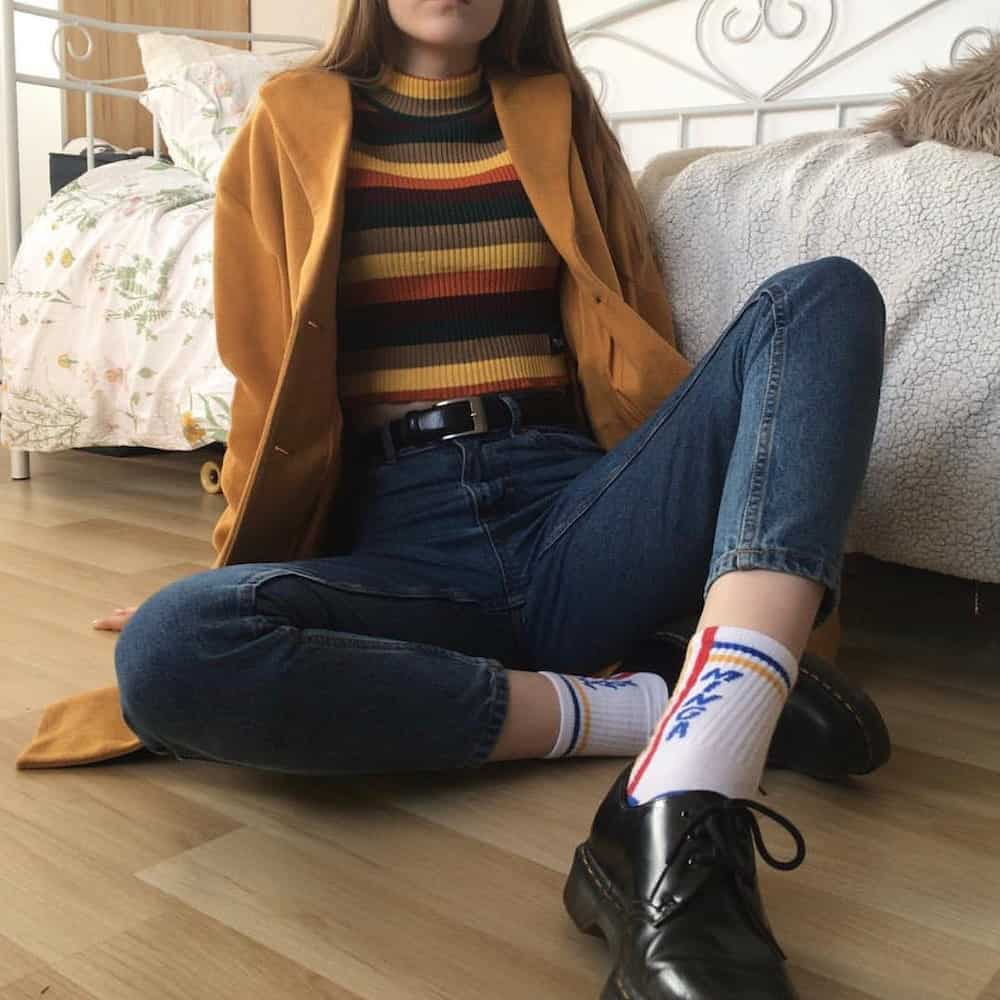 A preppy yet straightforward outfit for women is dressing in ankle socks and loafers. Wear it with high waist pants, a black belt, and a striped turtleneck, and you will be rocking a retro-favorite look. This outfit is perfect for gals who feel comfier in pants and do not want to dress too girly.
2. Sheer floral toppers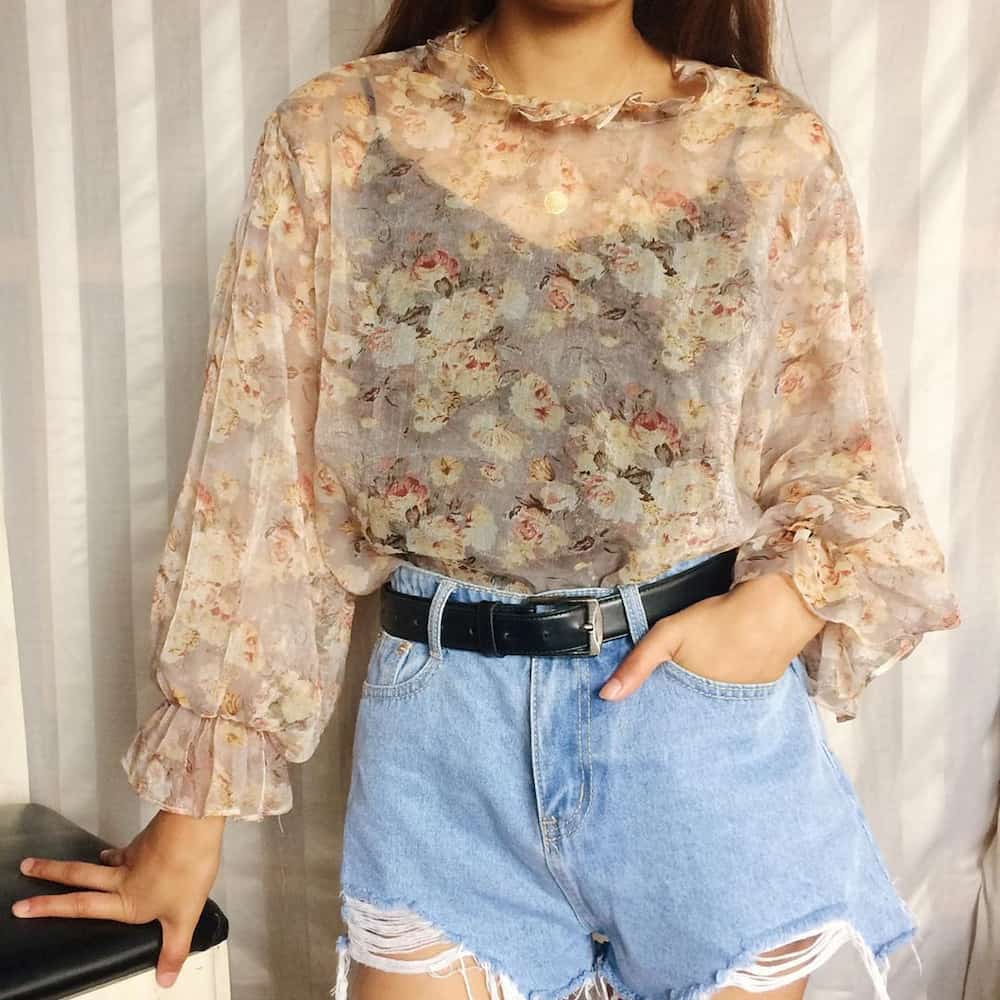 Sheer and floral toppers add a feminine and classy touch to your camisoles or undershirts. Aside from being light on the eyes, the softness of the look adds charm to your overall style. Additionally, you can opt to wear it with a modern or old-fashioned vibe, depending on what you pair it with.
3. Polkadot dress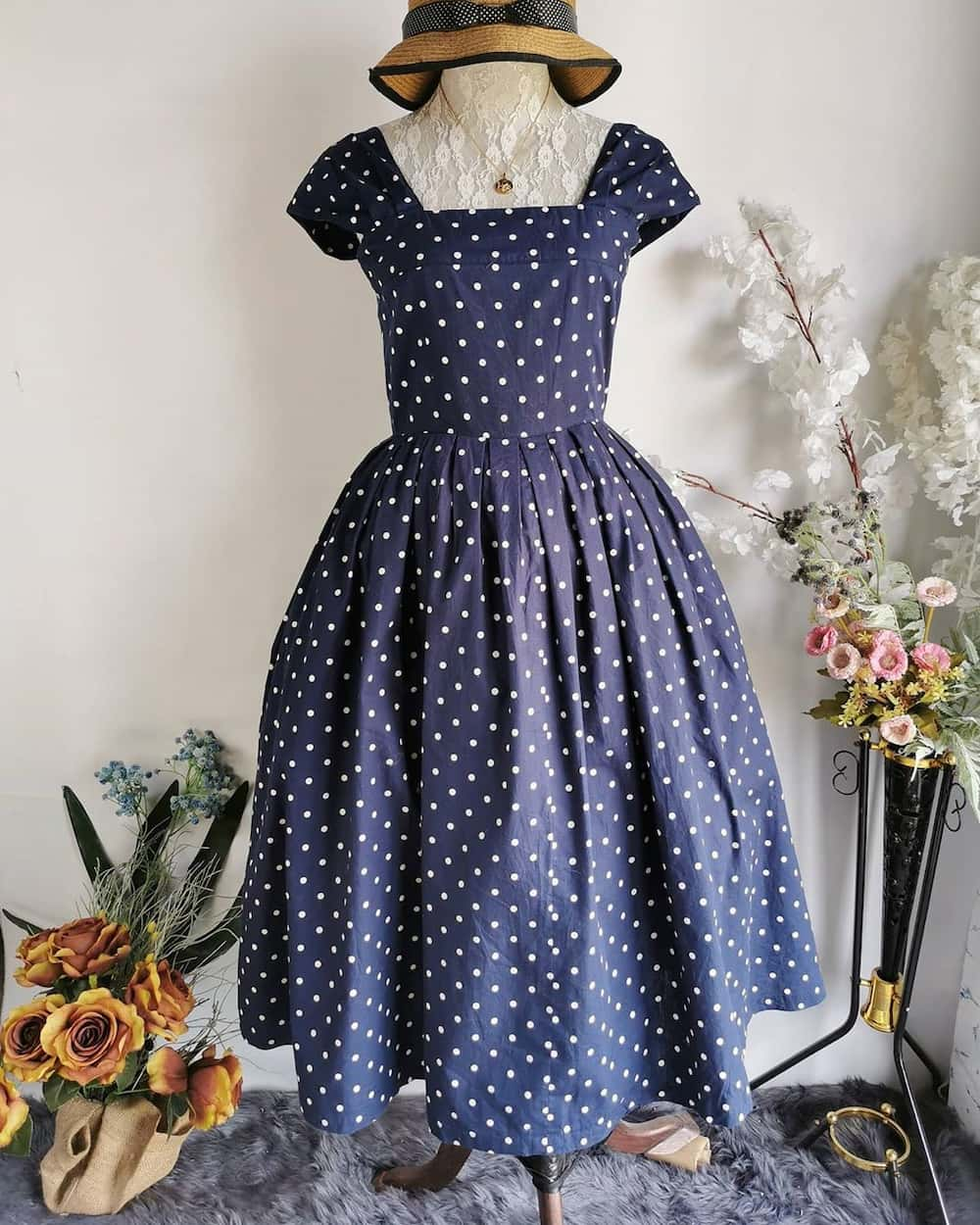 When it comes to choosing a vintage dress, the polka dot pattern is iconic on old-fashioned girly clothing. If you find a polka dot, square-neck, vintage style dress, you are in luck because it is an antique piece that never goes out of style.
4. Denim on denim
Pairing a denim jacket with denim pants is a notable 90's vintage outfit for women. The denim on denim look is an excellent example of a classic street style that all the cool kids wore. This nostalgic wear is making its way back into current fads, bringing along with it all the many charms of denim.
READ ALSO: Top 50 Korean outfit for women you need in your wardrobe
5. Sleeveless plaid button dresses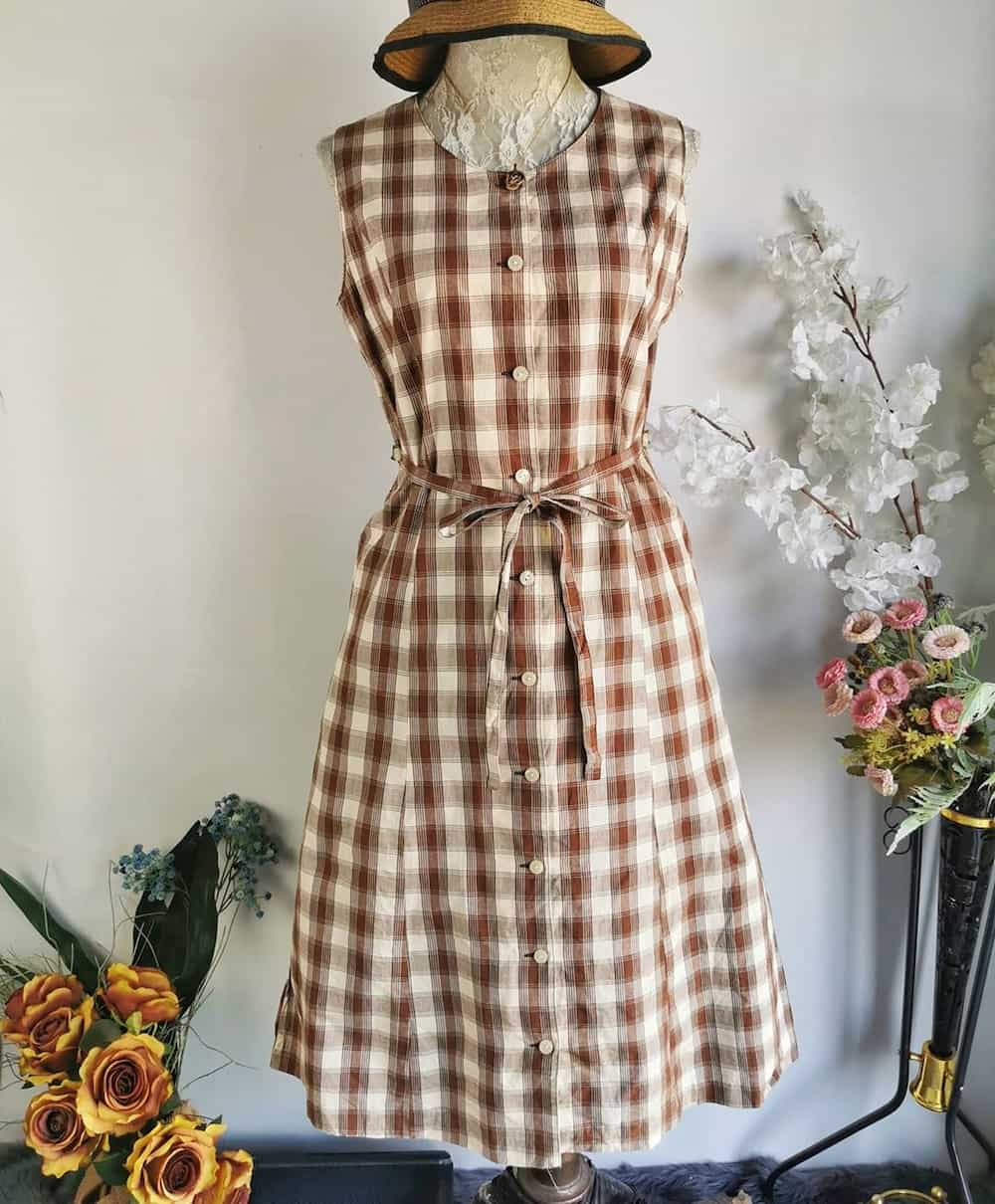 Button-down, plaid dresses are very vintage. Its design is not too dramatic, but it still maintains a feminine aesthetic that is perfect for summer wear. Pair it with a cute hat and comfortable flats, and you are ready to go on a picnic or stroll the town.
6. Abstract print polos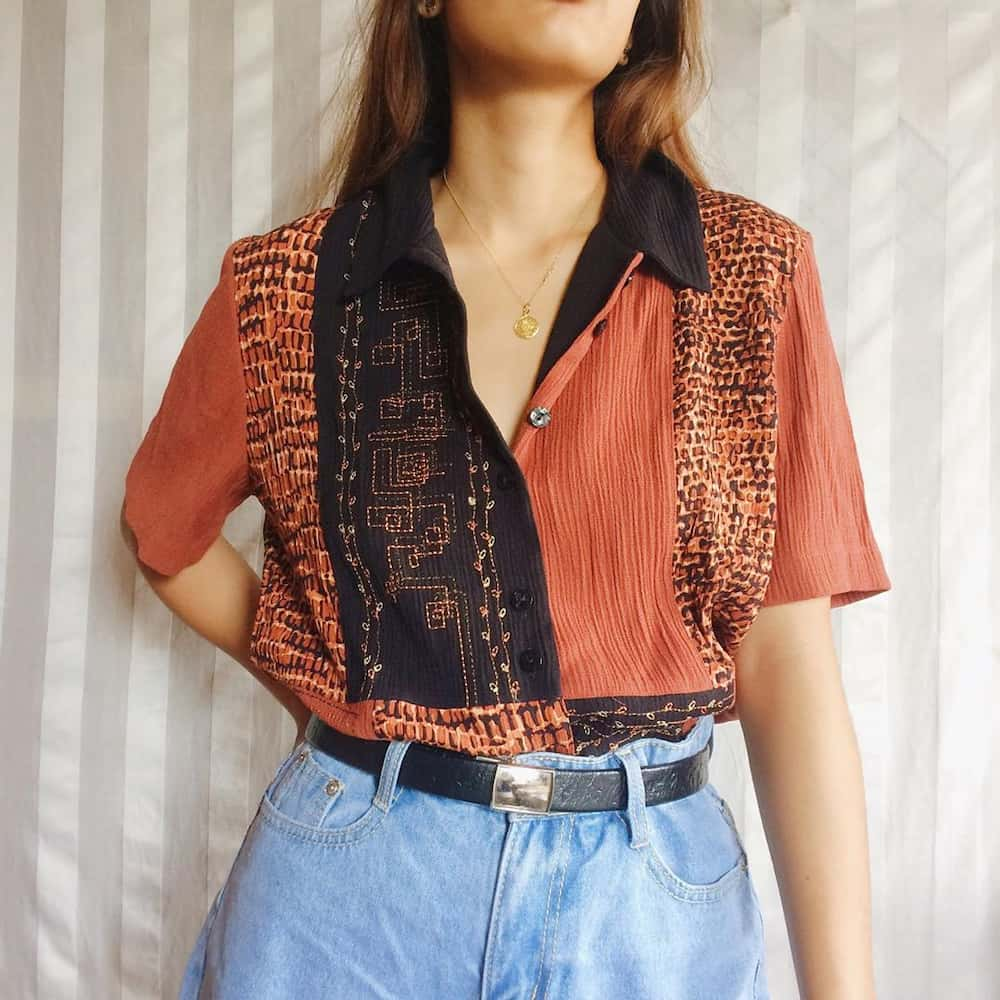 When talking about vintage clothes, the classic printed, colorful, or abstract polo can not be absent from the list. Style this piece with the first button undone and tucked into whichever bottom wear of your choice. It is one of the most uncomplicated, yet attractive go-to vintage looks.
7. High waist pants and sweaters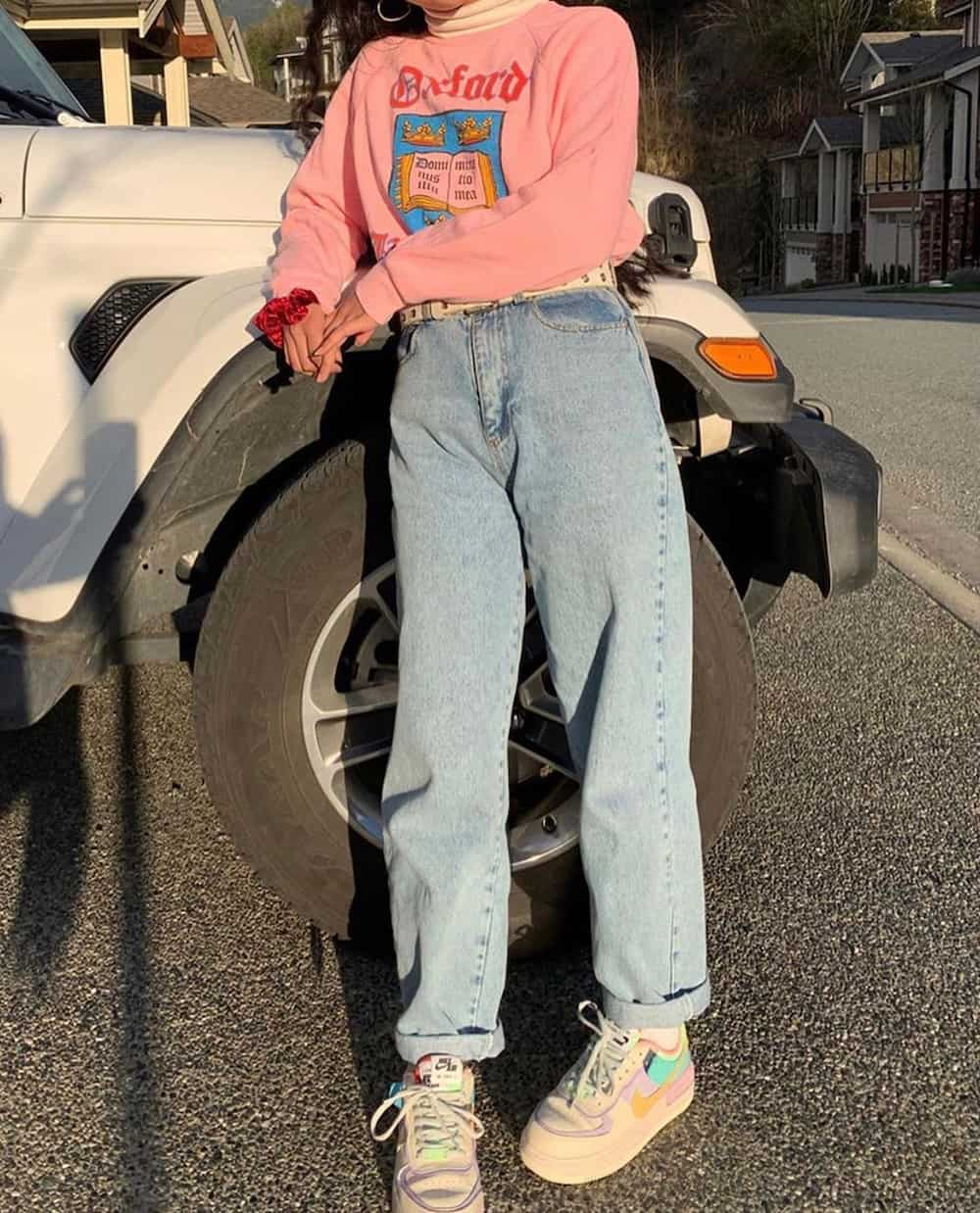 Mostly popular in the 1980s, this retro vintage outfit for women still looks stylish till today. Look effortlessly hip and cool with loose, high-waist jeans and a sweater. This outfit also works with colorful oversized windbreakers or jackets and bulky sneakers.
8. Button-down collared dress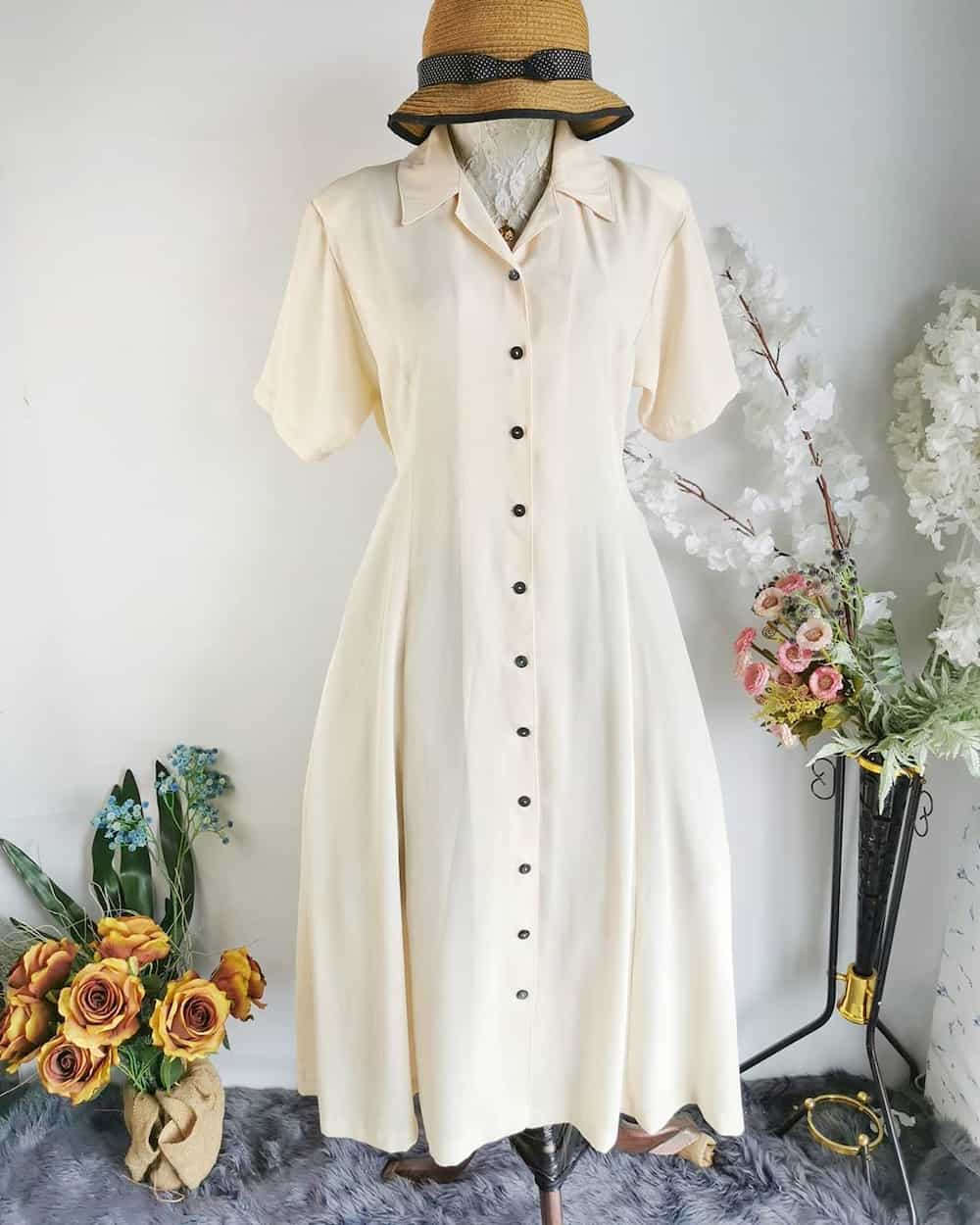 Get a classy look with a button-down collared dress. The collar details add an old-fashion flair to your outfit and give a very ladylike overall style. Whether you opt for plain or printed design, this look will stay refreshing and elegant. Wear it with boots or stilettos for that truly vintage vibe.
9. Shirt under dress
This vintage piece is coming back in 2020 as one of the most sought-after trends. Pair a plain crew neck or round-necked shirt with a thin-strapped dress, and your look is complete.
Get creative and mix it up through pairing different designs and even material together. Swap the dress with a thin-strapped camisole or top so you can wear it with pants or a skirt.
10. Ruffled blouses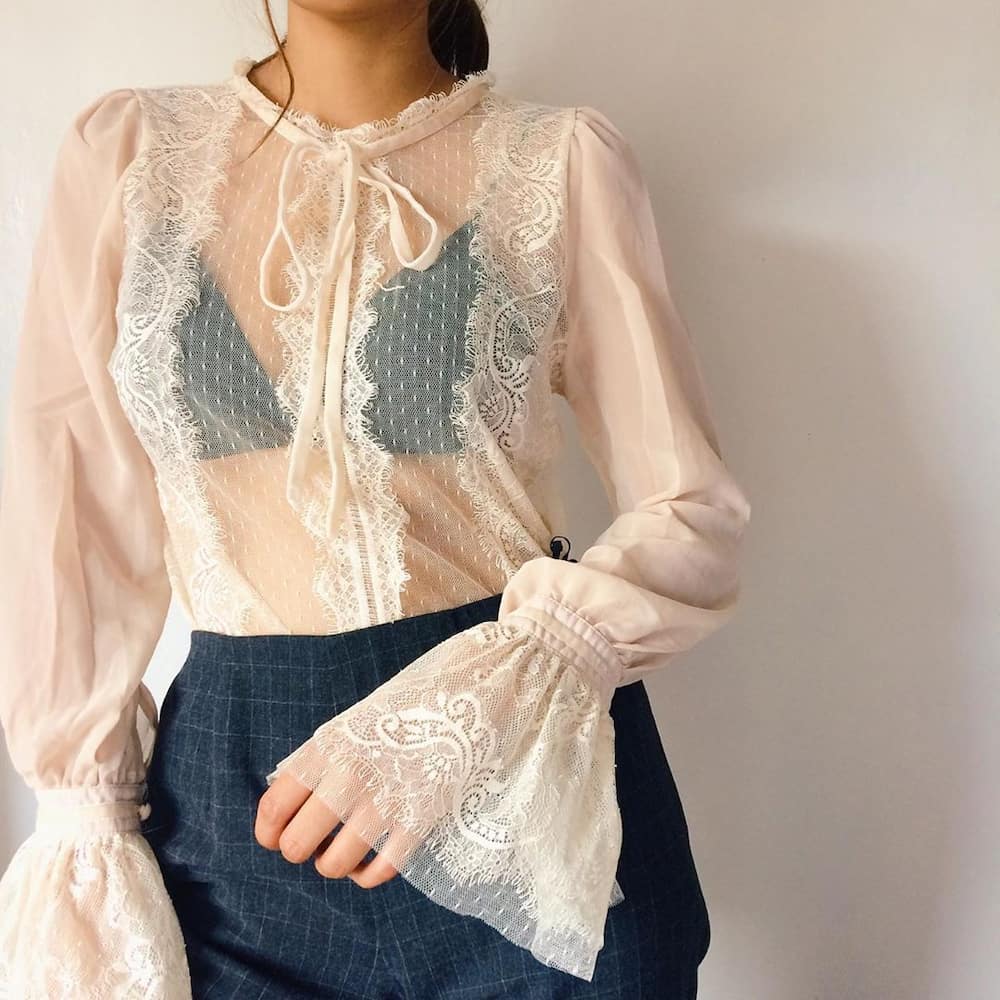 Detailed ruffled tops are a closet-must have to complete your vintage collection. Intricate designs like lace, ribbons, sleeve motifs, and such, play an essential part in this look's feminine charm.
Finding see-through and ruffled toppers is a bonus as the sheerness adds modern elegance to your outfit.
11. Double-breasted button dress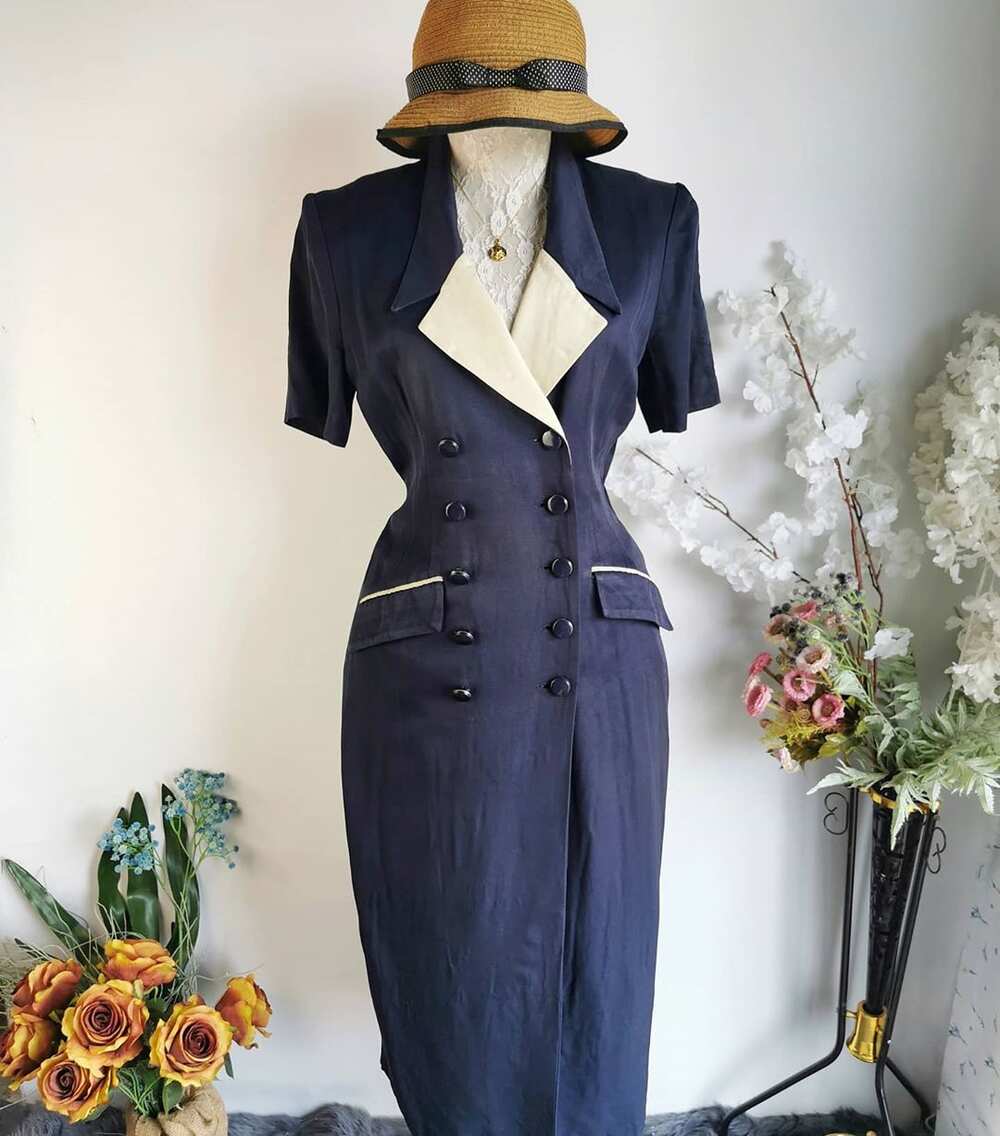 At first glance, this style of clothing is noticeably an old-fashioned design. A dress with this style is antique and looks professional at the same time. If you are not that into dresses, trade-in the gown for a double-breasted blazer instead.
12. Jacket dress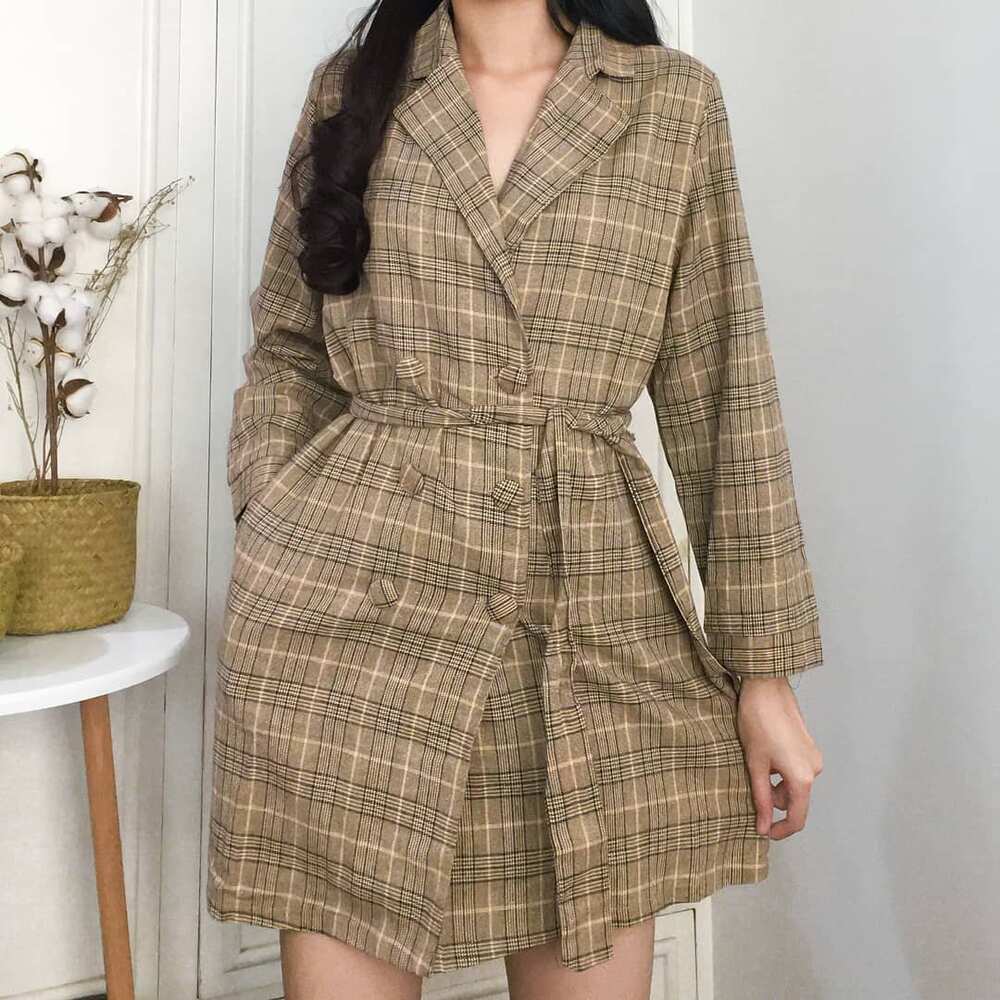 Upgrade your wardrobe with the ever-so-stylish jacket dress. Not only does it look formal, flattering, and ladylike, it also has a put-together look that is perfect for your girl-boss outfit. Find yourself a plaid jacket dress for the best overall style.
13. Sun hat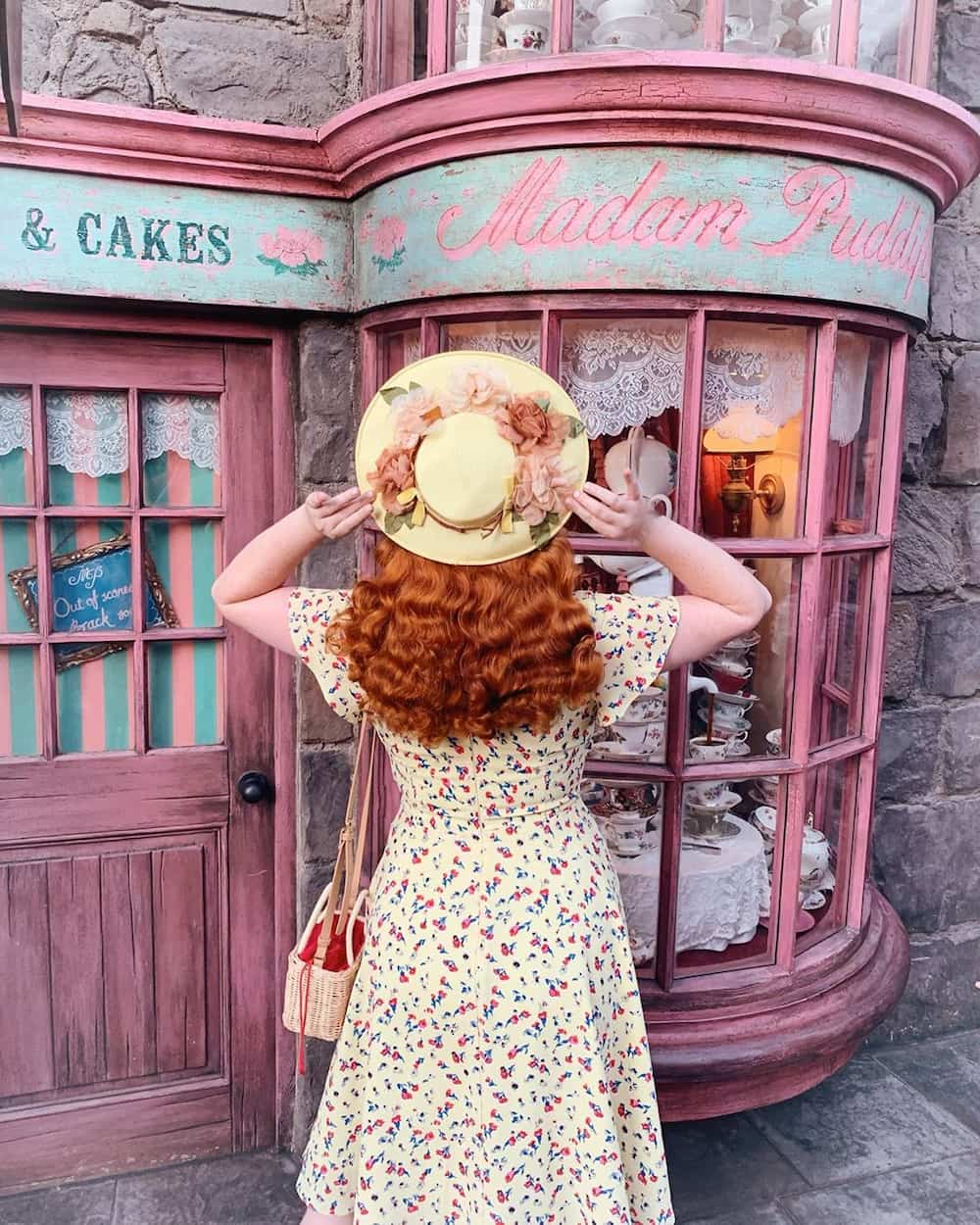 Vintage clothing also needs accessories. The sun hat is an antique yet iconic piece that all ladies should own this 2020. Keep your eyes safe from the sun with this stylish hat while at the same time enhancing your outfit.
READ ALSO: 30 unique retro outfit girls can wear to their next party
14. Tilt hat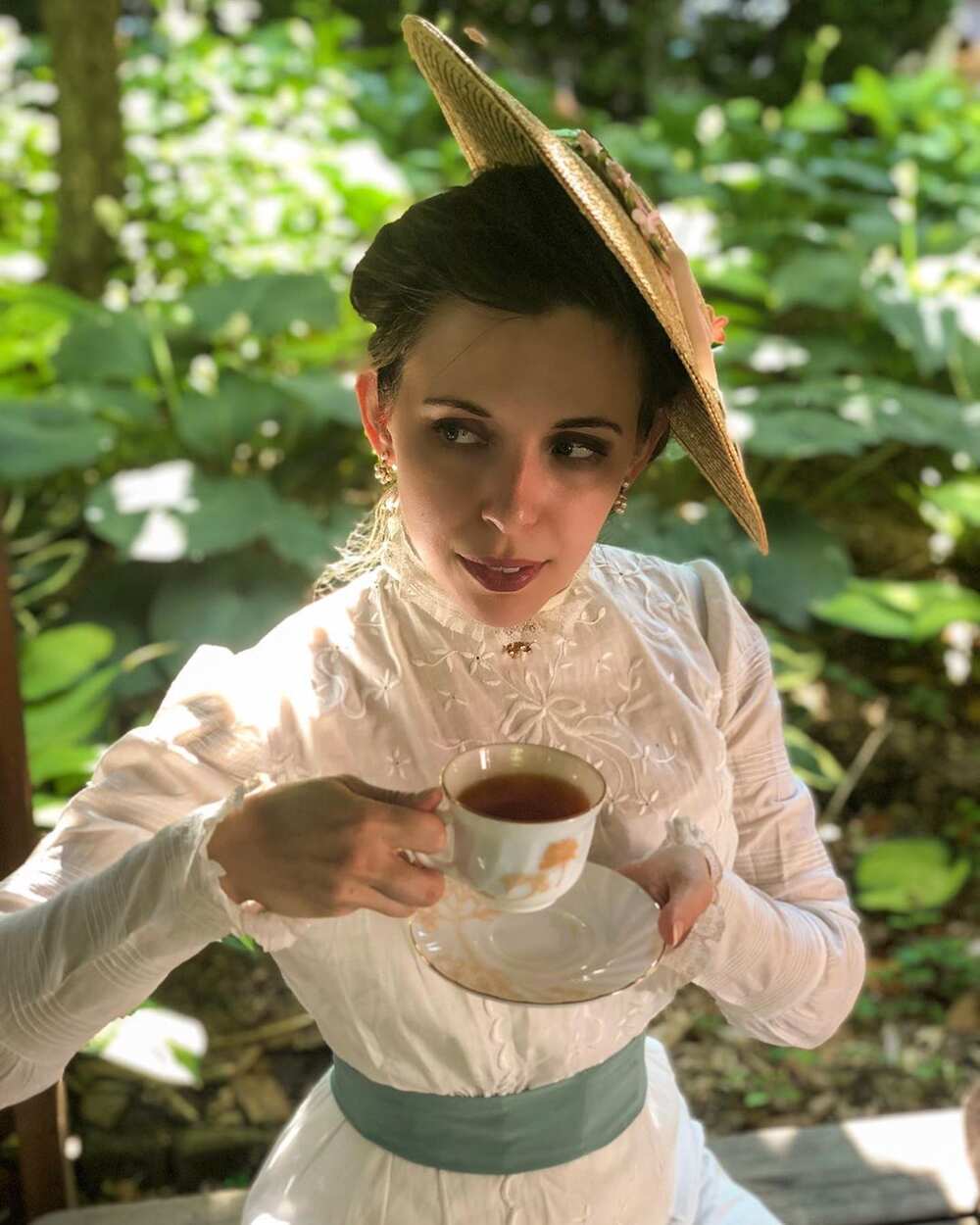 Are you feeling a little extra? Then add tilt hats your list of must-haves. Wearing a tilt hat screams vintage and is very eye-catching. Although it is not very modern, you will feel like a classy madame while wearing this.
15. Puff sleeves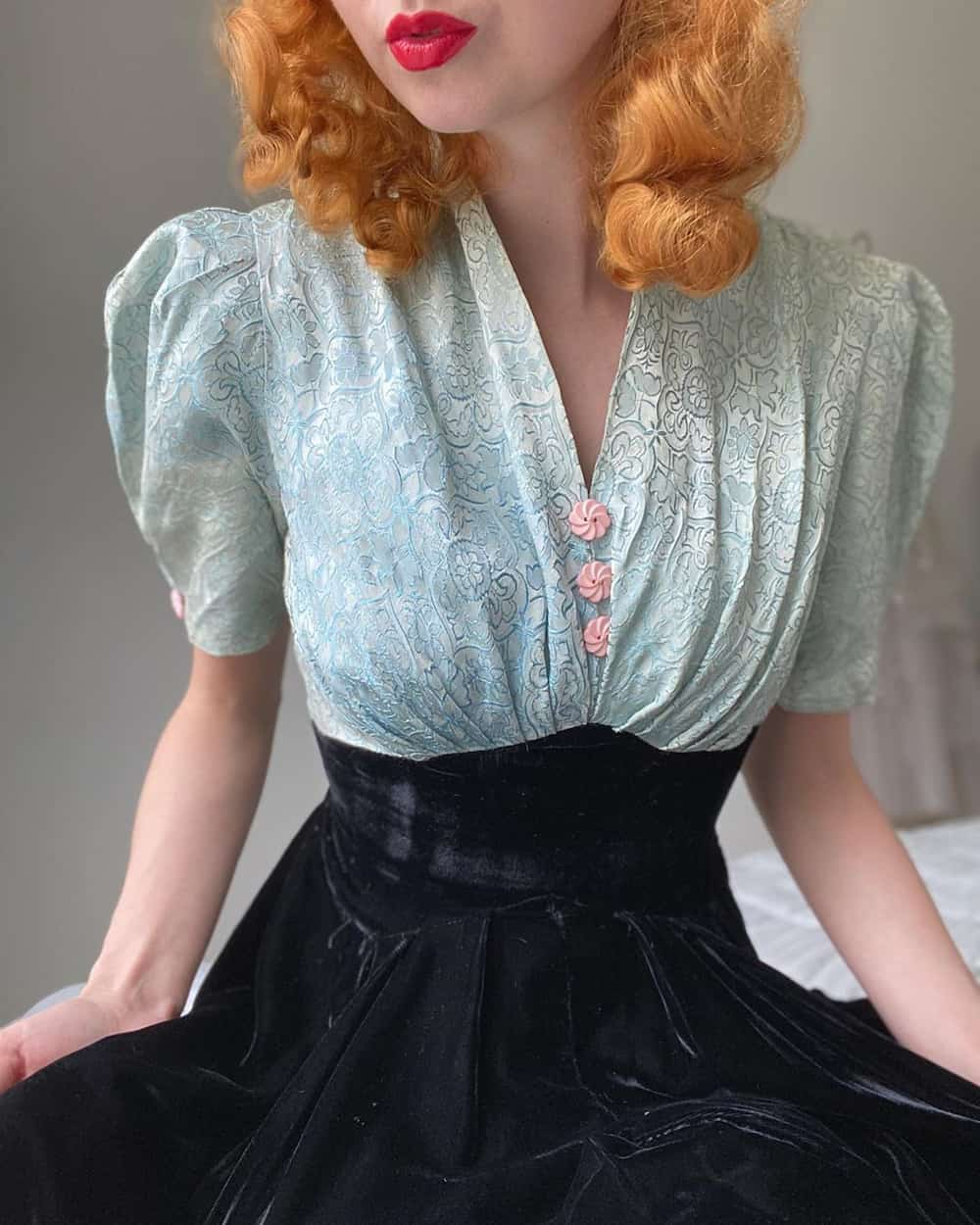 Old-fashioned clothes tend to accentuate the female neck and shoulders. Just like how shoulder pads make shoulders look broader, puff sleeves have the same effect. However, its design gives it a more feminine and sophisticated style, which is why it is fit to be worn casually.
Puff sleeves transform an ordinary outfit into more attractive wear, especially if the material and design itself are intricate as well.
16. Vintage outfit for women pants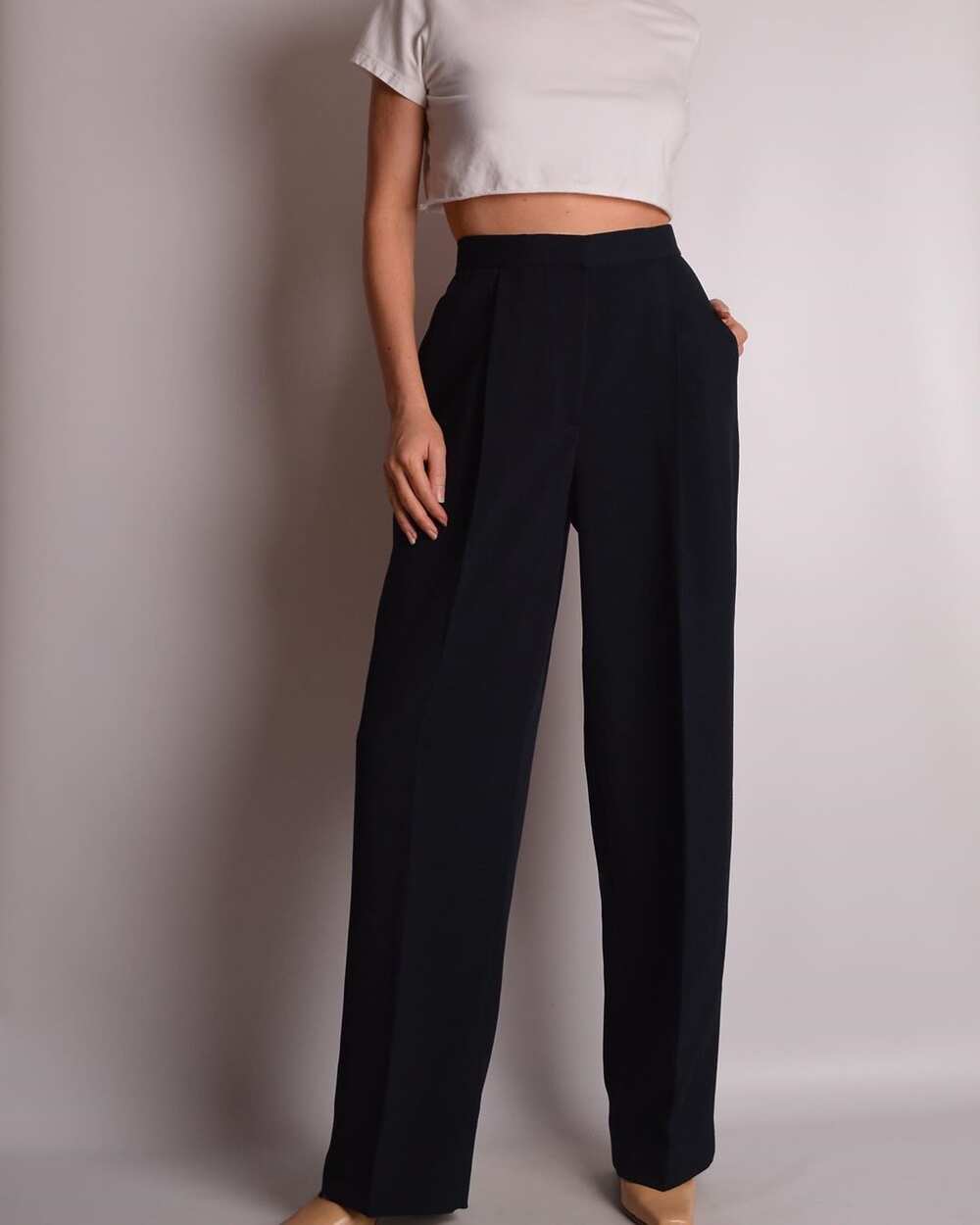 If you are not the dressy type of gal, slacks and trousers are the way to go. Depending on your taste, style this look for the office or going out in the city. Feel free to pair it with a simple shirt or elbow-length polo, and you will look your best whichever you choose.
17. Pantsuit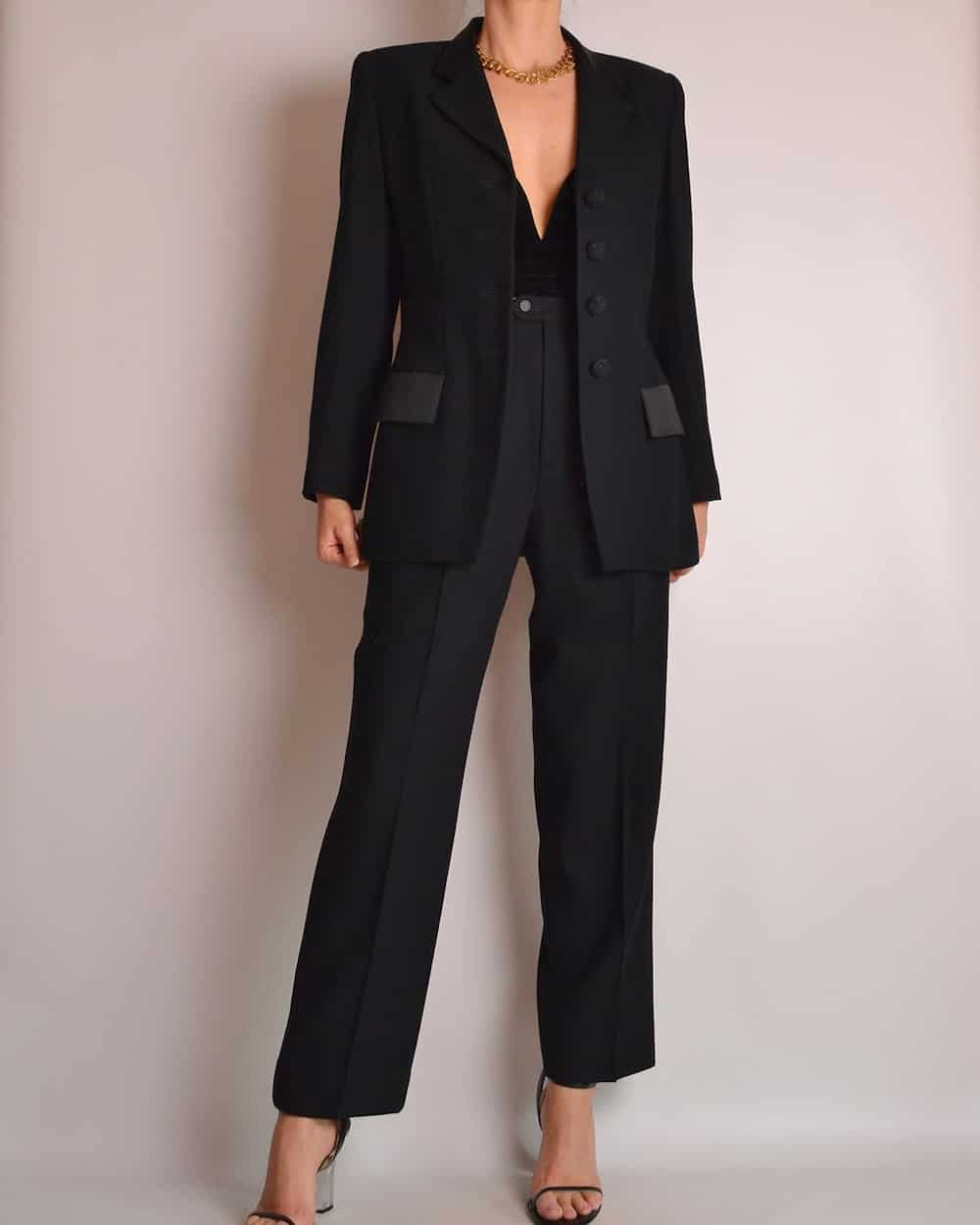 Power dress this 2020 with different styles of pantsuits. Models are often seen wearing this outfit for formal events as it is classy and trendy at the same time. It emphasizes sleek shoulders and long legs, especially when you wear it with pointed or open-toed heels.
18. Silk blouses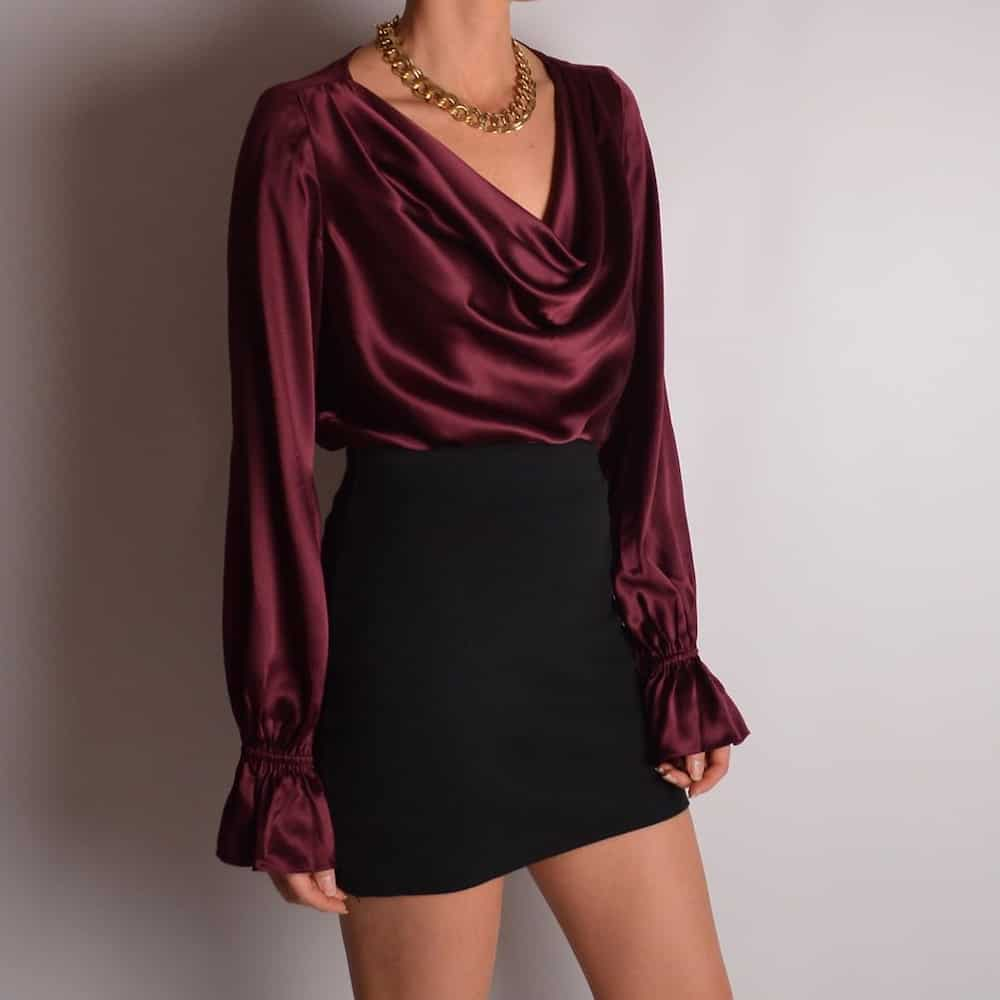 Silk blouses are very high-fashion. Wearing this vintage clothing adds drama and dimension to your style because of how light reflects off the material. With a draping blouse design, the folds and creases emphasize this effect, and you are left with an effortlessly gorgeous masterpiece.
19. Vintage outfit for women skirt
Are you looking for something you can wear to the office and out with friends? Then the leather midi skirt is your perfect choice. Despite being simple in design, its leather material gives life to a drab outfit and adds an edgy tone to the outfit. Depending on the occasion, you can wear the skirt with boots or heels.
20. Wide-legged jumpsuit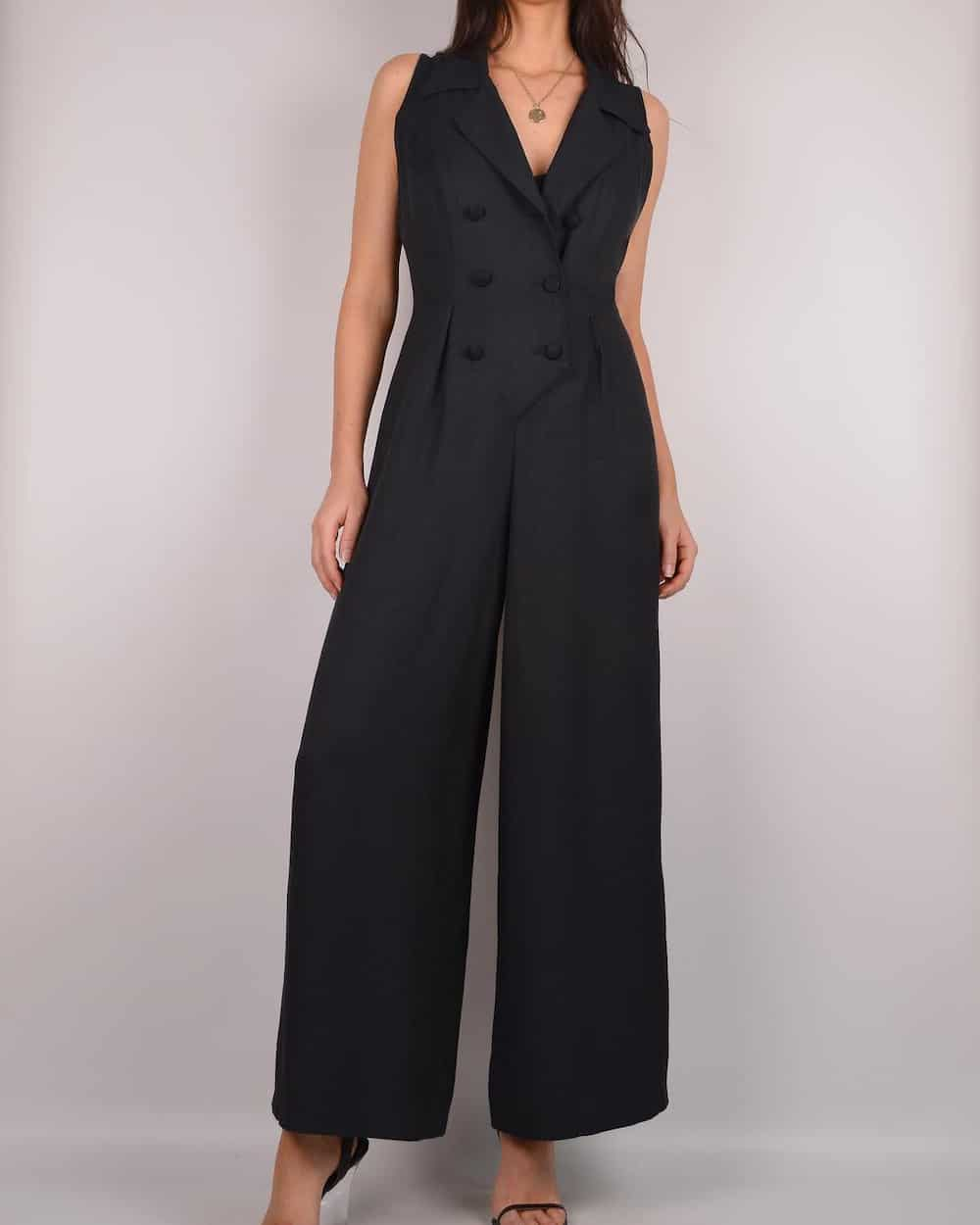 A stylish modern vintage outfit for women is the jumpsuit. It has a similar style to the pantsuit; however, this article of clothing is a one-piece outfit. Although the ordinary jumpsuit already looks stunning as it is, wide-legged ones add a particular oomph the ultracool look.
Just because it is old does not mean it is out of fashion. Many styles are coming back to current trends, and its time to get in with the latest fads. Do not miss out on these wardrobe must-haves and give a vintage outfit for women a try.
READ ALSO: New look 2020: Top 20 hair colors that morena girls should try
Source: KAMI.com.gh