Hair color for morena 2020: 17+ Top ideas (Photos)
There is so much to look forward to this 2020 when it comes to brand new trends and styles. If you have always wanted to rock a new look and dye your hair a different color, this is your chance to achieve that vibe. For morena girls, choosing a shade to compliment gorgeous caramel toned skin can be tricky. What is the best hair color for morena girls?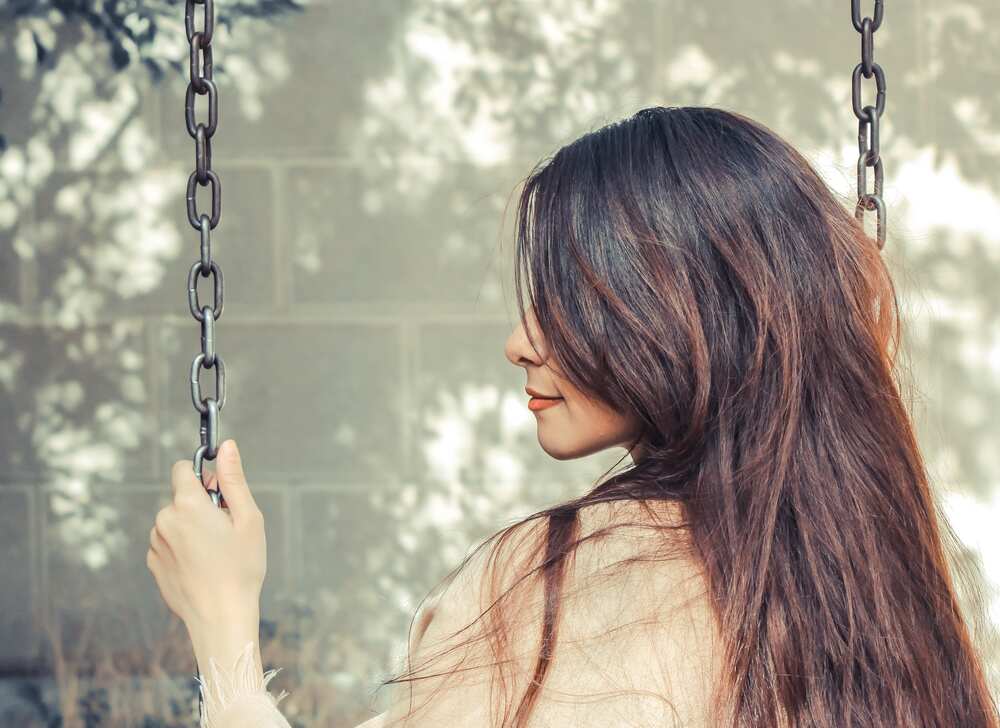 Unlike the fair and light skin of mestizas, morenas have a darker brown skin which ranges from caramel to a light coffee complexion. Although deep brown skin tone is undoubtedly gorgeous, things can get challenging when it comes to choosing a suitable hair color that matches it.
Are you looking for the perfect hair color for morena skin? Check out these top flattering hues that suit brown skin the best.
Best hair color for morena
Lots of dark-skinned Filipina celebrities flaunt their newly dyed locks, and it is time you should too. Aching to know how that Kathryn Bernardo hair color will look on you? Or perhaps Nadine Lustre's blonde highlights are more of your style? Have your pick below.
1. Brown hair color for morena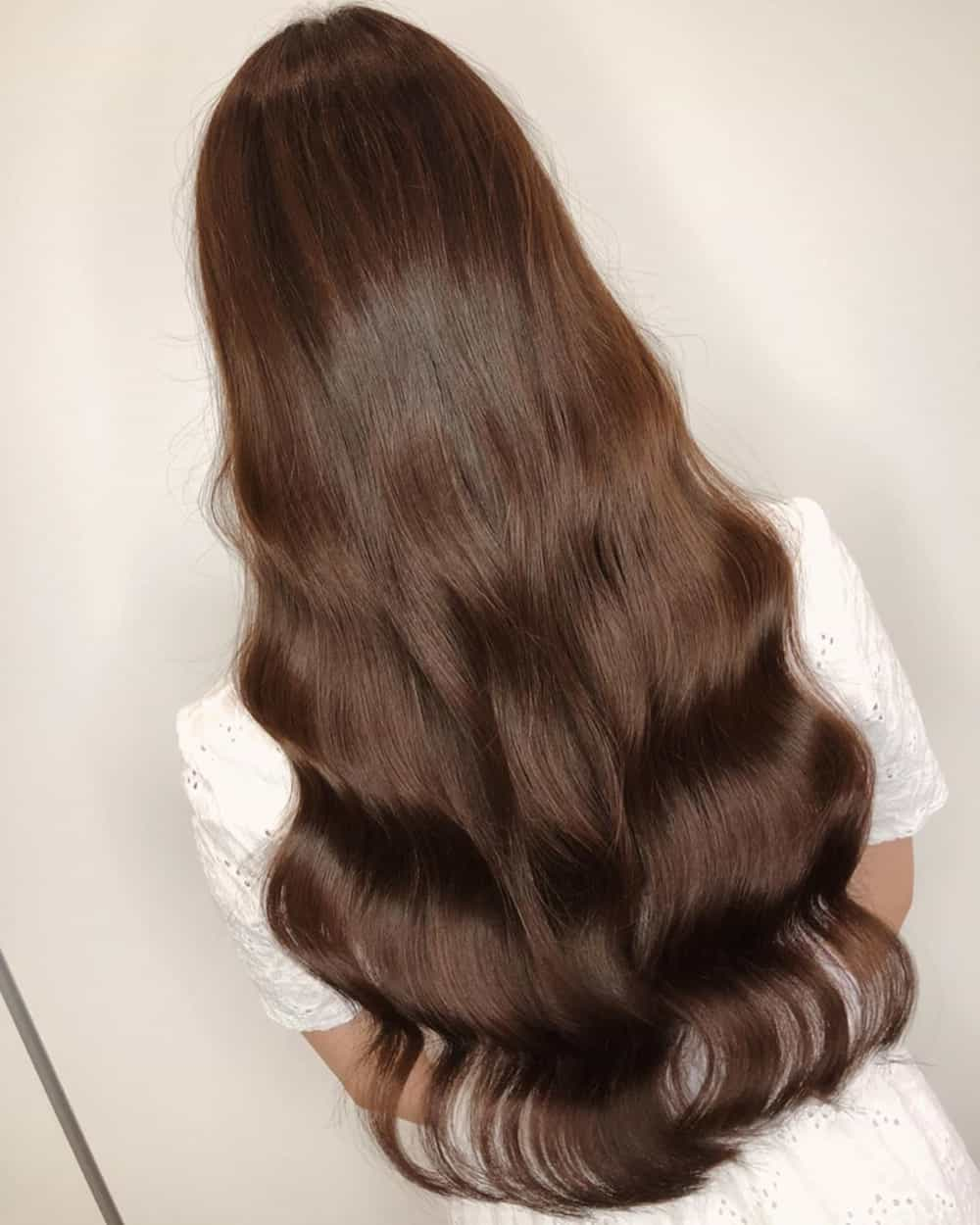 The many shades of brown can be a morena girl's best friend. Although it is not too out there, it does its job of enhancing style and bringing dimension to hair. It is a simple yet gorgeous look that you can flaunt with confidence.
Additionally, there are many shades of brown to choose from such as espresso, cocoa, golden bronze, and the sweet-looking chocolate brown hair color for morena gals.
2. Chestnut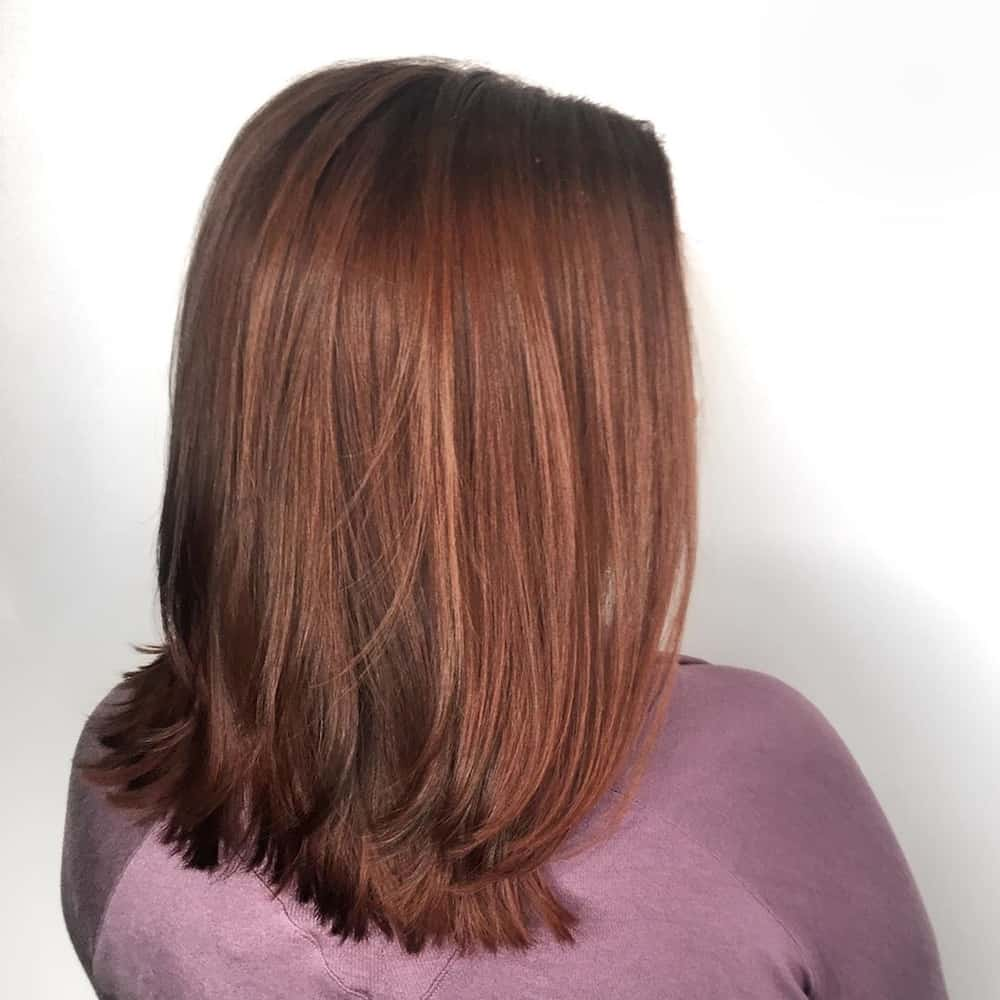 Chestnut hair color for morena skin adds depth and allure to locks. The brownish-red hue looks magnificent on brown skin, and it also adds a simple yet striking appeal to your overall look.
3. Light brown hair color for morena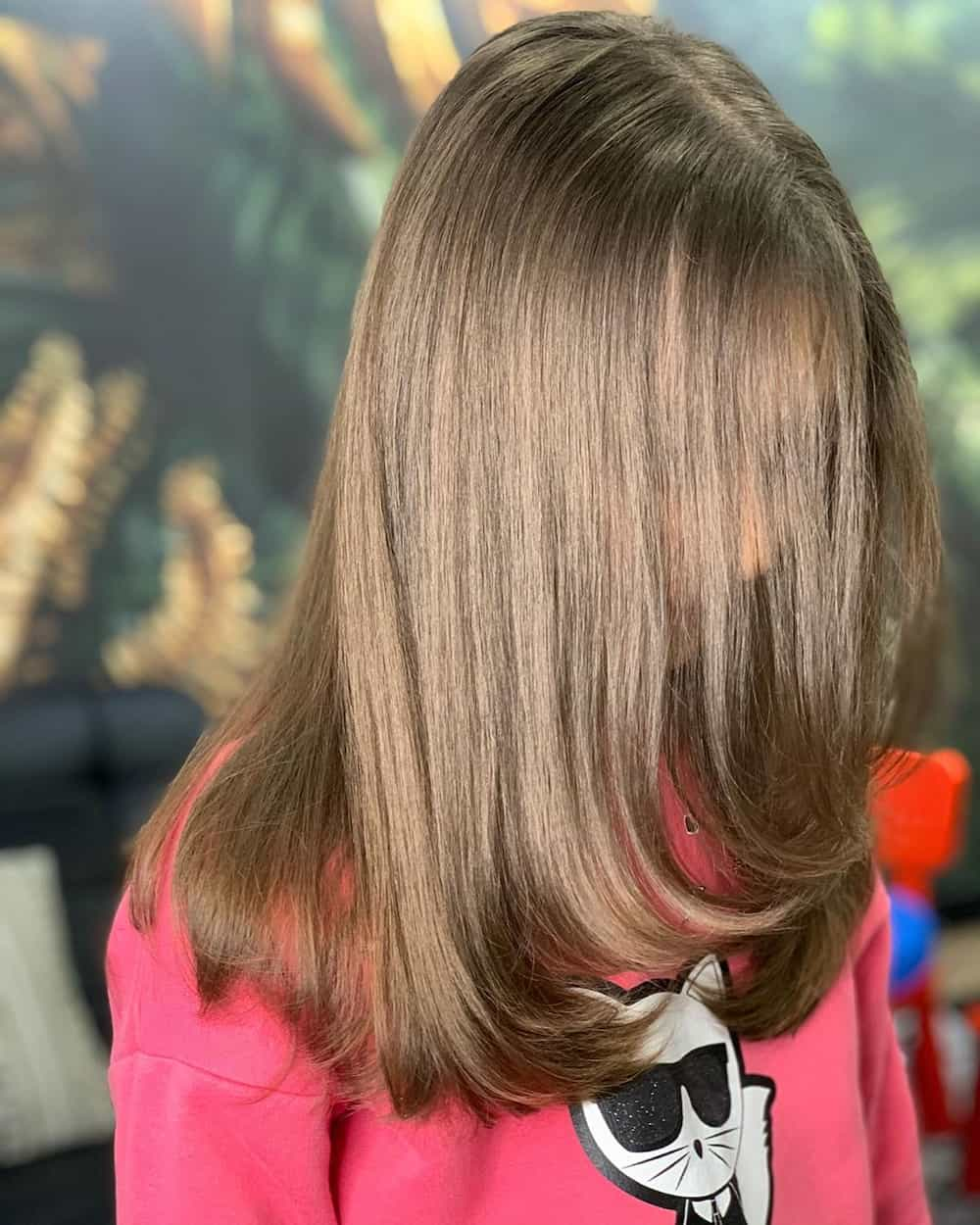 Aside from darker shades, light hair color for morena girls is also a big hit when it comes to dyeing hair. Choosing a lighter brown tone is simple yet inviting to the eyes at the same time. It also complements caramel-colored skin very well. Too hesitant to go full bright and blonde? Start with light brown instead.
READ ALSO: Top 50 infinity dress style one should try this year
4. Ash brown hair color for morena
Merging ash and brown hues give a stylish, multidimensional look that matches perfectly with a Filipina's tan skin. The muted ash elevates the brown shade and works well together without being too drastic.
5. Mahogany
When it comes to achieving a luxurious reddish-brown look, this color based off timber hardwood is a perfect choice. Mahogany hair color for morena skin tone pairs well as it adds a deep warm glow to your overall look. Additionally, a mahogany ombre gradient works amazingly with black hair.
6. Burgundy hair color for morena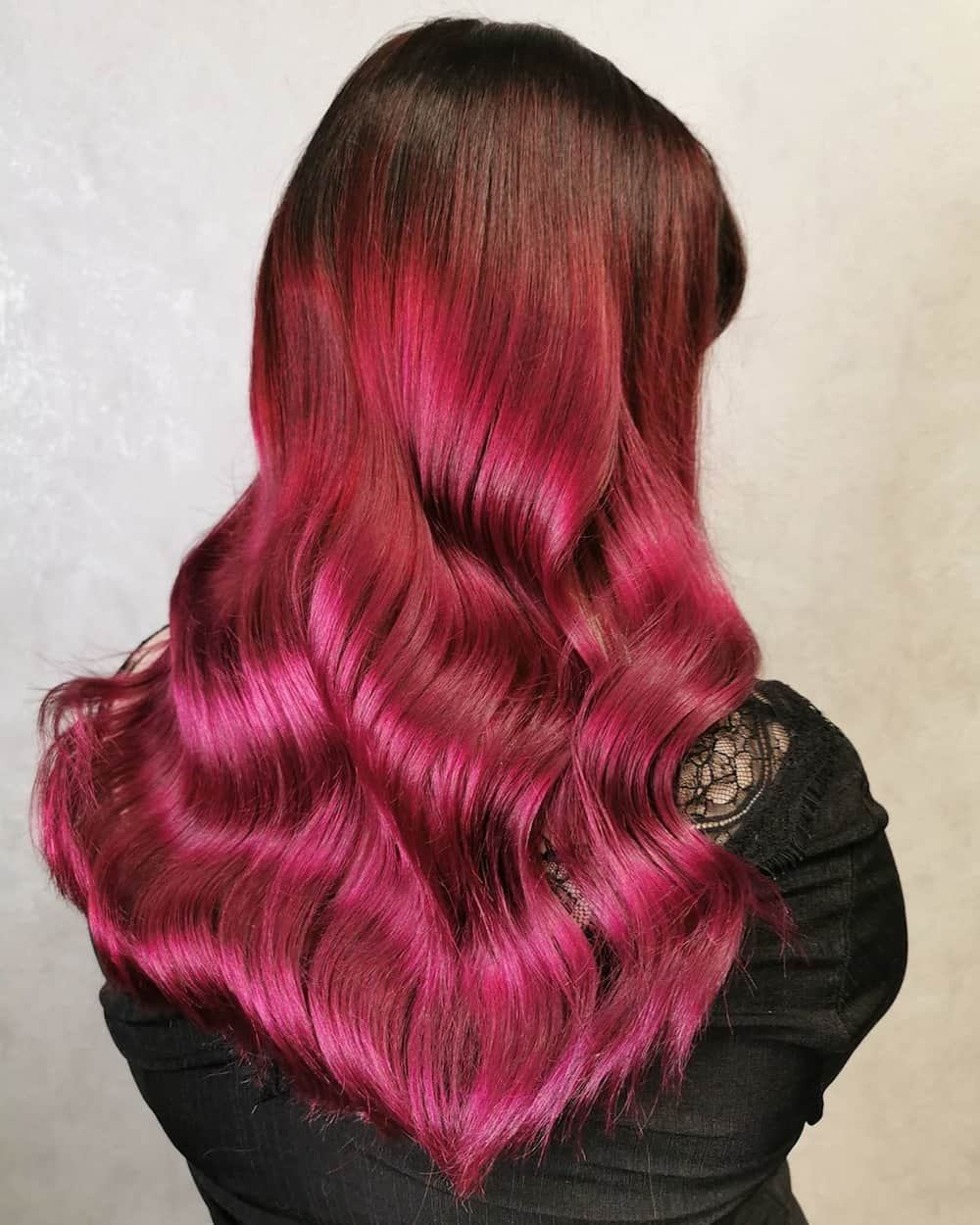 Aching for a brighter tint similar to some lipstick shades? Then the red-purplish hue of burgundy is the ideal choice. Whether you go for a muted burgundy-black tone or an all-out bright dye, the end product is always chic and fashionable.
7. Wine red
Wine red hair color for morena gals is a decadent and beguiling look that adds spice to naturally dark locks. The natural red glow bounces off beautifully on caramel-colored skin, especially under the sunlight.
8. Bronde hair color for morena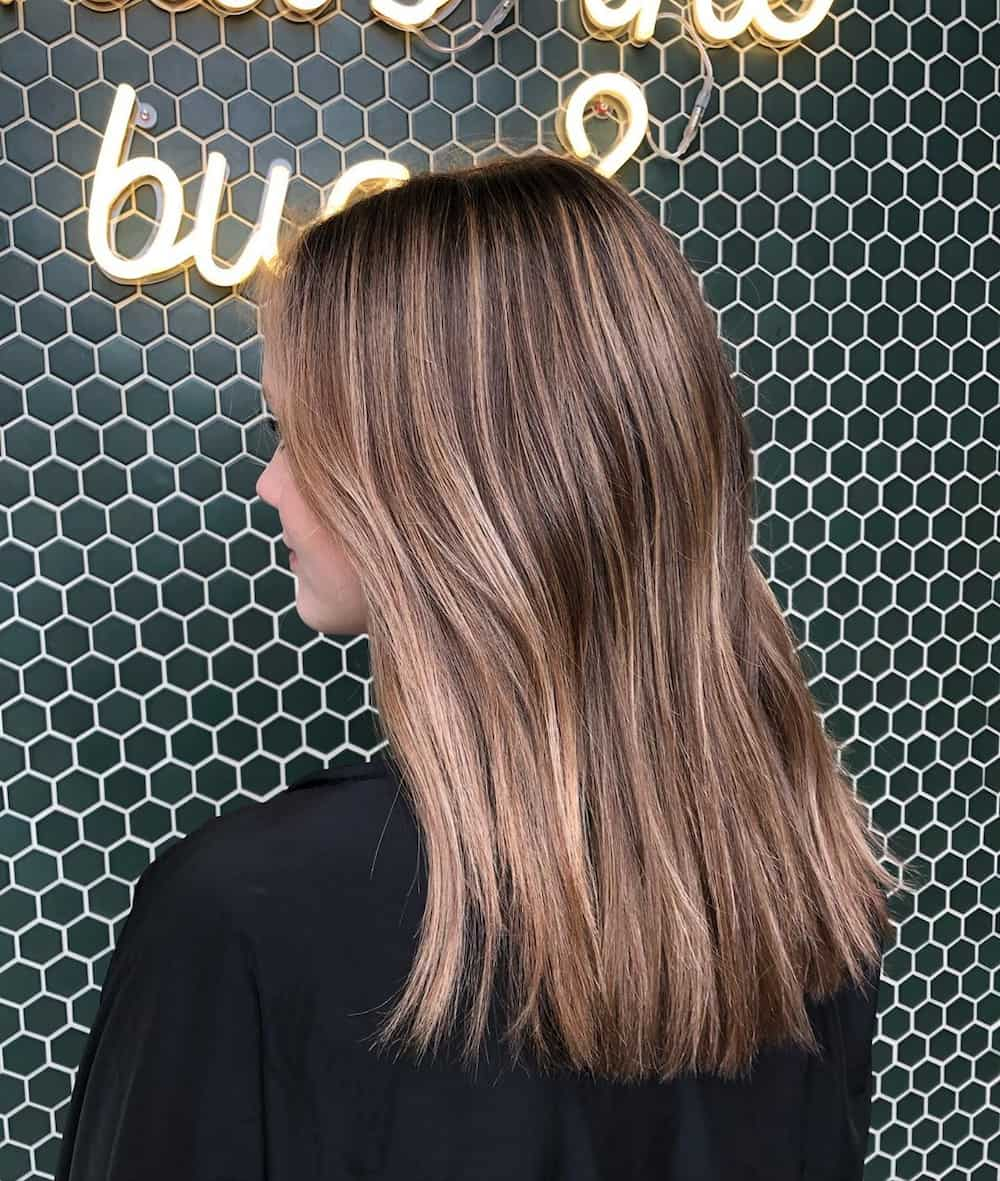 What is bronde? The unique shade is a mix of brunette and blonde and is a popular dye choice for girls with tan skin. Going bronde gives your tresses a light yet trendy appearance that complements that morena glow.
READ ALSO: Striking Coachella outfit for men in 2020
9. Caramel
Get that golden look with caramel hair color for morena babes. Unlike shades of light brown, caramel brings a gleaming shimmer to locks with its yellow-gold hues. Getting caramel hair works best in gradient styles and looks even more defined with curled or wavy hair.
10. Copper
Another reddish-brown shade to try is copper. Unlike caramel which is a golden yellow, copper is closer to deep orange. Its metal shade gives tresses a brightness boost which looks glamorous with bronze skin.
11. Blonde hair color for morena
Are you ready to join the 'blondes have more fun' clique? One fashionable look for girls with brown complexion is having dark roots and blonde ends. The deep roots add dimension to your tresses while the blonde ends are an attractive contrast to your skin tone.
12. Platinum hair color for morena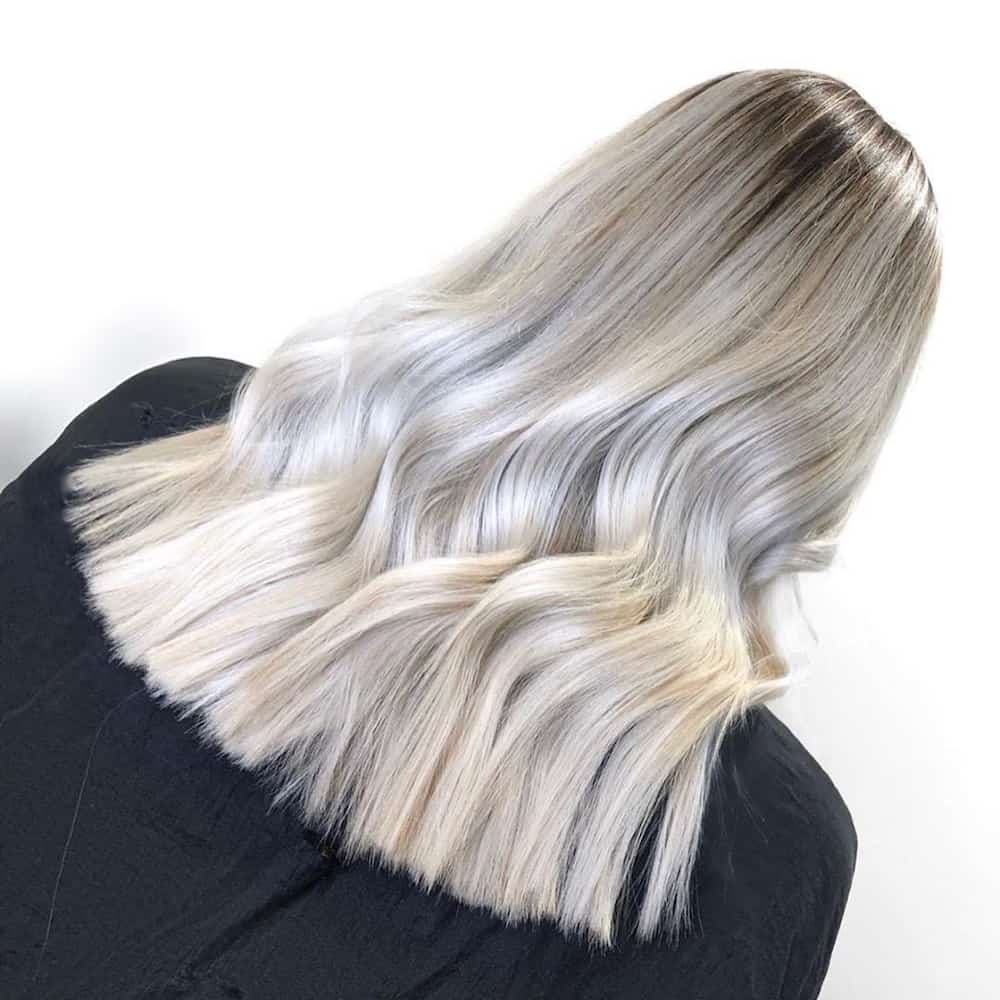 If you want to take it all the way when it comes to getting lighter hair, there is no topping going platinum blonde. The hue's grey undertones and silver look give off a white and icy vibe. However, several bleaching sessions are needed to achieve this light and edgy color, so be prepared.
13. Rose gold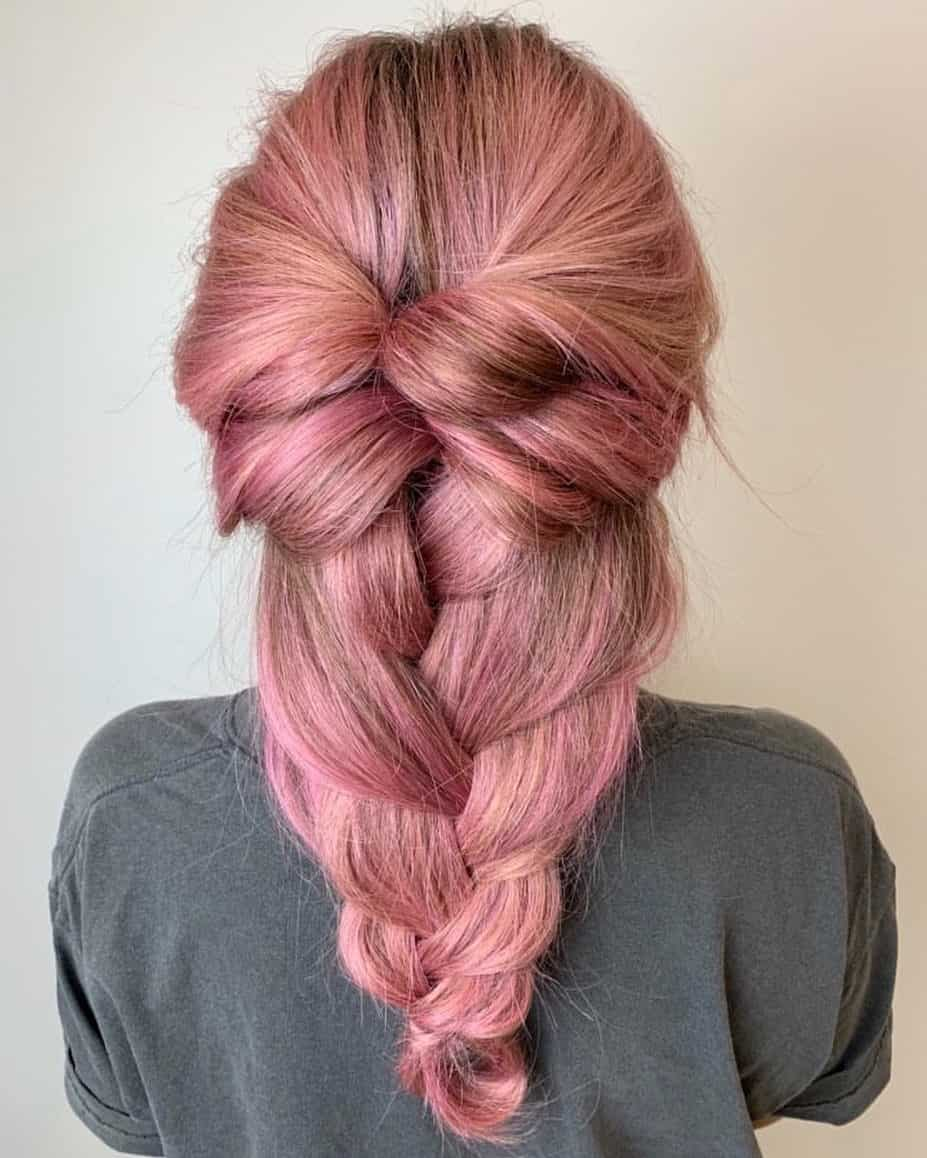 Girls with brown complexions should not shy away from bright and eye-catching colors if just because of their skin tone. One shade that is all the rage right now is rose gold with its lovely soft pink and light yellow tones. Aside from being a treat to the eyes, it matches nicely with tan skin.
14. Mauve
Similar to rose gold, this unconventional dye choice is stunning and dramatic on morena skin. Mauve is a dreamy color that screams light purple with hints of grey and sometimes, even pink.
READ ALSO: Bohemian outfit for men: 50 best ideas 2020 (photos)
15. Icy blue hair color for morena
An icy, pastel blue dye is a heavenly color choice that adds coolness to the warmth of dark complexions. Going icy blue brings a subtle yet adventurous style to natural dark tresses.
16. Dark teal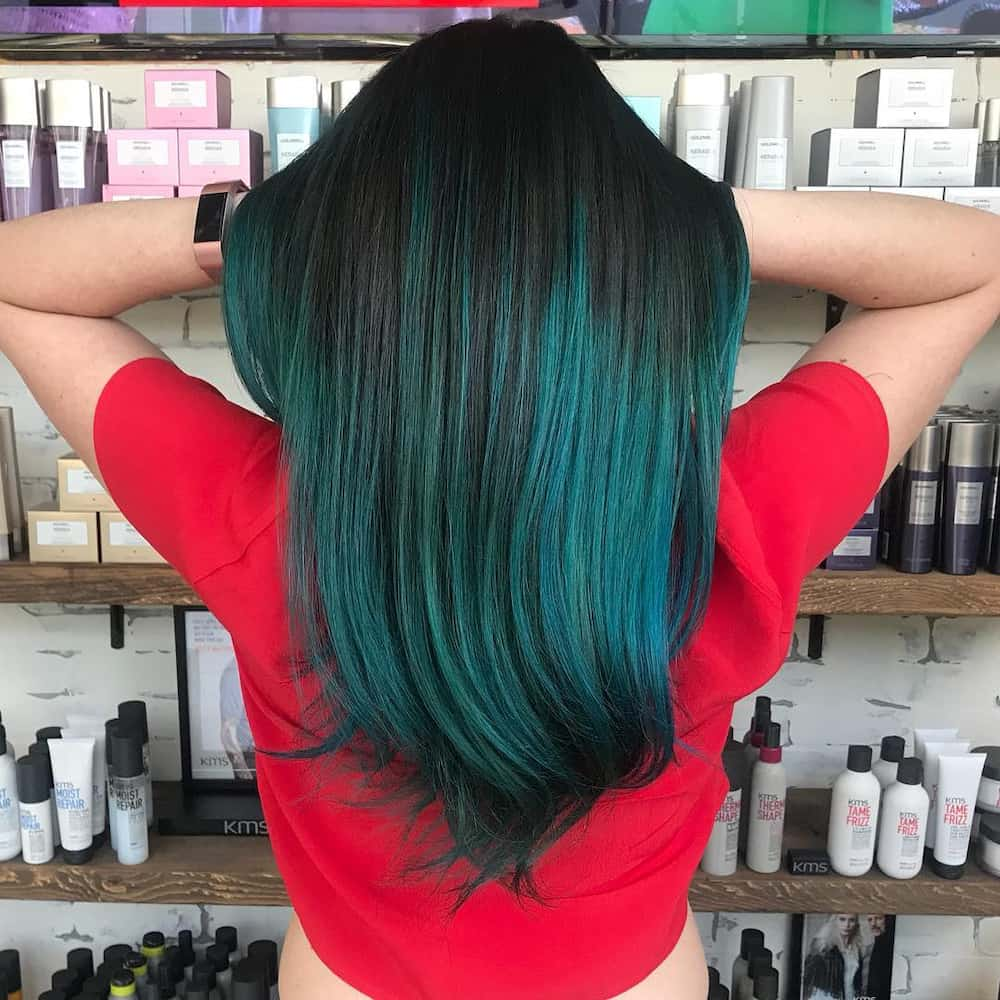 Teal lies in the middle of blue and green, and when matched with dark locks, it almost seems to be glowing. This bright shade is very out-there, but despite being out of the ordinary, it partners well with bronze complexions.
17. Smokey lavender
Another option for the bronze-skinned ladies who want unique-colored hair is the shade smokey lavender. The grey tones blended with lavender adds a soft and mellow feel to darker hair. Plus, the mingling of the two colors adds dimension to your locks, especially when curled.
18. Ombré hair color for morena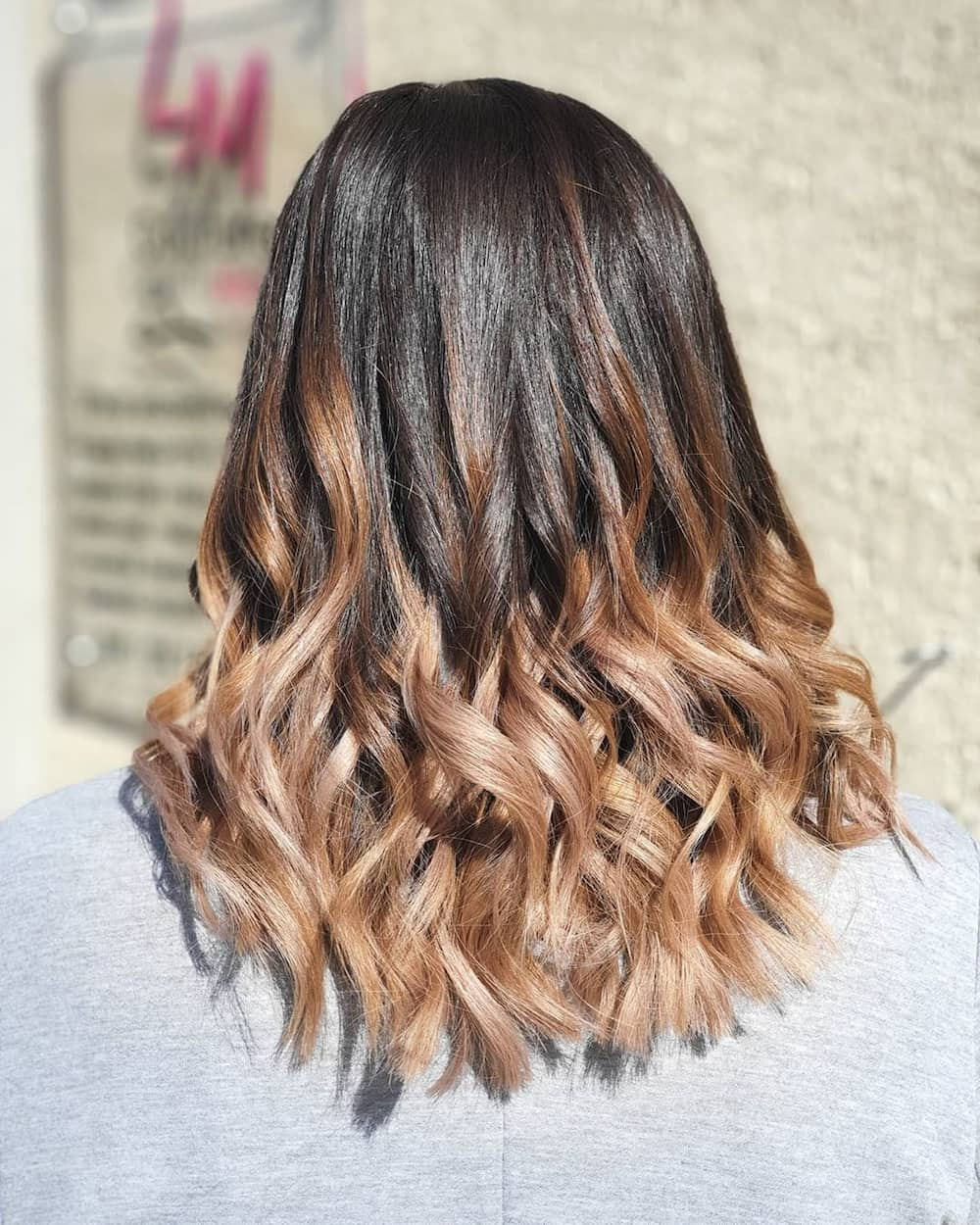 Nowadays, the ombré coloring technique has been taking over hair trends. Ombré is a French word that means shadow or shade and the style fits its name very well. Getting this style means dyeing or lightening the end parts of your locks and leaving your roots all-natural.
The effect is a gorgeous blend of dark roots and lighter ends which can be any shade you want.
19. Balayage color technique
For morenas, getting a Balayage dye-job adds more depth and effect rather than getting a solid color fix. In French, balayage means sweeping, and the hair coloring technique gives a soft gradient effect to tresses.
The natural-looking results and highlights complementing the darker hair underneath is a perfect look for bronze-skin beauties.
20. Ash or beige highlights
Saying goodbye to your natural hair color can be tough, so one other option is adding highlights. With a bronze complexion and naturally dark hair, the highlights wonderfully add contrast to your look. Some people prefer thicker sections of highlights as compared to scattered ones, but either way, the look stays fashionable all the same.
Despite the saying that only a few shades suit dark-skinned girls, there are many hair color for morena gals to choose. Be proud of your brown complexion and rock these looks this 2020.
READ ALSO: Retro outfit for men: 50 amazing styles to complete your look
Source: KAMI.com.gh