Havana outfit for men: best in 2020 (photos)
What should men wear in Cuba for a night party? This is a common question among Cuban locals and visitors. Also, it is one of the reasons why Havana outfit for men are among the trendy fashion styles in 2020. You can still be part of the trend even if you are not in Cuba. What are the available options?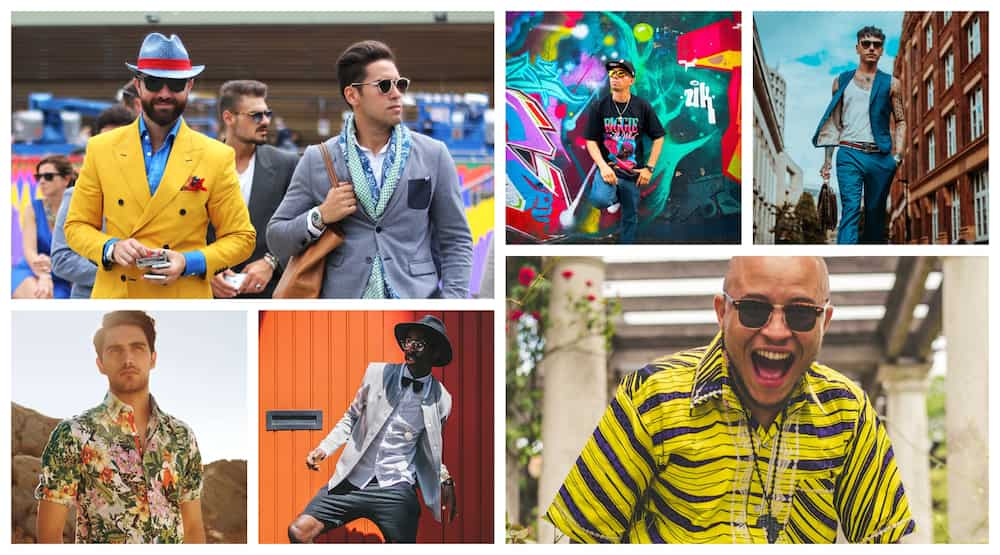 The list of ideas for Havana fashion styles is extensive. These designs are generally casual, breezy, and light. You do not have to think along the line of formal dressing. What you need is something that looks nice and bright. Go through the available styles and pick your preferred design.
Casual Havana outfit for men
Casual dressing is a trendy thing in 2020. So, casual outfits that rock the Havana theme are not different. There are tons of styles in this trend that you can try. Which of the following outfits do you think is cool for you?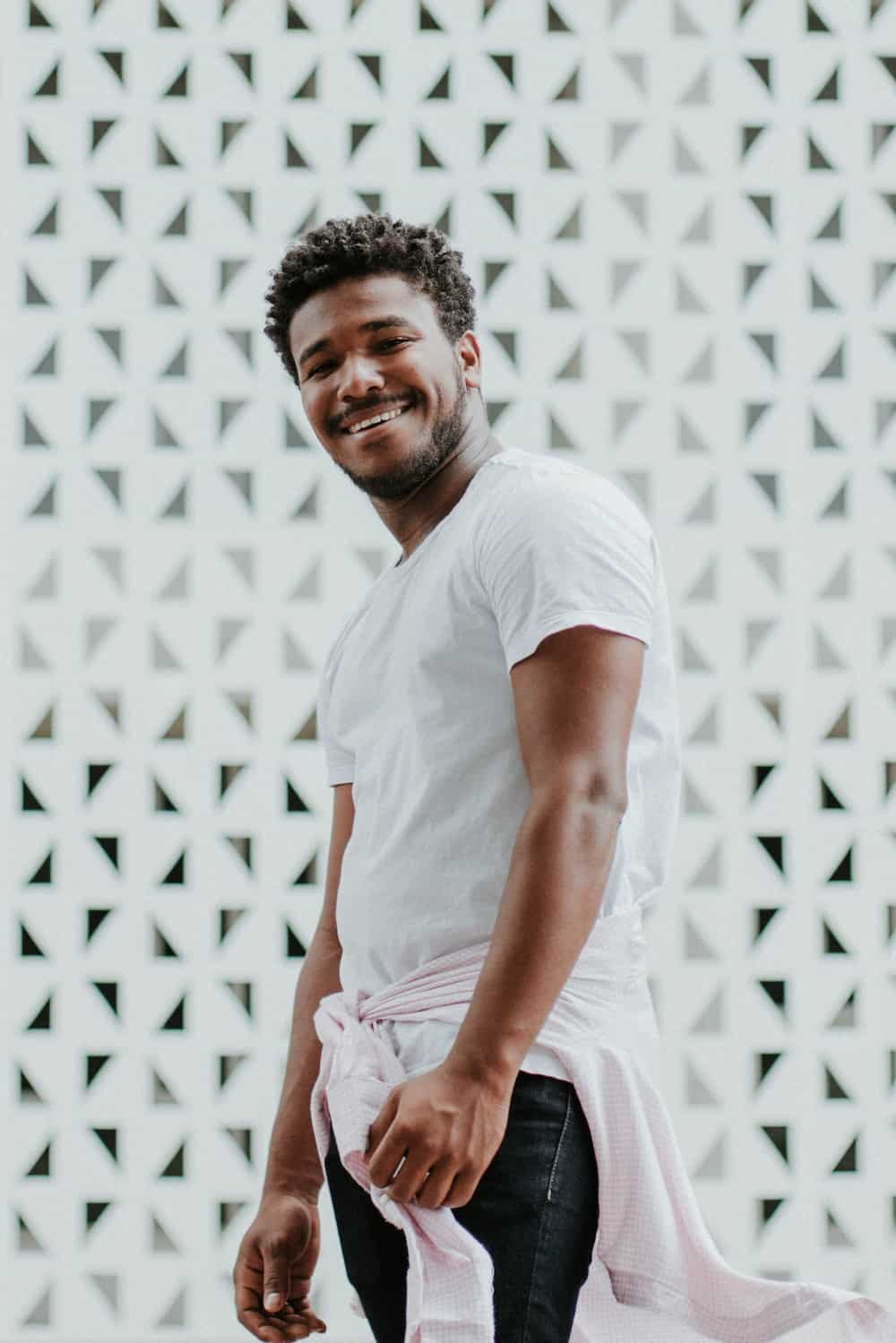 This look is as casual as possible. You have a short-sleeved t-shirt, a pair of jeans, and a dress shirt tied around your waist.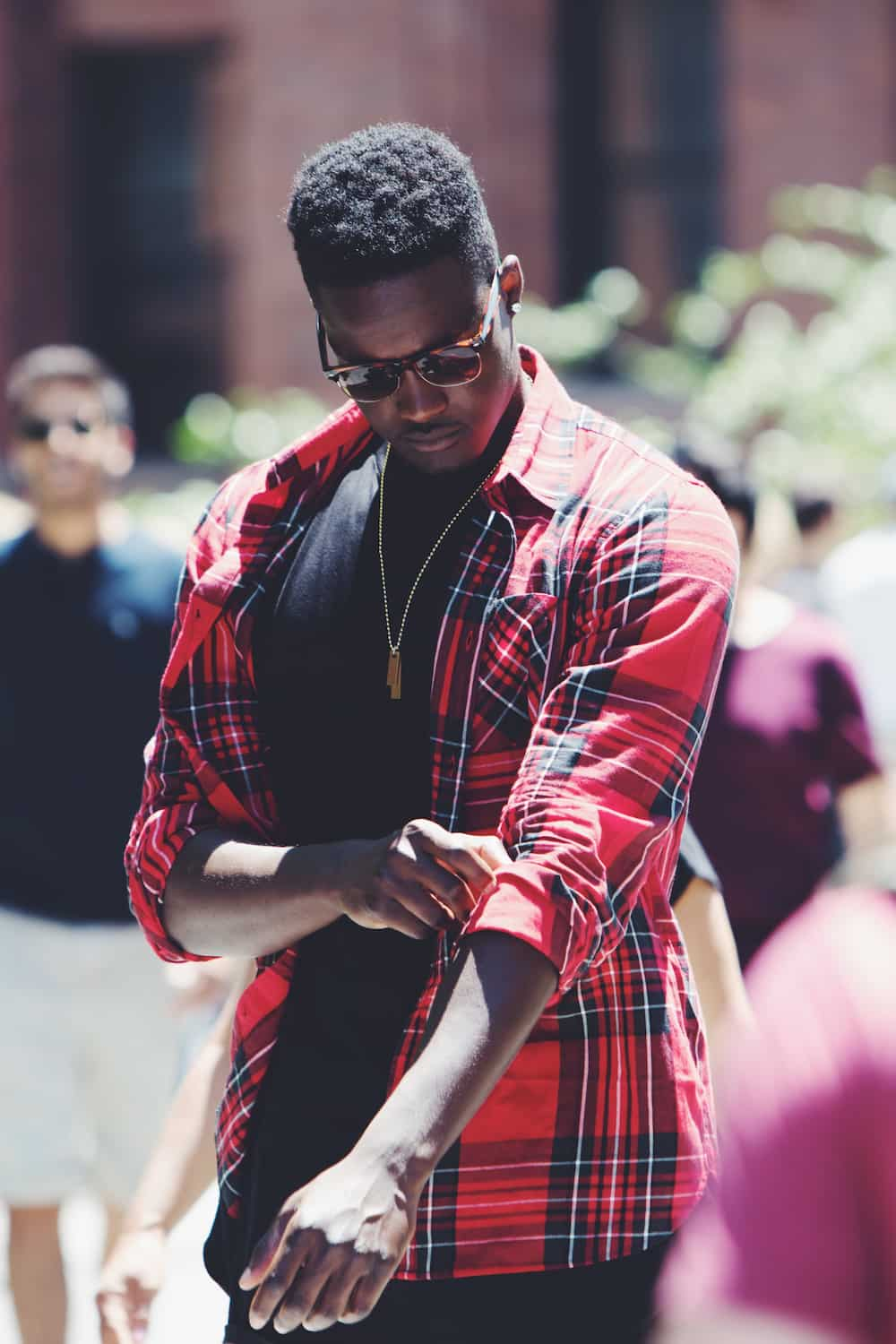 One can also go for a black t-shirt underneath a sweatshirt. The cool thing about this choice of attire is the striped sweatshirt. The shirt matches with the t-shirt without forgetting the sunglasses and necklace.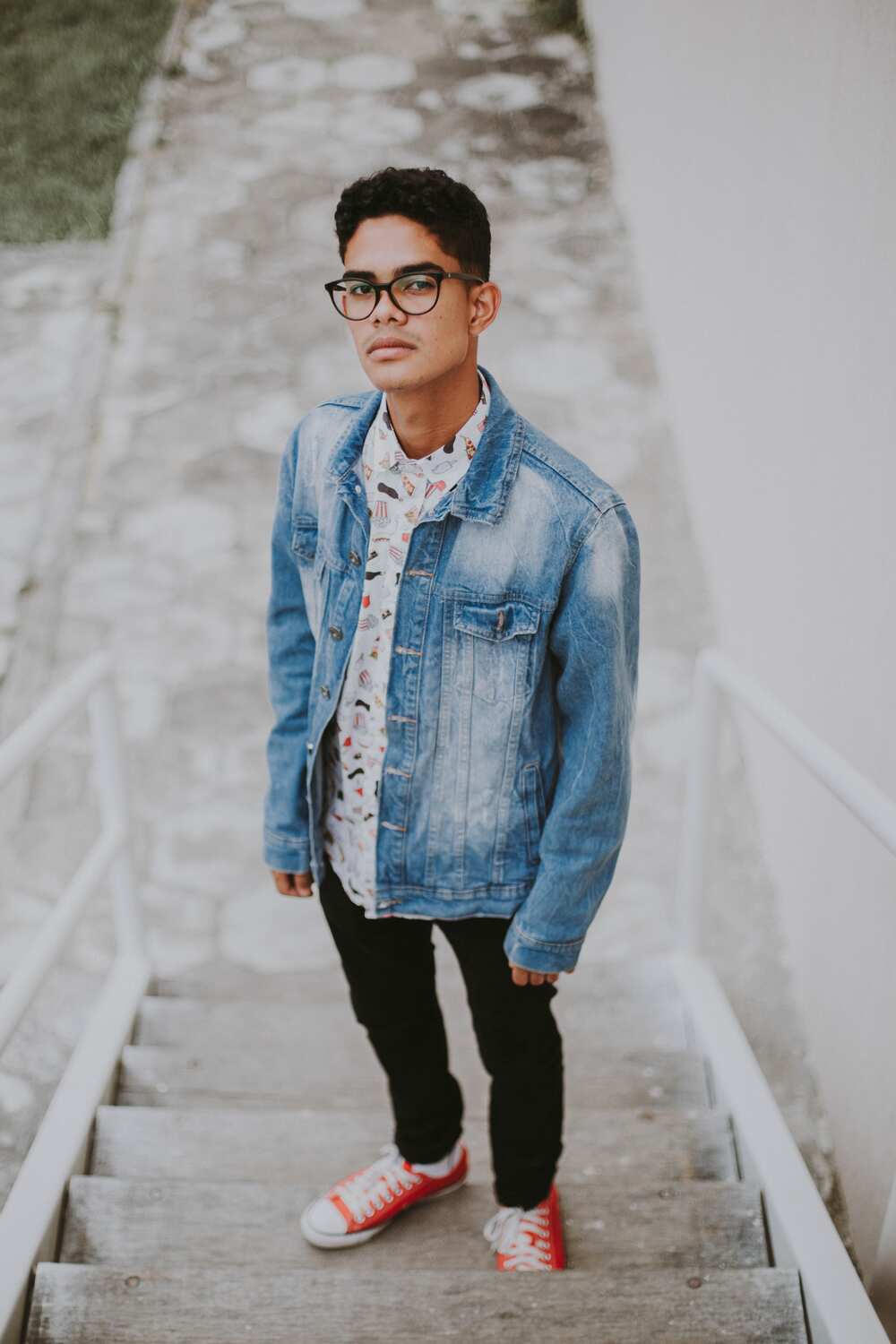 This look is laid-back and easy. You have a pair of black pants, which usually works with a wide range of shirts and t-shirts. In this case, he decided to rock an art-dotted t-shirt underneath a denim jacket.
The red rubbers shoes match with the red drawings on the t-shirt. Also, did you miss the pair of eyeglasses? They give the overall dressing a nice detail.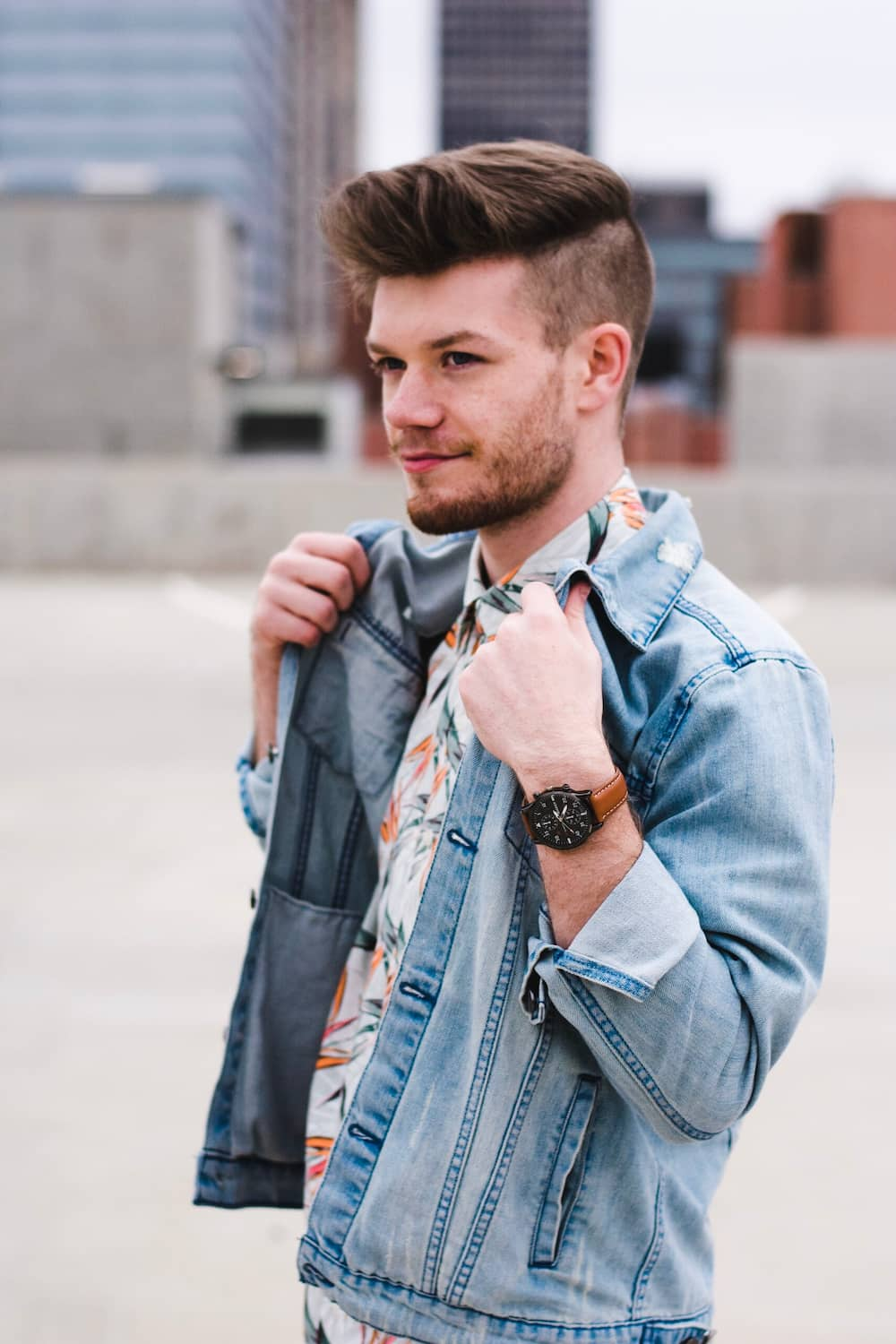 He opted for a denim jacket with a light t-shirt underneath. What you might miss in his choice of dressing is the orange watch strap that matches the orange art drawings on the t-shirt.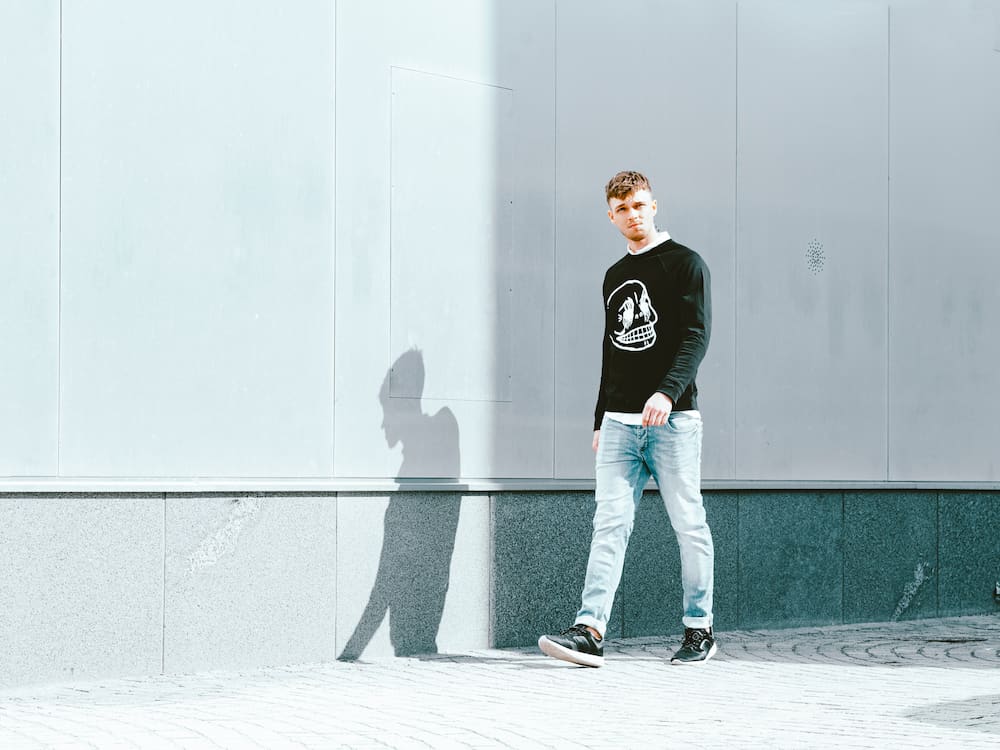 Looking easy and relaxed depends on what you wear. He chose a nicely-fitting pair of fading jeans, sporty shoes, and a light long-sleeved shirt.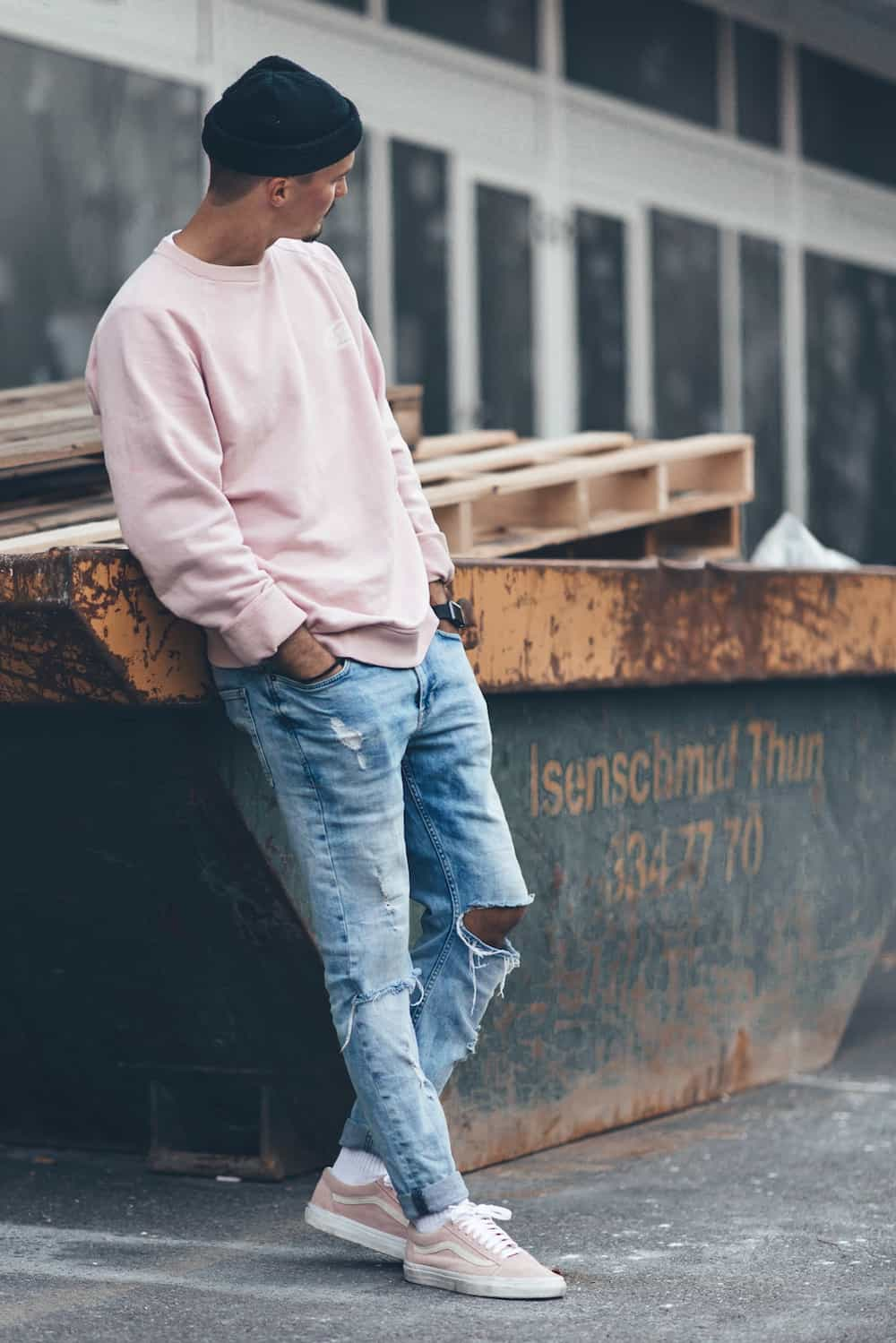 Most Havana attire styles tend to be colorful. In the photo above, this gent opted for a pink, light pullover that matches with his pink pair of Vans shoes. The rugged pair of faded jeans and black Marvin cap.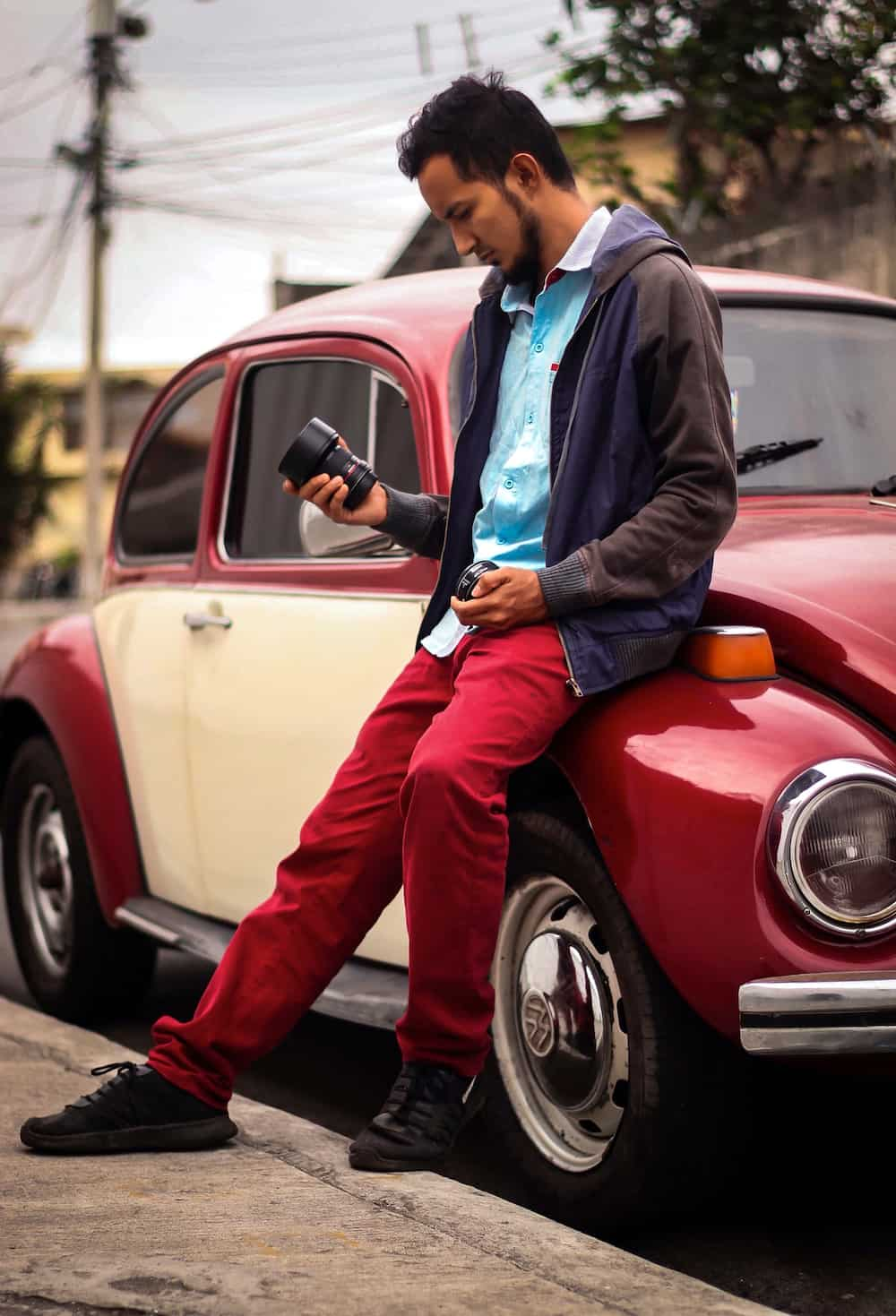 As mentioned, bright colors are part of the dressing code in Cuba. It is no surprise that he chose to wear and a striking red pair of pants and a blue shirt.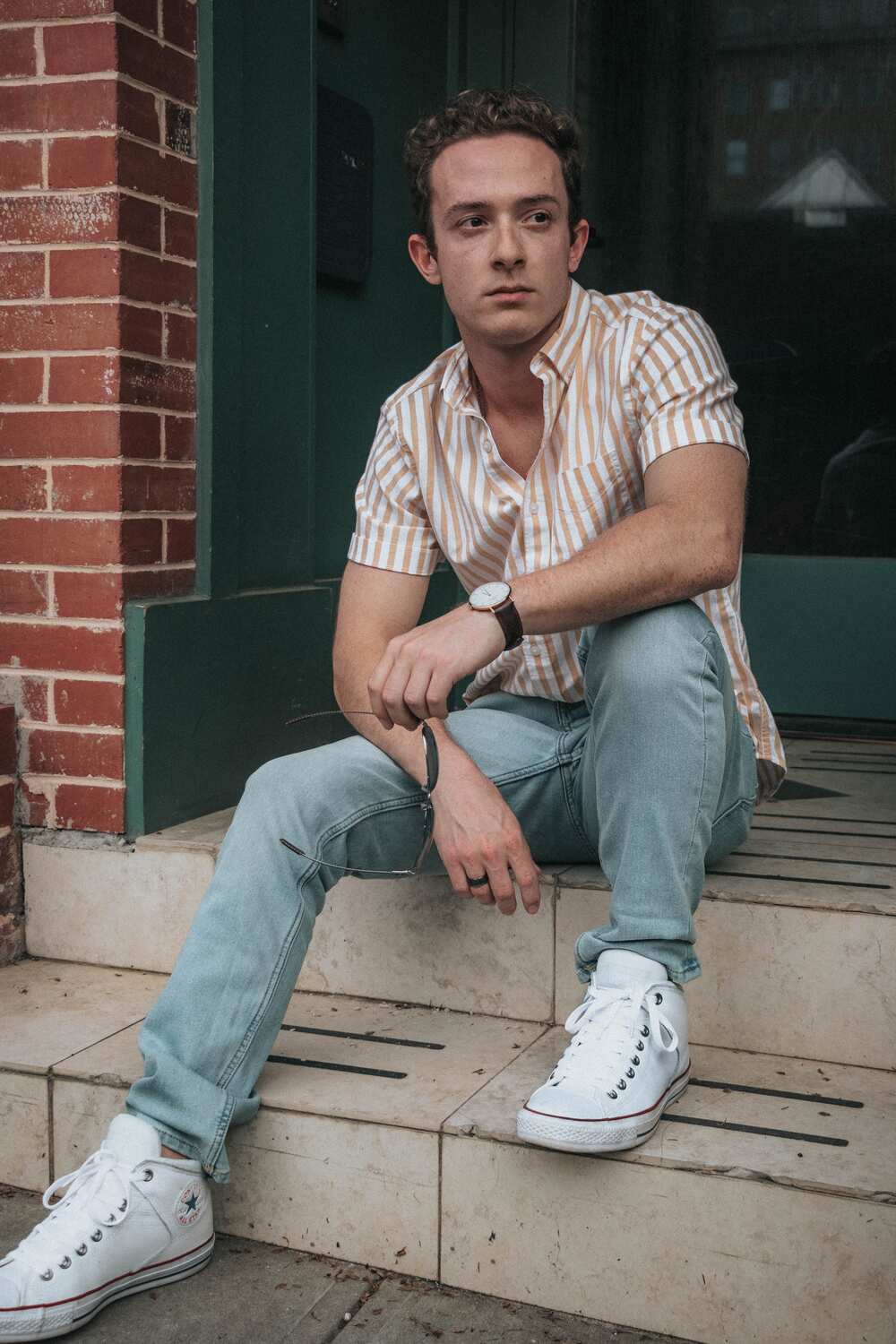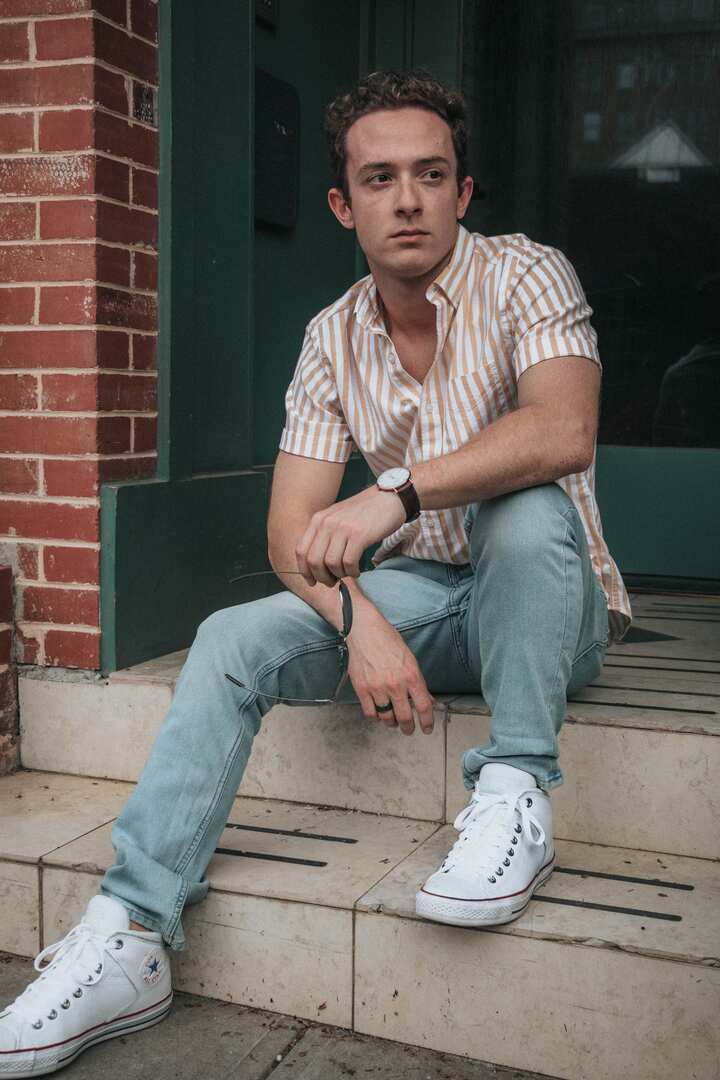 You do not have to do much to pull off an elegantly casual look. From the photo above, it is clear that white rubbers, fitting jeans, and a nicely-fitting short-sleeved shirt are enough to look good.
Baggy jeans are not an option that you will never consider. For the above man, it was enough for him to rock a casual look that landed him on this list of ideas that you can try.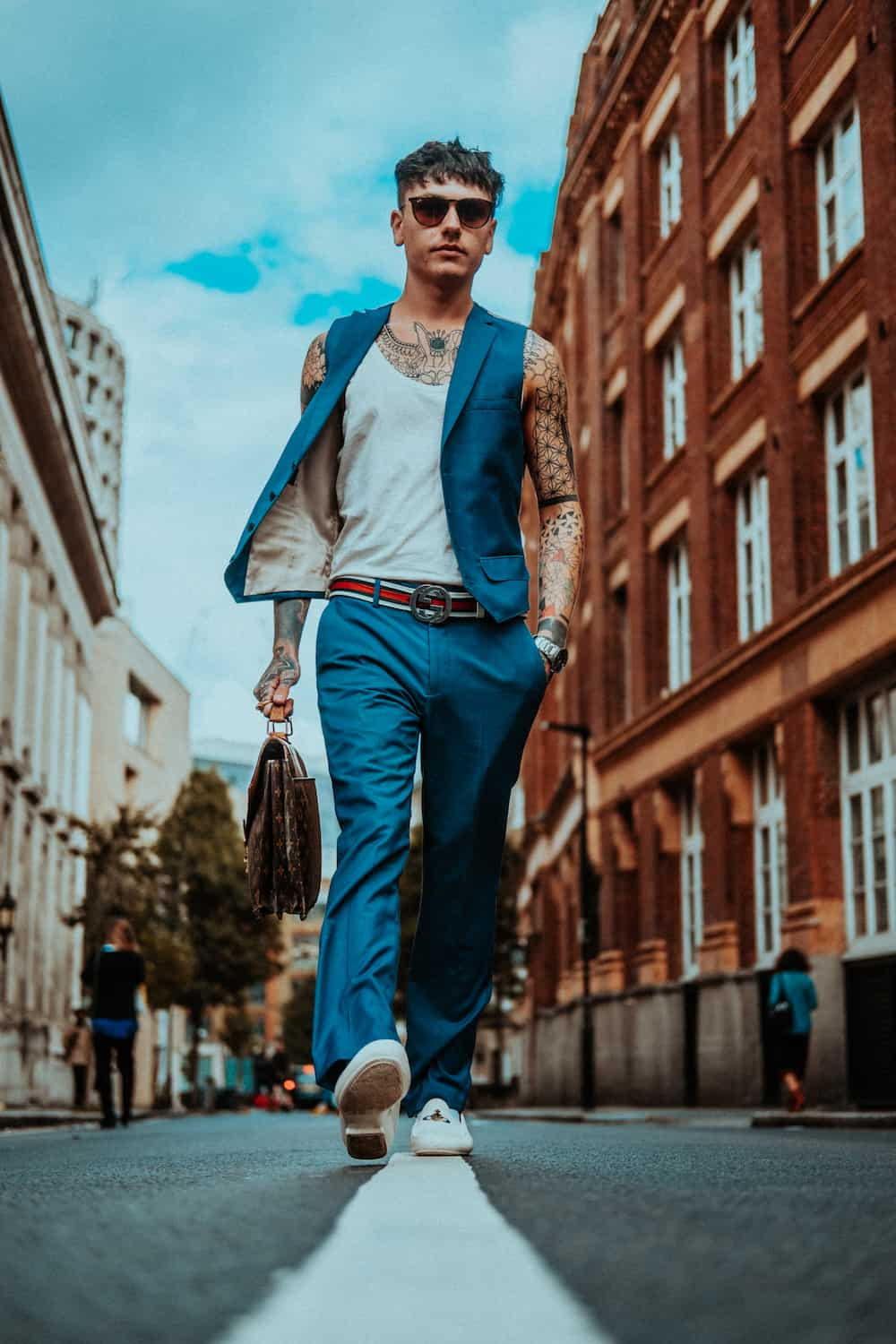 For a moment, you might mistake the above outfit for a casual one. The sleeveless coat that shows his tattoos was enough to make his dressing casual. If you consider this style, you can also go for a multi-colored belt and a handbag.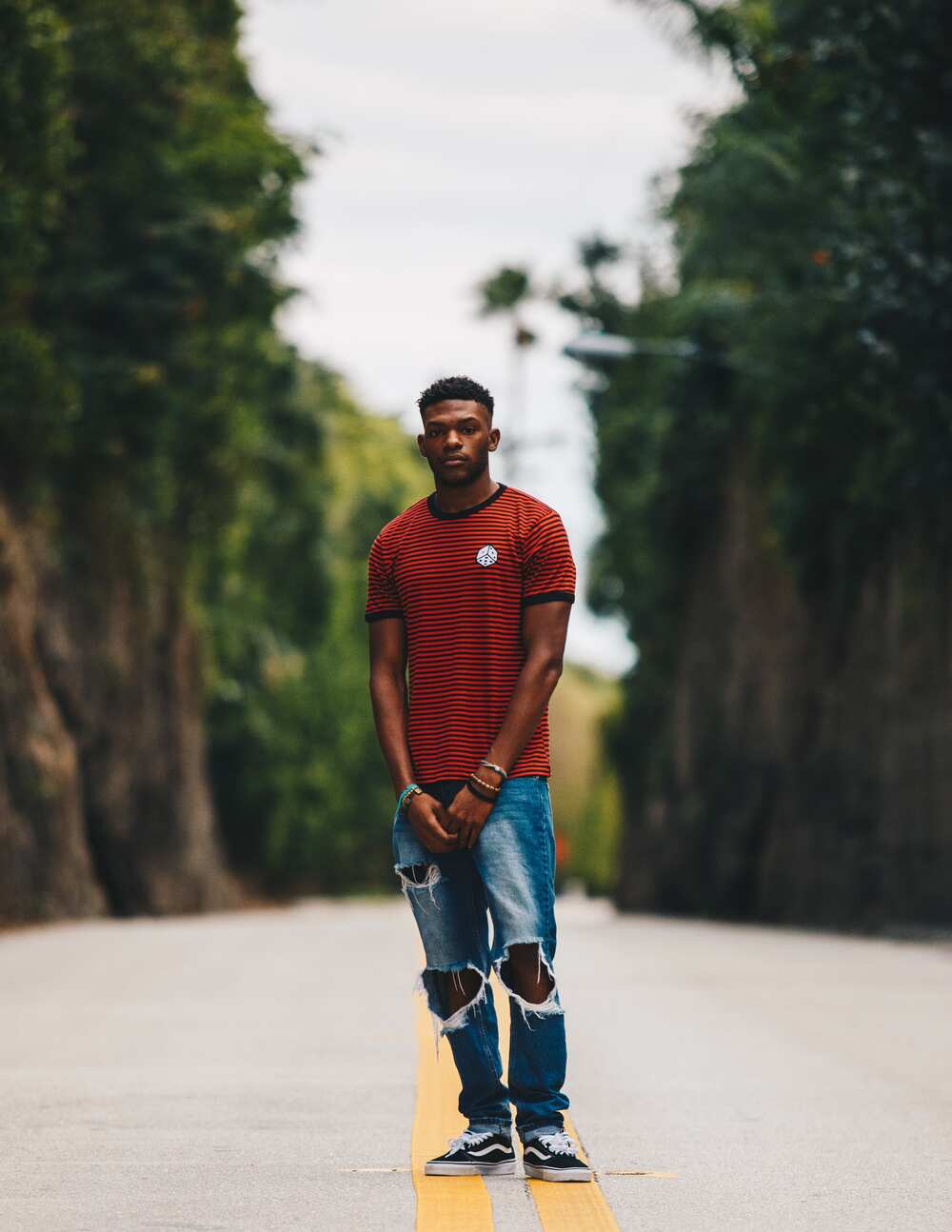 You will turn heads if you rock a rugged pair of jeans like the one in the above photo. However, you also have to appreciate the cool striped t-shirt and a pair of Vans shoes.
The caption of the above photo is enough. If you want to look stylish while keeping your look casual, a pair of jeans, a black t-shirt, and a leopard-spotted jacket will be enough.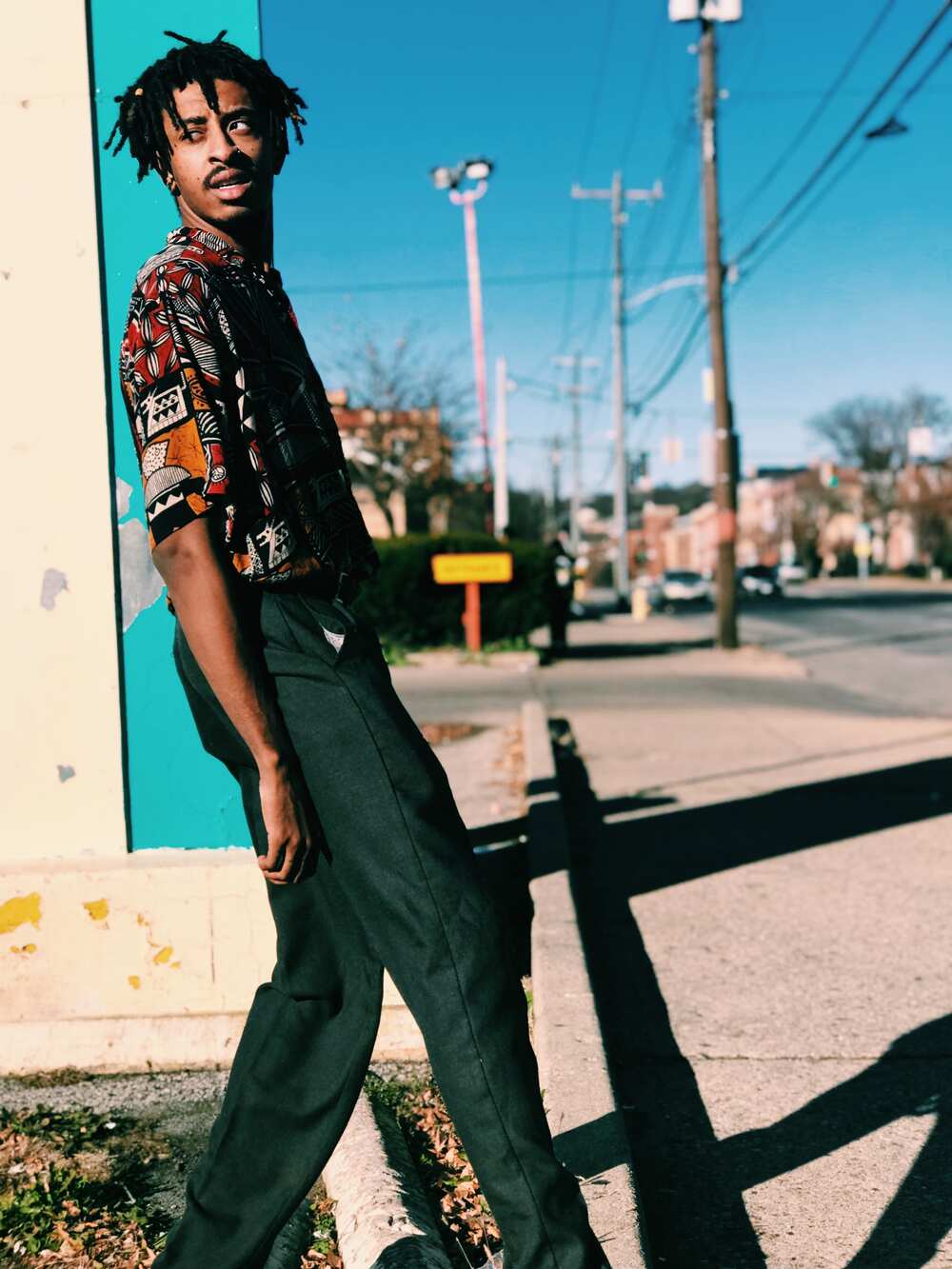 Here is another example of an outfit that borders between an official and casual look. However, the style shown above passes for an easy-going one.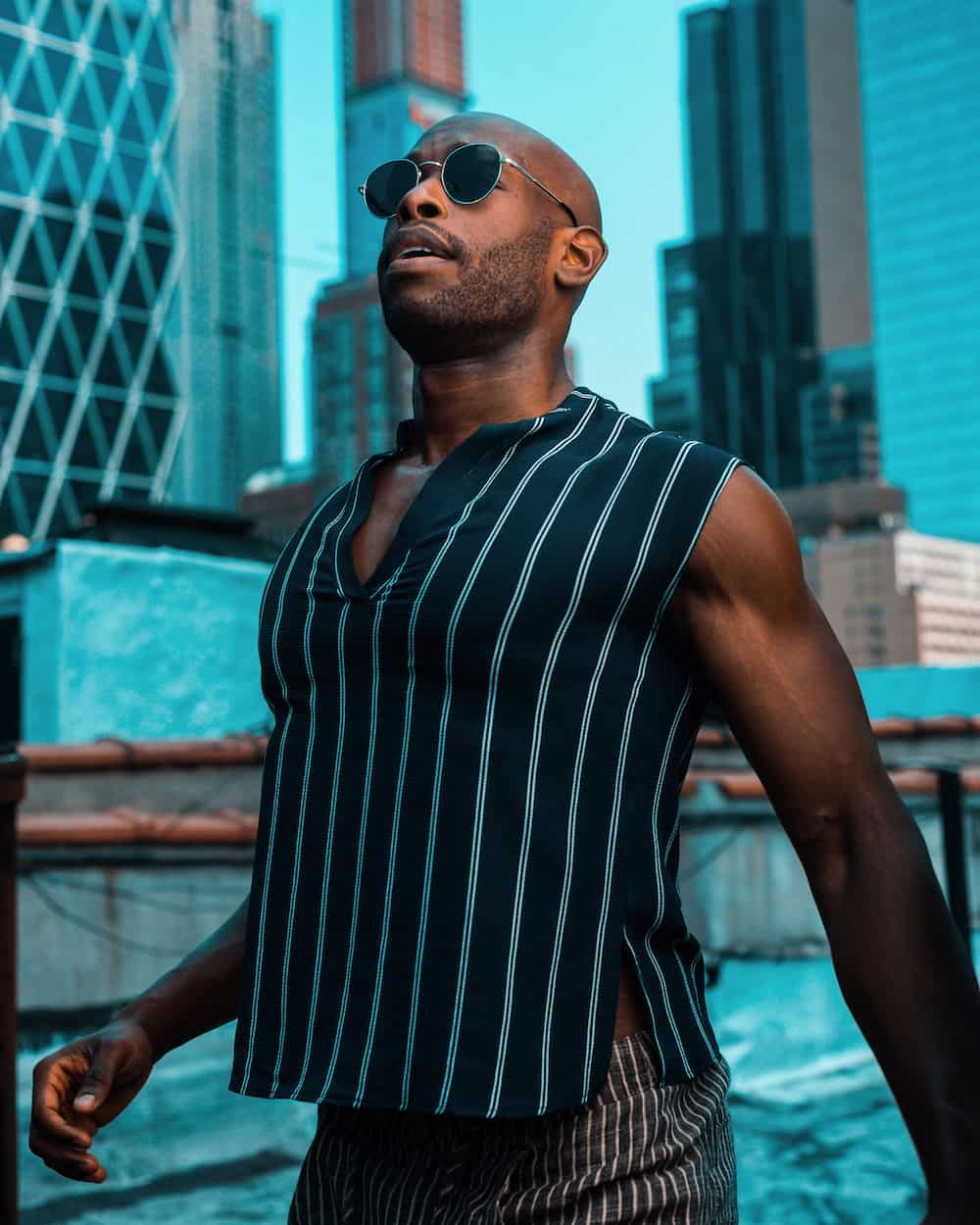 It is unique and will turn heads. The style shown here proves that you have the freedom to experiment with different attire options. You can pull a similar look if you also hit the gym on the regular.
READ ALSO: Coachella outfit for women: top 30 designs (2020)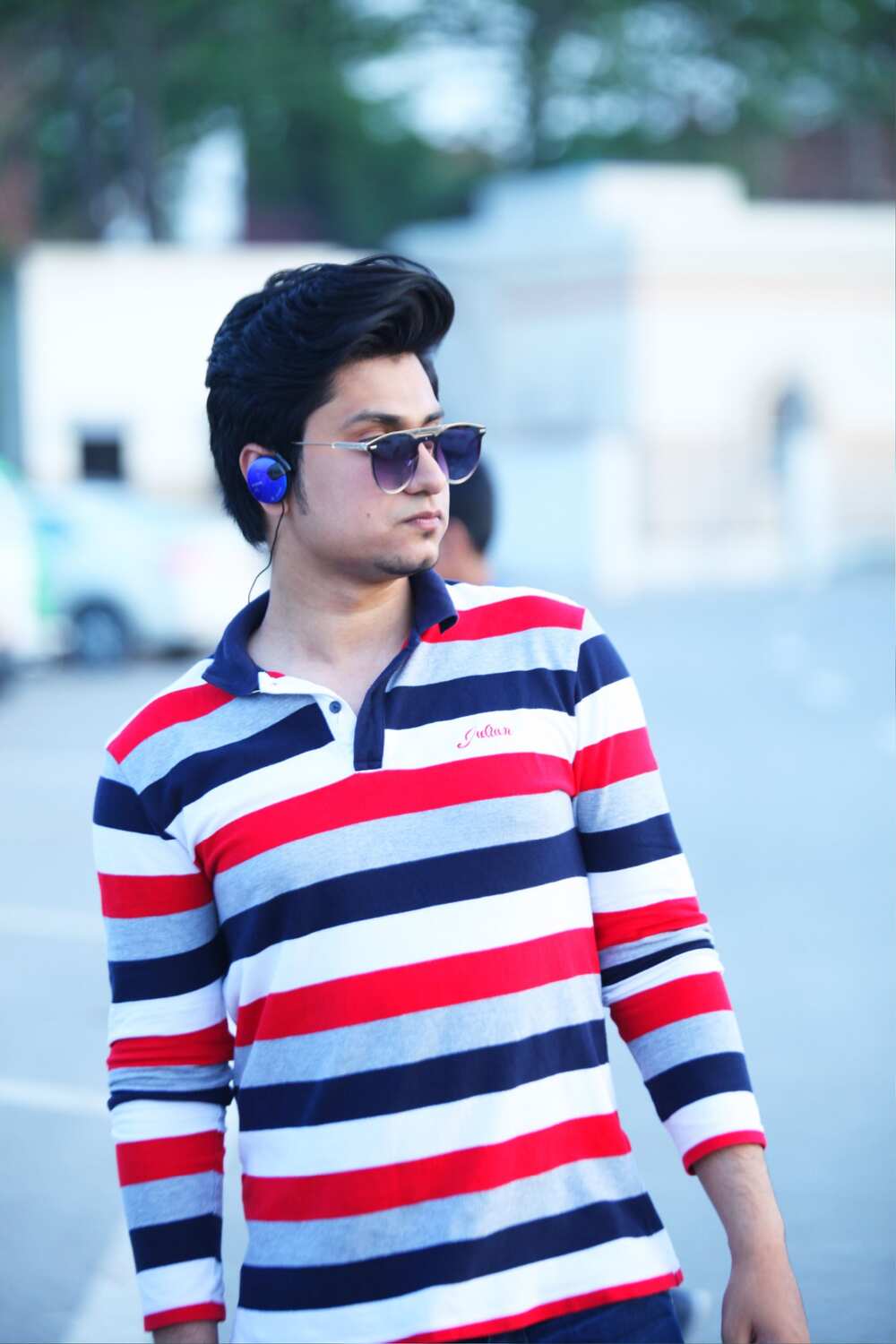 If you love colors, then the striped pullover shirt shown above will be a good option.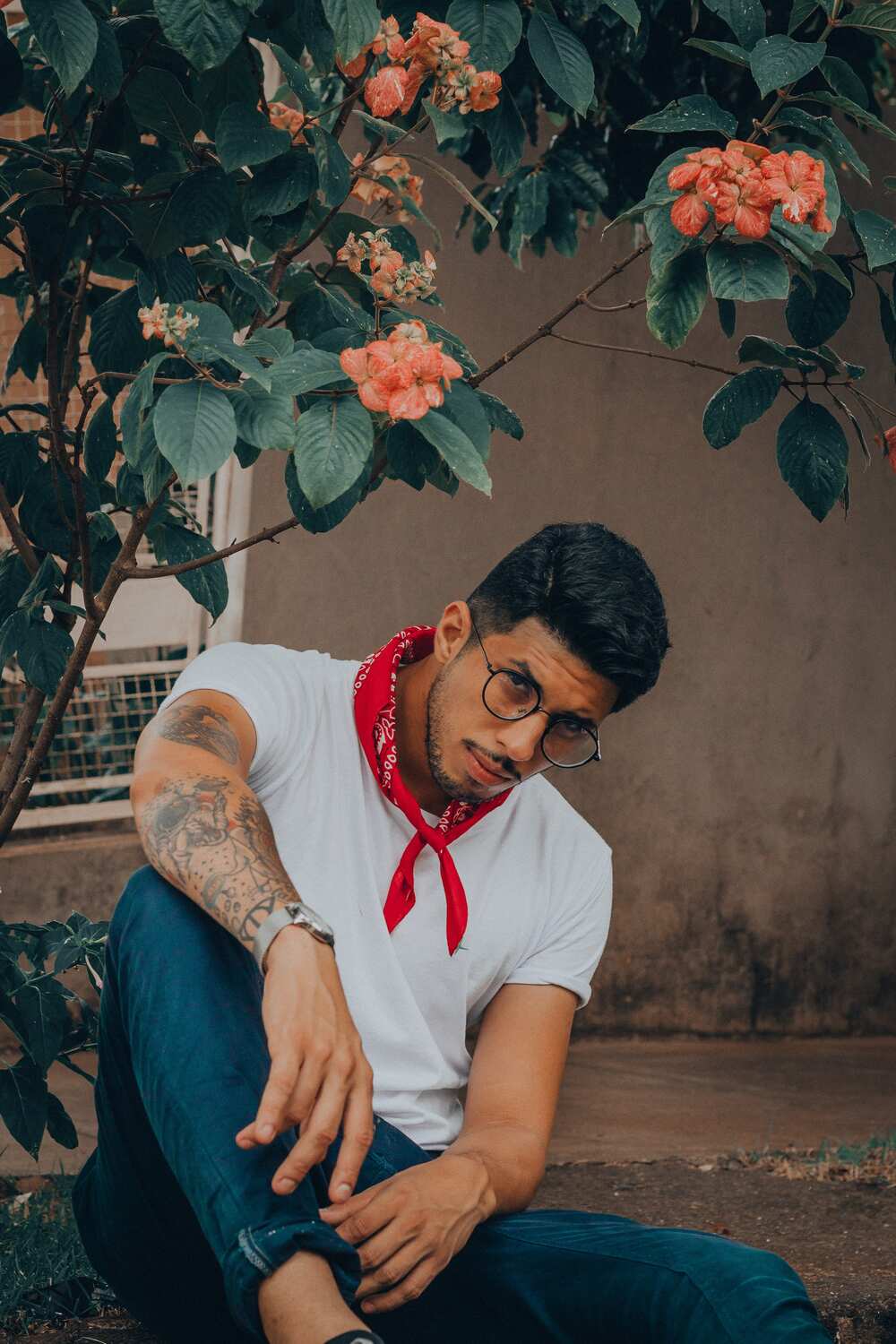 The shown style can inspire you if what you want is a laid-back look for a Saturday morning.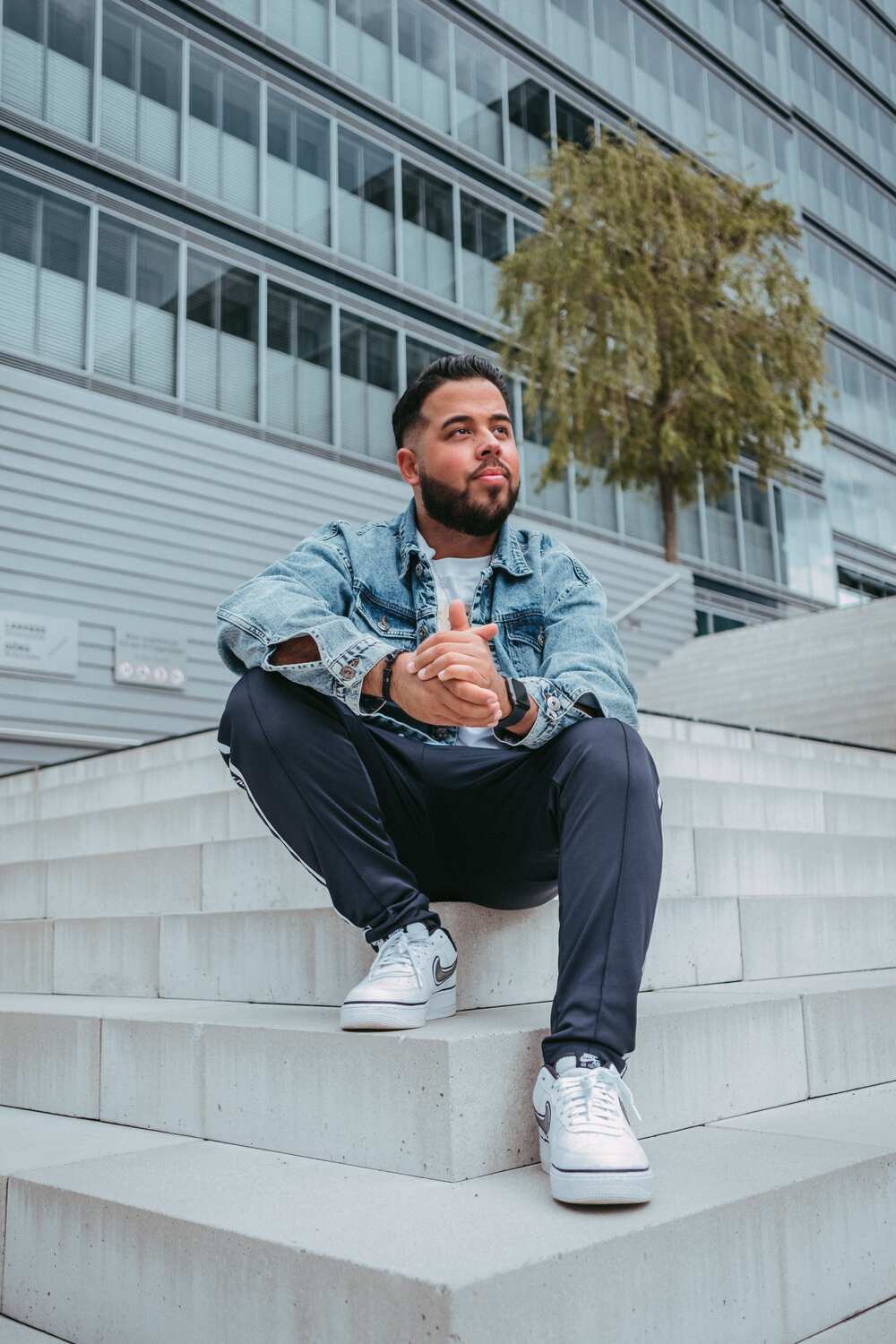 Semi-sporty looks are also trending in 2020. If you do not want to be the odd one out, then pick an idea or two from the photo above.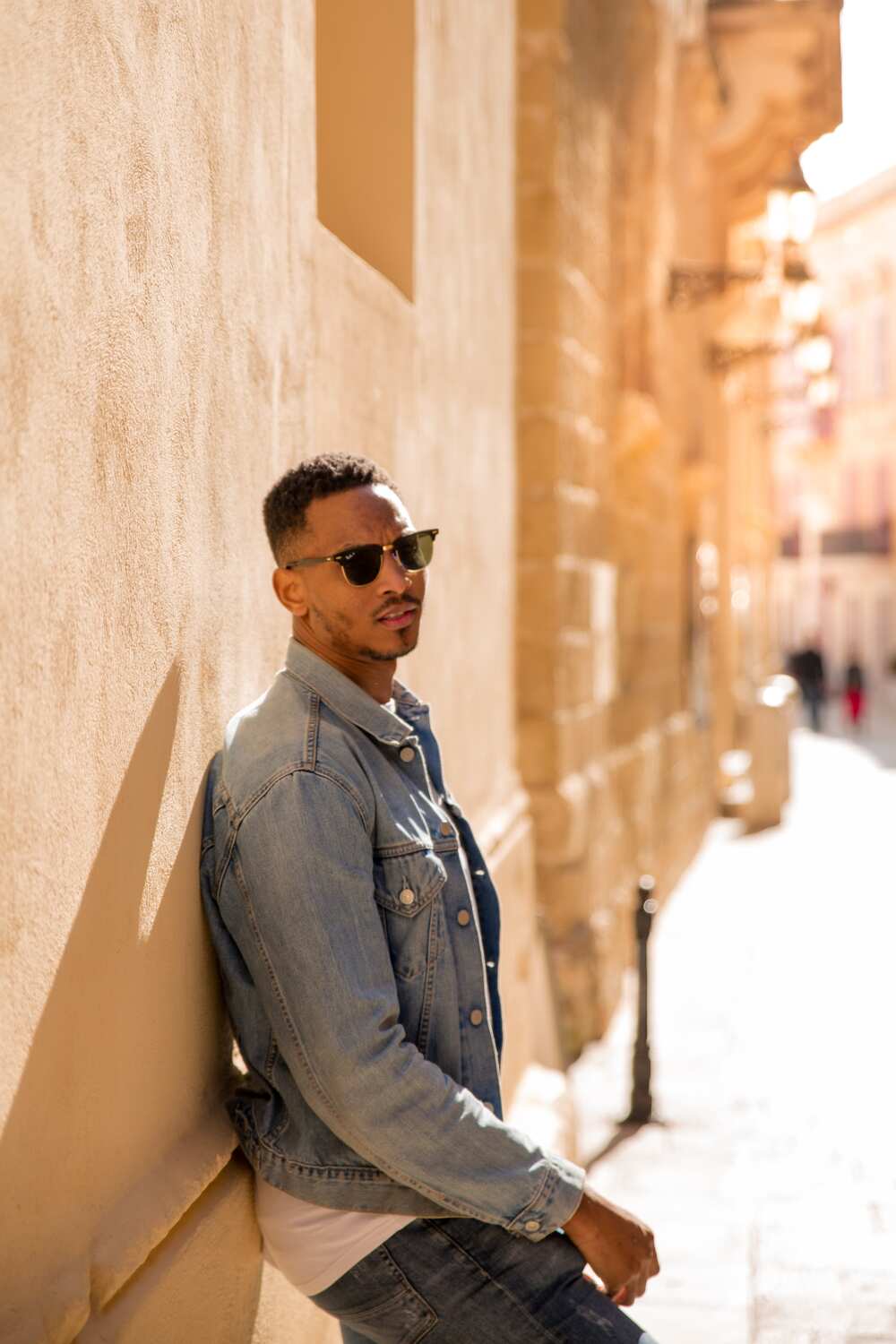 Denim jackets and pants have been the go-to casual options for many men for a long time. The trend is not different in the above picture.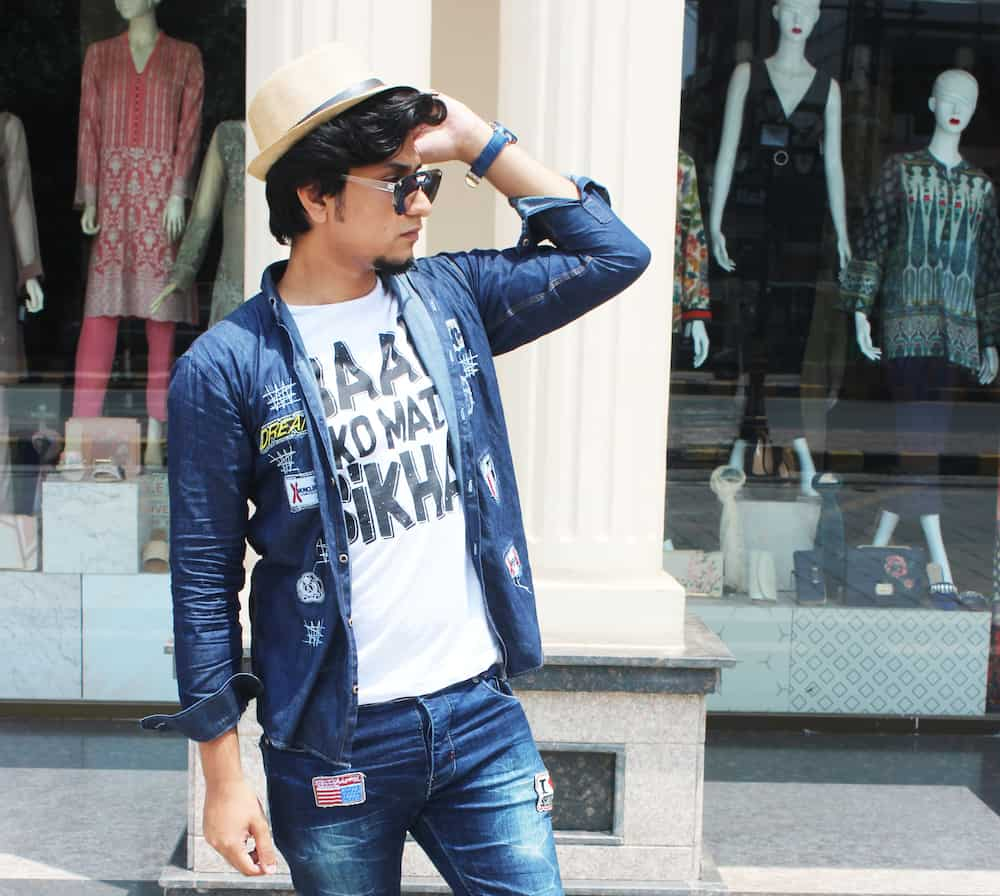 Here is another idea of how you can dress up casually.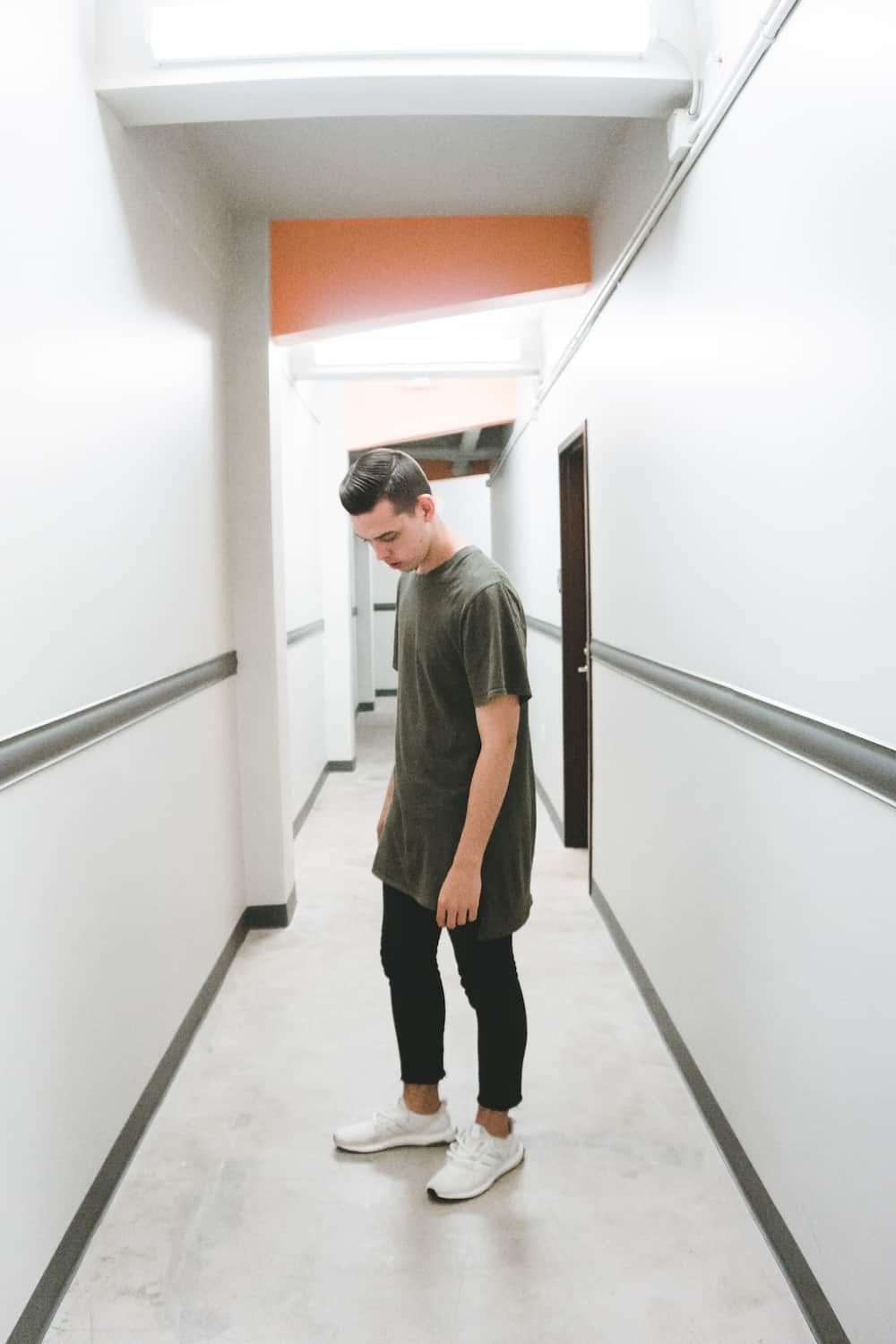 Pulling off the style shown here is easy. The style only needs a dress shirt in the color of your choice, a tight-fitting pair of pants, and sporty shoes.
READ ALSO: Hair color for morena 2020: 17+ Top ideas (Photos)
Floral Havana outfit for men
The simple explanation for the floral outfits listed below is that they all have an element of floral print. If you love printed t-shirts as well as flowers, there you go.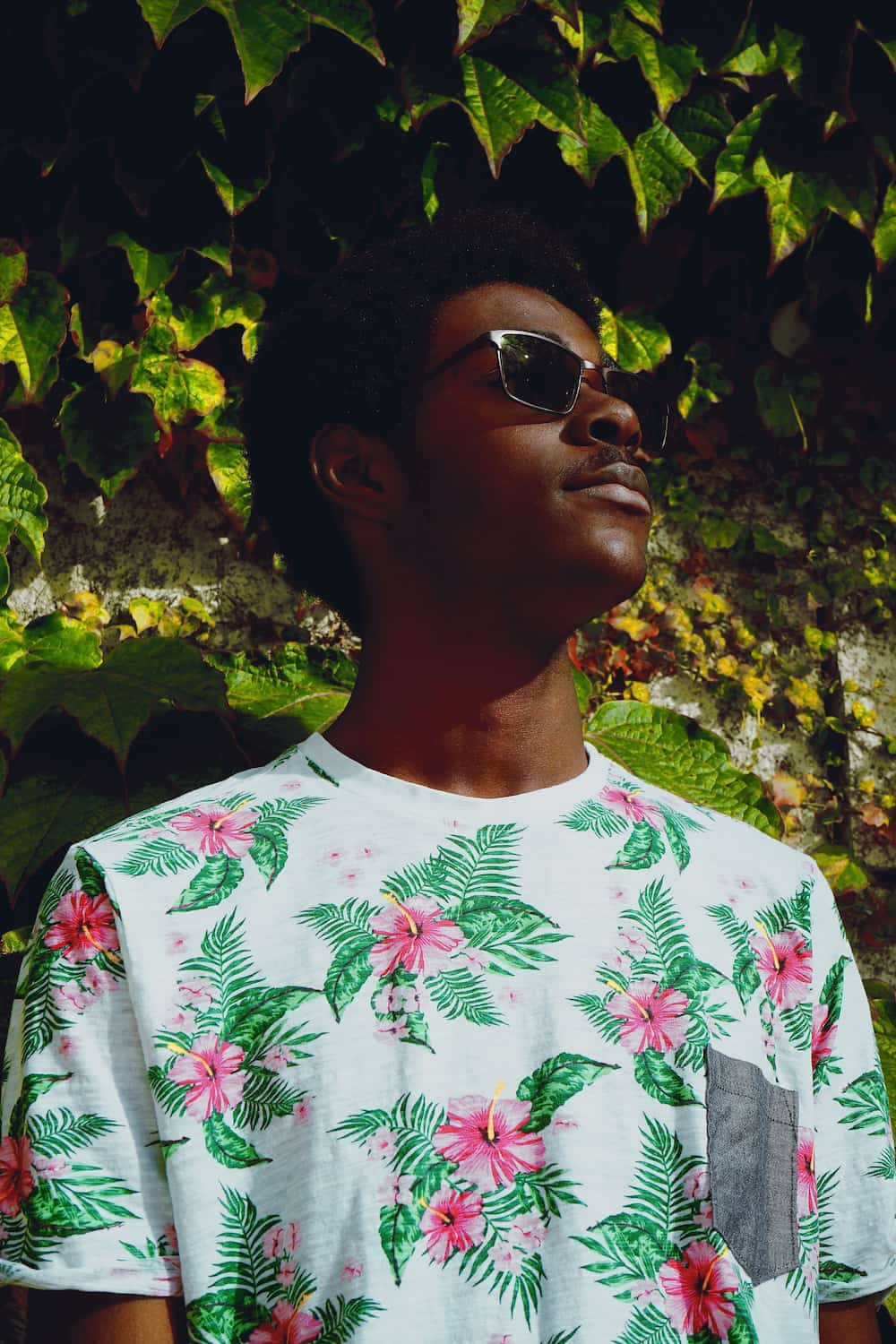 Green and pink flower prints on a white t-shirt can be your thing. If it was not, how about you consider the same?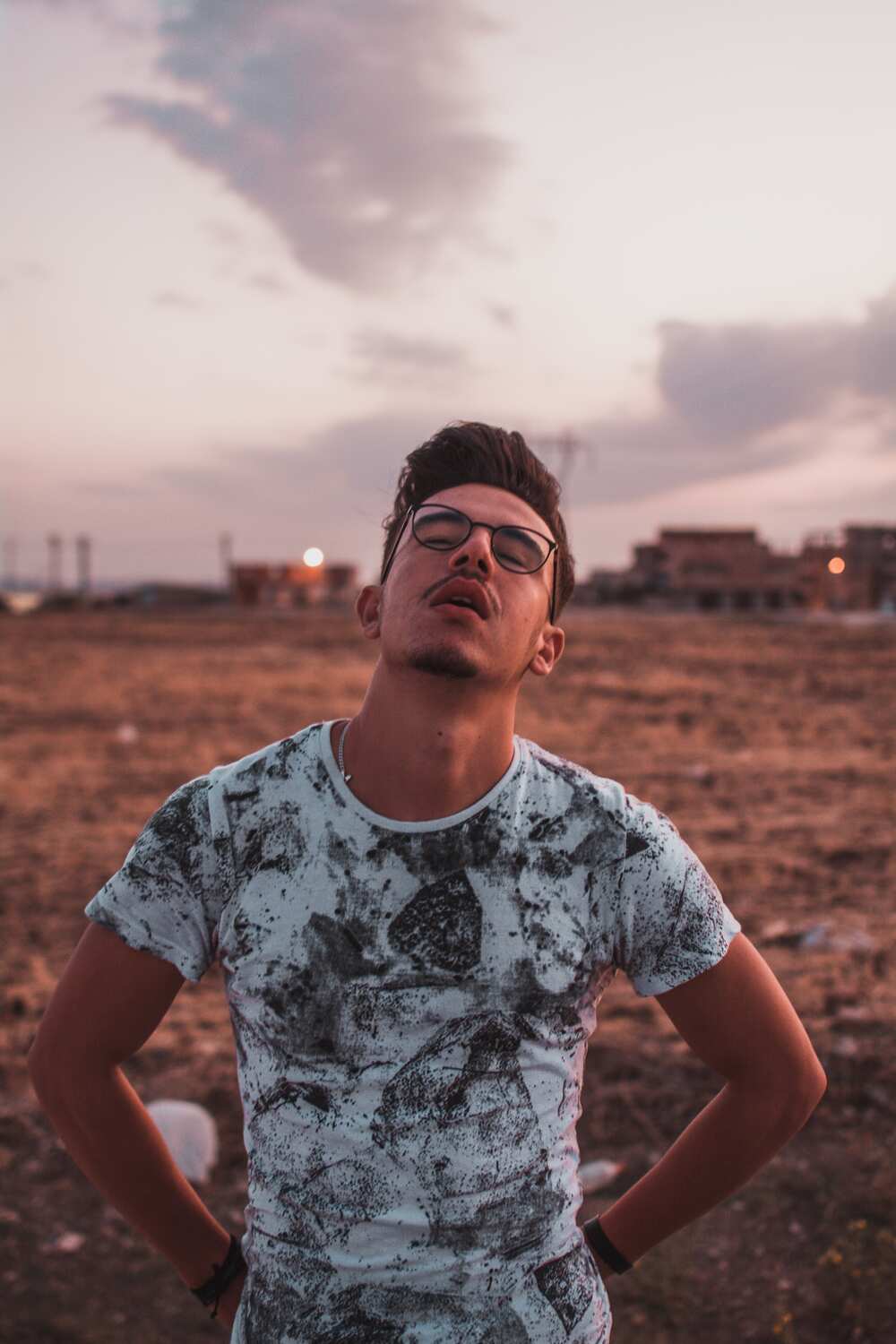 If you are not into bright flower prints, the t-shirt design shown here is a good alternative.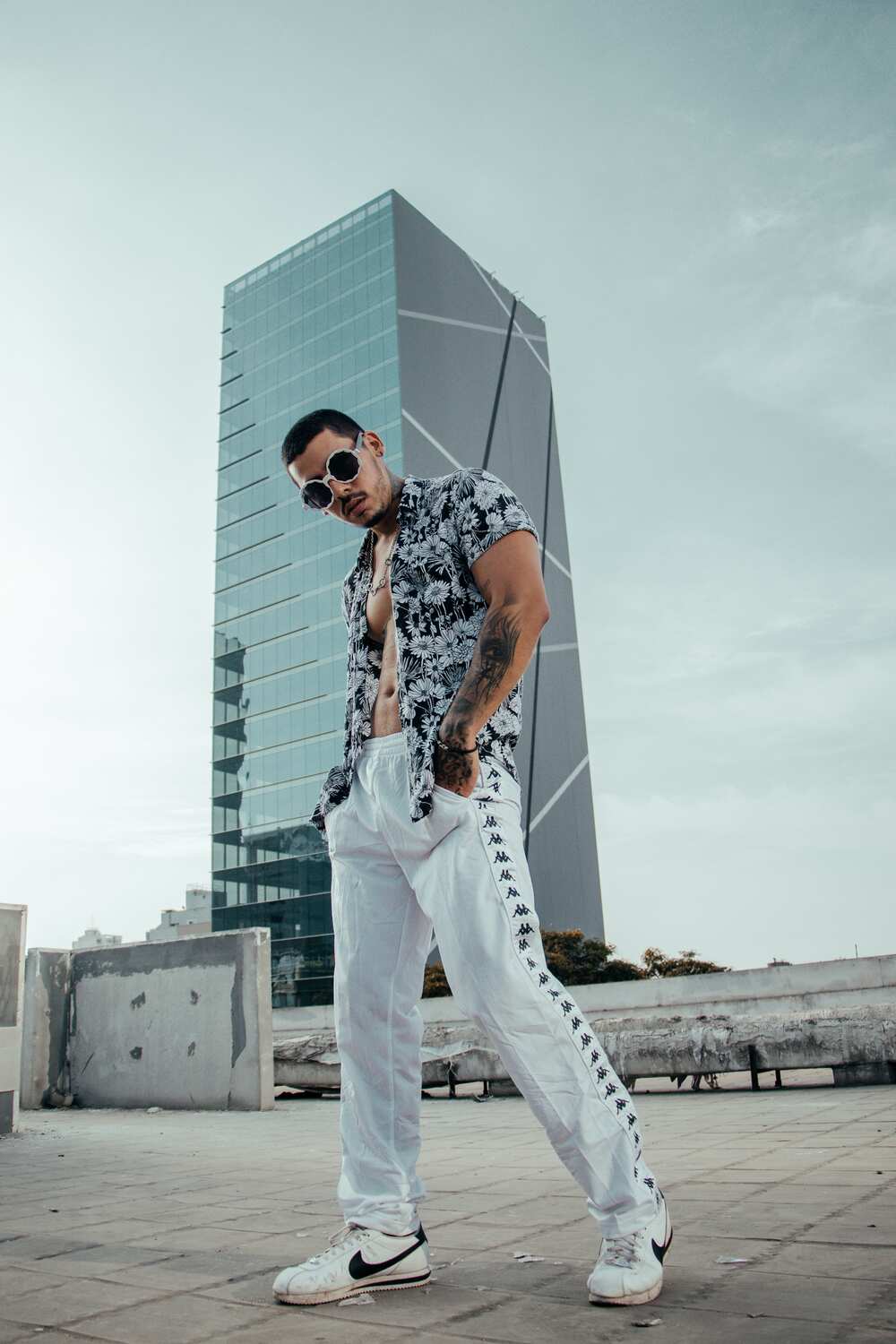 Yes, you do not have to rock a colorful flower print attire to showcase your love for floral attire. The short-sleeved option shown here is enough.
While rocking your floral attire, you still want something that feels comfortable when you wear it. This pink t-shirt made from cotton could be what you want.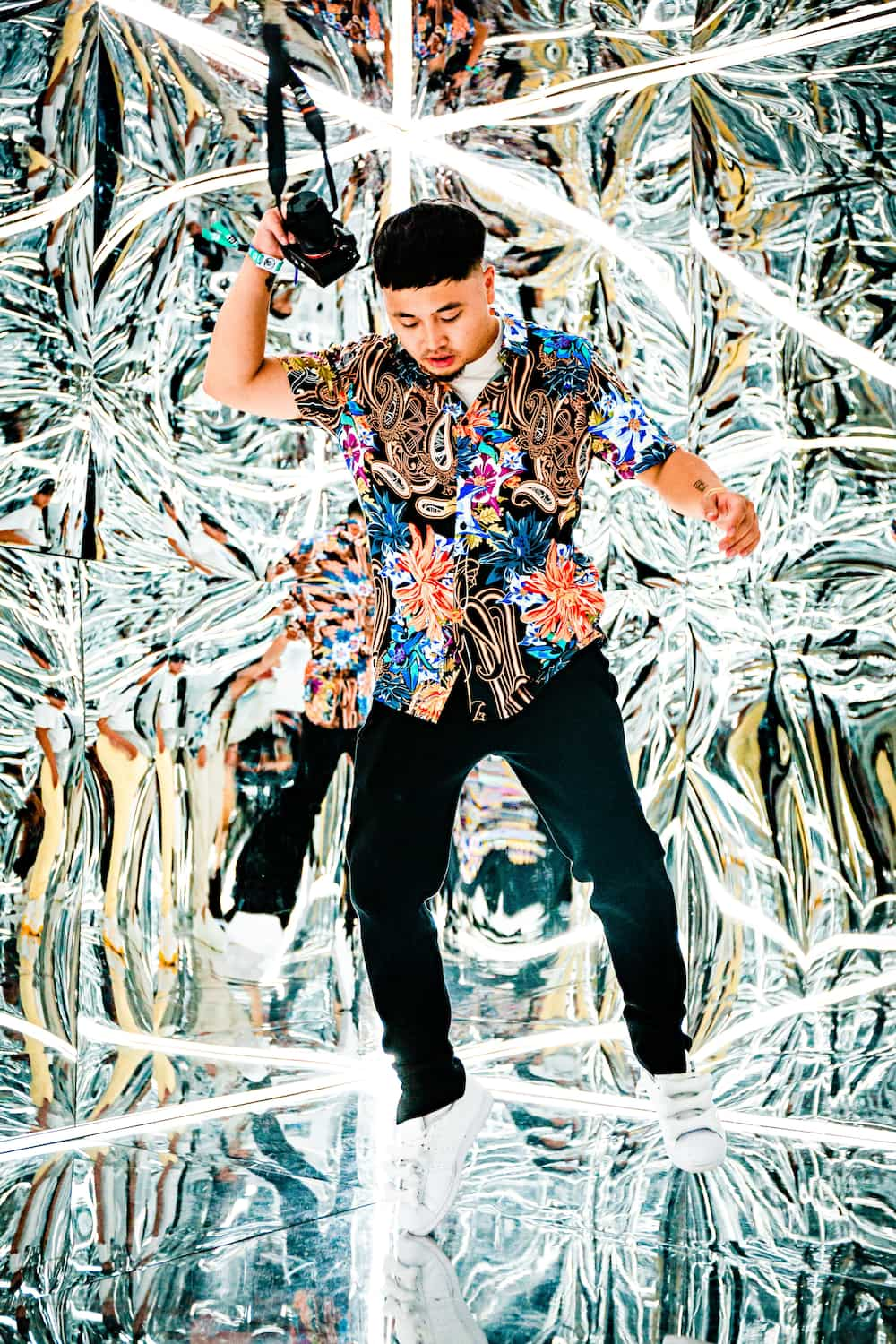 Still, if you are an outgoing person and want to look flashy, then a bright colored floral print attire will fit your needs.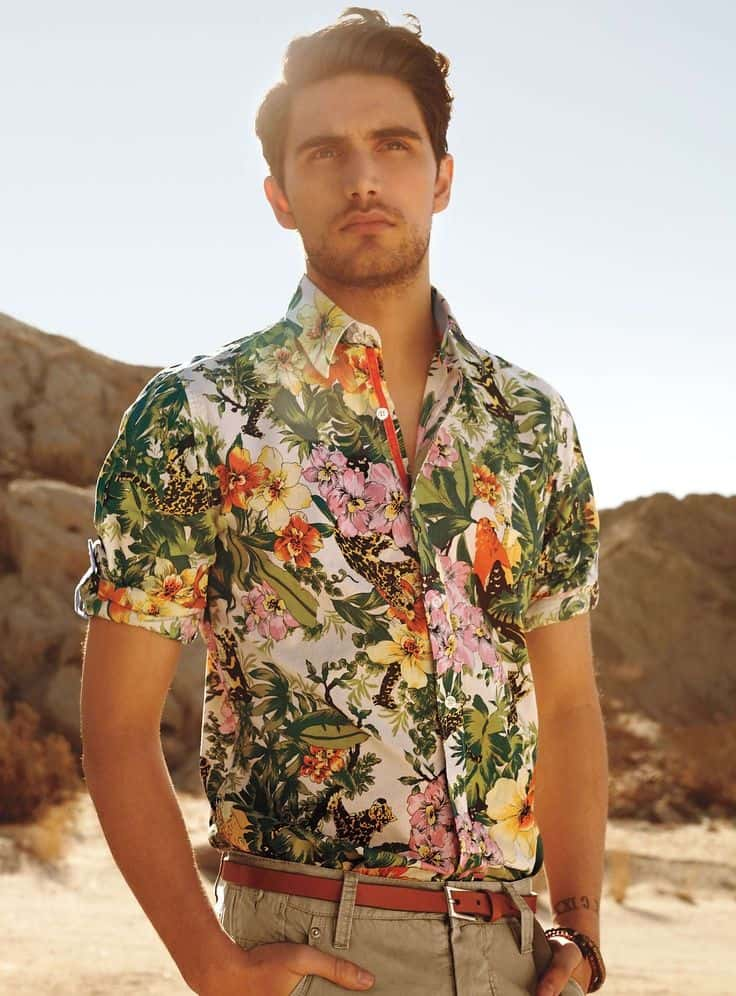 From the options listed above, this short-sleeved shirt with full flower prints on it is one of the bold picks you can make. Also, picking this kind of attire might show that you love nature because of all the greens.
Summer Havana outfit for men
Summer is a great time to go out and showcase some of your fashion styles while remaining comfortable in what you are wearing. As you scroll down, you are bound to find a style that resonates with your dressing preferences.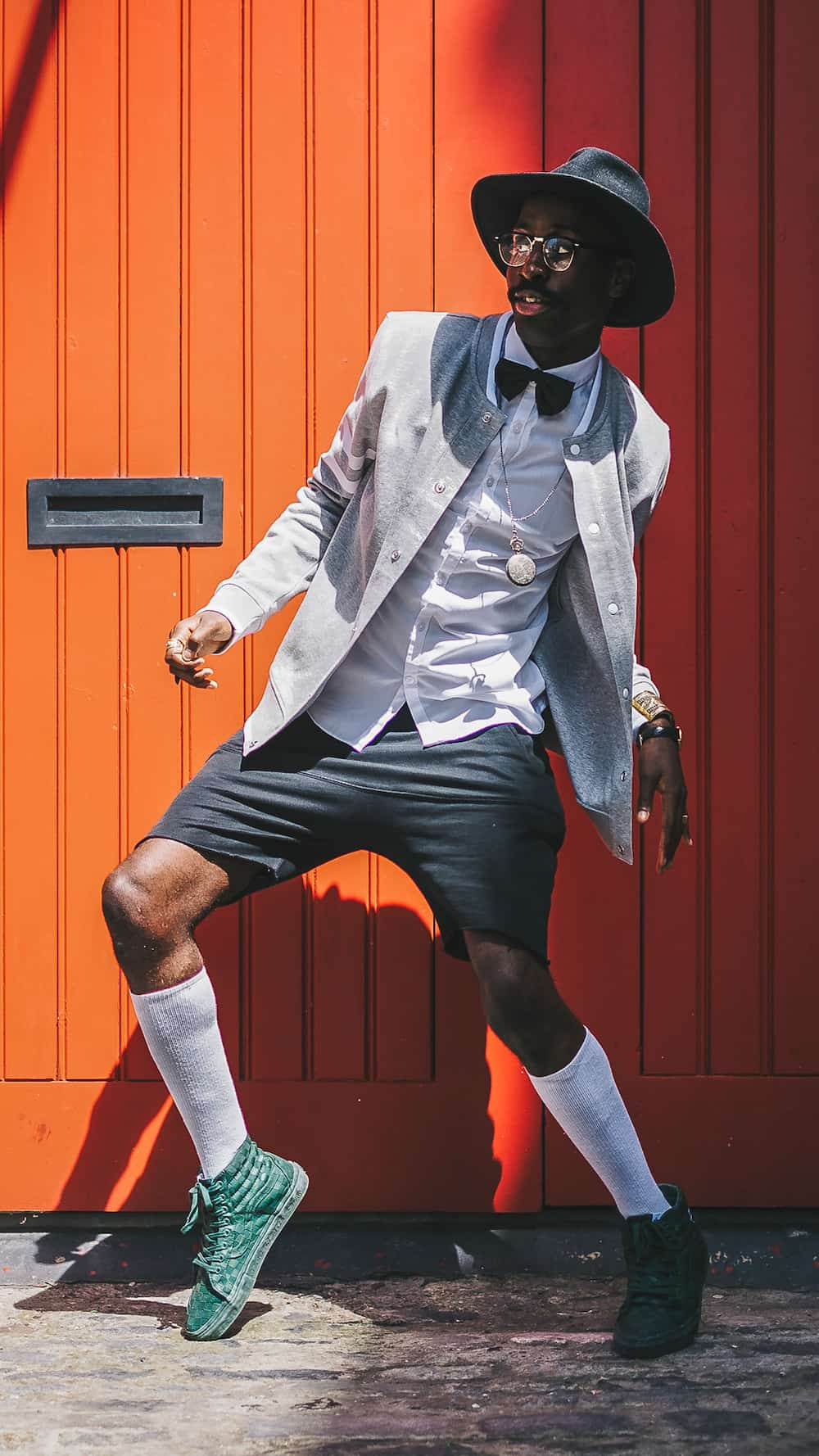 Rocking the shown style in summer will not take away any comfort. The coat is light, the shirt underneath it is bright to reflect away the sun's rays, then there are the short pants for extra aeration. Also, the green rubber shoes and long white socks are head turners.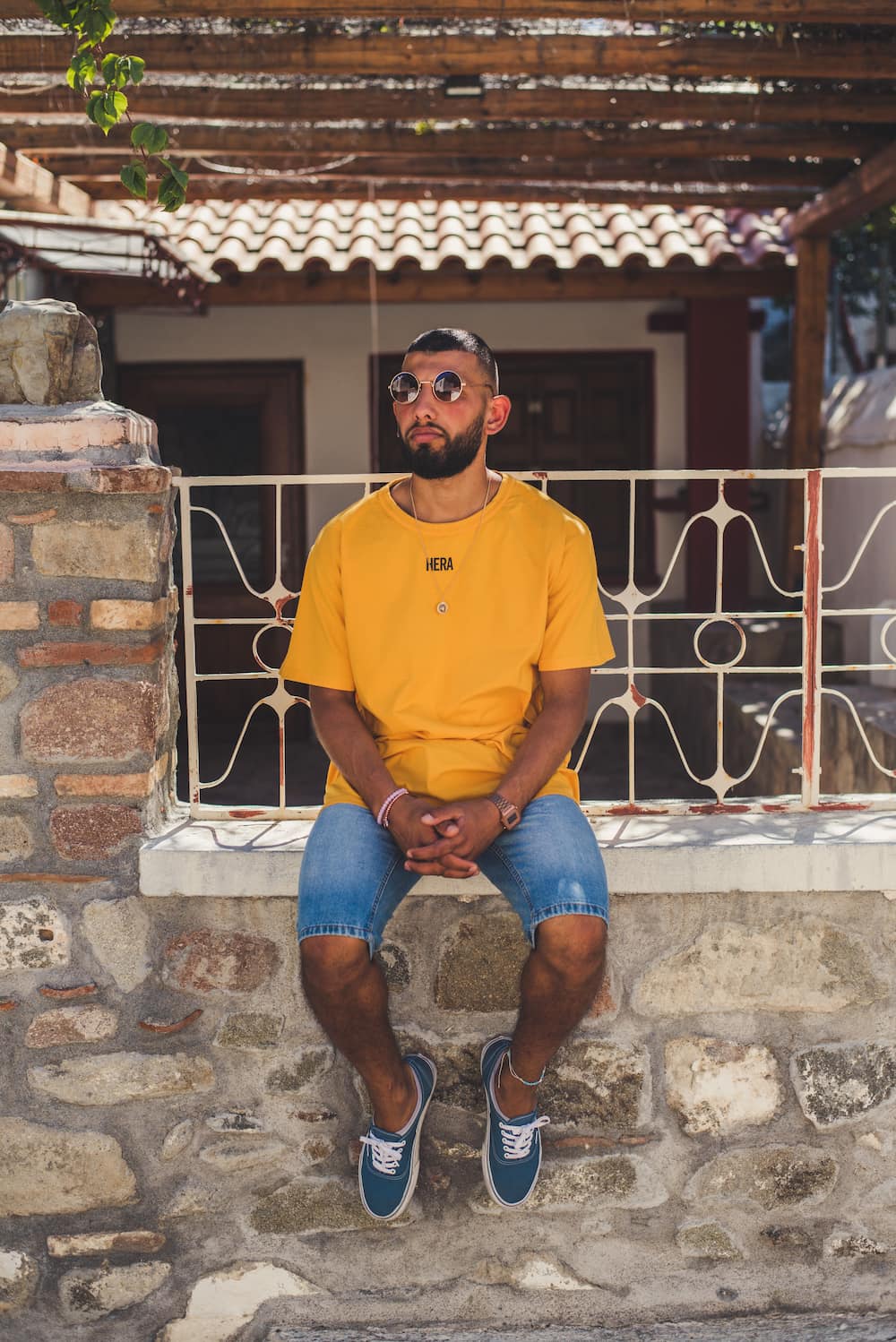 Imagine you are out spending your vacation at a hotel along a beautiful beach. The kind of outfit that can perfectly bring out that chilled feeling is like the one shown in the above picture.
Blue rubber shoes, matching short blue pants, with a nicely-fitting t-shirt.
For as much as the above style is casual and great for summer, it is also stylish if you take into account his choice of attire. Take note of the Gucci rubber shoes and high-quality, rugged jeans.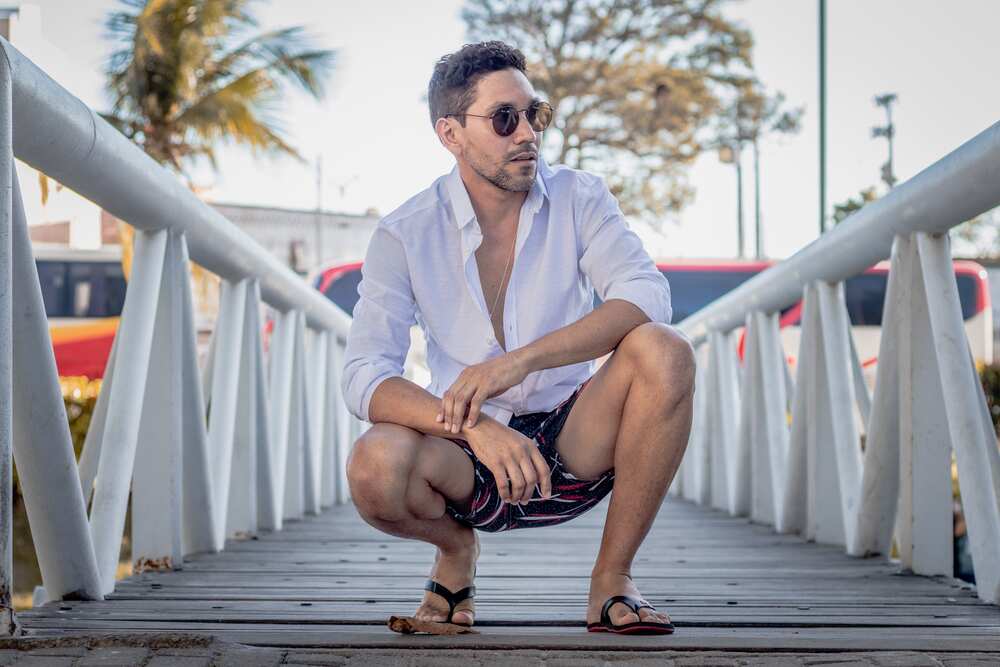 Wearing a pair of sandals along the beach is a common trend. How about wearing the sandals with a multi-colored short, and an unbuttoned shirt? That is the kind of outfit one would want during a hot summer afternoon.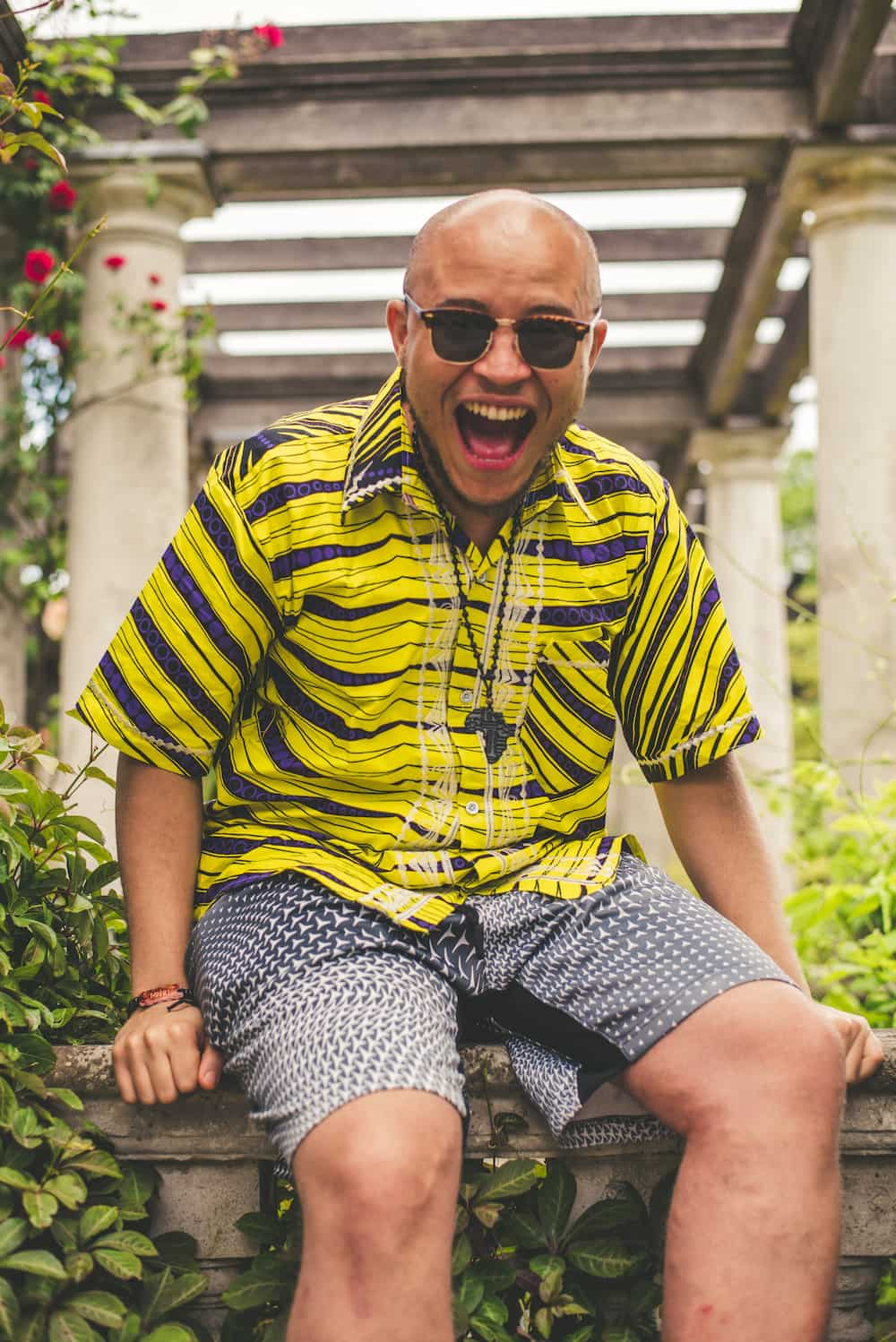 The shown outfit is bright, bubbly, and lively. It brings out the joy in you. Just look at how happy the man is and enjoying his time.
The sport-inspired print t-shirt above is trendy at the moment. Opting for the sunglasses is a necessary accessory to complete a summer look.
During summer, the last thing you want is getting uncomfortable because of the heat. How about wearing a sports jersey and slightly baggy shorts? What you choose to wear as your shoes should be a matching pair.
Taking an evening walk in shorts and floral print short-sleeved shirts will be memorable.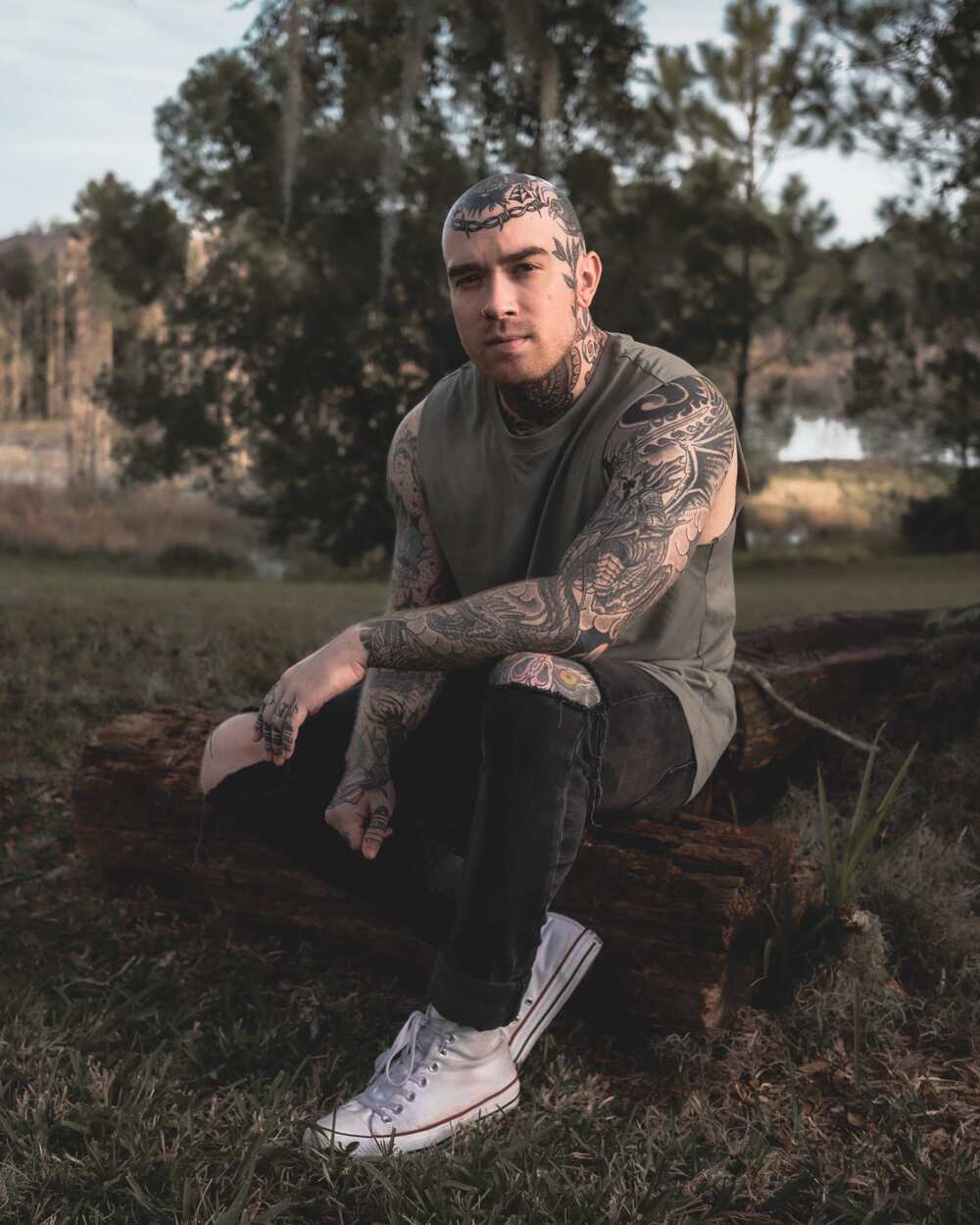 Get a pair of black jeans, white rubber shoes, and a navy green dress shirt that is sleeveless, and you will have pulled off the style shown in the above picture.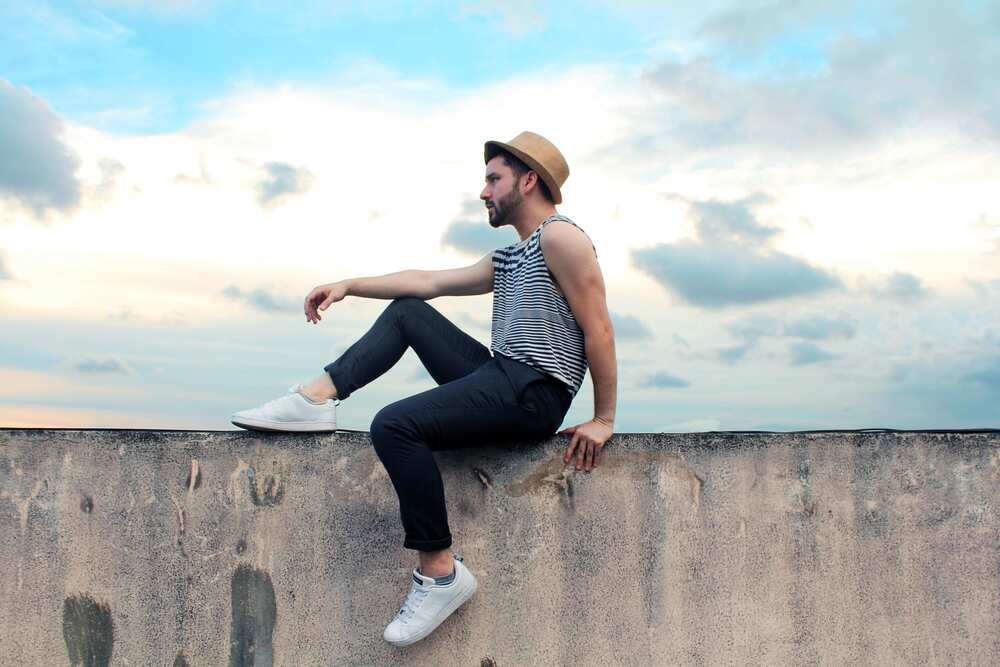 Most of the Havana outfit male options are mostly about dressing up lightly. The man shown here is a good example. With a sleeveless striped t-shirt, black pants, and rubber shoes, he was good to go.
Another summer style that you can try out is the one shown here. Go for a vest shirt and shorts to remain comfortable under the heat of the sun.
Check out this easy-going wear. You should consider adding the above outfit pieces to your wardrobe.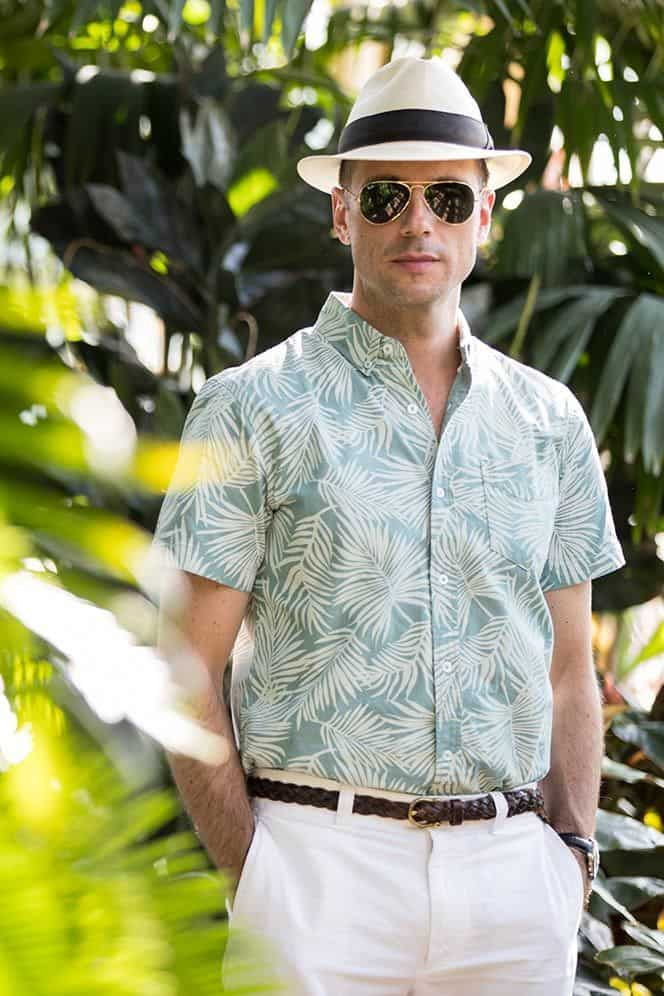 Some people would go for this semi-formal style of dressing. It is easy to pull off while still maintaining all the aspects of a summer look.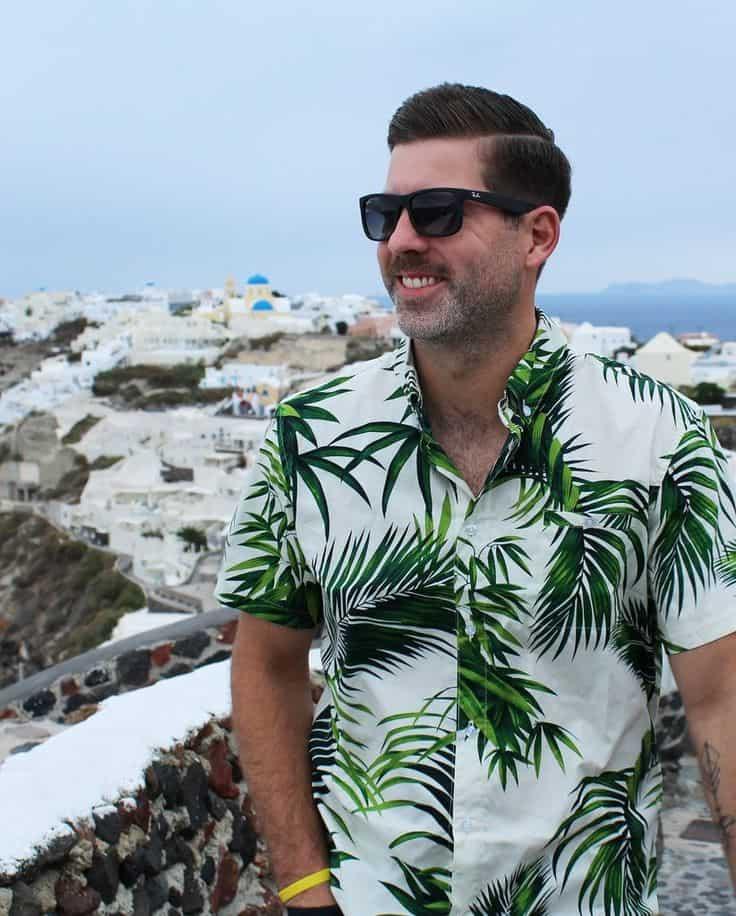 Palm print shirts are also a good option for your summer wear. The color of the palm print does not have to be green. You can choose a different color.
Havana nights outfit
Cubans love Havana night outs so much that the trend has found itself in other towns across the world. Besides the fact that these kind of nights are finding their way into other cities, the unchanged thing is how people dress.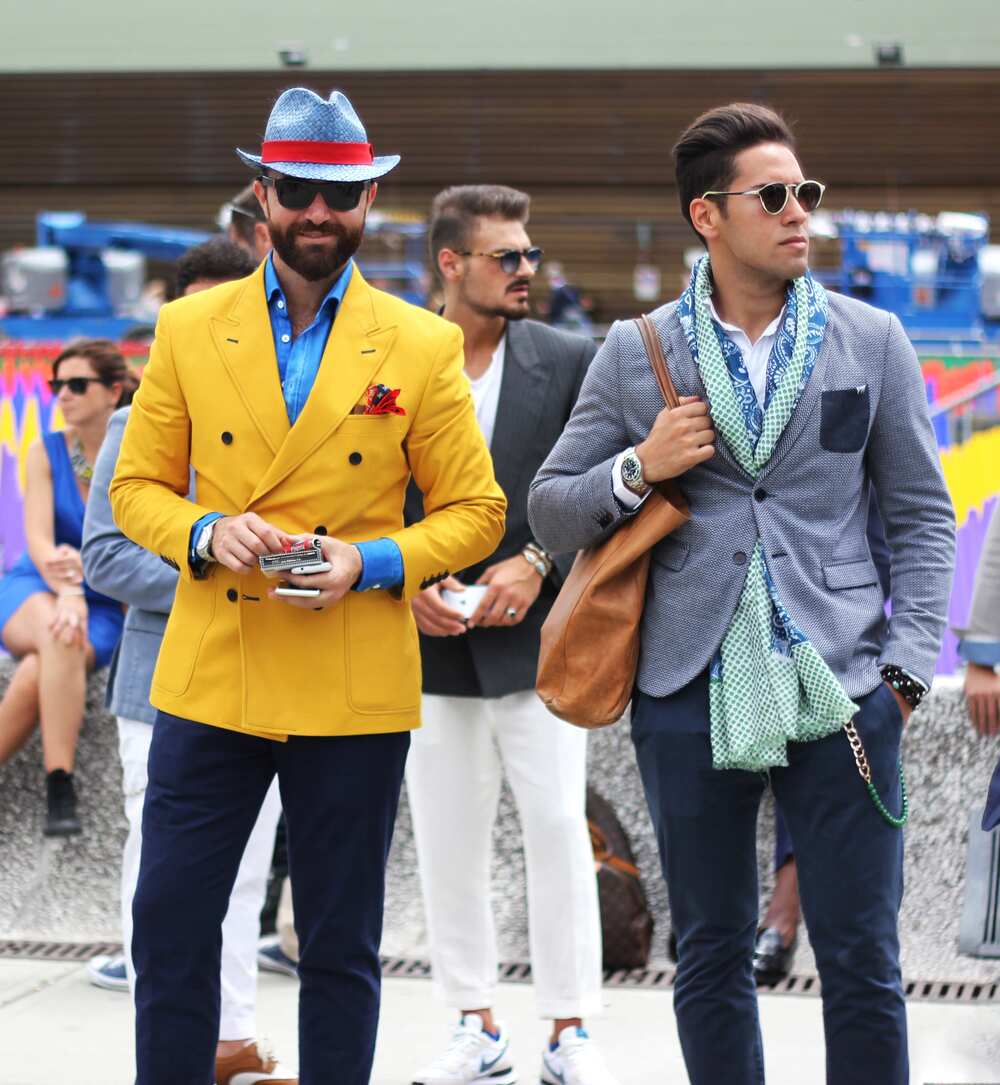 The color-popping choice of dressing is not a surprise when it comes to Havana themed party style of dressing. Bright colors are part of this way of dressing.
As mentioned, Cuba costume approach of fashion is about wearing some bright and light to deal with the high temperatures of the area. Some people might mistake the above wear for an official one. However, take note that both the coat and pants are light and white to reflect off the heat from the sun.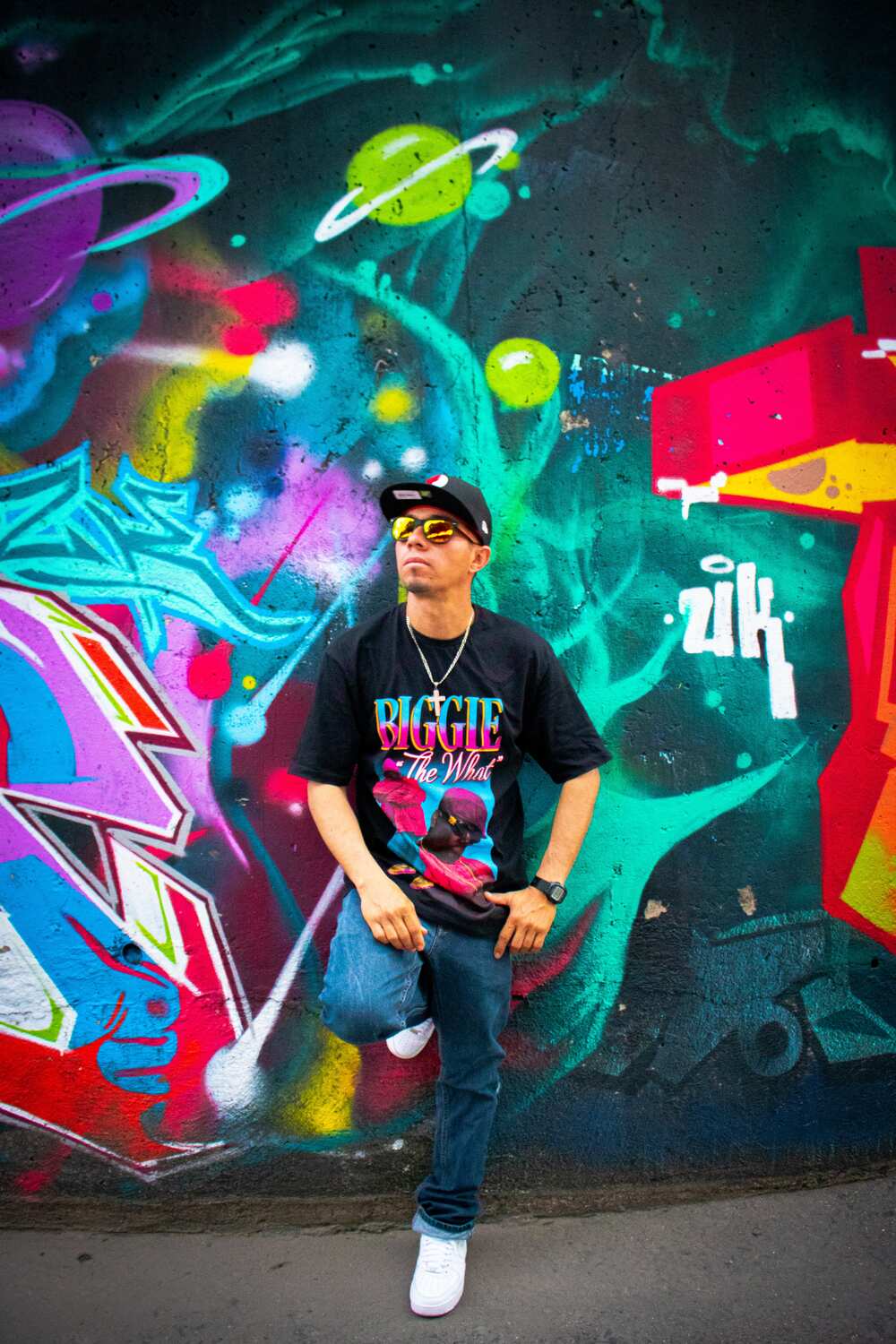 For those people that love looking cool because of how they dress, the above style is a good suggestion.
Make a statement with your choice of fashion at your next Havana night party by taking cues from the man shown in the above photo.
A black leather jacket that matches black shoes and sunglasses is enough evidence that this man is all about matching his attire. Also, you have got to appreciate his choice of gray stitched suspenders.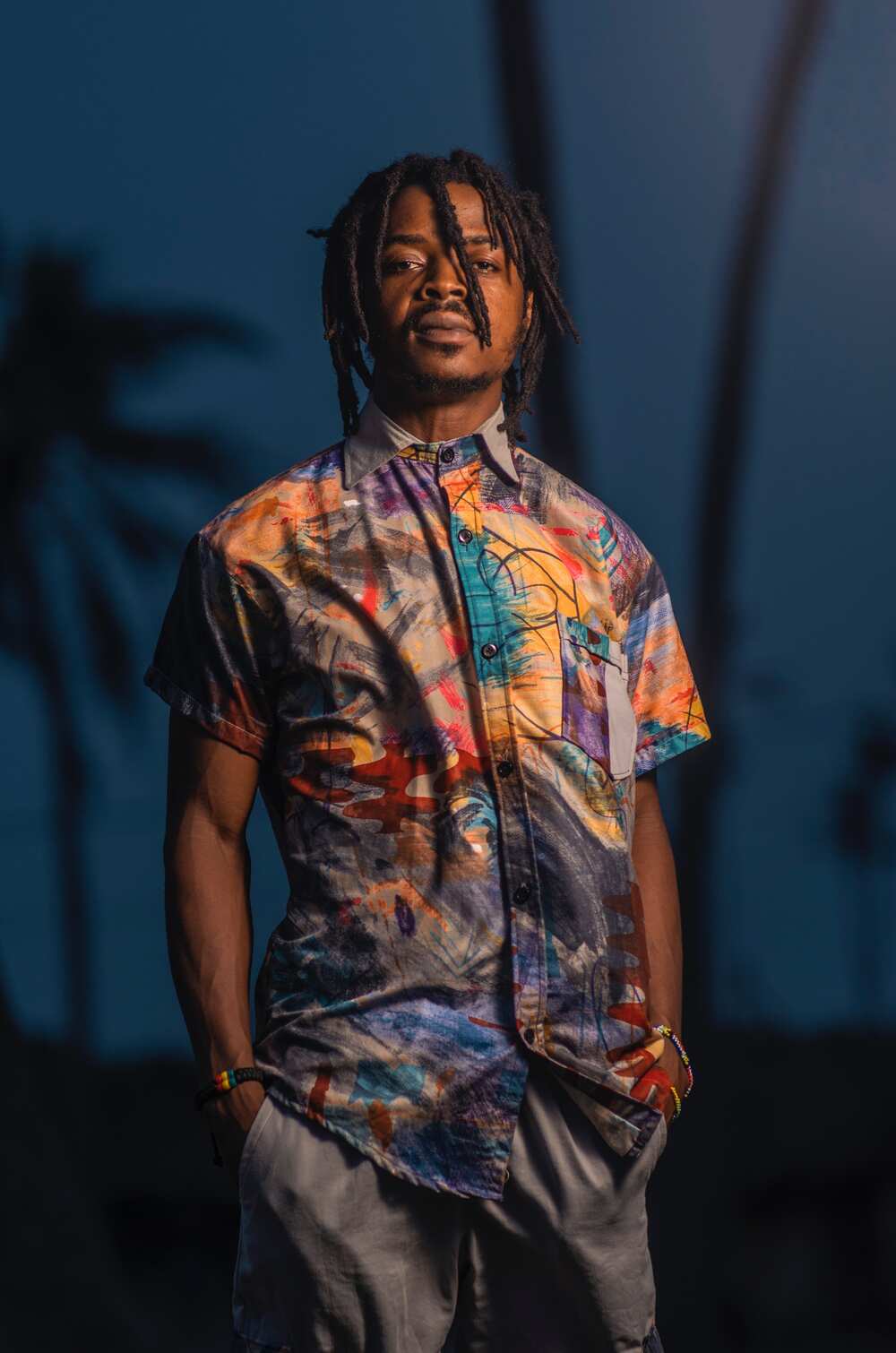 If you are an artistic person, choosing to wear a multi-colored shirt is an easy decision. In this case, the man also has dreads, which is usually a common thing among artists.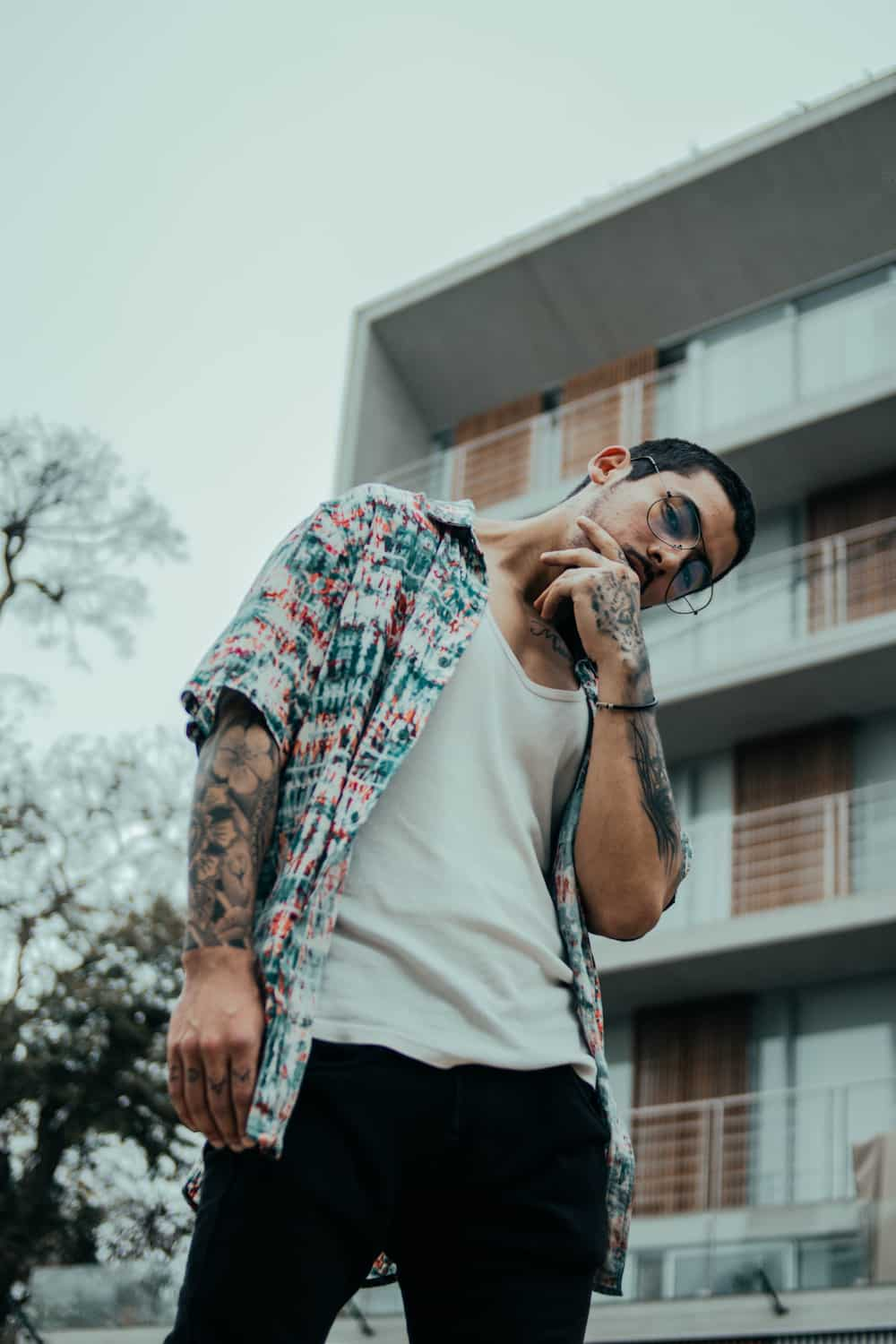 Going to a party can also call for an easy style of dressing. As you can see, this guy is free with his clothing as the multi-colored shirt is unbuttoned with a t-shirt underneath.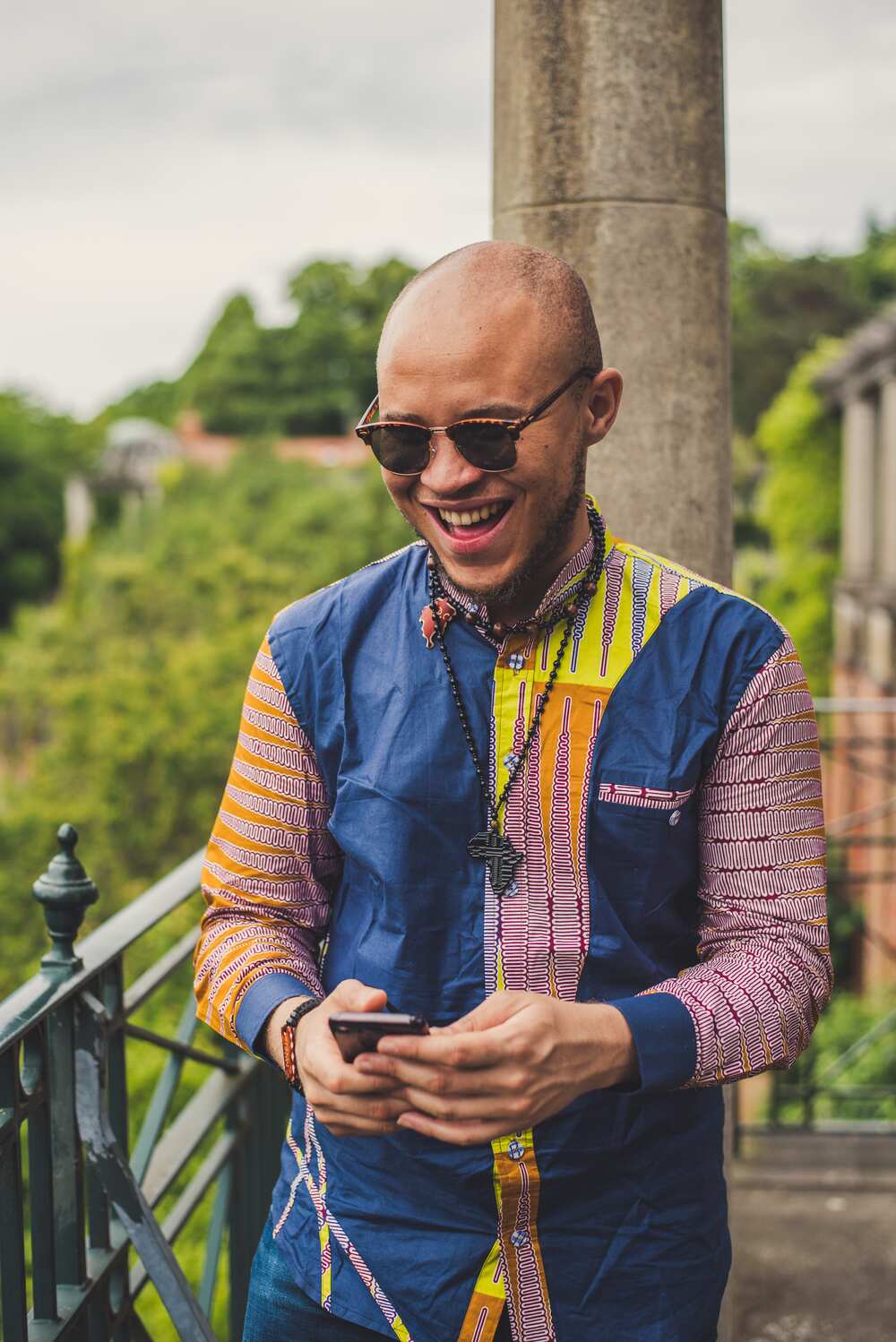 Some of the Havana nights present the best time to meet a potential date. So, why not dress elegantly for the same. Note down how the man is rocking a cool multi-colored patterned shirt.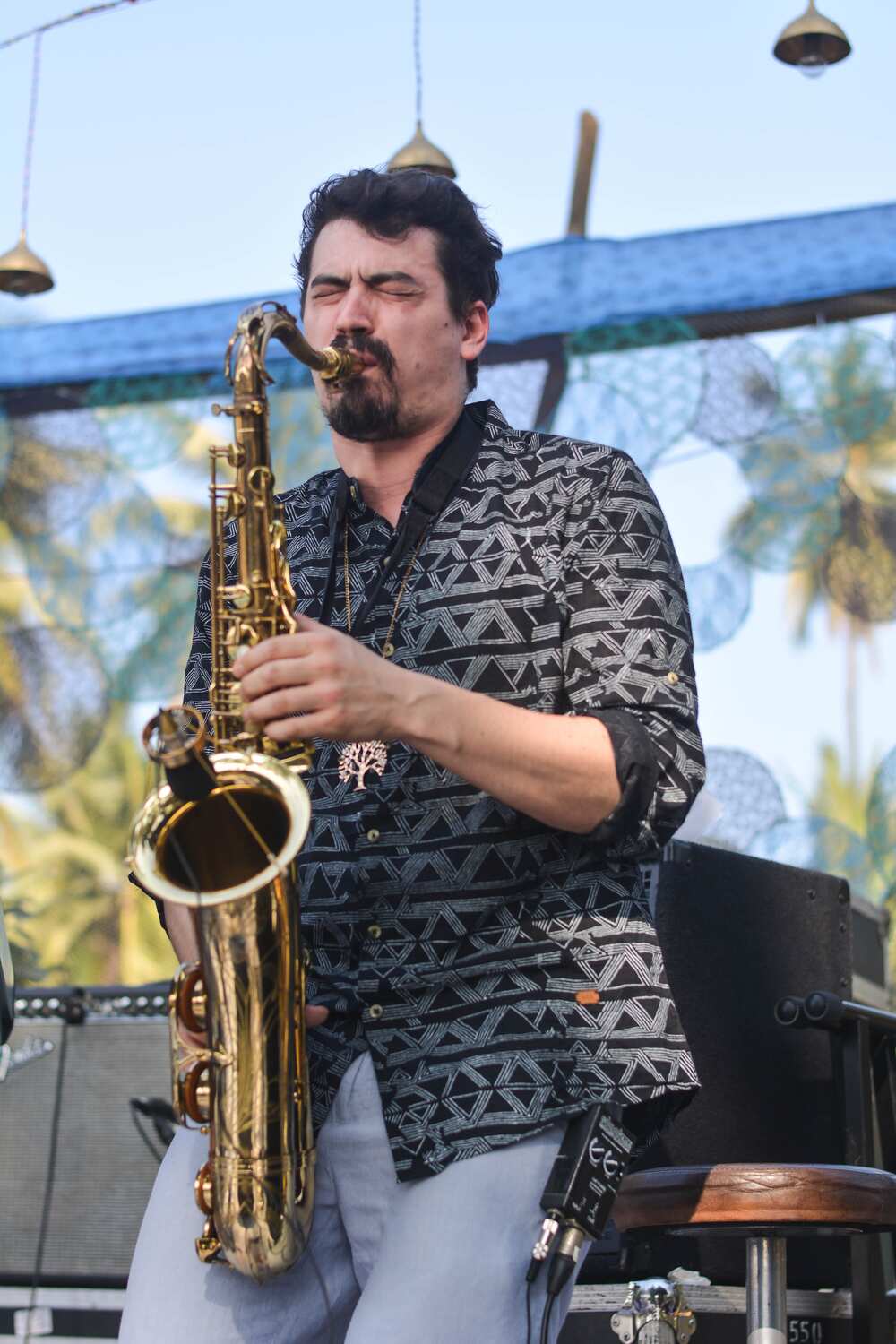 Yes, he is playing the saxophone, but later on, he could be enjoying the night at the party. You can also wear the same if you are going to a gala.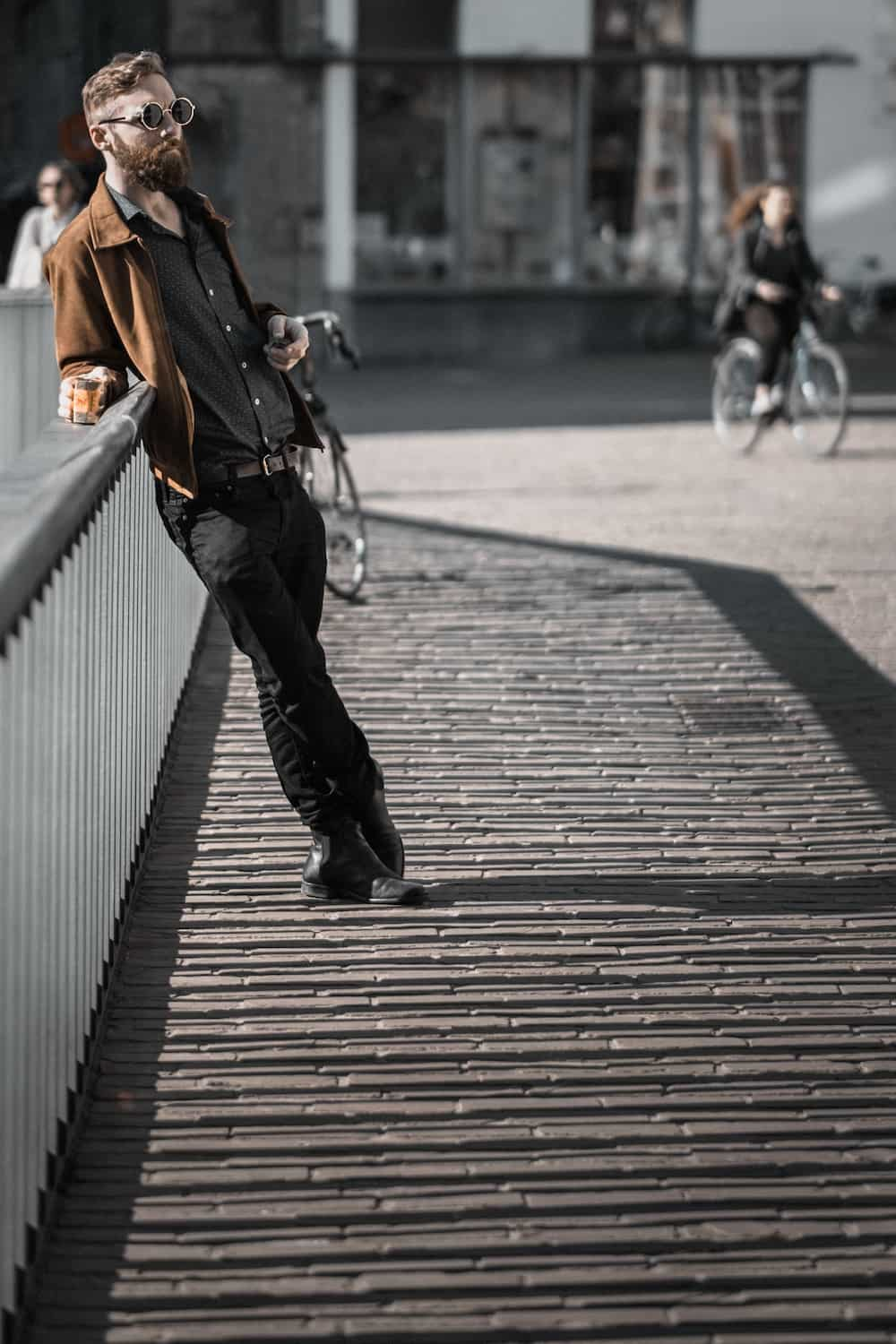 Here is another semi-official look that you can consider for a Havana theme outfit. It can work as a multi-purpose dress for different occasions.
After checking out the Havana outfit for men styles listed above, now you can pick a few designs that suit you. You can go for a casual, summer, or floral style - it depends on what you like. Some of the attire designs described are cheap, so you do not have to break the bank to get them.
READ ALSO: Havana outfit female: Trends of 2020 (photos)
Source: KAMI.com.gh