Infinity dress style: 50 original ways to wear (photos)
Can you imagine getting a gown that fits you without trying another outfit? It might sound unreal, but that is what infinity dress style is for, and are adaptable for various occasions. Infinity dresses are also referred to as convertible dresses, which can be worn in different ways. Every gown is customized to suit all body types, and it sculpts to all body shapes well.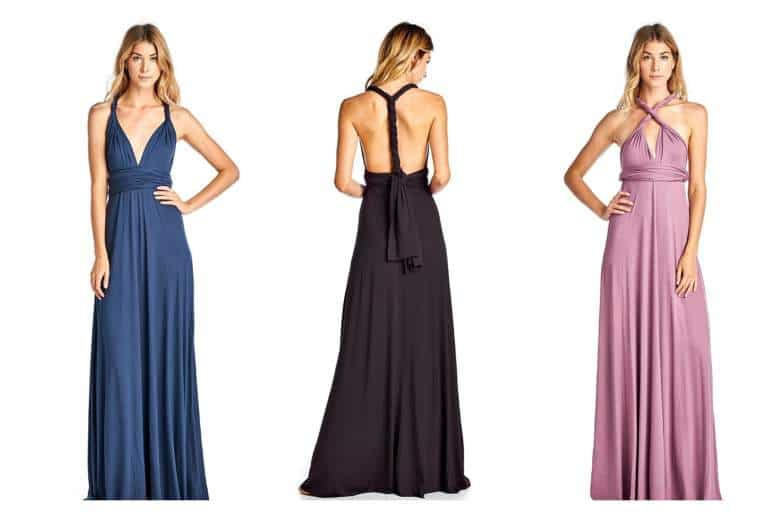 The gowns are commonly worn by bridesmaids and styled using different accessories. Since the clothes are made of long straps attached to the garment or skirt, they fit your upper body. That allows people to create different styles and rock the dresses to prom, wedding, or any other functions.
What type of fabric for infinity dress?
The garment uses a lot of fabric so, pick something light. Suppliers recommend that the stretching percentage should be between 30%-50% depending on your comfort level and how well it fits. So which are some of the available fabrics?
Double brushed polyester
The fabric is ideal for beginners who are getting their infinity gown for the first time. It has become popular due to its suede feel. The dress drapes as required and has the ideal density.
Interlock twist yarn (ITY) fabric
It is a medium weight fabric that is naturally elastic, which makes it a great deal for gowns. However, due to its slippery nature, it might be unsuitable for some styles.
Ways to wear infinity dress
There is nothing better than having more than one option of wearing a convertible attire. If one is preparing for a wedding, ensure that you do not miss out on the trends. Below are some of the ways one can pull that gorgeous look:
Strapless garment
If you want to show your collarbone or shoulders, this is the right clothes to pick. If done right, one looks stunning. Tie the straps around the bust before tying them around your waist.
The negative space convertible style
The garments are not only perfect for weddings and proms but also needed for other occasions.
Halter bow for wedding
When one settles for this style, your style should not block the bow so that people see the design.
Infinity dress style for pregnant women
The attires have become popular when one is stepping out for meals or going for a photo-shoot.
Buckle waist
If you want a dress that emphasizes your waist and figure, this gown should do the trick. When one is wrapping it, adjust the straps to get the desired look. It works well for people interested in getting infinity dress style for wedding.
The scarf design
One can look sexy without showing a lot of skin by getting a scarf garment. The straps are tied around your neck, thus giving the scarf look.
One shoulder
The design offers a braided look at the back. Both straps cover one shoulder offering a stylish look. One can avoid hanging sashes by tucking the straps at the front or back of your garment.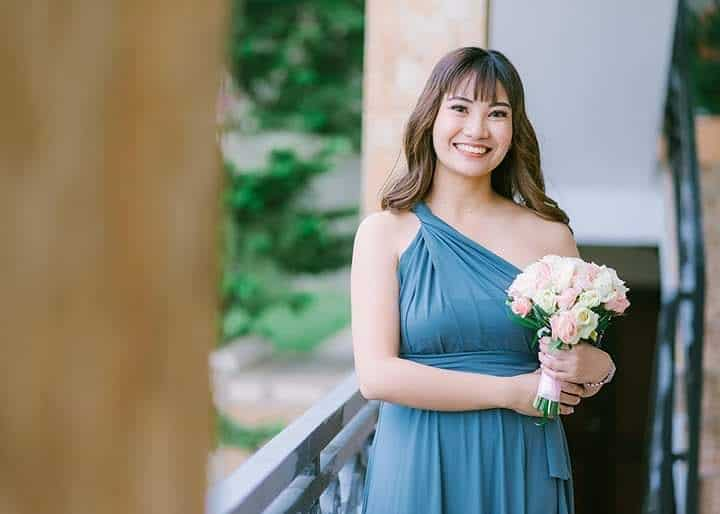 The front knot look
With a front knot, one can create an infinity dress style for broad shoulders. The design enables people to show the shoulders off by having the sashes over the shoulders.
Draped back design
The dress gives people full coverage of your body without affecting the design. It suits an extravagant wedding. If you want an infinity dress style for big arms, a draped design partly covers your arms.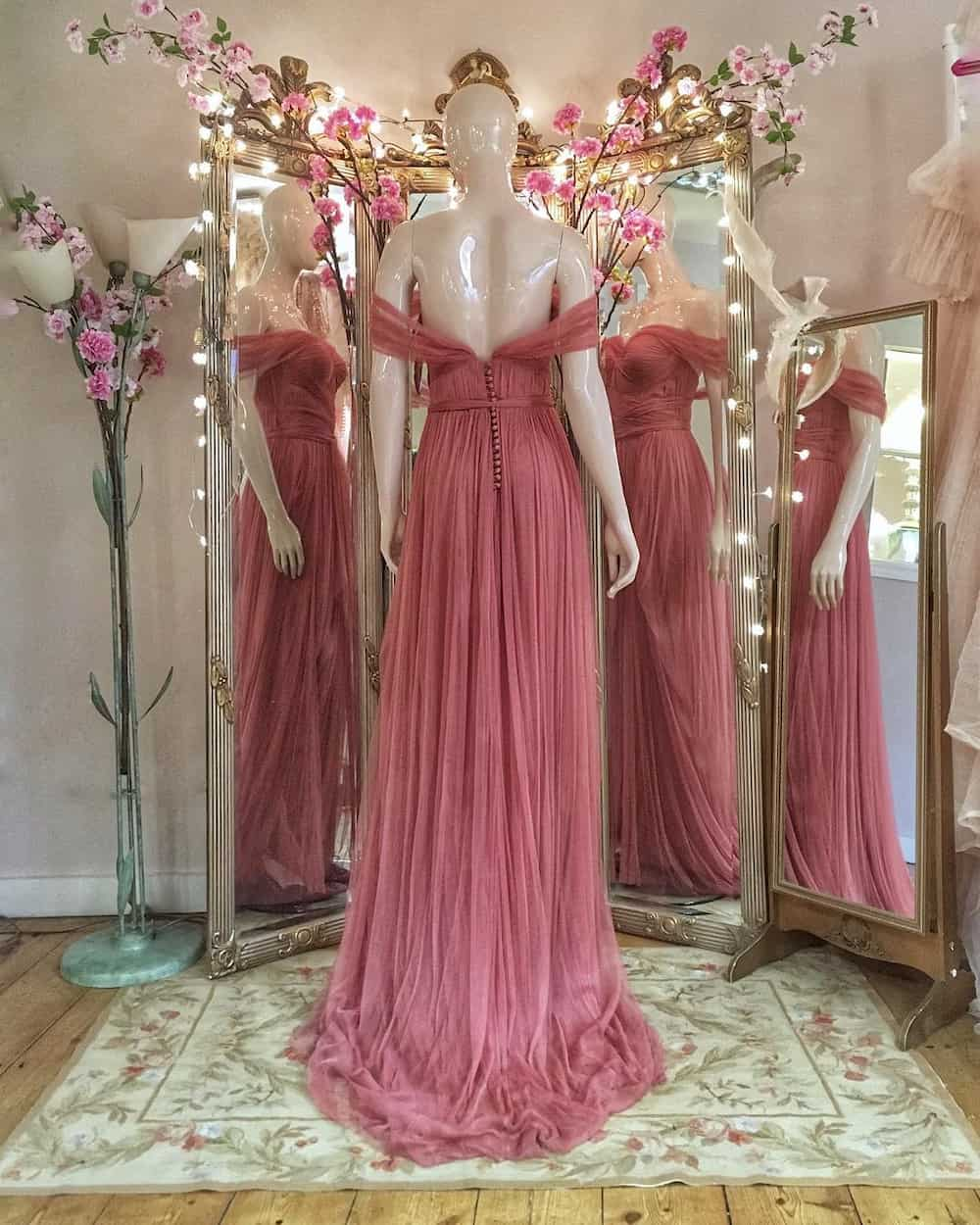 T-back twist
With the design, the straps are twisted inward to form a t-strap. The length could go up to the waist or in the middle, depending on what seems reasonable and the occasion you are attending.
X-back twist
The style is made through crossing the sashes at the back the tying them. People go for this choice when looking for an infinity dress style for prom. It offers a Grecian goddess look, making it a preferred choice.
A front intertwined
The design fits women no matter their size, shape, or any other physical features. It is an easy pick for people who work on a busy schedule and have no time to search for different designs to try.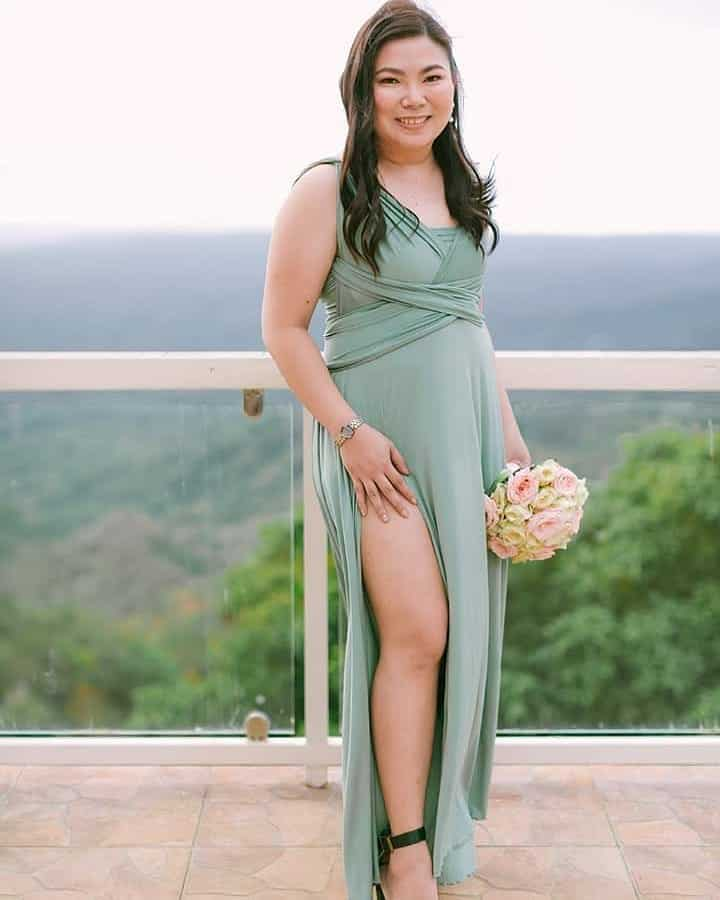 READ ALSO: Coachella outfit for men: Trending in 2020 (photos)
Backless
The ideal choice for someone who wants to show more skin is a backless garment. When one is looking for an infinity dress style for petite, your options might be limited, but this design works well. Most bridesmaids settle for this option as it suits a whimsical wedding.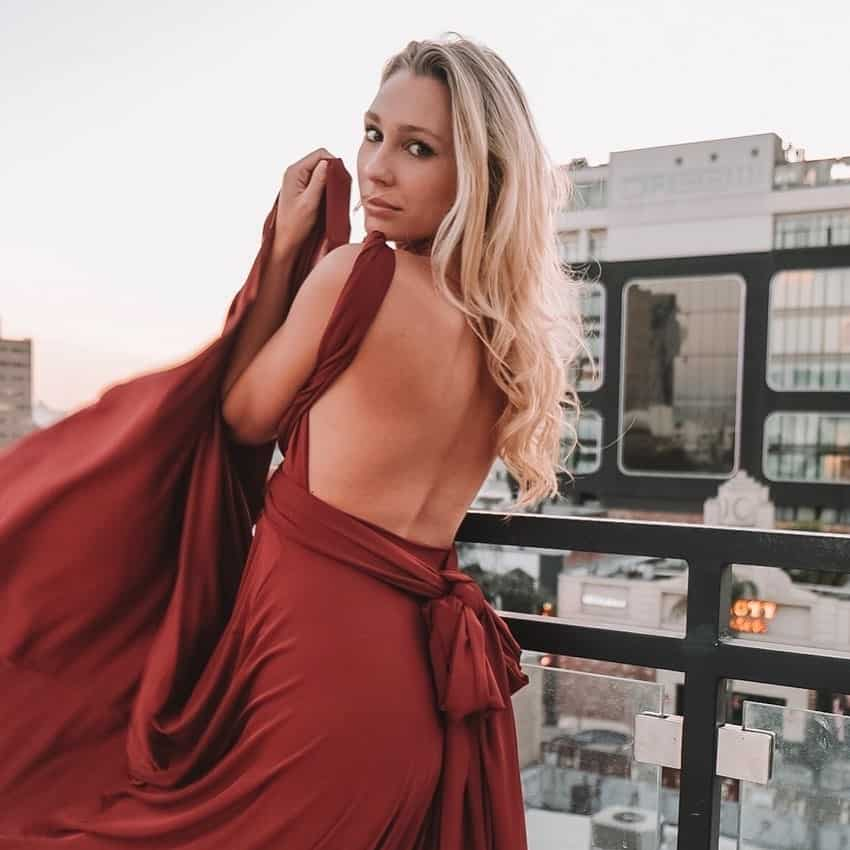 Backless gown with Twisted sashes
It is an easy look for most people as one needs to tie the straps around their waist the twist the straps at the back, then form a bow once you are done tying. It does not need a lot of technicalities.
Cap sleeve gown
The gown can be worn in different ways, and most people offer different lengths and colors.
A maroon infinity dress style
If you want a gown that suits your tone or summer, find a store with different choices. Maroon is a bold choice but looks great.
Knotted tank
You create the look by tying two knots. Each strap on the shoulder and have the knot in a comfortable place on each side. Wrap the straps around your waist to form a bow.
Knot cap sleeves
It is a combination of a cap sleeve and a knotted tank. After one knot the straps, adjust them to a comfortable length, and tie the slashes in the back.
Backless halter
Trying this design lets people tie the straps at the back, they pass them under your arms, thus leading the back exposed. It gives a feminine figure, and one can complete the look with a knot at the back.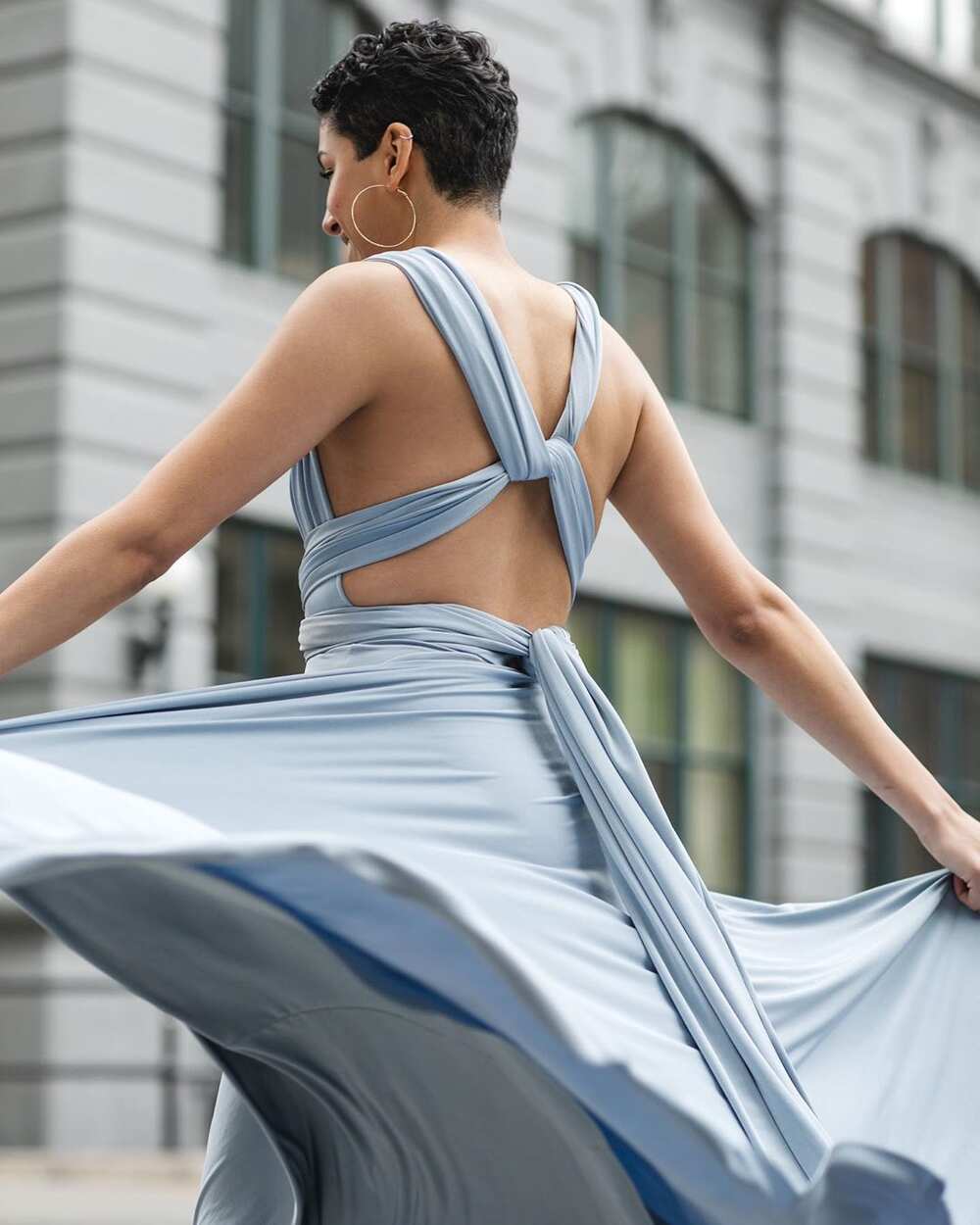 Infinity style royal blue
Convertible gowns come in different colors. Doesn't this look amazing?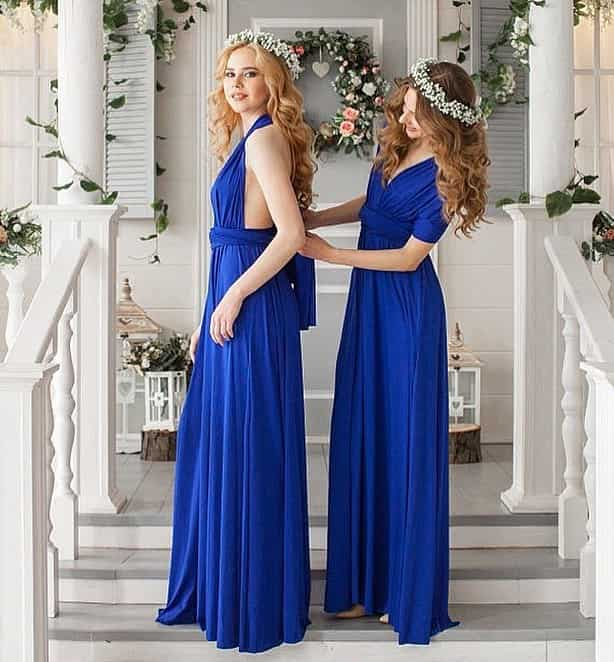 Sleeveless infinity dress style for plus size
A plus-size lady can find a sleeveless gown one and get one suitable for their figure. Making the style follows three procedures; over your shoulder, cross the sashes at the back around the waist. It is a popular design in most weddings.
Infinity dress style for bridesmaid
The ideal works for weddings and bridesmaid look fantastic in them.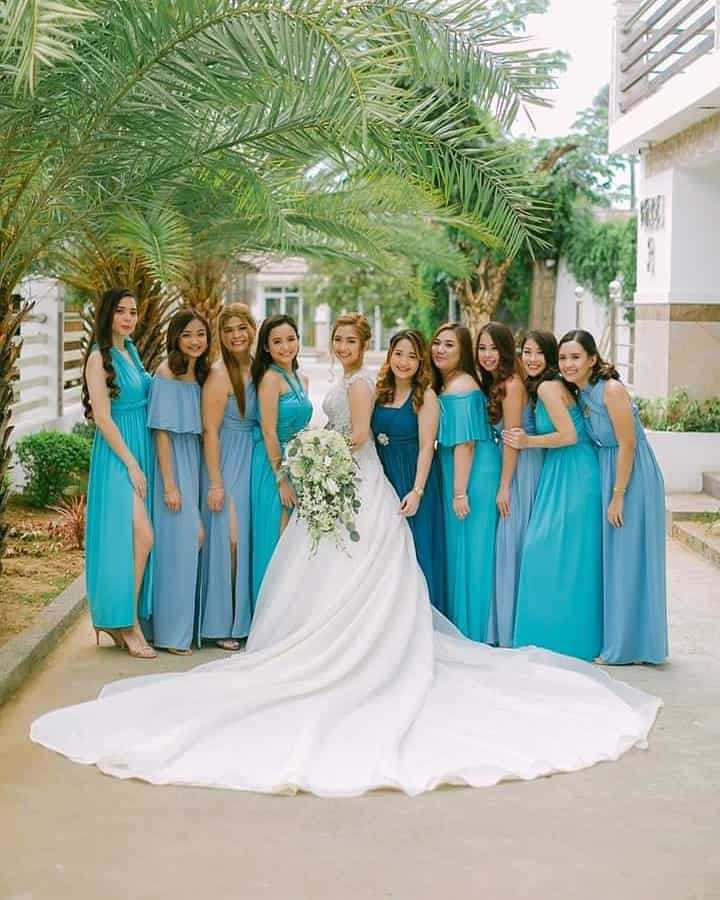 Cross front
The style works for people who want to show their back more since the straps cover most of your front. It works well for bridal parties since one can never go wrong with style.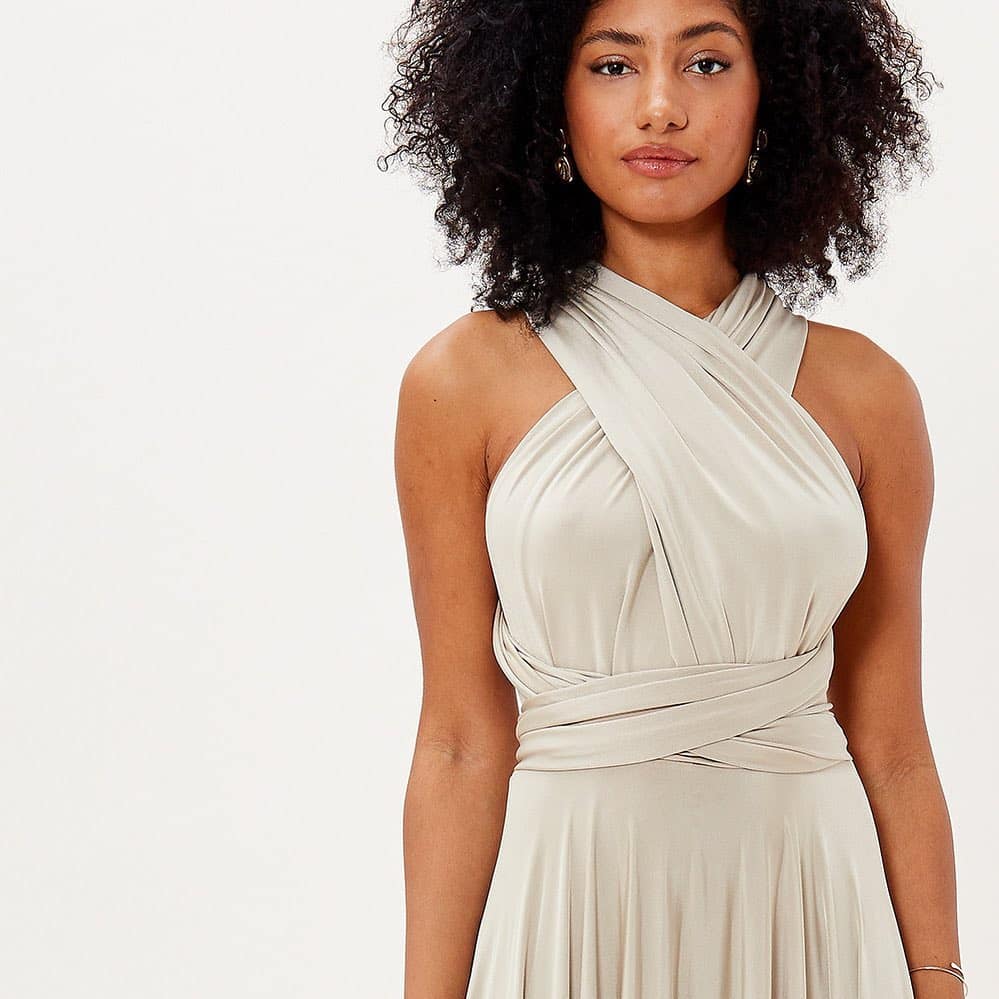 Infinity dress style for chubby
Perhaps one might think that when they are chubby, it is hard to get convertible clothes. However, how cool does this outfit look?
Off-shoulder silhouette
The gown can drape off the shoulder to create a modern look. It is one of the versatile styles people should try out when searching for an infinity dress style for kids or adults.
Cross back
If one does to want to show their back, the style is recommended. Have the dress's straps at the back and keep the wide, then tie them around the waist per your preference.
Knotted front
The style is elegant, and people use different hairstyles. One can also knot the back the details to create this look.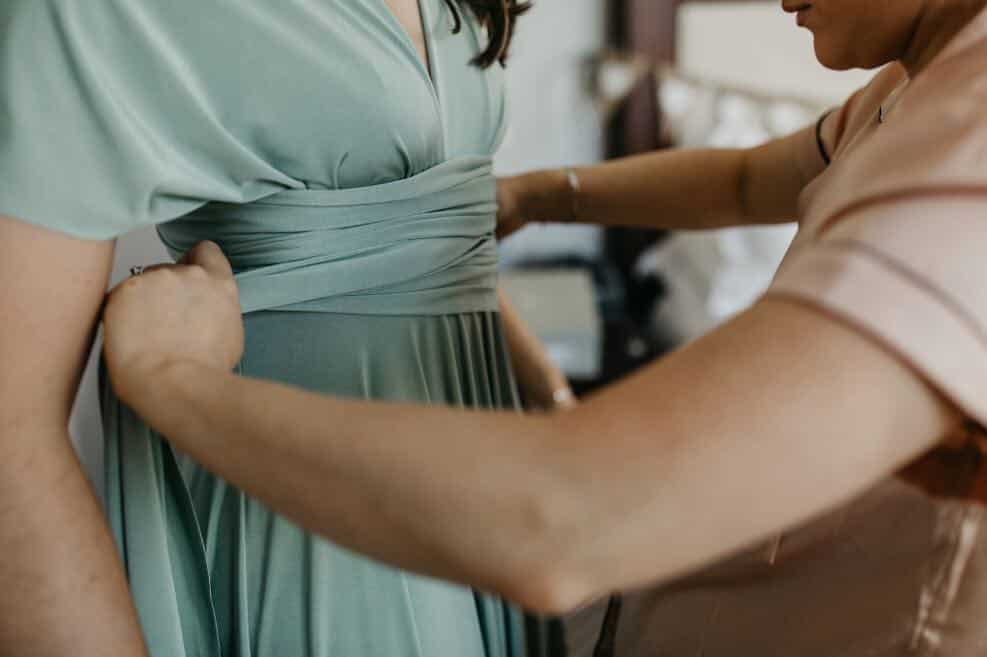 Infinity dress style black
A black convertible dress looks great. It is something one should try if you have never worn it for any occasion.
Short
When one is looking for something different, short dresses will work well for the style.
Long-sleeved dress
If you want something different for a maternity photo-shoot, a long-sleeved gown works. People can create different designs for infinity dress style for big tummy and still look stylish.
A simple tie in the back
When a person needs an effortless style, have the straps run your back hook them onto the straps around the neck without twisting them.
Fun twist
The wraps will be placed at the back of the shoulders to form a knot. Any hanging fabric is tied around the waist for a back knot.
Infinity dress style off shoulder
The fabric lies on your shoulders perfectly to offer the look they have wanted.
What to wear under infinity dress
Are you wondering what will be comfortable to wear under the dress?
A bra
One myth most people follow is that you cannot wear with a bra but, you can! If you have a full kimono sleeve infinity dress style, a regular bra works. The style helps in hiding the straps and rocking that style.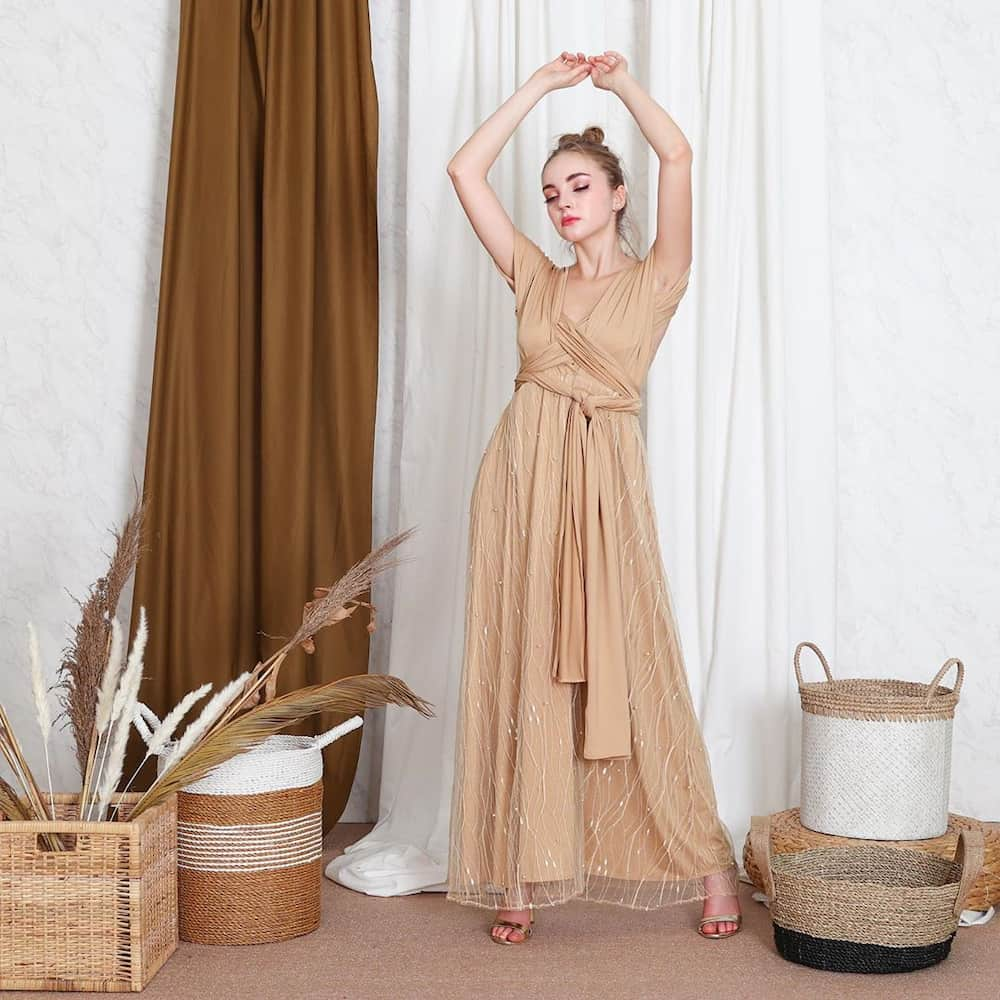 Butterfly clip brassiere
Although the infinity dress style with sleeves might limit the type of bras to use, the sleeveless style offers more choices. One can get clip butterfly brassieres o the interest for your convertible dress.
Seamless underpants
One feels comfortable wearing the right underwear, so pick a seam-free option. The underwear creates a comfortable-feel. It ensures people are relaxed during the event a person is attending.
Buy an infinity bra
If the bandeau does not work, look for an infinity one. It is a perfect choice for many infinity dress style off-shoulder and other designs. The bra provides comfort and a secure feeling since it gives people the right lift.
What shoes to wear with infinity dress?
The garments offer people a lot of shoe choices from block heels to wrap strap sandals. Your selection is based on the different infinity dress styles that suit your shoe selection.
Where to buy infinity dress in Manila
Convertible dresses are available in bridal stores and online platforms. If one needs infinity dress style royal blue for a blue-themed party, look for stores advertising online.
Hopefully, the article has helped to know which infinity dress style one should try next. Which design did you find appealing, and will you be trying it for the next wedding or prom event?
READ ALSO: 10 male celebrities who can be considered as fashion icons in 2019
Source: KAMI.com.gh