Cartoon cake design: 75 original ideas (photos)
For kids, birthdays are huge and mean everything to them. To mark these special days, they expect you to get them gifts. At this point, you already know the most important item for a birthday celebration is the cake. From an early age, kids already have preferences, and what they like will determine the kind of cake design they want. Sure enough, there are hundreds of ideas to explore.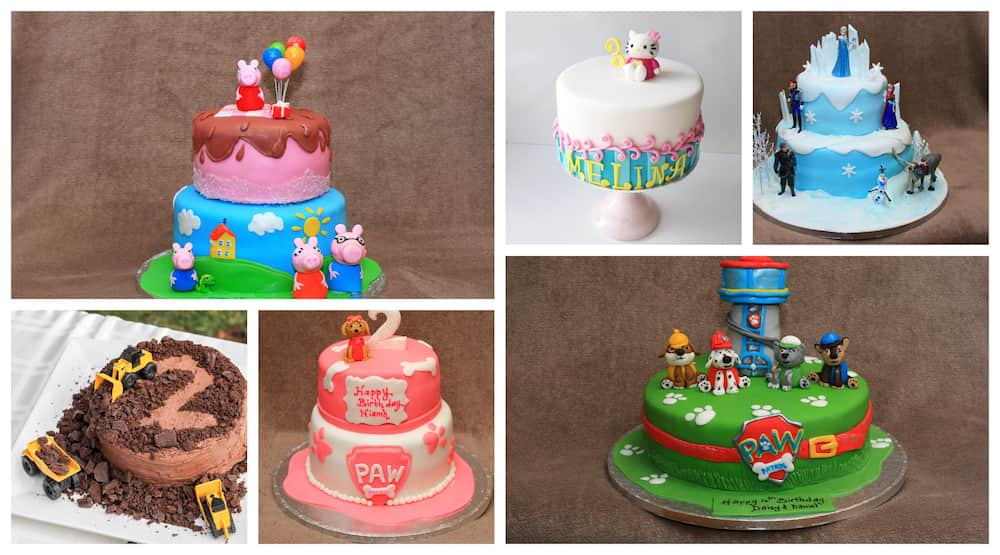 You can choose from mobile legends cake design ideas or opt for unique and original styles. The first step is to find out what your kid loves. Also, why not consider ordering a cake design that is a combination of your child likes and your preferences? You could end up with something really cool.
List of 75+ cake design ideas
Here is a list of over 75 ideas that you can give your baker to make a cake for you.
1. Chocolate cake design
Chocolate cakes are probably the most common type you will find around.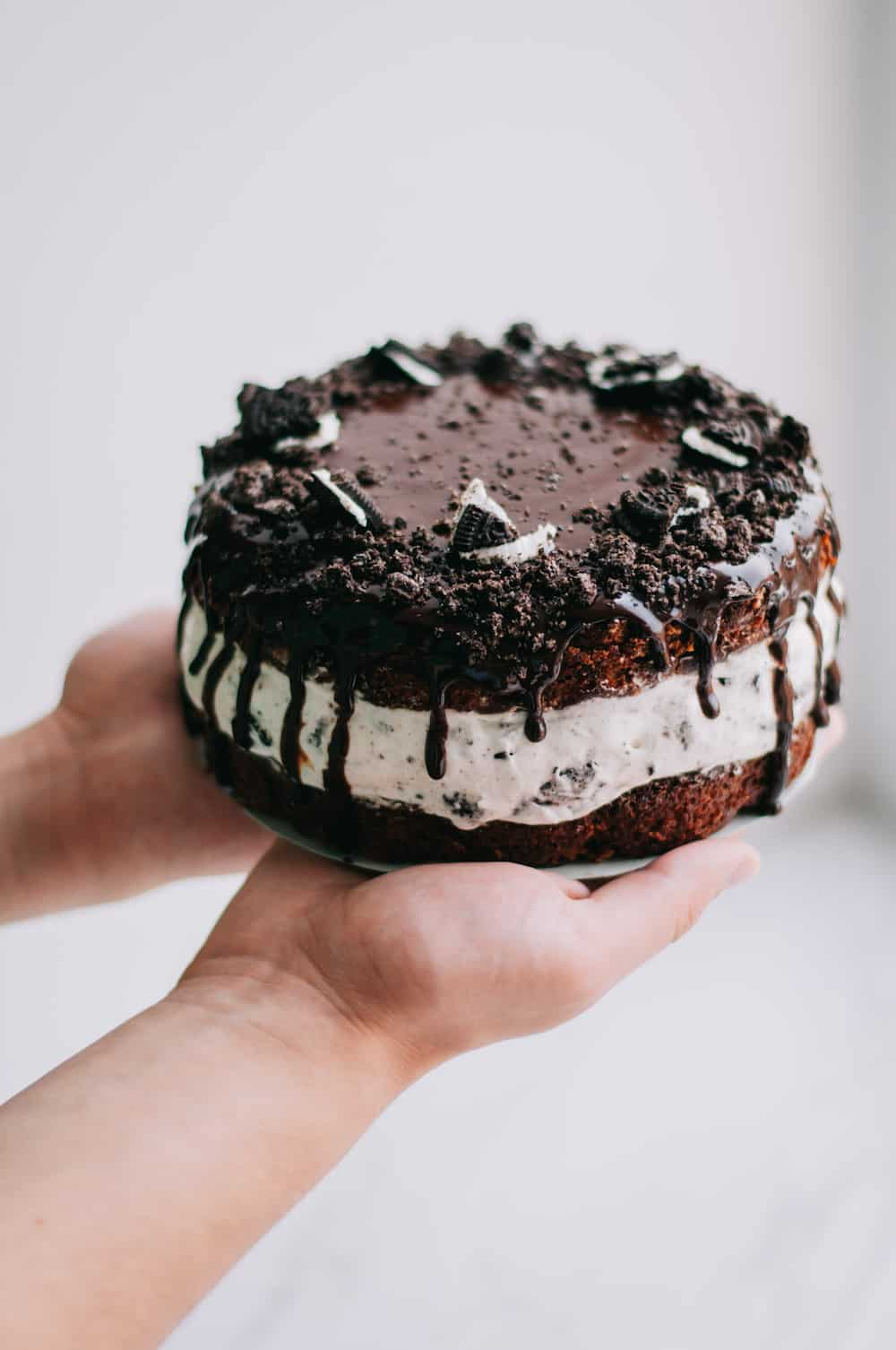 That dripping chocolate design will always trigger your taste buds. The style, in general, can be suitable for any general celebration.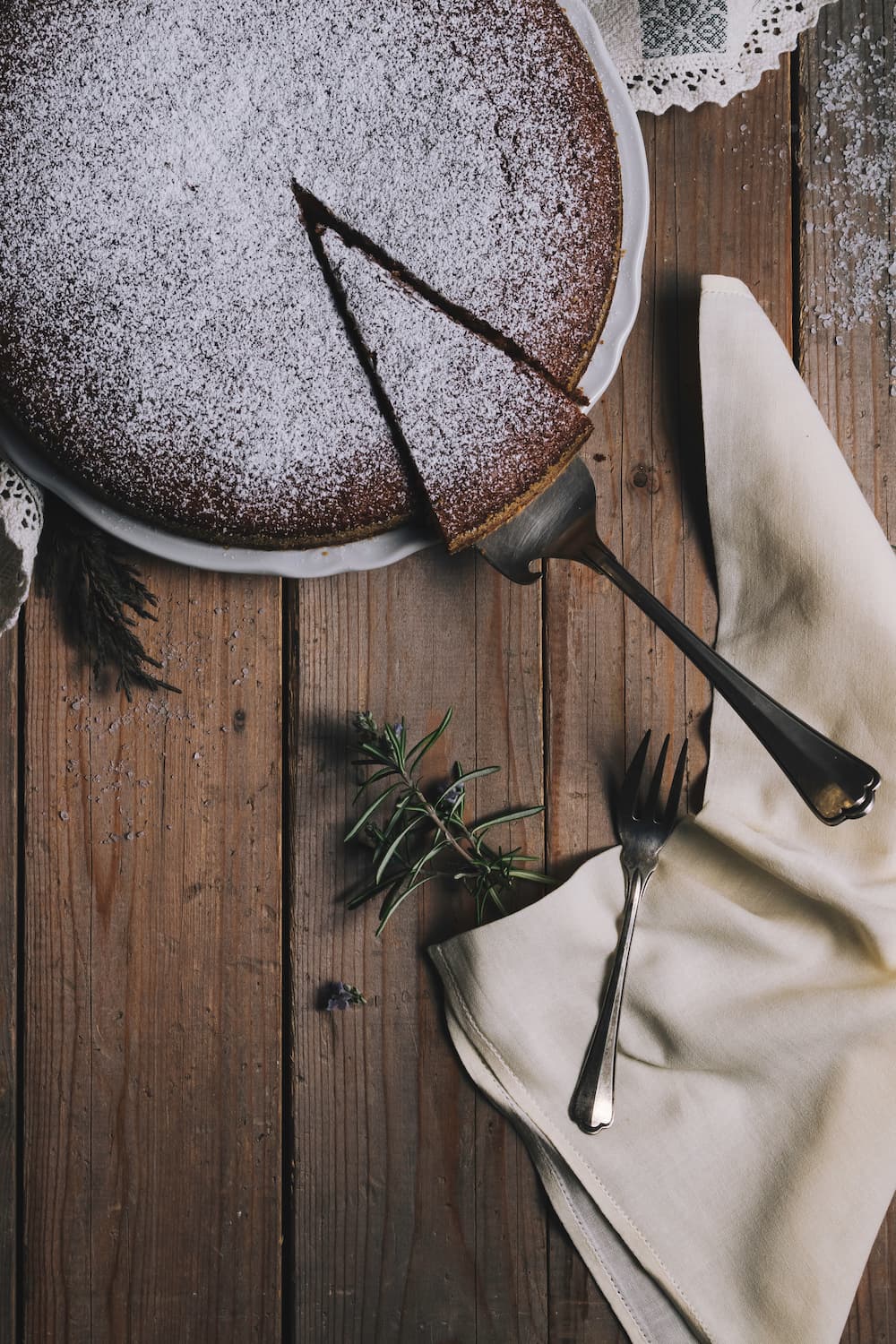 Chocolate lovers will appreciate this style. It is undeniably a full-blown chocolate cake in a simple smooth design.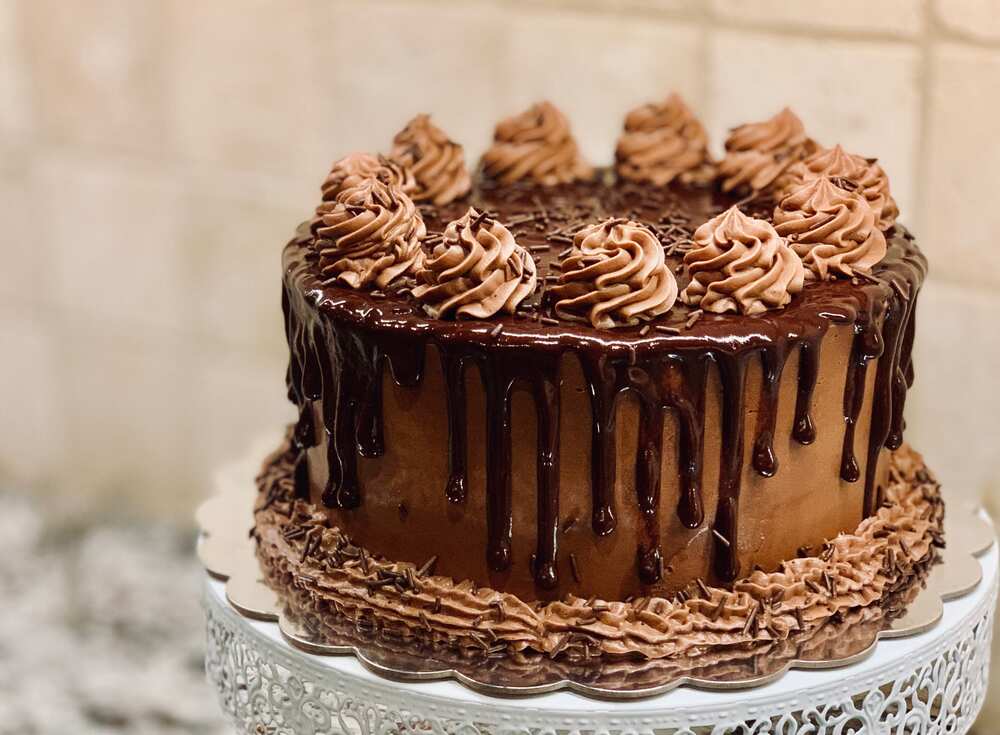 Some love simple styles, while others appreciate the time it takes to pull off a detailed masterpiece. If you belong to the latter group of people, then you might want to order the kuchen shown above.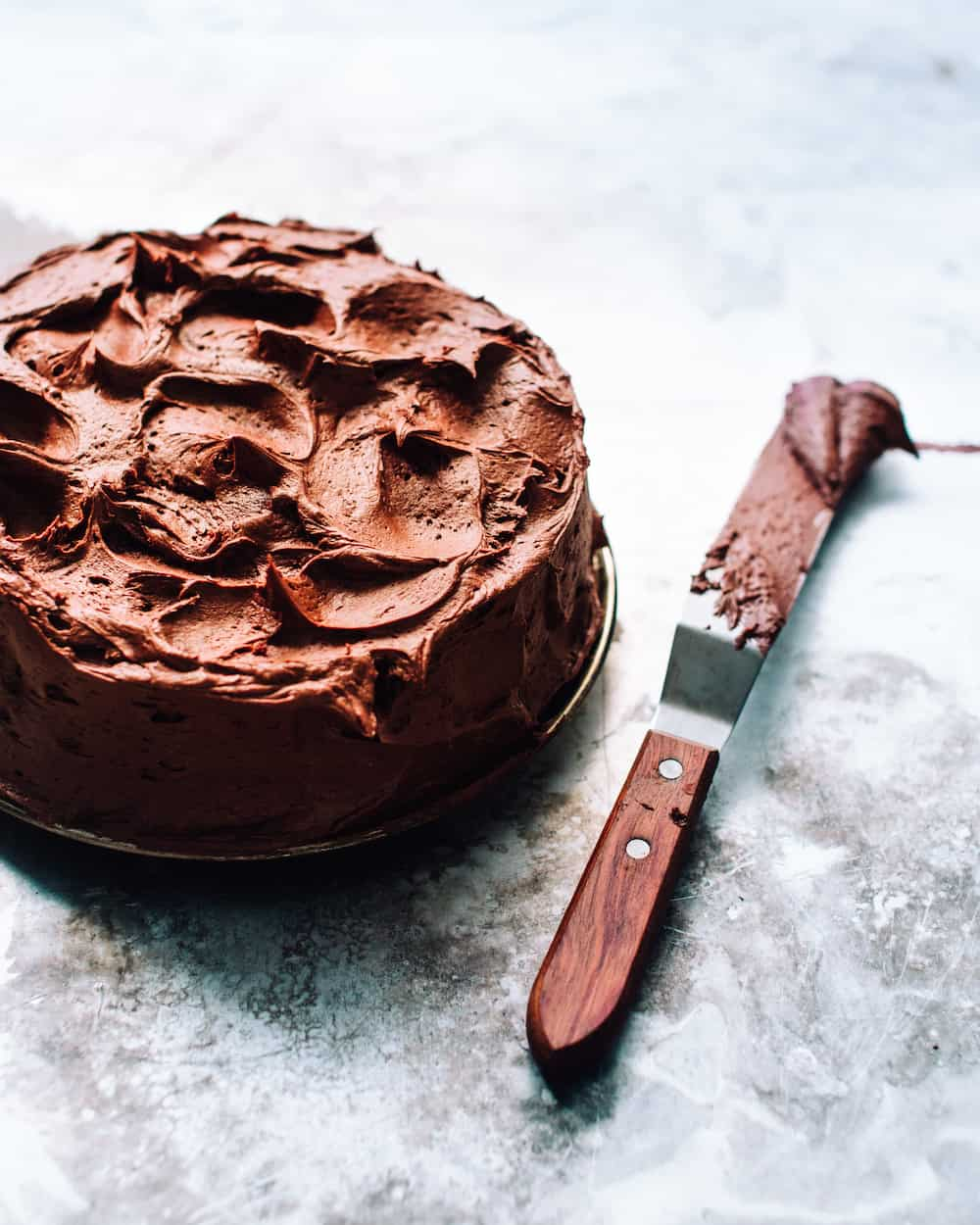 This rugged style is a fusion between a simple and detailed bake. However, pulling off that rugged look is no mean fete. You have to go to an experienced baker.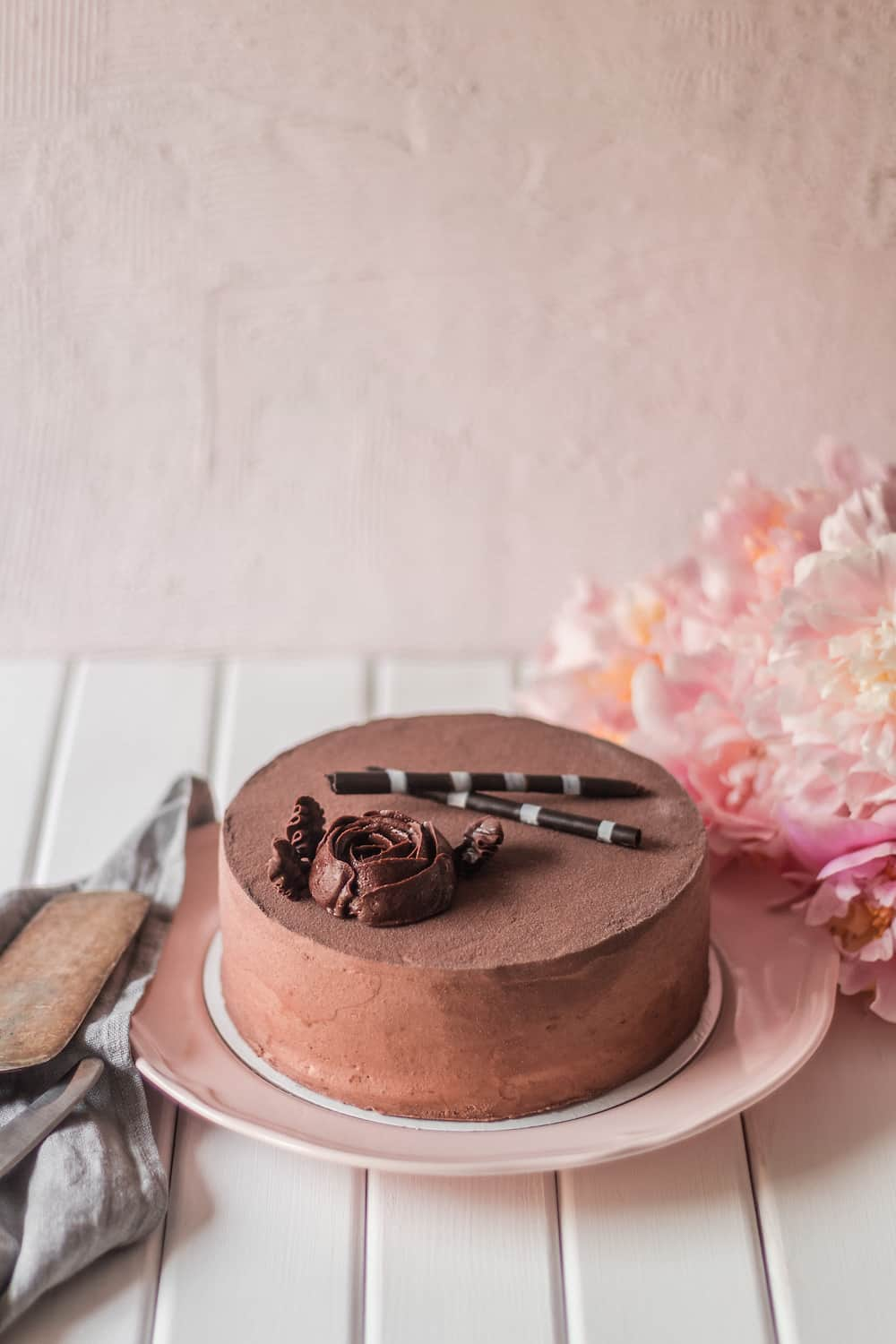 Who does not love chocolate fondant cakes? These types of bakes offer you the chance to eat that chocolate in moderation. Also, you get to decide what to have underneath that fondant.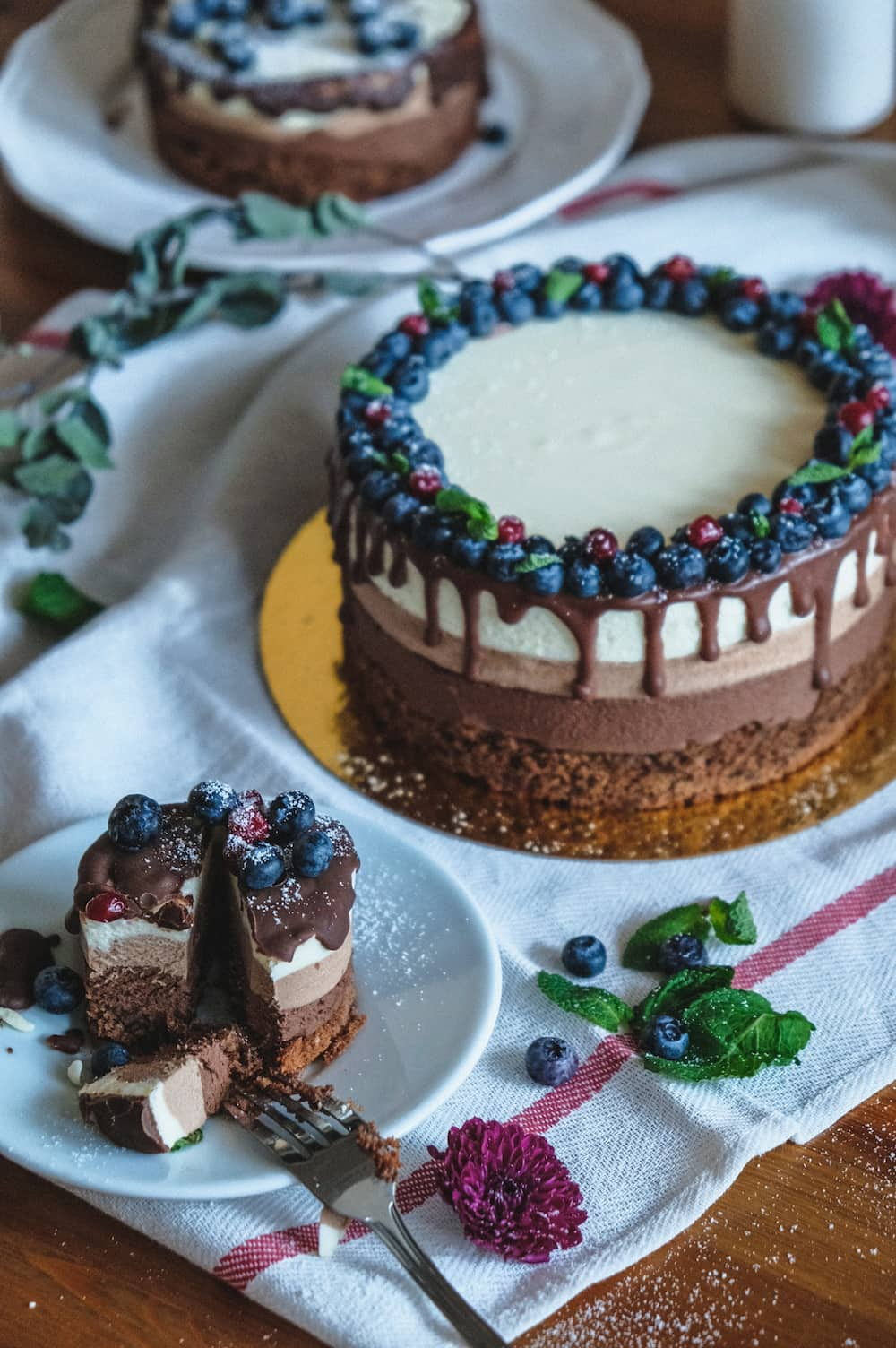 The good thing about choosing the design you want for your cake is that you get limitless options. For instance, in addition to the usual dripping chocolate style, your baker can opt for berries for decoration. The berries will also work as a flavor additive. You will definitely love the taste of chocolate and berries bursting on your taste buds as you squash that piece of cake.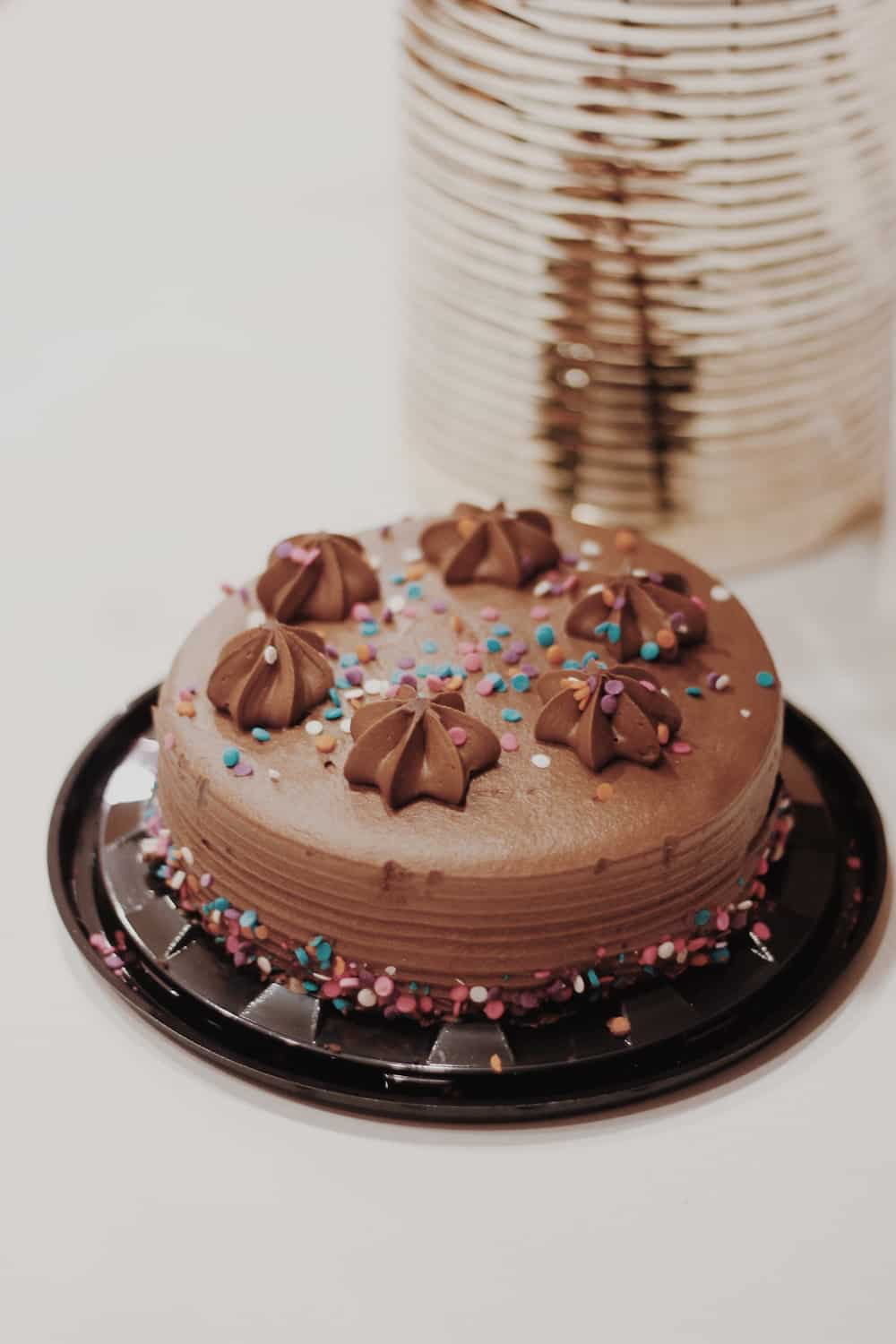 Fondants do not have to be bare, simple, and boring. The decorations shown above prove that statement right.
2. Unicorn cake design
Unicorn-inspired styles are common when it comes to baking. Here are some nice options for you to consider.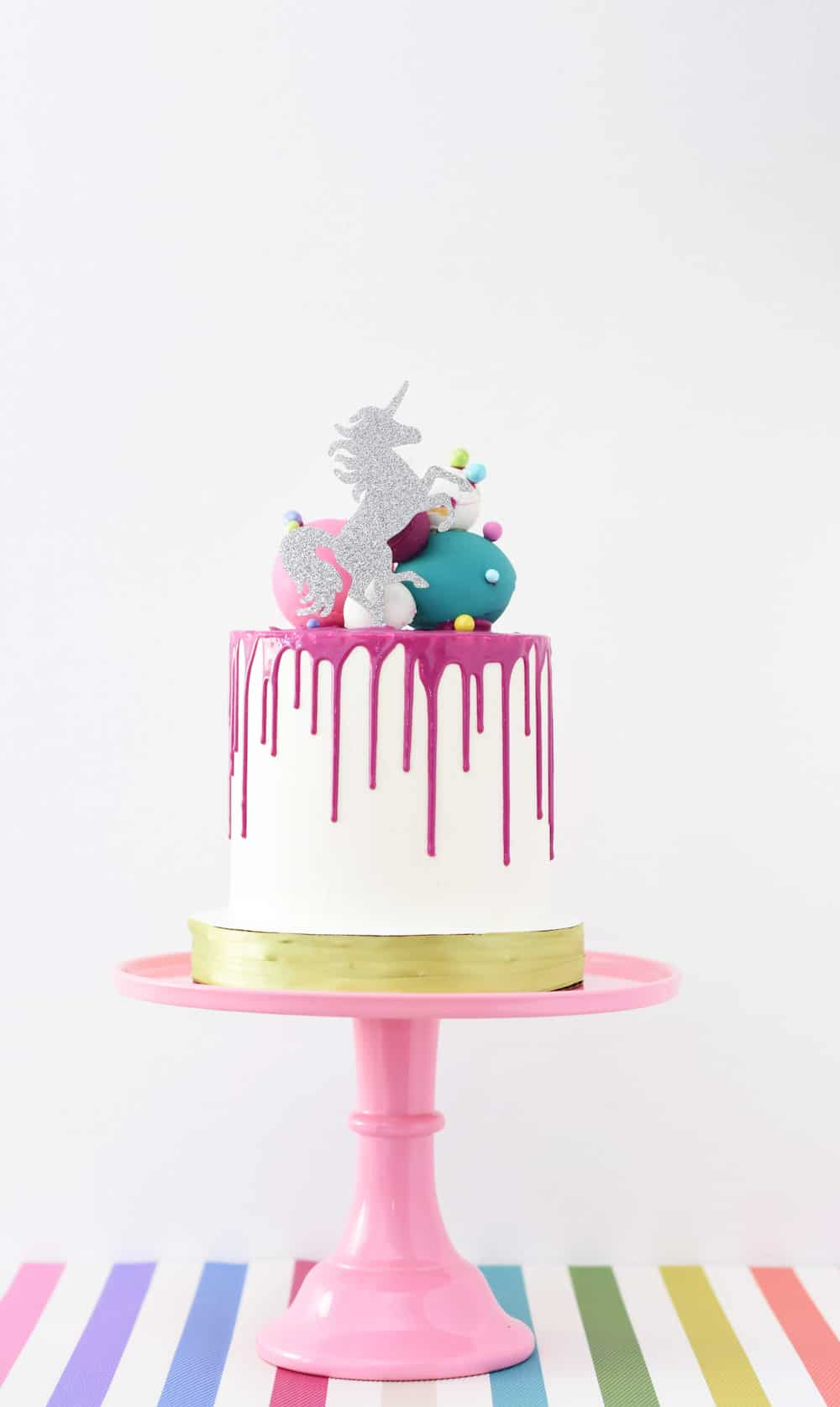 Forget about baking the kuchen shown in the photo above. Get a very experienced baker and let them do their thing. That unicorn is pleasantly elegant, meticulously placed on a one-tier white cake with dripping pink chocolate. It will be the perfect bake for your baby girl's birthday.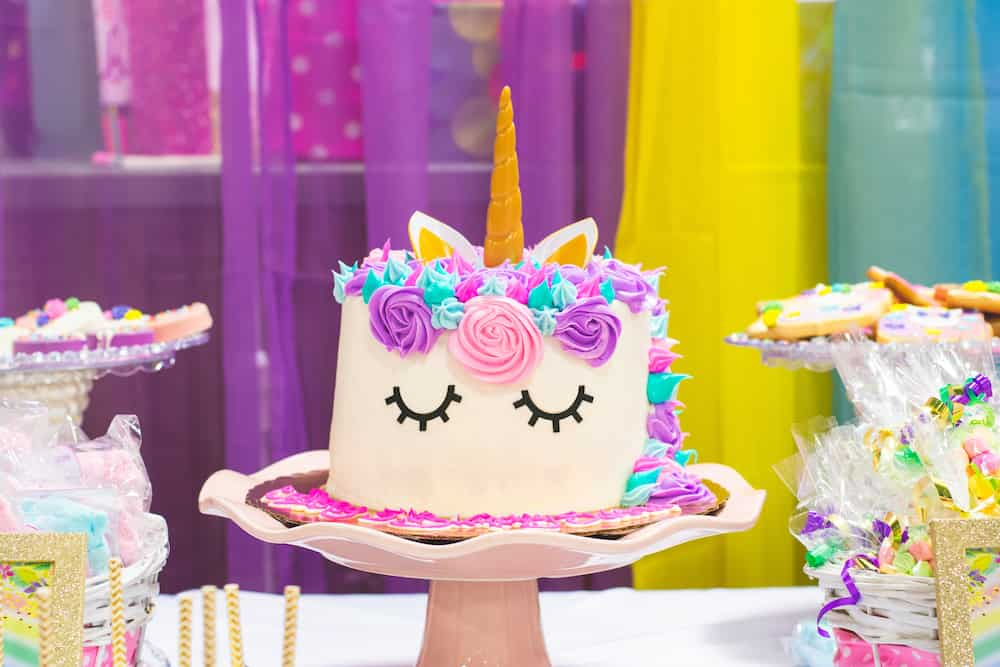 You do not need a full unicorn to pass the message. This unicorn fondant cake will clearly be for a girl who loves cartoons.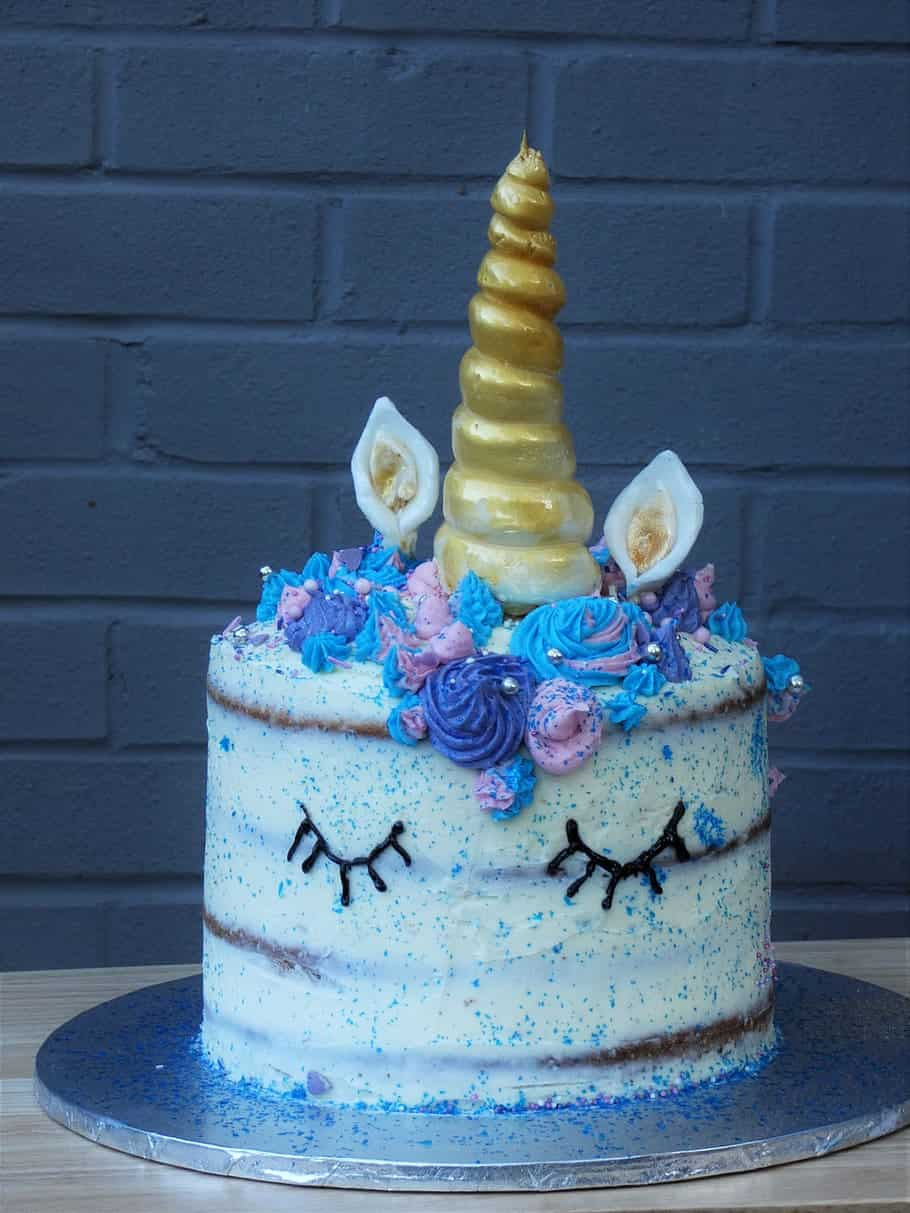 Here is a nice modification to the previous design. In this case, you can see the baker also borrowed ideas from Frozen (the movie).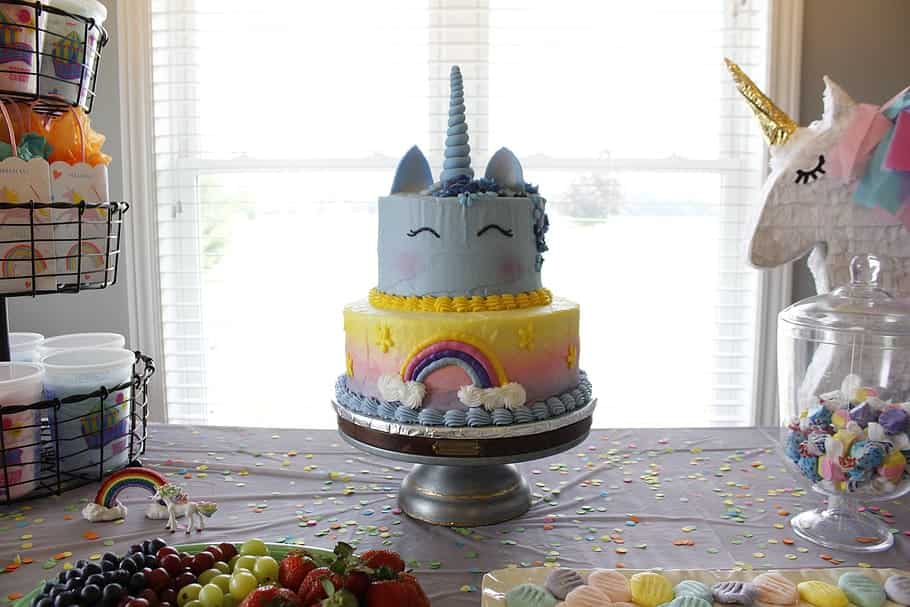 You can literally take your unicorn inspiration for a birthday cake to the next level. Take a look at the two-tier design with quite a lot of detailed decorations.
3. Birthday cake design
Right out of the door, there are cake designs that are undeniably made for birthday celebrations. It is easy to identify these bakes because most of them have the words "Happy Birthday." Also, decoration items commonly include candles or some form of lighting.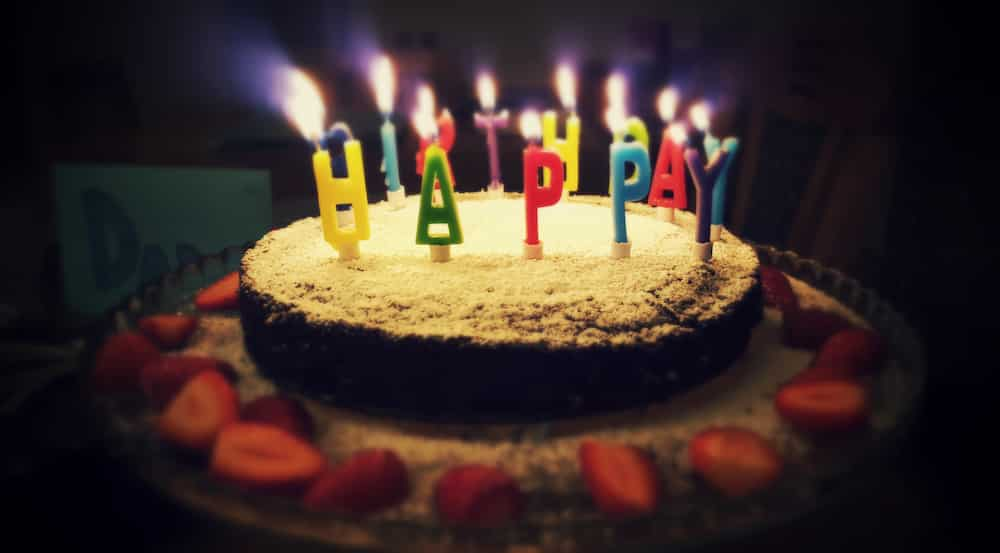 The happy birthday decorations with candles are common. Just like in the photo, you can also incorporate berries to give the cake a unique style.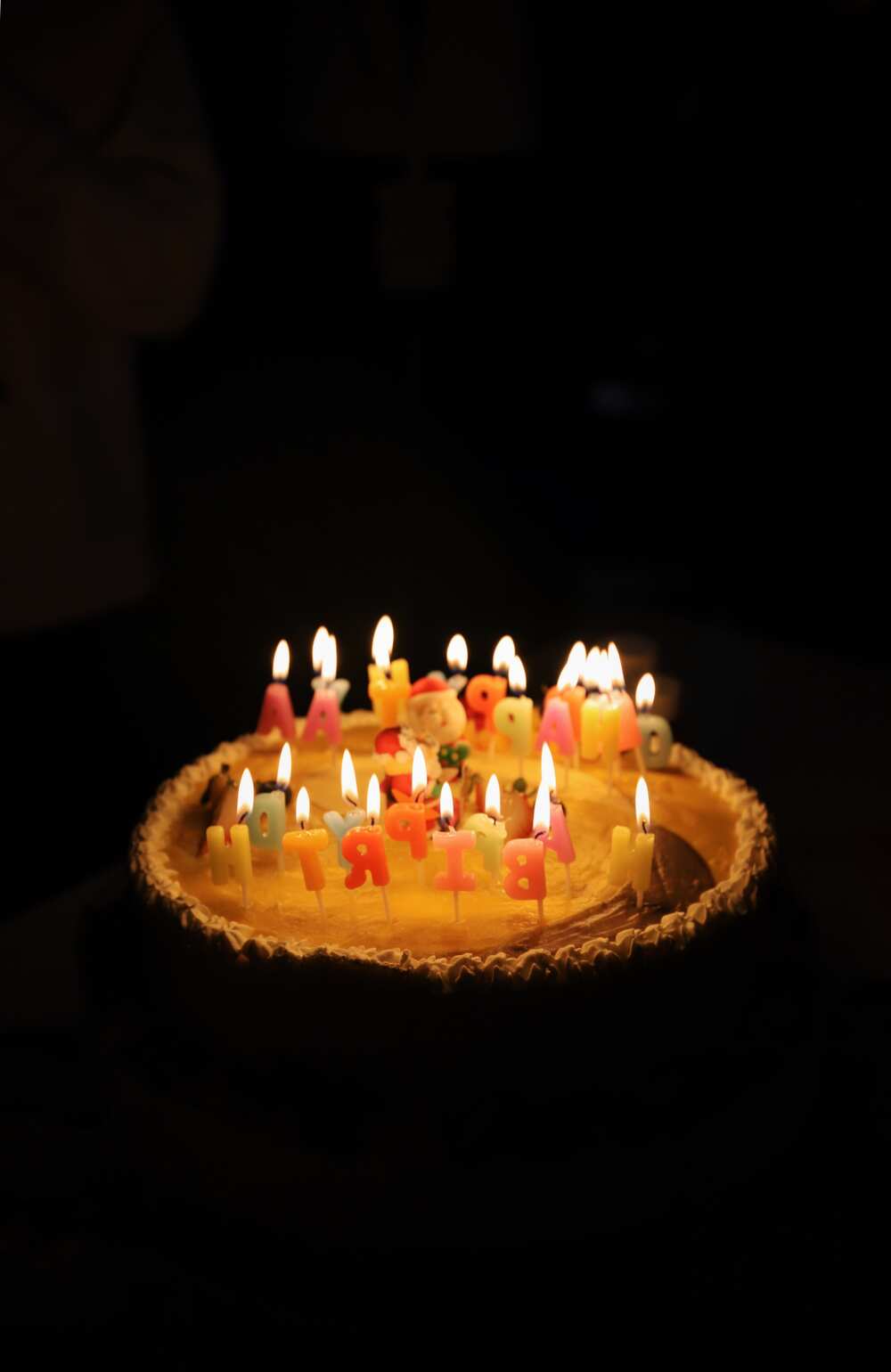 Here is another good example of candlelight decorations with the words "Happy Birthday."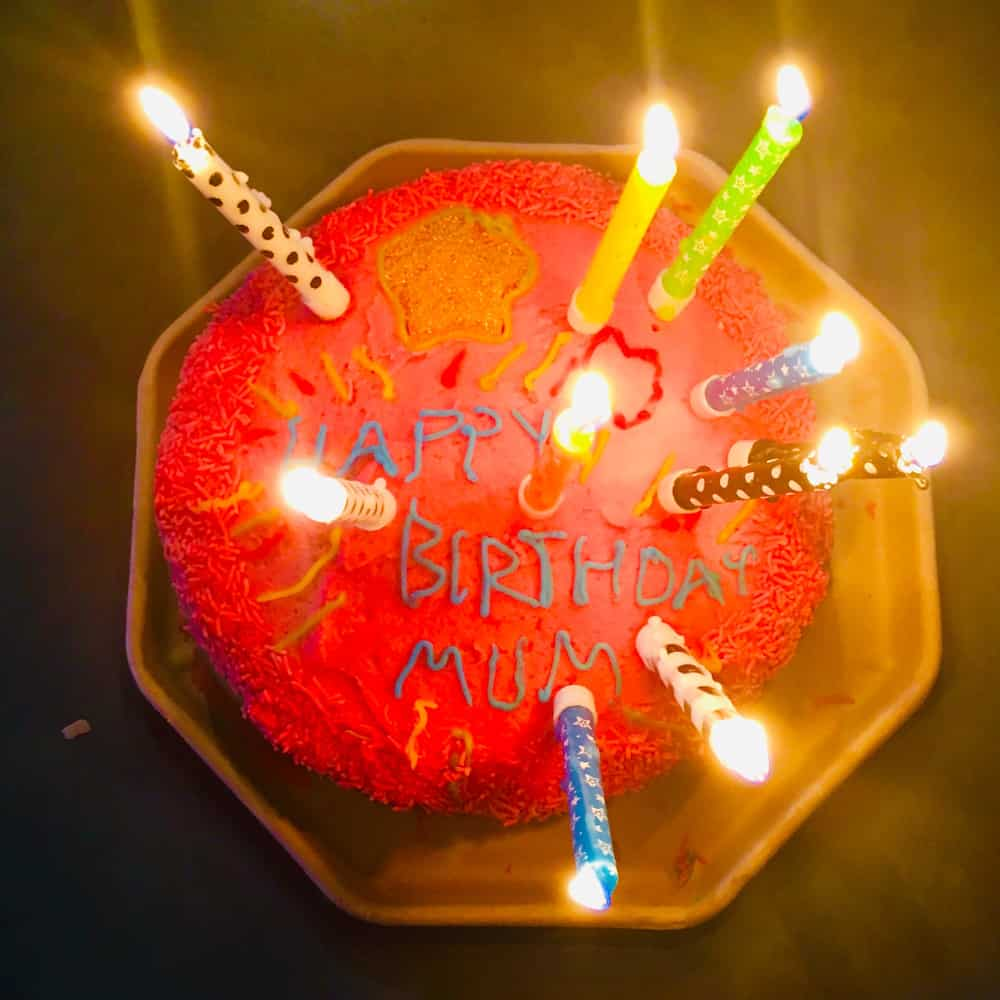 Treat your mum to one of the birthday celebrations she will remember for a long time with a nicely baked red velvet cake.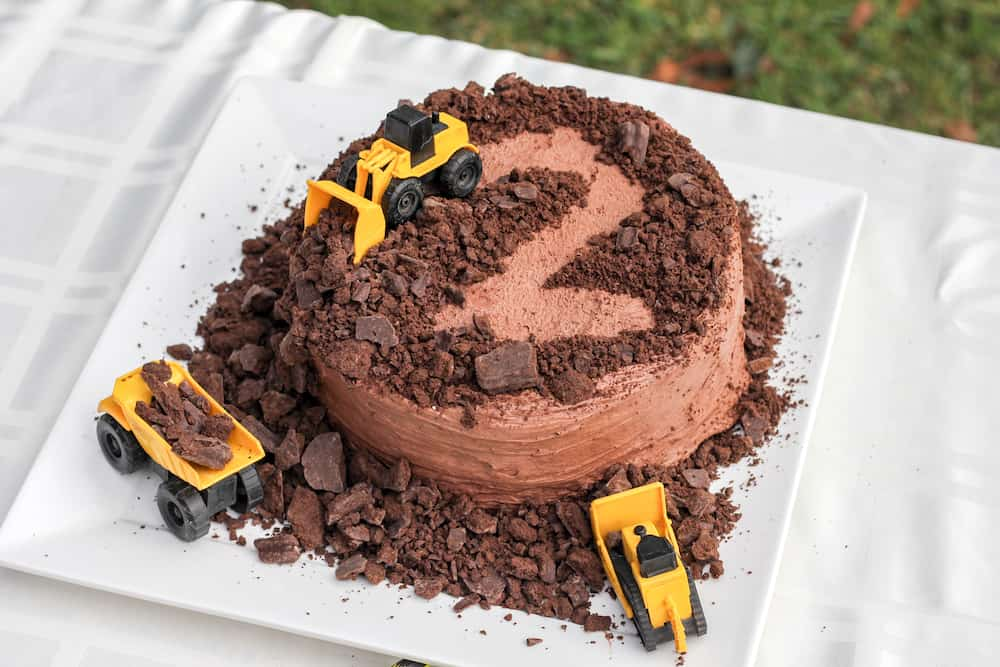 You cannot mistake this bake for something else other than a birthday cake. It is the kind of design that you would go for if your kid loves toys, especially tractors.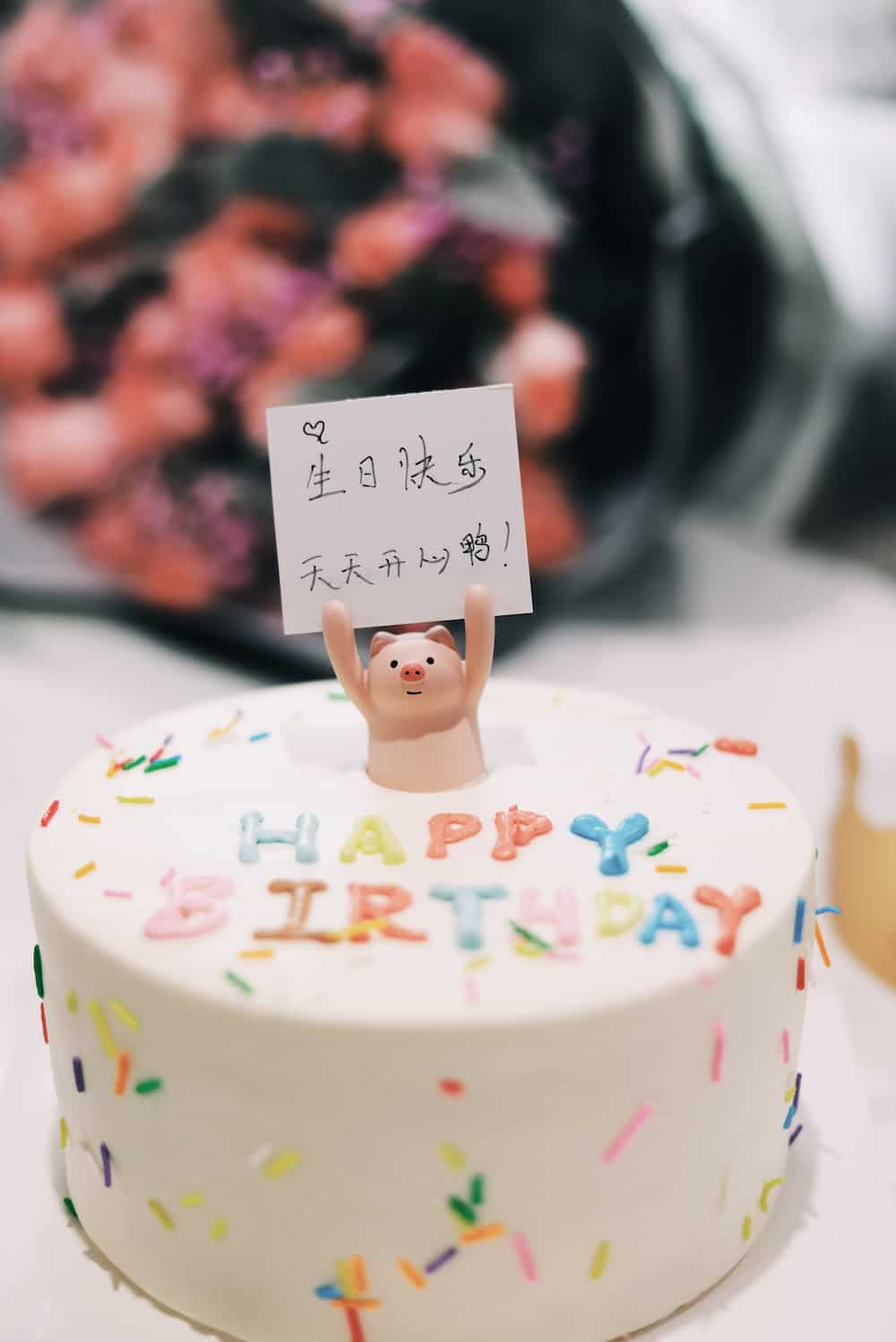 This fondant gives you the chance to include your custom heartfelt message on the small whiteboard.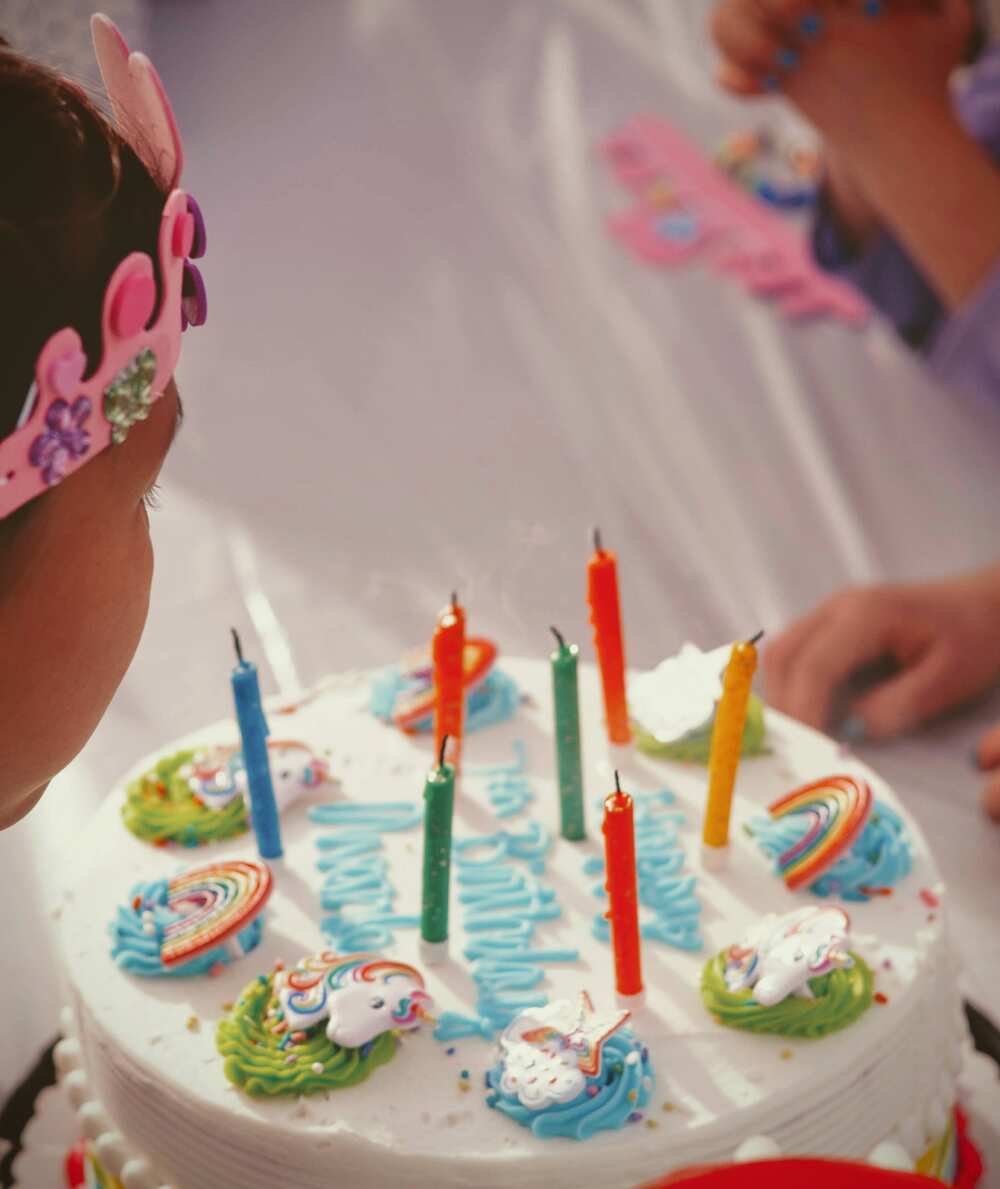 This customizable round fondant is an easy option if you want some freedom to decorate what is on the surface. Play with the color of the candles and the other decorations.
This fondant is straightforward. The baker took advantage of the chocolate as the paste, then went a step further to apply the decorations. However, the most striking feature is the number 23 that shows one is celebrating their twenty-third birthday.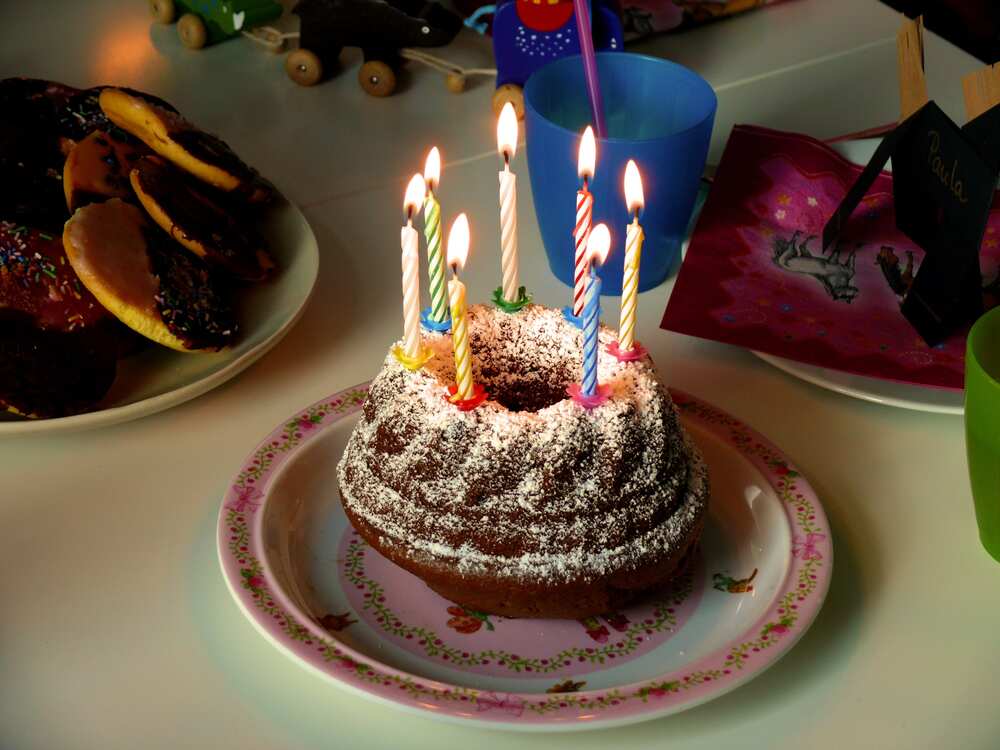 The birthday candles on top of the cake make it a nice birthday bake for your little boy or princess.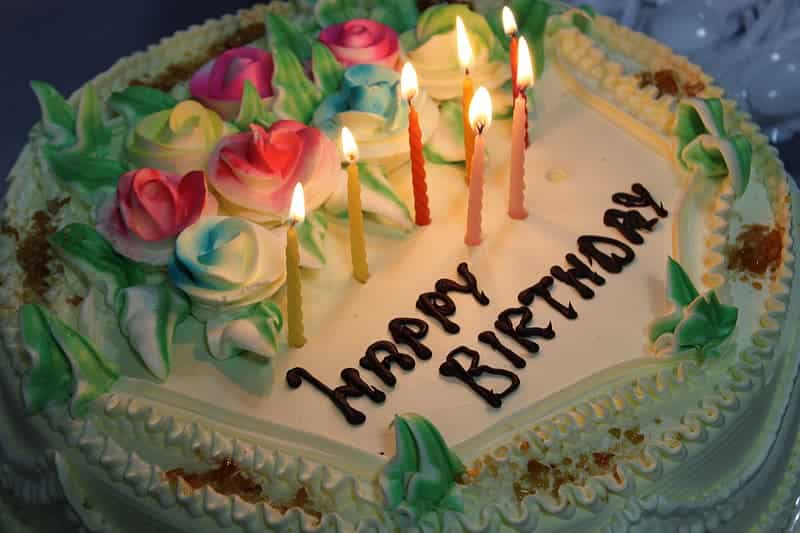 Here is a nice example of a single layer floral themed birthday cake with lighted candles. Get this piece if your kid loves flowers.
4. Princess cake design
Princess bakes are more like barbie cake design ideas. Flatter your dear ones or the little girl with any of the following pieces.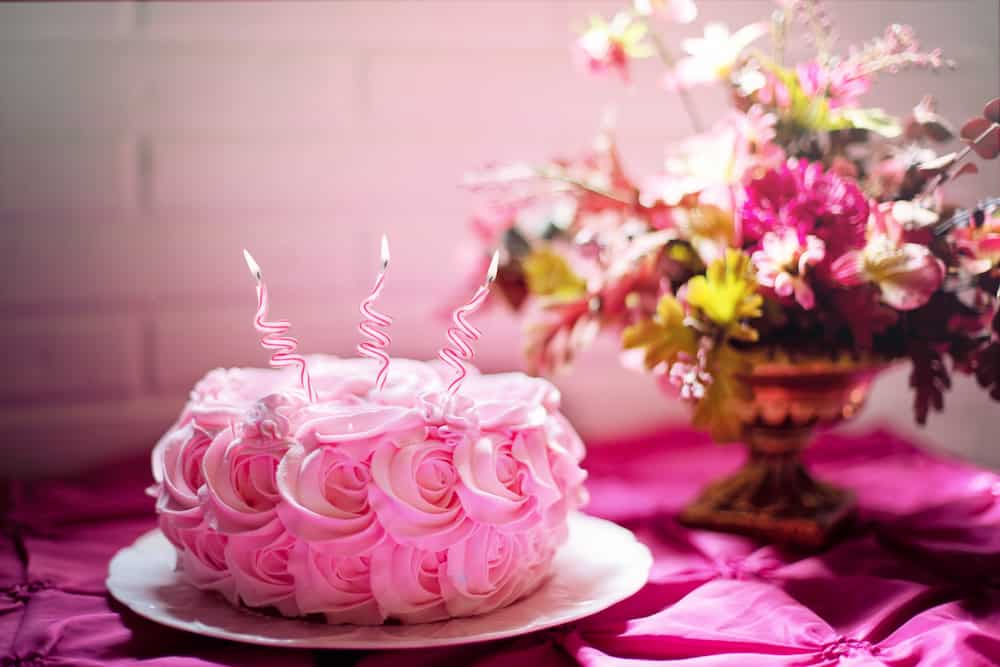 This flowery round piece offers the details you would want in a special bake. The spiral candles give a nice additional detail to the overall style.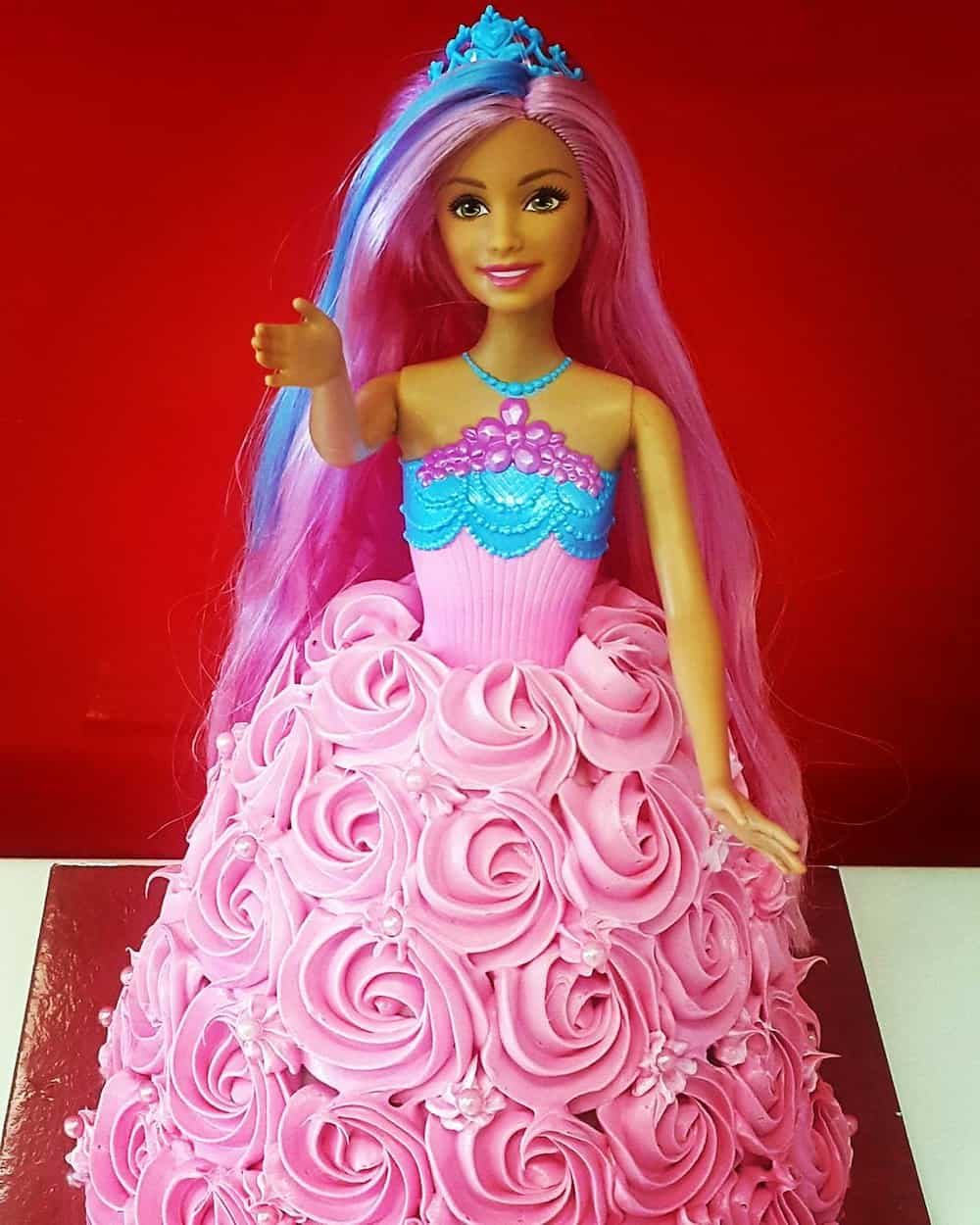 Every bite of this princess cake will take your baby girl into a world of fantasy and fairytale on her special fifth birthday.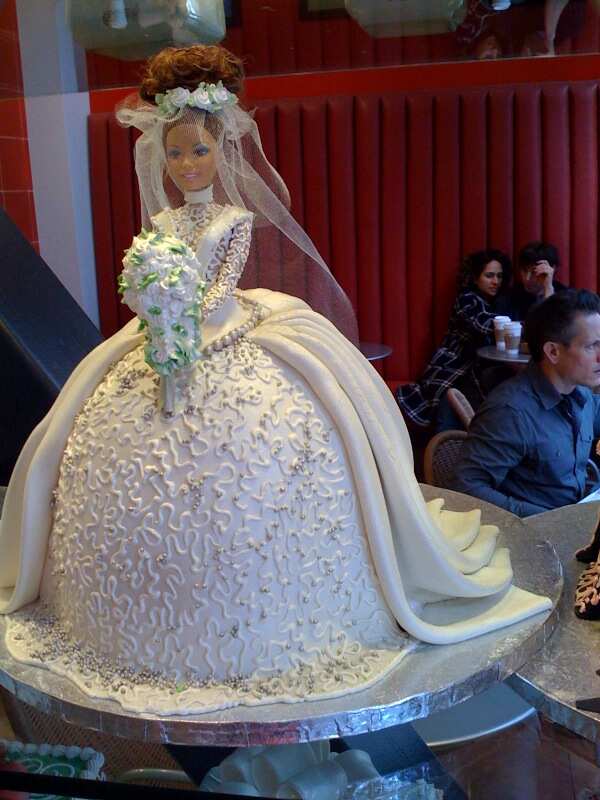 This pure show of baking mastery should be enough to give you doubt on whether you should take a bite or not.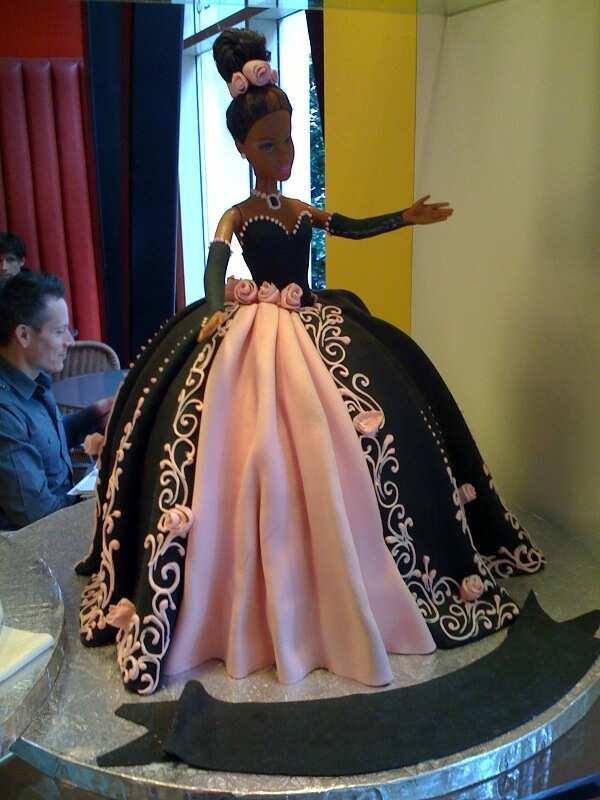 The amount of details that are on this cake is mind-boggling. You can narrate to your baby girl how special they are with the help of this beautiful cake.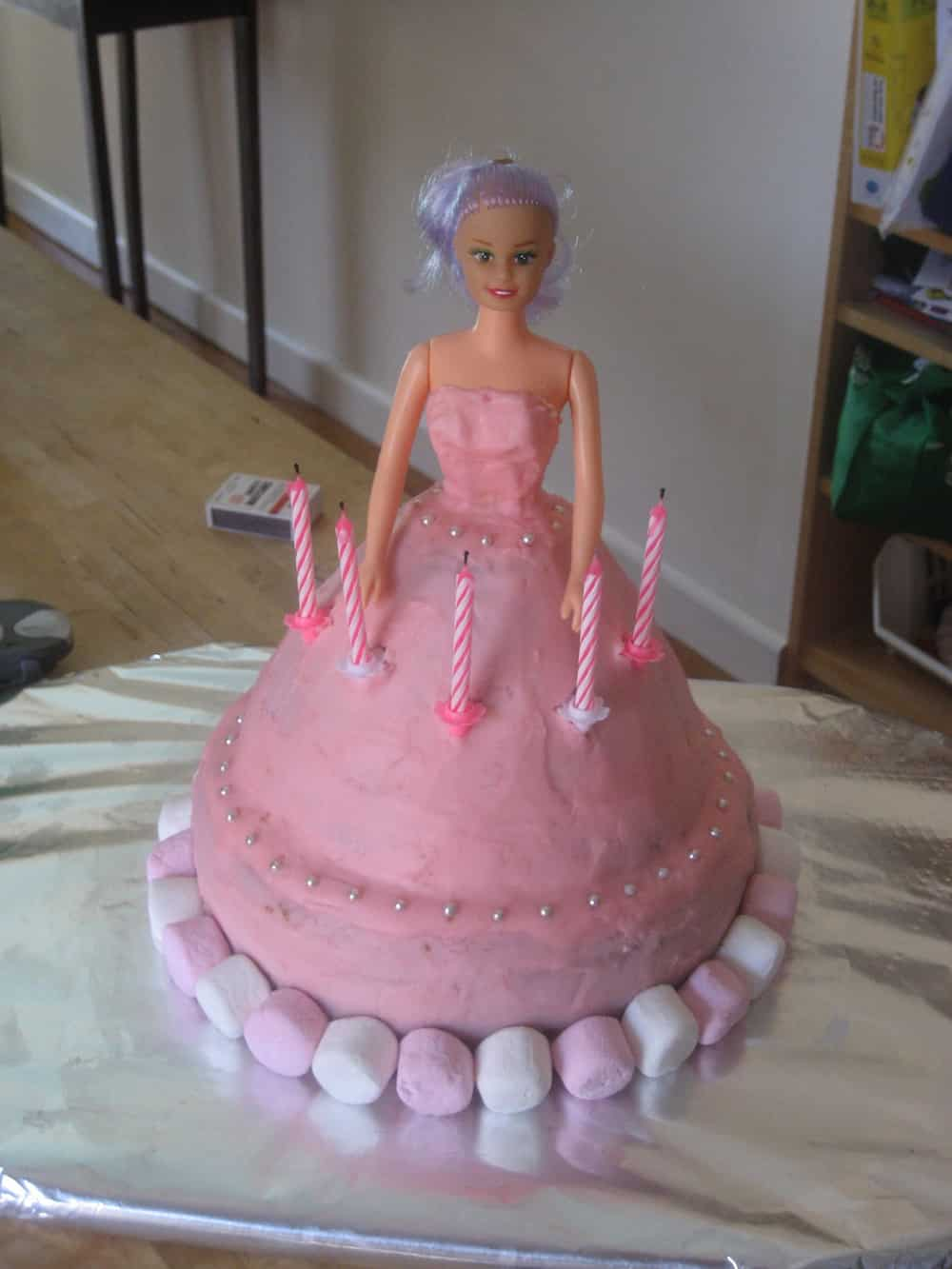 Pink is always a favorite color for many little princesses. You will definitely get it right by buying this special fondant.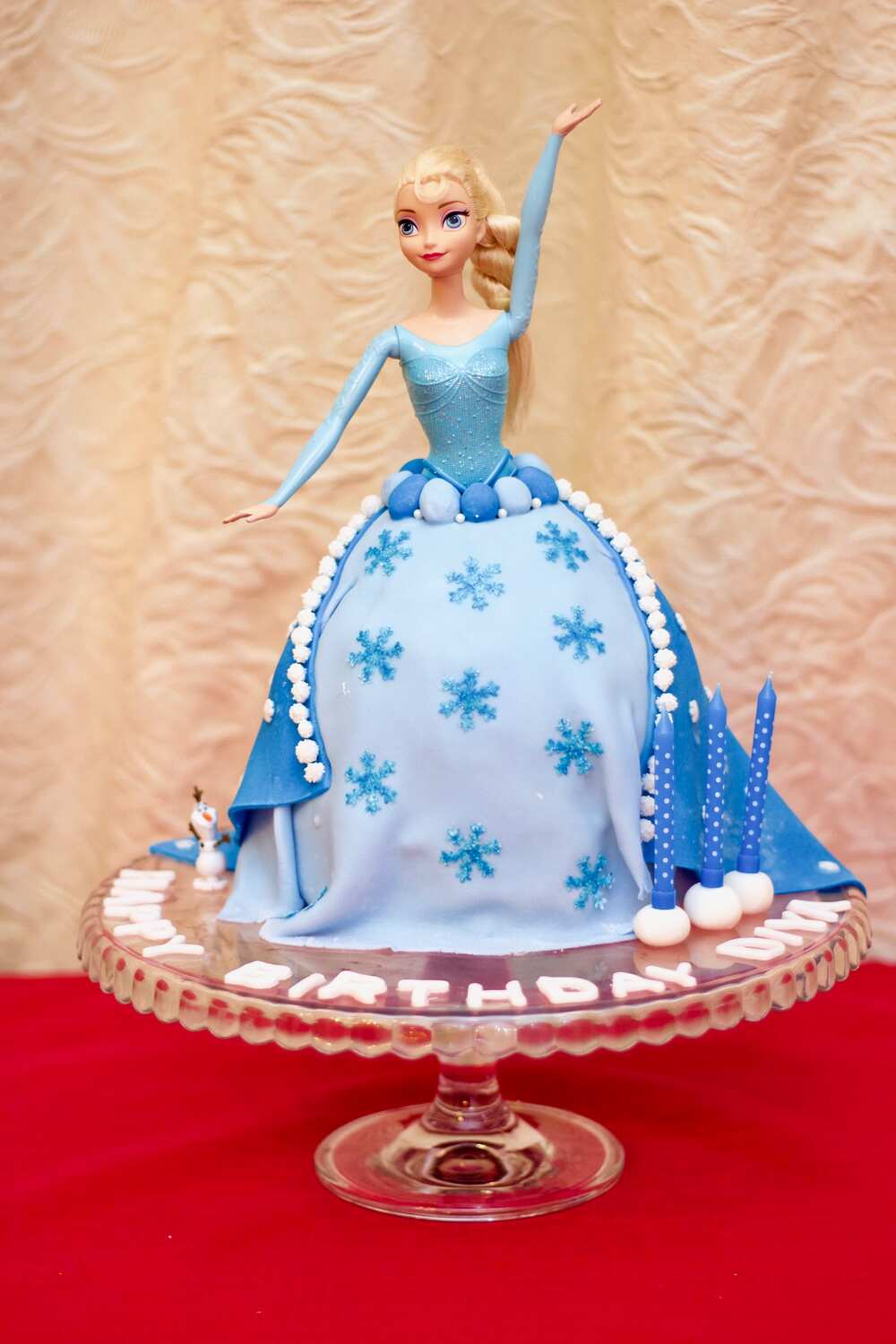 The magic is in the presentation. However, that does not take anything away from the flawless artistry of the baker. It is the perfect barbie on this list, and sure enough, your little girl will remember this birthday for a long time to come.
5. Peppa Pig cake design
Peppa Pig is an interesting animation show that has aired for more than a decade. As your kid grows and starts watching television, their love for this show will manifest itself. If that is the case, here are ideas you can use when buying them their next birthday cake.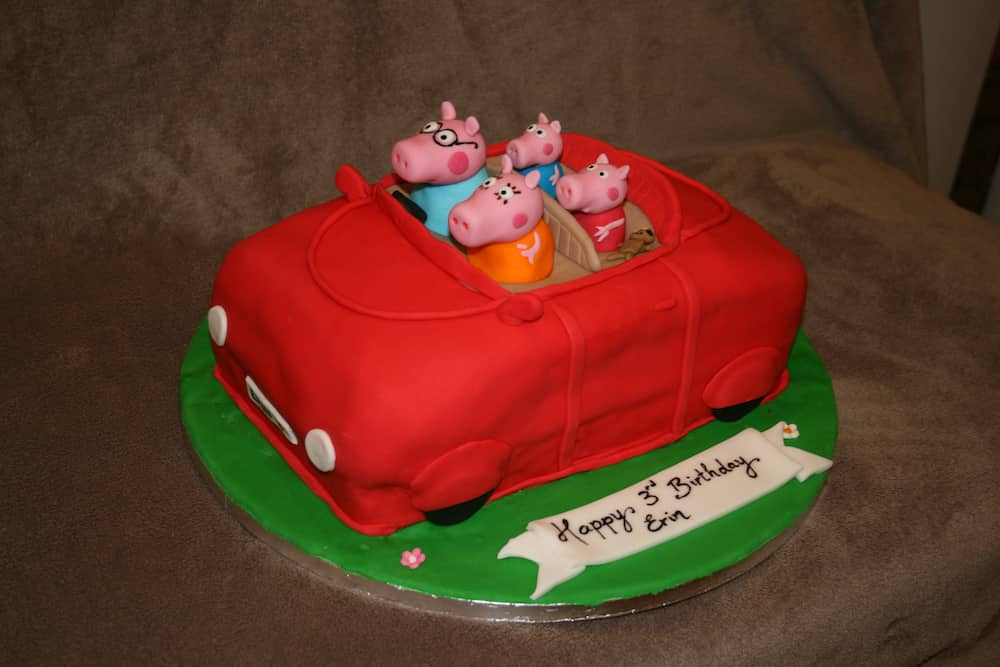 Some of the Peppa Pig characters in a car. You can never go wrong with this design, especially if your kid loves toy cars.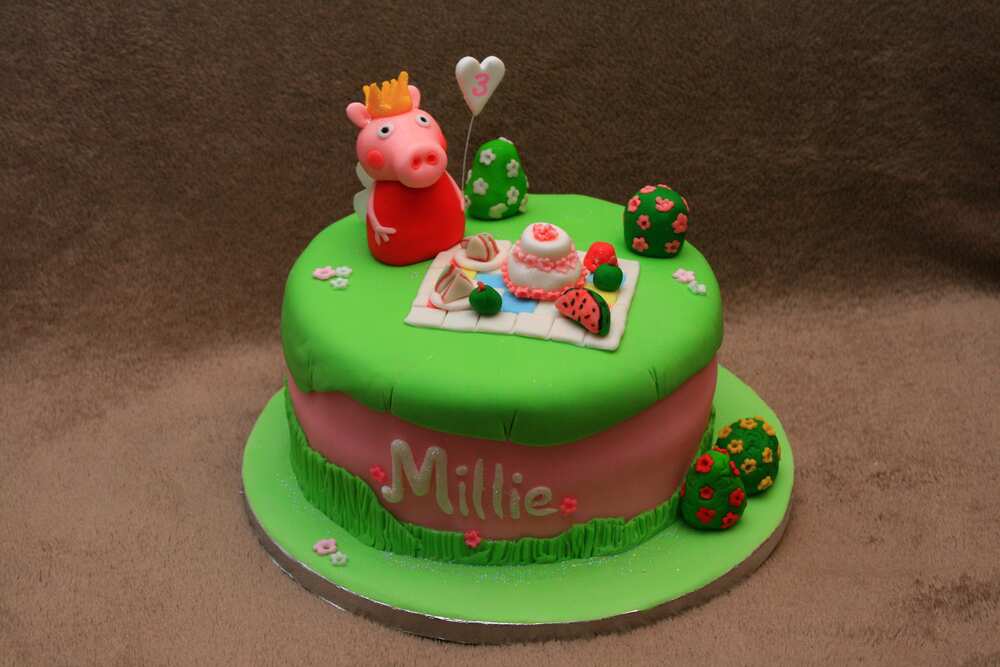 The name on the fondant shows it is a suitable pick for a girl. Also, the pink color is another addition that makes it a girly thing.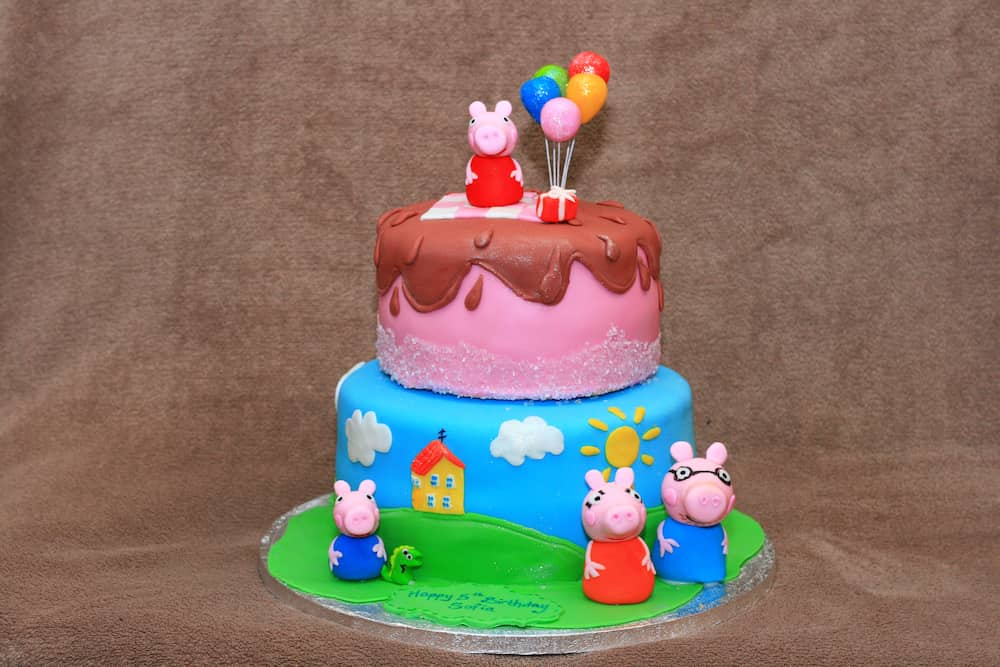 It even gets better with this two-tier Peppa Pig themed cake. The dominant colors on the animation also inspire the choice of the fondant from bottom to top.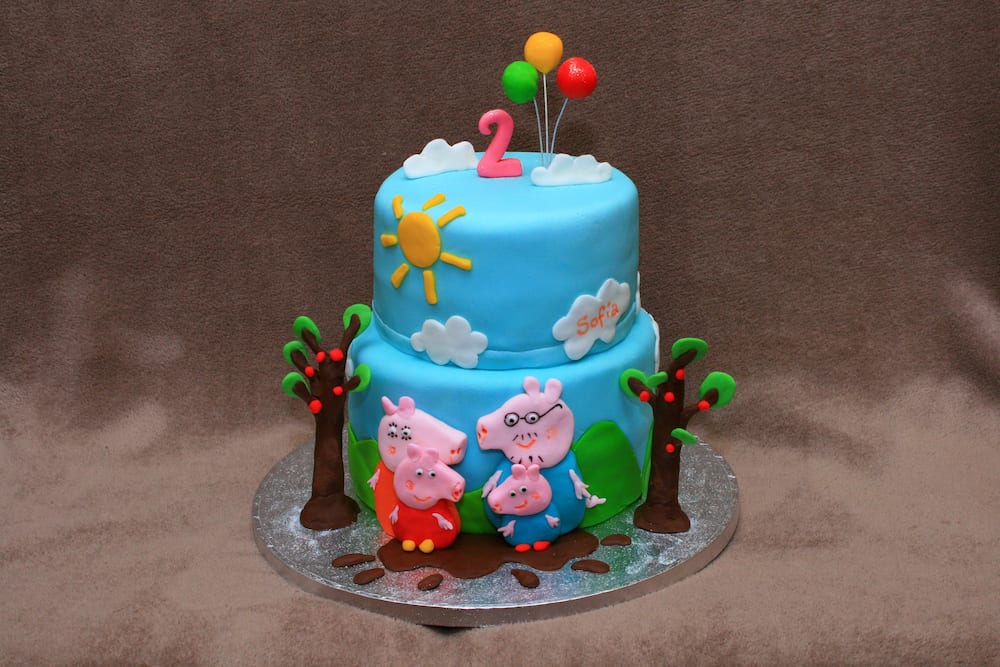 If your kid is turning two and already loves this animation, you can play into their wishes with this nicely baked cake.
6. Spiderman cake design
You do not have to say much about superheroes — kids just love them. At two or three years old, the debate of whether they are into Marvel or DC is too mature. Just throw in any superhero movie, and they will enjoy watching. You can take the love for superhero characters to the next level by celebrating your kid's special day with a Spiderman-themed cake.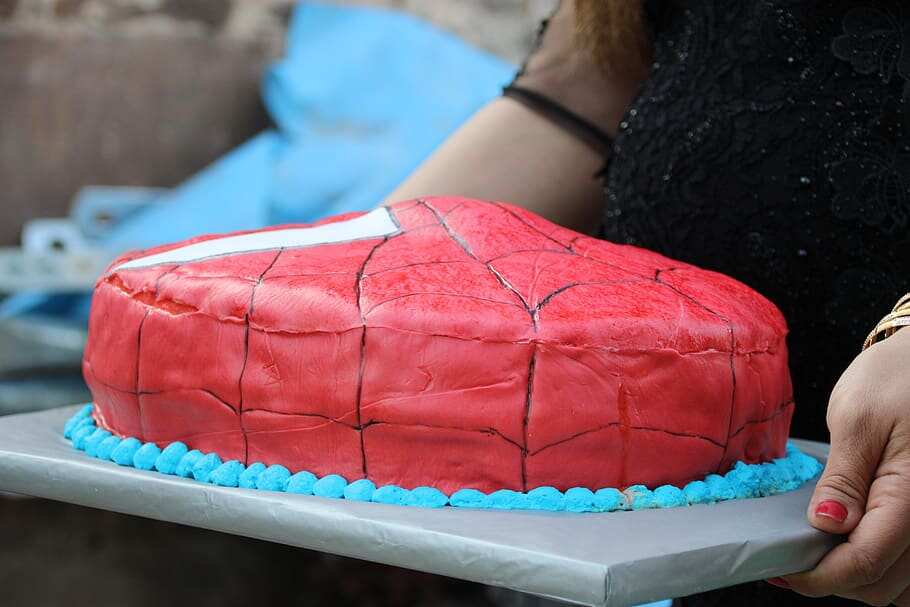 Nothing can come close to this Spiderman-themed fondant that you can buy for your kid on his or her birthday.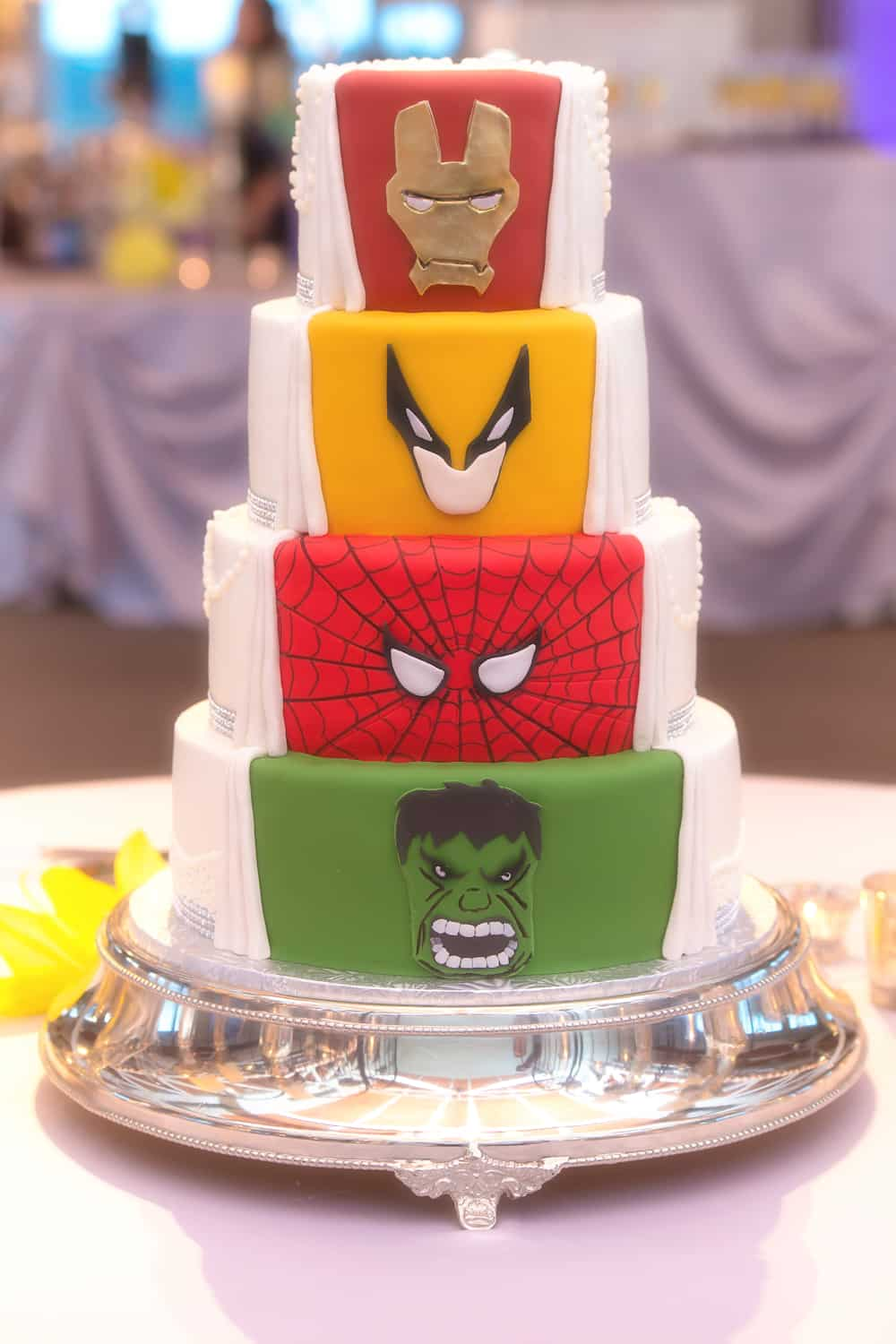 As if a Spiderman-themed bake is not enough, how about a collection of several superhero characters? Be sure your kid will be over the moon with the impressive collection of characters incorporated in the cake shown above.
Kids who love Spiderman will definitely love this design. At age four, the kid will be in a position to appreciate some of the details included here. That spider-reveal style is quite striking.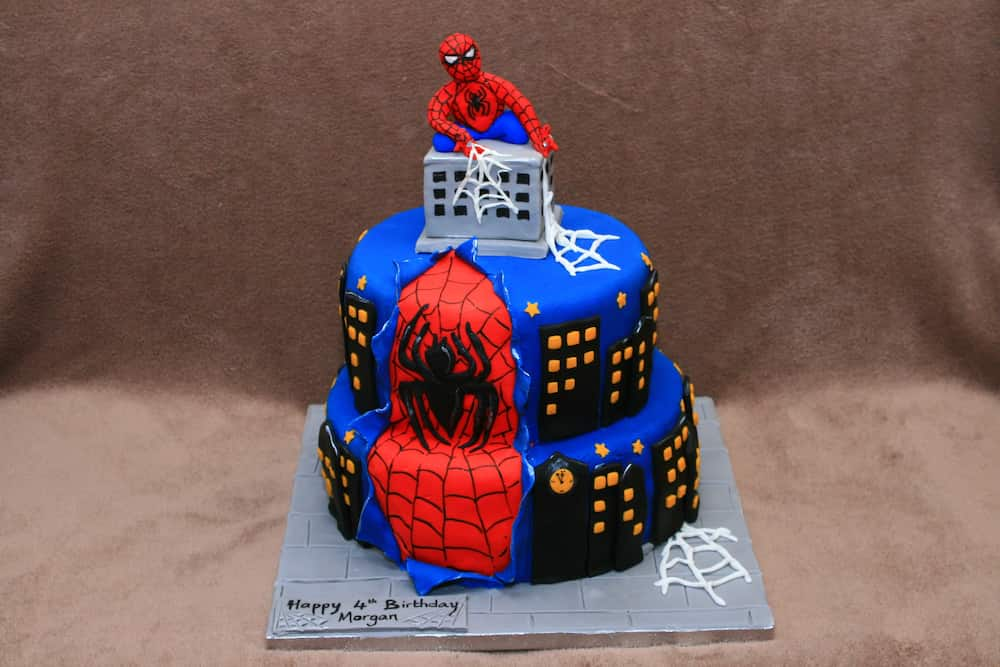 This fourth birthday cake is the perfect modification of the previous design. This two-tier design takes the imagination to the next level, literally.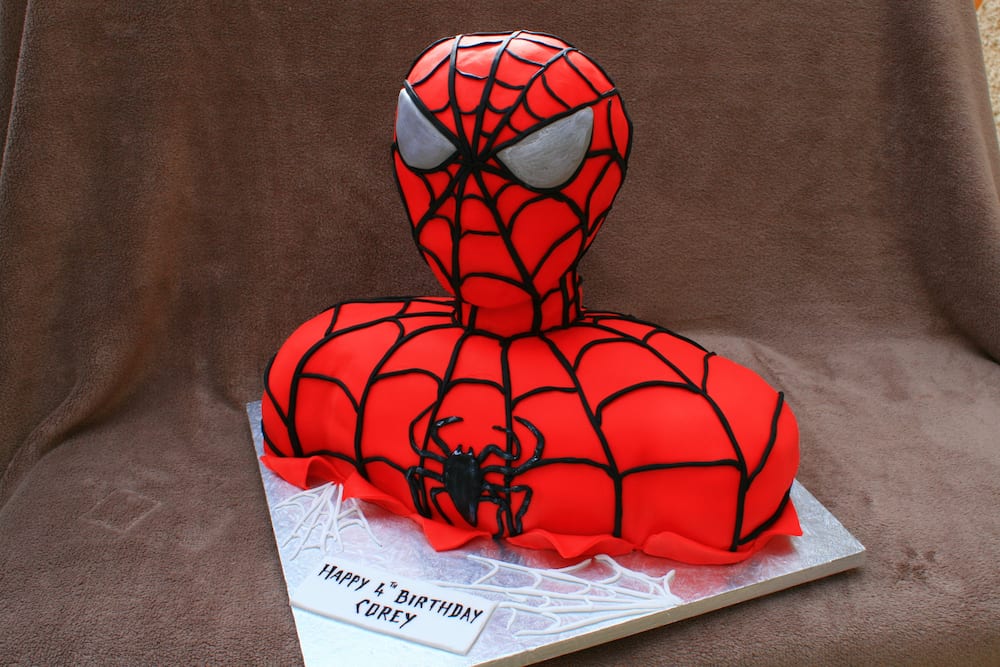 The ultimate embodiment of a Spiderman-inspired cake. Everything about this is great.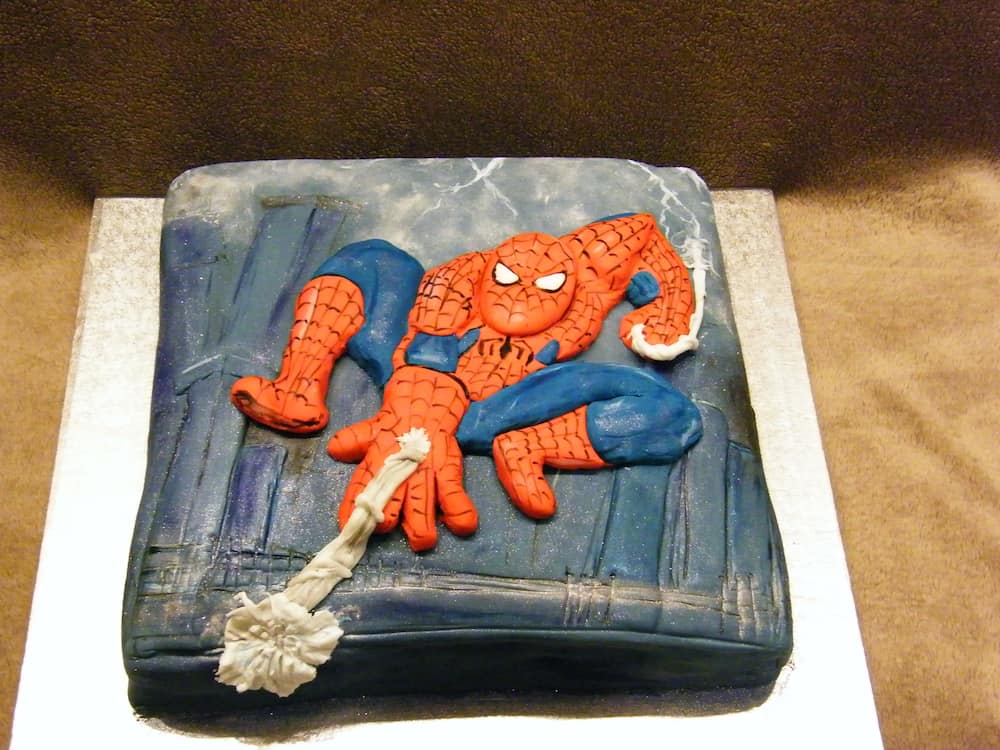 How about Spiderman unleashing his power into the tastebuds of your kid?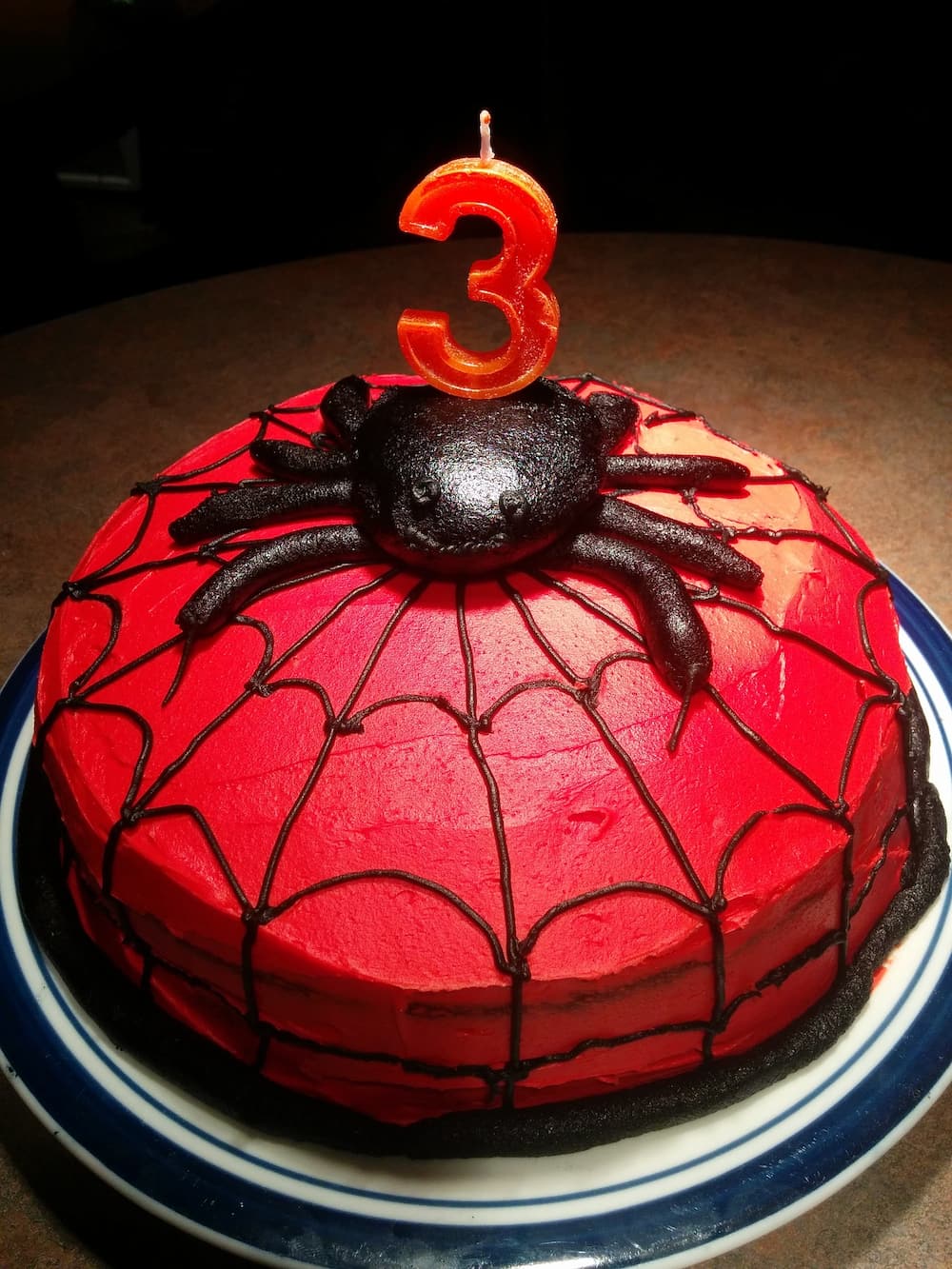 Celebrate the third birthday of your kid with this carefully decorated bake with obvious inspiration from this superhero.
Get your kid this cake and watch them enjoy every piece of this superhero.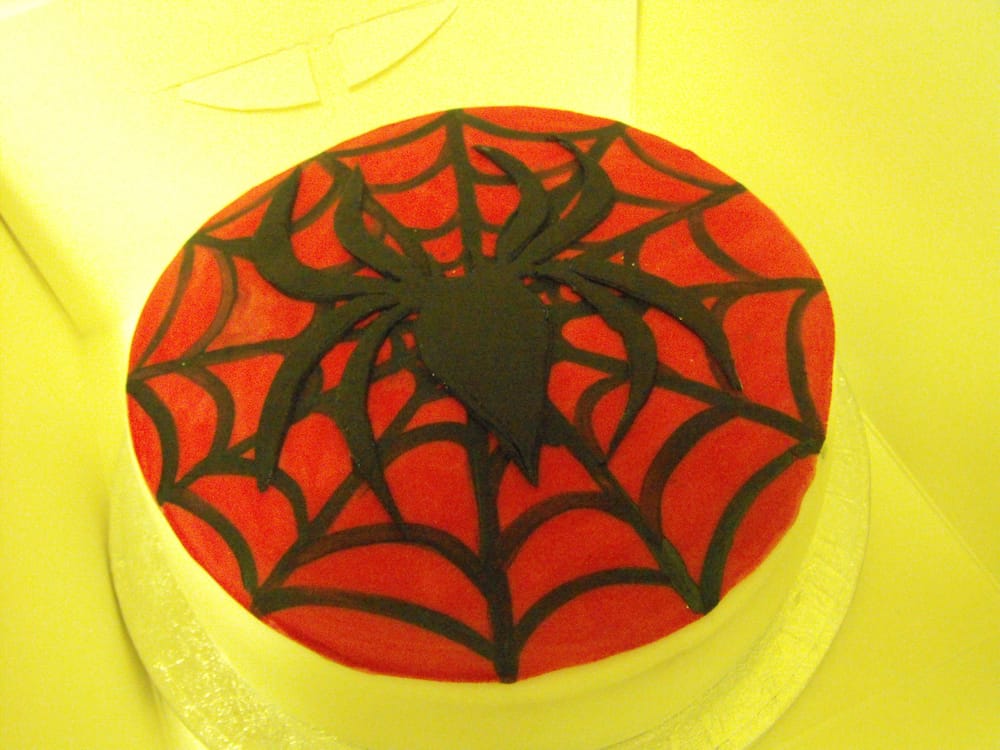 It can be as flashy and colorful as you want. Here is a good example of a color-popping kuchen in yellow with a black spider decoration on the top.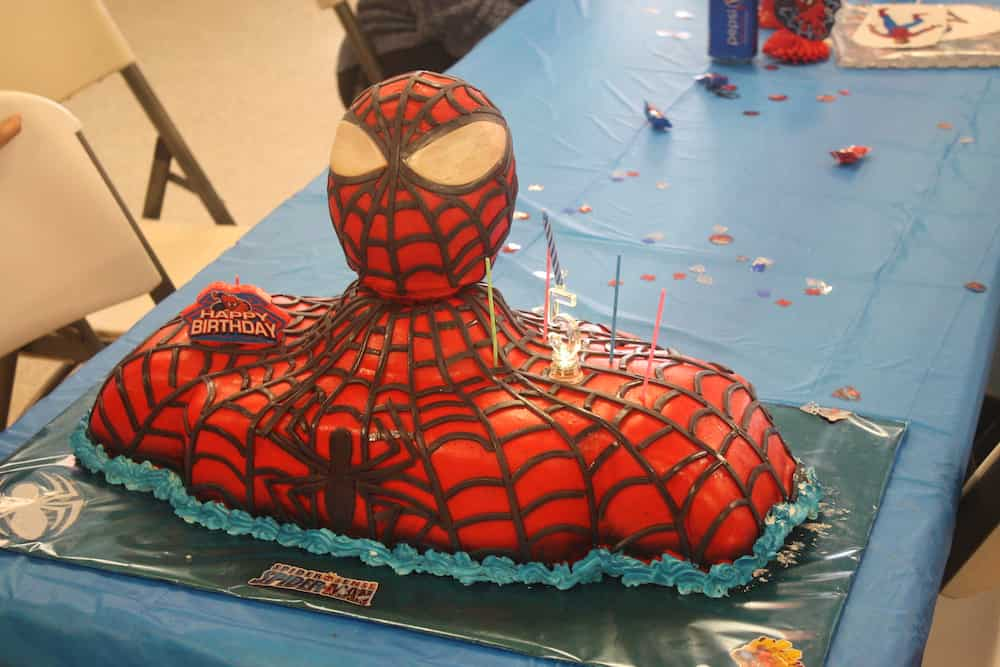 The fifth birthday is the perfect time to celebrate your kid's special day with this superhero-inspired piece.
7. Batman cake design
Another common superhero that has inspired cake design across the world is Batman. Juggle your mind with the following styles as you try to customize something unique for that upcoming special occasion.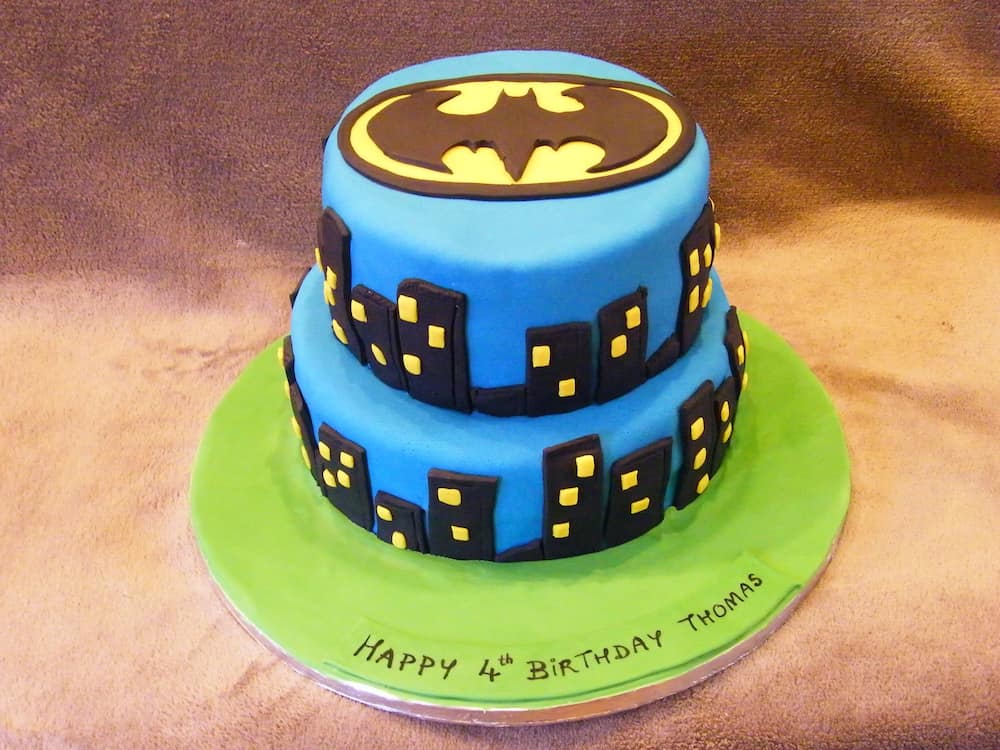 Is your boy name Thomas? If so, this is a good design for his fourth birthday. You do not need to change much during the baking process.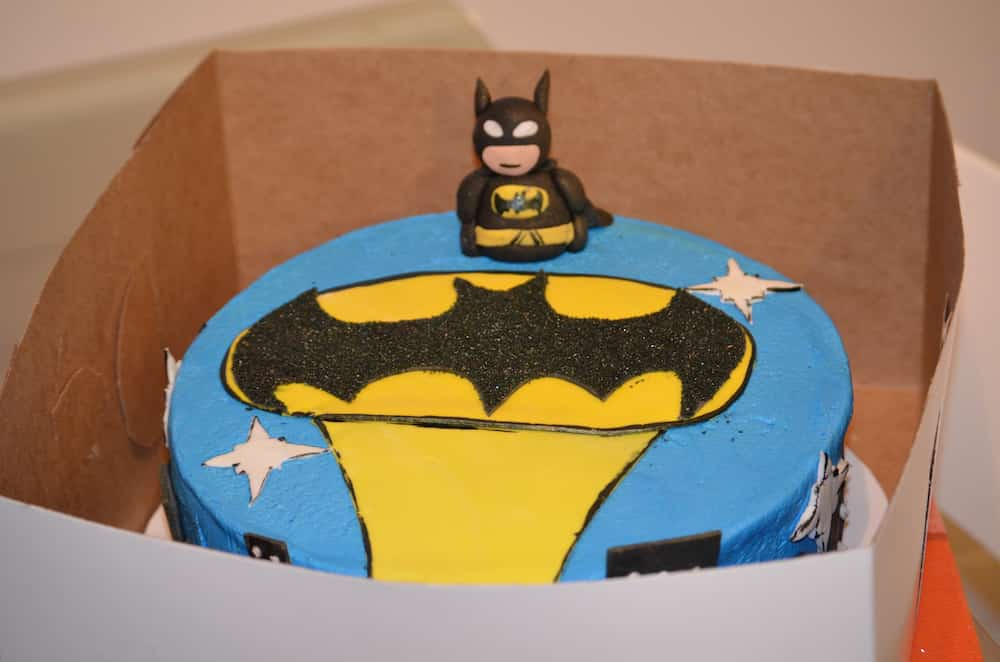 Here is a realistic example of a Batman-inspired cake for a special celebration.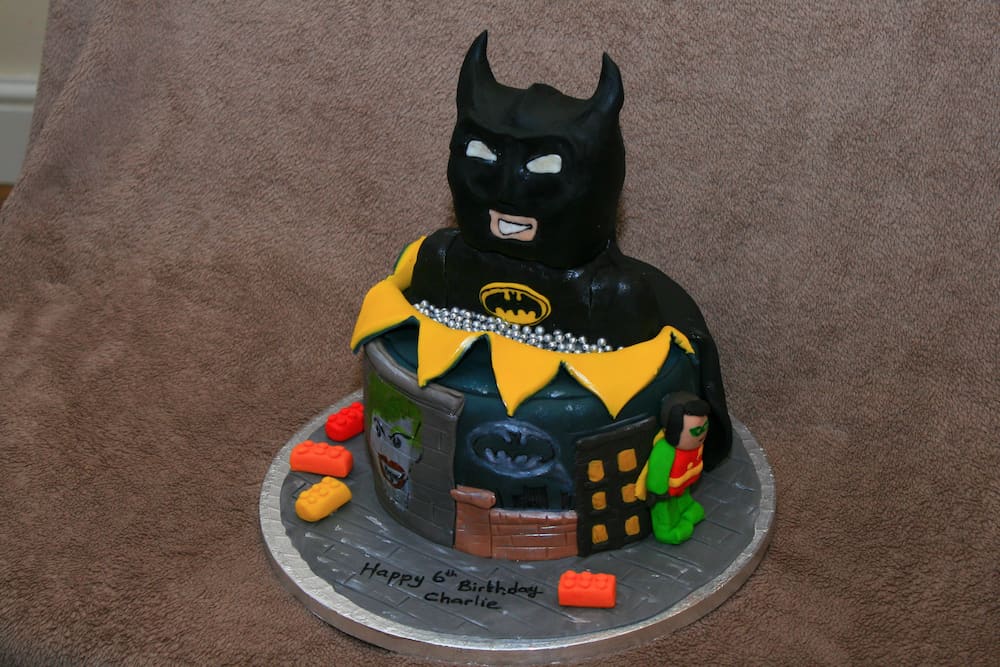 Blue and black are the common Batman colors. However, you can still go for a dominantly black design like the one shown in the above photo.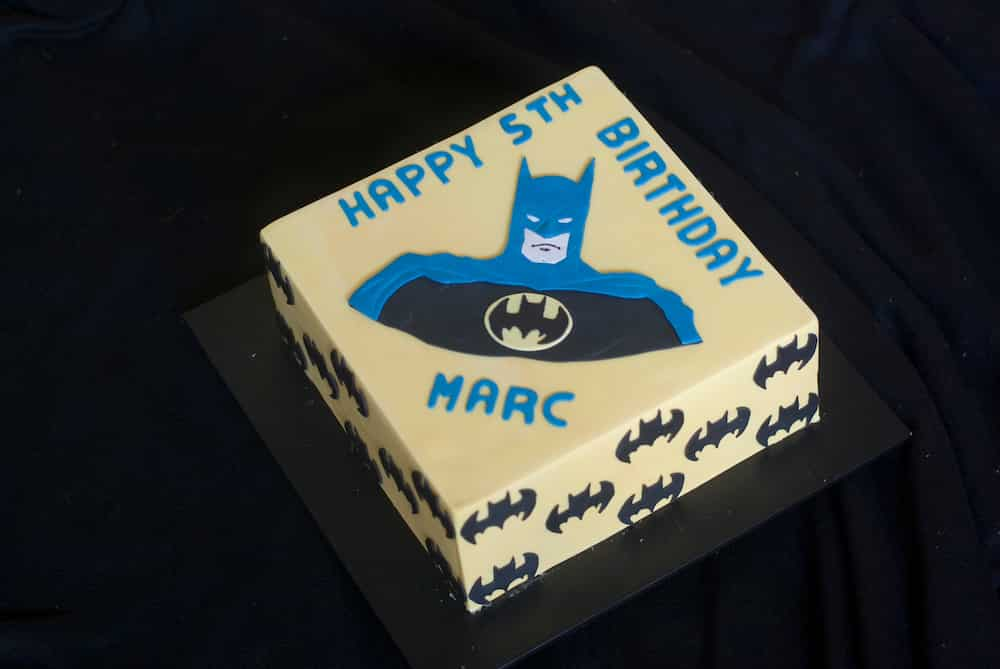 For a diehard Batman fan, this square-shaped bake will resonate well with your love for this superhero.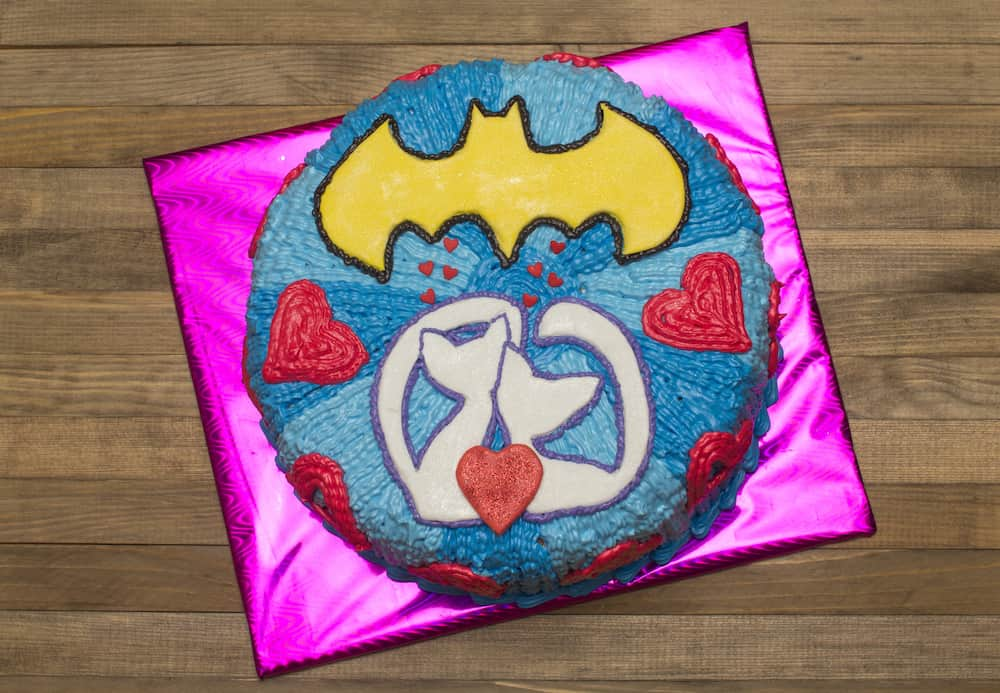 Looking for a unique Batman-inspired cake for your kid? How about this fondant with an embroidery effect on the decorations?
8. Cars cake design
Toy cars are among the most popular baby toys you will find out there. The love for cars transcends the childhood era into adulthood. That is why it is common to see car-inspired cakes for people celebrating their birthdays in their twenties or thirties.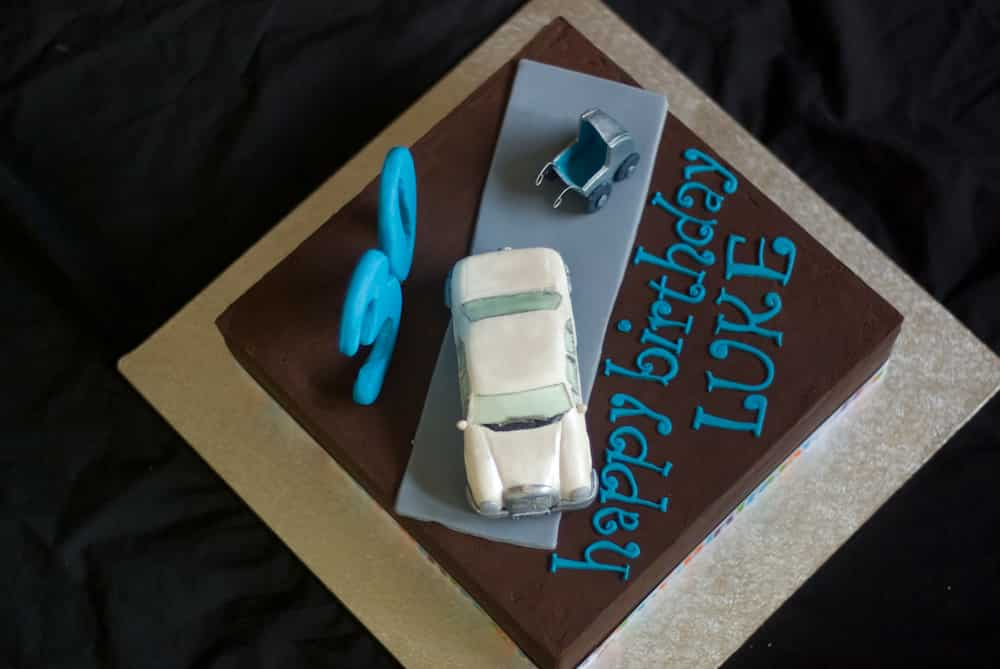 Celebrate your thirtieth birthday with this chocolate fondant cake with a Mercedes model as part of the decorations.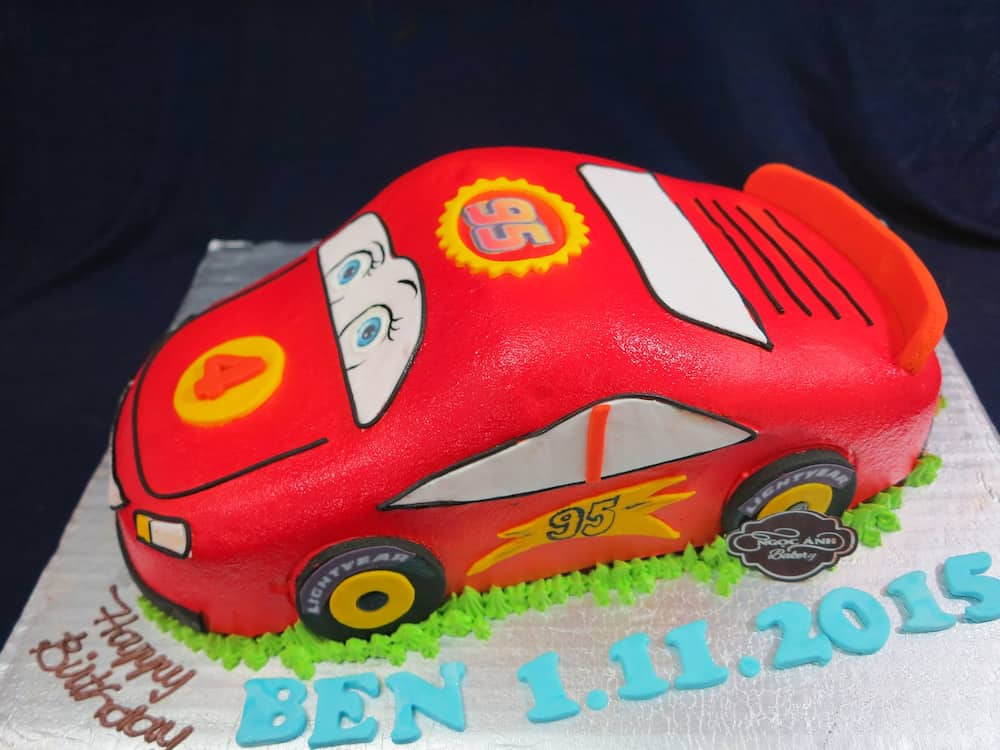 When your kid's love for cars is evident, how about including it in a car cake with some cartoon decorations?
Yellow is a nice popping color and was clearly a good pick for kuchen model shown in the photo above.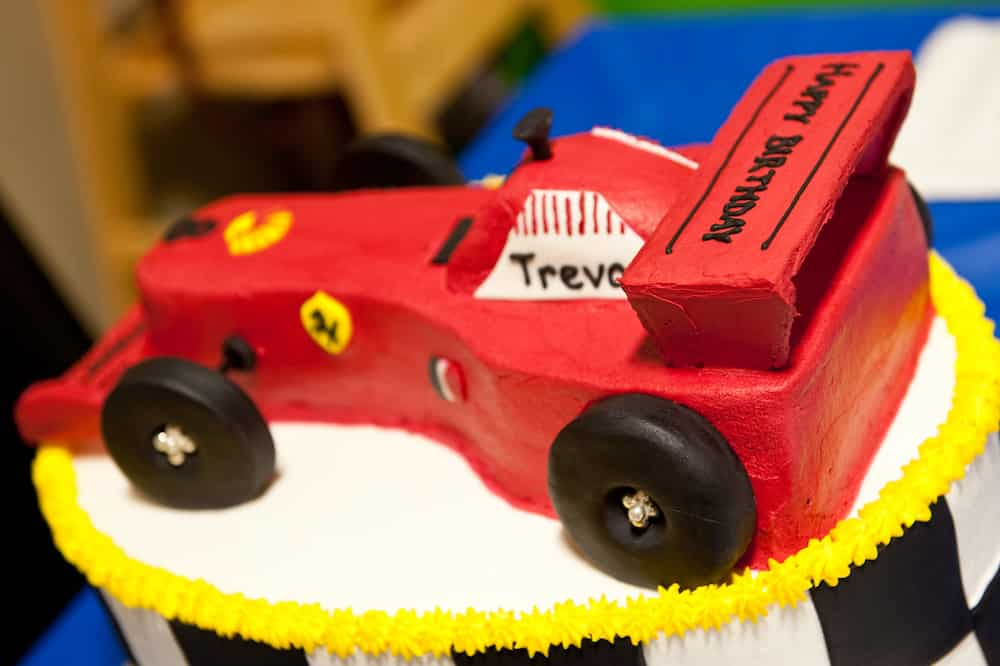 Amaze your car enthusiast friend with this Ferrari F1 birthday cake, and they will remember their twenty-first birthday celebration for a long time.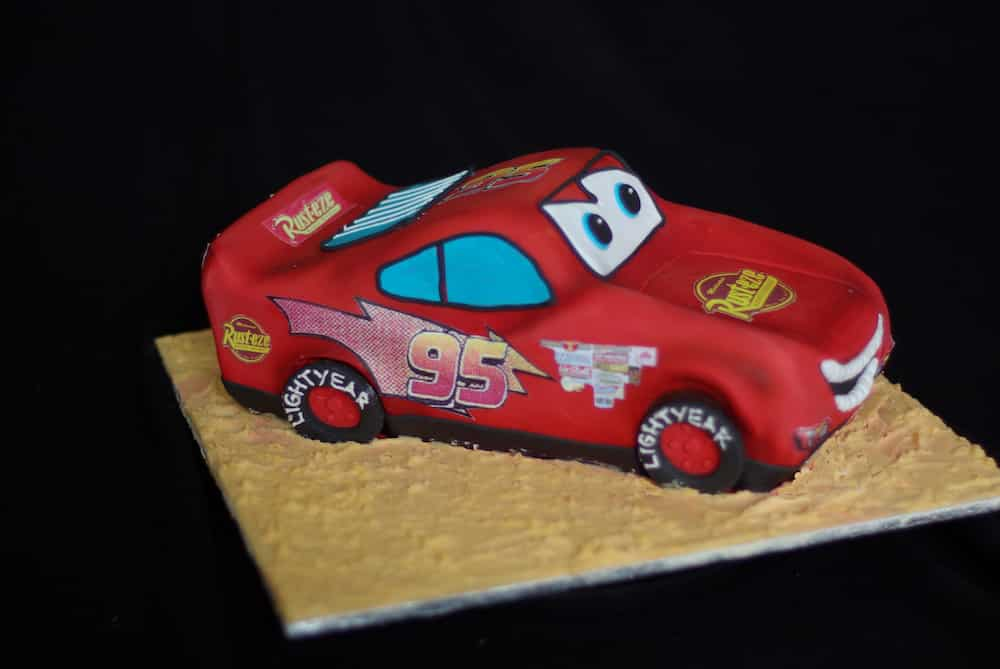 Every slice of this red car bake will take your kid through the journey of cars and cartoons.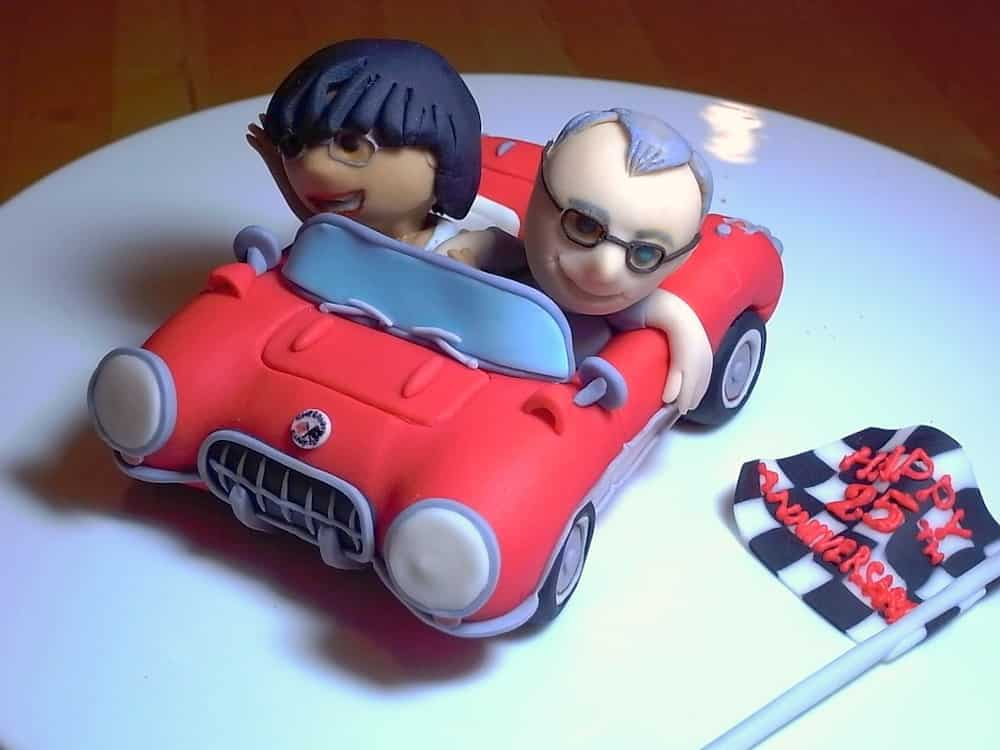 Attention all classic car lovers! This 1957 Corvette convertible will be the perfect symbol of celebration as you turn twenty fives old.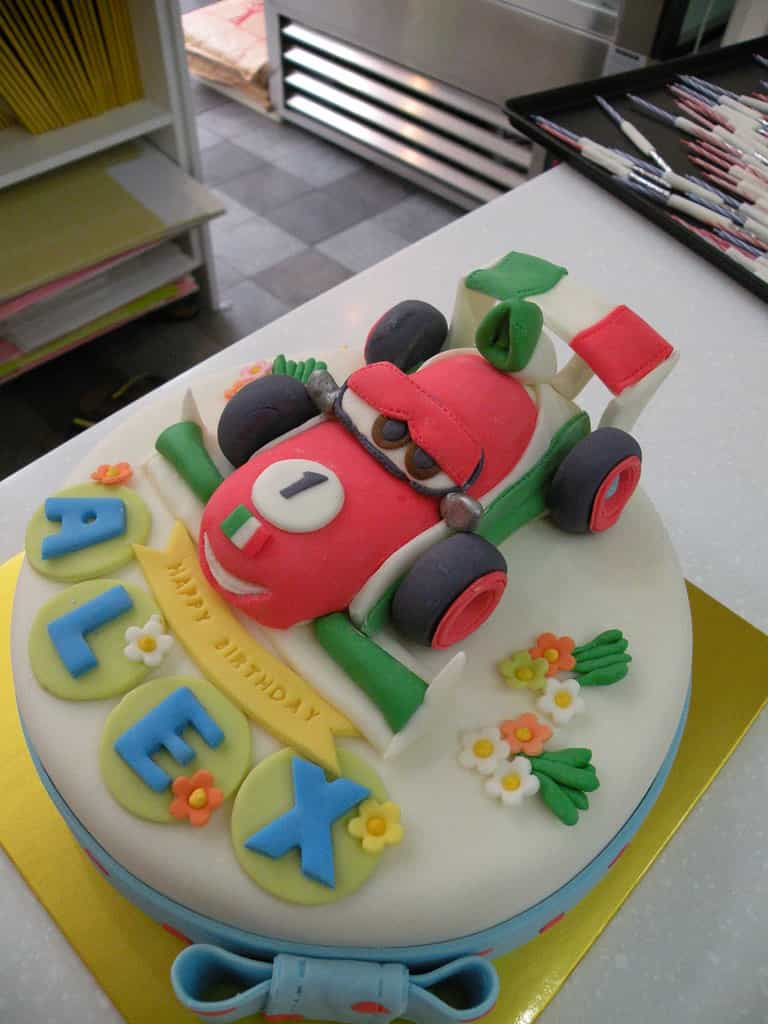 3D films have diehard fans who flaunt their love for their favorite characters. If your kid or friend loved Cars 2, getting them this Car-Francesco inspired bake will make their birthday celebration much more worthwhile.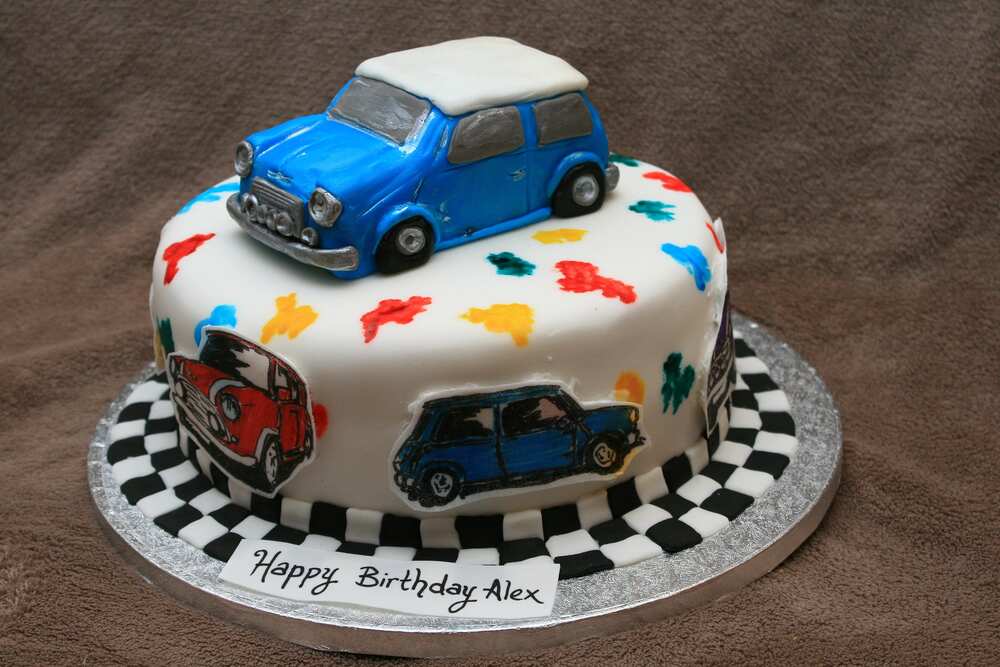 Multi-colored white cake with a blue model car will be enough as a worthy birthday celebration symbol.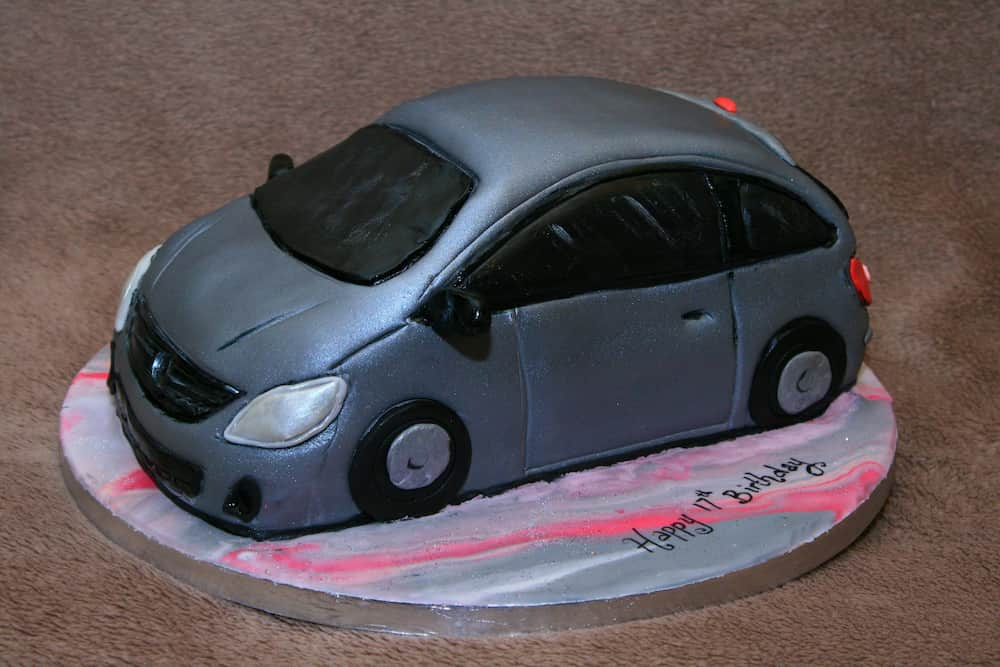 For the seventeenth birthday, a Corsa cake will leave your car enthusiast friend stunned.
READ ALSO: Touching birthday greetings for husband: 120+ ideas
9. Safari cake design
The love for the jungle cuts deep across people with different preferences. Movie lovers will talk about safari adventures through movies like Jumanji and Lion King. Also, travelers and their adventures always love a bit of exploration through forests and landscapes.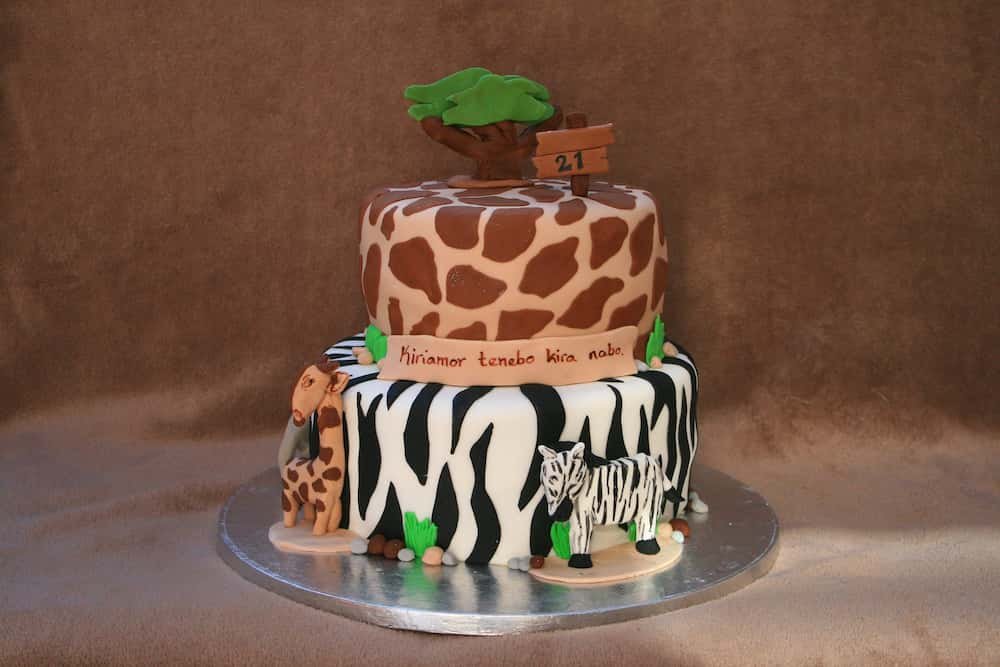 Go on a safari exploration with every slice of this two-tier cake with models of a zebra, giraffe, and tree.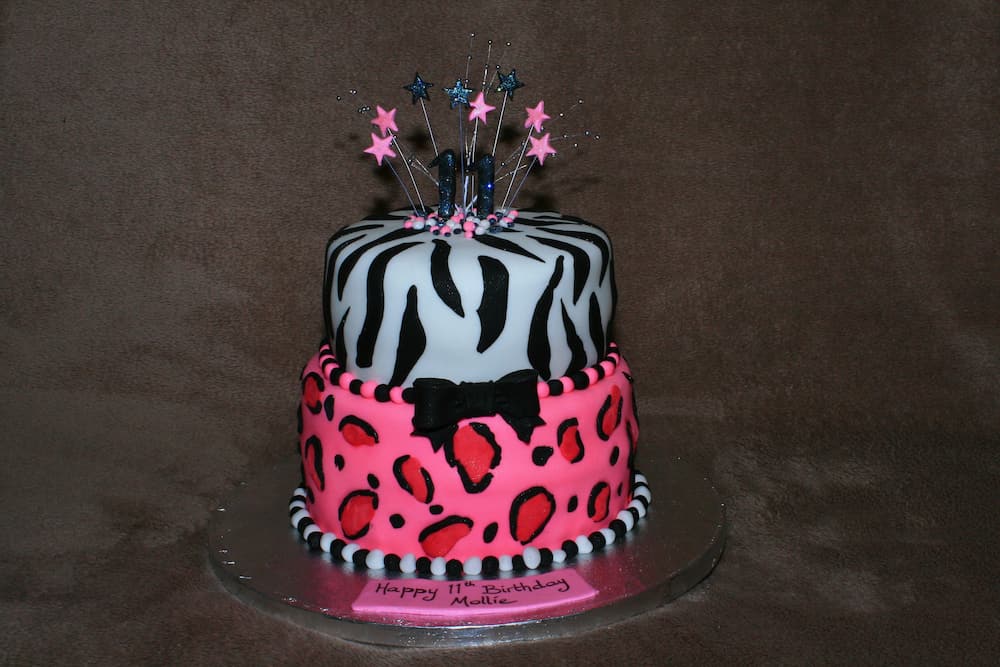 Delve into the delicious slices of this colorful piece of safari-inspired two-tier bake. The zebra stripes and leopard spots are enough to give it the theme.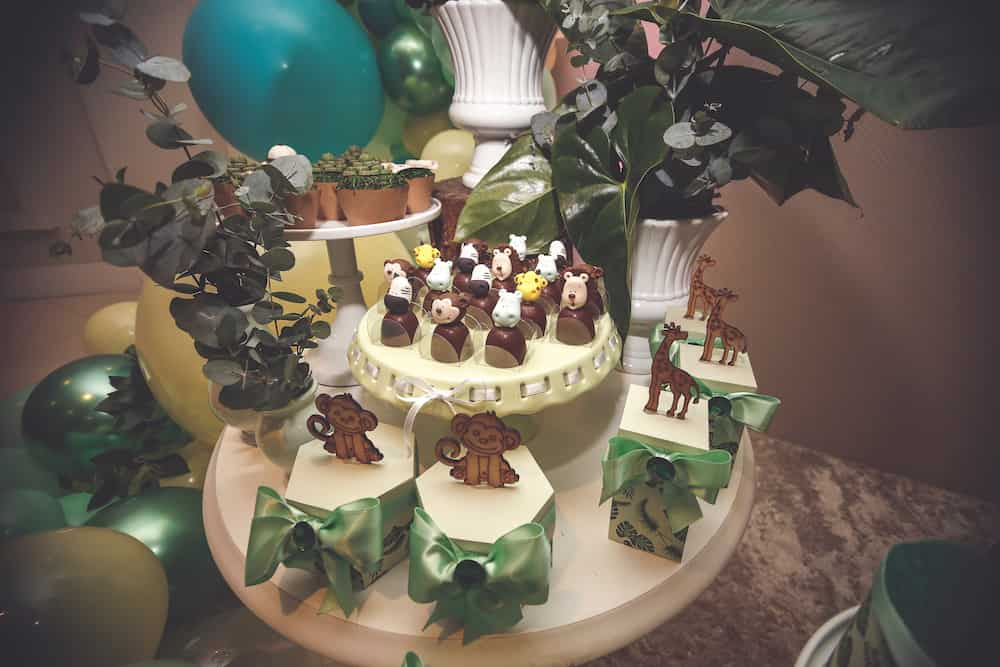 Be on the lookout for some slices of a delicious as you explore this real mini-forest with real plants.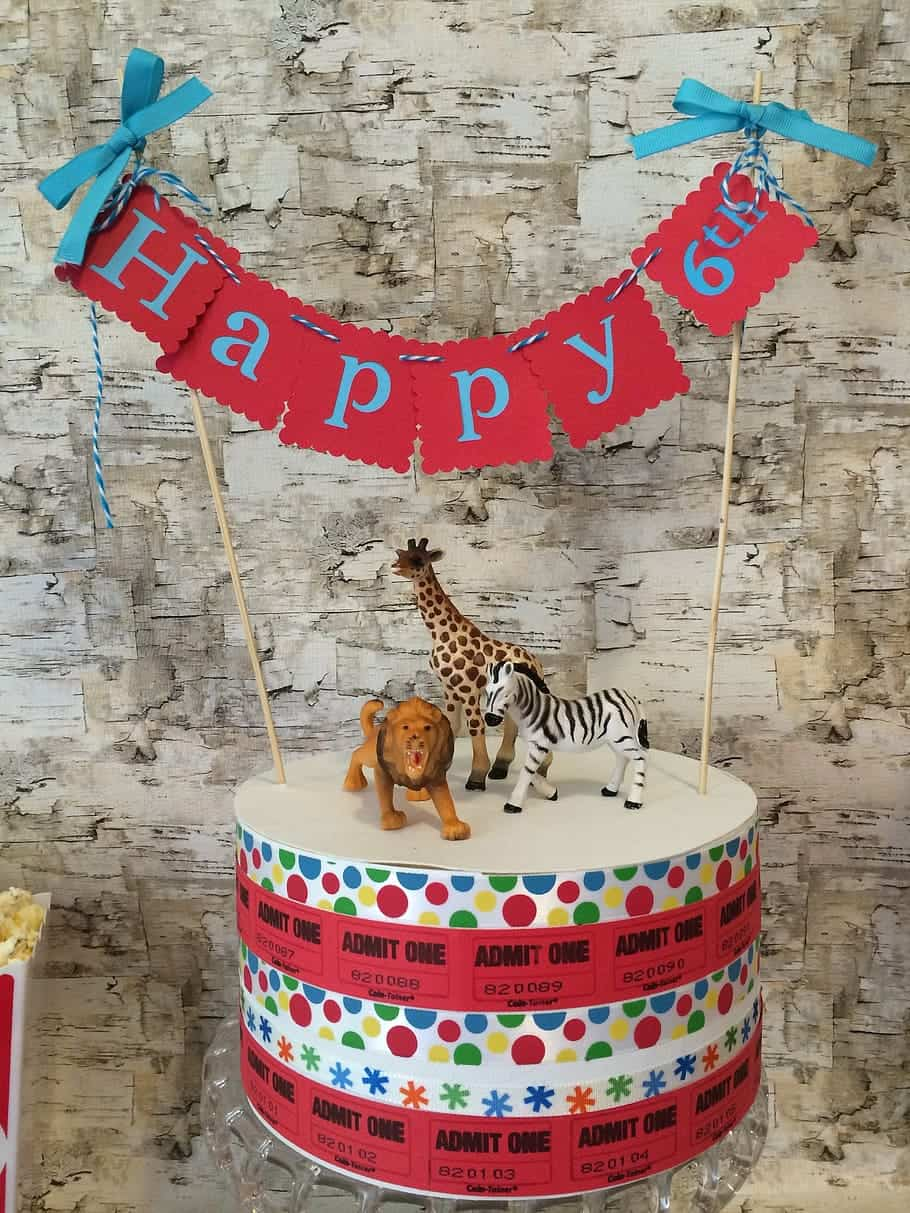 These models of a lion, giraffe, and lion give the cake shown here the safari touch. Do not be fooled though, underneath those models is a well-baked piece of cake.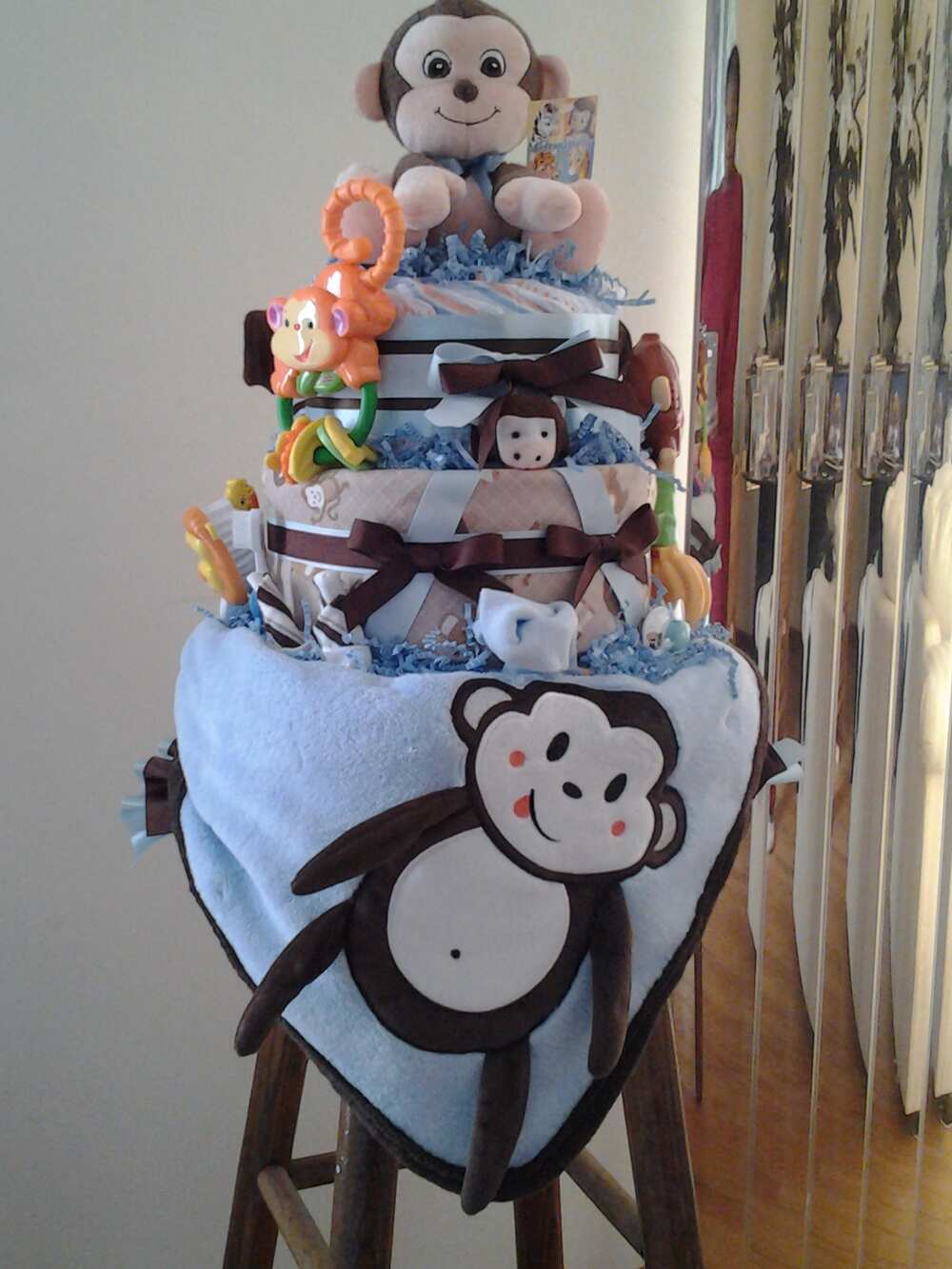 Your munchkin will love this two-tier piece of baking mastery. Those additional decorations can be custom, depending on what you like.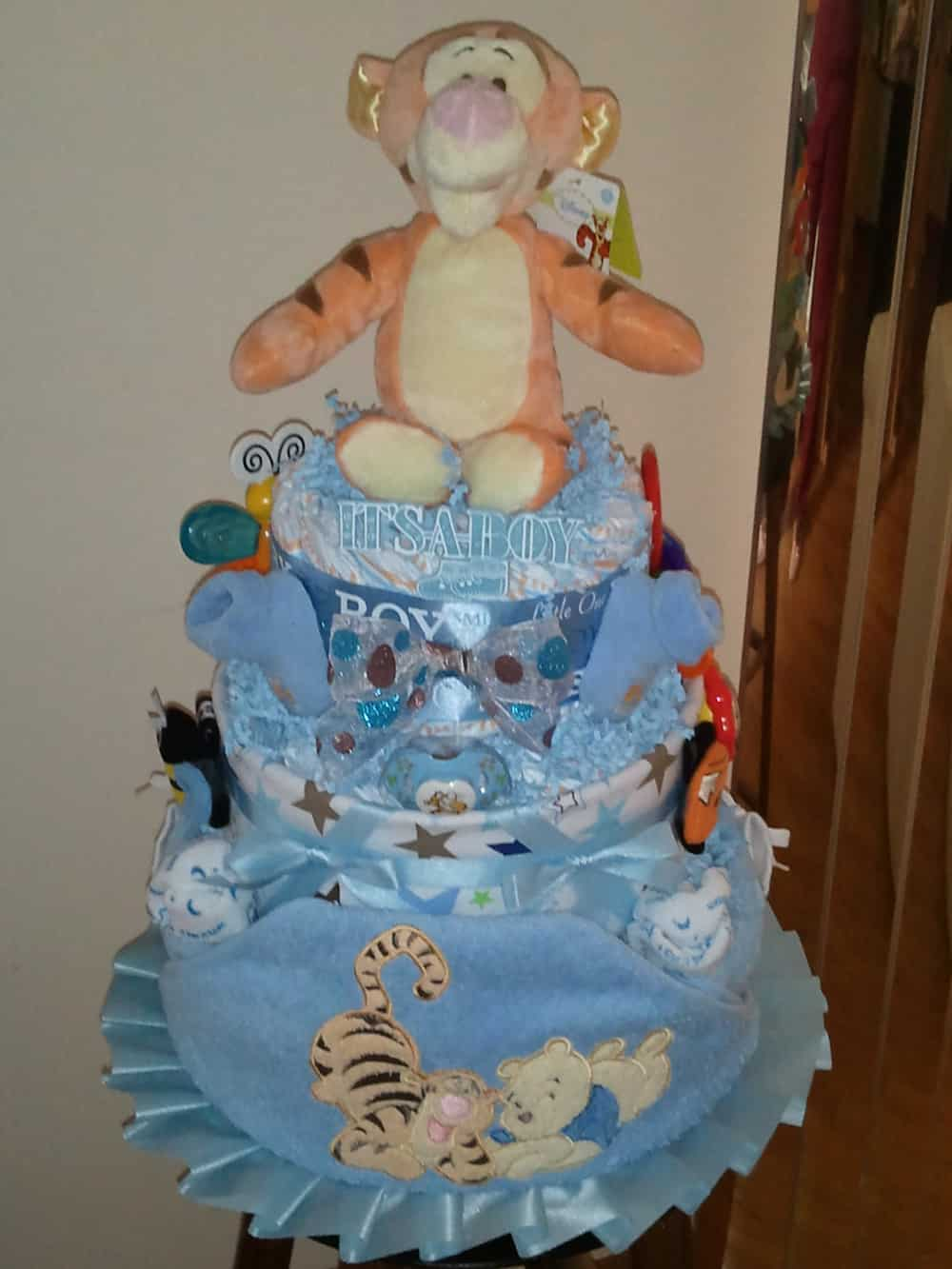 Your belief in the beauty of birthday celebrations is well-wrapped in this safari-themed kuchen.
10. Hello Kitty cake design
The hello kitty cartoon character is common among kids. As such, getting them a cake with this character will make their birthday celebration memorable.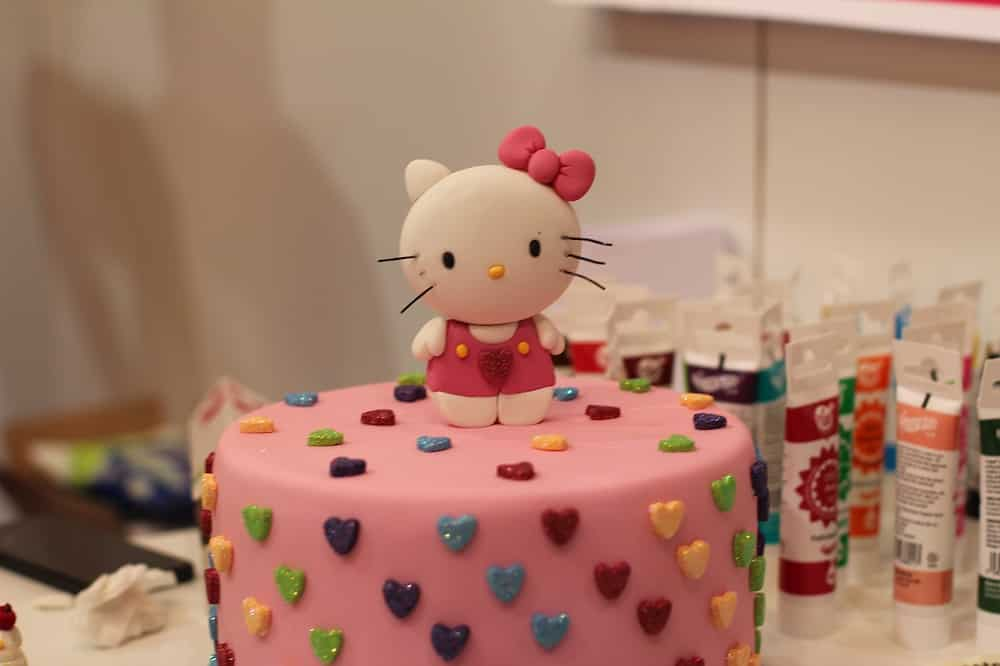 This cute kitty in white and pink is the addition that the nicely-decorated fondant required.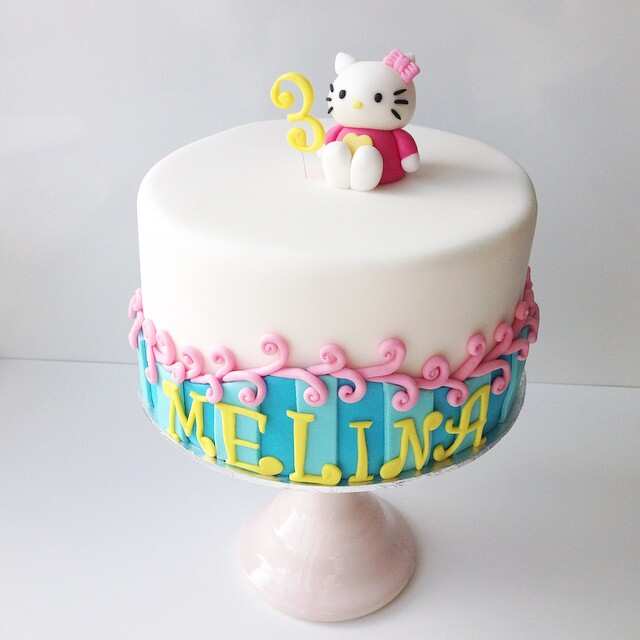 The magic in this fondant design is in the color choice. For as much as white is the dominant color, the pink flowery decorations, name in yellow, and the kitty were necessary additions.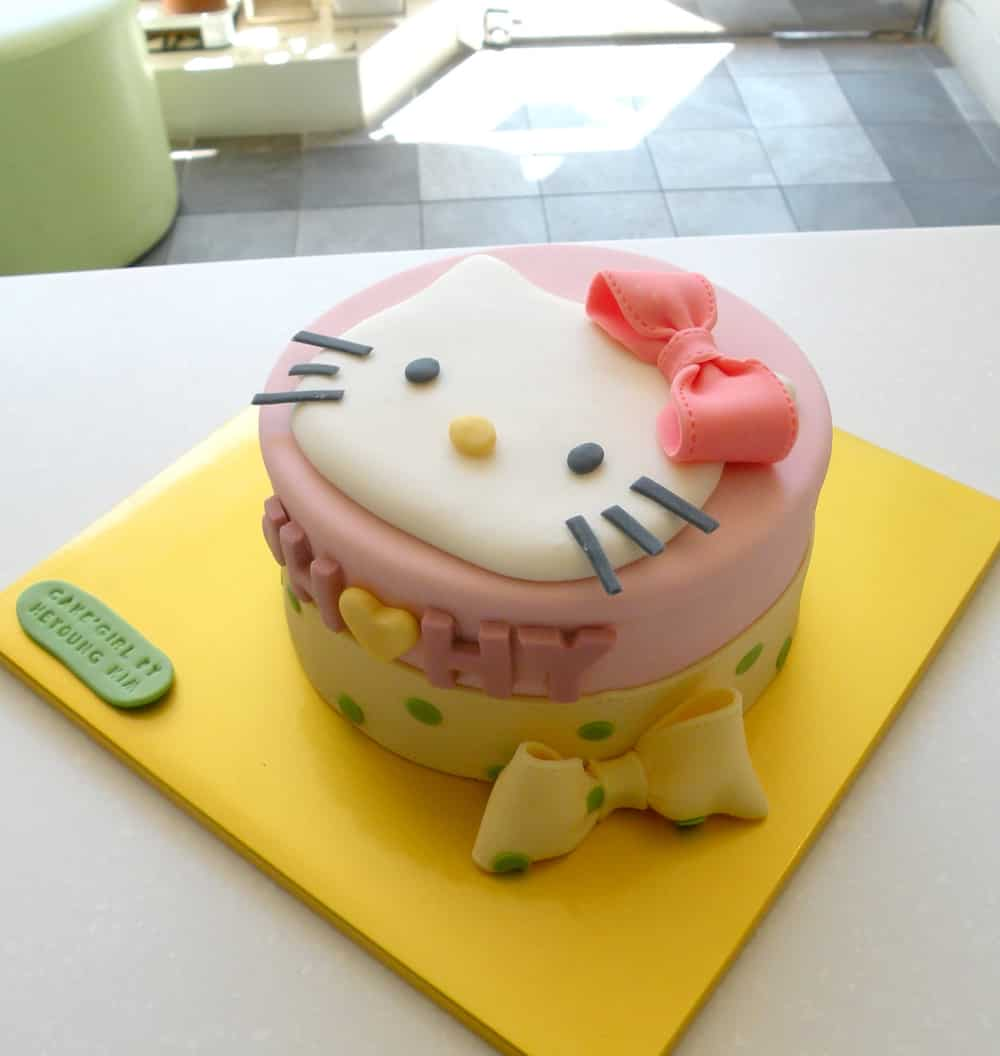 The color balance in this cake is perfect. There are at least five colors on the bake and probably would not notice right away.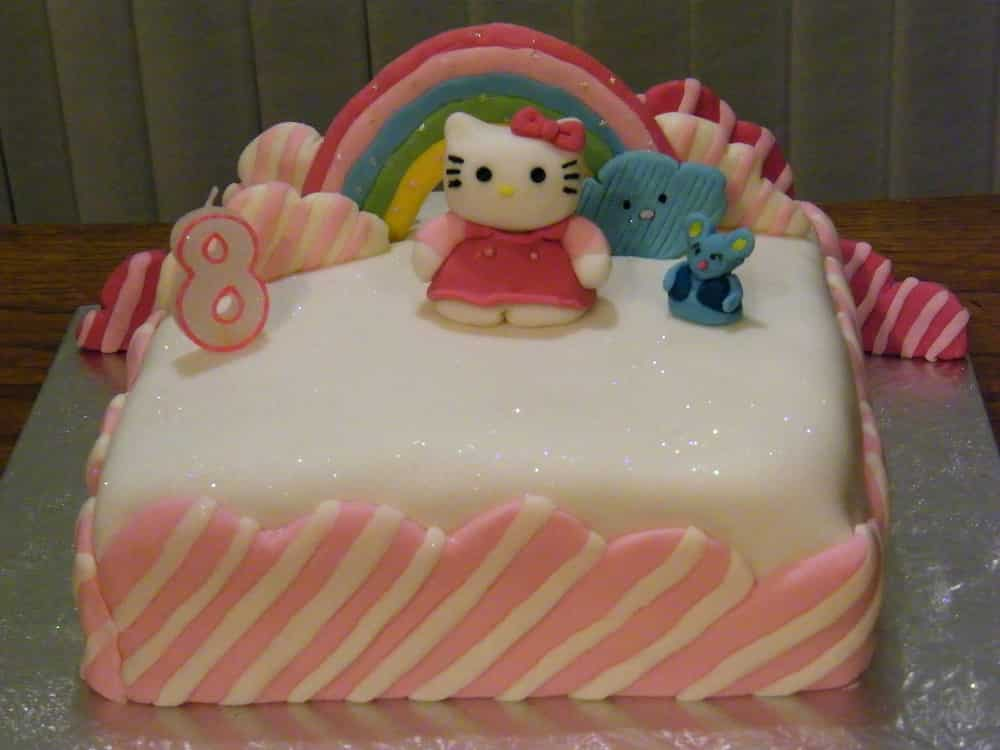 For an eight-year-old, this fondant will still be great.
11. PAW Patrol cake design
Here is yet another collection of cakes based on the PAW Patrol television show.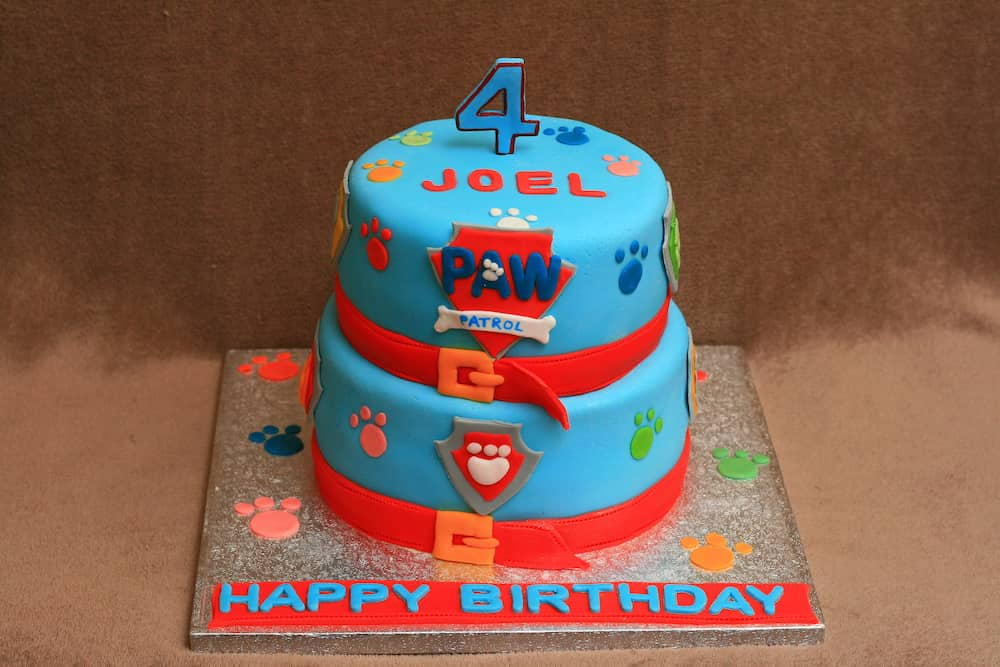 Since its premiere in 2013, PAW Patrol has amassed quite a huge following among kids. If your kid is among that fanatic following, surprise them with this two-tier piece of decoration with the PAW Patrol logo.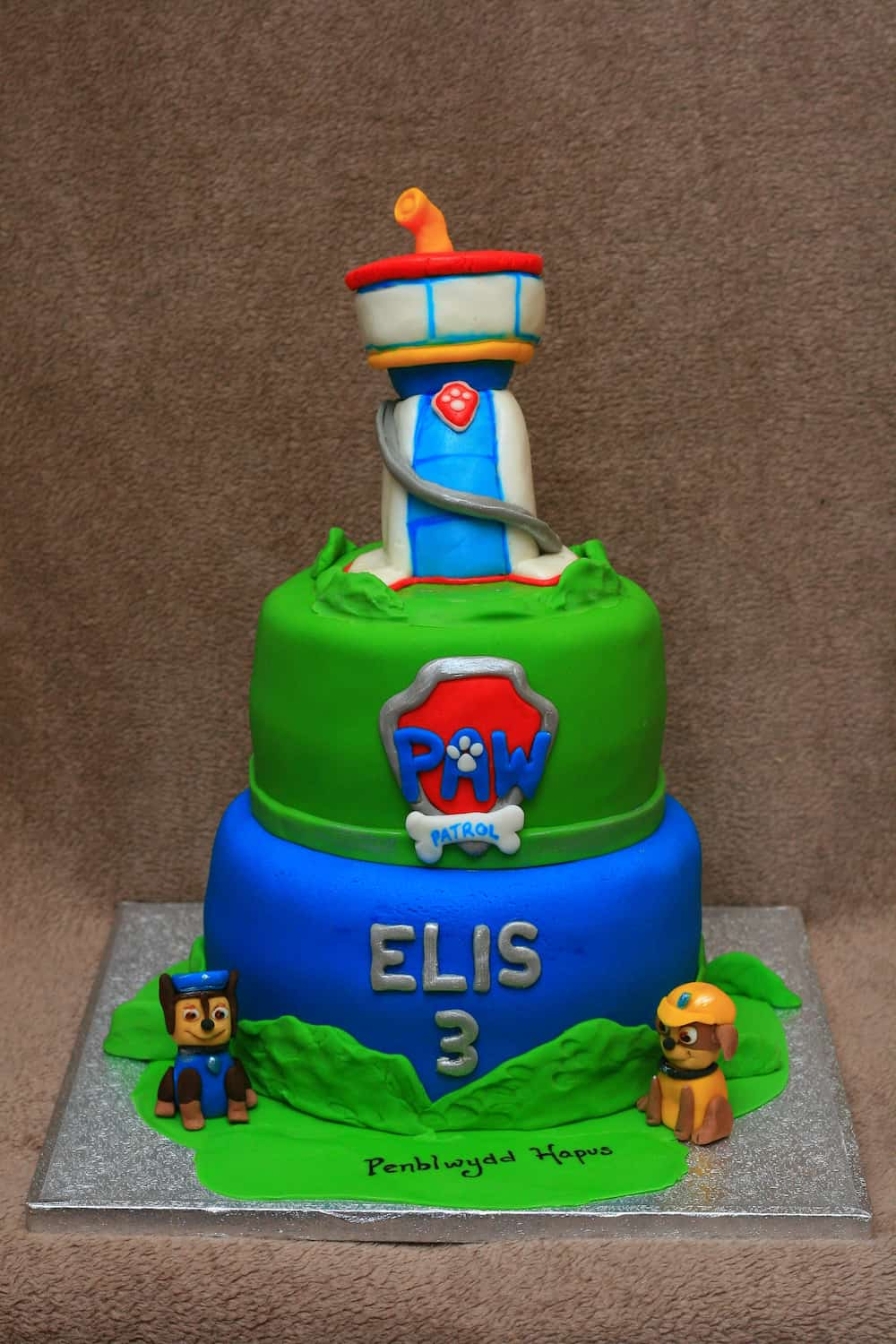 Three-year-olds are also old enough to follow the show. Make them remember their third birthday with this three-tier kuchen.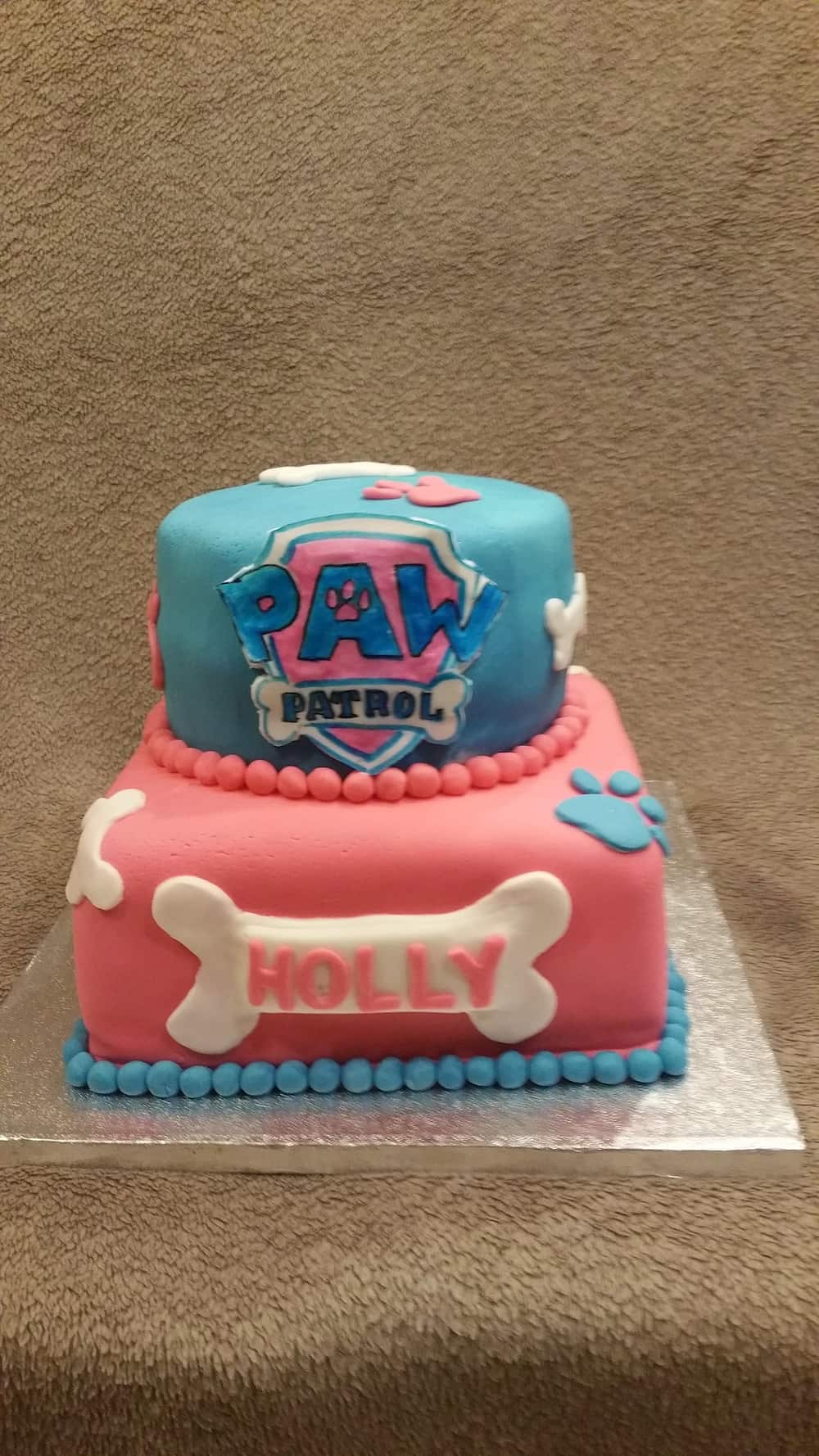 Blue, pink, and white can also look good on a baked piece, as shown here.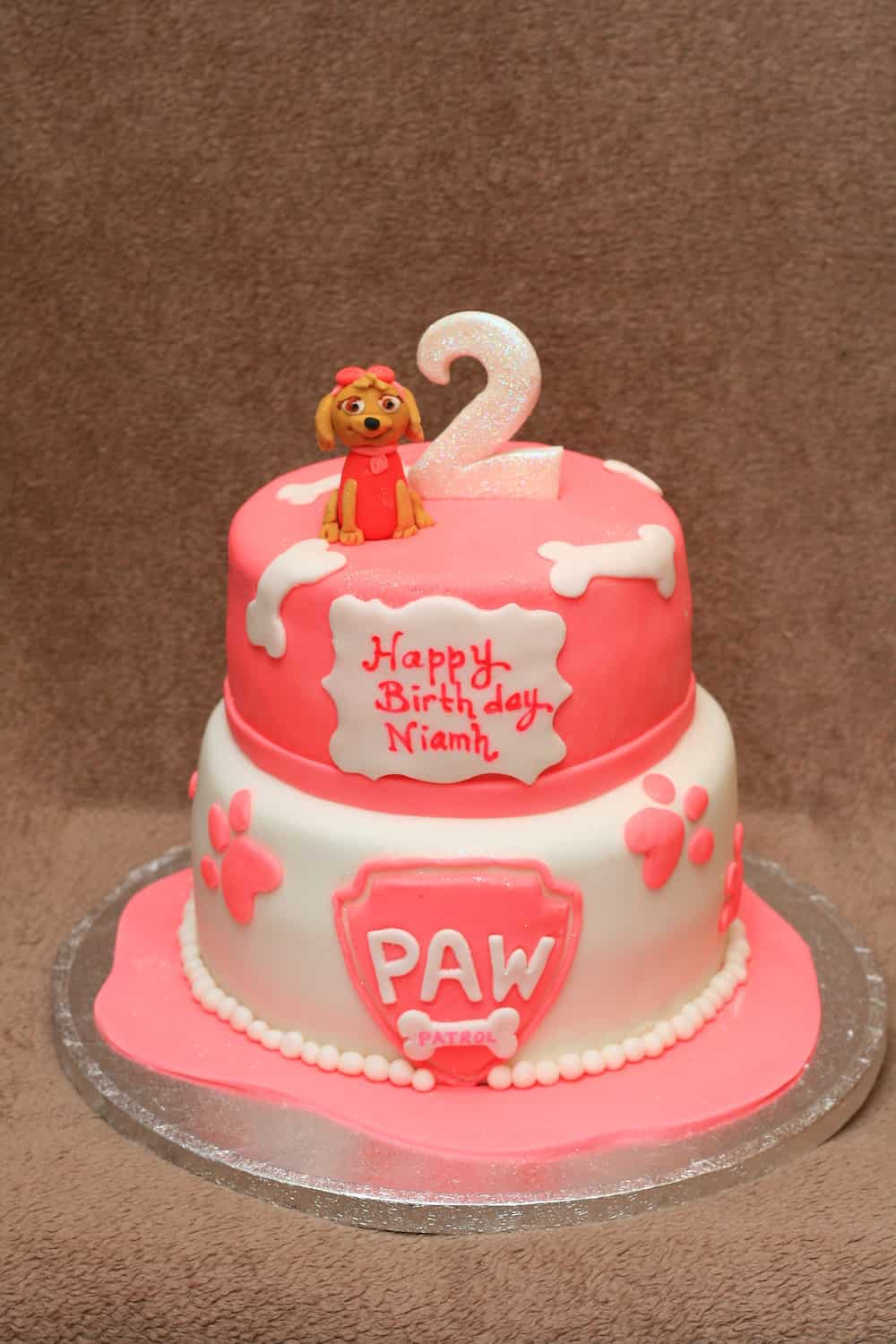 Colors have never been so accurately used than on a masterpiece like the one shown above.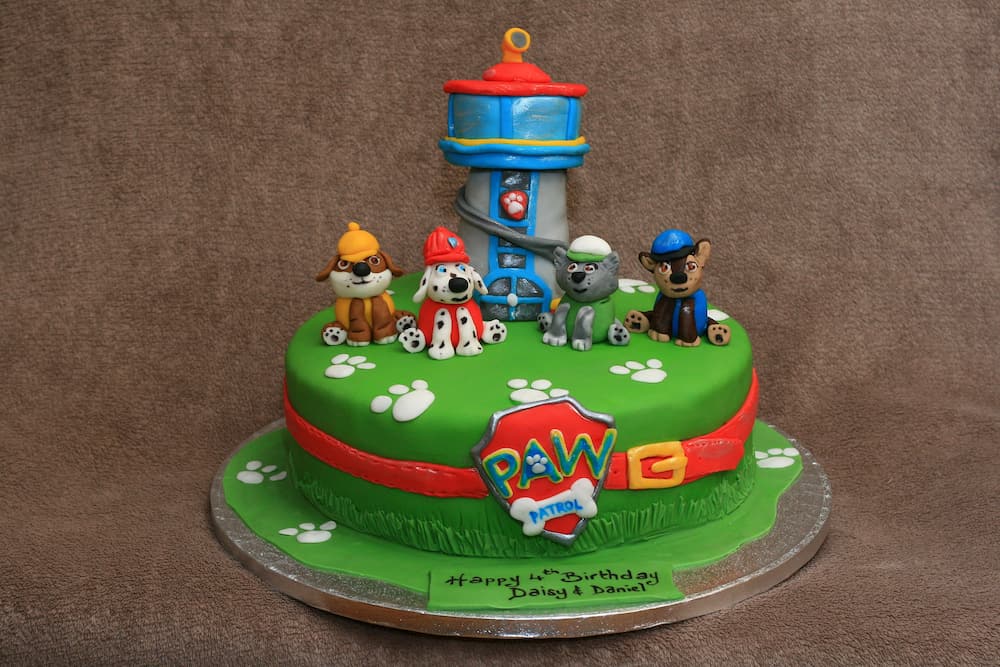 Four models of the PAWs on a cake is more than enough to make a bake stand out.
This cake is the true embodiment of PAW Patrol in one perfect showcase of baking mastery.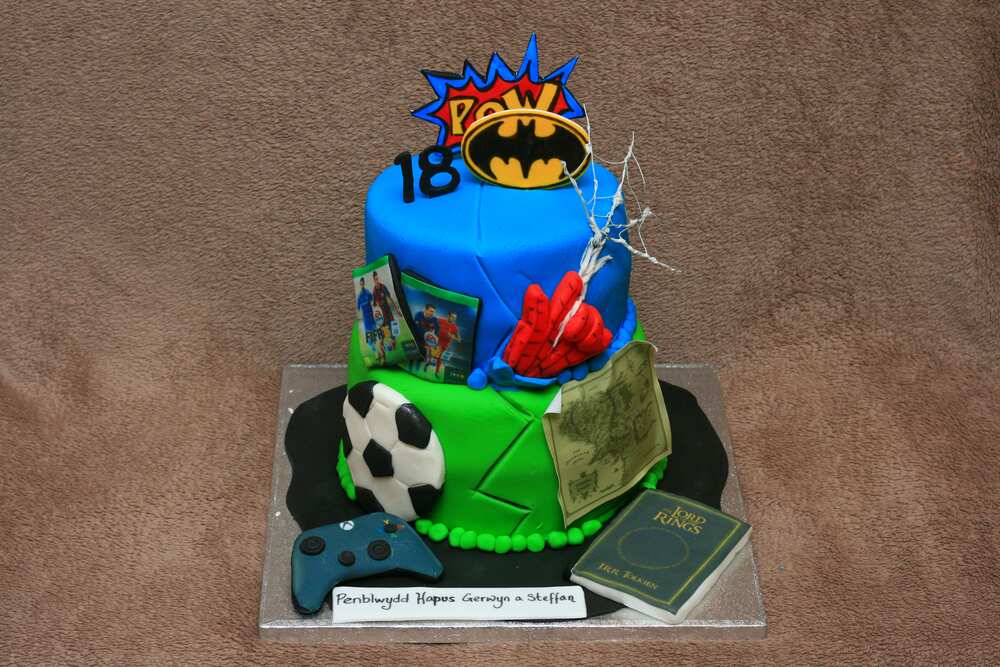 The bubbly taste buds of your munchkin are waiting to absorb the sweetness of this fondant.
12. Frozen cake design
Frozen — the movie was a blockbuster. Such commercial success comes with a huge following that finds its way into the life of people as the following special celebratory pieces prove.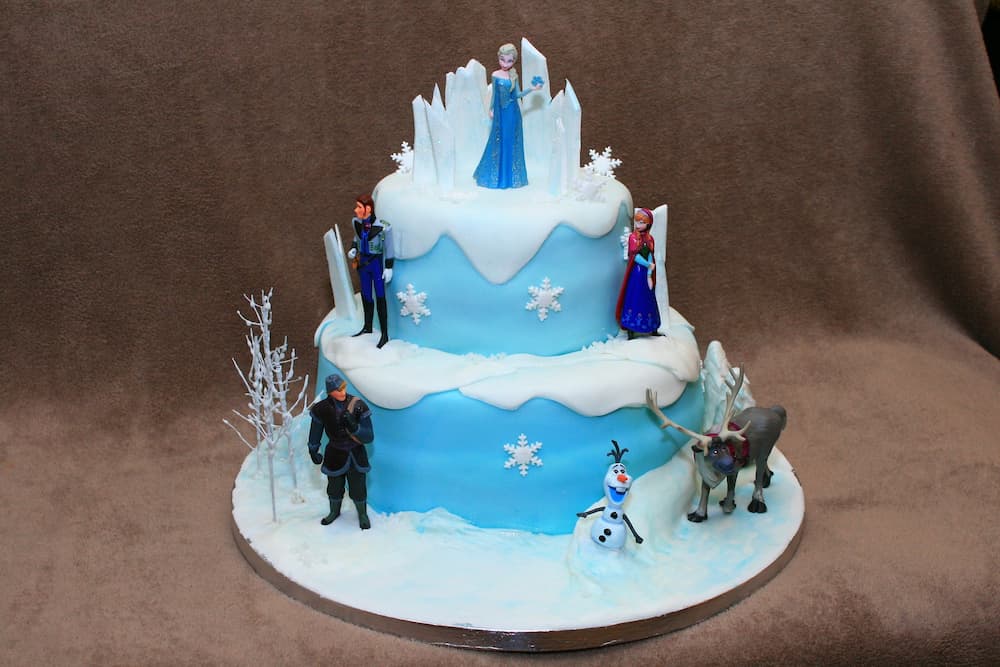 Teleport into a Frozen-like scene with this three-tier cake.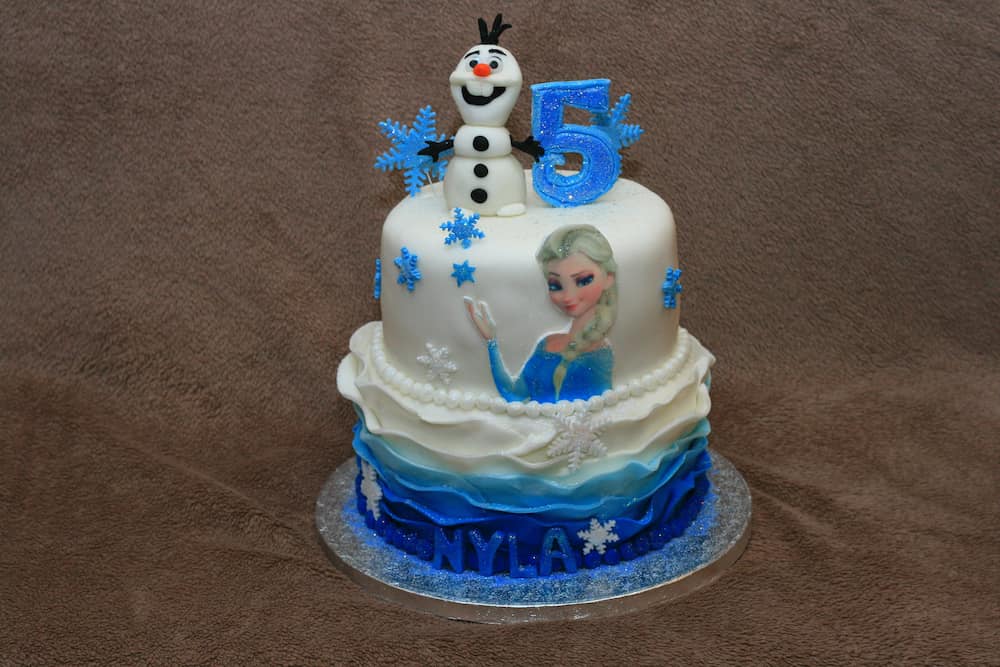 At five years, you should rest easy knowing that your kid will love Frozen after watching it. Present this baking mastery on your baby girl's fifth birthday and blow her mind away.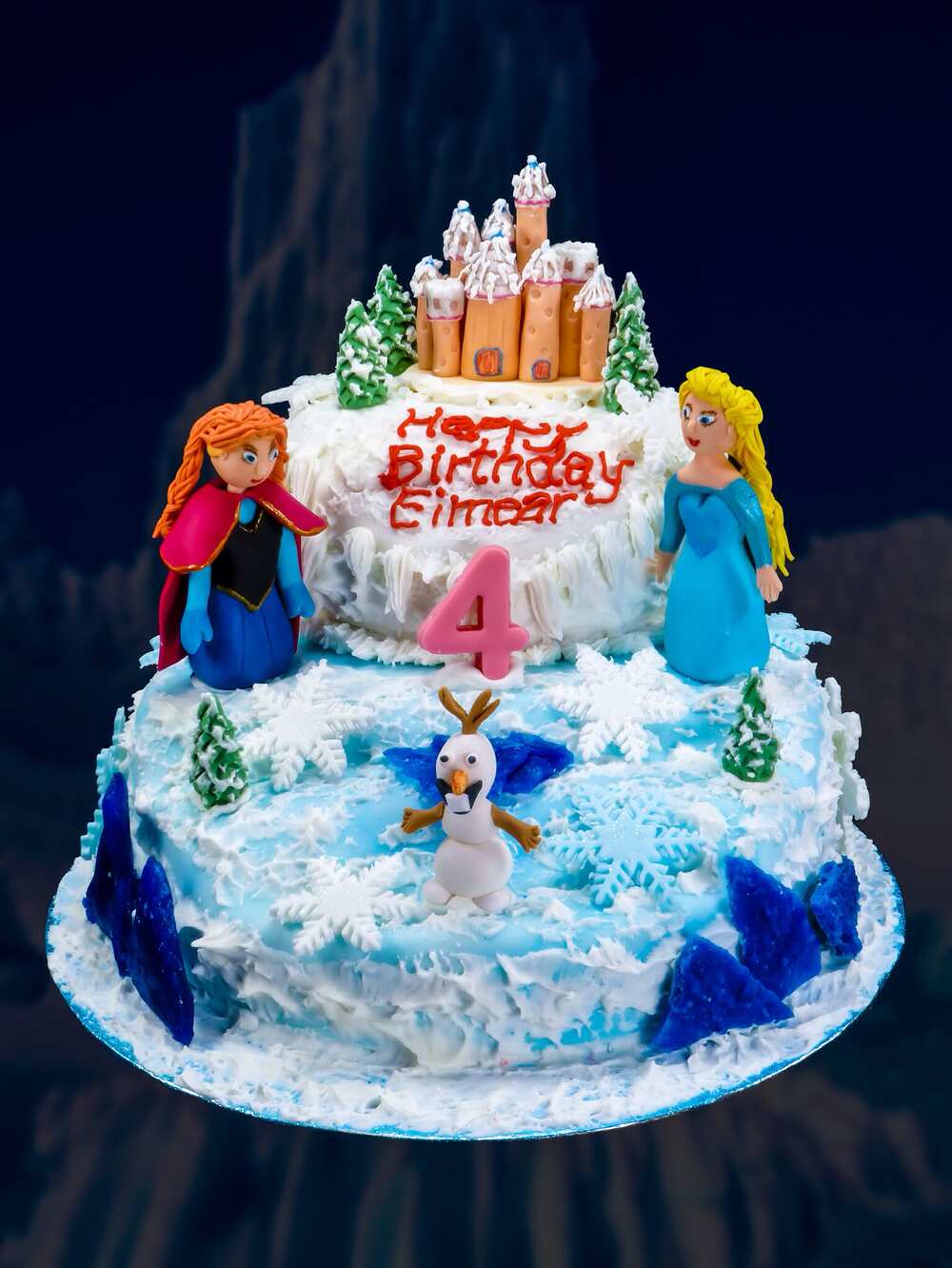 The amount of decorating work that went into making this cake was immense. It is an extreme show of a Frozen-themed bake, and it will be the perfect option for celebrating your girl's fourth birthday.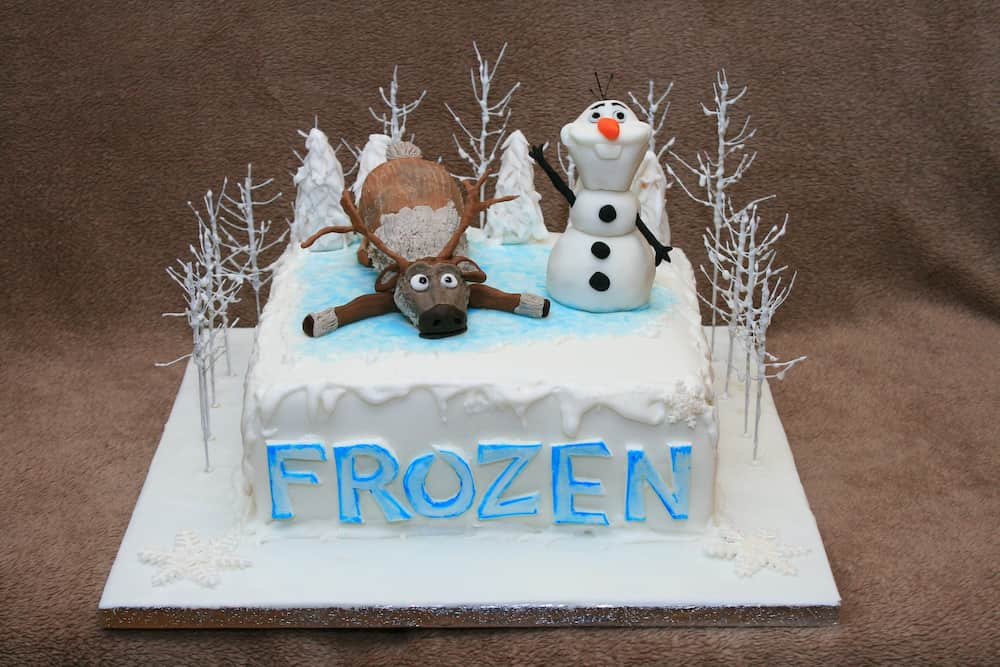 It cannot get any better than having the words "FROZEN" on the cake as a way of identifying yourself with the movie.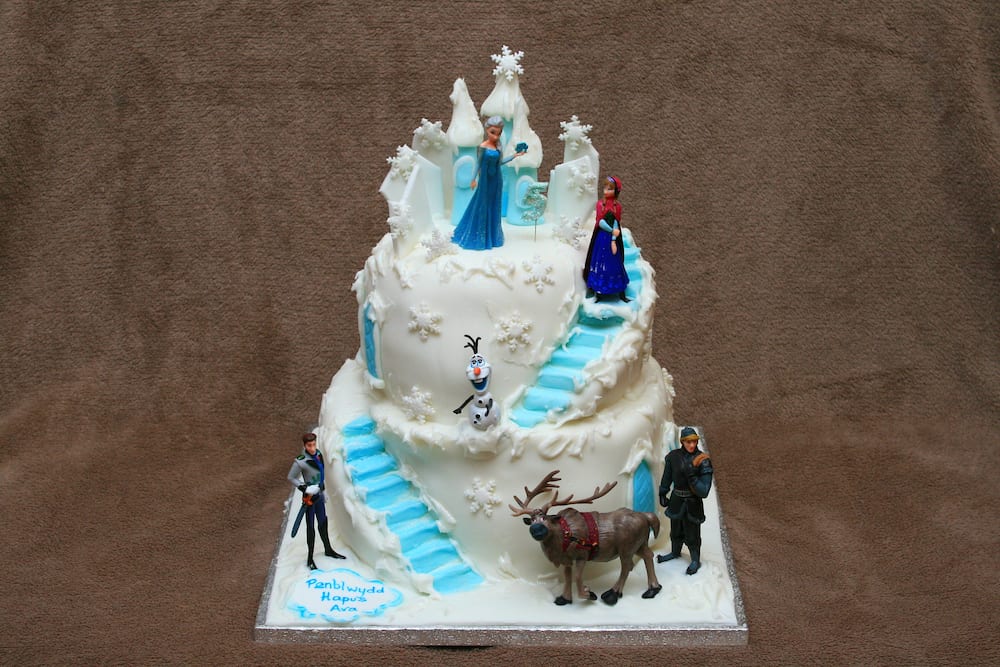 Wrapped in a white and blue is a two-tier well-baked cake. It will be a perfect fondant for celebrating your munchkin's first few birthdays.
The listed ideas give you enough options when you are looking for an original cake design for an upcoming birthday or celebration. Which idea is the best?
READ ALSO: Inspirational birthday message for wife: 100 ideas
Source: KAMI.com.gh