Touching birthday greetings for husband: 120+ ideas
Birthdays are one of the best days of one's life. For some, it is the most exciting day in a year; that is why they will do everything to make it as unique as it can be. Especially when the celebrant is a husband, his wife will surely think of the best way to spend it, like, pulling off a surprise party, going out of town, preparing the best food, and a lot more others. Besides all this, one of the best ways that a wife can make her husband feel loved and appreciated is through a message. It may sound cliché, but sweet and heartfelt happy birthday greetings for husband never go out of style.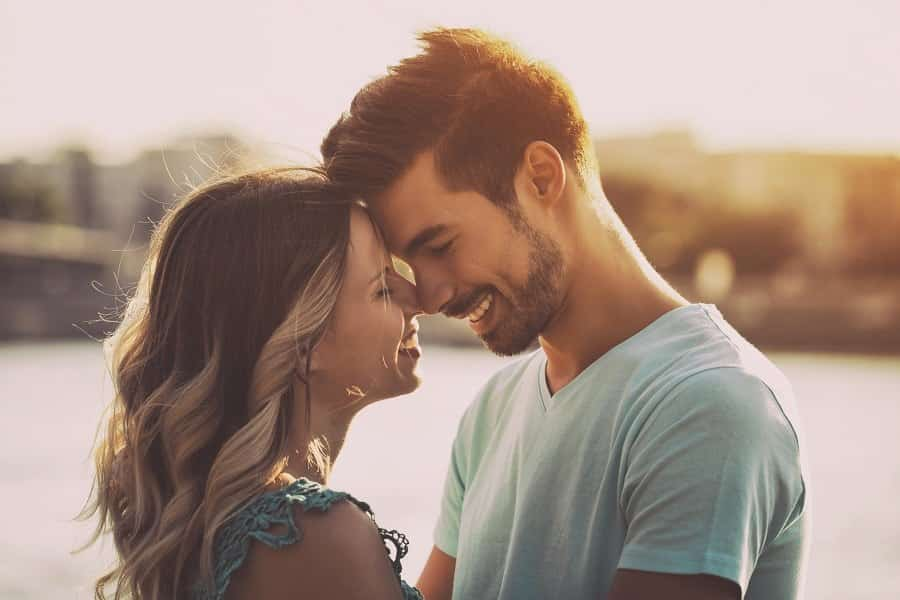 If you are a wife or a future wife, you must think of the best message that you can say to your husband when it is his birthday. Ever run out of birthday message for husband? Do not worry, below are some creative and witty greetings for your husband's birthday that will surely make him feel special on his special day.
The best birthday greetings for husband
If you are looking for the best birthday greetings for your husband, you might like to consider the following messages. You can write it in a beautiful piece of paper, or you can use it as a caption for your social media greeting along with his photo.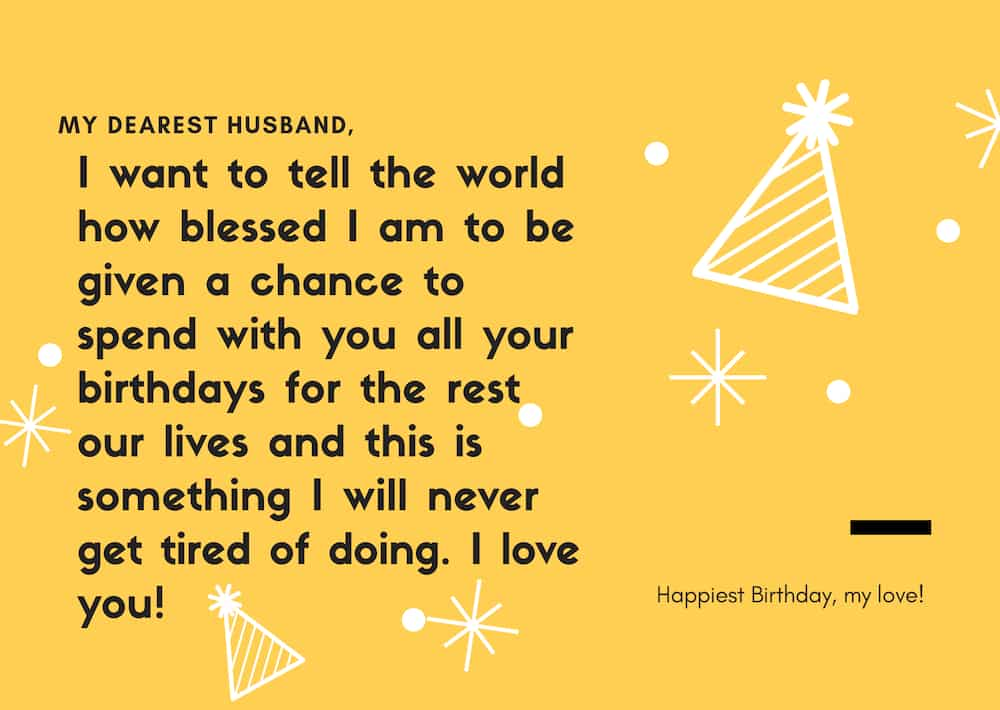 Whenever I'm having a bad day, I know that I can count on your love and affection to cheer me up. You make me feel special every day. Today, I want to take the opportunity to make you feel extra special.
Each year, that passes is another opportunity for me to let you know what an amazing husband you are!
You never discouraged my growth, nor do you ever look down on me for my shortcomings. You tell me every day, "I see who you are today, and I cannot wait to love who you become tomorrow" – may it be a good day or bad one. Every morning, I look at you and thank God that it never worked out with anyone else before because I don't think anyone else would have loved me as substantially as you do. I'm so happy, and it's you. I love you.
I appreciate everything that you do for me. I may not be able to tell you that every day, but please know that I am so proud to be your wife. Thank you for everything, my love. Cheers to more years of celebrating your life. I love you.
Every time that you celebrate your birthday, I could not help but thank God for the day you were born because if it did not happen, I wouldn't be here with you. I thank God for your life.
I want to tell the world how blessed I am to be given a chance to spend with you all your birthdays for the rest of our lives - this is something I will never get tired of doing. I love you.
You are the most incredible person I have ever met, so on your special day, let me give back to all the wonderful days you have given me. I will cook your favorite dishes today and fill your stomach with food, and your heart with love.
Happy birthday to my bright-eyed husband. No matter how old you're turning, you'll always be young at heart. All my love.
Every day, you are my companion, my comforter, and my friend. I am so blessed to have and to hold you as my husband.
Even though we have gotten older, I am still discovering new reasons to love you. You are a loving father and an incredible husband. I hope your birthday is filled with many moments of love and joy.
Not only are you always on my mind, but you will forever be in my heart. A husband as loving as you are hard to find, and I plan on spending the rest of my days being grateful I found you.
If there is one thing I want to tell you for the rest of our lives, that is "I love you," and I mean it. I mean every letter, every syllable, and every word of it. Enjoy your special day, my love.
With you, my life is full of love, happiness, and entertainment. You make me feel grateful to live and to God for everything. Happy birthday, my dear husband!
I am so appreciative for all of the blessings in my life. I have friends, family, health, etc., but the one blessing I am forever grateful for is knowing and loving you. You are a perfect gift from God.
Never in a million years did I think I would be this happy to have the perfect man standing behind me, supporting me with my silly ways and making me laugh all the time. I enjoy every moment we share. Have a magical day.
From the moment I met you, I knew that I wanted to share my life with you. I am so lucky to have found such a loving and caring man. You've always been there for me, and I can't imagine it any other way.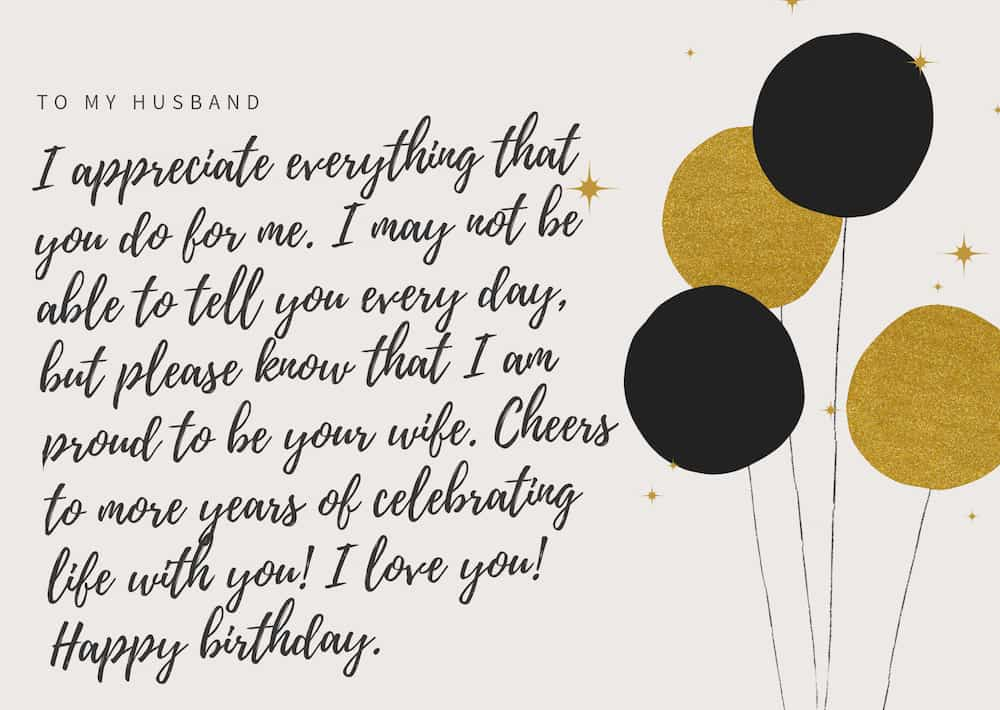 If there is one thing I would want to do for the rest of my life, that is to spend time with you. So today, I will give you my 24-hour. Let us prepare our things because we will go swimming.
Dearest husband, you are the most handsome man I have ever met. Not just because of your looks, but because of your heart that is willing to love without anything in return. I love you.
It doesn't matter how old you are today; what matters is that I've got to spend the rest of your birthday with me as your wife. Have a good one, my hubby.
On this particular day, may you be blessed with everything you have ever wanted. Thank you for everything.
A man's character can be judged by the size of the smile on his wife's face. Look at mine… I can't stop blushing, still. Thank you for being an amazing partner-in-crime, my baby.
Today is your special day, and I would like to wish the backbone of our family the happiest day. He is a man who always puts his family first no matter what the circumstances. He always goes the extra mile to make sure our little family is taken care of. I am so proud of him.
Honey, you are the most caring, thoughtful, generous, hilarious, crazy, and just random person I have ever met. I am so excited to spend today and the coming days with you. Thank you for always making me laugh and causing me to dream bigger.
To the person who has not only a pure soul but also a crazy mind, who is not only compassionate but also full of life, who has not only a loving heart but also a wild one, happiest birthday.
We may have our ups and downs, but we have always managed to overcome our differences. Fantastic birthday to my husband, who took "through thick and thin" seriously.
Thanks for always staying by my side, and I want you to know that no matter what happens in life, I plan on staying right by your side until the end of time.
Thank you for making sure I came home to a home filled with love, grace, and forgiveness. Even in days I hurt you, even in moments, even in moments when you were hurting, you put me before your feelings and made sure you looked at me with the same eyes I saw at the end of the aisle - full of hope even when I felt hopeless; full of admiration even when I felt defeated. I love you and Happy Birthday!
Happiest birthday to the most encouraging and inspiring person the world is ever gonna meet.
So many times I looked at you and felt guilty I couldn't give you my first anything. And yet you still loved me despite that. Thank you, my love. Let's celebrate!
Dear love, I just want to tell you that there is no more room to doubt God's love now that I get to wake up beside you every morning. Thank you for being the best husband that you are. Have a great day.
Happy Birthday to my Husband. You are too good to be true. My life wouldn't be the same without you. So here's to you! To your brilliance, your kindness, your strength, and your everlasting charm-I love you so much. Happiest of birthdays, my love!
Funny birthday greetings for husband
Thinking of unique birthday greetings for husband? You can make a personalized poem for him. You can also write some pick-up lines in a sticky note and place it in your mirror or breakfast table before he even wakes up. Another great way is to give him funny birthday greetings but still full of love.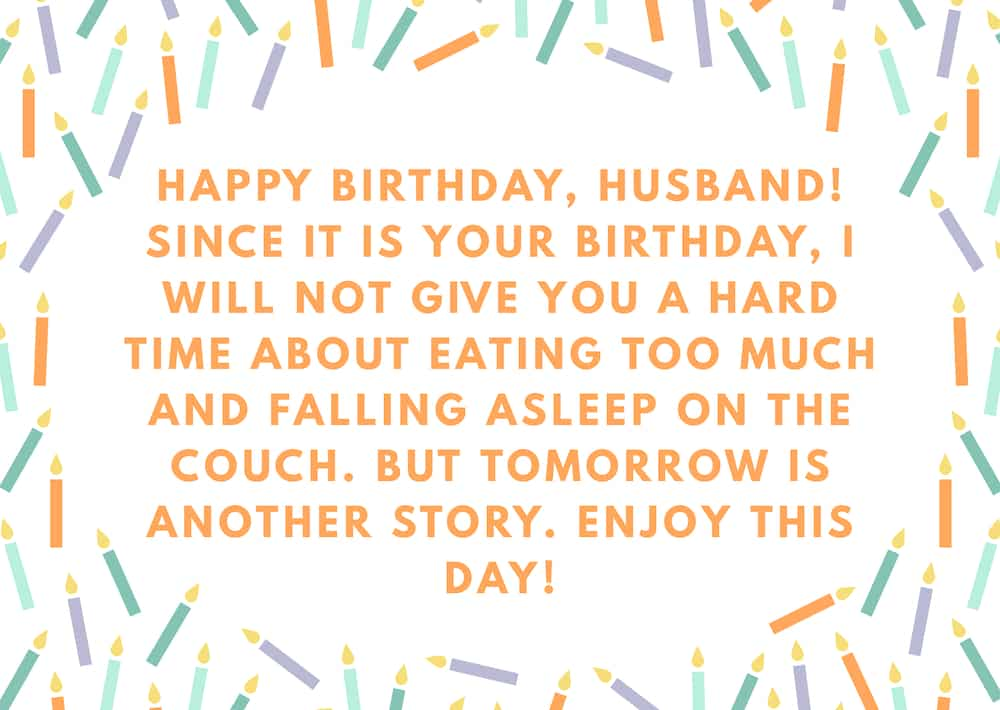 I don't know how to put this, but… you're kind of a big deal today. It's your birthday…and we shall celebrate by giving us both the gift of being extraordinarily hungover tomorrow! Happy birthday, husband!
I didn't get you a fancy gift this year; instead, I thought it best to go with something sentimental. Remember that time you told me how happy it makes you when I wear red? Well, I've bought a whole new outfit and accessories in lush red colors. Just for you! Happy Birthday!
You should be glad that you have got the most awesome wife in the whole world. I should be your best gift.
Don't think that today is your birthday, and you will get away with it. You have to do grocery shopping; otherwise, I can't make your birthday cake and dinner.
I thought husbands are to protect wives from danger. But the irony is I had to protect you from a spider. Such a scared cat, but I love you still. Have a blast!
You're the best husband a lady could hope for. Kind, handsome, charming, and clever. If only were also tall. Not to worry, 4 out of 5 boxes is not bad at all!
I know you are a great guy but let us admit it, I am also a good catch. You are so lucky to have me as your wife. Happiest born day, lovey.
I just noticed that your hair got greyer, wrinkles appeared, and you got fatty. Officially you are getting old. Today is your day, old man.
My dearest husband, I just want you to know how much I've enjoyed annoying you every day and how excited I am to keep doing it in the future
You have the sweetest smile, but you also have the loudest fart, but that is fine. I love you, anyway.
Dear lovey, I hope that you get everything that you wish for. Oh, I'm sorry. I forgot you already have me.
To the man who is celebrating the day he escaped from his mother's womb, thank you for tolerating my craziness. But it would be best if you were more thankful to me because I keep on tolerating your laziness. I love you!
Today is your born day, and may I say, you are the luckiest man on earth for marrying a good wife, and yes, that is me!
Today, I am permitting you to play all the video games you like. But it only lasts for 24 hours. So better enjoy this day.
It is challenging to be married to a husband as handsome as you because when other women drool at you, I wish I knew Kung Fu.
READ ALSO: Anime quotes about love: top 30
Birthday greetings for husband across the miles
It is one thing to celebrate your husband's special day with him, but it is another thing to celebrate it away from him. If you want to give him still the best birthday celebration even if he is miles away, you must know the perfect words to say. Below are some of the messages you can give him while he is away.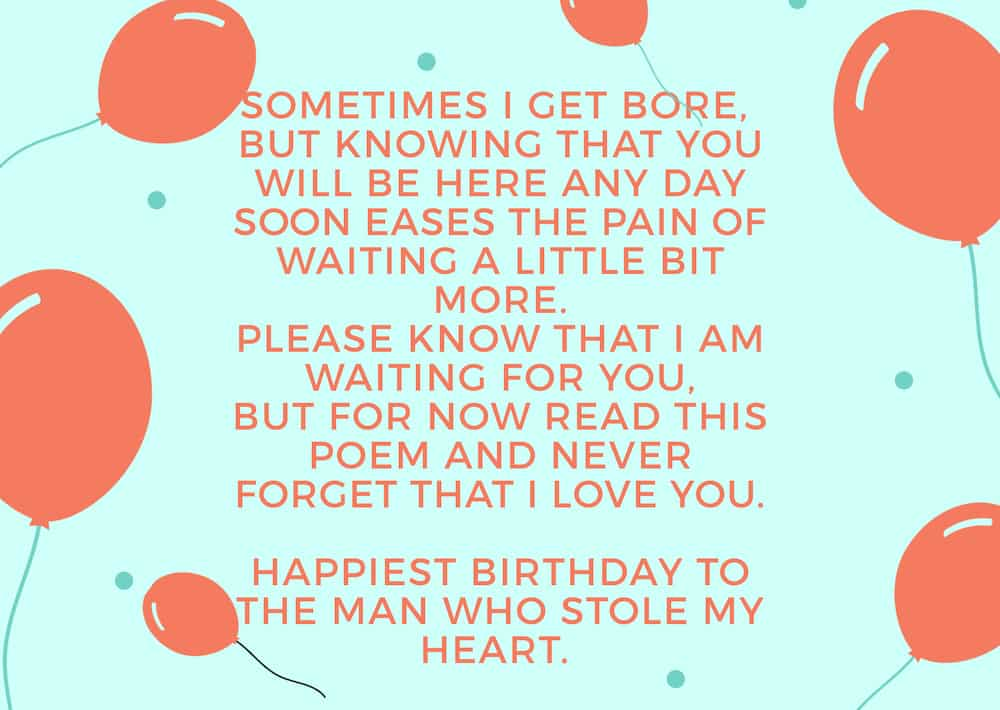 The sun won't shine if I am not with you. The days are long when you're not close to me. I am hopeless and scared when I don't feel your touch. You are the husband I will always love. Today darling, you deserve the best birthday ever! Love you to the moon and back.
Even if we are far from each other, please know that my love for you grows greater each day. Distance indeed makes the heart grow fonder. Enjoy your day, my sweetheart.
I am celebrating your birthday with you, even if we are miles away. Together, let us blow your birthday cake's candle and wish that tomorrow, we are already together.
I still wish you the best today, even if we are away from each other. Thank you for making me feel loved and appreciated every day, also if it is only through phone. I miss you. Have a blast!
There's no doubt that distance can be hard on a relationship, but I want to reassure you that distance can never weaken my love for you. You're forever in my heart!
I always hear people saying long-distance relationships don't work, and it makes me happy to know we're proving them wrong. No matter how far apart we may be, my feelings for you won't change. You're my heart's desire. I love you, honey. I am celebrating another year of your life.
Today, you are celebrating another year of your life. And even though pictures are a way for us to look back and see where we've been and what we have done, I'm tired of looking at your pictures. I want to see you, the real you, in the flesh! Please come back soon, and let me feel your gentle touch. I miss you, my lover.
I'm sorry I can't be there today. I know it's sad that you're so far away. I hope that you have a great day and an unforgettable celebration!
You are my very best husband, we did stupid things together, and I do not mind acting silly around you. You are one of the few people I like being around. You are the only one I am comfortable with. I am thankful that God created such a beautiful creature like you, and I pray that He'll give you more happy years to chase your dreams and make them all come true. I am waiting for you.
I can't stop looking at your pictures today. I hope to celebrate with you, but distance won't allow us. I am forever hoping that you are already here beside me, my forever.
Deep inside my heart, I know you are mine. No matter how far apart we are, I know you will surely return to me. You are the only one I want. I can't wait to be reunited with you!
I may not be with you, but my heart always wants the best for you. Today, I hope you have a wonderful time. I am sending my kisses on your way.
I can always see your face when I close my eyes. You are away from home, but you were never away from the heart. Enjoy your day!
Today is the perfect day to tell you how much brighter you make this world. I'm so lucky to have met you, and I cherish every day, even if we are not together! Missing you so much.
When I was a little girl, I would always pretend to be a bride. It was such a beautiful dream… but the reality is infinitely better than anything I could've dreamed of…you're incredible, and I hope your birthday is wonderful.
Though many miles may separate us, I still feel so close to you. I'm incredibly lucky to have a husband who can make me feel that way from halfway across the world! There's truly no one else in the world I would rather spend my life with. Happy birthday my love.
Unique birthday greetings for husband
Filipinos know how to touch their husband's heart with birthday greetings full of love and passion. Below are some ways you can greet your husband, the unique Filipino way.
Mahal, maraming salamat sa pagma-mahal sa akin. Hindi ko inaakalang maka-kasama kita sa lahat ng selebrasyon mo. Maligayang kaarawan!
Maligayang kaarawan, aking mahal! Habang buhay mo ako makakasama sa mga paparating pa'ng taon para sa selebrasyon ng kaarawan mo.
Make your husband's birthday extra special by giving him a heartfelt message. The messages listed above may help you make your husband happy. Do you have other birthday greetings for husband that should make to the list? Tell us in the comment section below.
READ ALSO: 30 inspirational anime quotes about life
Source: KAMI.com.gh