Coachella outfit for men: Trending in 2020 (photos)
Coachella has always been an exciting music and arts festival. The colourful event attracts people from various backgrounds across the continent. However, have you ever wondered what makes the event unique? Well, it is the outfit worn by the people, especially men. That said, how many Coachella outfit for men do you know?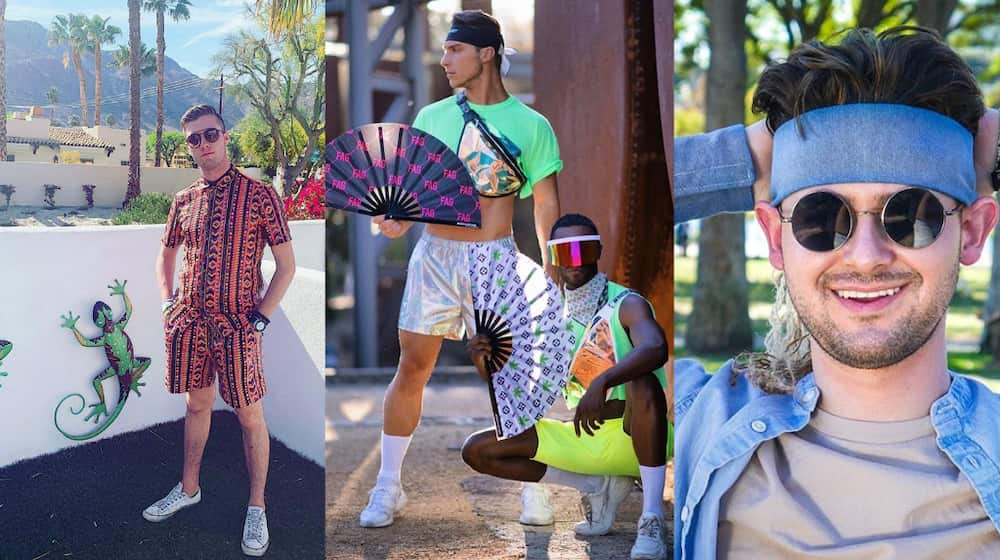 Often, fashion changes with time. Currently, there are new fashion trends for men one would not miss, if they plan to attend the Coachella festival, in 2020. The outfits are simple and classy for the liking of many. Have a look at them, and you may end up settling for one.
Coachella meaning
Coachella Valley Music and Arts Festival popularly known as Coachella is a music and arts event that takes place yearly. The annual festival takes place in Empire Polo Club, Colorado Desert. In 2020, the festival will begin on 10th April and end on 20th April. The event happens on the weekends only.
Coachella festival costume for men
The costumes can be divided into various categories. They are as follows:
Casual Coachella outfit for men
At times, most men love wearing casual outfits, and these will not disappoint you during the festival.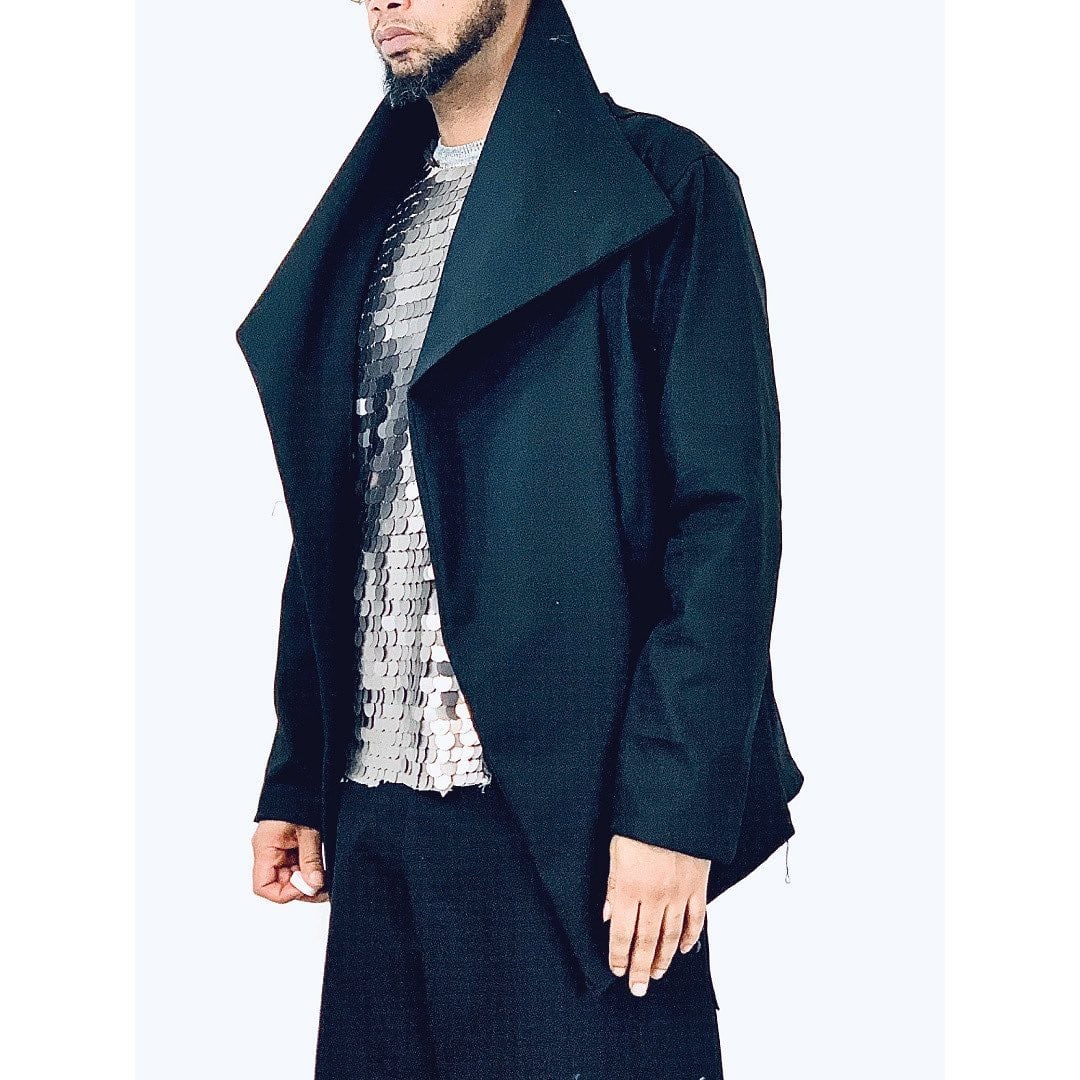 This woven suit is not only classy but also presentable. It is wide enough to give you the comfort you need while at a party. For a complete look, you may need to pick a light shirt or t-shirt.
This casual trend is not only the perfect choice for the event but also defines one's character. The black Coachella-themed shirt is also an ideal choice for the jeans trouser.
Are you looking for a formal look that will make you stand out from the crowd during the Coachella festival? Well, this fitting t-shirt and casual trouser are all you need. Also, you can have a look at the loafers.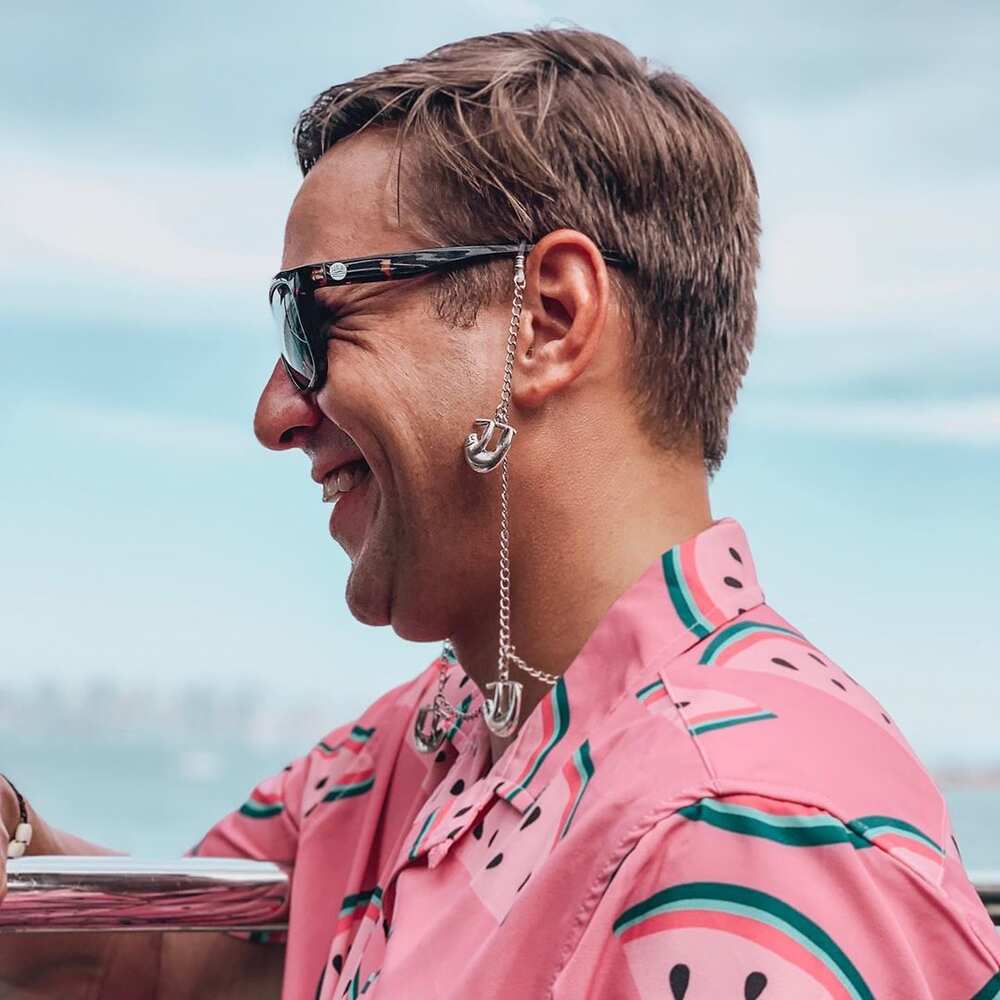 A short-sleeved pink shirt with some slight shades of black and green can come in handy if you seek to attend the 2020 Coachella festival. You can also shop for simple eye wear to get the complete package of the look.
It is advisable to dress in flexible clothes when attending the Coachella arts festival. This white shirt with black decorations and blue jeans will not disappoint you. The shoes too are comfortable and fit for the event. Also, the t-shirt and shoes are matching perfectly.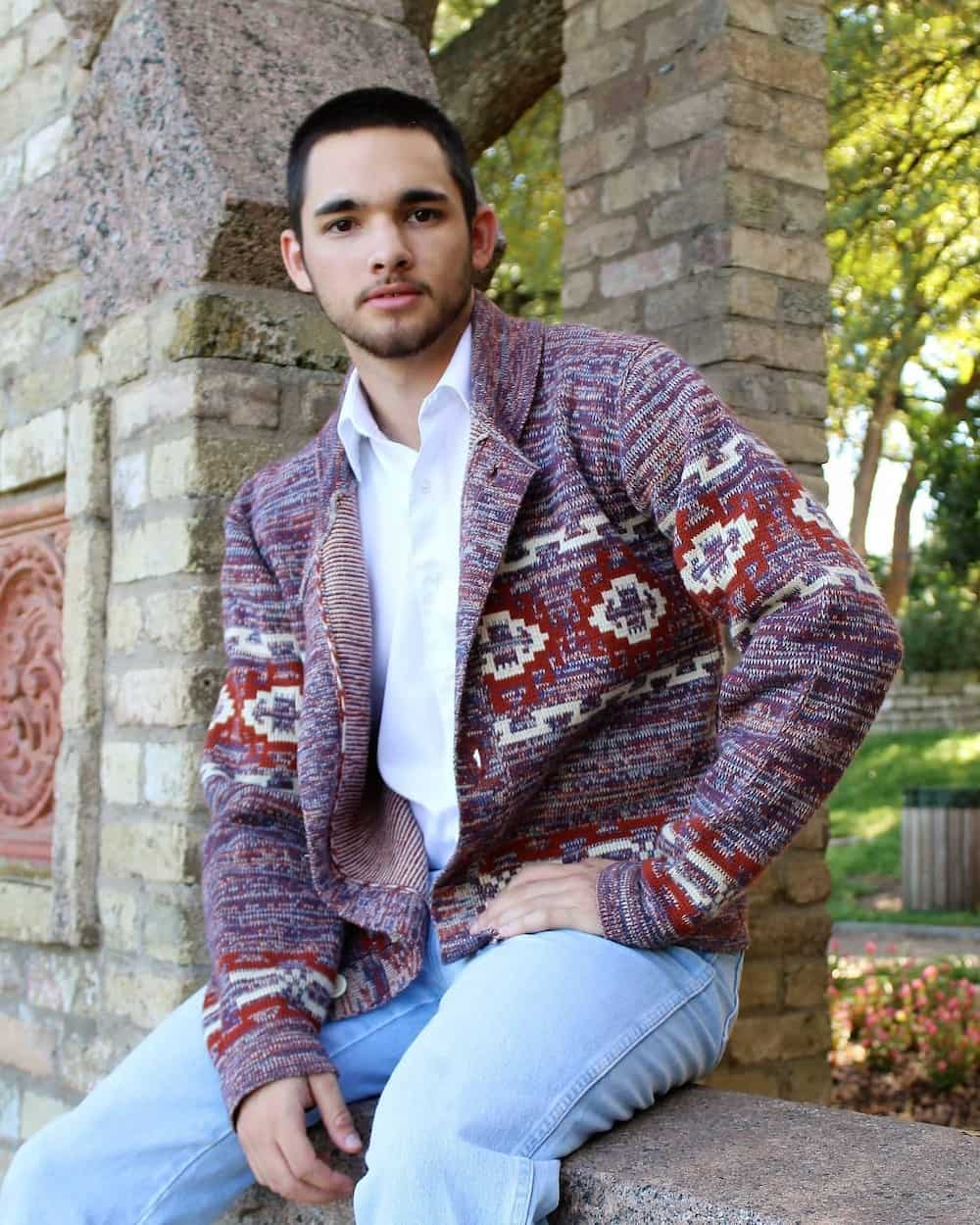 You can agree to the fact that the sweater is eye-catching. Similarly, notice how comfortable he is in the white shirt. Also, his light blue jeans trouser is all you want in such a critical festival art as Coachella.
Have you ever thought about wearing black and brown to such an event? Well, a black shirt and a brown khaki trouser won't disappoint you. You can also consider trying out a black bracelet and light brown eye wear.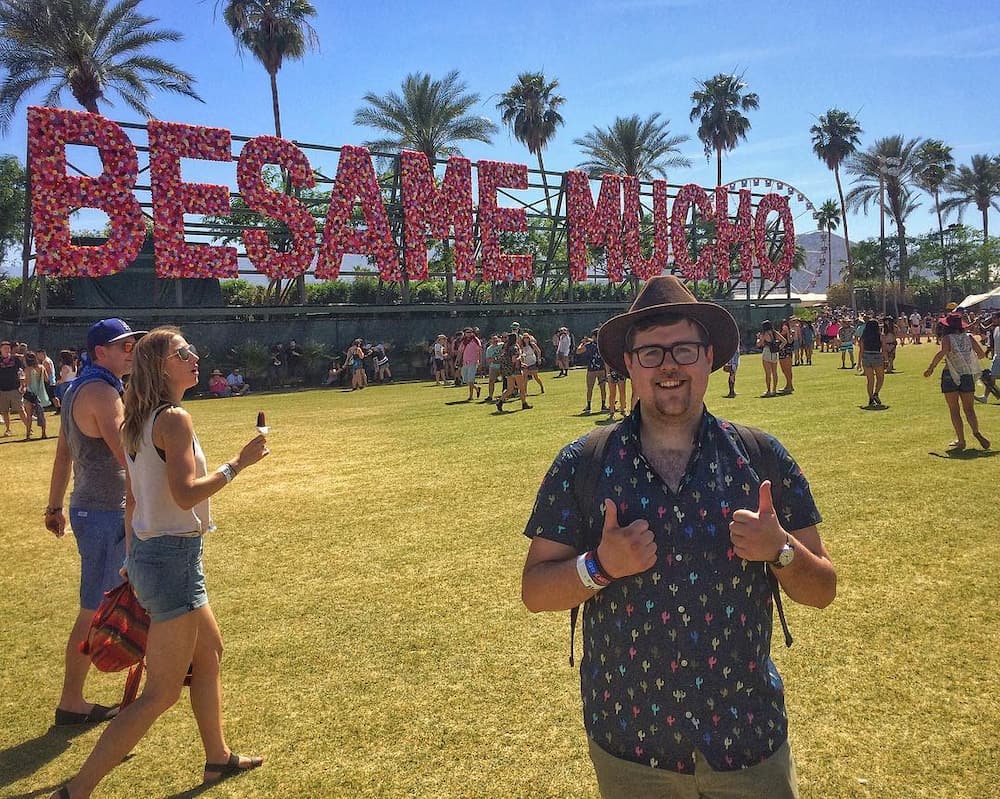 Arguably, floral shirts are the perfect choice for arts events like this one. The look is even complete when worn together with khaki trousers or shorts.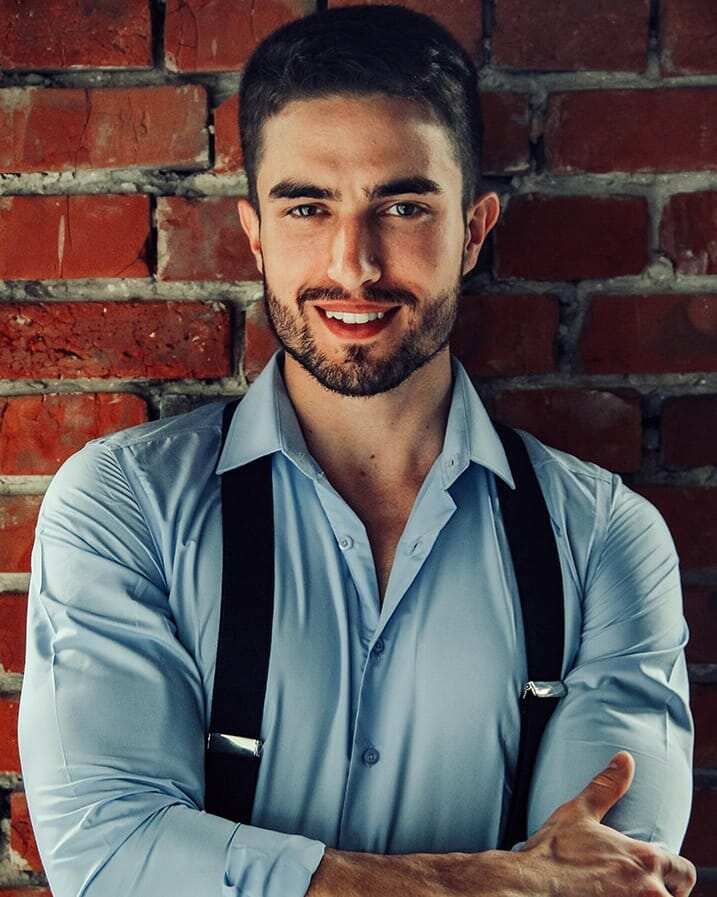 This one does not need much explanation. You only need to equip your wardrobe with black suspender pants. You can also try other different shades of shirts. However, ensure they are light.
This look is classy and sexy when one unbuttons their shirt a little bit. Also, one can go for matching bracelets and a necklace like the one on the picture. It might not be the same but ensure is something close to it.
READ ALSO: Anime girl: 30 cutest images
Modern Coachella outfit for men
Men's fashion is one of the things that have significantly changed since this event was introduced. These are some of the newly introduced outfits for men that can prove the assertion.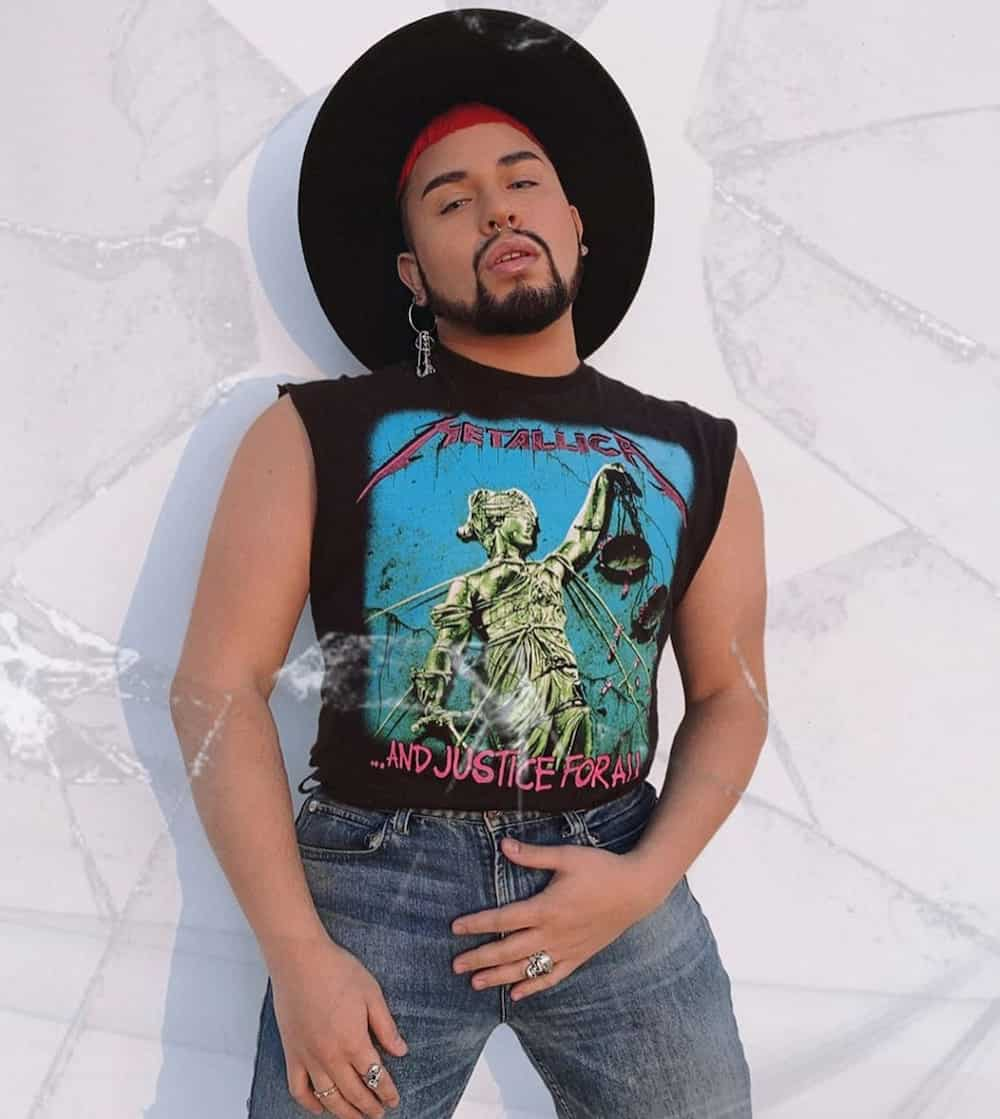 At times, jeans pants are the best for events such as this one. However, being an arts event, you may want to consider trying a fancy top. The best choice is a black shirt with some light colours and some writings on it. What do you think about this one?
This is how cool art can be at times. First, look how creative it has been used to create the headscarf and those hand decorations. Second, see how the denim t-shirt blends well with the light grey t-shirt. Finally, you can complete the look by black goggles.
One might be fooled to thinking that he is only wearing that black jacket alone on top. However, his shirt is on. This latest trend cannot be complete with black ragged jeans, pants and a black round hat.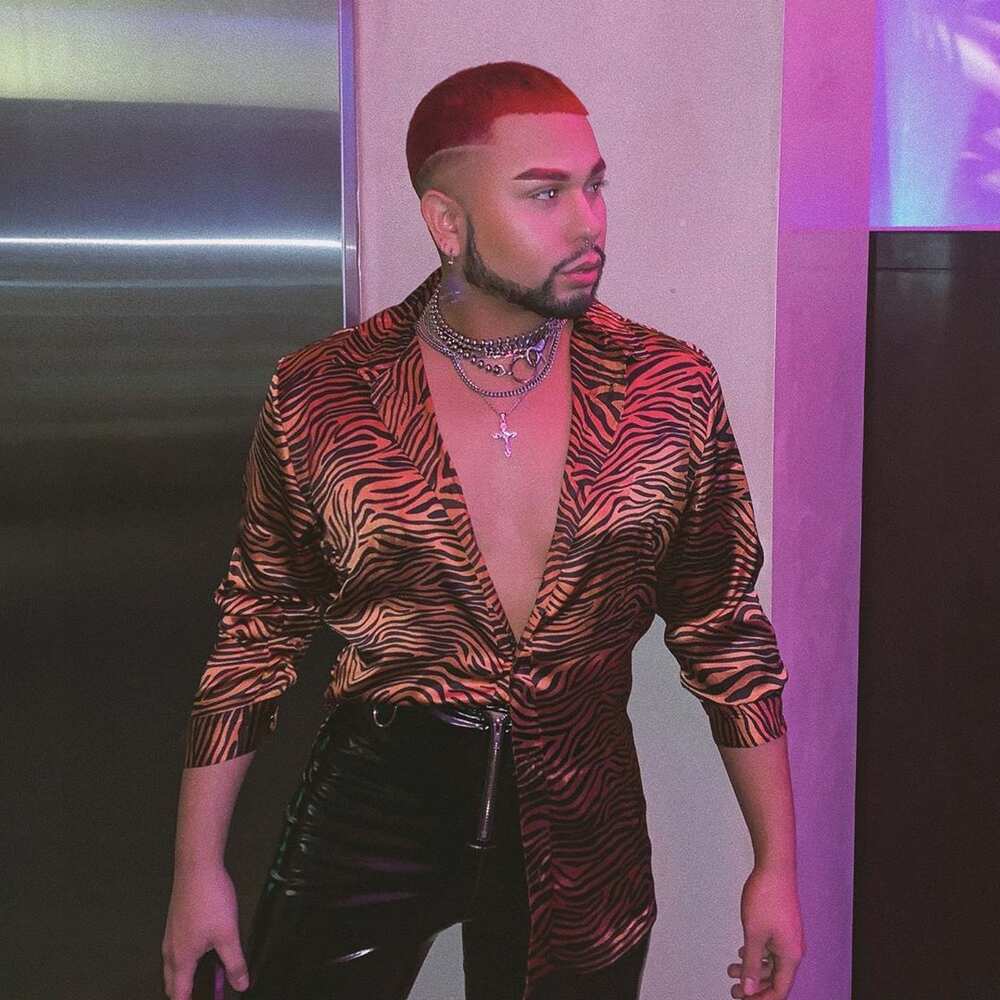 Are you more interested in the three-quarters shirt with gold and black stripes or the black shinny pant? This expression guarantees you the luxury you need while in an important event like this one.
Do you love black outfits with white strains of white? Then this one is worth trying. You can also try a black chest pack for a better result.
This floral attire for men is common in Coachella festival. What is interesting about the attire is the mix of those colours. It is rare to identify such a look from a crowd as big as it might be. This was among the best-selected outfits in 2019.
Rubber shoes, light shorts, and short-sleeved shirts can make a perfect choice of an outfit for someone planning to attend the 2020 Coachella music festival. The difference between the two is the colour of the shirts. Whichever the colour you settle for, remember to unbutton the shirt as illustrated above.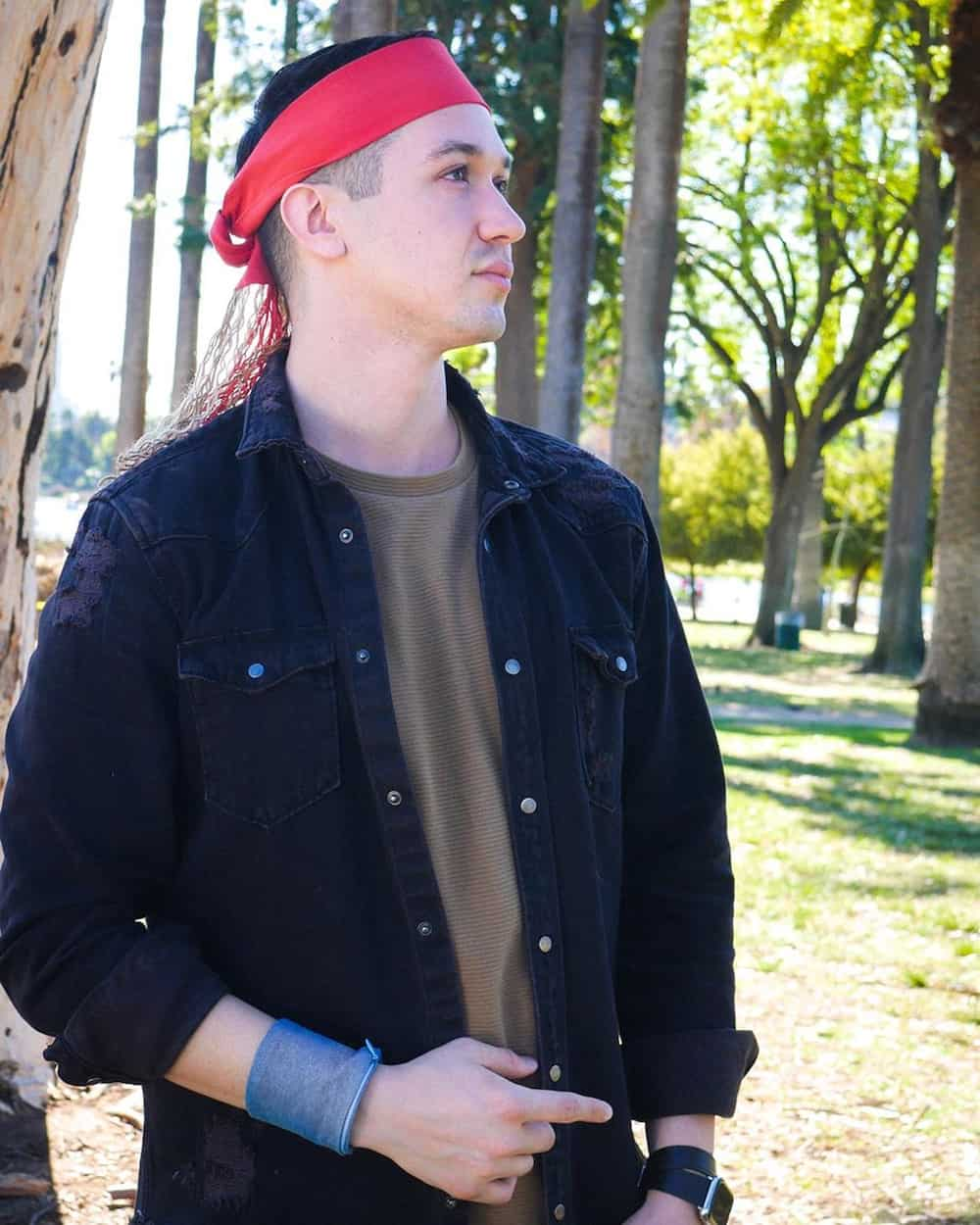 Some appearances require a little creativity, and that is evident here. A black denim jacket and a grey t-shirt with some white stripes will do you more good than you can imagine.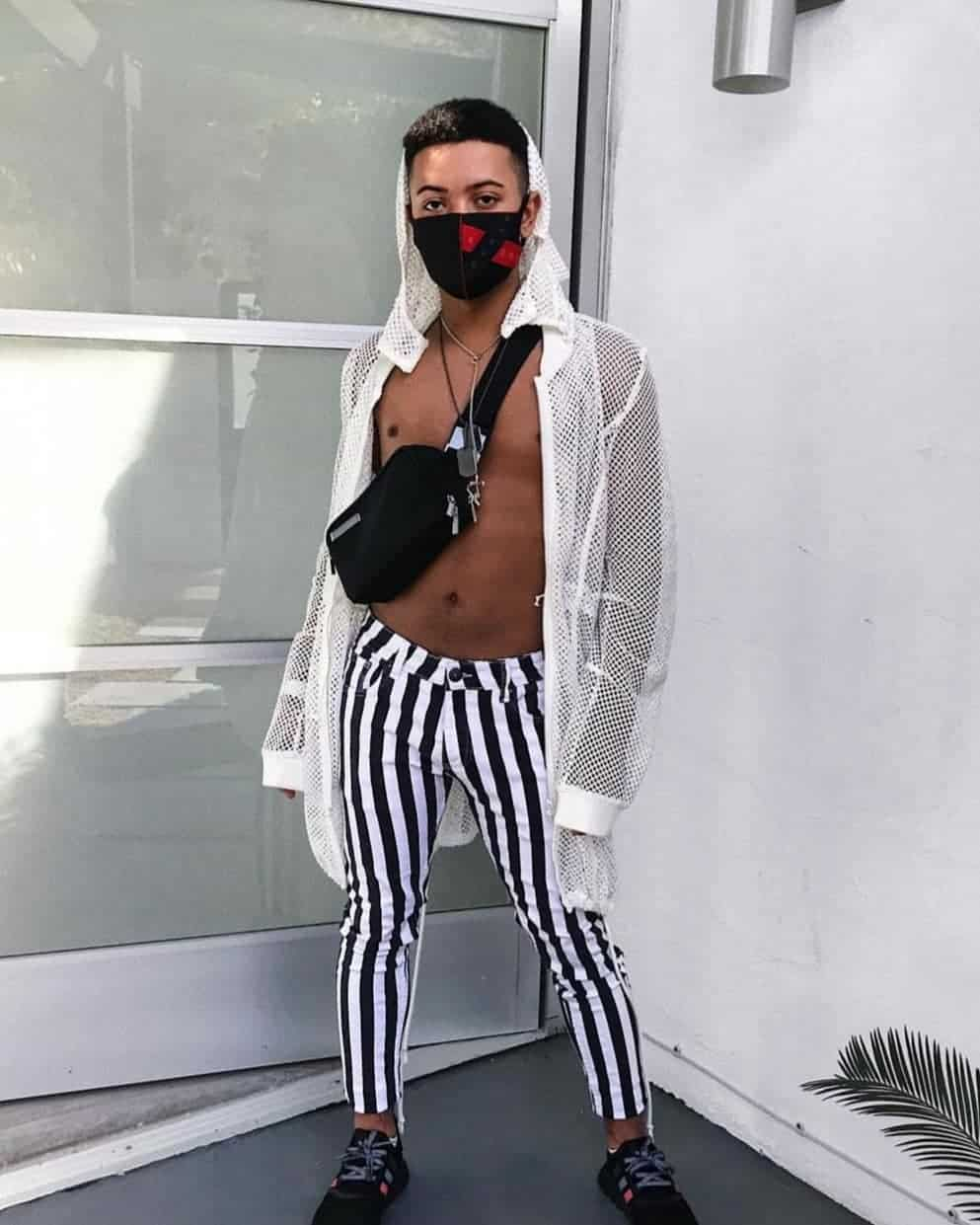 This is also another trending fashion a man can try come on the 10th of April. Remember, the chest pack is also an essential part of this outfit.
A white shirt on a t-shirt is another appearance you may want to try out. The horse-printed shirt is also another thing one cannot miss to identify in this dress code.
Best Coachella outfit for men
There is no need to worry if you have not found the Coachella outfit yet. Have a look at the ones below and you will not miss one or two.
Floral t-shirts are currently the best in almost all parts of the world. They blend better when worn with khaki shorts and chest packs. Also, the white tone on the floral elements of the shirt matches well with white loafers.
If you are a guy with style, you will not hesitate to try this outfit. The all-red clothing will give you the perfect expression when you combine it with some necklaces.
This trend took over in the 2019 Coachella festival. Most guys were dressed in this colourful outfit. What is more, is the confidence and luxury portrayed by people dressed in this matching outfit.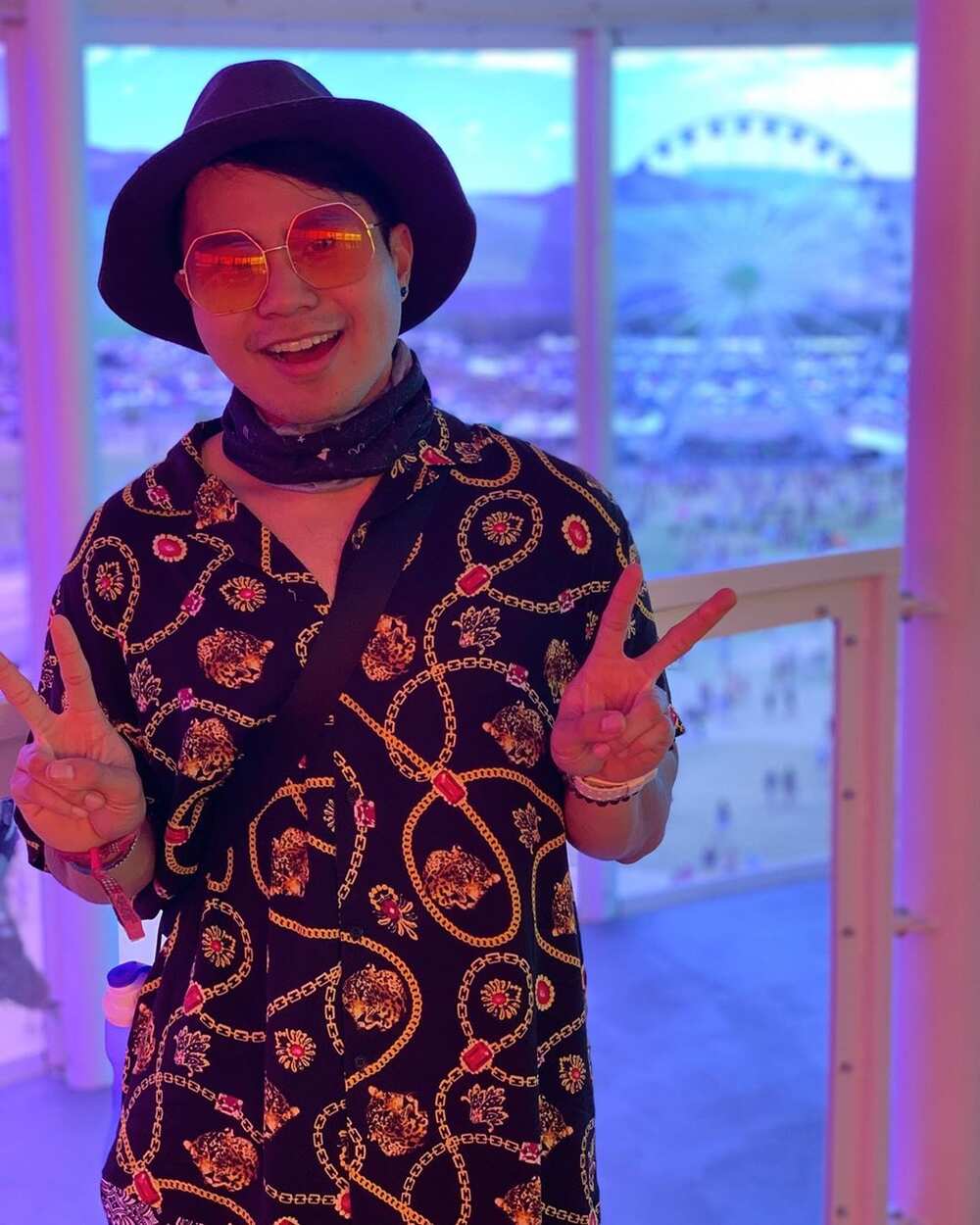 If you love black, then you have no reason not to love this look. Plus, it is enhanced with the black hat and a neck scarf. The decorations on the shirt are also very appealing. What do you think?
This gear is the best if you love shorts and quarter socks. This gear will not only make you look unique but also different from other people at the festival. Besides, who would love to dress like a 93-years-old to a significant event like this one?
Shirtless guys, often, tend to be confident about their bod physique. If you are the confident type and you want to expose your abs, then this is the right choice for you. Look how the black and white straps blend well with that sweatpants.
This is another floral-inspired shirt every man would love to try. A good stylist will always advise you to go for a red headscarf, which matches well with the shirt too. Lastly, look at the rubber shoes and socks. No wonder this style was among the best voted in 2018.
No words can describe the feeling of dressing in this one. The colour and comfort is enough reason to consider this outfit come April.
No doubt, this is among the hottest outfit a man can have during the Coachella festival. White strains on a black garment are genuinely appealing. Also, the chains, both on the waist and neck, are another element you do not want to miss!
Check out how classy this guy looks here. This look is perfect for a person who enjoy wearing clothes with gold strains.
Bohemian Coachella outfit for men
Bohemian inspired outfits are the best when one wants to achieve a relaxed look. Often, the look tends to be expressive and full of artisan essentials. Check out the outfits below:
This is among the unconventional outfits that will leave your admirers talking throughout the event. However, you cannot understand how classy the outfit is until you keenly inspects his neck and the writs.
There is always a way jeans pants perfectly blend with different types of tops to create the most appealing looks. This is one of such looks one cannot avoid. One thing about the dress code is the evident matching element in the pants, boots, and the top.
The art portrayed in this outfit is on another level. Talk about the multicoloured shirt, which contains black strains. Similarly, bracelets and wrist-watch are also other things to watch out.
Often, our skin tone blends well with black outfits. Most men will consider perfecting the expression by wearing a chain. Also, you can try those clear sunglasses to match with the jacket.
This is another instance where black comes in handy. However, this time, you need to observe the shades of the t-shirt beneath and the scarf on the neck.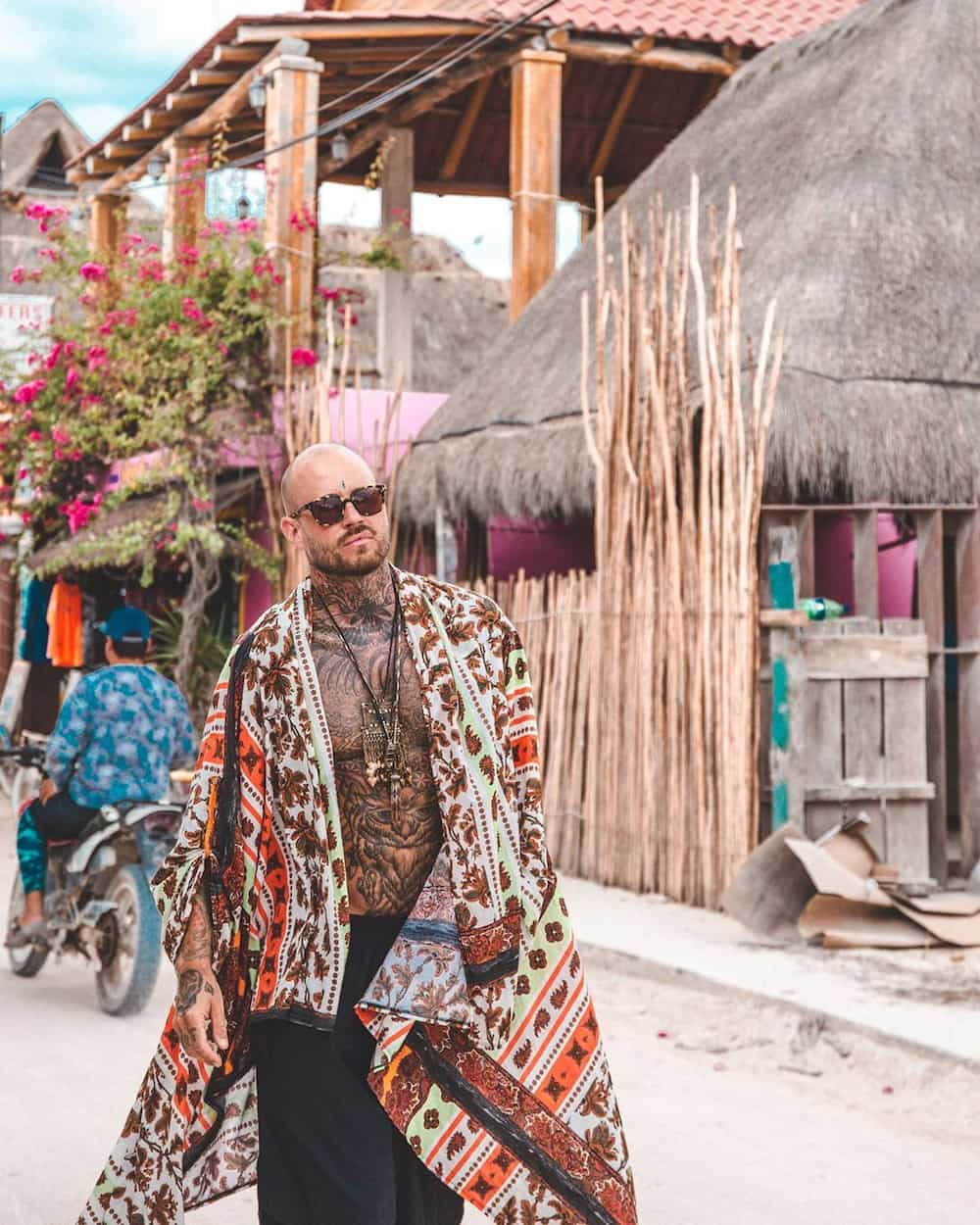 Tattooed guys are sometimes the lucky ones when it comes to shirtless clothing. That aside, you may need to observe how comfortable the top is and design behind its making. As much as we may want to ignore the tattoos, they complement the dress code in a number of ways.
Ragged jeans and a simple V-shaped t-shirt underneath can work magic if plan to attend the 2020 Coachella music and art festival. The shoes might look old school, but they are a great deal for this type of clothing.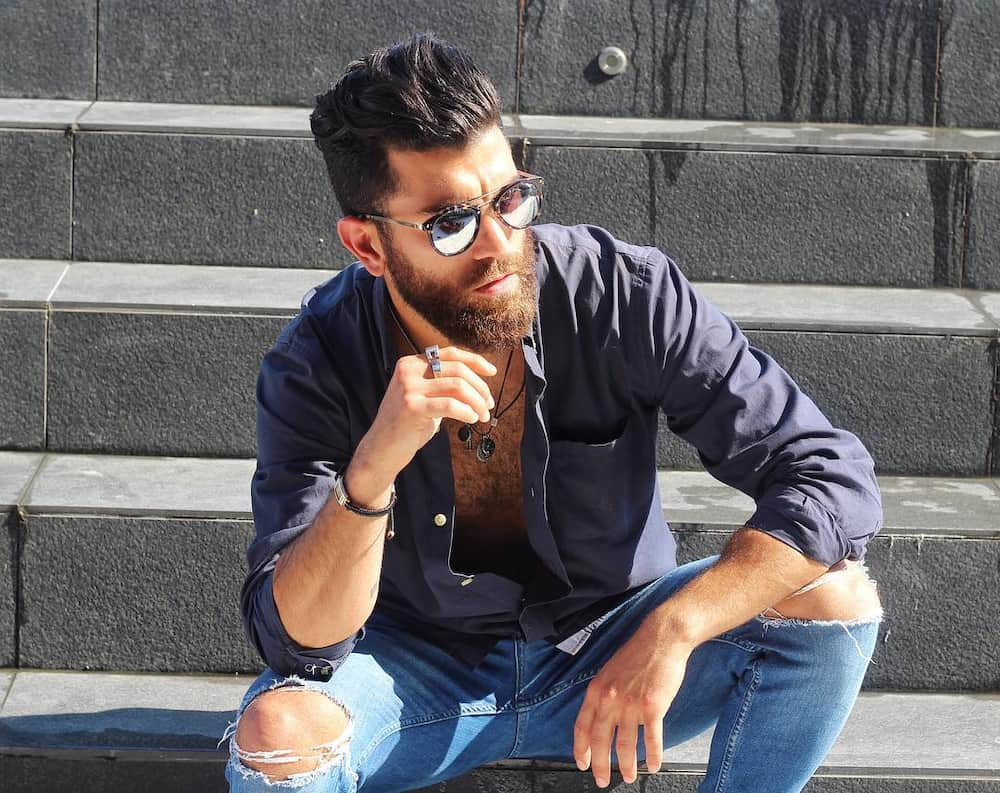 Currently, knee ragged jeans seem to blend perfectly with most tops for male, and this is not an exception. The key elements here are also the sunglasses and the unbuttoned long-sleeved shirt.
This complete match outfit is sure to leave many people in awe as you walk through the entrance of the Empire Polo Club. The colour of the dress code is not shouting, and the inclusion of black sunglasses and necklaces make it more appealing.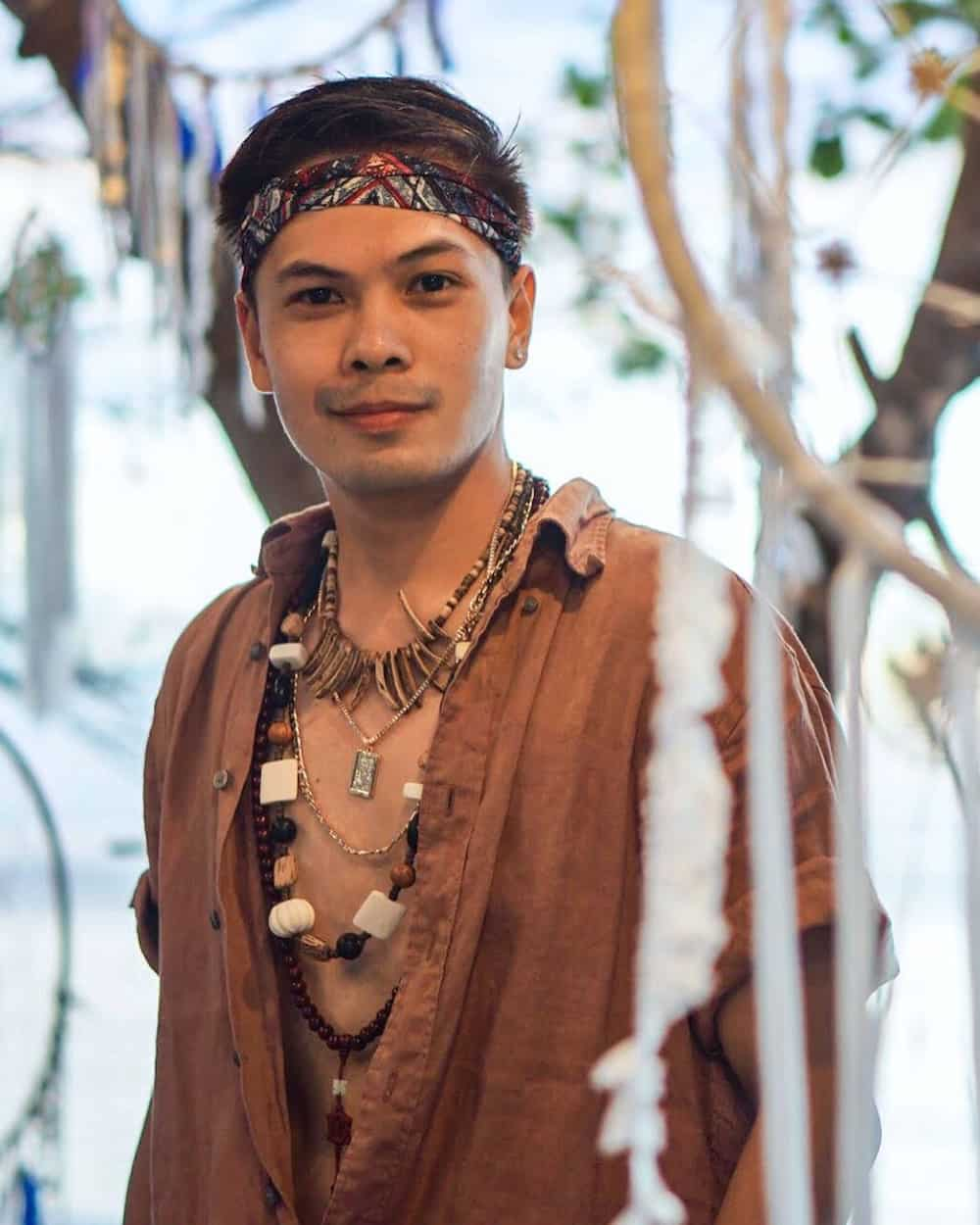 This Boho vibe is another thing you do not want to miss as we prepare for the 2020 Coachella festival. Have a look at the scarf and the necklaces. You can all agree that this, exactly, the kind of outfit to try.
Simple Coachella outfit for men
Do you know that you can achieve an elegant look without having to break a bank? How about you have a look at these outfits below to make a judgment for yourself?
At times, simplicity is all you need to stand out from a crowd in an arts festival. The colour of the trouser is unique too. The two straps hanging down from the trouser is another thing you cannot assume.
Tight shiny black pants and t-shirts are now becoming a trend in the modern fashion world. All that matters is how creative one becomes with additional elements to make the look complete. For instance, look at how the belt is hanging.
The mix of colours alone is an artistic element that everyone can appreciate. What is your take about the complete outfit?
These pants can match with many tops if you seek to make your way to the Coachella Valley. Observe the colours and simplicity in them.
How else can you embrace art if not by dressing in this black tight short, jacket, and a white fitting shirt? You can also boost the look by picking white boots and black sunglasses.
It is easy to achieve this look. The clothes are simple, but they can guarantee the look that you have always desired to achieve.
This is among the trending outfits to try in 2020. In 2018, it among the best Coachella dress codes that worn the hearts of many. The sunglasses, headscarf, and necklace are among the elements you do not want to miss.
For a long time, black, red, and white have always worn the hearts of many Coachella lovers. Observe the mix of colours starting from the shoes upward to the head.
What do you make of this appearance? If you have a little knowledge of fashion, then you know the impact such an expression can create in your admirers. Simple but on point!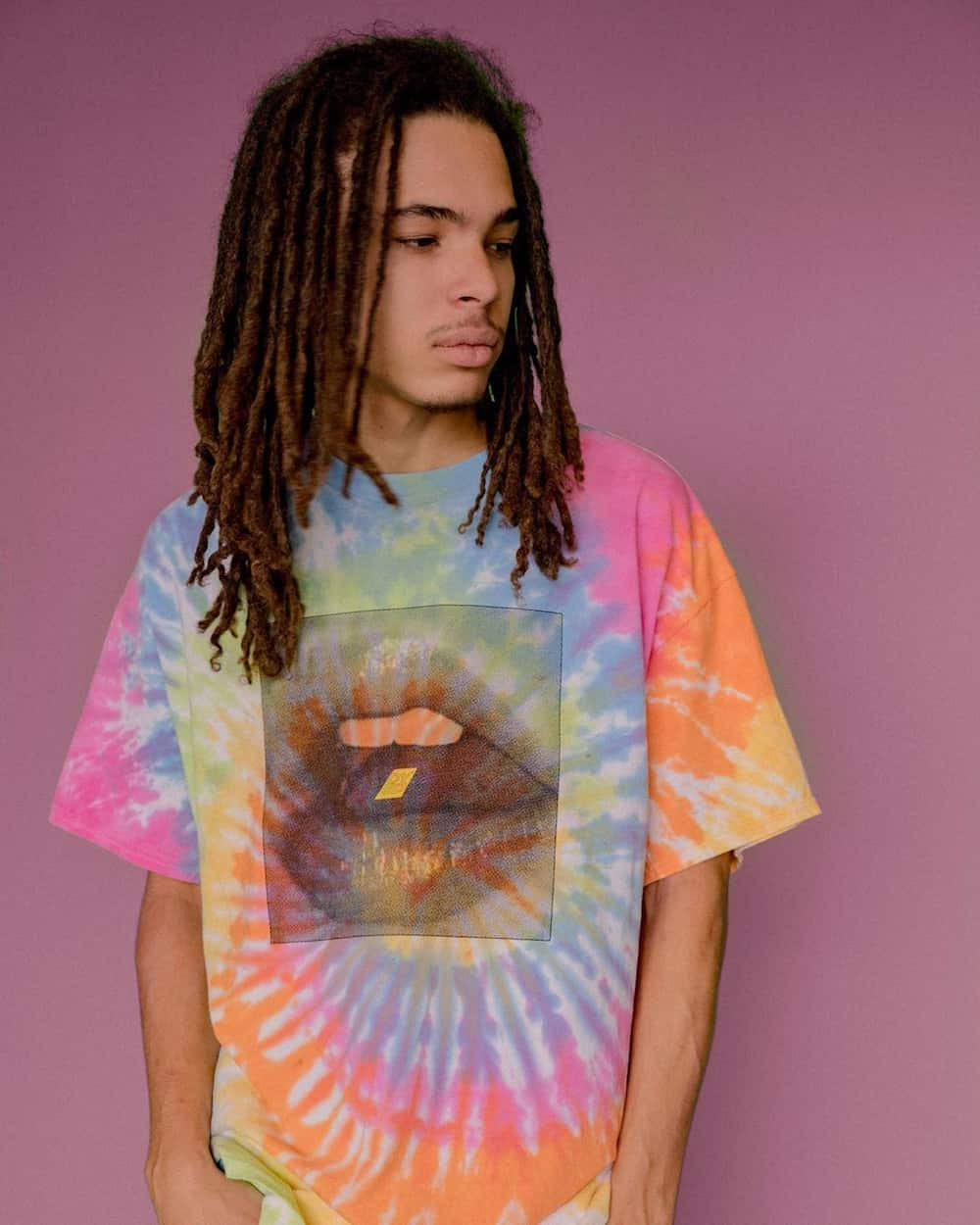 A multi-coloured rainbow t-shirt matches the theme of the event. With this, you are sure to blend in the festival perfectly. What is more, you can wear it with a trouser of your choice.
We hope that this piece has helped you to narrow down your options on the type of costume you will be wearing to the event this year. Which Coachella outfit for men, in particular, did you find more appealing?
READ ALSO: Taytay Tiangge 2020: The ultimate guide
Source: KAMI.com.gh