Blackpink members profile: religion, height, net worth, who are they dating?
You have probably heard of YG Entertainment's wonder group, Blackpink, that has been taking not only Korea but also the rest of the world by storm. Just this April 2019, the Blackpink members took the top spot in Forbes' Korea's Power Celebrity rankings.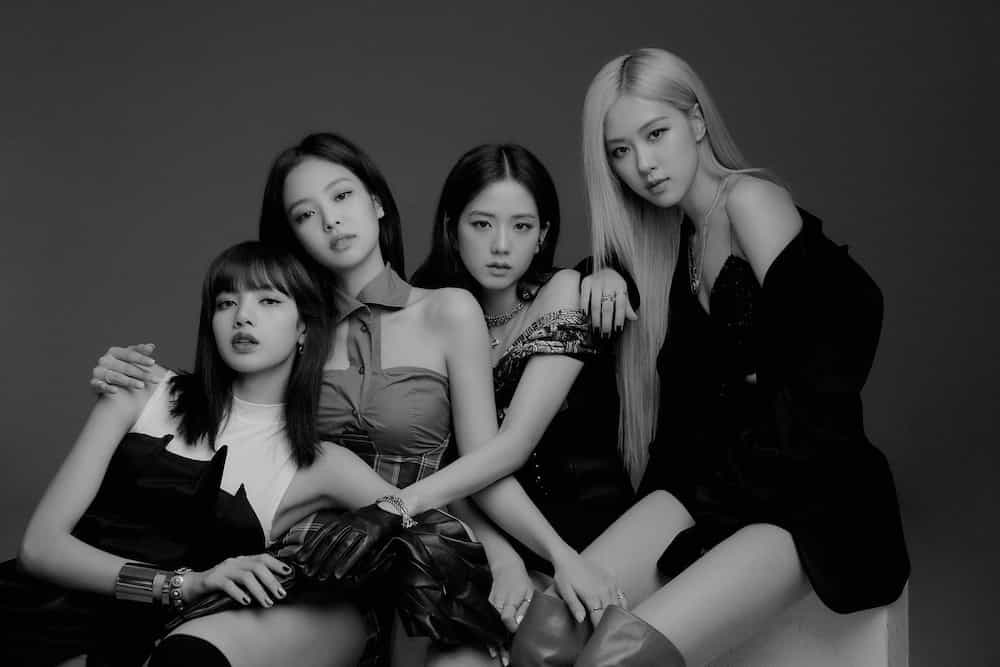 Their hit single 'Kill This Love' also managed to make history by being the highest charting Hot 100 hit on the Billboard Hot 100 chart, the first record ever hit by a K-pop group. Who exactly is Blackpink? The four glamorous girls of the group; Jennie, Lisa, Rosé, and Jisoo are just four of the many idols at the center of Korean pop today alongside BTS, Twice, Red Velvet, EXO, and IKON. What exactly makes these girls one of the most admired in the industry?
Blackpink members names and facts
The group's name, Blackpink, really represents the group well. The color pink portrays their pretty side while black embodies the talent behind their pretty faces. In short, they are a group of girls who slay visually and musically. Despite being just a group of just four, Blackpink members are bursting with impact, talent, and influence (as seen in what happened during their Coachella performance).
It is time to find out and take a look at each of the personalities that make up Blackpink. Here you will find out the answers to frequent questions like 'How old are the members of Blackpink?', 'Do any Blackpink members speak English', and of course, the hot topic of the Blackpink members boyfriends.
Kim Jisoo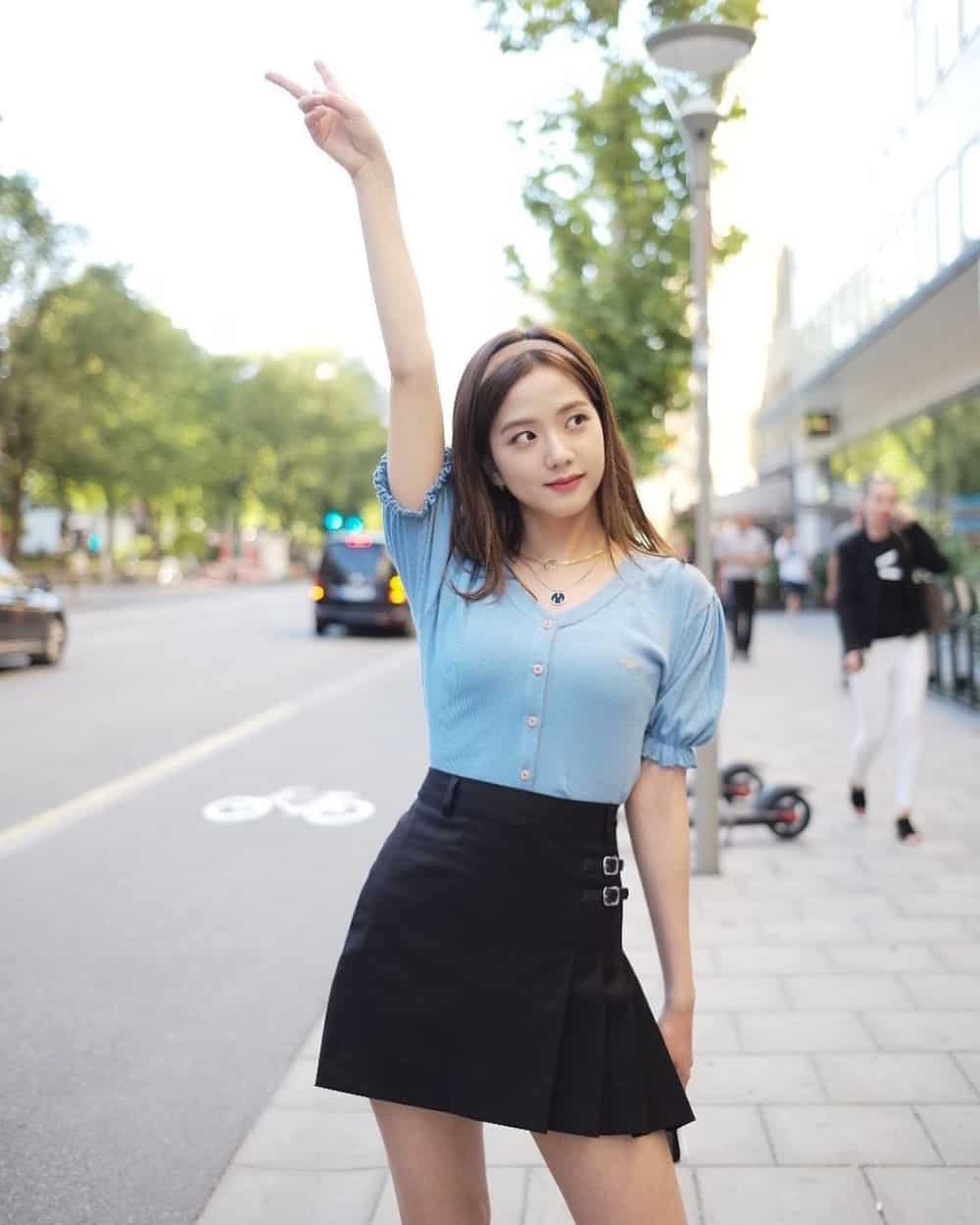 Birthday: January 03, 1995 (Capricorn)
Age: 24 years old (2019)
Height: 162 cm
Nationality: Korean
Favorite food: Spicy food
Nicknames: Jichu, Chi Choo
Position: Visual, lead vocalist
Blood type: A
Fun facts
Since Jisoo is part of the '95 line, she is automatically the oldest or the 'unnie' (older sister) among the Blackpink members age range.
She is from Seoul, South Korea.
Jisoo trained under YG Entertainment for five years and was later the third member of Blackpink to be publicly revealed.
She started her trainee years in the company at 16 years old.
She can play the drums and piano.
Before debuting, Jisoo was also in Epik High's 'Spoiler+Happy Ending' and Hi Suhyun 'I'm Different' music videos.
Jisoo had an appearance on KBS TV Series 'The Producers' with Sandara Park and IU.
One of her most well-known commercial films (CF) is for the Samsonite RED 2015 with actor and singer Lee Min-ho.
Jisoo's personality
Despite being the oldest, she has a 4D personality and it is considered as one of her charms.
An example of her entertaining 4D personality would be her habit of balancing objects. These are usually bottles or cups of water on her head or shoulders.
She loves making nicknames for people and has made nicknames for all other Blackpink members.
Aside from nicknames, she also randomly makes short and quirky songs for absolutely anything. She even has a song for YG Entertainment founder Yang Hyun Sik that she sang in Weekly Idol.
If Jisoo were a guy, the member she would choose to date would be Rosé because she plays the guitar and sings every night plus write songs for Jisoo.
In their appearance on 'The Late Show with James Corden', Jisoo was the only one who did not get scared on the game Flinch.
The visual queen Jisoo says her lips, which are heart-shaped when she smiles, are her favorite body part.
Jisoo is a fan of Pikachu and even has Pikachu collectibles and merchandise.
Jisoo invented the words 'Nyeongan' and 'Ppoong'.
She derived Nyeongan from the word 'Annyeong' but instead made it backwards like 'Nyeong + An". It's a general greeting for 'hello' or 'goodbye'.
Meanwhile, Ppoong does not mean anything at all which means fans can use it any way they like. Because of how it is written in Korean (뿡) it can also be read as 'Bboong'.
Jisoo has been friends with Twice's Nayeon since their trainee days despite being from different agencies.
Jisoo's family
The Unnie of Blackpink is actually the Maknae (youngest) of the family.
She has an older brother, Kim Jung Hun, and an older sister, Kim Ji-Yoon.
Her older brother is six years older than her.
Fans are vocal about how attractive Jisoo's siblings are. Both her siblings are already married.
The Blackpink members attended the wedding of Jisoo's brother.
Jisoo's pets
She has a dog named Dalgom or Dalgomie.
Lisa likes teasing Dalgom which is why the dog often barks at her. Fans describe him as a Shih Poo or a cross of a Shih-tzu and miniature poodle. Others say he is a Maltese breed.
Kim Jennie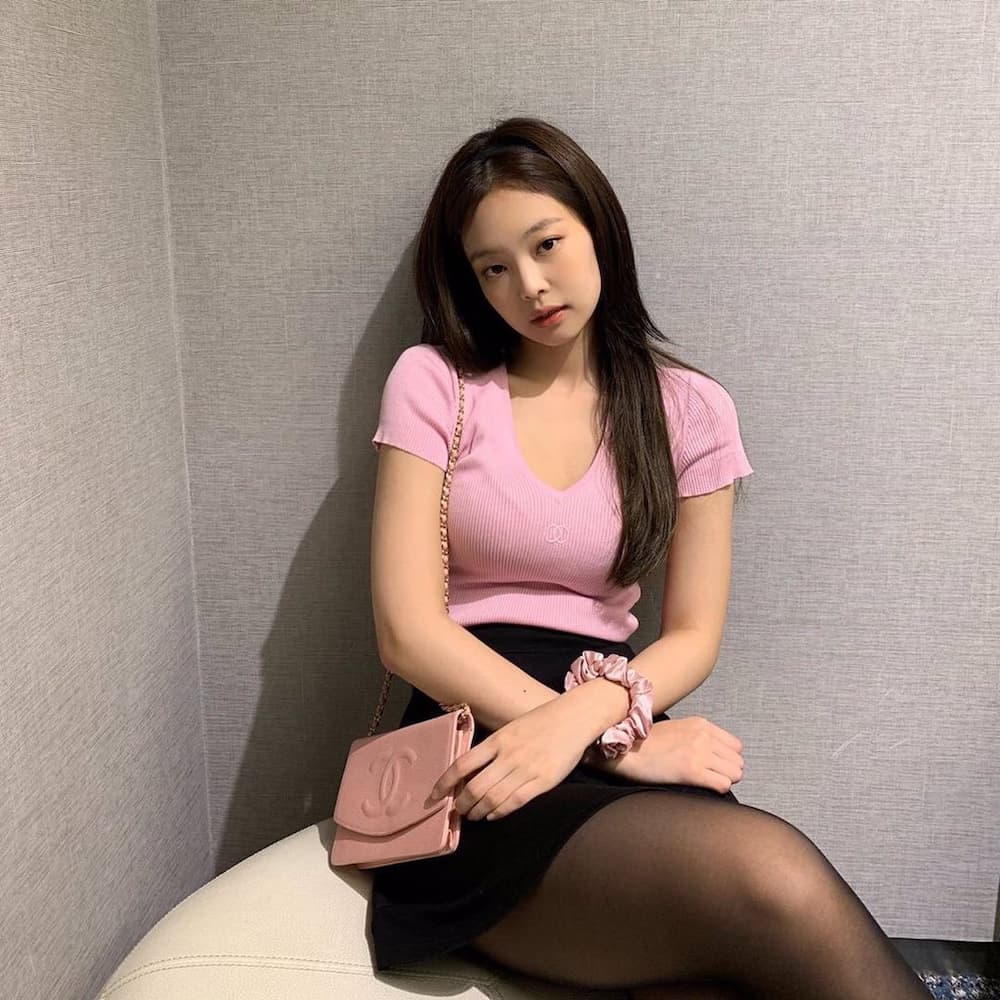 Birthday: January 16, 1996 (Capricorn)
Age: 23 years old (2019)
Height: 163 cm
Nationality: Korean
Favorite food: milk, flavoured ice cream
Nicknames: Jendeukie, NiNi, Jen, JenJen
Position: Vocalist, main rapper
Blood type: B
Fun facts
Jennie is from the Province of Gyeonggi in South Korea, specifically the city of Anyang.
She lived in Auckland, New Zealand for her studies in ACG Parnell College. She stayed there for 5 years.
She is called the 'YG Princess' of the group and is often rumored to be YG's favorite.
She started her training when she was just 14 years old.
Jennie trained in YG Entertainment for almost six years before her debut.
She was the first to be publicly revealed as a member of Blackpink.
Aside from singing and rapping, she can play the flute and piano.
Being an idol is not Jennie's first time on television. When she was 10 years old, she made her TV debut in an MBC Documentary titled 'English, Must Change to Survive'.
Before her debut, Jennie worked with YG Entertainment's G-Dragon and appeared in his 'That XX' music video and even featured on his track 'Black'.
Jennie is the first of the group to have a solo debut. She debuted with the song called 'Solo'.
Jennie's personality
Jisoo calls Jennie 'Jendeukie' which is a play on the Korean word for 'Sticky' as Jennie gets clingy when Jisoo tries to wake her up.
Jennie said on Weekly Idol that one of her hidden charms is that she can look 'sexy and confident' but can be very shy.
She is a master of 'aegyo' or acting cute as well as talking and sounding like a baby.
Being the best dressed in the Blackpink, she is also called 'Human Gucci' as she often wears the brand and other expensive clothes.
Because of her fashion-forward outfits, she caught the attention of French fashion brand 'Chanel' and has been one of their ambassadors since 2018.
Jennie revealed in a 2018 interview with Elle Korea that Rihanna is her 'all-time' idol and that the singer has everything Jennie aspires to be.
In their 'As if it's your last' V-live, Jennie said that if she were to date one of the members as a guy, she would choose Jisoo because she makes her laugh.
Jennie revealed in an episode of 'Knowing Brothers' that she became close with Blackpink member Jisoo after sharing a moment together in a Korean sauna talking about their future and their dreams.
She is close with other girl group idols like Nayeon (Twice) and Yerin (Gfriend).
Jennie's family
She is an only child.
It is speculated that Jennie comes from a rich family, hence her current lifestyle. Rumors say that her mother is affiliated with media company CJ E&M and that her father owns a hospital.
Jennie is an only child but some fans playfully call child model Ella Gross, who is also under YG Entertainment, her little sister as she bears a resemblance to the the Blackpink star.
Jennie is close with her so-called little sister Ella Gross and even spent some time with her in Ella's hometown.
Jennie's pets
Jennie owns two dogs, Kai (Cocker Spaniel) and Kuma (Pomeranian).
Kuma means 'bear' in japanese. He is brown like a bear with a white patch on his chest.
Kai is the more reserved type of dog while Kuma is mostly seen on their V-lives.
On one of their V-lives, the four girls introduced the version 'Kumayah' which parodies their song 'Boombayah' but with Jennie's dog, Kuma.
READ ALSO: BLACKPINK receives another record-breaking number of views on YouTube
Rosé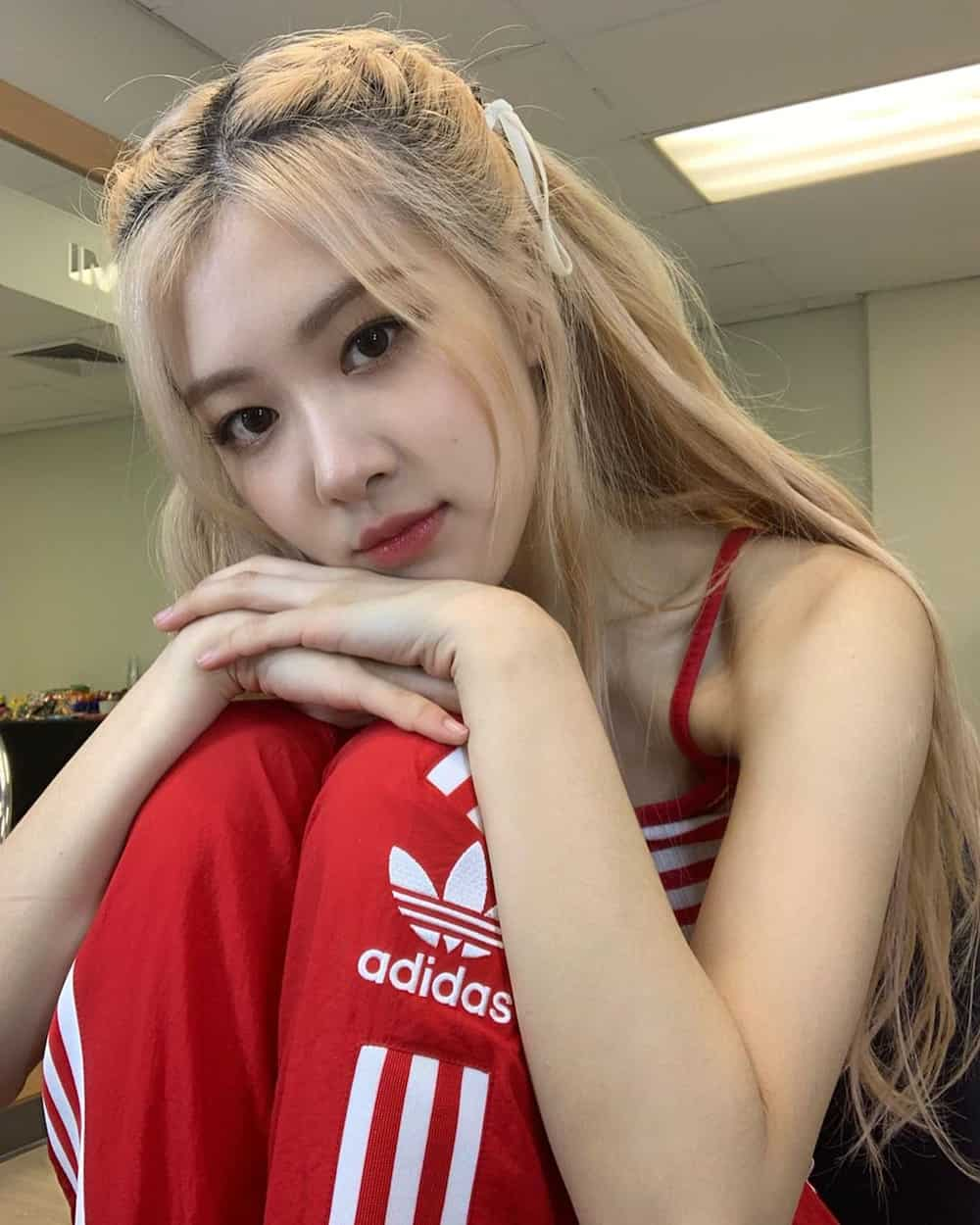 Birthday: February 11, 1997 (Aquarius)
English Name: Roseanne Park
Age: 22 years old (2019)
Height: 168 cm
Nationality: Korean
Favorite Food: Kimchi stew
Nicknames: Rosé. Rose, Pasta, Chaeng
Position: Main vocalist, lead dancer
Blood type: B
Fun facts
Rosé is full-blooded Korean but she was actually born in Auckland, New Zealand.
She grew up in Melbourne, Australia.
Rosé studied in the Canterbury Girls Secondary College.
She auditioned for YG Entertainment in Australia. She then moved back to Korea in 2012 when she won against approximately 700 other opponents.
She was just 15 years old when she started training.
She trained for YG Entertainment for four years and two months before her debut.
Standing at 168 cm or 5'6", Rosé is the tallest in the list of Blackpink members height.
Rosé was the first Blackpink member to reach one million likes on Instagram along with Lisa.
Last 2018, it was revealed that Rosé was the next member to have a solo debut after Jennie.
She has collaborated on G-Dragon's song titled 'Without You'.
Rosé's personality
She was a cheerleader in Australia.
Rosé was part of a choir in their church in Australia.
Her silky voice is not her only ace in music; she can also play the piano and guitar. She is also interested in drawing.
Rosé prefers being called her birth name, 'Chaeyoung' when not on stage.
If Rosé were a guy, she would choose to date Jennie from the group because she is a good cook.
Aside from singing, she has another special talent wherein she can sound as if she is speaking from a box. She calls this box language and does it without opening her mouth.
She openly admits to not liking avocados but she bought herself an avocado soft toy for no reason.
Rosé goes to church often.
She has a habit of biting her fingers. She does this quite often like when she is nervous, flustered, or surprised. Other times, she isn't even aware she is doing it.
Another thing hand-related is that she is left-handed.
She is known for her sweet voice that can reach those powerful high notes.
She is friends with Twice's Chaeyoung (yes, they share the same name!) and Tzuyu.
She is also close with Red Velvet's Joy and Yeri.
Rose's family
Seeing her interest in music and singing, her dad was actually the person who suggested she go to the YG Entertainment auditions.
Rosé is not the only famous one in the family. She has an older sister named Alice Park that took up law studies in Australia.
Both her parents prefer having only their daughter in the spotlight so there is not much known about them. It is said that Rosé's father is a lawyer while her mother a businesswoman.
Rose's Pets
She grew up with two dogs, Max and Tobi.
Rosé takes care of two fish named Eunbyul and Joohwang (Orange).
Eunbyul is a silver barb while Joohwang is a blood parrot fish.
Joohwang has multiple skills like following Rosé's hand, getting high-fives, and jumping for food.
Lalisa Manoban (Lisa)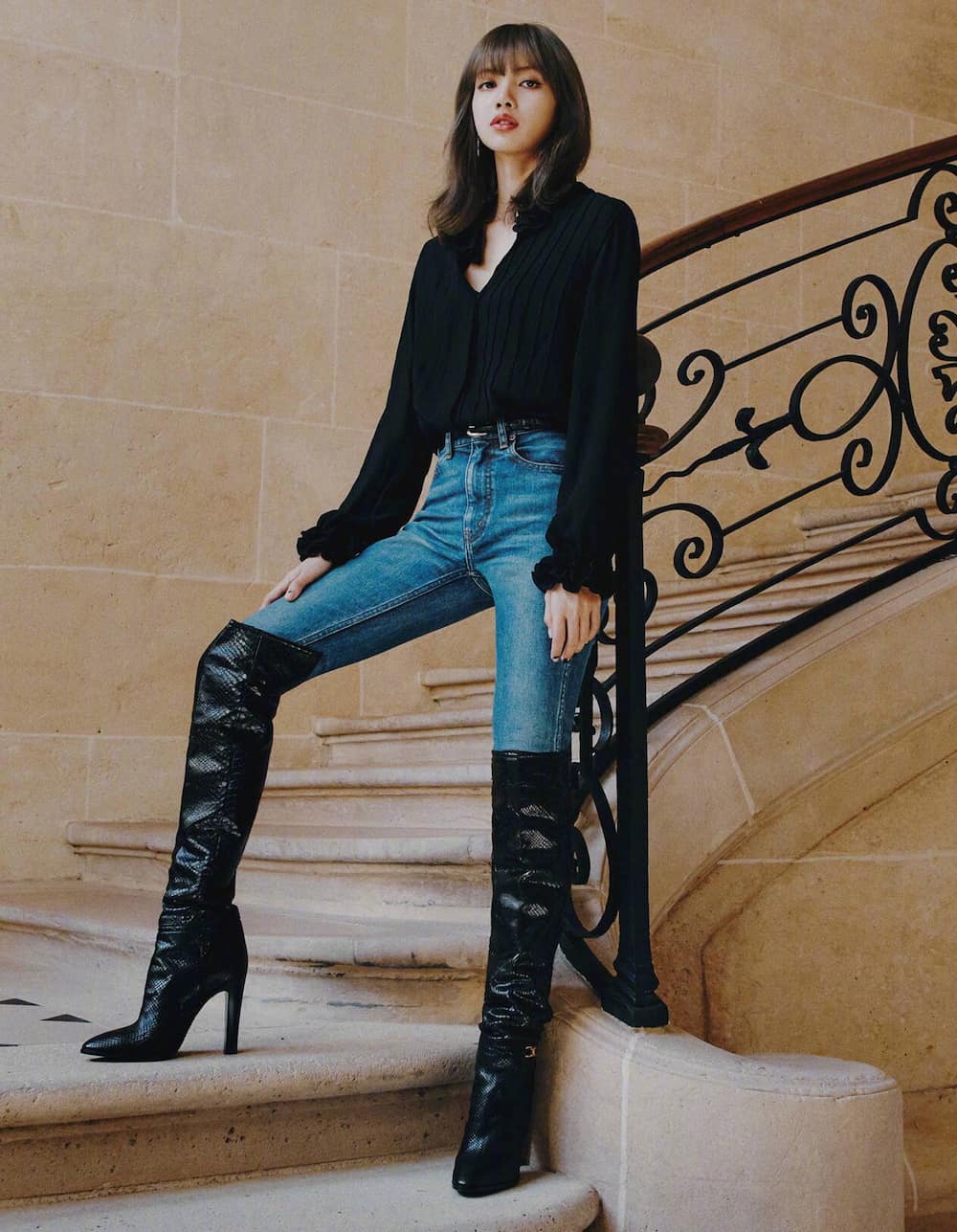 Birthday: March 27, 1997 (Aries)
Birth name: Pranpriya Manoban
Age: 22 years old (2019)
Height: 166.5 cm
Nationality: Thai
Favorite food: French fries, Gamjatang (spicy pork)
Nicknames: Laliz, Pokpak, lalice
Position: Main dancer, sub-vocalist, lead rapper
Blood type: O
Fun facts
Lisa is the only non-Korean member of Blackpink
She was born in Bangkok, Thailand.
'Lisa' is not her birth name. She was originally named Pranpriya and her friends called her pokpak.
After a fortune-telling session, she changed it to 'Lalisa'. It means 'the one who is praised'.
In the K-pop industry, she is childhood friends with GOT7's Bambam.
Before being Kpop idols, Lisa and Bambam shared the same passion in dancing in the same group called 'We Zaa Cool'.
She auditioned for YG Entertainment in Thailand and was the only one who got accepted into training.
She was only 14 years old when she flew to Korea to train. She was a trainee for almost six years.
Lisa dances and appears in BIG BANG Taeyang's 'Ringa Linga' music video.
She got to experience what it is like to be on the Korean show 'Real Men 300'.
Despite not being Korean herself, Lisa is the most followed K-pop Idol on Instagram.
Lisa's personality
Lisa does a lot of 'aegyo' (acting cute) and her members agree that she is the best at it among the four of them.
One of her favorite things to do is to sleep.
She is a fan of movies romantic and comedy movies.
Lisa has a sweet tooth and loves sweet treats and drinks.
She knows how to play the guitar. During their trainee days, Rosé started teaching her how to play the instrument. She also knows how to play the ukulele.
She enjoys photography and taking photos. Other Blackpink members say she is good at it so she often takes their photos.
Lisa is a fan of make-up. Among the members, she has and buys the most products.
The other Blackpink members say that Lisa has a different attitude when she is on stage and off stage.
On stage, they describe her as mischievous and playful.
Lisa recognizes Twice's Momo as a talented dancer.
She dreams of bringing the taste of Thailand to Korea by opening a Thai restaurant in the country. Specifically, she wants to share the taste of Thai rice noodles.
The group members have given her many nicknames as it is easy to create some for her name.
One of her most well-known nicknames are given by Jisoo like 'Jolisa' (chef lisa), and 'Nallalisa'.
Surprisingly, Lisa likes being called Oppa (older brother) despite it being a masculine term.
She has a habit of adding 'ehe' or 'eehee' at the end of her sentences
Lisa's family
Just like Jennie, she is an only child.
Her mother and biological father are separated, she is now remarried.
Lisa's step father, Marco Bruschweieler, is Swiss. He is also a certified master chef.
Chef Bruschweiler is part of the World Chef Organization.
Her father runs a culinary school in Bangkok and is one of the leading advisers to the Thailand Culinary Academy.
Lisa's pets
Unlike the other members, Lisa is a cat mom.
She owns two cats, Leo and Luca that live with her in Korea.
Leo is a Scottish fold breed while Luca is a Ragdoll cat breed.
Leo was the newest pet addition to the Blackpink family. -
Leo's arrival was celebrated in a V-live broadcast with members Jisoo and Rosé
READ ALSO: BLACKPINK posts message for Pinoy fans after the controversial meet & greet with fans
Do any of the Blackpink members speak English?
The answer to this is a big fat yes! Jennie and Rosé are the best English speakers of the group as they both schooled abroad. Both of them even have a slight Australian accent when they talk. Jennie can even do a little bit of a British accent. Lisa can also speak English and keeps up with the two when doing English V-lives or interviews.
Jisoo can also speak some English but oftentimes is shy to do so. Compared to the other Blackpink members who have experience abroad, Jisoo is the only one who spent her whole life in Korea so she may not be that confident about her English skills. According to Jennie, Jisoo understands English really well. Nevertheless, Jisoo is slowly getting there with English guidance from the other members.
English is not the only other language the members know. In fact, because of their line of work, they have become multilingual! Lisa, being Thai, knows the most languages which are Thai, English, and Japanese. The rest of the members can speak English, Korean, and Japanese.
Blackpink members religion and beliefs
With the huge influential grasp of the group, many are curious to know their faith and beliefs. Religion is not a common topic in the world of K-pop but we do know that Blackpink Rosé expressed her love of singing as part of a church choir. The Auckland born member is Christian and is a frequent church-goer. For Blackpink's Jennie and Jisoo, there is not much on the net about their beliefs.
Lisa, on the other hand, is a Buddhist. Thailand is well-known for being a heavily Buddhist country with about 90% of the population following Buddhism.
Blackpink members net worth and fame
Blackpink rose to world fame in such a short amount of time with only a few tracks to their name. Having debuted on August 08, 2016, it has only been a few years since their first album, 'Square One' with tracks 'Boombayah' and 'Whistle', was released. Now celebrating their three year anniversary, the stars have a long list of achievements and firsts for the Kpop community.
Still under YG Entertainment, the girls signed with Interscope Records and Universal Music Group in 2018 to promote their music outside of Asia. With the continuous expansion of their fanbase, the foursome is ready to take on the music world globally.
They even have a collaboration with English singer 'Dua Lipa' on the song 'Kiss and Make up'. Meanwhile, in UK charts, their latest song 'Kill This Love' landed them a spot at number 33.
We cannot forget their awesome and jaw-dropping performance in the 2019 Coachella event. Coming all the way from South Korea, the girls brought their Blackpink vibe and energized everyone in the audience.
The numbers are certainly rising for these girls from their Instagram following to their music video views every single day.
Even though their net worth is unknown, it is safe to say that judging from the girl's lifestyles and all their achievements at hand, that they make a pretty hefty amount a year. Although there isn't a number set on stone, it is obvious that the Blackpink members net worth is around millions when you crunch the numbers.
Blackpink members boyfriends and dating ban
Being both beautiful and talented, it is no surprise that the Blackpink members are well-loved by Blinks (name of their fanbase). With all the fame and exposure, do the four girls have a dating history? First of all, there are many rules to follow as an artist of YG Entertainment. YG artists are banned from drinking, smoking, clubbing, and even dating.
Dating bans are popular when it comes to idol groups as to avoid any scandals, negative rumors, and additional problems that may add stress to the artists. Jisoo has also mentioned before that in their trainee days, male and female trainees even had different meal breaks to minimize contact with each other.
With this sort of circumstances for the four gems of Blackpink, you would think that they were solely focused on their careers, right? Well, for most of them, that is the case, but for Jennie, she has been the center of dating rumors in Blackpink.
Jennie and Teddy Park
Despite the 17-year age gap, rumors spread that Jennie was dating Teddy Park from 1TYM. Teddy was behind some of the group's popular songs like 'Boombayah' and 'Playing with Fire' and this seemed to be the inspiration for the speculations. In the end, YG Entertainment denied the said relationship and even went as far as to take those spreading the groundless rumors to court.
Jennie and Kai
This was the news that surprised many. Despite the agency's strict no dating policy, Jennie was caught in a romance with EXO idol group member Kai. When photos of the two were released by Dispatch, the Kpop world was in an uproar. SM Entertainment, Kai's agency, was the first to release a confirmation on January 1st with the short statement 'Kai and Jennie have become fond of each other'. YG Entertainment on the other hand, dug a little deeper on the matter but later also gave their confirmation.
Unfortunately, the power couple's story did not have a happy ending. On January 25th, just after a month of dating, the two broke up. Although no official statement about the reason behind their separation has been announced, many theorize that the two have put their careers before romance. Well, their relationship may have ended after a brief time together but both of them will still be showered with lots of love by their fans!
With the power of Blackpink and their supportive Blinks, who knows just what these girls will achieve next. With all this information, now you know what gives Blackpink members the edge that makes them shine among the competition. It is their talent and their individual personalities that make them the distinguished and remarkable group that they are, plus their overflowing star quality. Fasten your seat belts because the roller coaster ride with Blackpink's smashing success is just beginning.
READ ALSO: Gorgeous Pinay celebrities at ang kanilang agaw-pansin na 'malayo ang tingin' OOTD look
Source: Kami.com.ph