BTS vs EXO: which boy band is richer, more famous, and has more handsome members?
BTS and EXO are two of the most famous and well-known boy bands in South Korea, and a lot of fans all over the world appreciate their talent. They both have a unique style of music and extremely gifted and handsome members. The fans like to argue about the better group out of the two, and the battle between BTS vs EXO fans never stops.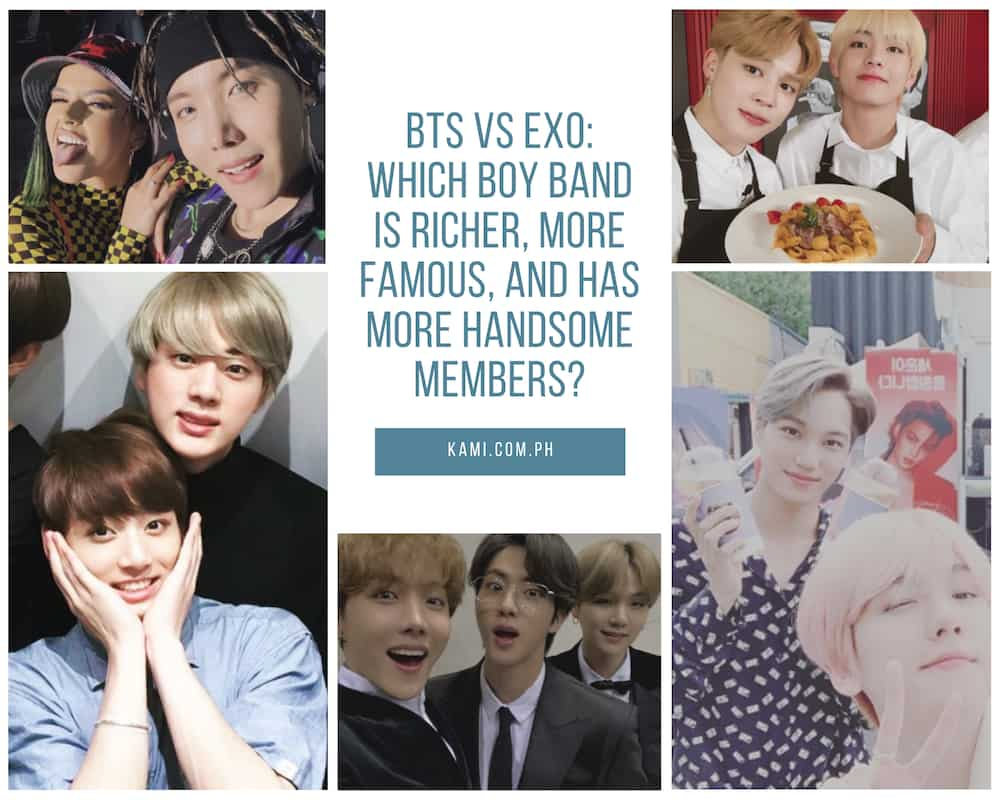 The competition between the admirers of these two groups is neverending, even though they are both extremely successful and popular. The members of these bands are some of the most influential and famous people in the Korean music industry. They are all talented in many ways.
Is EXO or BTS better?
There are various factors that could determine one group's prevalence above the other: their vocals, rap, dance style, album sales, awards, and the appearance of the members.
What are the strong sides of each band, and which one is more successful? To make this decision, we are going to compare all the factors and reach the conclusion.
BTS vs EXO popularity
There are a lot of talks about who is more popular among the two super-successful boy bands. It is known that they both have been around since the early 2010s.
Some people claim that, while BTS is more well-known and accepted as a group, the individual members of EXO are more acknowledged than the members of their rival band. Other K-pop enthusiasts claim that EXO is more loved on the local stage in South Korea, while BTS is an internationally famous assemble, whose concerts in Europe and the United States always sell out immediately.
However, all the talks about popularity are subjective, because music acts can be known in some areas, but completely unknown in others. It is usually estimated that the fanbase of both K-pop sensations is rather equal.
BTS vs EXO awards
When it comes to the awards, the Bangtan Boys are ahead of their fellow K-pop artists. They have won various awards and nominations not only on the Korean stage but also in the United States.
For instance, they have been awarded at such prestigious ceremonies as American Music Awards, MTV Video Music Awards, and Billboard Music Awards. In general, they have been nominated 535 times at various ceremonies and won 361 times.
EXO also has a lot of acknowledgement for their work. However, they have mostly been awarded on the Asian stage, and have not won at as many American and European ceremonies as their competitors. Still, they are quite valued internationally and are often nominated for the honors. They have a total of 286 nominations and 168 victories.
BTS vs EXO album sales
As for the album sales, it is another category where BTS appear to be way ahead of their rivals. In 2019, Gaon Music released the album sales chart of K-pop groups. The Bangtan sensation dominated the chart with a whopping 6,025,853 sold albums and left their competitors behind by a landslide.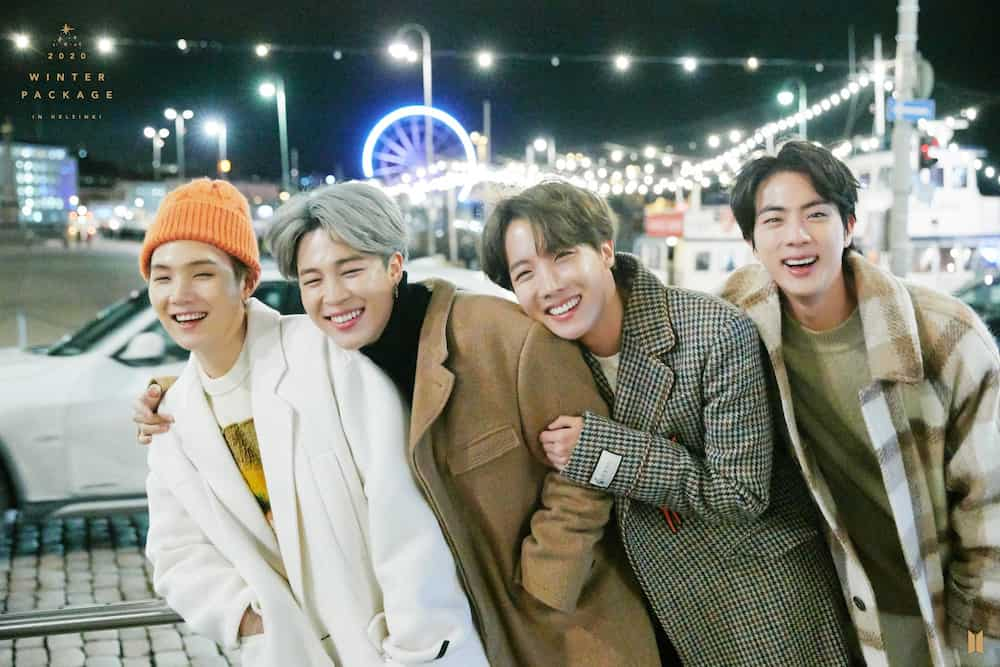 SEVENTEEN followed them with 1,463,322 sales and TWICE took the third place with 1,169,576 sold albums. EXO ended up in fourth place, as they managed to sell 829,668 albums in 2019. Finally, X1 closed the top five with 640,568 sales.
BTS vs EXO net worth
People have been wondering which music act has a bigger net worth than the other. The question "is EXO richer than BTS?" is quite a popular inquiry on the web.
It looks like EXO is the wealthiest group, as their net worth is estimated to be $1 billion. There is a massive difference between them and BTS when it comes to wealth, as the Bangtan Boys are only worth $100 million.
A lot of fans are curious about such a huge difference in the wealth of two assembles. Apparently, it is derived from the fact that EXO comes from a larger company (SM) and did not have to pay their trainee debt, as there were not a lot of trainees and the company had funds to pay for them. Besides, the company already had a fanbase before the group even debuted on stage, which contributed to their funding.
On the other hand, BTS was trained by a rather small company, and as soon as they became rather well-known, they had to start paying off their debts. When they paid it all off, they started making a profit, which happened in January 2016.
Another reason for this is the overall activity of the EXO members in the other fields except for music. For instance, D.O. is a respected actor, Kai does a lot of modeling, and Chanyeol writes songs.
Who is more handsome BTS or EXO?
Handsomeness is subjective, and a lot of Korean pop fans have different opinions on the most attractive boy band members. All of these young men definitely have something appealing in their appearance. However, some of the members are especially popular for their good looks.
In BTS, the most visually attractive guys are widely considered to be Jin, Jungkook, and V. They all have something magnetic in their looks, and every photoshoot of them is a blessing.
EXO can be proud of the looks of Kai, Chanyeol, and Sehun. All of them are very unique when it comes to their visual presence, and are incredibly charismatic.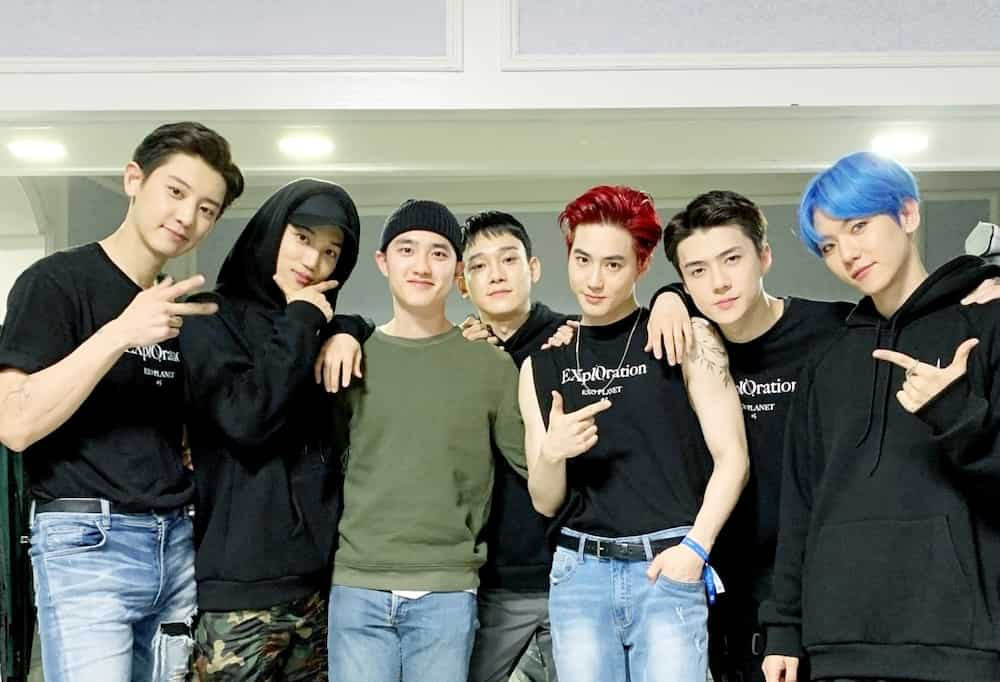 BTS vs EXO handsome ranking depends on everyone's personal preference. It is incredibly difficult to pick one favorite member that would be your bias. However, most of the fans have chosen the special someone that they have got a soft spot for. Usually, it is not just because of their cute looks, but also charisma and talent.
Who sings better?
They both can sing very well - while in BTS Jungkook and Jimin are on vocals, in EXO the best singers are Chen, D.O., and Baekhyun. The vocalists from both groups can perfectly hit high notes and handle every song that is given to them. Even secondary vocalists have outstanding and unique voices.
As for rappers, BTS is proud to have RM as their main rapper, and he is also very talented at writing songs. Additionally, Suga is great when it comes to reciting lyrics. Chanyeol and Sehun perform the rapping functions in EXO, and they are incredibly gifted at it. When choosing the best rapper, it all comes down to preferences.
Overall, BTS vs EXO achievements are quite different, and fans love both groups for their own personal reasons. They are rightfully two of the most popular boy bands in South Korea and have proven to be versatile enough to become internationally famous.
Source: KAMI.com.gh