Chaeyoung Twice bio: height, age, tattoo, net worth
Son Chae-young, popularly known as Chaeyoung, is a renowned singer, rapper, and songwriter. She hails from South Korea. The beauty belongs to the Twice K-pop girl group, which is under the management of JYP Entertainment. Her journey to success is not only thrilling but also inspiring. So, why is she different as compared to other South Korean female celebrities?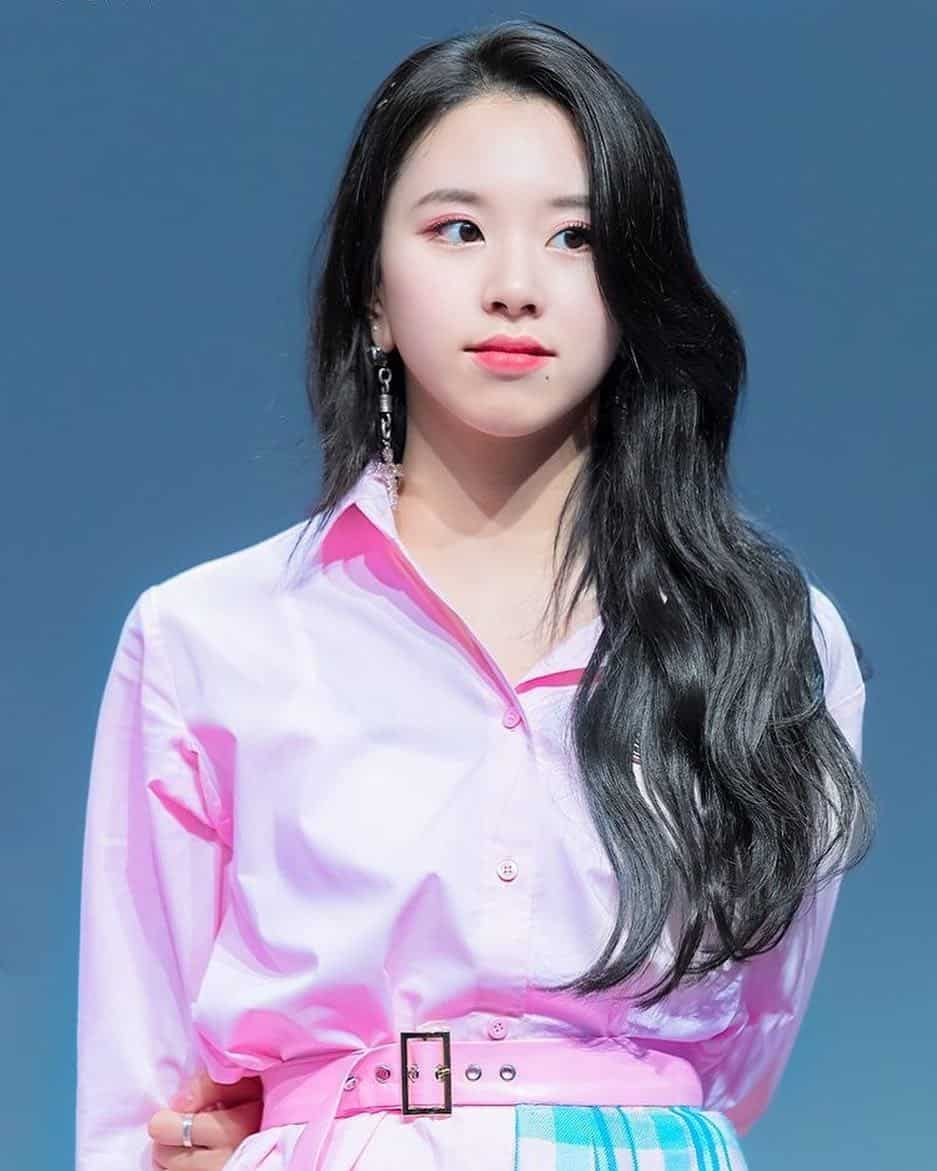 Chaeyoung, like some celebrities, had her eyes elsewhere before settling for music. Modeling was her first love, but she never followed it. Even so, the decision to pursue music seems to have worked in her favor. Her voice and rapping skills are among the few abilities that enthrall the hearts of her numerous followers. Well, apart from her thriving career, what else do you know about the rap queen?
Chaeyoung profile summary
Birth name: Son Chae-young
English name: Katarina
Date of birth: 23rd April 1999
Age: 21 years old
Zodiac sign: Taurus
Place of birth: Seoul, South Korea
Occupation: Pop singer, rapper, songwriter
Height: 163 cm (5'4″)
Weight: 48 kg
Blood type: B
Nationality: South Korean
Biography and early life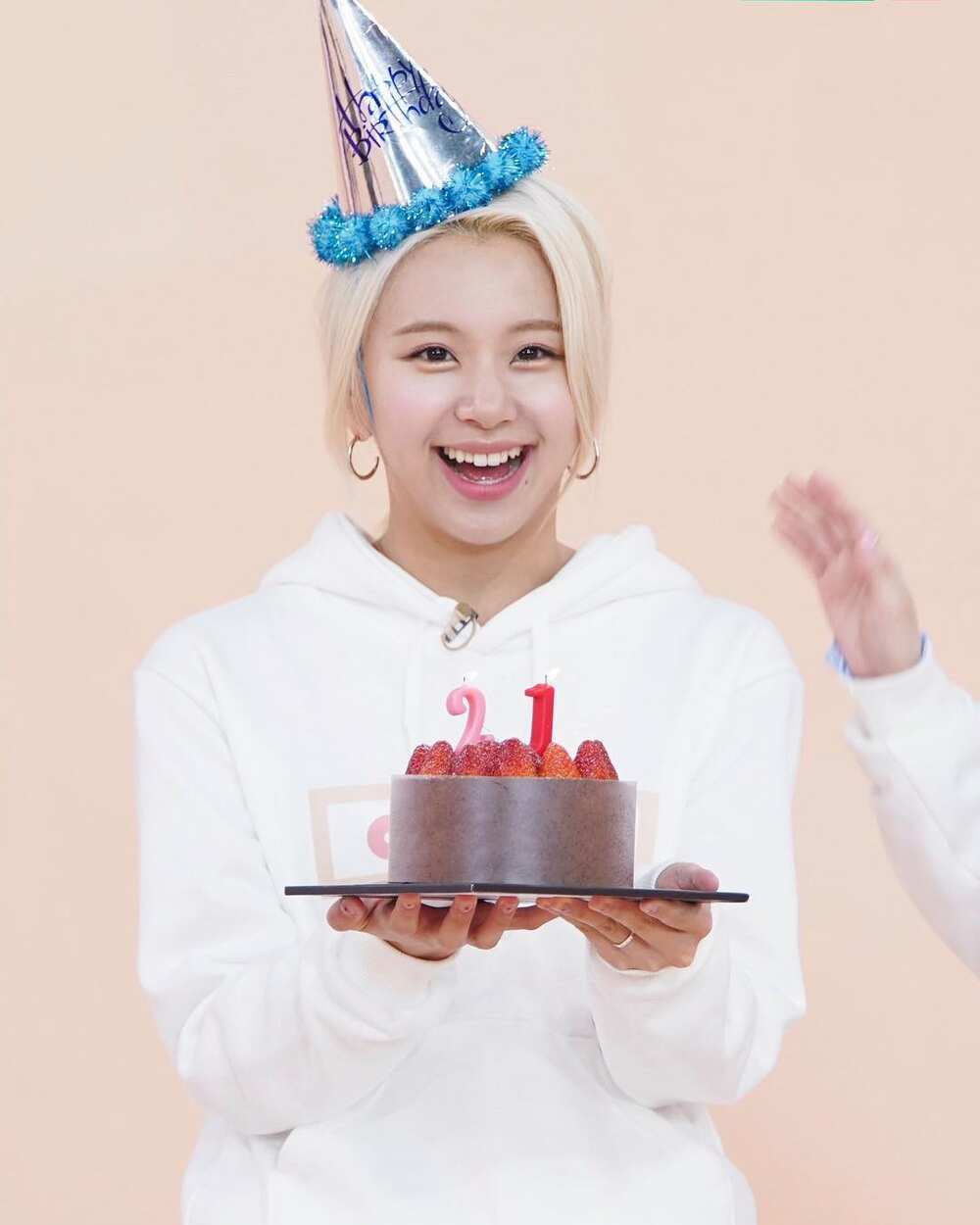 Chaeyoung was born on 23rd April 1999 in Seoul, South Korea. Her English name is Katarina. She is the firstborn in the family of two kids. Well, the rising pop star has a little brother whose name is Jeong Hun. Like her, Jeong Hun aspires to a supermodel once he becomes of age.
Growing up, she wanted to become a fashion model. At some point, she was featured in kids' fashion magazine. Later, she developed an interest in music. She enrolled in singing and dancing sessions, which seems to have significantly impacted her decision.
So, when did Chaeyoung come in the limelight? Well, she caught the attention of people when she auditioned for a position in JYP Entertainment. Back then, she was 14 years old. In 2015, she also contested in Sixteen, a reality television show. She won the completion and was selected to join Twice as a rapper and singer.
Education background
She attended Hanlim Multi Art School, which is an art high school. Here, she met with the likes of Tzuyu, whom they graduated together in 2019.
READ ALSO: Christopher de Leon bio: net worth, children, wife, age
How old is Chaeyoung?
As of 2020, Chaeyoung age is 21 years. Usually, she celebrates her birthdays on the 23rd of April every year. This goes to mean that she added a year a month ago. Colleagues and fans took to different social media platforms to celebrate her big day. For instance, some painted vehicles and buildings with her pictures accompanied with varying messages of birthday.
Body measurements
The pop singer has an ideal body suitable for a modeling career. Her body statistics point out that she is among the tallest and lightest member of the group. In particular, Chaeyoung height is 5'4″ equivalent to 163 cm. On the other hand, she weighs 48 kg (106 lbs). In case you did not know, they share the same weight with Tzuyu.
Does Chaeyoung have tattoos?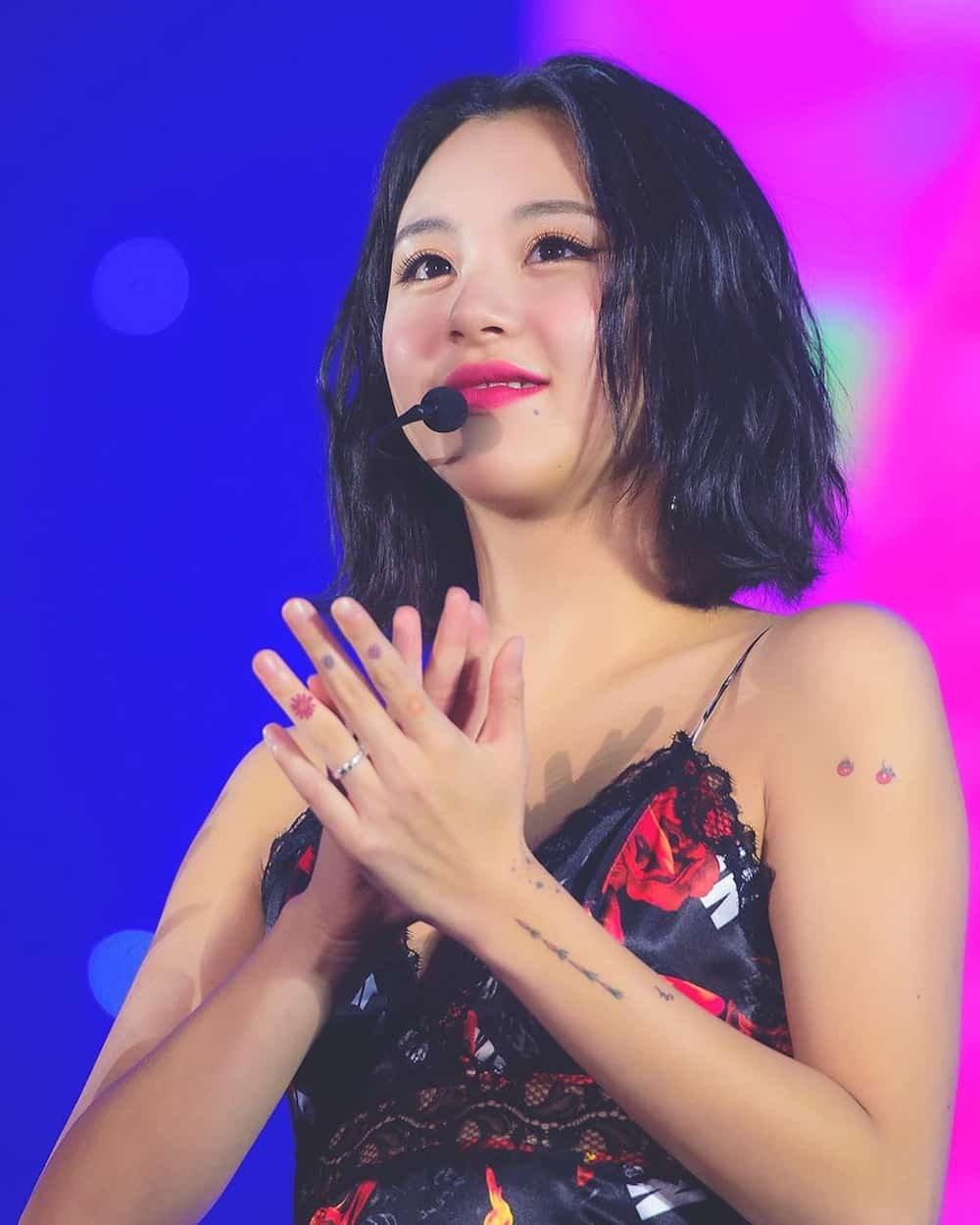 Chaeyoung tattoos have always been a topic of discussion among her followers. She is the only member with symbols on her body in the K-pop girl band. At the moment, she wears six different tattoos on her left arm. The symbols are particularly comprised of an arrow shot through heart, flowers, strawberry kisses, carrots, fish, and tomatoes.
In most instances, each tattoo implies something. People do not wear them for fun. Unfortunately, we do not have specific meanings of the symbols at the moment. Overall, the Twice pop singer and rapper look stunning on them.
Journey to stardom
She officially made her debut in 2015 through Twice with the first EP titled The Story Begins. She has also proven to be a significant part of the group because of her rapping, singing, and songwriting skills. For instance, she takes credit for several songs that have been released between 2016 and 2020. Most of them are co-written with her colleagues. They include:
Precious Love
Eyes, Eyes, Eyes
Missing U
Don't Give Up
Sweet Talker
Young & Wild
Strawberry
21:29
How U Doin
Sweet Summer Day
Unlike some of her teammates, she has only appeared in one television show, Sixteen. So far, she has hosted one event by the name Suwon K-pop Super Concert. The event was aired on SBS MTV back in 2016.
Net worth
Currently, her 2020 net worth is under review. Even so, Chaeyoung net worth has been increasing from the day he debuted with Twice. Despite her age, she has managed to accumulate a considerable amount of wealth courtesy of Twice. For instance, in 2019, her net worth was estimated to range between $1 and $5 million.
Instagram account
She does not have a verified account on the platform. However, there is a fan account of over 478k followers.
Chaeyoung photos
Here is a collection of her best shots on Instagram you may love to see:
1. Fans' favourite
Arguably, fans love her because of her performing skills. She usually holds the crowds with her moves and rapping skills like no other. Perhaps, this helps to explain the reason behind her massive following despite her age.
2. Love of sunflowers
This rising star has the best shots on the internet. Interestingly, most of them are unique and lovely. Also, it seems she loves nature. Look how beautiful she looks.
3. Caring and loving
People close to Chaeyoung find her very friendly and caring. Unlike most young celebs, she has managed to keep a clean record. Judging by most of her pictures and the stories of the people that know her, she is the kind of person everyone would love to be around with.
4. Beautiful and intelligent
She is a simple definition of beauty and brains. The picture was taken during her high school graduation. She is yet to announce the name of a higher institution she is looking to join for further studies. Also, she is both pretty and charming.
5. Safety first
With most people staying indoors due to coronavirus, she has her mask on. She is using her influence to create awareness on the importance of staying safe. Well, even with the mask on, one cannot ignore her smile.
Chaeyoung is not only gorgeous but also amazingly talented. She continues to gain popularity in the scene daily. So far, her contribution to the band can be felt. Also, she has managed to achieve a lot worth envying despite her age.
READ ALSO: JK Labajo bio: girlfriend, age, instagram, tattoo, latest news
Source: KAMI.com.gh