Bae Suzy bio: husband, age, height, net worth, photos, movies
If you are a certified K-drama fan, you might have heard or seen the beautiful South Korean actress and singer, Bae Suzy. She is one of the most sought-after and most loved actresses in the country, and it is definitely because of her undeniable beauty and talent. So, what makes her famous not only in Korea but all around the globe?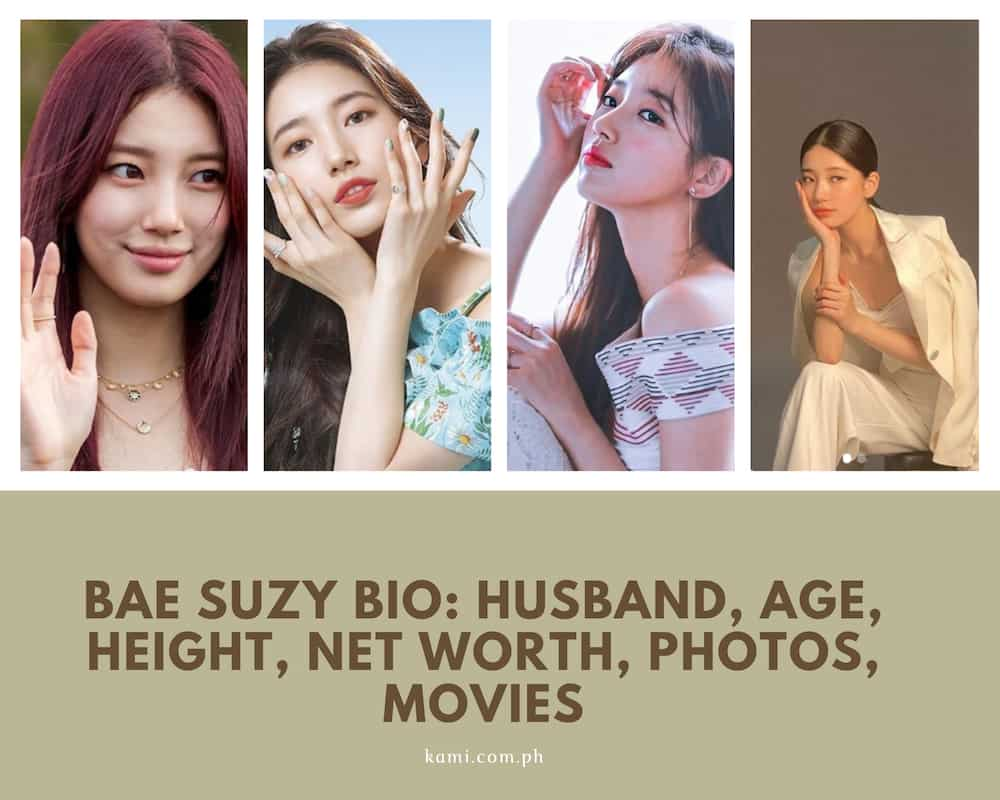 There are many interesting facts about Bae Suzy, aside from starring in the famous K-drama series My Love from the Star. Are you excited to know more?
Bae Suzy profile summary
Name: Bae Su Ji (배수지)
Stage name: Suzy (수지)
Age: 25 years old
Date of birth: October 10, 1994
Nationality: South Korean
Place of birth: Gwangju, South Korea
Height: 5 feet 6 inches
Weight: 103 lbs.
Instagram: @skuukzky
Twitter: @JYPESuzy
Biography
The actress was born on October 10, 1994, at Buk District, Gwangju, South Korea. She is the middle child of Bae Wan-young and Jeong Hyun-sook, and she has two other siblings, Bae Su-bin (older sister) and Bae Sang-moon (younger brother).
She was still young when she started to love music. She listened to almost every music genre, from Korean to Western music, and her love for the craft made her dream of making a name in the music industry.
Growing up, her love for music and art grew, even more, that is why she attended the School of Performing Arts Seoul and graduated in 2013. While on the academy, Suzy truly gave her the best to learn more and excel in her field.
Before she even graduates and enters the entertainment industry, she was then given some opportunity in the modeling industry. Aside from her talent, no one can deny the fact that she has a pretty face, which helped her get some modeling assignments at a tender age of 15.
Career
In 2009, Suzy auditioned for Mnet Superstar K and made it through the preliminary round. Unfortunately, she was ultimately eliminated from the show, but it has paved her way to stardom. She caught the attention of a scout from JYP Entertainment and soon became a trainee.
In 2010, Suzy became a member of newly-formed group Miss A, under JYP Entertainment. In the same year, another talent of hers was unleashed. She became the fixed host for MBC Show! Music Core alongside other famous musicians in the country. She later hosted other events such as the Seoul Music Awards, Golden Disc Awards, and Mnet 20's Choice Awards. After the mentioned hosting stints, she continued to host many events, from music shows to significant award ceremonies.
Apart from singing, Suzy also entered the acting industry. She made her acting debut in the music teen drama Dream High, which aired on KBS. She also made her film debut with Architecture 101 in 2012, playing the younger version of the female protagonist.
Since then, she has been playing roles in many series and movies. Below are the lists of the actress' TV shows and movies.
Bae Suzy TV shows
Vagabond (2019) as Go Hae Ri
While You Were Sleeping (2017) as Nam Hong Joo
Uncontrollably Fond (2016) as No Eul
My Love From the Star (2013-2014) as Ko Hye Mi
Gu Family Book (2013) as Dam Yeo Wool
Big (2012) as Jang Ma Ri
Dream High 2 (2012) as herself (cameo in ep. 15)
Dream High (2010) as Ko Hye-mi
Bae Suzy movies
Ashfall / Baekdusan (2019) as Choi Ji-Young
Real (2017) as a tattooist (cameo)
The Sound of a Flower (2015) as Jin Chae Seon
Architecture 101 (2012) as young Seo Yeon
Aside from her superb role portrayals in movies and TV, Suzy is also known for her beautiful voice and songs. So we also listed below some of her songs that you might have already heard, or you might want to listen.
Pretend (행복한 척)
Yes No Maybe
I'm in Love with Someone Else (다른 사람을 사랑하고 있어)
Holiday
SOber
Midnight (잘자 내 몫까지)
Faces of Love
Winter Child
So Many Tears
I Still Love You
Net worth
Due to her success as an actress and singer, there is no doubt that Bae Suzy net worth is enormous. According to Trending Celebrity Now, the actress owns an estimated net worth of 1 million dollars to 5 million dollars.
Dating
People often search online who Suzy Bae husband is, thinking that she might be married by now. Well, the 25-year-old singer/actress is said to be single as of this writing. Although single by now, she also has her fair share with love and heartbreaks.
Bae dated the Boys Over Flowers star, Lee min Ho for years. Suzy and Min Ho did not work together, but they got to know each other after the actor tried to get her number through an acquaintance.
It was said that the former Miss A member rejected the actor many times, but he continued to pursue her and eventually won her in 2015. Their relationship was exposed after paparazzi caught them.
Unfortunately, in the last quarter of 2017, the couple broke up. It was said that they decided to part ways because they barely see each other anymore, but some think it wasn't the reason. Rumors said that the two broke up because the actress rejected Min Ho's wedding proposal, but it remained as mere speculation.
In 2018, the actress started another famous South Korean actor, Lee Dong Wook. Sadly, just four months after they officially announced that they were dating, the couple has decided to end the relationships.
News of the end of the relationship between the Grim Reaper actor from Goblin and Bae Suzy has also been confirmed by the agencies that manage the two artists. The two decided to split up because of their increasingly tight schedule.
Photos
What's a better way to know someone than the photos they post online? The actress, just like anybody else, loves posting her pictures and activities on her Instagram account with a whopping 12 million followings.
So, we collected some Bae Suzy photos that will make you fall in love with her.
1. Wacky face
The actress always posts her glam shots on her Instagram, but this wacky photo proves that she is indeed pretty. This post also proves that she is not afraid of what people might say to her as long as she is happy.
2. Simplicity is beauty
This photo is another proof that the actress is truly stunning. Even without wearing heavy make-ups or no make-up, her beauty radiates from the inside to the outside. Indeed, simplicity is what makes a woman pretty.
3. Baby bump
Everyone was surprised when the actress posted a photo on Instagram showing, which is seemingly her baby bump. The actress seemed to be genuinely expecting a child in real life, and the image was not part of the marketing campaign to promote her film.
Additional facts
If the pieces of information mentioned previously are not enough, well, we gathered some more facts about the actress.
She is the first female celebrity who received popularity awards in K-pop, K-drama, and film.
She can speak Korean and Chinese.
She doesn't like to eat vegetables.
She loves to read.
She is a sleep-talker.
She loves to go to karaoke.
Her favorite color is pink.
Bae Suzy is indeed a phenomenal star, and her story of reaching her dream is an inspiration to many. Her life speaks so much about pursuing your aspirations and unleashing your most tremendous potential while working towards the top.
READ ALSO: Kristel Fulgar: age, height, Instagram, boyfriend
Source: KAMI.com.gh