Jungkook BTS bio: Tattoos, height, pics, abs, Twitter
The Kpop Bangtan Boys, famously known as BTS, are responsible for producing some of the finest South Korean pop singers. As a boy band, they have made a significant impact on the South Korean music industry. BTS is more than just the total of the individual group members. As a team, they possess seamless chemistry, but also each and every member is known for his unique abilities, and Jungkook is no exception to this.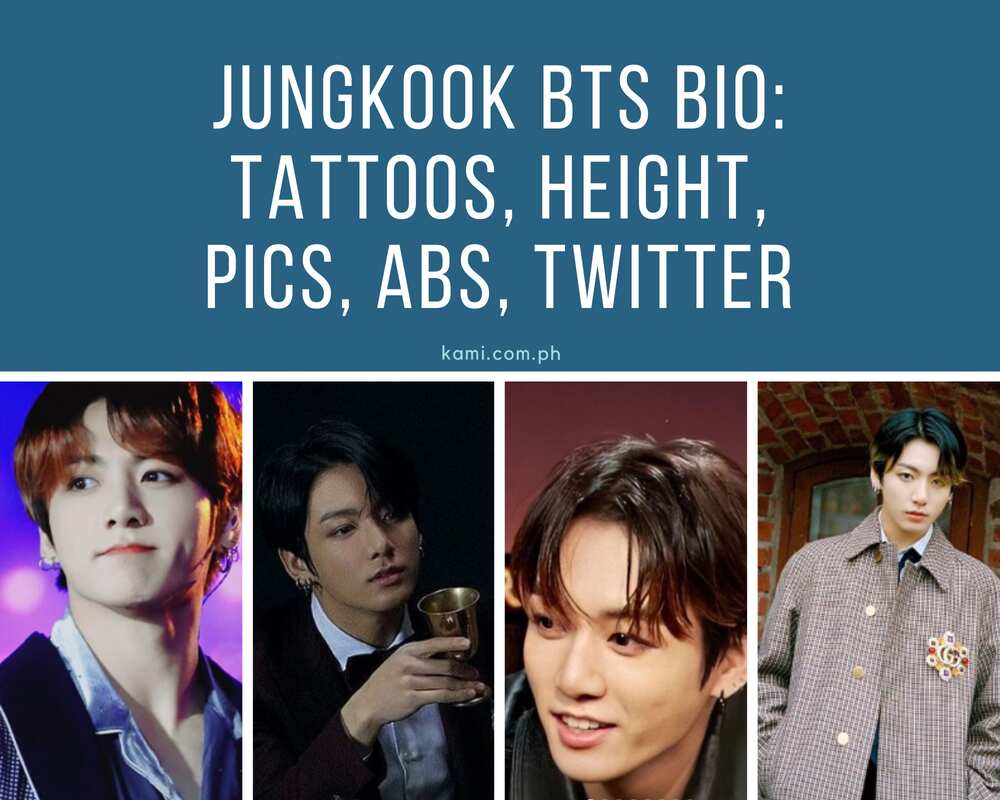 The Busan-born star is the youngest and yet the main singer in the hip-hop boy band. Although the band members complement each other musically, Jungkook is his own man in very many ways. Apart from singing, he enjoys playing games, photography, drawing, football, and discovering new music.
Jungkook BTS profile summary
Name: Jeon Jeong-guk
Nickname: Jungkook
Jungkook birthday: 1st September, 1997
Place of birth: Busan, South Korea
Jungkook age: 22 years old
Birth sign: Virgo
Height: 178 cm (5'10")
Weight: 66 kg
Profession: Singer, rapper, dancer
Jungkook BTS biography
Jeon Jeong-Guk was born on 1st September 1997, in Busan South Korea. He went to the Yang Baek Middle School before proceeding to the Seoul School of Performing Arts from where he graduated in February 2017.
Jungkook has one brother named Jeong Jeong Hyeon, who is older than him. Other than that, there is no other available information regarding his family.
Career
Jeon auditioned for a televised talent show called Superstar K when he was 13 years old, but he was rejected. However, eight talent agencies that had spotted him made offers to sign him. He accepted an offer from Big Hit Entertainment. He learned to dance from Movement Lifestyle, and in 2013 he joined BTS.
Their debut song was titled No More Dream and was part of the album 2 Cool 4 Skool. This was the first of the many successful singles and albums that followed. Jungkook has also done several solo projects and collaborations. Apart from music, he is also an actor who has appeared in several TV shows, including three episodes of BTS China Job.
Body measurements
Jungkook height is about 5 feet and 10 inches (178 cm), which is considerably tall. His other body measurements include his weight, which is 66 kg. He has a chest, waist, and biceps ratio of 38, 30, and 13 inches, respectively. He has black hair and brown eyes.
Tattoos
The singer is in love with tattoos and has more than 10 of them. They all have some meaning attached to them. Some of the tattoos are writings, while others are symbols. For instance, Jungkook tattoo ARMY + J is written on his hand. ARMY represents the BTS fans and also initials for the names of the BTS members.
Other tattoos include a purple heart image and 0613, crown and smiley face images, shield image, "rather be dead than cool," "make hay while the sun shines," skeleton hand, and black stripes image, tiger lily image, 'TRUTH' and many others.
READ ALSO: Kim Jong Un bio: Wife, age, net worth, sister, death rumors
Jungkook abs
Jeon has been described as BTS' king of abs, and the reason is apparent. He likes to show off his body, and nobody can blame him for that because it is what his fans love most.
His hobbies include Taekwondo, boxing, and weight training, thus explaining why he has such an incredibly athletic body. Ever since he began showing abs in his performances, his fans have been demanding more and more with every concert.
Jungkook pics
This is what fans love the most when it comes to the youngest member of BTS. Through his pics, they can get to see his abs and interact with him more on social media. Jungkook does not disappoint because he also shares many photos with his fans so that they can know all about his whereabouts and activities in his life. Here are some of the best Jungkook Instagram photos:
1. His looks are spot-on
Jeon Jeong-Guk is handsome and talented. This has earned him a lot of love and affection from his fans, especially the female ones. That is why whenever he posts a photo, he gets thousands of likes within minutes and equally as many comments from fans appreciating and encouraging him to continue doing what he does.
READ ALSO: Maris Racal bio: age, height, instagram, net worth, dating
2. A trendsetter
Jeon is a trendsetter in many aspects. Many fans look up to him not only as a celebrity but also as a person. Some would like to make it in music like him, while others are concerned with minor things like how he has done his hair. He changes the appearance of his hair from time to time to an extent his fans can't keep up with him.
3. A secret weapon
His looks have talked about a lot, but those who are not keen on them cannot be able to see his secret weapon. The singer has a dimple that many can't help but fall in love with. Thousands probably stare at these pictures without satisfaction.
4. Youngest BTS member
Jeon has accomplished quite a lot that many of his fans forget that he is very young. The singer is only 22 years old but has reached great heights. Many of his peers might not be able to accomplish in their lifetimes. The young celebrity continues to rise and will probably be a global icon by the time he hits 30.
5. The chef
Jeon is a man of many talents. He loves singing, but it is not the only thing he is good at. Most of his leisure time is spent doing sporting activities to keep his body fit, but there is something else he also enjoys to do. He is a pretty good chef and enjoys cooking traditional dishes. This has also contributed to his popularity among fans who are amazed by the many things the singer can do.
Jungkook is an asset in South Korean pop. Despite being the youngest BTS member, he is undoubtedly one of the most talented as a singer and dancer.
READ ALSO: Sue Ramirez bio: Height, age, Instagram, tattoo, photos
Source: KAMI.com.gh