RM BTS bio: net worth, real name, age, Instagram, photos
Rap Monster (RM) is a member and leader of BTS, a popular Korean boy band. The star has been in the entertainment scene for close to a decade now. He has proven to be a vital asset since he joined the band. Unlike most established musicians, RM is an exciting artist to work with.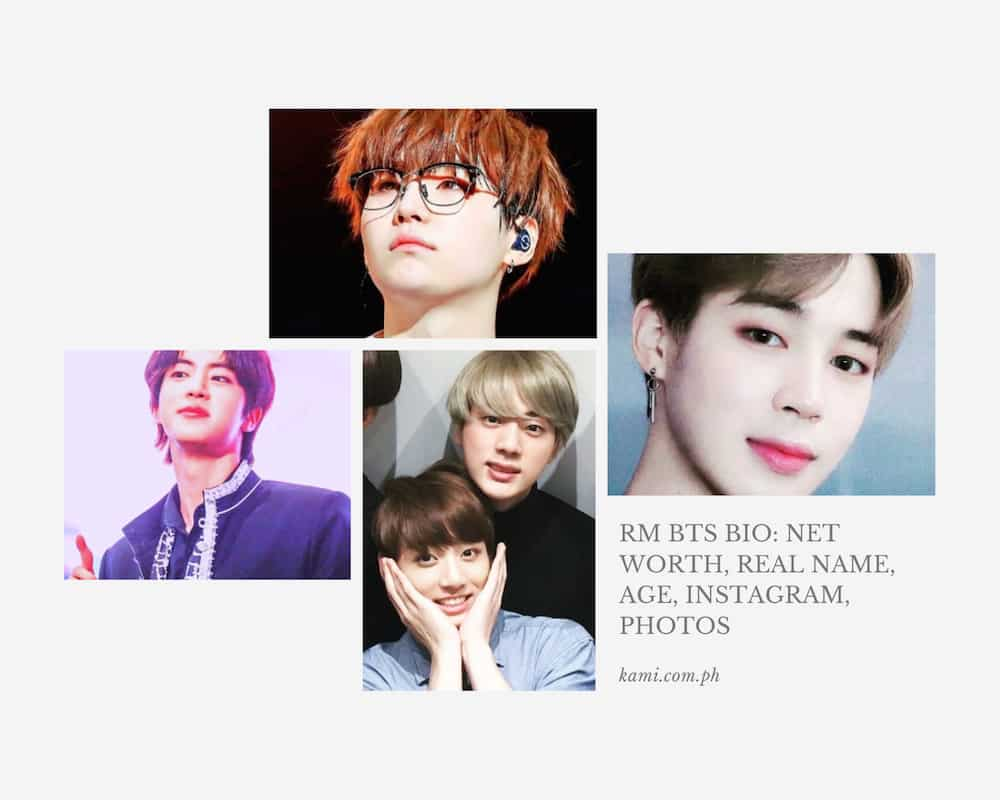 Over time, the South Korean entertainment scene has seen tremendous growth. The growth can be attributed to the likes of RM and others. His rapping, songwriting, and recording skills are among the many things that make him an admirable person. However, most people do not know where it all started, including the origin of his stage name.
RM profile summary
Birth name: Kim Namjoon
Date of birth: 12th September 1994
Age: 25 years old
Zodiac sign: Virgo
Stage name: RM
Place of birth: Dongjak-gu, Seoul, South Korea
Occupation: Rapper, songwriter, recording producer
Band: Bangtan Boys (BTS)
Blood type: A
Height: 181 cm (5'11")
Weight: 74 kg (162 lbs)
Nationality: South Korean
Biography
RM was born on 12th September 1994 in Dongjak-gu, Seoul, South Korea. A few years after birth, his family moved to Ilsan-gu, where he spent most of his childhood. Growing up, he wanted to study literature because he liked poetry a lot. Most of the time, he composed poems and published them on an online poetry website.
He was an intelligent student at school. First, he attended Apgujeong High School. Later, he proceeded to the Global Cyber University, where he graduated with a bachelor in Electronic engineering.
His passion for music set in at the age of 11. This was after he listened to a song by Epik High, Fly. Years later, his interest in hip hop music grew after meeting Eminem. Now he began creating lyrics and sharing them with his peers.
In 2008, he participated in a rap concert, gaining more popularity in the underground Korean hip hop scene than before. To further his interest in music, he joined a group known as Runch Randa. While in the group, he recorded several songs. He also reached out for collaborations with underground rappers such as Zico.
RM real name
Most celebrities are popularly known by their stage names and not their real names. Well, his real name is Kim Namjoon.
Origin of his stage name
He chose the name while he was a trainee and a newcomer in the rap industry. To him, the name was "cool" because he believed that he was rapping non-stop like a monster.
The initials formerly stood for Rap Monster. With time, he decided to change the meaning of his stage name. He believed that it did not represent who he was as a person as far as his career was concerned. At the moment, the initials stand for "Real Me." However, still, the name can symbolize many things.
RM age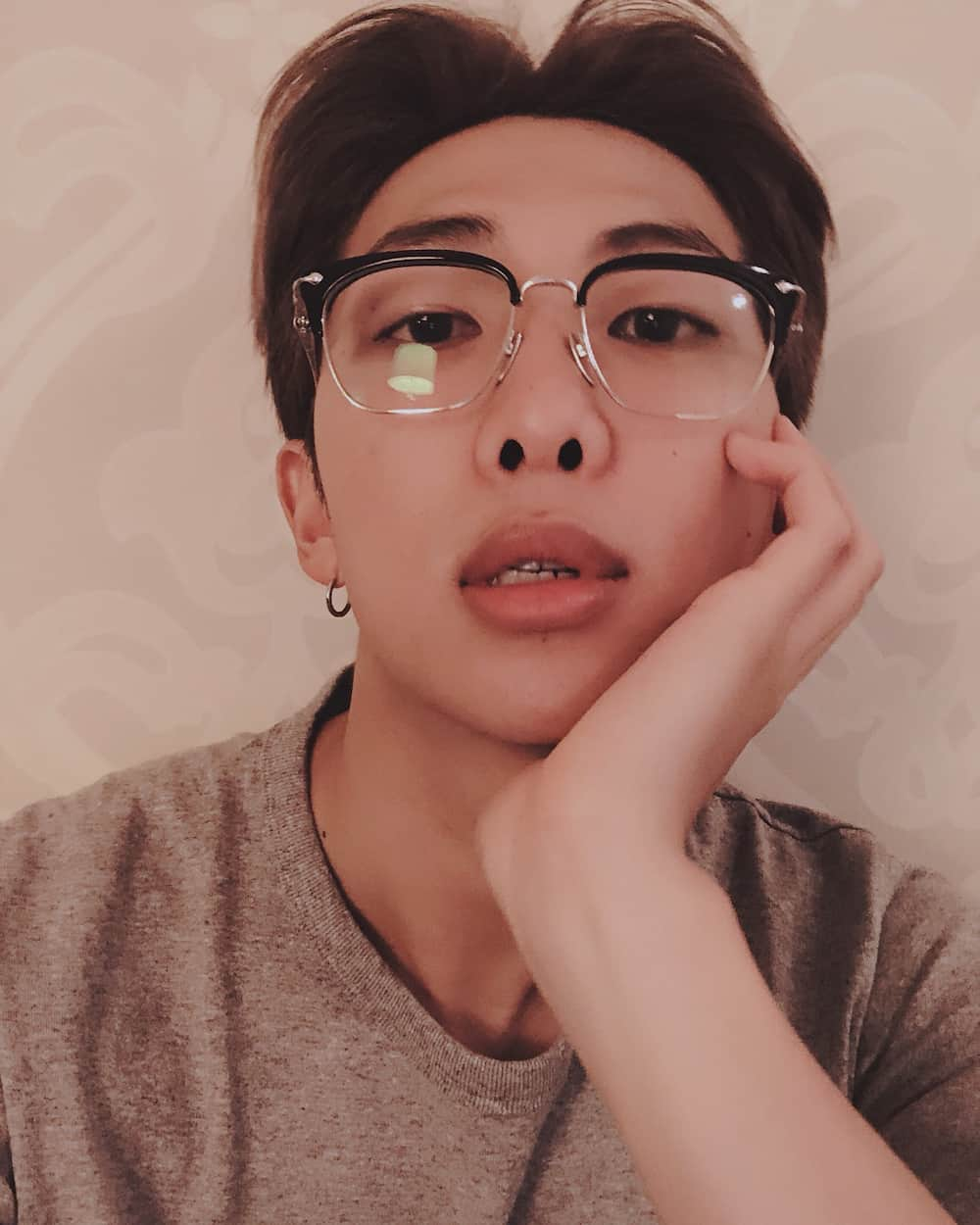 At the moment, he is 25 years old. He will turn a year older a few months from now.
Family background
The 25-year old comes from a humble family. His dad is an employee of SK Telekom while his mother is a realtor. Initially, his mother advised him to focus on his studies. Of course, any parent would do the same. However, they have always been supportive of his career.
Who are RM siblings? Well, he has one little sister whose name is Kim Geong Min. Apart from her name, there is limited information on the public about her.
Body measurements
RM height and weight are among the most-searched online. Currently, he is the tallest member of the group. He stands at 5 feet 11 inches, which can be translated to 181 centimetres. He is also among the heaviest in the band, with a weight of 67 kg.
Net worth
RM net worth as of 2020 is estimated to be $8 million. He is in the list of the youngest wealthiest entertainers in Asia.
His wealth accumulates from his music deals, including collaborations with legendary musicians. So far, he has worked with several renowned artists such as Lil Nas X, Wale, Fall Out Boy, Warren G, MFBTY, among many others.
READ ALSO: Janella Salvador bio: Net worth, age, boyfriend, parents
RM Instagram
Unlike most celebrities, Kim does not have a verified Instagram account. However, there are several pseudo accounts bearing his name on the platform. One of them is a fan account with over 4.8 million followers.
Photos
The rapper has several gorgeous pictures on various social media platforms. Here are some of the best RM photos you may like to see:
1. Lonely hiking times
At times, the star takes his time touring the world to refresh his mind. In the picture, he seems to enjoy the breeze while thinking, perhaps, about his future. Also, judging by some of his photographs, he likes nature. He also loves wearing shorts, at times, when he is touring.
2. Always smiling and happy
His heartening smile is among the things that drive ladies crazy on Instagram. You will rarely find him gloomy. Most ladies comment with love emojis on his photos. Some also are dying to have him as their boyfriend.
3. A true lover of arts
Apart from him being a musical artist, he seems to have a special love for portraits. There are also many similar photos where he appears to be appreciating art. This one seems to have caught his eye.
The same can be told about this one too. Poetry is also part of the art. Perhaps, this may help to explain why he loves portraits this much.
4. RM is friendly
He likes to hang out with people. Besides, some of his group members find him a friendly and fun person to be around with. The same cannot be told with most established celebrities because they tend to be extremely discriminatory.
5. For the love of pets
RM seems to love pets, especially dogs and cats. There are a couple of pictures of him playing with them in his house. When he is not with his friends or family, the pets keep him busy. What a creative way to pass the time?
6. Supermodel is my other name
He can make a good model. One can easily mistake him to be a model because of the nature of his photos. How can you resist his swag and cute looks, of course?
Indeed, RM is the kind of person every young man would love to be. He has been on the frontline promoting the entertainment scene since 2010. His songs and individual contribution to his band, BTS, is another thing that makes him a darling for many people. Also, he is among the wealthiest entertainers in Korea right now. Overall, judging by his achievements, he is a force to reckon with.
READ ALSO: Bongbong Marcos bio: wife, net worth, sons, education, latest news
Source: KAMI.com.gh