G Dragon bio: net worth, photos, age, height, girlfriend
South Korean idols are indeed talented as they were able to dance, sing, and even act. Speaking of talent, you might have heard of G Dragon from Big Bang, who is dubbed as the King of K-pop. He is a South Korean rapper, singer, songwriter, record producer, and entrepreneur. Amazing, isn't he?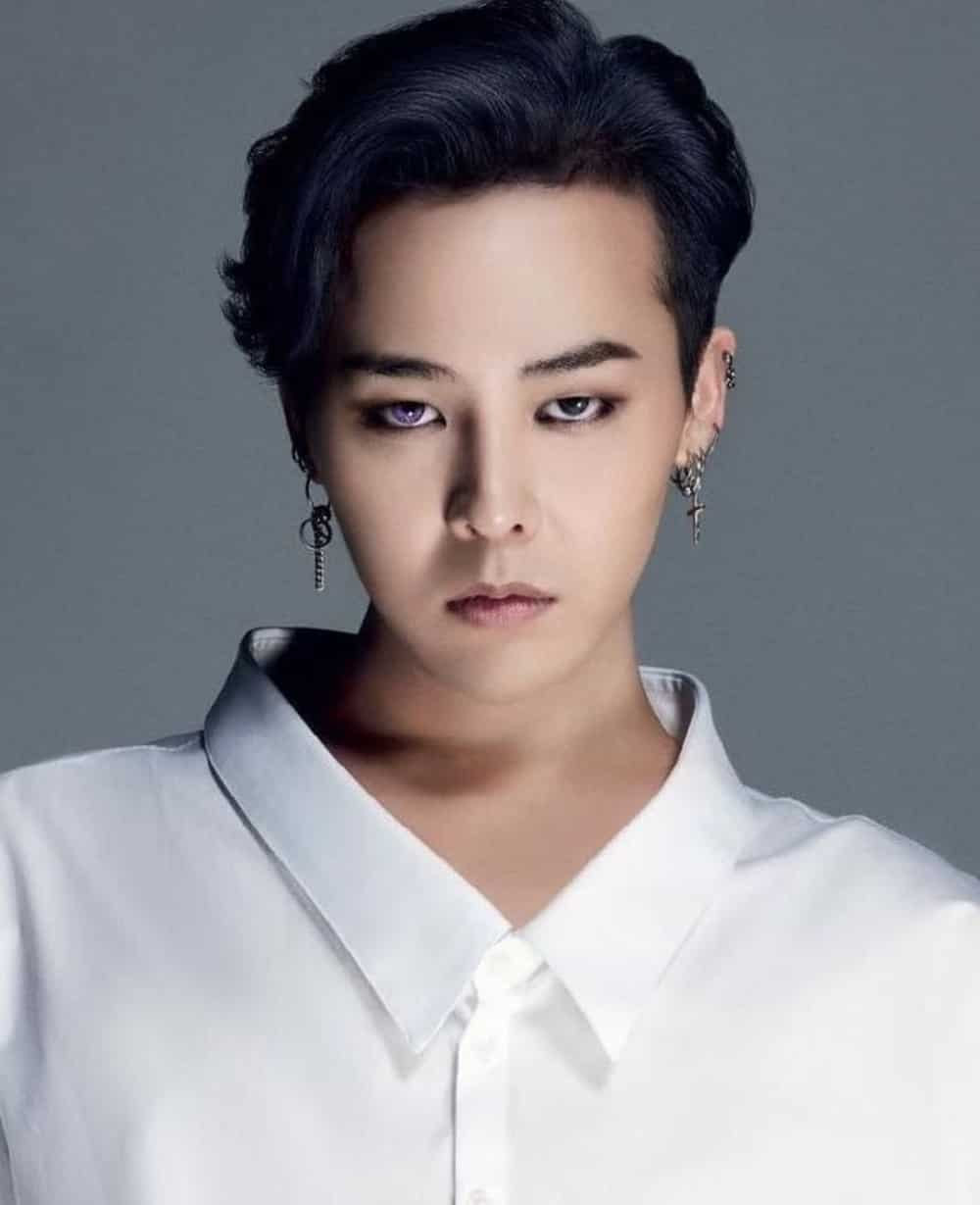 G Dragon truly set the bar high for his fellow artists. He started being in the limelight when he was young, and he is still shining up to this moment. Are you curious about how he was able to reach the top?
G Dragon profile summary
Name: Kwon Ji Yong (권지용)
Stage name: G-Dragon
Age: 31 years old
Date of birth: August 18, 1988
Nationality: South Korean
Place of birth: Seoul, South Korea
Height: 5 feet 10 inches
Weight: 128 lbs.
Blood type: A
Instagram: @xxxibgdrgn
Twitter: @ibgdrgn
Biography
Kwon Ji Yong was born on August 18, 1988, in Seoul, South Korea. There is nothing much known about his childhood beside the fact that he started his career at an early age of six as part of the group Little Roo'Ra.
The group was able to release a Christmas album, but later on, it was terminated by the record company which handles the group. The termination of the group shocked G-Dragon, but another opportunity came his way. A scout from SM Entertainment saw him while Ji Yong was on a ski trip with his family. He then became a trainee under the management from 8 years old to 13 years old, but eventually, he left.
When he was in third grade, Ji Yong was into Wu-Tang Clan, an American rap group. It was the start of his love for the craft, and he started taking lessons. In 2001, he became the youngest Korean rapper at the age of 13 when he participated in the release of the Korean hip-hop album, Flex.
As a young boy, Kwon's talent is quite impressive. Aside from rapping, he is also great in terms of writing his rap lyrics. Although his English speaking skill isn't that strong, he still managed to develop great rap pieces.
Career
G-Dragon became more interested in rapping; that is why he also got enthusiastic about Sean, who is a part of the hip-hop duo Jinusean from YG Entertainment. Later on, he was then able to sign a contract under the YG Entertainment label. After signing his way to the top did not come easy. In his first year under the company, he cleaned the studio for the other artists in the record label and fetched them water bottles during dance practices.
The struggles and hardships G-Dragon faced did not stop him from reaching for his dreams. Kwon, together with his co-trainee Dong Young-bae, was initially planned to be debuted as the hip hop duo called GDYB. Kwon chose his stage name G Dragon, Ji is pronounced like G, and Yong is a Korean term for a dragon. Kwon was able to be featured in other artists' albums and released several singles together with Young-bae.
The GDYP was later on scrapped by their management and opted for a boy band instead, thus, the birth of Big Bang. The group's debut was a success, with their first album, Big Bang Vol. 1 - Since 2007, that reached 100,000 copies sold, including G-Dragon's first solo recording. It was a cover of the American alternative rock group Maroon 5's single This Love.
G-Dragon's career from his debut to this day is truly exemplary. He became the first Korean solo artist to hold a four-dome tour in Japan and the second Korean solo artist to have a world tour because of his tour called One of a Kind World Tour in 2013. It was held in 8 countries, visited 13 cities for a total of 27 concerts, with a production cost of 3.5 million dollars.
Coup d'Etat, the artist's second studio album, was released in 2013 and became a big hit. He made collaborations with several artists such as Boys Noize and his label mate, Jennie Kim. The album's title track was chosen by Billboard as one of the game-changing EDM tracks of 2013, making G Dragon the first Korean act to have multiples entries on the chart.
The rapper has been in the industry for years now, and sometimes, it is hard to keep track of all his rap songs. So, we listed down below some of his most iconic songs that you might want to listen to.
G Dragon discography
Intro (Put Your Hands Up!)
This Love
Ma Girl
Victory (Intro)
Hot Issue
But I Love U
I Don't Understand
Crazy Dog
Strong Baby
Bringing You Love
Love Club
Heartbreaker
Breathe
Gossip Man
Untitled, 2014
G-Dragon's career did not just evolve around music – he also got endorsements and commercials. G-Dragon, along with Big Bang, is known to be Korea's highest-paid celebrities, reportedly having an asking price of $1–1.5 million USD per endorsement in 2011.
In 2015, G Dragon became the face of Airbnb in the Asian market. A year later, he became the endorser of one of South Korea's largest retailer, Shinsegae.
In 2019, another shoe endorsement came his way, when the G Dragon Nike Air Force 1 was released. The shoes reflect this overtly with a unique upper fabrication that features a black painted overlay designed to slowly wear away over time to reveal a personal artwork created by G-Dragon himself. The artwork conveys a sense of optimism, inspired by the singer-songwriter's vision of a world where the youth are unified through creativity and a free exchange of ideas.
Net worth
The rapper is known to be one of the wealthiest South Korean artists. He has a considerable amount of money, which according to Celebrity Net Worth, G Dragon net worth is $30 million. Massive, isn't it?
Dating life
Due to his popularity, the rapper has his fair share in terms of rumors about his dating life. News about him and Ahn So Hee of Wonder Girls surfaced in 2007 when they had had frequent collaborations onstage.
Rumors of G-Dragon dating Kiko Mizuhara surfaced in 2010. In the five or so years before the unofficial ending of their rumored relationship, G-dragon, and model Kiko Mizuhara was spotted hanging out on many, many occasions and in many different countries it hard for fans to disregard the possibility that the two were dating.
The last rumored G Dragon girlfriend was Sandara Park. The DaraGon ship is the longest sailing one – since 2005, to be exact, even before Dara became a trainee at YGE. However, the ship was only solidified after G-Dragon's Heartbreaker album after he and Dara performed, Hello.
In the 12 years since, there has been much evidence ranging from couple wear-like outfits, teasing social media interactions, suspicious song dedications, and even a prank where GD seemingly kissed Dara's head while escorting her to a waiting vehicle after a group dinner. More recently, the label-mates stirred up a frenzy when Dara was a guest at G-dragon's Act III, Moment of Truth The End stop in Manila and Kuala Lumpur. While YGE and the artists themselves have denied the rumors, this doesn't stop their fans from shipping DaraGon, nonetheless.
Photos
The artist's Instagram account has a massive following of 18 million, where people can find random photos from the rapper. So, we picked several G Dragon photos, which we think will help you get to know him better.
1. Personal
The rapper does not always post photos of himself on social media, but he surely made sure that when he posts, it's a savage one, just like the photo above.
2. Shoe-fie
G-Dragon also likes posting photos of his shoes. It seems like he loves shoes, no wonder he accepted the offer to endorse a shoe brand.
3. Arts
If there is something that the artist is fond of is art. He posts artistic photos and paintings on his feed, showing how he supports his fellow artists. Indeed, G-Dragon has an eye and a heart for art.
Facts about G-Dragon
He has a major in Post Modern Music from Gyeong Hee University.
He can speak English.
There are several G Dragon tattoos.
His favorite food is Ganjang gaejang.
His favorite colors are red and black.
He is the brand ambassador of Chanel in Korea.
He has 2 Shar-Pei dogs: Gaho and Jolie.
With his successful career and personal life, G Dragon is indeed worthy to be called the King of K-pop. Are you also looking forward to G Dragon 2020 career and life update, just like every one of us?
READ ALSO: Taeyang bio: Wife, net worth, photos, latest news
Source: KAMI.com.gh