BTS members profile: real names, height, age, net worth
K-pop idol group BTS has conquered not only the Korean music scene but has also gained unprecedented recognition on international shores. In 6 years, the 7-member South Korean boy band skyrocketed to the top of hit charts album after album. With BTS members becoming household names worldwide, fans of the group would want to know more about their idols.
Short for Bangtan Sonyeondan which translates to Bulletproof Boy Scouts, BTS was formed in 2013 in Seoul, South Korea by entertainment label Big Hit Entertainment. Originally meant to be a hip hop group, the vision for the ensemble shifted and made to become the idol group everyone is familiar with. Led by Rap Monster, the lineup includes Jin, Suga, J-Hope, V, Jimin, and Jungkook, and has not changed since their debut.
Originally using a strong hip-hop style with the boy band's first single album '2 Cool 4 Skool', their musical range gradually evolved to adapt various genres like rock and pop. As for lyrics and themes, BTS has focused on social commentary, discussing themes of bullying, mental health, and love for oneself, among others, on their lyrics.
As of 2019, BTS members latest news show that they have broken the charts and records in both Korea and the US. With their albums 'Love Yourself: Tear', 'Love Yourself: Answer and 'Map of the Soul: Persona' hitting the top of US charts within a year; they became the first group to do so since The Beatles. They have also garnered multiple recognition in Korea and worldwide, receiving merits from the Korean Government and addressing the UN assembly, to name a few.
BTS members names, profiles and fun facts
Who are the members of BTS? While most fans know the members of the boy band based on their stage names, there is more to the boys than just that. Discovering each BTS member's height, weight, and their favorite things make fans more involved with their favorite idol group. The following fun facts also include BTS member latest news to keep loyal fans updated.
1. Jin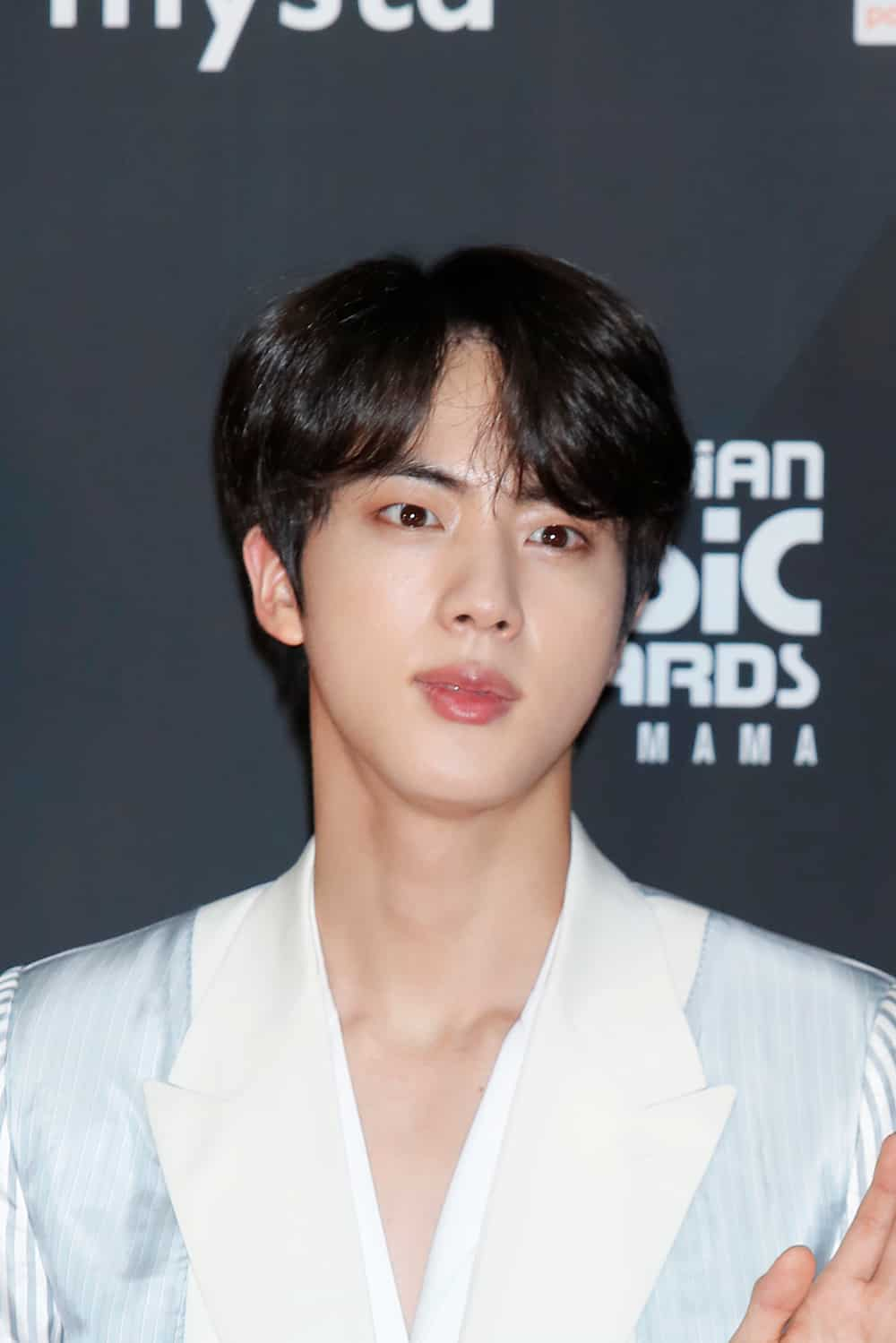 Position: Vocalist
Real name: Kim Seok Jin
Date of birth: December 4, 1992
Birthplace: Gwacheon, Gyeonggi-do, South Korea
Height: 179 cm (5'10" 1/2)
Weight: 63 kg (139 lbs)
Zodiac sign: Sagittarius
Blood group: O
Education: Konkuk University; Hanyang Cyber University
Degree: Art and acting (Konkuk University)
Favorite number: 4
Favorite color: Blue
Favorite season: Spring
Favorite food: Lobster, Steak, and Korean cold noodles (Naengmyun).
Family: Parents and older brother
Hobbies: Cooking, playing video games, playing the guitar, collecting Polaroid photos
Fun facts
He is the oldest member of the group at 26 years old.
Called "eomma" or mother by other members of the group due to him cooking and cleaning for them a lot.
Originally scouted by SM Entertainment while in junior high school, he rejected the offer at the time, thinking they were frauds.
Gained the nickname "Worldwide handsome" after the group's first introduction worldwide. Amazingly, he is surprised that he is considered handsome outside his native Korea.
He is notorious for his bad Korean jokes and dad jokes.
He joined Big Hit Entertainment at 21 years old and was a trainee for at least a year.
Talent scouts from Big Hit saw him after getting off a bus, then proceeded to get him for the label.
Starting as a theater student with dreams of becoming an actor, he did not have any singing background before BTS. Because of this, he worked hard and took voice lessons to become a vocalist for the group.
He has two signature moves: the flying kiss and the tendency to pull out paper hearts from his pockets.
2. Suga
Position: Lead rapper
Real name: Min Yoon Gi
Date of birth: March 9, 1993
Birthplace: Buk-gu, Daegu, South Korea
Height: 174 cm (5'8.5″)
Weight: 59 kg (130 lbs)
Zodiac sign: Pisces
Blood group: O
Education: Global Cyber University
Degree: Liberal Arts Major
Favorite number: 3
Favorite color: White
Favorite food: Meat
Family: Parents and older brother
Hobbies: Taking photos, doing nothing (when there is free time), and skipping work
Fun facts
He uses the nickname 'Agust D' when making and producing music. The nickname comes from spelling his stage name in reverse (SUGA – AGUS) then adding the initials of his former rap group before joining BTS (D-Town or Town Daegu).
As a music producer, he has around 70 songs credited to him. He composes songs and lyrics in his studio named 'Genius Lab'.
Suga produces one song per day, which impresses RM, as he only makes one song a month.
In 2017, he won an award for producing the song "Wine" for Korean singer Suran and has earned a spot as a full-time member of the Korea Music Copyright Association.
As a rapper, he won 2nd place at a national rap audition in Korea. This event got the attention of Big Hit and signed with the label when he was 18 years old.
When he signed with Big Hit, he was originally told that he would be part of a rap group.
Upon his move from the underground rap scene, he received harsh criticisms from his former group mates and many underground rappers.
Known to be intimidating and savage, he is very blunt towards his fellow members. However, despite looking cold, he shows care in the guise of small actions.
Suga has a knack for repairing broken stuff, which is usually caused by RM.
READ ALSO: Vhong Navarro, trending ang ginawa kay Anne Curtis sa It's Showtime BTS
3. RM (Rap Monster)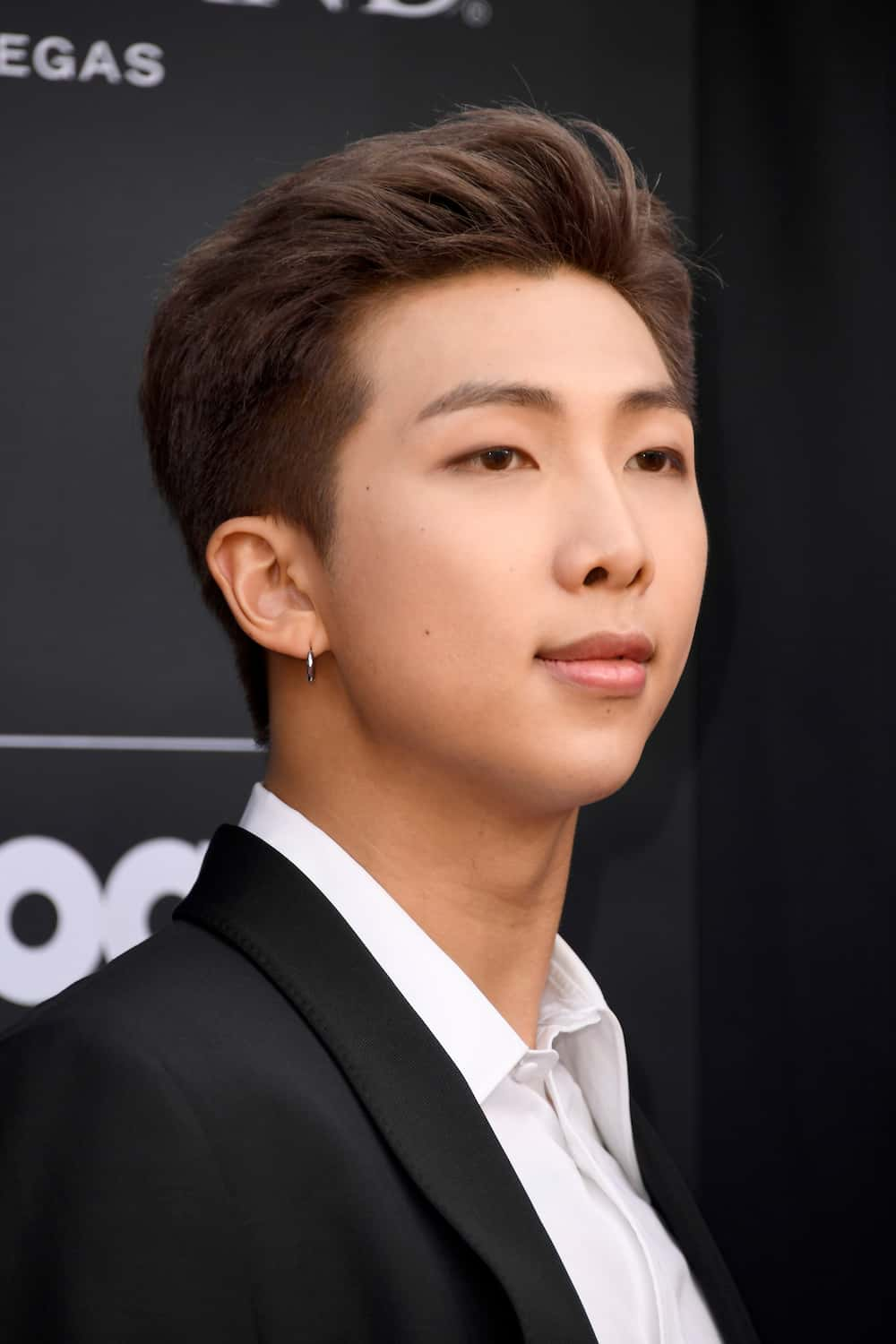 Position: Leader, main rapper
Real name: Kim Nam Joon
Date of birth: September 12, 1994
Birthplace: Ilsan, Gyeonggi-do, South Korea
Height: 181.68 cm (5'11")
Weight: 67 kg (147 lbs)
Zodiac sign: Virgo
Blood group: A
Education: Apgujeong High School; Global Cyber University
Favorite number: 1
Favorite color: Purple, black, and pink
Favorite food: Meat (Samgyeopsal), and Korean noodles (Kalguksu).
Family: Parents and younger sister
Hobbies: Web surfing
Fun facts
He was the first member and current leader of the group. As a leader, he handles conflict resolution between the group and management, as well as disputes within the group. He also keeps the team focused and united during performances.
Among the group, he is the only member that is fluent in English. He takes on interpretation and translation for the group during interviews, as well as coaches them on how to speak the language. According to RM, he learned how to speak English by watching the American show "Friends". Apart from English, he is also fluent in Japanese and can easily learn foreign languages.
In connection with his vocabulary, the rapper is known for his extensive vocabulary and wordplay that he employs with his songs. He also can rap using complex beats.
RM also received criticism from underground rappers for choosing to stay with BTS, often told that he betrayed hip-hop, and was the content of some diss tracks from rappers. In his mixtape titled "RM", he talks about the criticisms, along with the identity crisis he has as a rapper and a pop idol.
Joining Big Hit in 2009, he was originally told the group would be a hip hop act, which was his reason for joining the label. He trained for 3 years under the label, until the debut of the group.
As a producer, he has at least 100 songs under his name. This includes a track on the Korean release of Fantastic Four, among others.
As a rapper and performer, he has collaborated with several international acts, including Krizz Kaliko, Warren G, Wale and Fall Out Boy.
He is an advocate of gay/lesbian rights.
RM spoke on behalf of the group during their historic speech at the 73rd United Nations General Assembly. Marked as the launch of UNICEF's 'Generation Unlimited', the rapper encouraged everyone to find their voice by speaking up regardless of race, gender or color.
He earned the nickname "God of Destruction" as he seems to destroy anything he touches.
4. J-Hope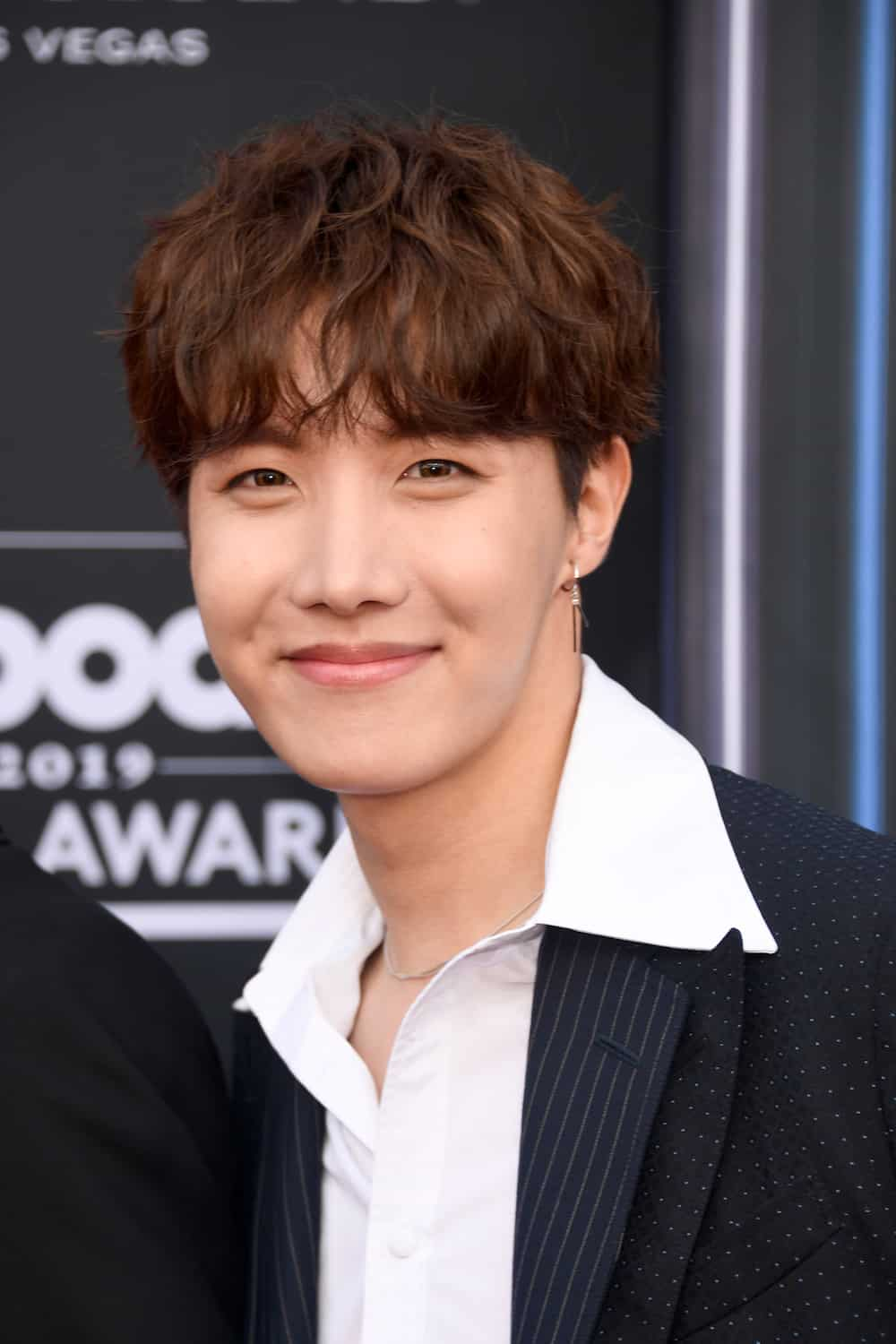 Position: Main dancer, rapper, sub vocalist
Real name: Jung Ho Seok
Date of birth: February 18, 1994
Birthplace: Gwangju, Jeolanamdo, South Korea
Height: 177 cm (5'10")
Weight: 65 kg (143 lbs)
Zodiac sign: Aquarius
Blood group: A
Education: Gwangju Global High School; Global Cyber University
Favorite number: 7
Favorite color: Green
Favorite food: Kimchi
Favorite season: Spring
Family: Parents and older sister
Hobbies: Window shopping and listening to music
Fun facts
His stage name came from his desire to become a symbol of hope and a bringer of peace to everyone.
Before joining BTS, J-Hope was known as the best freestyle street dancer in his hometown. Fellow member V confirmed this when a fellow student at Korea Arts School asked him after his debut with BTS if J-Hope was the same guy from Gwangju.
As a dancer, he learns the dance steps faster than anyone on the group and usually acts as the dance leader. However, despite his sunny personality, he is very strict when teaching dance moves.
Apart from learning and teaching dance steps, he also adds his steps to the choreography, showing his skill as a dancer.
As a rapper, he once collaborated on the song "Animal" with 2 AM's Jokwon.
He auditioned for Big Hit while he was 17 years old, and was a trainee for 3 years under the label.
During his training days, he found the process too difficult and left the company at least once. RM reached out to him to resolve the issue, bringing him back to the group.
To know more about what their fans are thinking, J-Hope visits their fan café (an online messaging board) every single day.
He has a thing for cleaning other member's rooms, as well as keeping his room the cleanest. Because of this, along with his habit of scolding fellow members, he is called "Eomma" or mother.
5. V
Position: Lead dancer, vocalist, visual
Real name: Kim Tae Hyung (김태형)
Date of birth: December 30, 1995
Height: 178 cm (5'10″)
Weight: 62 kg (137 lbs)
Zodiac sign: Capricorn
Blood group: AB
Education: Korean Arts High School in Seoul, Global Cyber University
Favorite number: 10
Favorite color: Grey
Favorite food: Japchae (Korean Glass Noodle) and any type of meat.
Favorite season: Fall
Birthplace: Daegu, South Korea
Family: Parents, younger sister and brother
Hobbies: Searching for obscure music
Fun facts
The stage name V has a meaning, and it stands for 'Victory'
He joined Big Hit at 17 years old and was training under the label for 2 years before their debut.
His audition was a complete accident. Originally, his friends were the ones auditioning for the entertainment label, but he was seen by the staff and was asked to audition as well.
Before the official debut of the group, BTS was thought to be a 6-man group with V being a secret member. However, he was announced as the 7th member to the surprise of the group's fans.
Apart from his work with the group, V has appeared in the historical drama "Hwarang" as an actor. His role on the show earned ridicule among his fellow members, with his acting skills being the target of their jokes.
He has a puppy named 'Tan-e', derived from the first name of the group, Bangtan.
The singer's interests include fine art and photography.
One of his weird habits is giving a false name when buying stuff on foreign locations of Starbucks and supermarkets. His usual names include Renoir, Van Gough, and other artists.
An avid fan of amusement parks, he likes exciting rides like Gyro Swing, Drop Zone, and Roller Coasters.
According to Korean culture, his is blood type (AB) has the attributes of being a genius or a psychopath.
6. Jimin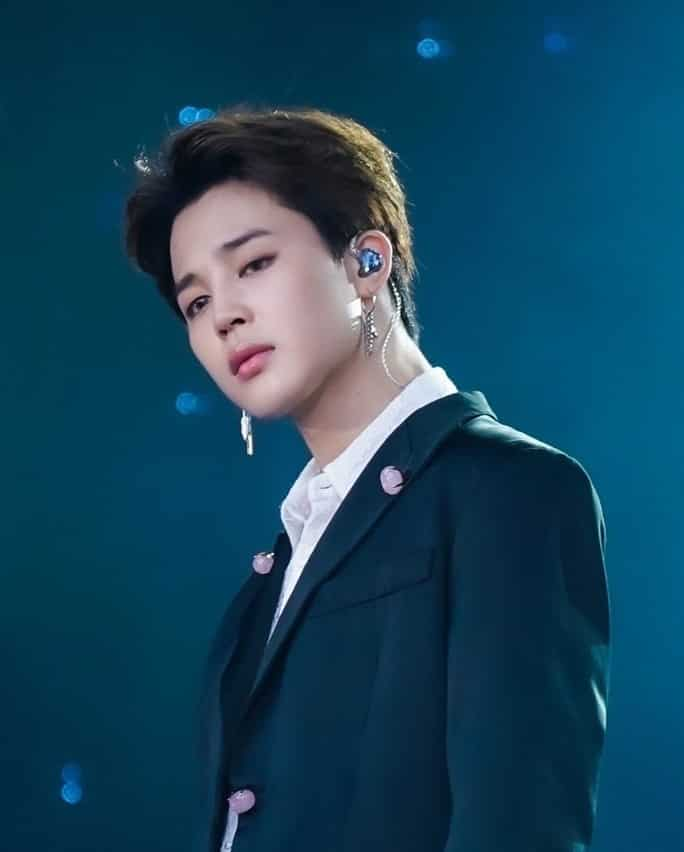 Position: Main dancer, lead vocalist
Real name: Park Ji Min
Date of birth: October 13, 1995
Hometown: Busan, South Korea
Height: 173.6cm (5'8.3″)
Weight: 61 kg (134 lbs)
Zodiac sign: Libra
Blood type: A
Education: Busan High School of Arts; Global Cyber University
Favorite number: 3
Favorite colors: Blue, Black
Favorite food: Pork, duck, chicken, fruit, and Kimchi stew.
Family: Parents and younger brother
Hobbies: Relaxing
Fun facts
Fans know Jimin for his sexy charisma on stage, as well as his amazing abs.
While he has an intimidating presence on stage, offstage he is a fun-loving person.
He auditioned for Big Hit when he was 18 years old and was a trainee for at least a year. He was the final member of the group to be added to the roster, but not the last one announced to the fans (that belonged to V).
During his training, he shared that he went through lots of struggles, and was almost removed from the company on several occasions. With perseverance, however, he was able to overcome those obstacles and formally joined the team.
As a performer, he has an intense work ethic and is a perfectionist.
During high school, he was the top student in contemporary dance, showing that his dancing skills are among the best.
Due to some issues he had with his body image, he starved himself for 7 days in the hopes of getting thinner. According to Jimin, Jin helped him out in getting out of that state.
Among the members of BTS, Jimin interacts the most with their fans through Twitter and the VLive app.
He has a weird habit of dancing and moving along to the music around him no matter where he is.
The Hulk is his favorite character from the Avengers because he can destroy everything with just his bare hands.
His motto is "Let's keep on trying until we can't do it anymore".
7. Jungkook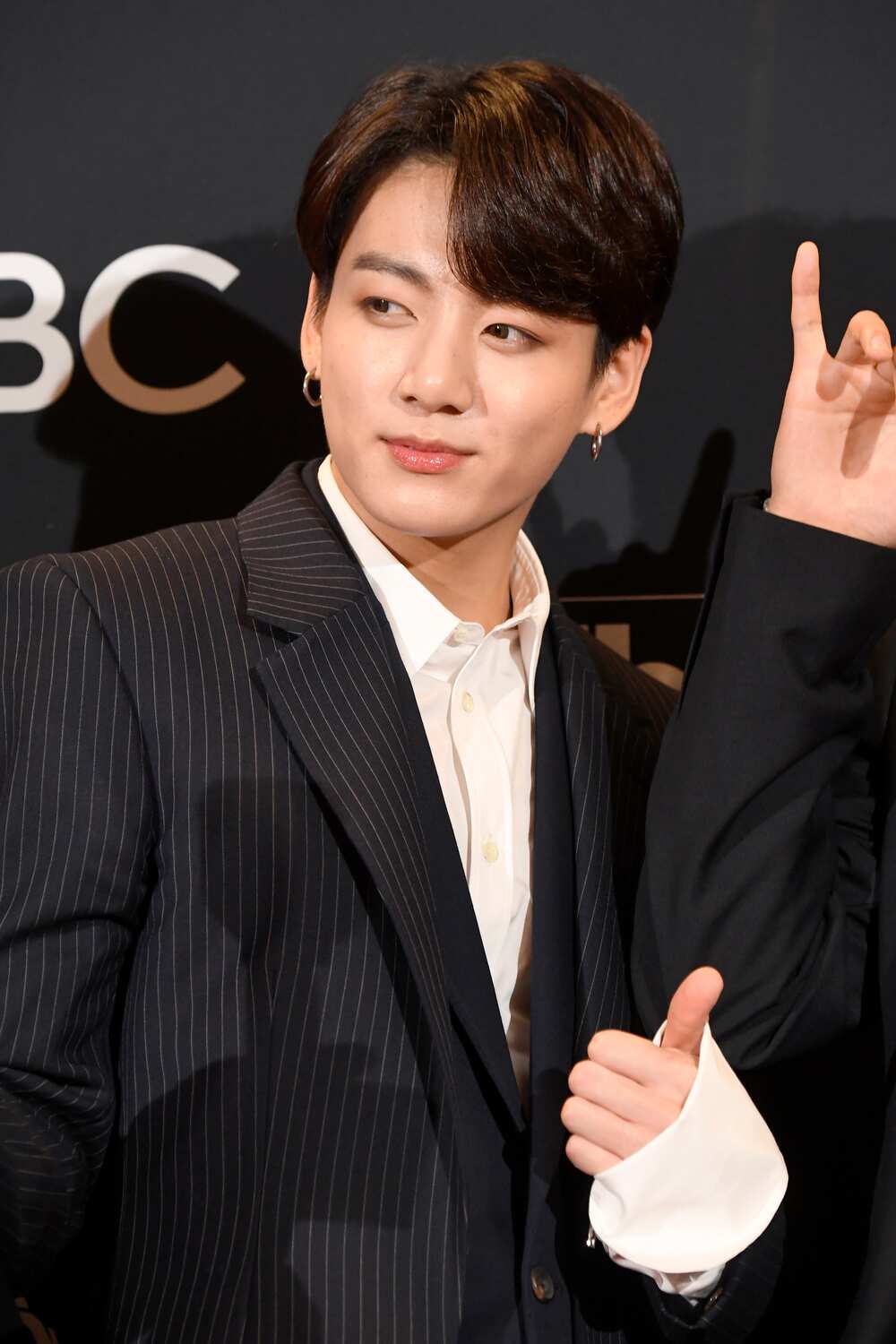 Position: Main vocalist, lead dancer, sub rapper, center
Real name: Jeon Jeong-guk
Date of birth: September 1, 1997
Birthplace: Busan, South Korea
Height: 178 cm (5'10")
Weight: 66 kg (145 lbs)
Zodiac sign: Virgo
Blood type: A
Education: Seoul School of Performing Arts; Global Cyber University
Favorite number: 1
Favorite color: Black
Favorite food: Pizza, noodles, bread
Family: Parents and older brother
Hobbies: Exercising and drawing
Fun facts
As the youngest of the group, he is called by the term 'Maknae'. However, due to being good at everything he does, he is called the 'Golden Maknae' instead.
Jungkook is the youngest member to join Big Hit from BTS, starting with the label at just 13 years old. He trained for 2 years before being added to the group.
According to him, he was not ambitious about singing but was into dancing a lot.
His dance moves are so good, that American dancer Kyle Hanagami even complimented his dancing.
Stories about Jungkook circulating claim that he auditioned for Superstar K during his middle school days. While he did not make it to the finals, he received offers from 8 entertainment agencies after the event.
He enjoys exercising a lot and is often seen doing laps or push-ups in the studio during his free time.
Jungkook is also into sports, earning a black belt in Taekwondo.
Enjoying the scent of feminine perfume, he has a collection of various brands of female perfumes.
While he spends a lot of time in the bathroom, he is known as the messiest member of the group, having the messiest room among them.
Due to his rhinitis, he has a weird habit of sniffling a lot. He also has another habit of wriggling his fingers often.
READ ALSO: Baby Ziggy, pinuno ng puso ang socmed sa mga BTS pics at videos sa kanyang binyag
BTS members net worth
With multiple chart-toppers, endorsements for various international brands, and worldwide recognition, it is safe to say that the total worth of BTS is a lot of money. According to seventeen.com, the collective worth of BTS is around USD 60 million, with everyone bringing in a significant sum of that amount.
J-Hope has the highest net worth among the Bangtan Boys at $12 million, with his chart-topping solo mixtape titled 'Hope World' as another source of money. Jin, along with the rest of the members, has an estimated net worth of $8 million. Apart from his work as a member of the group, he also has a Japanese-style eatery with his brother, adding to his net worth.
RM and Suga, both having a net worth of $8 million each, attribute some of their earnings from writing and producing songs individually in and out of the group. V, Jimin and Jungkook can credit their appearances on Korean television shows for the additional earnings that lead to their $8 million net worth individually.
READ ALSO: BTS makes record-breaking history on the Billboard chart
BTS members age, height, and religion
Jin is the eldest of the group at 26 years. While being the eldest in Korean culture is important due to the authority and power that corresponds to it, he does not impose this on the group. Suga is next, at 25 years old. Rap Monster is 24 and J-Hope is 25 years old. V and Jimin are both 23 years old, while Jungkook is the youngest, at 21.
Looking at each BTS members height, we can see that RM towers the rest of the group at 181.68 cm or 5'11" and Jin at close second with 179cm or 5'10 ½. Most of the boys range between 177cm to 179cm, equivalent to 5'10''. Suga is 174 cm or 5'8.5″, while Jimin is the shortest at 173.6cm or 5'8.3″.
As for religious beliefs, only V and Suga are known to have religious backgrounds, while RM is an Atheist. Most of them are either non-religious or do not believe in one.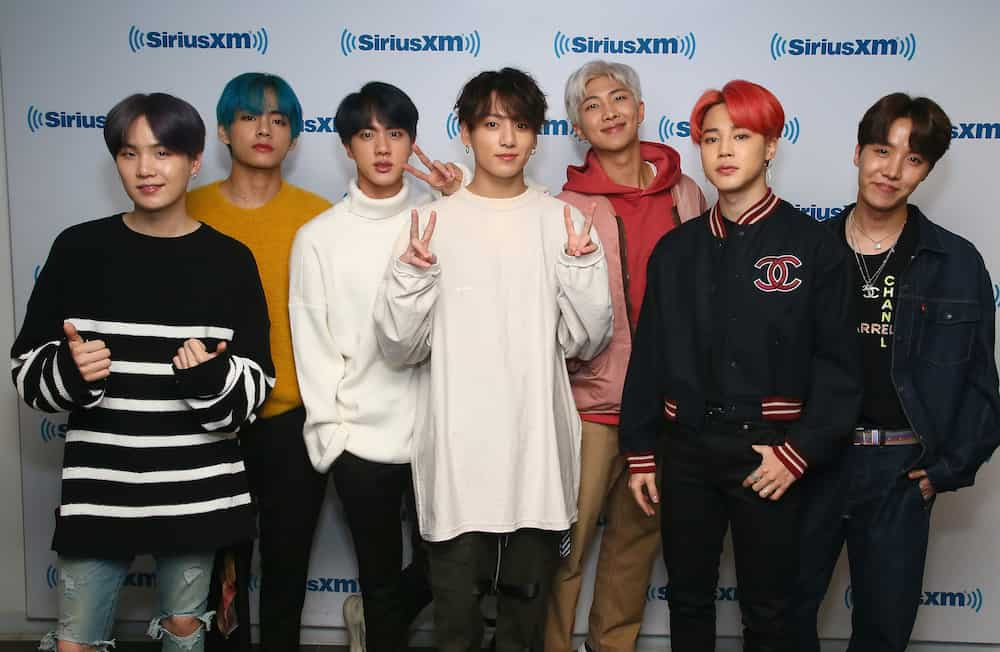 BTS girlfriends and relationships
Currently, all members of BTS are single, though it is believed that RM and J-Hope had girlfriends before their time with the group. Rumors about their relationships have circulated online, with reports of the members dating or seeing a fellow idol or celebrity surfacing. However, only V's relationship status was openly discussed by Big Hit, according to Capital FM.
Ideal girl
For Jin, his ideal girl is someone who is like a puppy, a good cook, and a thoughtful person. Suga has one preference for his ideal lady: a love for music, specifically for hip-hop music. RM finds a girl who is intelligent, thoughtful and confident about herself as his ideal lady, while V's ideal girl is someone who is humble and knows how to spend money wisely.
Jimin prefers a girl who has a kind heart and a lot of 'aegyo' (cuteness). J-Hope sees a girl who is faithful his ideal type, along with good cooking skills and thoughtfulness. Jungkook looks for someone nice, smart, a good cook, has pretty legs, and is good at singing.
For the person they would date if they were girl, Jin chose Jimin to date, as his sociable nature can help open up Jin's shy personality. Suga would date Jin, though no explanation was given. RM prefers J-Hope due to his motherly personality.
Idols, influences and fame of BTS
The Korean K-pop group Big Bang is considered a major influence on the members of BTS, with most of the boys looking up to them as role models. BTS is known to fanboy over Big Bang so much, and look up to them as their goals of success.
Other artists that the Bangtan Boys consider as influences are A$AP Rocky for RM and J-Hope, while Suga has Lil Wayne, Lupe Fiasco and Hit-Boy. V, for his part, looks to his dad as his role model.
Many fans ask, "Who is the most popular BTS member?" V ranks as the most popular. Jungkook is second.
Did you enjoy this comprehensive look at the BTS members and some fun facts regarding them? We hope that this compilation of facts and information makes you want to listen to their music more and support their works even further.
READ ALSO: Marian Rivera, ipinakita ang cute BTS moments ng kanyang latest OOTD snaps
Source: Kami.com.ph