J-Hope BTS bio: Net worth, birthday, age, sister, photos, real name
Bangtan Boys (BTS) are a real force to reckon with when it comes to South Korean pop. Since their debut, they have released hit after hit and have gone on to dominate the South Korean airwaves and make a name for themselves even on the international stage. This is because each member of BTS was carefully recruited based on his skills. J-Hope is no exception to this.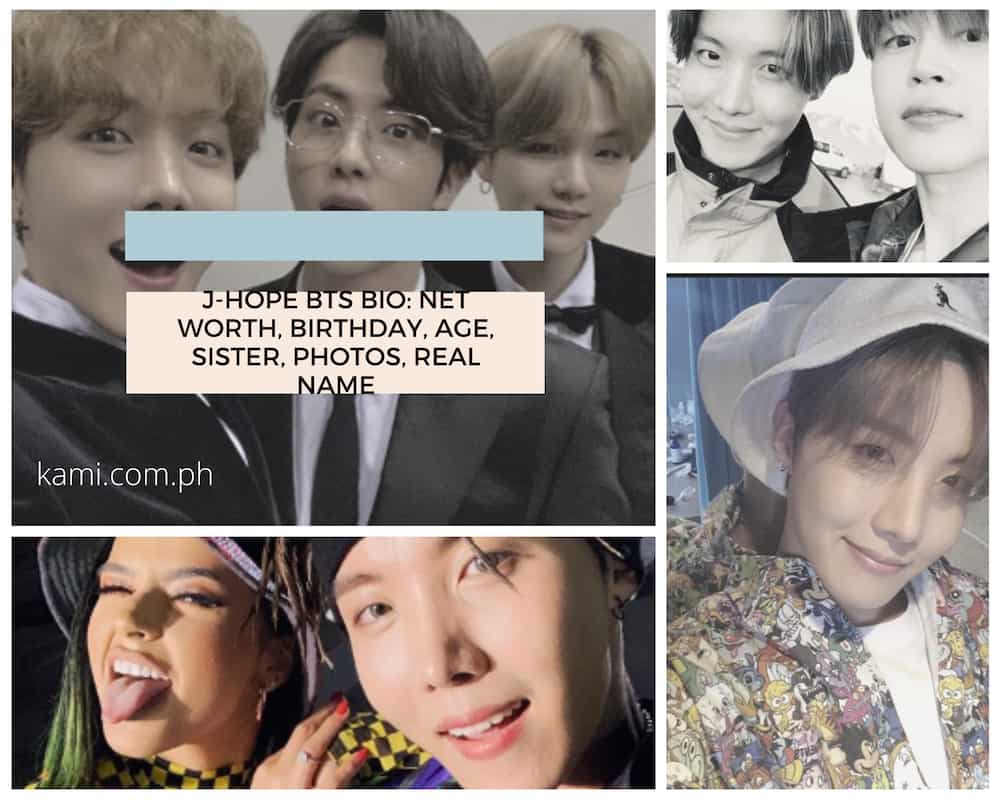 Jung Ho-Seok AKA J-Hope is a singer-songwriter, rapper, and dancer just like all the other members of BTS. He had the honors of being the first trainee of Bangtan Boys before being joined by Jin, Suga, RM, Jimin, V, and Jungkook. His is a personality of a person who is outgoing, upbeat, and funny, but when he gets on stage, his dedication can never be disputed. There are many things to know about J-Hope BTS other than the fact that he speaks Japanese, Korean, and English.
J-Hope profile summary
J-Hope real name: Jung Ho-Seok
Stage name: J-Hope
Nickname: Hobi
J-Hope birthday: February 18th, 1994
Place of birth: Gwangju, South Korea
Birth sign: Aquarius
J-Hope age: 26 years old
Height: 5'10"
Occupation: Rapper
J-Hope biography
J-Hope was born on February 18th, 1994 in Gwangju, South Korea. His real name is Jung Hoseok (sometimes written as Ho-Seok). J-Hope was chosen as his stage name due to its meaning. It represents his strong desire to provide hope to his fans and at the same time, be the hope of BTS.
He comes from a family of two with him as the only boy. J-Hope sister is called Mejiwoo, and she is four years older than J-Hope. Mejiwoo is an Instagram celebrity who is quite popular in South Korea. Moreover, no other information has been provided regarding J-Hope's family.
Before Jung became a member of BTS, he used to be part of an underground dance team known as Neuron. He took dance classes at the Gwangju Music Academy. As a result, he was famous for his dancing skills before the BTS debut. He had won local prizes for dance including one in 2008 in which he won a national dance competition.
READ ALSO: Sanya Lopez bio: age, height, net worth, brother, photos
Body measurements
Jung has a slim build and athletic body based on his body measurements. J-Hope height is 177 cm (1.77 meters/ 5 feet 10 inches) tall. Corresponding to the height is his weight which is 65 Kg (143 lbs). His blood type is A.
Net worth
Entertainment is an industry that pays well and J-Hope net worth is proof of this. The South Korean rapper only made his debut alongside Bangtan Boys in 2013, but he is already valued to be worth $12 million.
He has earned this money as a BTS member who is a singer, rapper, songwriter, and record producer. Besides, he has done several solo projects and appeared on several television shows as an actor.
J-Hope photos
Jung has millions of followers, and this means he has to find a way to interact with them often and inform them regarding his recent activities. J-Hope Instagram account is one place to visit if fans want to catch up with their favorite celebrity. Here are some of the pictures from the platform.
1. Quarantine season
It happens to be during the Covid-19 pandemic that has brought the entire world to a standstill. Even the wealthiest and most famous people have been affected by this virus. Guidelines that have been put in place to deal with the Covid-19 pandemic include quarantine, social distancing, and the use of protective equipment such as face masks. Jung has obliged and has been staying safe at home, which includes wearing a face mask.
READ ALSO: Kim Jong Un bio: Wife, age, net worth, sister, death rumors
2. A style icon
It is obvious that Jung is always conscious of his appearance. When it comes to the style he is a trendsetter. He has the best outfits money can buy and does not shy from getting out in his best clothes. Often, you will find him rocking designer clothes and expensive accessories.
3. A down to earth person
Sometimes Jung displays a carefree attitude people may think he is just another teenager living his life. This could be because he and the rest of the BTS members were recruited while they were still young. They probably left behind many things children their age used to do so that they could focus on their careers.
4. Personal time
People like Jung don't usually have personal time. His life is filled with a busy schedule all year round. If he is not on tour performing, he is in the studio recording. This makes it challenging to find time for family and friends. Sometimes there is no personal time at all because even when he is alone, he is thinking about composing music or doing some other things.
5. BTS comedian
If there were to be a contest on the funniest BTS member, the crown would be taken home by none other than Jung. He is the one always making jokes even at interviews and making his bandmates laugh. Even on Instagram, he does not leave aside his funny side. This has made a lot of fans to love him and anyway it is good not to take life so seriously all the time.
J-Hope was the first BTS member to be recruited into the group by Big Hit Entertainment, and he has been in the group since their debut in 2013. He has been an asset to the group, thanks to his rapping skills and dance moves. He also keeps the group entertained with his jokes, something that has made him a fan favorite. He is also loved because of his generosity and involvement in charity.
READ ALSO: Xiumin EXO bio: net worth, age, photos, height, sister
Source: KAMI.com.gh