Lisa Blackpink bio: Height, net worth, photos, age, is she dating?
K-Pop is synonymous with boy bands, but this does not imply in any way that no girl bands are producing similar music. One need not look further than BlackPink and get a good taste of what girls are capable of when it comes to K-Pop. Singing, rapping, dancing, name it all and BlackPink will do it as long as it is K-Pop. These girls are versatile, talented and not forgetting gorgeous. They have indeed given the K-Pop boy bands a run for their money, and the ensuing competition has only made this to be an excellent time to be alive to experience this wonderful music. Lisa BlackPink (Manoban) is one of the individuals who have made BlackPink what it is today.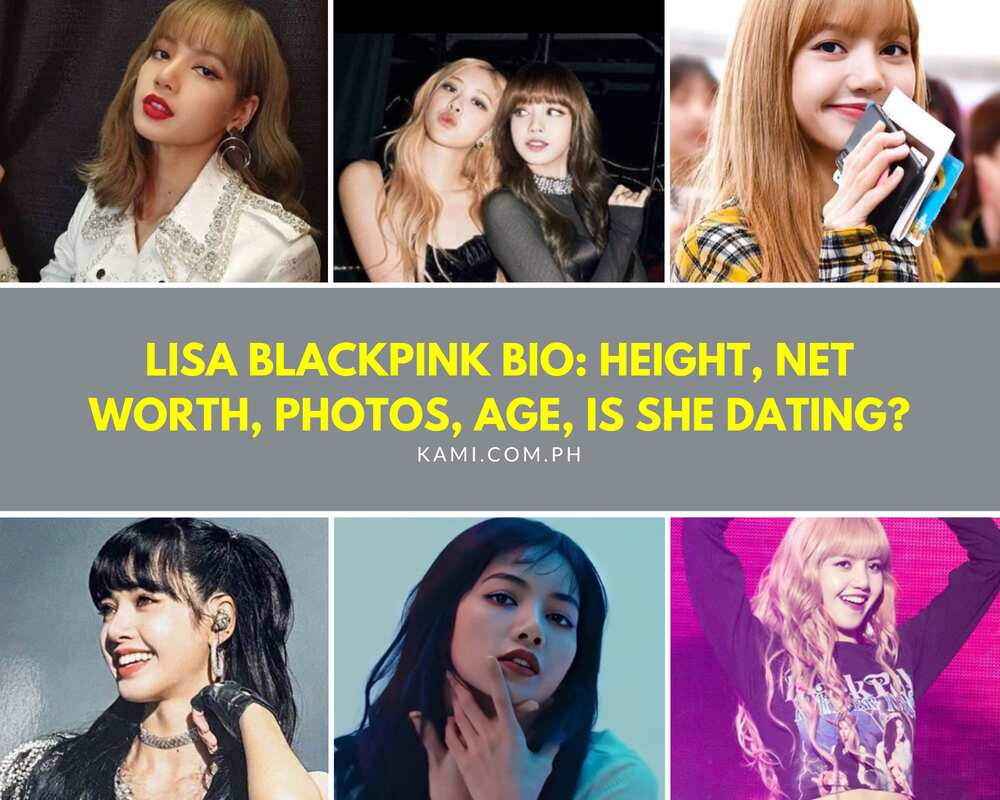 BlackPink has made a reputation that is true to its name. Girlish like the color pink but at the same time very hardcore like the color black when the occasion calls for it. The entertainment industry is not for the faint-hearted, and BlackPink has proven their worth. Lalisa crossed the border from Thailand to South Korea in such prosperity which happens to be the meaning of her name.
Yet, among her South Korean bandmates, she is at home and has blended quite well with her rap and dance styles. Other than music, there are many things to learn about this incredible rapper who has many nicknames, including Lisa, Lalice, Alice and Pokpak.
Lisa BlackPink profile summary
Name: Pranpriya Manoban
Nicknames: Lisa, Lalisa, Lalice, Alice, Pokpak
Lisa BlackPink birthday: 17th March 1997
Place of birth: Bangkok, Thailand
Lisa BlackPink age: 23 Years
Birth sign: Aries
Height: 5'5"
Occupation: Singer, Dancer
Lisa BlackPink biography
K-Pop singer Lisa Manoban was born Pranpriya Manoban on 27th March 1997 in Bangkok, Thailand. Lisa BlackPink parents had to change her name to Lalisa, which means praised, as advised by a fortune-teller so that she could achieve prosperity. In search of fortune, Lisa auditioned for a YG Entertainment contest while she was only 14 years old.
She won the competition, but this meant she had to relocate from Thailand to South Korea. She spent up to five years training in South Korea before she made her debut with BlackPink. She is the youngest in the group but happens to be their lead rapper, vocalist and dancer.
While in Thailand, Manoban went to Praphamontree II School and showed interest in singing and dancing from a young age. She has an older sister who lives in Thailand. Her stepdad, Marco Brueschweiler, is a certified Swiss Master Chef and is a member of the World Chef Association. He owns a catering school in Bangkok, and he hosts food festivals and competitions all over the world.
Body measurements
When it comes to body measurements, Lisa BlackPink height is 166.5 cm (5 feet and 5.6 inches) tall. Her weight is 44.7 kg (98.5 lbs). Furthermore, she is of blood type O. Her hair colour is black, and so is her eye colour. Her body type is slim, and she wears shoe size 7.5 (US) and dress size 4 (US).
Is she dating?
Manoban has always left her fans guessing when it comes to her dating history. At one time, no one could tell whether she is dating or single. It is often assumed that she is single based on a 'ban' by YG Entertainment with the justification that young professionals just like Manoban need to focus on their careers first before they start to think of relationships.
In the past, there have been rumours that she was dating BTS' Jungkook, but allegedly the relationship did not last long. Is Lisa BlackPink dating? No, she is currently single.
READ ALSO: Baekhyun EXO bio: Net worth, age, height, photos, dating
Lisa BlackPink net worth
It is not easy leaving your family, friends and everything you hold dear behind to go to another country to start over again. This is what Manoban did at the age of 14 years, but the rewards have been worthwhile.
The BlackPink singer has a net worth of about $8 million which is a fat bank account considering her age. Furthermore, she also earns from acting and has a YouTube channel Lilifilm Official with more than one million subscribers.
Lisa BlackPink photos
Manoban was always destined for life as a singer from the very beginning. However, there is a feeling that had she not been a singer she would have ended either as an actress or a model. Either way, she would have found her way into fame. She is gorgeous, and no amount of description can do her beauty justice, but here are some Lisa BlackPink Instagram photos for you to judge.
Yearning for love?
Is Manoban yearning for love? That we may never know because she has chosen to be private about her personal life. Of course, the official story is that she is single but then what is the point of having so much money if you cannot be able to enjoy the little but essential things such as love?
She does look like she is lonely in this photo, but many have refused to believe that she is single. It only makes sense that she could be single because it is what works best financially but single or not; we wish her well.
Top model
There is no way she was going to avoid modelling, given her looks. Of course, she does not have to walk on the runway to prove her worth, but big companies have already discovered her.
She is highly sought after for endorsements and marketing, and this must be making her good money. In this photo, for instance, she became the official brand ambassador for P&G's Downy in China.
A fashion icon
It goes without saying that having her influence as a celebrity, she is a fashion icon. Many young girls look up to her to see what she wears and how. Luckily for them, Manoban is not one to stick to a particular style. She is always changing her outfits and even hairstyle. As such many can come to her Instagram account to copy the latest styles to impress their peers with.
Jovial Manoban
Now we know why her bandmates said she is the one who is most different onstage as compared to offstage. Onstage she is that serious singer who is ready to get her thing done but offstage she is the most jovial and playful person anyone can ever meet. This is a personality many people would want to have around them.
Lisa BlackPink was the first foreigner to be signed by YG Entertainment, and this is enough testament to how talented she is. She was only 14 years old at the time, but even her parents consented to let her leave Bangkok, Thailand and go to South Korea to pursue her dreams. This was followed by years of patience as she spent about five years training before her debut with BlackPink and she has since made the bandmates her family.
READ ALSO: Kai EXO bio: Net worth, photos, tattoos, height, age
Source: KAMI.com.gh