Song Hye Kyo age, Instagram, husband, movies, and Song Joong Ki
Song Hye Kyo is one of the most famous South Korean actresses. If you are a fan of films from the Korean entertainment industry, then this name is not new to you. She rose to fame after her exemplary role in the 2000 romantic television drama tagged 'Autumn in My Heart'. Ever since, the actress has maneuvered through the filming industry, acting in numerous movies and earning multiple awards as well as a substantial amount of wealth.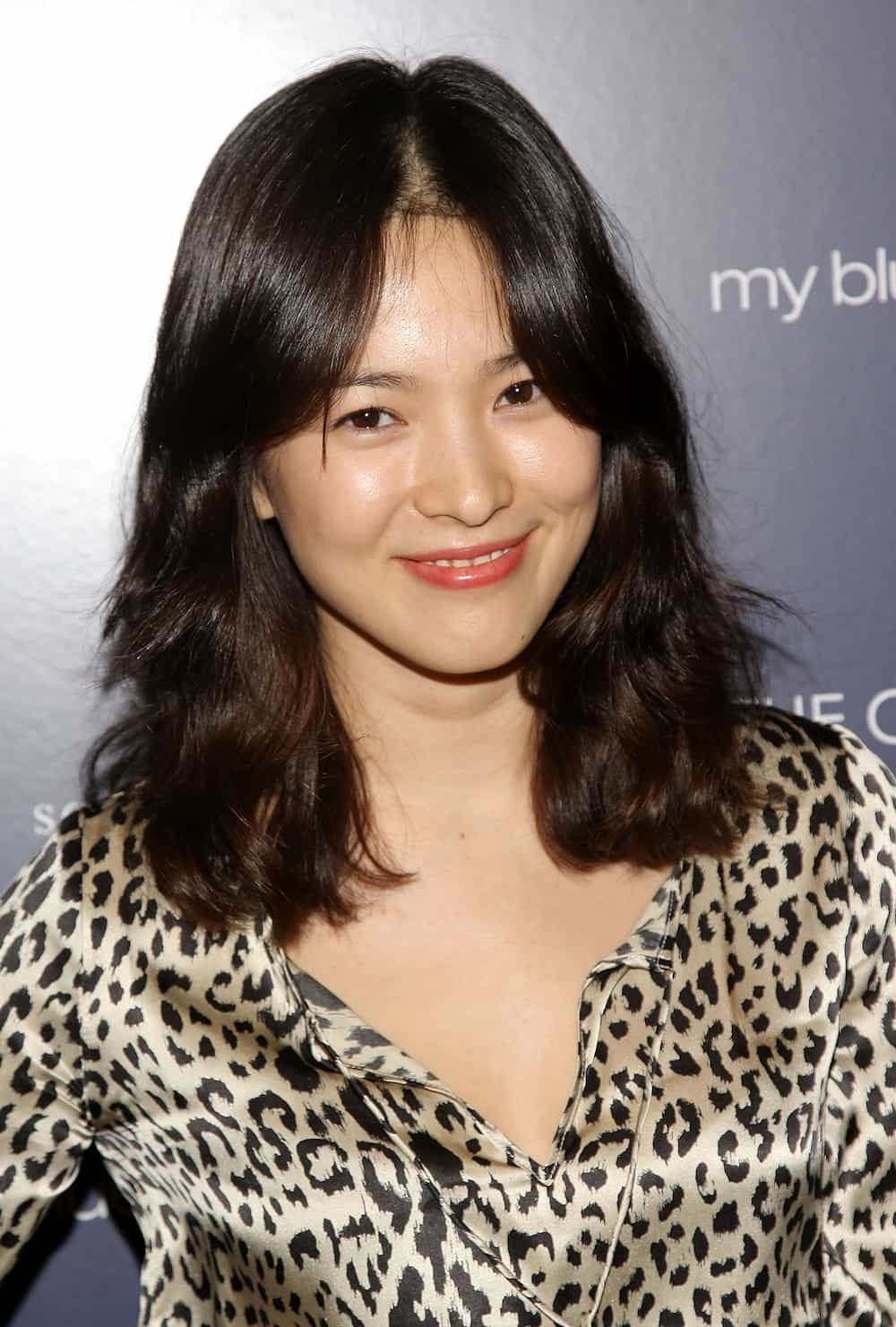 Other than 'Autumn in My Heart', the South Korean actress has featured in numerous entertaining films and television drama shows. As a result, her popularity has grown not only in the Asian continent but also all over the globe. The 37-year-old boasts of an incredible following on her Instagram platform. Her success story is admirable and an envy of many around her.
Song Hye Kyo profile summary
Real name: Song Hye Kyo
English name: Lorraine
Date of birth: November 22nd, 1981
Song Hye Kyo age: 37 years
Zodiac sign: Sagittarius
Place of birth: Dalseo District, Daegu, South Korea
Nationality: South Korean
Profession: Actress, model
Years active: 1996 - present
Ethnicity: Asian
Religion: Christianity
Marital status: Divorced
Sexual orientation: Straight
Weight: 50 kg
Height: 5 feet 3 inches
Body measurements: 34-25-34 inches
Eye colour: Brown
Hair colour: Black
Song Hye Kyo's early life
The actress was born on November 22nd, 1981 in Dalseo District, Daegu in South Korea. After her birth, the young Song became so sick that her parents and doctor thought she would not live. Fortunately, she gradually recovered.
Her parents divorced when she was young, and her mother was the one who mostly raised her. They moved to Gangnam District, Seoul, where she trained as a figure skater in elementary school. She completed her studies at Sejong University where she earned a degree in Film Arts.
Song Hye Kyo movies and career
As a young girl, Song had an interest in acting. At the tender age of 14 years, she won the SunKyung Smart Model Contest and as a result, became a model for the school uniform company. In 1996, this role was fundamental in assisting her to secure her first minor acting role in a television series called 'First Love'.
Accordingly, this marked the very beginning of her successful acting career. She would later appear in 'Sweet Bride', 'Soonpoong Clinic', and 'Six Siblings'. She became an acting sensation after her appearance in 'Autumn in My Heart', a drama series directed by Yoon Seok-Ho. Her outstanding contribution to the sixteen episodes of this series earned her popularity across the country. The drama was aired from September to November in 2000.
Her next significant role was in 'Hotelier', a television series directed by Jan Yong-Woo. The twenty episodes of this drama series were aired between April and June 2001. She earned an MBC Drama Award for Best Actress following her significant performance in the series.
In the same year, Song featured as a lead actress in the Kim Young-Sup directed show, 'Guardian Angel'. The television series comprised of sixteen episodes and was aired between August and September 2001.
In 2003, her rise to fame continued with a role in 'All In', a gambling drama in which she played the leading role alongside Lee Byung-Hun. The following years saw her make commendable appearances in various shows.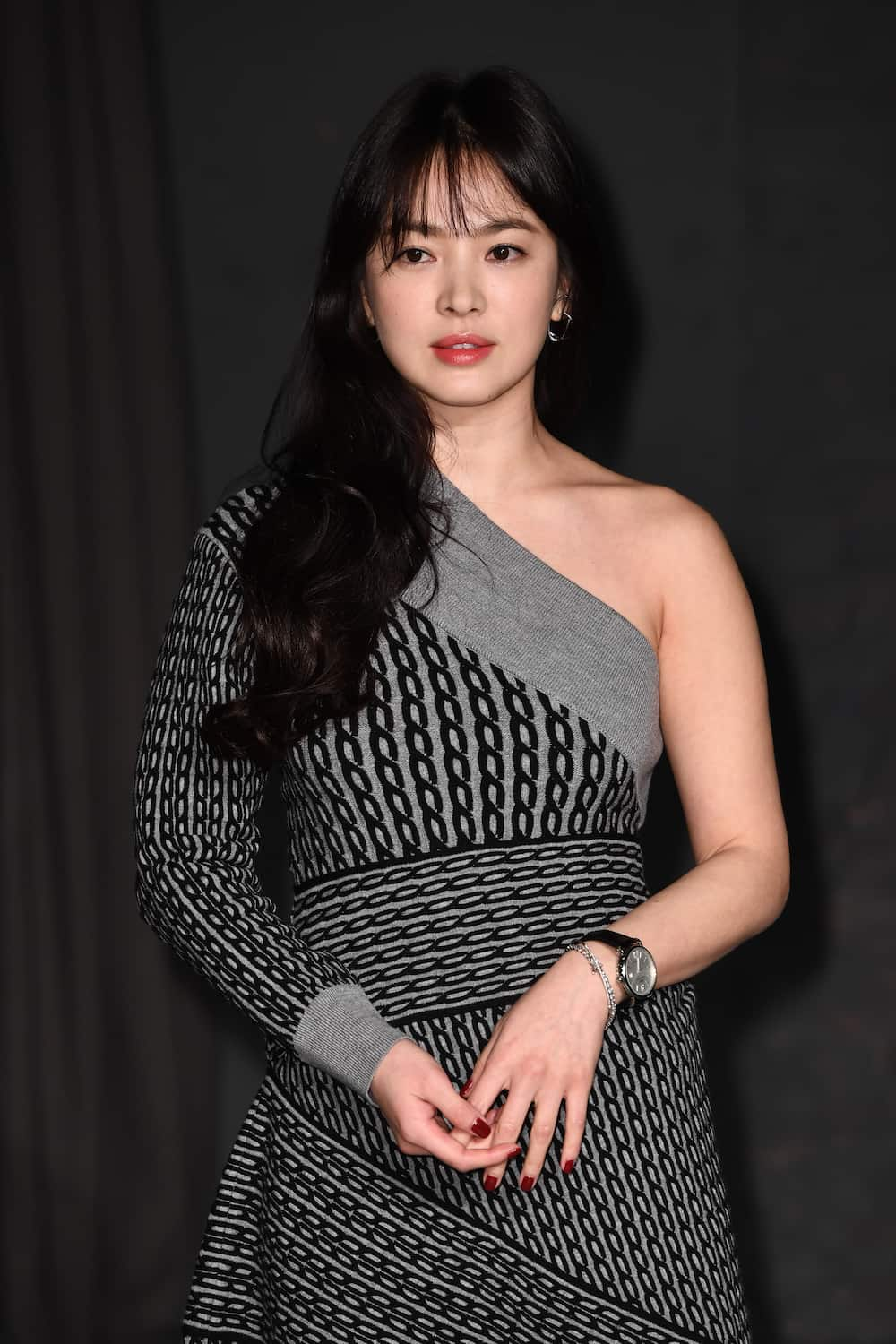 In 2004, she appeared in 'Full House' and 'Sunlight Pours Down', and in 2008, she starred in 'Worlds Within'. 
In 2010, she appeared in 'Camellia' and in 2013, she acted in 'That Winter, the Wind Blows'. The year 2016 and 2018 saw her feature in 'Descendants of the Sun' and 'Encounter' respectively.
Song made her film debut in 2005 with a significant role in 'My Girl and I'', which was directed by Jeon Young-Sun. It is based on a novel titled 'Socrates in Love'.
Next, she played a lead role in 'Hwang Ji Yi'. The film is based on a book tagged 'Hwangjini', and Chang Yoon Hyun directed it.
The actress has also featured in other films. Among the notable Song Hye Kyo drama films are 'Make Yourself at Home' (2008), 'A Reason to Live' (2011), and 'The Grandmaster' (2013). She also acted in 'The Crossing: Part 1' and 'The Crossing: Part 2' in 2014 and 2015 respectively and 'The Queens' in 2015.
Achievements and rewards
Song Hye Kyo's brilliance in the entertainment scene has earned her multiple awards and recognition.
In 2001, the actress won the Most Popular Actress (TV) award at the 37th Baeksang Arts Awards.
In 2003, she bagged the SBS Drama Award for Top Excellence Award (Actress) for her fantastic role in 'All In.'
In 2004, Song was awarded three KBS Drama Awards for her role in 'Full House.'
In 2013, at the 6th Korea Drama Awards, she won the Grand Prize for her role in 'That Winter, the Wind Blows'.
In 2016, alongside Song Joong Ki, the actress won the Daesang (Grand prize), the highest award at the KBS Drama Awards.
Song Hye Kyo net worth
Her acting career has earned the gorgeous actress a substantive amount of wealth. According to celebritynetworth.com, the actress is worth a staggering $20 million.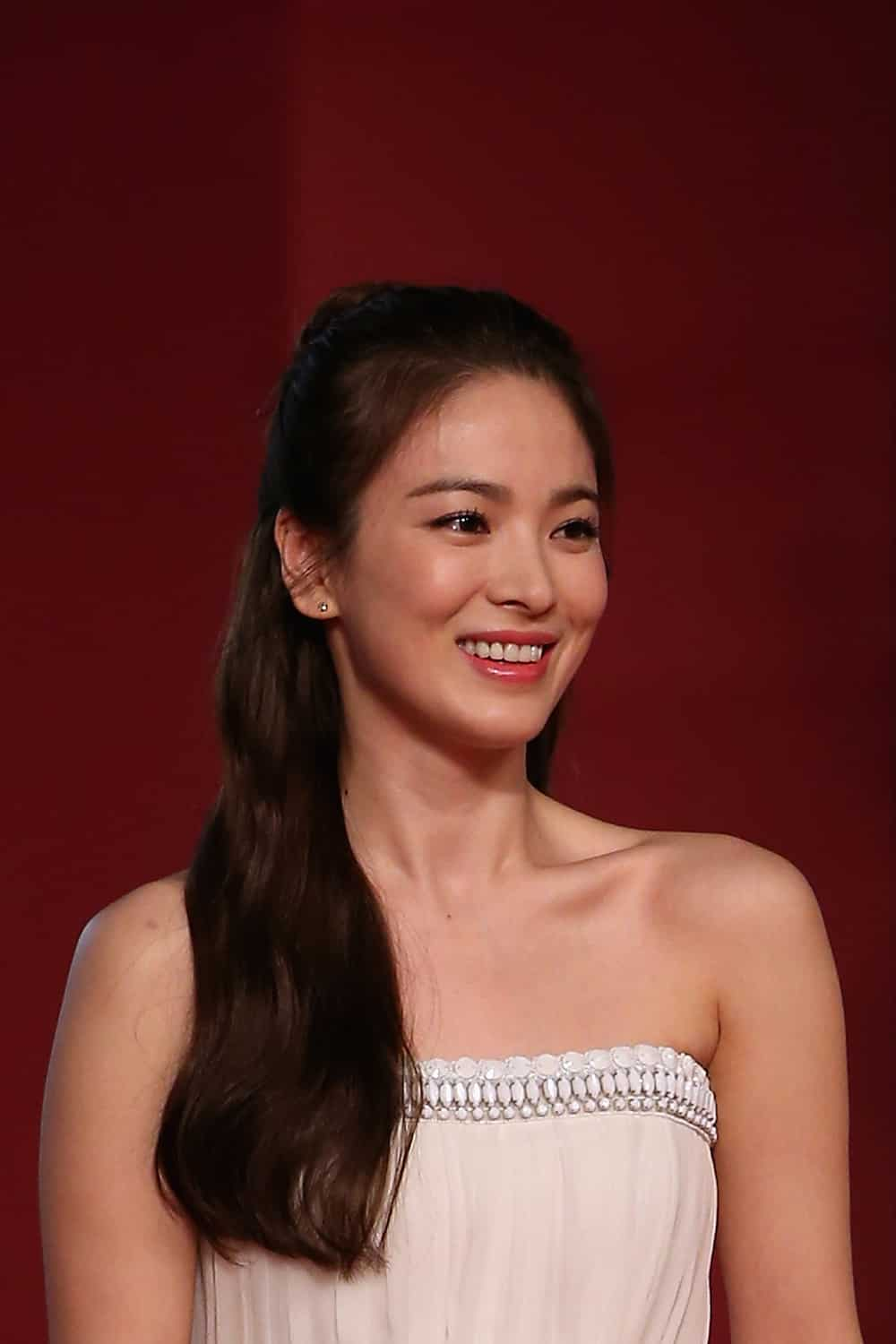 Private life, relationship affairs, and family
Before she got married, the actress had been in two relationships, and both of them involved actors. In 2003, she was in a relationship with Lee Byun-Hun. He was Song Hye Kyo boyfriend for not so long as the pair broke up the following year. 
Song Hye Kyo and Hyun Bin began dating in 2009. However, the relationship lasted for only two years before they parted ways in 2011.
READ ALSO: Song Joong Ki age, wedding, movies, Song Hye Kyo
Song Hye Kyo husband
Who is Song Hye Kyo married to? In July 2017, six years after her relationship with Hyun Bin, Song Joong Ki and Song Hye Kyo made it public that they were dating. The former would then end up being her husband. The two appeared together in the television series 'Descendants of the Sun' and won a Daesang (Grand prize) alongside one another.
How did Song Hye Kyo and Song Joong Ki meet?
The two celebrities first appeared together in the television series 'Descendants of the Sun' in 2016. However, the two had actually met before this. They were reportedly introduced to one another by Jo In Sung who had acted together with Song Hye Kyo in'That Winter, the Wind Blows'.
After Jo In Sung's recommendation, Joong Ki took up the role of Yoo Si Ji in 'Descendants of the Sun' and during the script reading for the series, he met Hye Kyo who was in attendance. 
As they appeared on the drama series as a soldier and doctor, most of their fans fell in love with their on-screen romance. Although their agencies denied any dating rumours after the two were spotted together sharing a meal in New York, the relationship became public in July 2017. 
Song Hye Kyo wedding
Joong Ki proposed to his wife to be in the winter of 2016 in Japan. The pair would then announce their wedding in July 2017. They then celebrated their beautiful union on October 31st, 2017. Among their friends who attended their colourful wedding were Park Hyung Sik and Park Bo Gum.
Song Hye Kyo latest news and divorce
Barely two years into their celebrated matrimony, perhaps a Song Hye Kyo pregnant announcement would be the only thing expected from the couple by their fans. Unfortunately, it was not so, as the pair resorted to part ways through a divorce, but what was the reason for their separation?
Since the rumours of their divorce emerged, Song Joong Ki and Song Hye Kyo became the hottest topic of the press. Joong Ki filed for divorce in June 2019, and it was officially finalized in July.
Unlike Joong Ki, who refused to state what went wrong since it is their private lives, Hye Kyo, through her agency, admitted that their separation was because of their differences in personality.
Their responses elicited a set of mixed reactions from their fans. A section agreed with her statement about personality differences while some thought that child-related issues might have caused the separation.
According to allkpop.com, the two celebrities were allegedly planning to have a kid. Unfortunately, the plans fell through because the actress began working on 'Encounter'.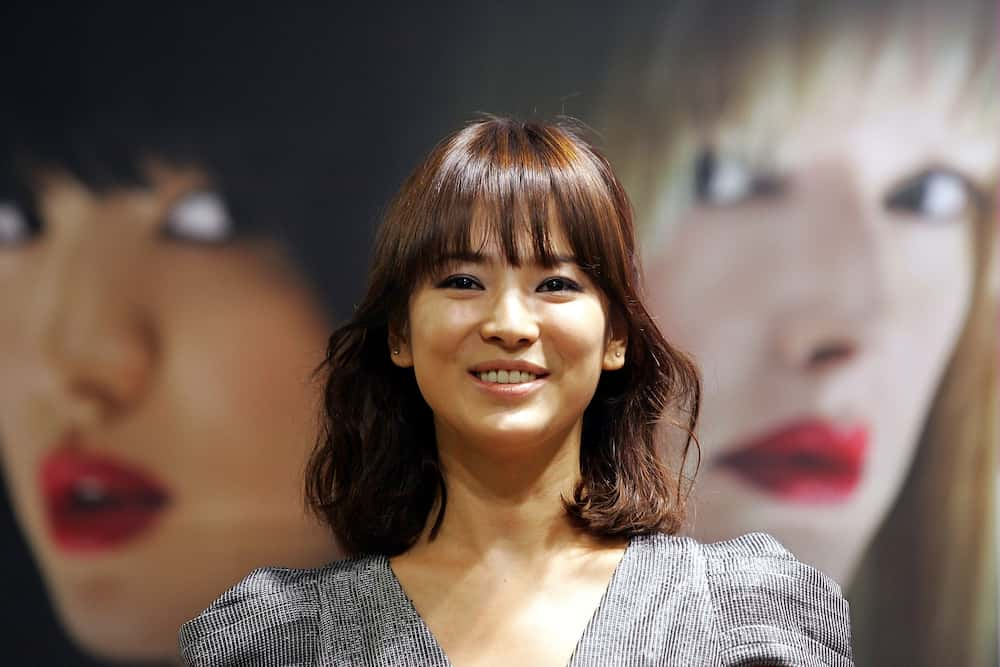 Song Hye Kyo short hair
Short hair can sometimes be the only thing someone needs to bring out their beauty. Take, for example, Hye Kyo. When she appeared with a short hairstyle, the popularity of this hairstyle rose. The style is characterized by 5 to 7 centimetres of hair beneath the ear, flaunted with air, side fringes or in curly waves. As much as she wears hers naturally, you could modify and perhaps dye your hair using a colour of your choice to make it more attractive.
Song Hye Kyo Instagram
The actress has an Instagram account @kyo1122, where she enjoys a huge following. She has 9.8 million followers. You can visit the platform to discover Song Hye Kyo hairstyle, dress code, among other things that enhance her beauty.
Song Hye Kyo is a stunning actress whose prowess in the field has earned her multitudes of fans and numerous awards. She is definitely one actress that many people look up to.
READ ALSO: Gretchen Barretto bio: age, children, husband, how much is she worth?
Source: KAMI.com.gh