BPI credit card application in 2021: process, requirements, status, online
The Bank of the Philippines Island is among the largest financial institutions in the country. The bank continues to enhance its services to facilitate the needs of its clients. For instance, the BPI credit card application process has now been digitized. Well, what do you need to know before applying for one?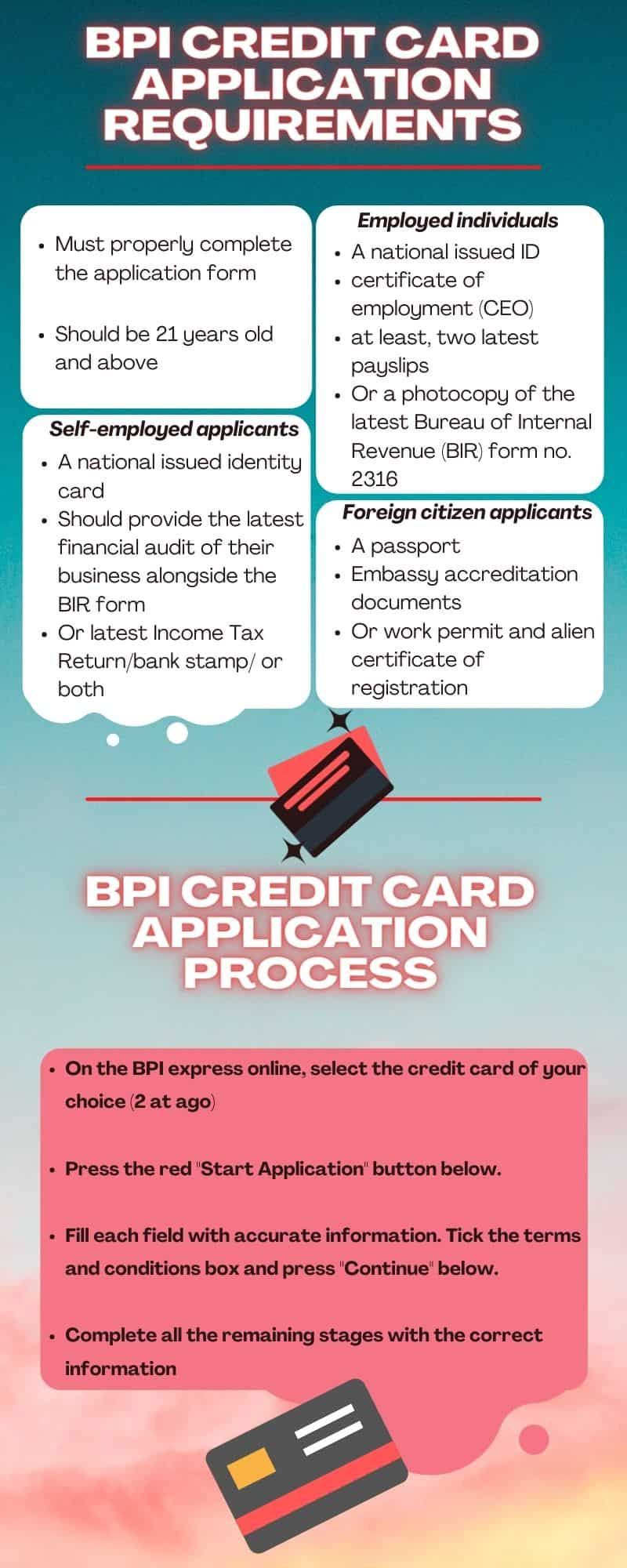 Technology has significantly impacted how people transact different businesses. Currently, the Bank of the Philippines Island is allowing its customers to pay for goods and services even when they do not have funds in their accounts. However, the benefits are available to subscribers only.
BPI credit card application details
Here are all the critical details that will guide you as you prepare to make your credit card application.
BPI credit card application: How long does it take?
Similar to other Filipino financial institution, the Bank of the Philippines Island allows applicants a maximum of one to two weeks. However, this period can change based on various factors. At times, customers can be forced to wait for more than a month. Majorly, the earlier the bank approves your request, the earlier you are likely to receive your the document.
How to check the status of my BPI credit card application
Currently, the bank allows customers two options for tracking their credit card once two weeks are over. The first option involves you calling them through their official numbers available on its website. Follow the prompts, and you will talk to an agent who will direct you on how to receive the document.
The second option, perhaps the most convenient one, is through the BPI website. Importantly, you need to sign in to your online account and click on the "Other Services," after which you will find an option requiring you to inquire about your credit card status.
BPI credit card application requirements
Overall, an applicant is supposed to fulfill the following requirements:
Should be 21 years old and above
Must properly complete the application form
Further, other specific requirements for various class of applicants are as follows:
Employed individuals
A national issued ID
certificate of employment (CEO)
at least, two latest payslips
Or a photocopy of the latest Bureau of Internal Revenue (BIR) form no. 2316
Self-employed applicants
A national issued identity card
Should provide the latest financial audit of their business alongside the BIR form
Or latest Income Tax Return/bank stamp/ or both
Foreign citizen applicants
A passport
Embassy accreditation documents
Or work permit and alien certificate of registration
Factors used to measure the eligibility of applicants
It is essential to keep this factor in mind when applying for a credit card. Otherwise, one is likely to apply to a wrong debit card, which they cannot maintain or does not meet their needs. Well, consider the following aspects:
1. Age
It is compulsory to be meet the recommended age; 21 years old and above for the principal holder category and 13 years old for supplementary cardholders.
2. Income
Here, income is based on the type of credit card one wants to apply for. For instance, a Blue MasterCard holder should be able to earn more than PHP 15,000 a year. On the other hand, Gold MasterCard cardholders must earn a minimum of PHP 1 million per year.
Importantly, it is a necessity to apply for one that can accommodate your lifestyle, such as spending habits. Besides, a wrong one may not be approved by the bank.
3. Contact details and home address
A residence or business number is compulsory. Also, your house must be within the radius of 30km from the headquarters of the bank or one of its family or provincial branches.
4. Nationality
The bank can only approve your application if you are a resident of the Philippine. In other words, you must have all the identification documents to prove that you are a Filipino national. The requirement also covers Overseas Filipino workers (OFWs).
BPI credit card application process
The simplest way to get your card approved fast is to create a BPI savings account. In the account, deposit a minimum of ₱10,000.00. Well, you can either complete the process at the nearest Bank of the Philippines Island or on BPI express online. Overall, below is the breakdown of the process for completing a BPI credit card application form:
On the BPI express online, select the credit card of your choice. Remember, you can choose two at ago.
Press the red "Start Application" button below to begin the process officially
You will be redirected to another page in a new tab
On the page, you will be required to fill each field with accurate information. After that, tick the terms and conditions box and press "Continue" below to go to the next stage.
You are required to complete all the remaining stages with the correct information before completing the process.
NOTE: The process is divided into five phases; personal, financial, addition cardholders, documents, and summary. Also, the BPI credit card application processing time is usually estimated to range between 5 to 10 minutes.
BPI credit card application status
Normally, an applicant can track their credit card either through a BPI credit card hotline number or through the bank's online platform. Here is how you can accomplish each:
Checking via the hotline number
Call customer service through 89-100 (metro manila) or its toll-free number 1-800-188-89100.
Once the call has connected, press 2 (for Credit Cards) to continue
Key in 2 again for "Credit Card Application Status Inquiry" option
Lastly, enter your 10-digit application ID
You will be informed of your status or connected to an agent who will advise you further
Checking status via BPI online system
On your browser, search for the BPI Express online website
On the website, click on "Other Services" then "Application Status Inquiry," followed by "Credit Card."
Proceed to key in your credit card application date
A drop list will pop up with several options. Pick, precisely, the "Application Submitted to" option
Afterward, enter your contact number
Press Submit to receive the results
BPI credit card application declined reasons
Instances, when an application can be rejected, include:
Several inconsistencies of information on your application form
Poor credit scores
Too low income
Invalid supporting documents such as the ID and ITR
Was this BPI credit card application details helpful? If yes, then you can go ahead and complete your application. You can also inquire about the status of your application using the bank's online platform, or its hotline number. Good luck!
Source: KAMI.com.gh