Citibank credit card: application, benefits and rewards
Thanks to technological innovation and society's computerisation, credit card utilisation has become a predominant habit. The practice is common for personal and business needs, promoting household and business' proper functioning. Citibank's credit card is one of the most sophisticated and beneficial to clients. The bank's renowned for its fast credit card approval and delivery time, unmatched by any other bank. What is the Citibank credit card application process?
A credit card is an essential and convenient financial product that one can use at their discretion but within the bank's limits. One of the vital things about a Citibank credit card is that it allows one to build credit and increase purchasing power.
With all the perks you can get from the card, why not apply and gain massively from the most sought-after perks?
How to apply for a Citibank credit card
Citibank's most fantastic thing is that the institution has embraced technology, which means faster credit card processing time. Compared to other banks that might make you wait for a long time; Citi surpasses the norm to give customers a swift encounter during application. How does the process work?
Confirm your eligibility
Citibank ph requires clients interested in credit cards to meet specific criteria standard with any financial institution. You ought to meet the following qualifications:
Be 21 years or older.
Have an annual remuneration of at least PHP 180,000 for existing cardholders or at least PHP 250,000 for first-time credit card applicants.
Have an active phone number, either landline or mobile phone the bank can use to reach you.
Possess a valid TIN, SSS, GSIS or UMID number.
One doesn't have to possess a deposit account with Citibank to qualify for a credit card. You can also get in touch with Citibank customer service to learn more about the minimum requirements if you find something that requires further clarification.
Required documentation for a credit card
Citibank has different, straightforward credit card applications processes that aim to suit various clients' needs. If you prefer the old school walk-in, the bank has ready credit card agents to receive your documents at any time.
You can also utilise the Citibank online portal to finalise your application. The bank requires the following documents typically:
If you possess another principal credit card, you are only required to provide your government-issued identity card.
If you lack a principal credit card, you have to provide your government-issued identification document on top of other paper. These include proof of income tax, a bank statement showing your one-month salary and a signed certificate of employment.
If you are making a Citibank online ph application, you will have to scan or take photos of these documents and submit them online.
Choosing the most appropriate Citibank credit card
Since people utilise credit cards for different reasons, Citibank Philippines provides eight different types that fit the various budget and spending habits. Therefore, it is advisable to check out the gains that each category avails to the client and if it meets your needs
Citi Simplicity + Mastercard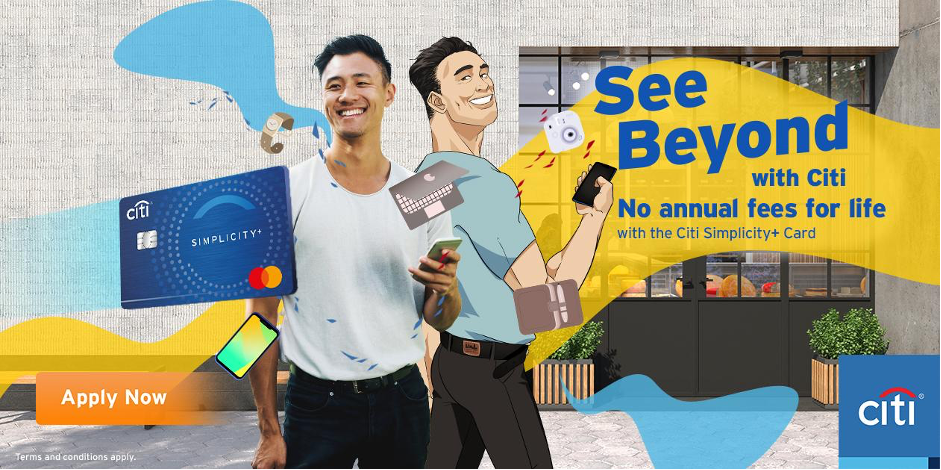 The Citi Simplicity + Mastercard is perfect for clients looking for something simple and straightforward.
Doesn't charge an annual fee.
Doesn't charge for late payments nor over-limit fees.
Citi Rewards Mastercard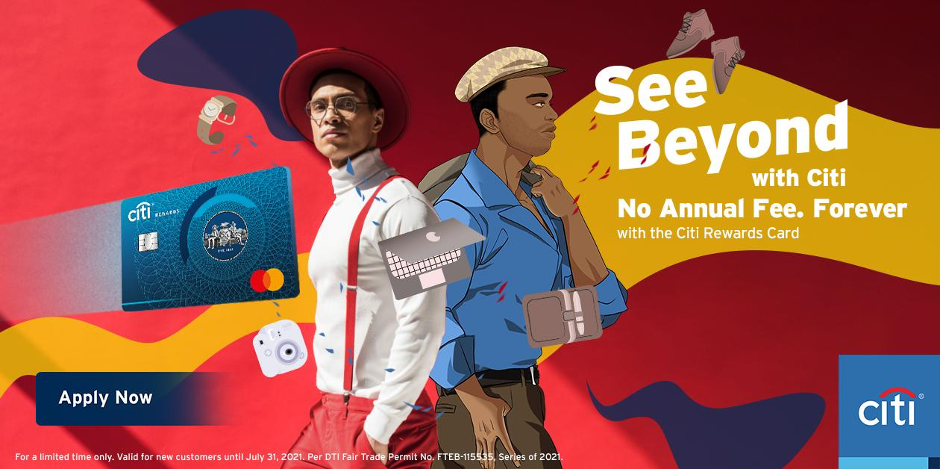 The Citi Rewards Mastercard is perfect for shoppers looking for Citibank rewards as it is packed with some of the best in the bank.
It doesn't charge an annual fee if you apply by July 31, 2021.
Clients get 3x non-expiring points (for every PHP 20 spent) on shopping and dining purchases.
Citi Cash Back Mastercard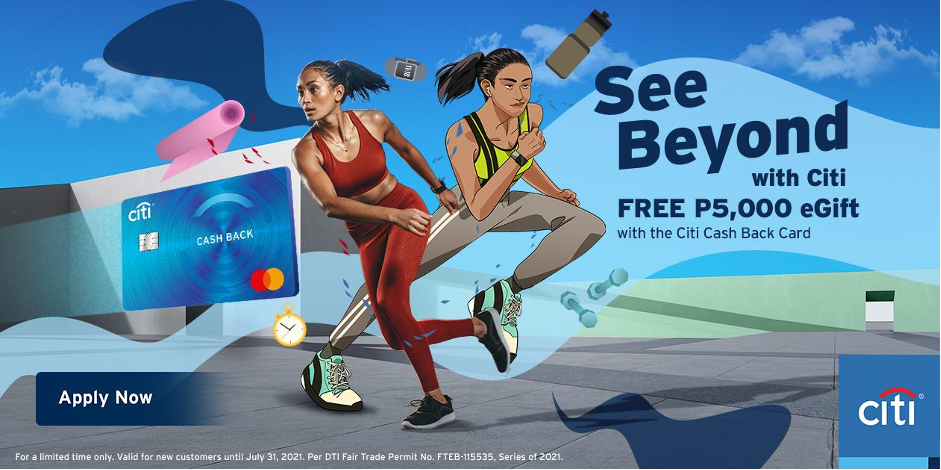 If you thought that credit cards were all about spending, then the Citi Cash Back Mastercard provides a different angle. It is excellent for people that love spending and saving.
Get up to 6% rebates on supermarket purchases. Additionally, clients access 2% rebates on Meralco bill payment completed via Citibank online.
Allows clients to save as much as PHP 15,000 effective January 20, 2021.
Citi Prestige Card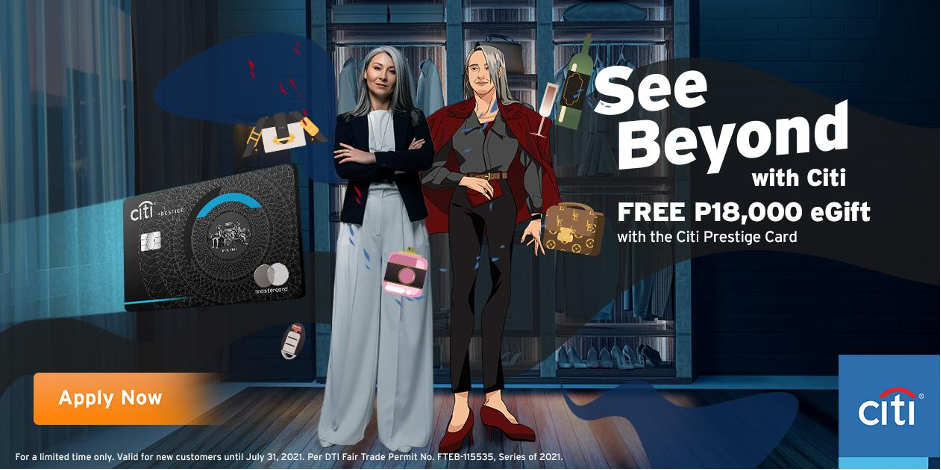 Anyone looking for VIP perks would require the Citi Prestige card. It has the following features:
5x rewards points on shopping, foreign currency spent and dining.
Clients gain access to over 1,000 VIP airport lounges globally.
Citi PremierMiles Mastercard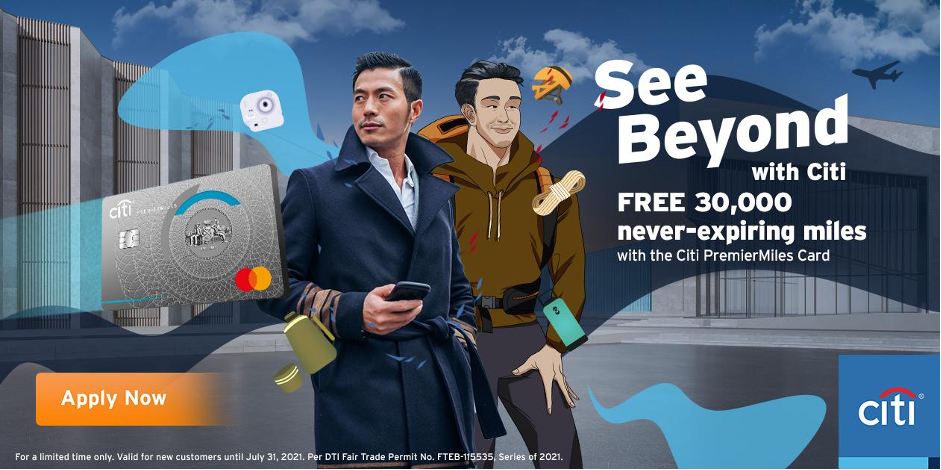 The Citi PremierMiles Mastercard is perfect for individuals that love travelling. It has the following features:
An annual fee of PHP 5,000.
Travel insurance of up to PHP 1 million and capability of earning 1 PremierMile for every PHP 30 spent.
Redeem flights and hotel stays instantly through Citi ThankYou Rewards.
Enjoy local and international airport lounge access with your PremierMiles.
Complete the Citibank application form
Remember that you can always use the official Citibank contact number for any inquiries regarding your application before moving forward to filling the form. The easiest way of submitting your application is via the online portal, and you can do so using the following steps:
Once you have your documents ready, go to the Citibank online credit card application portal.
Choose the preferred card and click the apply now button to direct you to the application form.
Respond to all the questions with appropriate responses (yes or no).
Complete the online application form appropriately, availing all the required data.
After you have successfully filled the application form, you will get a qualification result according to your answers. The bank will inform you if you can proceed to the next step or not.
Upload supporting documents
This is the final and most important process in the Citibank credit card application process. You will have to wait for five to seven banking days for Citibank feedback to know about your application's approval or disapproval.
How to check your credit card's status
You can always use the Citibank hotline to learn more about your credit card's status. If you have your Citibank login details, you can access the customer care services online or express your concern to the customer care department. The hotline number is 995 9999, and you can follow the following steps to know your status after calling;
Once the call is engaged, press 2.
Press 1.
Write your application ID or TIN.
Press the # button to confirm.
Citibank credit cards are amongst the best and beneficial in the Philippines' banking industry. Depending on the card you go for, you can access travel discounts and insurance, reward points, cashback and much more.
Such incentives are incredible and provide clients with a profound reason to seek these credit cards and hold them for long. Also, the application process is straightforward.
Source: KAMI.com.gh