Halsey bio: net worth, parents, boyfriend, songs, pictures
Halsey is an American singer, songwriter, and actress whose real name is Ashley Nicolette Frangipane. The name Halsey was derived from two things. First, it is an anagram of Halsey's real name Ashley, and secondly, it is a reference to the Halsey Street station in New York, where she used to spend a lot of time as a child. Although she always had a passion for music, she was forced into singing to make some money to cater for her financial problems.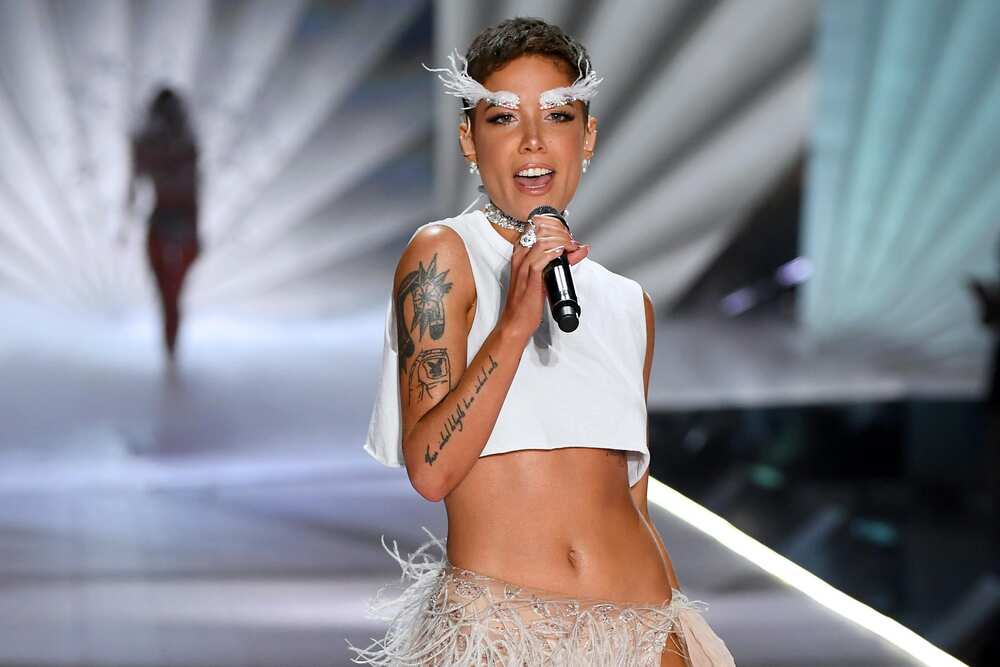 The established pop singer and songwriter started her music career by singing parodies. Taylor Swift was one of her biggest influences, and it is her song 'I Knew You Were Trouble' that got Halsey on her feet. She is not only talented but also plays several instruments such as violin, viola, guitar, and cello, which she has been playing since childhood.
It is through her hard work, determination, and never giving up that she has gotten to where she is today as an international celebrity considering she came from a not so rich background.
Halsey profile summary
Name: Ashley Nicolette Frangipane
Nickname: Halsey
Date of birth: 29th September 1994
Place of birth: Clark, New Jersey, U.S.A.
Halsey age: 25 years
Nationality: American
Father: Chris Frangipane
Mother: Nicole Frangipane
Boyfriend: Evan Peters
Halsey biography
On 29th September 1994, Halsey was born and named Ashley Nicolette Frangipane by her parents Chris Frangipane (father) and Nicole Frangipane (mother). This means Halsey's birthday is celebrated every 29th of September.
As a child, Halsey showed interest in playing the violin, viola, cello, and guitar. Her dream was always to go to college and major in fine arts, but that never happened because she could not afford it and thus opted for a community college where she majored in creative writing.
Parents
Halsey's parents are from mixed ethnicities. Her father, Chris Frangipane, is of African-American descent. Her mother, Nicole Frangipane, on the other hand, is of Italian, Irish, and Hungarian heritage.
They are blessed with Halsey and two other sons. Her parents influenced her into being an electropop artist. Her father used to listen to the likes of Notorious B.I.G. and Slick Rick while her mother was a fan of The Cure, Alanis Morisette, and Nirvana.
Halsey boyfriend
Halsey has released many songs within a few years, but that is not the only long list she has had. She has also been involved with several boyfriends with the latest being Evan Peters. Evan is famous as the American Horror Story actor.
The two have been to dates together and announced officially that they are dating. Before that, she was in a relationship with Yungblud between 2018 and 2019. Halsey and G Eazy's relationship is probably the most famous.
They dated back in 2017 when they released their duet 'Him $ I'. She has also been involved with Machine Gun Kelly, Jared Leto, Lido, and Matty Healy. Halsey dating history may be an open book for everybody to read, but this may well be the last chapter.
Halsey tour miscarriage
Many fans sent messages of support upon learning of Halsey miscarriage news. The singer revealed that she suffered multiple miscarriages that left her demoralized. Halsey revealed that she suffers from a disease called endometriosis, which is the cause of the miscarriages.
However, this has not stopped her from desiring to be a mother, and she believes it will happen soon. In total, the singer has suffered three miscarriages, four surgeries, and chronic pain as a result of the endometriosis.
READ ALSO: KZ Tandingan bio: age, parents, net worth, boyfriend
Songs
Halsey started her career by singing cover songs and posting them on YouTube. Her most famous cover song was named 'The Haylor Song,' a parody of Taylor Swift's 'I Knew You Were Trouble.' This song received worldwide attention, thus boosting Halsey's career. Two years later, in 2014, she recorded a new song 'Ghost' and uploaded it on SoundCloud.
Professionally, Halsey debuted with the 'Badlands' album in 2015, which would be the first of many Halsey albums to follow. The album peaked at number 2 on the Billboard 200 chart. A year later, she was featured by the Chainsmokers in the song 'Closer,' a move that helped the song top the charts.
In 2017, she released 'Hopeless Fountain Kingdom,' and it topped the album chart with top-performing singles such as 'Bad at Love.' Towards the end of 2018, she released 'Without Me,' making it her first number-one single. Fans can only speculate on what to expect from Halsey 2020. Some of Halsey songs include:
Is There Somewhere
Ghost
Hurricane
Roman Holiday
Gasoline
100 Letters
Nightmare
Clementine
929
Killing Boys
New Americana
Him & I
Empty Gold
Sorry
Angel on Fire
Net worth
Halsey's net worth is $12 million as of 2020. Though she is still new in the music industry, her chart-topping albums have given her a considerable fortune.
Her debut album 'Badlands,' for instance, reached number 2 in the U.S.A. and Australia and also made it to the top ten in Canada, Belgium, New Zealand, Ireland, Netherlands, and the U.K.
Consequently, she is the recipient of several awards and honors. She has received nominations for MTV Europe Music Award, People's Choice Award, and N.M.E. Award. She also owns a home in Hollywood Hills worth $2.23 million. She has another 2,200 square-foot home worth $2.4 million in Sherman Oaks, California.
Halsey pictures
Following her fame, Halsey has found herself in a situation where she has to update her fans regularly on memorable events in her life. This she does best by posting pictures on her Instagram and other social media accounts. Those eager to be updated with Halsey's latest news just have to follow her on social media. Some of her hot photos include:
1. Halsey and Evan
Halsey has not always been one to fancy being single. She does not dwell on breakups but picks up the pieces and moves on to the next relationship. In this photo, she is with her current boyfriend, Evan Peters. The two look happy together, and seeing that Halsey is keen on settling down and starting her family, Evan seems to be the one.
2. Sensual
Evidently, she is never afraid to make a statement or do things she believes in. She left her fans to battle with their imaginations in this photo. Nobody can tell whether she was seminude or completely nude while posing for the picture. However, since it is just an up-close of her shoulders and head, everyone is free to run wild with their imaginations.
3. Comfort zone
We already know that Halsey loves to sing, and there is nothing she would rather be doing at any time. She is not one of those musicians who bury themselves in the studio and devote little time to their fans. Halsey is among those few who hold shows all year round to perform to audiences in different cities across the world.
4. A style icon
It is a matter that can be debated all day long, but the fact is that Halsey is not one to conform to societal expectations of style and fashion. Halsey wears what Halsey wants, and that is how she has managed to be a style icon influencing the dressing choices of many worldwide. In this regard, we can comfortably say she is a trendsetter, and one major brand should associate themselves with it.
5. Tattoos, tattoos, and more tattoos
There is always space for one more tattoo until you realize that the whole body is covered in ink. Halsey is one of those tattoo fanatics who just can't resist the temptation to get their bodies tattooed. She has tattoos from her right eye, shoulders to fingers, and who knows where else? Amazingly, all her tattoos look good on her, unlike some people who get tattoos without even considering whether those tattoos add any aesthetic value.
Halsey is, without a doubt, one of the new musicians that have taken over the industry with a storm. Thankfully, people don't have to exhaust themselves looking for recording labels nowadays. As long as the talent is there, some have opted to start with music covers and parodies. That way, the world can recognize their abilities, and then recording labels come calling. Such has been the case with Halsey's career, and when the opportunity came her way, she did not disappoint.
READ ALSO: Kitty Duterte bio: age, height, boyfriend, family, study
Source: KAMI.com.gh