Vickie Rushton bio: Boyfriend, photos, age, height, latest news
Vickie Rushton is a beautiful model that hails from the Philippines. She has won many beauty pageants, but hers is not a story without its ups and downs. Vickie had to struggle and undergo hardships as a child before luck came her way. Coming from a separated family, she had to be raised by a single parent. All her accomplishments, though, overshadow the pain and suffering she underwent in her past as she is now living the life of her dreams.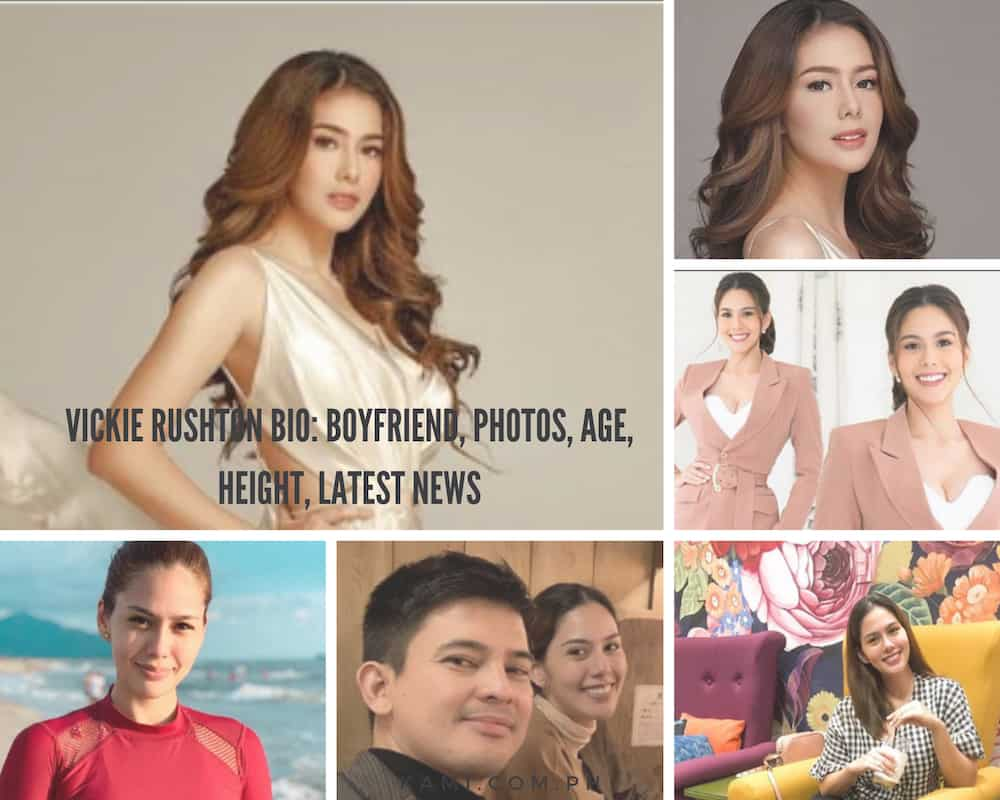 Vickie Rushton is famously known from the Pinoy Big Brother (PBB), where she was a housemate with the nickname Lady Mahinhin ng Bacolod. Other than reality television, she has also made headlines in the modeling world. She is a Mutya ng Pilipinas titleholder.
As a result, she has become a role model for young girls who undergo difficult and complicated childhoods that they can break free and become successful as long as they believe in their dreams and work hard to achieve them.
Vickie Rushton profile summary
Full name: Vickie Marie Milagrosa Sausa Rushton
Vickie Rushton birthday: 8th May, 1992
Vickie Rushton Age: 27 years
Place of birth: Bacolod City, Negros Occidental, Philippines
Birth sign: Taurus
Height: 1.68 m (5ft 6 in)
Hair color: Black
Eye color: Brown
Occupation: Pageant, reality TV personality
Vickie Rushton biography
Vickie Marie Milagrosa Rushton was born on 8th May 1992 in Bacolod City, Philippines. She has a British father (Eric Rushton) and Filipina mother. Marie's parents separated while she was still young, and her mother soon became blind after suffering from glaucoma.
Marie also has an older brother called Kian, who has down's syndrome. Due to this, she has always been involved in advocacy for people living with disabilities. She later reconciled with her father after more than 12 years and, in the process, got to meet and know his side of the family in the United Kingdom.
READ ALSO: Madison Beer bio: net worth, dating history, age, height, photos, latest news
Boyfriend
The man who was lucky to steal Vickie Rushton's heart goes by the name Jason Abalos. Vickie Rushton boyfriend is a Kapamilya actor and celebrity in the Philippines. The two have been together for more than six years, and their love is going strong.
The two are a perfect match for one another because they enjoy doing activities together. Some of their hobbies include traveling and hiking in the Philippines and abroad.
Body measurements
Vickie Rushton height is 1.68 meters or 5 feet and 6 inches tall. Her other body features include black hair and brown eye. Other body measurements of the model, such as weight and dress size, have not been disclosed to the public yet.
Vickie Rushton photos
Vickie is a model, and taking pictures is her thing. The beautiful model continually updates her fans on her whereabouts and recent events through photos she posts on Instagram and other social media accounts. Some of the most eye-catching photos shared by her include:
A true goddess
One needs not to look further to see an embodiment of beauty. Vickie was truly blessed with beauty in all possible definitions of the word. She conforms to all the standards of beauty, such as the asymmetrical face, dazzling eyes, and a slim waist.
Fashion icon
Vickie is indeed fashionable, but so are many other women. The difference is picking clothes not because they are trending but to make them trend. This can only be achieved by knowing the right clothes to match skin color, body figure, and the occasion. This is where Vickie excels, and as a result, she has become a trendsetter in the fashion world.
Eyes on the prize
Men better calm down! Vickie is not the prize because she is in a happy relationship. She, on the other hand, has set her eyes on the Binibining Pilipinas 2020 crown, having missed out on the award twice already.
This will probably be her last shot and is seen as a favorite to take the crown home. Considering last year she did not win just because she failed to answer one question; this year, she might give other contestants a run for their money.
Body goals
Being a model is not a once-off activity but a life-long devotion in every aspect of an individual's lifestyle. One of the things beauty pageant contestants cannot afford to lose sight of is their weight.
The transformation Vickie has undergone in just one year is impressive as she ensures she keeps fit all the time. As a result, many will be eager to know her diet plan and the kind of physical exercises she recommends.
READ ALSO: Kristel Fulgar: age, height, Instagram, boyfriend
Family always
With all her success, we tend to forget the amount of pressure Vickie has had to undergo in her life. Both her mother and older brother live with disabilities, but she has not forgotten or abandoned them.
Under such circumstances, many people will bail out and take the easiest available routes, such as dr*gs or alcohol. Vickie, on the other hand, has remained a pillar her family can rely on, and that is partly the reason why many people love her.
Vickie Rushton latest news
Vickie submitted her application to compete in the Binibining Pilipinas 2020 for the third time in an effort to take home the crown finally. She missed out on the title last year after leaving a question halfway answered and revealed later that she got distracted.
After submitting the application, Vickie Rushton IG account had the following message:
Since the announcement, I have been receiving lots of words of encouragement. I've read your messages, comments, and posts. And for that, thank you. You are the reason why I will never stop trying. I just want to thank all of you for believing in me. Yes, I have fears, it's normal, but I know I can do this because I have you by my side.
After confirming that she will compete in the Bb. Pilipinas, for the third time she received immense support from the reigning Bb. Pilipinas International, Bea Patricia Magtanong who did not hesitate to show solidarity by commenting on her Instagram post.
During the Covid-19 quarantine period, Vickie Rushton is one of the public figures who has come out to promote online learning as one of the measures to ensure social distancing and people continue staying safe at home.
Furthermore, she undertook a short online course offered by the Technical Education and Skills Development Authority (TESDA). This is the third course she has completed under the TESDA Online Program. The courses she did are under entrepreneurship, agriculture, and 21st-century skills.
There is more to life than separated families or having family members living with disabilities. The story of Vickie Rushton is one of encouragement that when the going gets tough, people should not give up but soldier on because there is always going to be a better tomorrow. Hard work does pay, but also a lot has to be earned from being humble and remaining true to yourself.
READ ALSO: Kim Go Eun bio: age, boyfriend, height, pictures, latest news
Source: KAMI.com.gh