Anime quotes about love: top 30
Romance might be one's greatest pursuit in life; that is why you hold dear to your heart all the lessons romance has taught you. The things you learn about it somehow give you hope about the coming days, while some sad memories always seem to pinch your heart. The truth is, life is not the only thing that gives someone a lesson about romance and friendship, but also anime. Surprisingly, there are many anime quotes about love that can pull one's heartstring.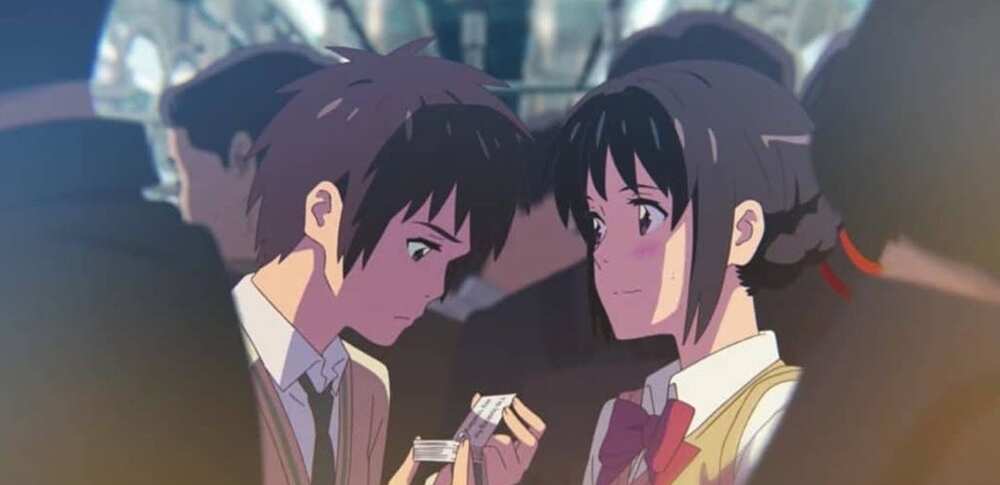 Throughout history, there are already countless anime about romance, friendship, and family whether in Manga, TV shows, movies, series – romance has always been one, if not the best, genre and storyline of an anime. What's best about this kind of anime is the line or quotation that you can get from it.
Best anime quotes about love
Romeo x Juliet, Kimi No Nawa, and We Were There are some of the best anime romance ever produced, but besides these, there are other anime that will make your heart wobble. Here are some quotes about love in anime that you might like:
You will never be able to love anybody else until you love yourself. - Lelouch Lamperouge (Code Geass)
I used to always cry and give up... I made many wrong turns... But you... You helped me find the right path... I always chased after you... I wanted to catch up to you... I wanted to walk beside you all the time... I just wanted to be with you...You changed me! Your smile is what saved me! That is why I'm not afraid to die protecting you! Because... I love you..." - Hyuuga Hinata (Naruto)
Kurosaki-kun, you know I had a lot of things I wanted to do... I want to be a teacher... I also want to be an astronaut... And also make my own cake shop... I want to go the sweets bakery and say, 'I want one of everything'... Ohhh, I wish I could live five times over. Then I'd be born in five different places, and I'd stuff myself with different food from around the world... I'd live five different lives with five different occupations... And then, for those five times... I'd fall in love with the same person... - Inoue Orihime (Bleach)
Even if I lose this feeling, I'm sure I'll just fall in love with you all over again. - Syaoran Li (Cardcaptor Sakura)
No matter which love line, what time, or where I am, I will always love you. I'll say it one more time, I love you. - Okabe (Steins; Gate)
Love is simply an electrical bug in the human neural circuit." - Akasaka Ryuunosuke (My Pet Girl Sakurasou)
Just your touch... gets me excited. It makes me so happy. But those feelings will all turn into pain. The happier I am now, the more it'll hurt. I know how cruel this is... but no matter how hard I try, I can't rid myself of this. - Nejima-kun... I... don't know... what love is. - Takasaki Mikasi (Koi To Uso)
Destiny. Fate. Dreams. These unstoppable ideas are held deep in the heart of man. As long as there are people who seek freedom in this life, these things shall not vanish from the Earth. - Gold D. Rodger (One Piece)
You may not believe me but, even before he told me his name, I felt as if I already knew who he was. - Takashi Nanami (We Were There)
"It was like you brought color to my life. You changed my life, all by yourself." - Sawaka Kuronuma (Reaching You)
Anime quotes about love and pain
Romance plus pain is an excellent formula for a beautiful storyline, and some anime also depicts such emotion. Below are some quotes that will make you believe romance and pain are two inseparable things.
I... I love you with all my heart! If you were to stay here with me, there would be no regrets...Because every day we'd do something fun, we'd be happy, I swear! I would do anything for you! So... please just stay with me! - Haruno Sakura (Naruto)
The two of us aren't so different. My whole life I've desired from others. I felt bitter to the people around me and I closed off my heart. And a heart that lets nothing in, will become empty before you realize it. - Mei Aihara (Citrus)
It's not that you can fall in love with someone new because you forgot the old. It's because you fall in love with someone new that you're able to forget about the old. Only love can heal a heart that was hurt by love. - Takeuchi's sister (Ayaka Takeuchi)
Forgetting is like a wound. The wound may heal but it has already left a scar. - Monkey D Luffy (One Piece)
Love, passion, why do we get caught up by such troublesome feelings? The mind couldn't ever get things straight, and you lose control to know what is sensible. Deep down it's all so vexing. - Usui Takumi (Maid Sama)
If it's possible for one person to be hurt by another, then it's possible for that person to be healed by another. - Sohma Hatori (Fruits Basket)
Someday my memories will fade… And her voice, her actions, I might forget them as well. But I will always remember that I loved Saber. - Shirou Emiya (Fate Stay Night)
If I can meet you again, against the 6 billion to 1 odds, even If you can't move, I'll marry you. - Hideki Hinata (Angel Beats)
The scars that you can't see are the hardest to heal. - Nao Tamori (Charlotte)
Either in belief or doubt, if I lean to one of these sides, my reaction time will be dulled if my heart thinks the opposite of what I choose. - Roronoa Zoro (One Piece)
I'll make you so in love with me, that every time our lips touch, you'll die a little death. - Ai Yazawa (Nana)
READ ALSO: Park Shin Hye bio: movies, TV shows, boyfriend, how much is she worth?
Sad anime quotes about love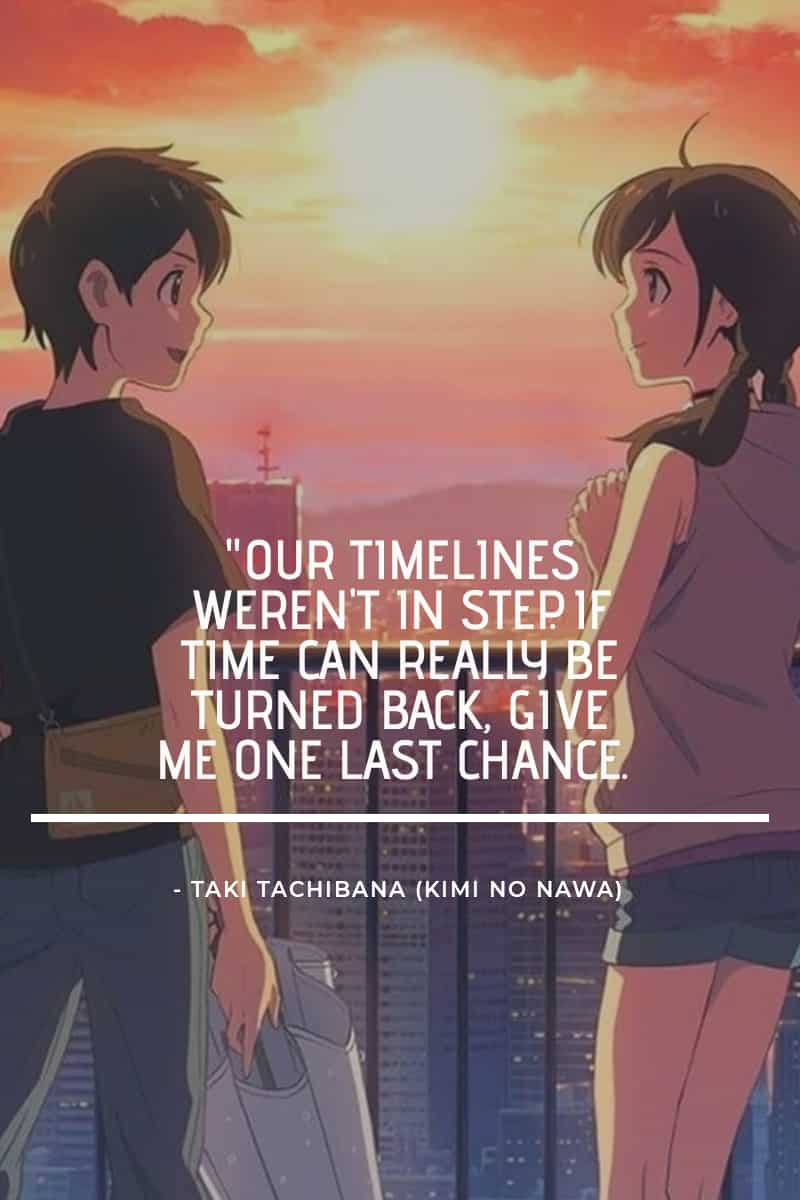 Some anime love story would either end up with a happy-ending or bitter-ending. Below are some of the heartbreaking lines from an anime that has ever said or written:
Stories are better when they have an ending, are they not? - Kraft Lawrence (Spice And Wolf)
You were always there for me, and that's all I needed. Just you. For some reason, I didn't feel sad or broken up, it just didn't seem real. But slowly I realized it was real – that you were gone. And little by little, I slowly felt something inside me go numb. - Jet Black (Cowboy Bebop)
I couldn't confess my feelings for you, so I watched you from afar, being happy with someone else.- Sanji (One Piece)
I too am alone. It's sad being alone. It's painful. I felt that way too. But if we're together, at times we may hurt each other, and we may even part. But, that is not the end. I'll always be with you. - Hitomi Kanzaki (Vision of Escaflowne)
When do you think people die? When they are shot through the heart by the bullet of a pistol? No. When they are ravaged by an incurable disease? No. When they drink a soup made from a poisonous mushroom!? No! It's when… they are forgotten. - Dr. Hiluluk (One Piece)
There's no way we could meet. But one thing is certain, if we see each other, we'll know. That you were the one who was inside me. That I was the one inside you. - Mitsuha Miyamizu (Your Name)
Is there a limit to how much you can love somebody? No matter how much I hurt him or get hurt by him, I find myself far from hating him, actually hoping that those wounds will scar, like burns… Because then you can never forget me. - Kamijou Hiroki (Junjou Romantica)
We are all far-sighted, we give importance to those things that are far from us while neglecting the things that are close to us… only to realize their value later when they are out-of-reach again… - Kawamura Sachiko (Nana)
I want to break up while I can still say I love you. - Shindou Chihiro (Ef - A Tale of Memories)
Our timelines weren't in step. If time can really be turned back, give me one last chance. - Taki Tachibana (Your Name)
It truly is nice to find romance, especially when someone will say all the right words to you. Just like your favorite anime quotes about love, someday, someone is going to make your heart flutter through words and actions.
READ ALSO: Kathryn Bernardo bio: net worth, age, height, who is her celebrity best friend?
Source: KAMI.com.gh