30 inspirational anime quotes about life
What is the first thing that comes to your mind when you hear the word anime? Well, you might think of the famous Dragon Ball Z or One Piece, or the movie Kimi No Nawa - whatever it is that you thought of, you surely can remember one memorable quote from that anime. If watching anime is your favorite hobby, then you must have your favorite anime quotes about life.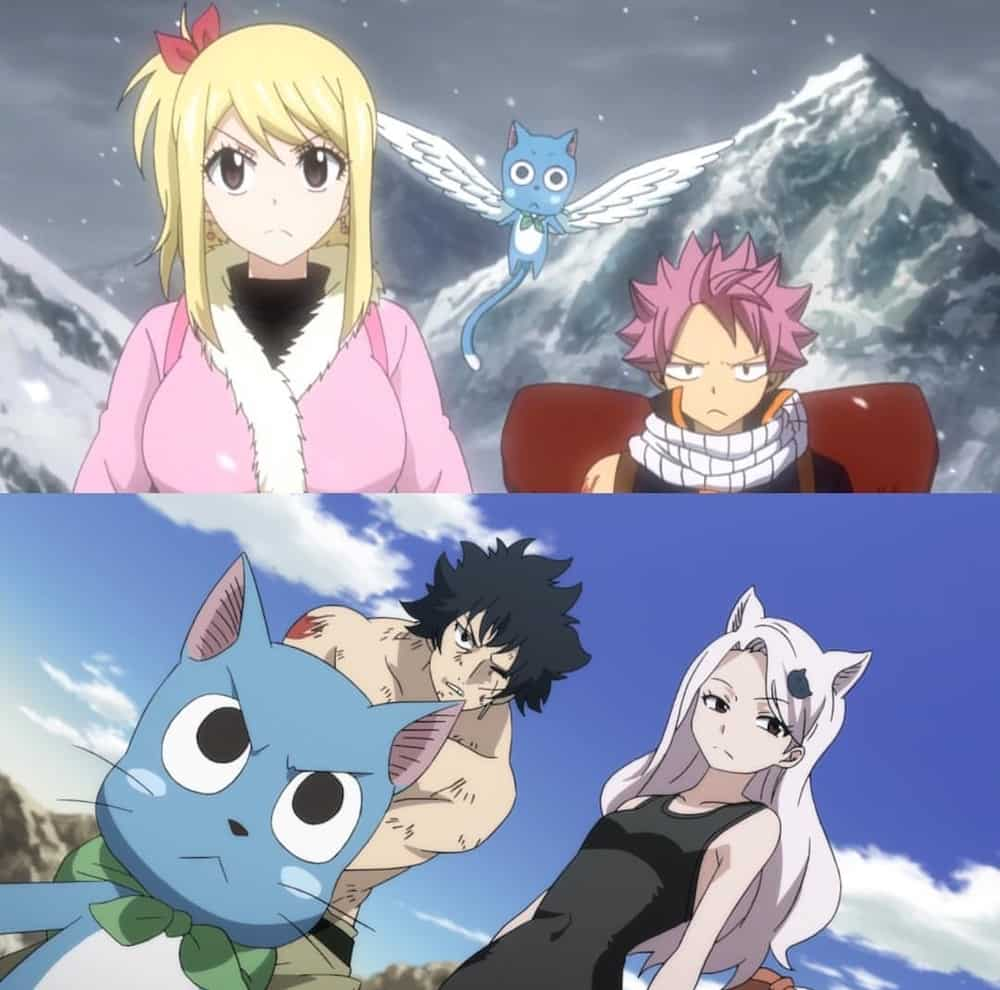 Anime has a diverse range of genres, from romance to horror to sci-fi. Anime surely has tackled almost every kind of emotion and story. One can also enjoy it through series or movie, and some people turn to it to lift their selves whenever they are down.
Inspirational anime quotes about life
If you are one of those who are feeling down, this article hopes that these anime quotes will inspire you:
God would never put us through all this suffering if he didn't think we can bear it. - Yuuki Konno (Sword Art Online)
It would be nice to live in a kind world without any fear, without any troubles, without hurting anybody, without ever being hurt; only doing the right thing. I wish I could reach this kind world by the shortest path possible. - Akito Sohma (Fruits Basket)
Even a child that receives one bit of praise has the ability to excel in a single talent, and those who receive regular encouragement can feel confident, achieve success, and become leading members of society. Because they don't need to raise a fist and have vengeance against fate or the world at large. - Inspector Lunge (Monster)
Everything has a beginning and an end. Life is just a cycle of starts and stops. There are ends we don't desire, but they're inevitable. We have to face them. It's what being human is all about. - Jet Black (Cowboy Bebop)
You don't have to worry about being special or normal compared to everyone else! It doesn't matter who it is. So as long as they think you are special, then you're special. - Eru Chitanda (Hyouka)
Best anime quotes about life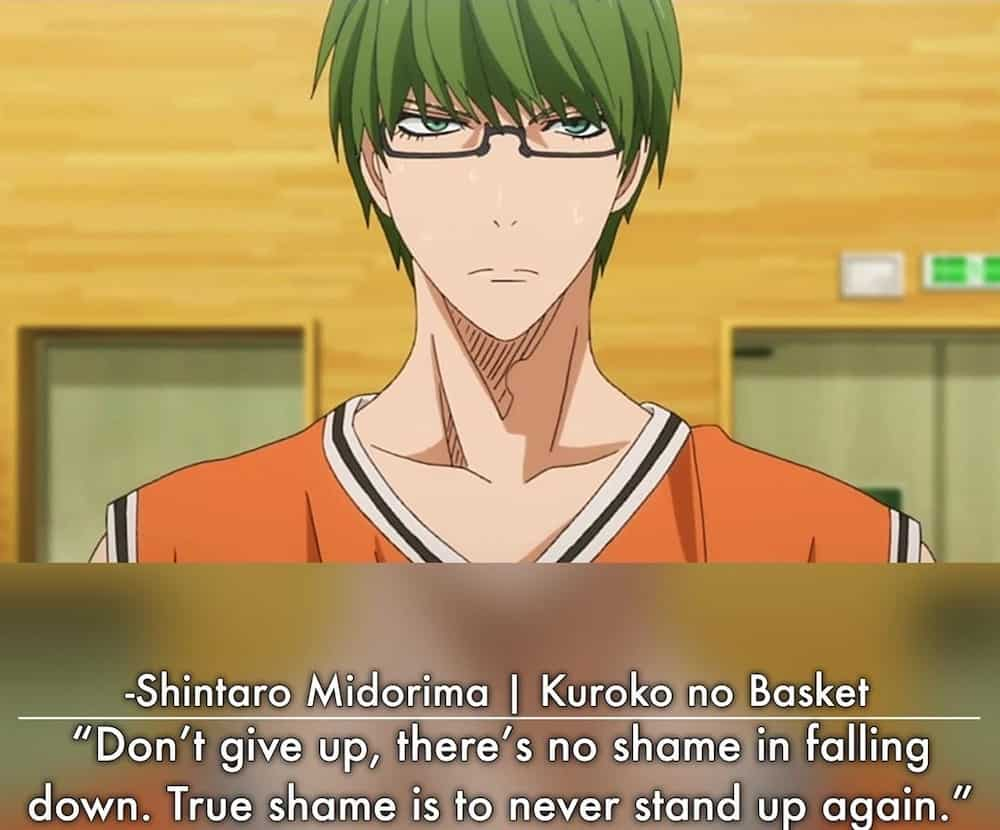 There are countless of great anime already, with notable stories and remarkable lines, and below are some of the best quotes about life:
We don't know if trying our best will help, but we do know that if we don't try our best, it won't help for sure. - Eru Chitanda (Hyouka)
The fact that you have a place where you can return home will lead you to happiness. That is a good fact. - Kaworu Nagisa (Neon Genesis Evangelion)
Brilliant people shine more brightly than ordinary ones. They never regret or agonize over what they've done." - Archer (Fate/Stay Night)
Life isn't just doing things for yourself. It's possible to live in such a way that other people's happiness makes you happy too. - Asuna Yuuki (Sword Art Online)
Back then, if we could have heard each other's voices, everything would have been so much better. - Shouya Ishida (A Silent Voice)
Famous anime quotes about life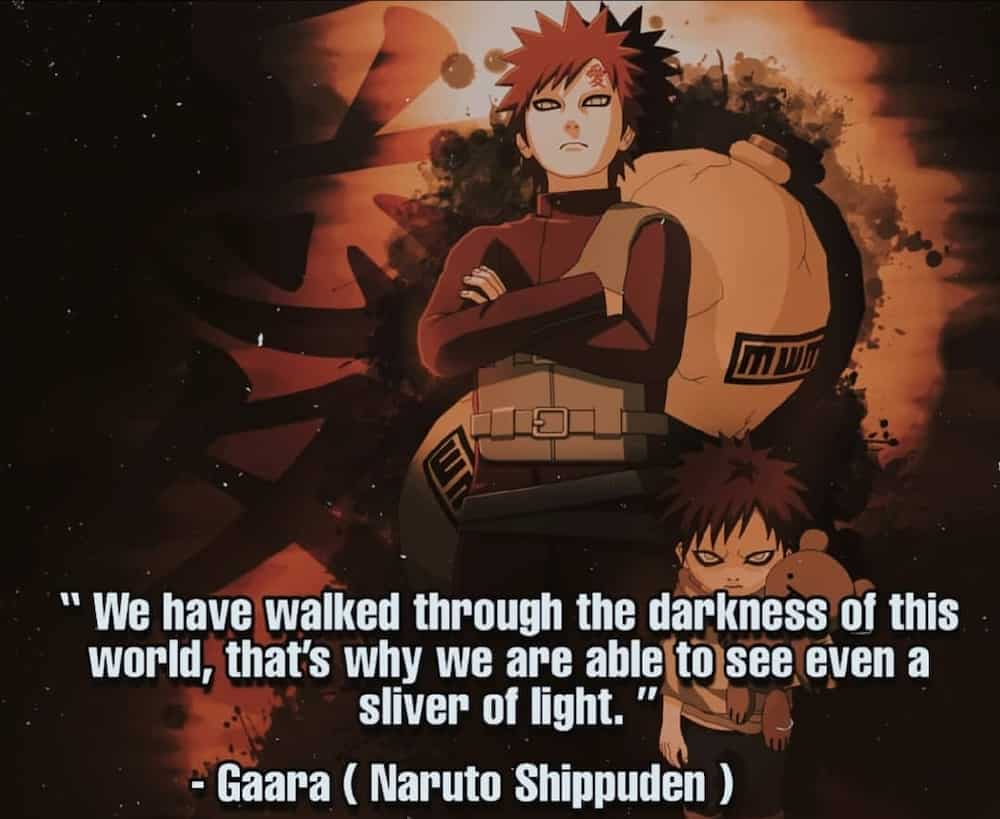 Here are some quotations that you might have heard from different famous series and movies:
Life is short, so it will be appreciated. We live to our fullest due to that. - Hattori Heiji (Detective Conan)
I won't say you'll definitely be able to do it if you don't give up. But if you do give up, then there will definitely be nothing. - Daiki Aomine (Kuroko No Basket)
There's only one certainty in life: a strong man stands above and conquers all. - Vegeta (Dragon Ball)
Humans constantly feel pain in their hearts. Because the heart is so sensitive to pain, humans also feel that to live is to suffer. - Kaworu Nagisa (Neon Genesis Evangelion)
People who can't throw something important away can never hope to change anything. - Armin Arlelt (Attack on Titan)
Sad anime quotes about life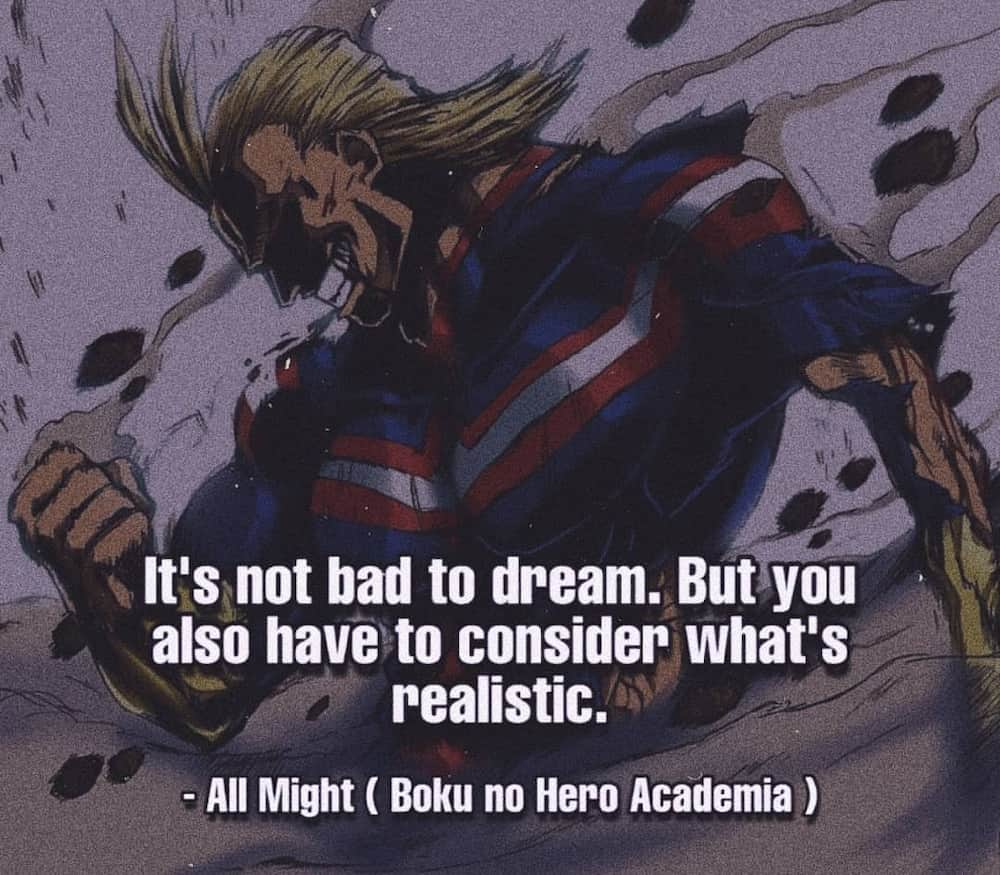 This kind of series and movies tends to be sad sometimes, and so the list below are some of the saddest references gathered:
Right now the world is full of pain, but everything will be alright. I know it. These bad things can't keep happening forever. We have to do our part to stop them. - Anna Liebert (Monster)
If someone didn't have any pride, wouldn't they also be lacking in self-confidence? If someone was free of greed, wouldn't they have trouble supporting their family? And if people didn't envy one another, wouldn't they stop inventing new things? - Eru Chitanda (Hyouka)
Life is too ironic. It takes sadness to know what happiness is - Yuu Otosoka (Charlotte)
The loneliest people are the kindest. The saddest people smile the brightest. The most damaged people are the wisest. All because they don't wish to see anyone suffer the way they did. - Jellal Fernandes (Fairy Tail)
In this world, there are very few people who actually trust each other. - Light Yagami (Death Note)
READ ALSO: What is love?
Deep anime quotes about life
There is more to anime than just inspiring lines; sometimes, it also leaves its fans lines that will make them think twice. Here are some of those:
They often say that humans can't live alone. But you can live pretty long by yourself. Instead of feeling alone in a group, it's better to be alone in your solitude. - Faye Valentine (Cowboy Bebop)
In losing you can learn a lot, and we did twice. - Kai Hiwatari (Beyblade)
The things we can't' obtain are the most beautiful ones. - Gilgamesh (Fate/Stay Night)
People tend to carry deeply-rooted darkness in their hearts, making complete purification difficult. Such as waste of precious life. - Mayu (Noragami)
Even if they have wings, birds can never fly without a sky. - Chiaki (Ahiru no Sora)
Anime quotes about life and death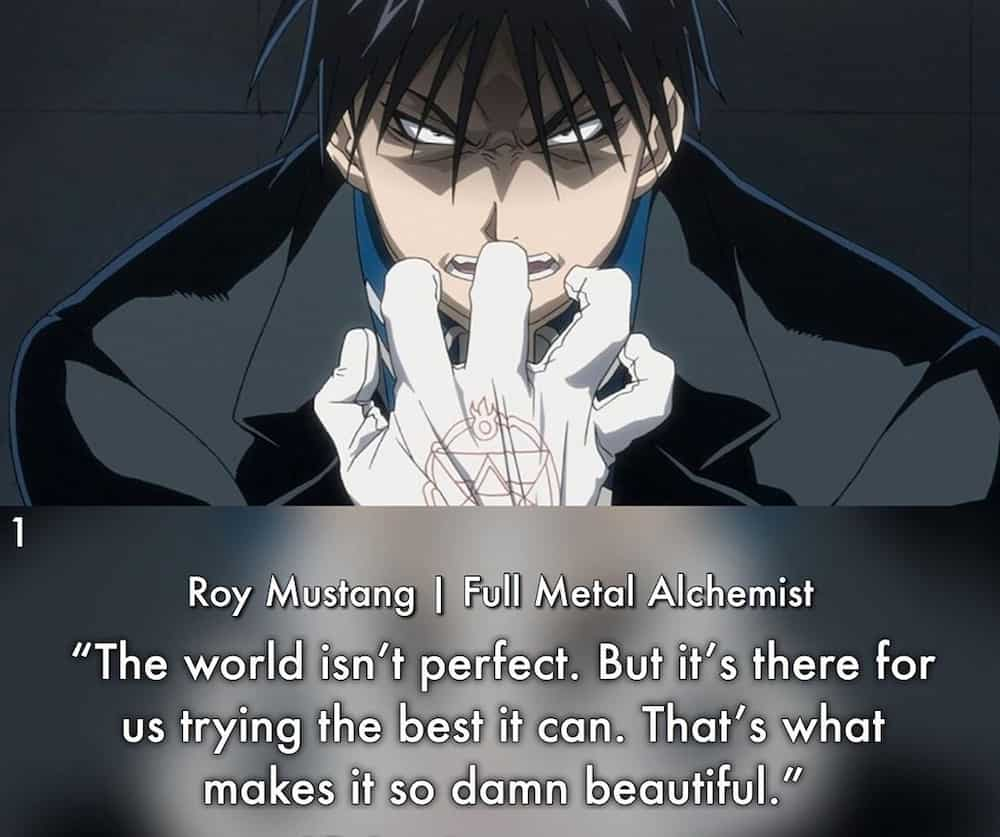 Sometimes, animes also tackle issues not only about life but also about death. Here are some surprising quotes about death and life:
Do not fear death. Death is always at our side. When we show fear, it casts its eye upon us gently and then guides us into infinity. - Laughing Bull (Cowboy Bebop)
It is at the moment of death that humanity has value. - Archer (Fate/Stay Night)
Human life is precious, isn't it? - Shinichi Izumi (Parasyte: The Maxim)
I was younger then, I wasn't afraid of anything, I didn't think about dying for a second. I thought I was invincible. Then I met some girl. I wanted to live; I started to think like that; for the first time, I was afraid of death. I had never felt like that before. - Spike Spiegel (Cowboy Bebop)
Learn to treasure your life because, unfortunately, it can be taken away from you anytime. - L (Death Note)
Indeed, there isn't anything that this kind of movie or series cannot teach its viewers, just like all the anime quotes about life listed above. This form of art and entertainment is nowhere near extinction, but rather, more inspiring anime is being looked forward by all the anime addicts.
READ ALSO: Ben and Ben members: real names, songs, albums
Source: KAMI.com.gh