Best teen movies of all time about teenagers and school
The touching time of youth remains in everyone's heart. And even if the school years are long behind, it is never too late to remember those pleasant times. Here is a list from which to choose interesting American films about teenagers for any taste.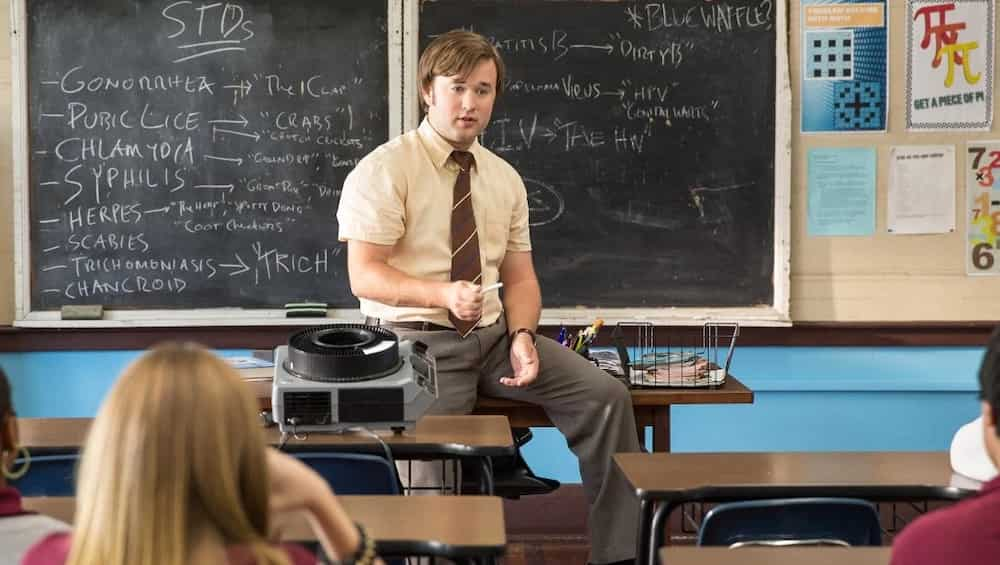 Best teen movies of all time
Although some viewers consider American school movie to be a set of clichés, we found pictures that are based on different and diverse stories.
Here are the best movies about American-made teenagers:
The Perfect Score (2004)
The creators of this picture decided that it was impossible to make films about school and ignore the cheating of grades. The main characters of this film just do what they are trying to do to get the best possible score for an important exam.
Everyone has their reasons for doing so. Kyle dreams of going to a prestigious university. Matt wants to go to the same university as his girlfriend but doesn't get there. Anna wants to fulfill her parents "expectations, and Desmond wants to fulfill his mother's will.
Francesca became the brain of the operation and Roy made it onto the team, but it was too late to back down.
Starring Chris Evans, Scarlett Johansson, Brian Greenberg, and American professional basketball player Darius Myles.
A Cinderella Story (2004)
Charles Perrault's classic fairy tale has haunted filmmakers for decades, so it's no surprise that the story of Cinderella has sprung up in teenage cinema.
The main character, Samantha, is an ordinary schoolgirl with a fabulous back story: the girl's father is widowed, married and soon dead, while Samantha is left to care for her evil stepmother, Fiona, and her daughters Brianna and Gabriella.
Samantha also serves as a carer at the family eatery. Secretly, the girl dreams of a prestigious university, love and life far beyond Fiona's influence.
One day she meets someone online who shares her desires and turns out to be a handsome prince.
Movies about the school gather young and talented actors on the site. The role of the modern-day Cinderella went to Hilary Duff. Chad Michael Murray and Jennifer Coolidge also starred in the film.
"John Tucker Must Die" (2006)
It was once among the top films for teenagers and young people. Over the years, popularity has faded slightly, but not by much. Beauty and the Beast star John Tucker is dating three high profile women at once
They learn the truth about the beloved, and decide to take revenge. Alas, all their gimmicks fail: John's out of the water time and time again.
Here, the girls are helped by Kate's modest mother, who recently moved into their school.
She devises a detailed revenge plan in which John Tucker's heart is to be broken.
But will all go according to plan after Kate struck up a close friendship with John's brother and the hero lover fell in love with her?
The film starred singer Ashanti, as well as actresses Sophia Bush, Ariel Kebbel, and Brittany Snow. The key male roles went to Jesse Metclough and Peng Badgley.
Wild Child (2008)
A film about teenagers without a rich, pampered girl is impossible. This time, this character is brought to the fore.
Poppy Moore is the daughter of wealthy parents. After her mother died, she got away with it, and her father had to send her to a private boarding school for girls in England.
Once in a new and unfamiliar environment, the short-sighted Poppi finds nothing better to do than declare war on local order, female students, and even teachers.
Of course, such a relationship would not lead to anything good. Emma Roberts, daughter of actor Eric Roberts and niece of Julia Roberts, took the role of the golden girl in the movie.
LOL (2011)
The film is also known by its acronym, "L.O.L.," which refers to an English acronym for loud laughter.
The main character Lola, whom everyone calls Lol, is a true star of the school. She has friends, a cool boyfriend, and an understanding mother who behaves not like a parent but like a big sister.
But as the new school year begins, the girl discovers that her life is not as good as she thought: a boyfriend betrayed her at a summer camp, her mother is bogged down in her own personal problems, and a trip to Paris is in danger of being disrupted by a lack of education.
Lola has all the challenges to overcome, and there's no way around a good sense of humour here.
Starring: Miley Cyrus, Demi Moore, and Douglas Booth.
Movies about teenagers are relevant at all times. The film is a remake of the 2008 French film of the same name, starring Sophie Marceau.
Struck by Lightning (2012)
This picture can be safely recorded in the most interesting films about schoolchildren because the plot and directing in the film are more than unexpected.
The main character is killed in the first couple of minutes of the film. The subsequent narrative is told on his behalf and presented to the audience as memories.
Until the ill-fated lightning strike that killed Carson Phillips, he was struggling to get into a prestigious university and leave his home province.
For the sake of success and achievement, the guy was not averse to risky measures like blackmailing classmates.
Reflecting on his life, Carson comes to the sad but important conclusion that he has lost his present irrevocably in the pursuit of the future.
The lead role in the film was played by a young actor, Chris Colfer ("Glee").
The Perks of Being a Wallflower (2012)
At first glance, this is the usual story of a reclusive schoolboy, which does not bode well. These films about teenagers are often made.
But, as you start watching, you catch yourself thinking that for a long time you haven't found interesting films about teenagers like this, and you'll be surprised by the finale.
Charlie is a typical introvert. The deaths of two close friends forced him to hide even deeper in his shell.
Suddenly, extravagant Patrick and his half-sister Sam burst into Charlie's life.
The sudden company is starting to change the guy a little bit, but also taking him back to things he thought were in the distant past.
The tragicomedy is starring Logan Lerman (Percy Jackson and The Lightning Thief), Emma Watson (the Harry Potter series) and Ezra Miller (Something's Wrong with Kevin).
Sex Ed (2014)
Movies about the school reveal more than images of students. The main character is a young teacher named Eddie who starts working in high school.
Eventually, the boy notices that sex education is not taught to students at all. Eddie decides to put things right, but he himself has no experience in intimate affairs.
Starting to educate students, a teacher learns a lot of new and unexpected things about himself and opens a new page in his life.
The lead role in the comedy went to Haley Joel Osment. If you didn't recognize him at first sight, refresh your memory.
This timid guy on screen is the boy from Forrest Gump, Sixth Sense, and Artificial Intelligence.
At 11, the actor was already nominated for an Oscar, so there is no doubt about Osment's talent, as well as his choice of good teen films.
The Road Within (2014)
The main characters of the film are not typical schoolchildren, because the clinic brought them together.
Vincent suffers from Tourette's syndrome. After his mother's death, the boy is left to his own devices: his father engages in a political career and eventually drops his son off at the hospital.
There, he immediately falls in love with a patient named Marie, who suffers from anorexia.
Together, Marie and Vincent decide to run away to scatter the ashes of the boy's mother.
They have to bring another fellow patient, Alex, who has threatened to hand them over to the hospital's bosses.
So the trio of 'touched' embark on a journey together that could transform their strange and complicated lives.
Dev Patel, Zoey Kravitz and Robert Sheehan have all starred in the tragicomedy.
Me and Earl and the Dying Girl (2015)
American teen films often have tearful themes, but this time the plot is not focused on suffering alone.
It is life-affirming and sincere, and will pleasantly surprise you when you see it.
Teenager Greg leads a segregated school life, letting few people into his confidence circle.
Aside from the guy himself, it only includes his close friend Earl, with whom they are making short films about teenagers together.
One day, Greg learns that his former classmate and childhood friend Rachel is terminally ill and diagnosed with leukemia. Greg's mother begs him to renew his friendship with Rachel, and his son reluctantly agrees.
But, over time, he realises that he really enjoys spending time with the girl and now he and Earl are friends. But Rachel's diagnosis still haunts their carefree lives.
Starring Ronald Sailer, Thomas Mann, and Olivia Cooke.
Sometimes teenage films contain more wisdom than films aimed at more mature audiences. Films about school children can be laughed at, immersed and come to unexpected conclusions about the people around them and the world.
And what best teen movies of all time do you like?
Source: KAMI.com.gh