Horror anime: 15 scariest movies
Horror is one of the most thrilling and heart-pounding anime genres. Nothing compares to the adrenaline rush viewers feel, complete with all the goosebumps. Horror anime movies bring even the worst nightmares to life.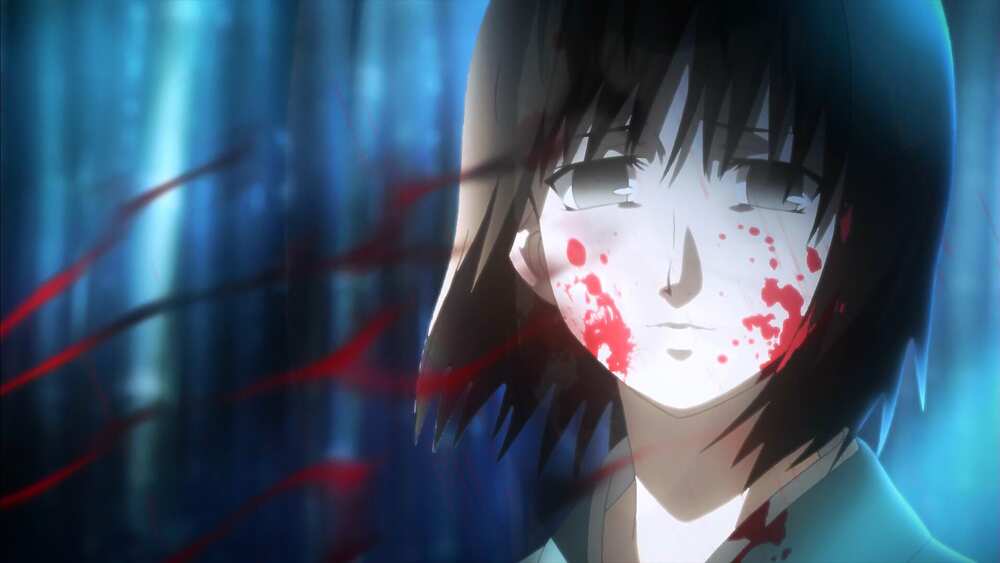 Anime horror takes on many forms. It may be about monsters or otherworldly beings. Meanwhile, some anime films focus on the absurd and uncanny that it starts to feel scary.
Nevertheless, fans will always crave for the surge of excitement only animated horror films can give.
Best horror anime movies
Take your pick from these 15 top horror anime:
1. Perfect Blue
Release: 1997
IMDB score: 8.0/10
As one of the most popular psychological horror anime classic out there, Perfect Blue is a renowned adult thriller. After she left her idol group, Mima, the idol-turned-actress, began experiencing horror after horror that eventually led her to lose grasp of reality. With both great production and story, the film shows a truly horrific sight.
2. Kara no Kyoukai - The Garden of Sinners
Release: 2007
IMDB score: 7.1/10 (first movie)
Ready to indulge in a horror anime marathon? Kara no Kyoukai- Garden of Sinners is a chronicle of mystery-horror movies that tell the story of Mikiya and Shiki. Despite the supernatural aspect of the characters, the movies deal with mature themes like depression, suicide, and murder, which takes viewers into an intense and horror-filled adventure.
READ ALSO: Funny anime shows that certified Otakus need to check out
3. Kakurenbo: Hide and Seek
Release: 2005
IMDB score: 6.7/10
The simple game of 'hide and seek' takes a twisted and terrifying turn. As seven kids play Otokoyo in the ruins of an old, forbidden city, they soon learn the consequences of their actions. Demons and ghosts are said to have taken them away to face many terrors. Will they be able to make it back?
4. Wicked City
Release: 1987
IMDB score: 6.7/10
Another classic anime film makes its way into the supernatural-horror anime list. A human and demon, Taki and Makie, take it upon themselves to protect the peace treaty between the Black World and Earth. In order to do this, they have to put their lives on the line battling multidimensional assassins.
5. Blood: Last Vampire
Release: 2000
IMDB score: 6.7/10
Katana-wielding vampire slayer, Saya, does whatever it takes to eradicate the last of the Chiropterans, a unique species of bat-like creatures or vampires. Set in 1966, Saya faces her missions head-on, despite the coming of the Vietnam war, to wipe out the last of the havoc-wreaking vampires.
6. Gyo: Tokyo Fish Attack
Release: 2012
IMDB score: 5.5/10
A peaceful vacation turns into a life-threatening situation when suddenly an infestation of killer walking fish torment the city. As the group of friends tries their best to escape the fins of death, they experience gruesome loss and the destruction of their normal lives. Will they find the root cause of the fish's newfound abilities? With the film's unusual horror plot and the projection of the project as a whole, it sends a chilling experience to viewers.
7. Vampire Hunter D: Bloodlust
Release: 2000
IMDB score: 7.7/10
When talking about one of the best horror anime movies, Vampire Hunter D: Bloodlust is a must on the list. A vampire nobleman takes Charlotte away, driving Charlotte's father to hire a half-vampire, half-human vampire hunter named D, to find her. The journey to save Charlotte is one with a lot of dangers, turn of events, and secrets. Will they make it in time or has Charlotte already been turned into one of them?
8. Ibara no Ou (King of Thorn)
Release: 2009
IMDB score: 6.4/10
As a means to escape the deadly virus taking over the world, a group of people chose to be guinea pigs for the cure. 160 people, including twins Kasumi and Shizuku, were cryogenically frozen with hopes of waking up to a better situation. However, the survivors awaken to their worst nightmares, a monster-filled society.
9. Bio Hunter
Release: 1995
IMDB score: 6.2/10
A demon virus epidemic is happening, and two scientists are doing their best to find a cure. However, what happens when one of them gets infected? The classic film portrays not only monsters and gore-scenes but also a person's complicated battle with an emerging demon inside him.
READ ALSO: Be inspired: Top 30 inspirational anime quotes about life
10. Lily C.A.T.
Release: 1987
IMDB score: 6.2/10
Not for the easily squeamish, Lily C.A.T. rates high in the gore-meter with its detailed and often 'explosive' deaths. The movie follows the members of a spacecraft as they try to escape death from an alien on board. As they're in the depths of space, no one can save them but themselves.
11. Paprika
Release: 2006
IMDB score: 7.7/10
The film may not be the type that has a horrendous, fear-instilling plot that most horror-lovers are used to but it still deserves a spot in the list for its unique way of being terrifying and a walking nightmare. Dr. Atsuko Chiba, or Paprika, dives into her patient's mind and dreams to help them solve their problems. The film portrays an abstract and confusing horror of what lurks in people's minds.
12. Memories
Release: 1995
IMDB score: 7.6/10
As a collection of three anime shorts from three different directors, Memories is a wonderful mix of the senses and emotions which gives a totally new experience. Its stories, Magnetic Rose, Stink Bomb, and Cannon Fodder all have their unique charms in giving their audience the creeps.
13. Gantz:O
Release: 2016
IMDB score: 7.1/10
Aside from 2D animated films, seeing blood spill in a CGI animation has its wonders. In Gantz, humans have entered a game where they fight monsters for their survival. Equipped with bionic suits and weapons, they face petrifying monsters with all sorts of terrifying capabilities.
14. Resident Evil: Degeneration
Release: 2008
IMDB score: 6.5/10
Our heroes, Leon S. Kennedy and Claire Redfield, face hoards of the undead as a rogue warrior unleash a virus to exact revenge. Not only do they have to battle against zombies but also a mega-mutated monster capable of things unheard of. Will they be able to avoid the clutches of death?
15.Ajin Part I: Shoudou
Release: 2015
IMDB score: 7.7/10
What does it mean to be human? Tackling the concept of immortality, Ajin covers the story of Kei and 46 other companions who have become immortal. However, possessing this ability comes with a price. In the name of science, these 'rare specimens' must undergo several experiments and tortures all for the sake of finding answers for humanity.
Over the years, horror anime has come a long way in terms of the ever-changing animation and unique storylines. Aside from movies, there are also horror anime series that make it to mainstream favorites. Fans still have a lot to look forward to from the anime industry's hair-raising genre.
READ ALSO: Best romance anime of 2020 that will make your heart race
Source: KAMI.com.gh