Staycation in Manila: 15 cool yet affordable variants
A staycation is essential every once in a while to help you relax and stay away from the hassles of life. Manila presents the perfect place for a staycation as the city offers marvellous hotels and resorts where you and your family can spend quality time. Taking a few days off to unwind is not as expensive as you may imagine. With the right budget, you can visit natural sites, zoos and historical sites and experience the best staycation in Manila. All you need is a little planning, and you are set to go.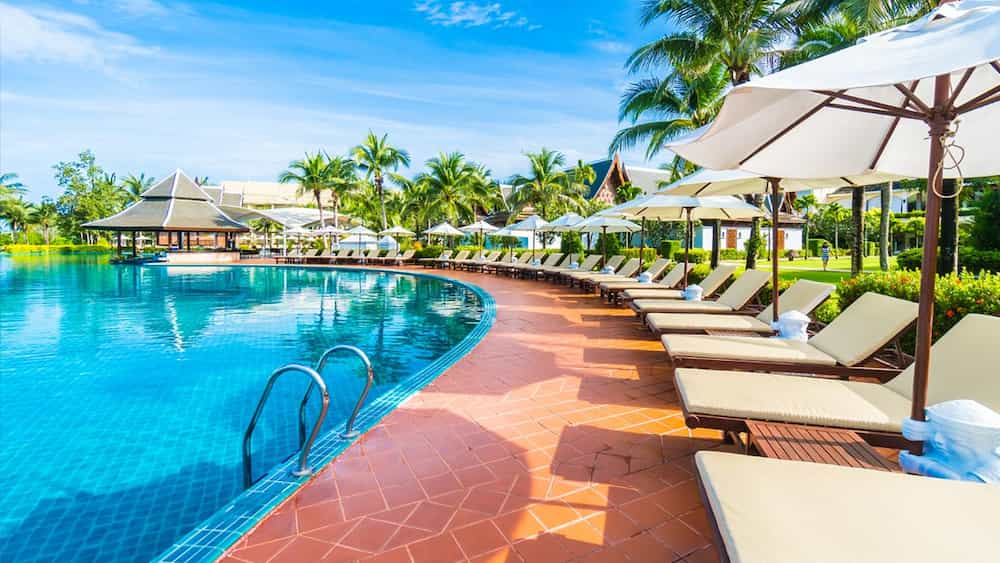 Most hotels in Manila have all the social amenities a guest would need during a mini vacation. The guesthouses are also located on main streets which are easily accessible by road and the train. This list contains some budget friendly hotels you would fancy. The services offered are world-class, and the prices favourable to most people.
1. Azumi Botique Hotel
Fancy a staycation in Manila with pool bar? This is the place for you. Azumi Botique and Hotel is a 4-star guesthouse situated at 2205 Market St, Cupang, Muntinlupa, 1781 Metro Manila. You will enjoy a good swim at the pool which has salty water and zero chlorine. This is great for your skin.
The rooms in the hotel have a modern design, with the floor to ceilings walls being made of glass, thus allowing natural light in the rooms. Get to explore the numerous retail & dining options in Alabang while you stay at the guesthouse. Azumi Botique Hotel is also convenient as it is near Manila International Airport.
2. The A. Venue Hotel
The hotel is easily accessible by road. Located 3 minutes away from the bus stop, The A. Venue Hotel makes an excellent location for a weekend of unwinding. The room service is above standard and the rooms suitable for solo travellers, groups, and families. The comfortable studios have spacious kitchenettes and sitting areas.
The cosy 1- and 2-bedroom suites have isolated living rooms. You can take a ride to the Manila Zoo, which is 5 kilometres away from the guesthouse if you love nature and game. The Manila Ocean Park is also nearby, being only 9 kilometres away.
3. I'M Hotel
I'M Hotel has everything a guest on vacation would want. You will experience the best staycation in Manila if you book with I'M. The artistic guesthouse is located on Makati Avenue corner Kalayaan Avenue. You will love the distinct acrylic-bottomed infinity pool that makes it visible to the floor below.
Guests who love swimming will have aniconic time as the pools in the hotel are creatively and distinctly designed for your comfort and leisure. The lounge chairs, sun lounges, murals, and colourful bird cages around the pool make the area dazzling. The onsen spa, which happens to be the largest spa in Manila, is one of the iconic amenities in I'M. The guesthouse has over 400 rooms, with 182 suites.
4. Avida Towers
Avida Towers is a family-friendly hotel located along Dr Arcadio Santos Ave, Paranaque City, Metro Manila. The condominium complex has a beautiful swimming pool and a roof deck that guests use when they want to relax. The bedrooms are adequately stocked and living rooms and kitchen areas equipped with everything needed for a perfect family stay.
There are a kid's playground and a game room for your children. It is easily accessible given its open location on major thoroughfares. Avida Towers is only 3.3 kilometres from Ninoy Aquino International Airport.
5. SMDC Light Residence
Located along Madison, Mandaluyong, Metro Manila, Light Residence offers a range of activities for every type of guest. It is your ideal location if you want that happy to stay vacay at an affordable resort near Manila.
The condominium units are fully furnished to give you that home away from home feeling. The guesthouse has its mall called the SM Light, where you can go for personal shopping. Other notable amenities at SMDC Light Residence include an indoor gym, an outdoor pool and free Wi-Fi for all guests.
6. The Gramercy Residences
The residential high-rise condominium located on Makati Avenue Makati City Metro Manila boasts of being the second tallest building in the Philippines. The structure which adopts a New York luxury tower look is one of the best places you can stay in while in Manila.
Everything from the design, the amenities, and services offered in the guesthouse are of high-quality. The hotel has an infinity pool on the 36th floor, giving guests an excellent view of the Makati skyline. The Gramercy Residences is the perfect location for you if you want to relax and document your time on your socials to the world.
7. BSA Suites, Makati
Take a weekend getaway and enjoy some good time with your loved ones in hotels in Manila. The BSA Suites guesthouse is located on 103 Don Carlos Palanca, Legazpi Village, Makati, 1223 Kalakhang Maynila. The relaxed high-rise apartment hotel has an indoor pool and fitness centre at the upper penthouse. The room facilities are excellent too, taking care of all your bathroom, kitchenette, dining area, bedroom, cable TV, and Wi-Fi needs. Nearby attractions include the Greenbelt Chapel and Greenbelt mall.
8. Privato Hotel
The interior decor in this hotel is to die for. Privato Hotel is located on 706, 1603 Shaw Blvd, Pasig, 1603 Metro Manila. You will enjoy your stay at Privato as the guesthouse is set on a lively street lined with shops and restaurants, and stores that sell locally made crafts. Privato Hotel adopts an Italian theme on the inside.
The outside design has light marble walls and floors, giving the guesthouse a well-refined and stunning look. The furniture is comfortable and the rooms big enough for both solo travellers and group travellers. The services granted are impeccable and the facilities extensive. Privato Hotel is one of the most reliable locations to hold discrete functions like meetings and private parties.
9. Gomez House
Located in Manila along 5177 P. Gomez, Makati, the 3-star hotel offers you the best of the best at affordable rates. The design of the guesthouse is inspired by Scandinavia architecture. Guests get to choose what they want from the size of the rooms, the furniture they use to the food they consume. The compact rooms have different beds that include bunk, single, or twin type, working area, and bathroom. The four-storey building has a beautiful rooftop where you can pass the time chatting with your friends and other guests. Book Gomez House for a relaxing staycation in Manila.
READ ALSO: Bulacan Resorts: Top 15 in 2020
10. Suntrust Asmara
Situated at E. Rodriguez Ave., New Manila, Quezon City, Metro Manila, Suntrust Asmara provides the perfect getaway for you if you are on a budget. You get to enjoy your unit that has a fully furnished living room, dining area, kitchen, bathroom, and spacious bedroom.
Your outdoor activities at the guesthouse are catered for as Suntrust Asmara has a beautiful pool, sizable playground, jogging path and a modern gym for your fitness journey. You can take an eight-minute drive to Timog Avenue to unwind, party and have a chill time and get back to the hotel in time if you want more entertainment.
11. Luxent Hotel
Looking for where to go for a staycation in Manila? Luxent Hotel is ready for you. The guesthouse is located on 51 Timog Ave, Diliman, Quezon City, 1103 Metro Manila. Luxent Hotel has a glass-wall infinity pool, giving one the impression of swimming in a vast aquarium.
The guesthouse is family-friendly, given the kiddie pools and amenities that can be shared by entire families. The dining outlets in Luxent hotel are wholesome and offer a variety of cuisines. There are a fitness centre and a lovely spa to relax in. The atmosphere at the Luxent guesthouse is excellent and allows you to work and play at any time.
12. City Garden Grand Hotel
The luxurious but affordable hotel located along 8008 Makati Ave. Cor. Makati City, Kalayaan Avenue, Makati, 1200 Metro Manila, overlooks a busy downtown intersection. The strategic location of the guesthouse offers spectacular views of the city. The Makati skyline at night is all you want to look at while in the hotel.
Wondering where to staycation in Manila? Look no further. City Garden Grand Hotel has fantasric rooms with hardwood floors and plenty of accessories for your entertainment. The rooms are equipped with flat-screen TVs and minifridges, as well as tea and coffee making facilities. Free Wi-Fi is provided for your internet needs. There is a laundry service, outdoor pool, buffet restaurant, gym, spa, and other social amenities.
13. The Concierge
The Concierge is a 3-star hotel located on Sea Residences - Building B, Pea Rd 1, Pasay, Metro Manila. The guesthouse boasts of the best outdoor pools in the area. The Concierge is your to-go place if you love the sea and the sun.
Other recreational amenities include a playground, nail spa, massage services to help you unwind and free Wi-Fi. Every room has a twin size bed, a modern kitchen, and a balcony to watch the sunsets and sunrises. The kitchen and dining area are big enough for a whole family.
14. Discovery Primea
Situated on 6749 Ayala Ave, Makati, 1226 Metro Manila, Discovery Primea offers you world-class services at very affordable rates. The hotel has the most attractive furnished suites in Manila. You can spend your afternoon visiting the nearby malls to shop and end your day at the in-house restaurant and bar/lounge.
Visit Discovery Primea for an affordable staycation in Manila. Discovery Primea is an ideal place for holding meetings or parties given the amenities they have. The spa at the guesthouse is one of a kind. This is one of the high-end hotels in Metro Manila, where guests get first-class services.
15. Y2 Residence Hotel
Y2 Residence Hotel is situated on 4687 Santiago Street corner B. Valdez and, Singian, Makati, 1210 Metro Manila. Set right at the heart of Makati CBD, this stylish guesthouse offers a variety of comforts including a classy rooftop pool, Cable Tv, iPod docks, free Wi-Fi, a spa, a terrace with contemporary furnishings, and a fitness centre.
The black and white theme in the rooms makes everything feel authentic. This is your ideal place for a cheap staycation in Manila. Y2 Residence Hotel has fashionable studios, and 1- to 2-bedroom suites include kitchenettes, dining areas, and minibars.
An affordable family-friendly hotel is all you need to enjoy your staycation in Manila. The hotels in the article have reasonable pricing given the amenities available. Most are accessible and only a few kilometres away from the city. The security is top-notch, and the environment is relaxing. You can place a booking online through the various booking sites available.
READ ALSO: Top 7 Spa Salons In Metro Manila Which Are Worth Visiting
Source: KAMI.com.gh