The Home Development Mutual Fund (abbreviated as HDMF), more popularly known as the Pag-IBIG Fund, has helped many Filipinos apply for flexible and affordable housing loans for many years since its inception. What are the easiest steps how to check pag IBIG contribution?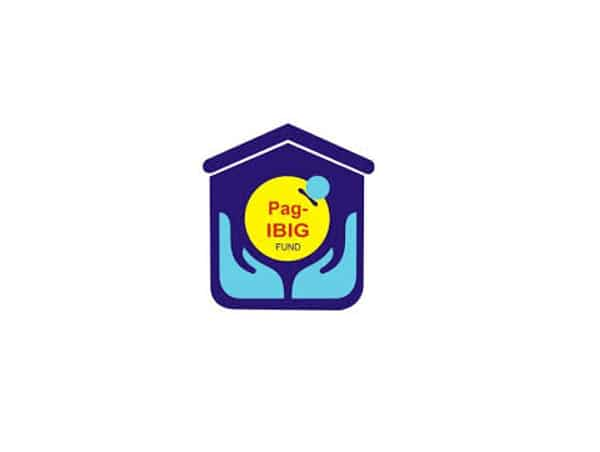 Most Filipinos want to live in a home they can call their own, but some may not be aware of what resources are provided by the government to help them on their way. One of the most valuable and yet also one of the most overlooked and misunderstood is the Pag IBIG Fund.
The Pag-IBIG fund is founded by the government to give Filipinos an opportunity to own a decent home. Active members can apply for a loan of up to P6 million ($133,526.20) which they can use to afford the home of their dreams. This loan, of course, is subject to the loaner's compliance with the requirements.
How to apply for Pag IBIG
Other than being an extremely useful savings program that can benefit every member in the long run, Pag IBIG is also a standard job requirement in the Philippines - along with Philhealth, GSIS, and SSS. As a result, many new job hunters are seeking information on how to apply. The step-by-step process is as follows.
Non-members can apply as a new member by logging on to www.pagibigfund.gov.ph.
You are now on the official page of Pag-IBIG. Hover on the E-Services tab and select Membership Registration.
You will be redirected to the membership registration page. Click Continue. (If you are not sure if you are on the correct page, you can just click here instead.)
You are now on the membership registration page. Fill out your name and birthday on the form, answer the verification box, and click Proceed.
The next form might look confusing, but it shouldn't be hard if you have all your necessary information. The forms divided by the tabs will require very specific information about you and your family, your accurate address, and your employment history.
You will also need to enter contact information such as your phone number and your email address. If you are not sure that you're on the correct page, it looks like this: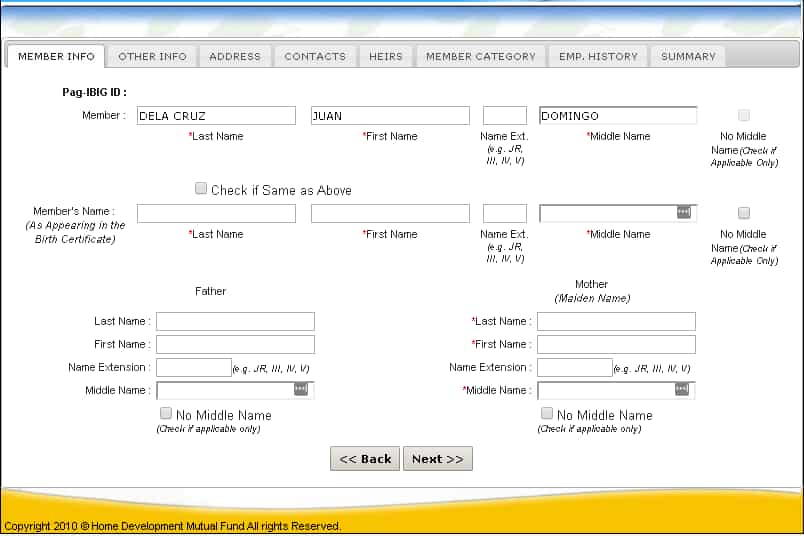 On the Member Category tab, make sure to select the proper category. This will prevent any issues when you are trying to take out a loan in the future. In the next tab, providing your employment history is optional.
The Summary tab will ask you to review all the information you provided in the previous tabs. After double-checking the accuracy of the form, you can click Submit Registration. (IMPORTANT: Make sure to double-check the information you are providing the form. Inaccurate information may cause problems in applying for a loan in the future. Furthermore, any changes you wish to make on your information will have to be personally requested at the nearest Pag-IBIG branch.)
At the bottom of the Successful Registration page, you will see the Print MDF button. Depending on the settings of your computer, a PDF file should appear or be downloaded to your hard drive. This file is your Pag IBIG form (also called the Members Data Form or MDF) that you can present to your employer. Print this file. It contains your registration tracking number, which is also texted to your mobile phone.
The registration was successful. What now? How to know my Pag IBIG number online?
Frequently asked questions
Here are some common asked questions and answers regarding PAG IBIG.
How to get Pag IBIG registration tracking number after registration
The Pag IBIG registration tracking number (RTN) is located at the upper left of your Member's Data Form (MDF). It is also texted to the mobile number you provided during the registration. It looks like this: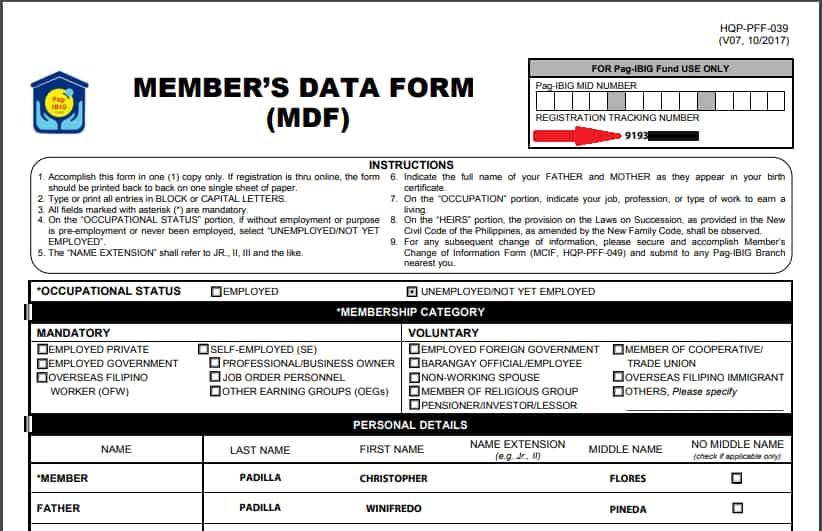 How to get Pag IBIG number online (Pag-IBIG MID Number)
As per the Pag-IBIG registration form, you can verify your permanent Pag-IBIG ID number two days after registration. To do this, send a text message with the following format:
IDSTAT<space>[RTN]<space><birtday mm/dd/yy>
Example: IDSTAT 919328612345 02/19/93
Send to 09178884363 (Globe and TM) or 09188284363 (Smart and Talk&Text)
NOTE: This is only for newly registered users. Existing members who lost their Pag-IBIG ID number will have to request it at the nearest Pag-IBIG branch (Monday to Friday, 8 a.m. to 5 p.m), or call the official Pag IBIG hotline (724-4244). Alternatively, you can send a message to Pag-IBIG's official facebook page (@Pag-IBIG Fund) or inquire via email by sending a message to contactus@pagibigfund.gov.ph.
How to get Pag IBIG ID or Loyalty Card
There is no way to apply for a Pag-IBIG ID (also called the Loyalty Card) online. It will have to be requested at the nearest Pag-IBIG branch. Have your Pag-IBIG number ready and P125 for the card fee.
How to check Pag IBIG contribution using the website
Take note that only OFWs can check their contributions through the official website. If you're a local employee or voluntary member, there are alternative ways to check your Pag-IBIG savings such as by contacting their official facebook page or by calling the hotline (724-4244). The most reliable method is by going to the nearest Pag-IBIG branch to verify your contributions.
OFWs who wish to check their contributions can follow this tutorial.
What is Pag IBIG acquired assets?
Monthly contributions to Pag-IBIG paid by its members are typically allocated to build a borrower's first home. If the borrower misses a many of his or her consecutive arranged payments, the delinquent borrower's loan can default.
Following the agreement and terms, this can lead to his or her property to be foreclosed. Although Pag-IBIG gives their borrowers a chance to buy back their foreclosed property, they can also offer this option to any who may rent and occupy your property while the loan is still unpaid.
If the borrower or tenants do not or cannot purchase the property, Pag-IBIG will offer it to new buyers through public bidding starting from a much lower price. This is, firstly, to recover the loss from the unpaid loan and potentially generate income for the fund.
How to loan in Pag IBIG branch?
The Pag-IBIG Fund Housing Loan Program is available to all active Pag-IBIG Fund members, who have satisfied the following requirements:
At least 24 monthly savings. Lump sum payment of the required 24 months savings is allowed;
Applicant must not more than 65 years old, and not more than 70 years old maturity of the date of loan application;
Passed satisfactory background/credit and employment/business checks of Pag-IBIG Fund;
Has no outstanding Pag-IBIG Fund Short-Term Loan (STL) in arrears at the time of loan application;
Has no Pag-IBIG Fund Housing Loan that was foreclosed, cancelled, bought back due to default, or subjected to dacion en pago. If with existing Pag-IBIG Fund Housing Loan account, either as principal borrower or co-borrower, it must be updated.
How to apply
Prepare to pay the processing fee of P1000
Bring a fully accomplished Housing Loan Application Form with recent ID photo
Recent proof of income such as your payslip from the last three months.
A photocopy of any valid ID (front and back).
After securing all the requirements, you can proceed to the nearest Pag-IBIG branch in your location where their staff will assist you in the process.
Never be afraid to ask questions such as how to check Pag IBIG contribution. It is always good to know about the services provided by the government if you are an adult looking to secure your own home.
READ ALSO: 9 Brand new luxurious houses of Filipino celebrities