LET online application 2020: A step-by-step PRC application guide
If you are an aspiring teacher or educator, securing a teaching license is essential in developing your career and becoming a professional in the field of education. In the Philippines, the Professional Regulation Commission (PRC) holds LET examinations twice in a year. What are the things needed for the LET online application?

Before being able to officially take the exam, examinees must meet the qualifications. They must also properly register for the LET online application 2020 and pay the examination fee.
What is LET?
The LET exam is the Licensure Examination for Teachers (LET) in the Philippines. The Professional Regulation Commission conducts this board exam twice a year, specifically in the month of March and September.
Qualifications for taking the LET exam:
Must be 18 years of age or older.
Must be a Filipino citizen. If not a citizen of the Philippines, he or she must be from a country who offers reciprocity in the Philippines (RA No. 7836 as amended by RA 9293).
Must be in good health and possess good moral character.
Has no past records of a convicted final judgment of moral turpitude offense in court.
PRC LET online application guide
Examinees may file their online application through the PRC's online portal, the Licensure Examination and Registration Information System (LERIS). Here are the personal details and information needed for registering:
Mobile number
Email address
Community Tax Certificate (CTC or Cedula)
Digital ID picture (Note: collared attire, white background, size 2x2, and less than six months old)
Personal information such as name, address, school or university graduated, date of graduation, etc.)
How to register in PRC for LET exam?
The application process starts with accessing the PRC's official website and creating an account.
Choose register and read the terms of registration, click on the I Agree button to start filling out your registration form.
Fill in the required information such as full name, gender, civil status, date of birth and your email and password to register an account.
After successfully registering, input your email and password to sign in.
READ ALSO: Employed: What you need to know about BIR's 1902 form
Accomplishing your online registration may take some time if there is heavy traffic on the website. Additionally, if you already have a registered account in the past, you may proceed directly to sign in. However, past accounts registered on the old website (www.prc-online.com) are no longer active.
PRC LET online application form
1. Once you sign in, proceed to your profile and complete the filling up of necessary personal information. Double-check the information and check for spelling errors. Once you are done, click the Save Information option.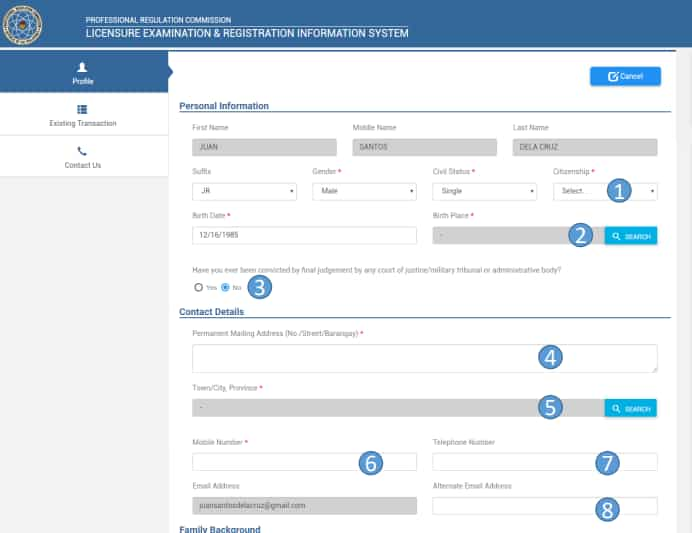 2. Next, you are to upload your photo with the proper requirements. Unacceptable photos will be rejected. Confirm your upload.
3. Schedule your appointment at your local PRC office using the Select Transaction option on the website. Choose the Examination tab and fill up the required information. Click on the Proceed button to finish.
4. Next, choose your preferred PRC Regional Office. Here you will see the appointment details as well as the corresponding fees. Select your preferred payment options.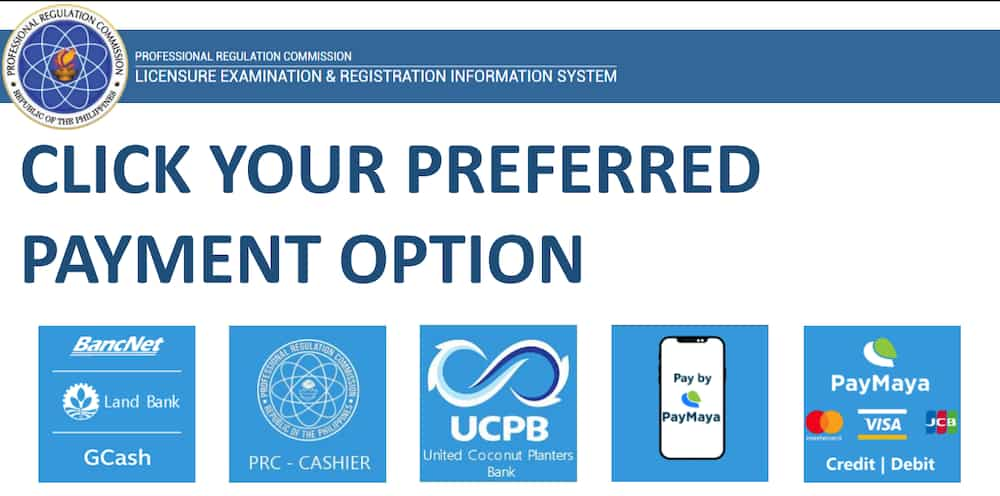 5. If you choose the PRC-cashier option, you are set to pay at your selected PRC appointment location. A reference number will appear once you finish your transaction. Take a picture or print your reference number as you will need it when paying.
6. After accomplishing the required information and payment details, it is time to print your document. Go to the Existing Transaction tab and double-check everything before proceeding to print it out.
7. Bring this form, as well as other additional requirements, to submit at your selected PRC office during your given appointment.
READ ALSO: Step by step guide on how to get police clearance with ease
Basic requirements for first time LET takers
1. Original and photocopy of your Transcript of Records (TOR) with the following:
Scanned picture
Date of graduation
School seal
Special order (SO)
CHED recognition For Board Examination Purposes Only remarks
2. Original and photocopies of your NSO or Authenticated Birth Certificate or PSA Marriage contract (female applicants).
3. Photocopy of your Community Tax Certificate (CTC or Cedula)
4. Payment receipt
5. PRC number from the PRC office Information Section.
How to pass the LET exam?
The Licensure Examination for Teachers stands as one of the board exams with the most number of examinees. In order to pass, aspiring teachers must achieve an average rating of not less than 75%. Additionally, they must not have any rating below 50% for each test.
Understanding the full coverage of the exam is necessary in order to pass with flying colors. According to the PRC Board website, the following are the LET exam topics:
Elementary level:
General Education (GenEd- 40%)
Professional Education (ProfEd- 60%)
Secondary Level:
General Education (GenEd-20%)
Professional Education (ProfEd-40%)
Area of specialization (40%)
What to bring during LET exam?
Make sure to get to the testing venue early as late examinees will not be admitted. Bring the following items:
Notice of Admission (NOA)
Official receipt
No.1 or 2 pencils
Black ballpens
long brown and long plastic envelopes
calculator (if permitted)
How to compute LET rating?
You can find your exam rating and grades in the PRC official website under the Verification online services. After signing in with your examination name, date of examination, and application number, you will have access to the following information:
General average or board exam rating
Passed or Failed remarks
Corresponding scores of the different subjects
Passing the boards means having a 50% and above rating for each test. Here is how you solve for the percentage rating of each exam:
Take your score and divide it by the total number of items in the exam, then multiply the result by 100. Take note that the total number of items in each exam is 150. For example, you scored 120 over 150 in the General Education exam. Your percentage rating is 80%.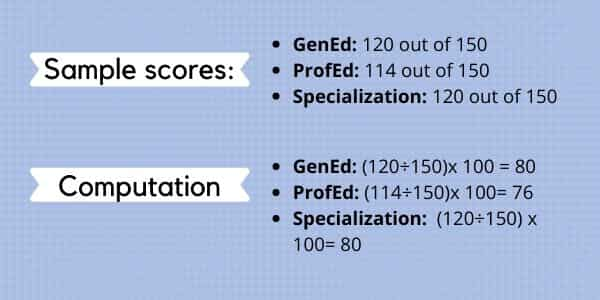 When computing your overall average rating, it is important to note the percentage weight of each exam which is GenEd (20%), ProfEd (40%), and Specialization (40%) for Secondary level. Here is how you compute using the sample scores above:
Take your score and divide it with the total number of items in the exam. Next, multiply it with the percentage weight of the exam. Convert the result into a percent by multiplying it by 100.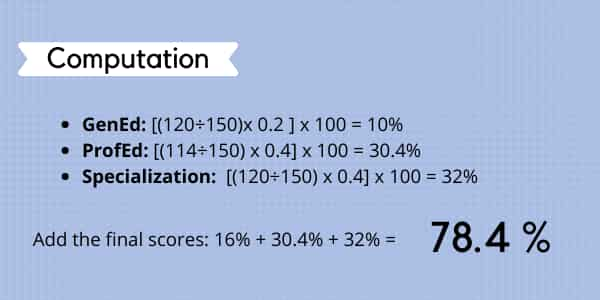 Due to the global COVID-19 pandemic, board examinations are put on hold. Examinees are advised to wait for the official announcement from the PRC office for the new schedule. In the meantime, aspiring LET takers have more time to prepare for the exam and handle their LET online application.
READ ALSO: A comprehensive guide on how to use GCash
Source: KAMI.com.gh