10 recent Pinoy celebrity scandals: Photos and videos (Updated 2020)
A lot has happened within the year, especially when it comes to the entertainment industry. As celebrities do not have the most private lives, many of their personal issues are often aired for all to see. Whether it is about bad breakups, catfights, and even cheating issues, Pinoy celebrity scandals are worth looking to.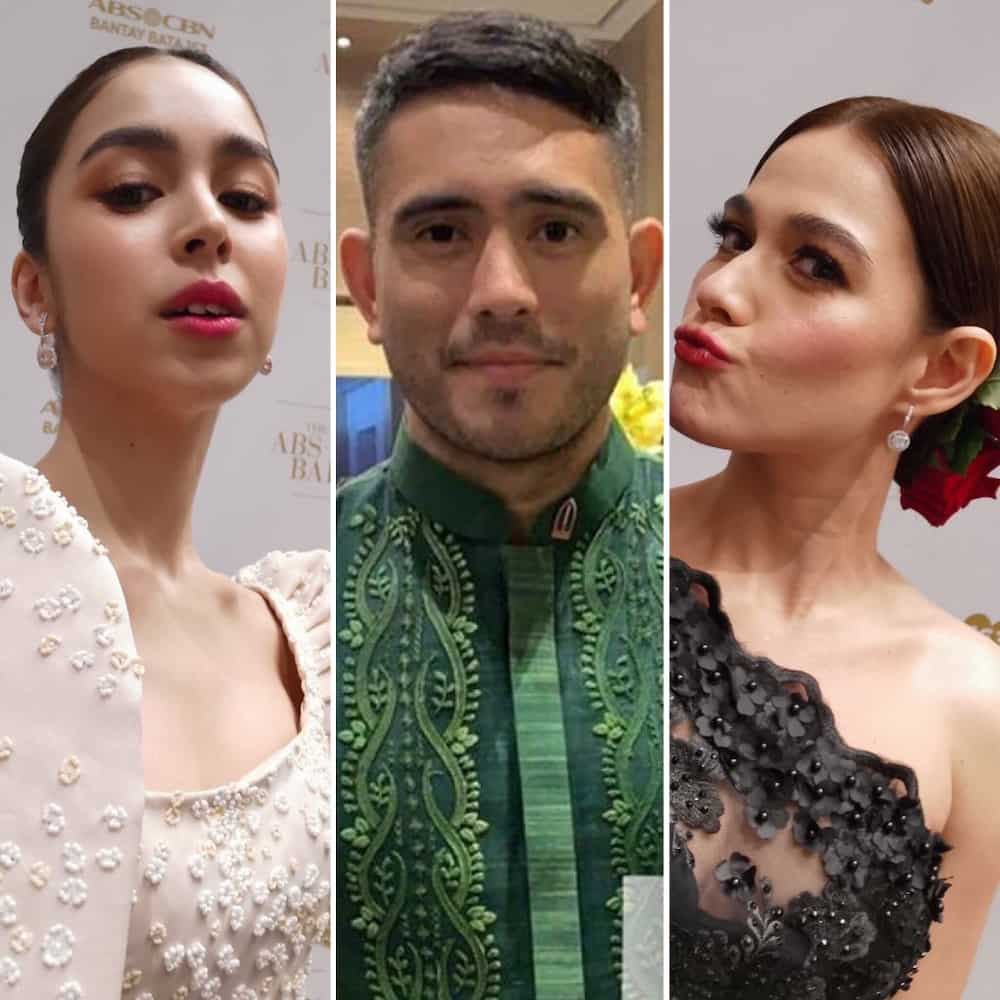 Of recent, various entertainment news hit the headlines. From Tony Labrusca attitude, King Badger cheating, Yeng Constantino's doctor shaming and Chienna Filomena and Dawn Chang's ruined friendship. Nonetheless, other celebrities like Bea Alonzo, Gretchen Barretto and Lars Pacheco made it to the celebrity scandal news.
List of recent Pinoy celebrity scandals
Here is a recap of the top 10 Pinoy celebrity scandal photos and videos that hit the headlines this year.
1. Tony Labrusca giving attitude at the airport
Everyone has their fair share of bad moments that spark from impulsive actions and a surge of emotions. That was the case for actor Tony Labrusca when it came to his airport mishap earlier this January 2019. The Texas-born actor, who is most known for his hot and steamy role in the Filipino film Glorious, went viral after losing his cool and allegedly shouting at an immigration officer at the airport.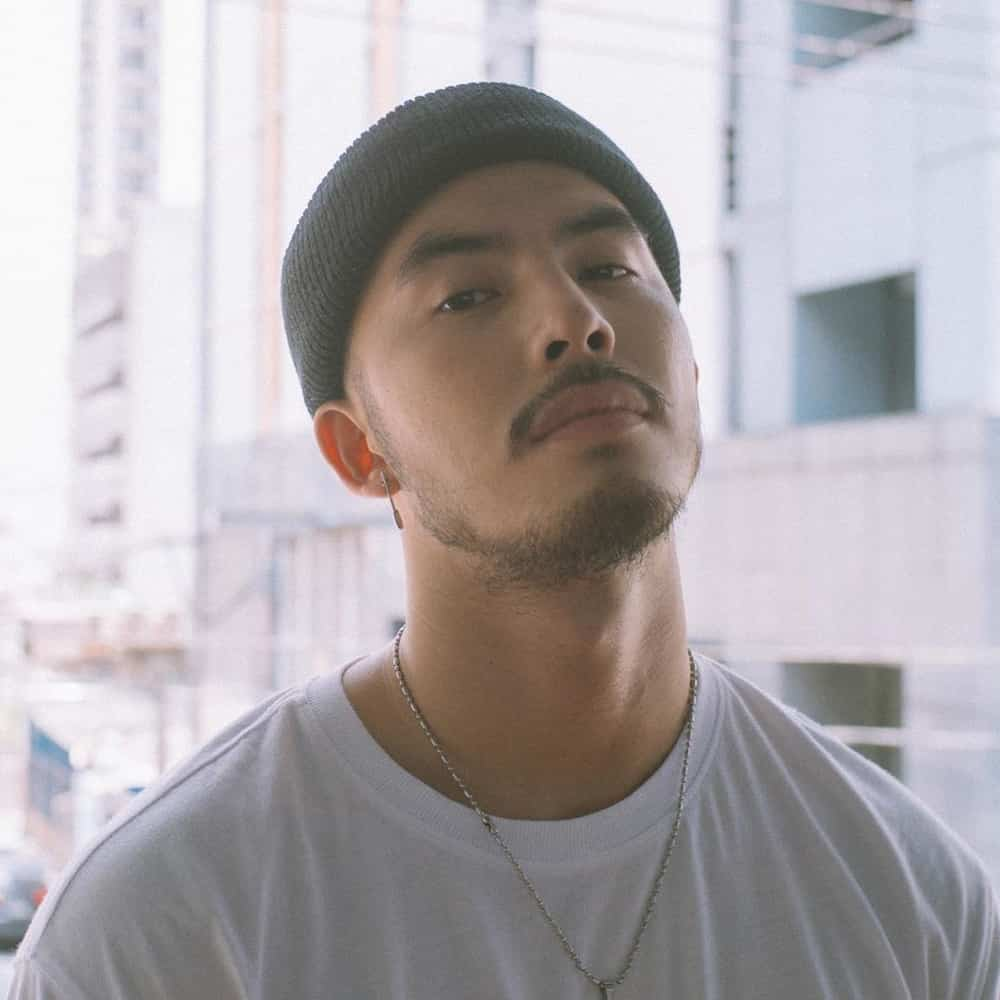 The reason for this heated situation was all because Tony got frustrated when he was only allowed a 30-day permit to stay in the Philippines because of Visa issues. Aside from the shouting, it was reported that he was also allegedly bragging about his celebrity status and calling the officer 'stupid.'
Following the incident, Tony has issued a sincere apology for his actions as well as a thorough explanation of his side. Unfortunately for the actor, his attitude sparked outrage among fans and netizens which gained him tons of negative feedback, with some even going as far with backhanded comments about his sexuality.
2. King Badger cheats on Jelai Andres with Toni Fowler
Probably the biggest male celebrity scandal this year, Ex-Battalion rapper and songwriter King Badger (Jon Guitterez) had netizens turn against him as he cheated on his wife this April 2019, just approximately six months after getting married to her in October 2018.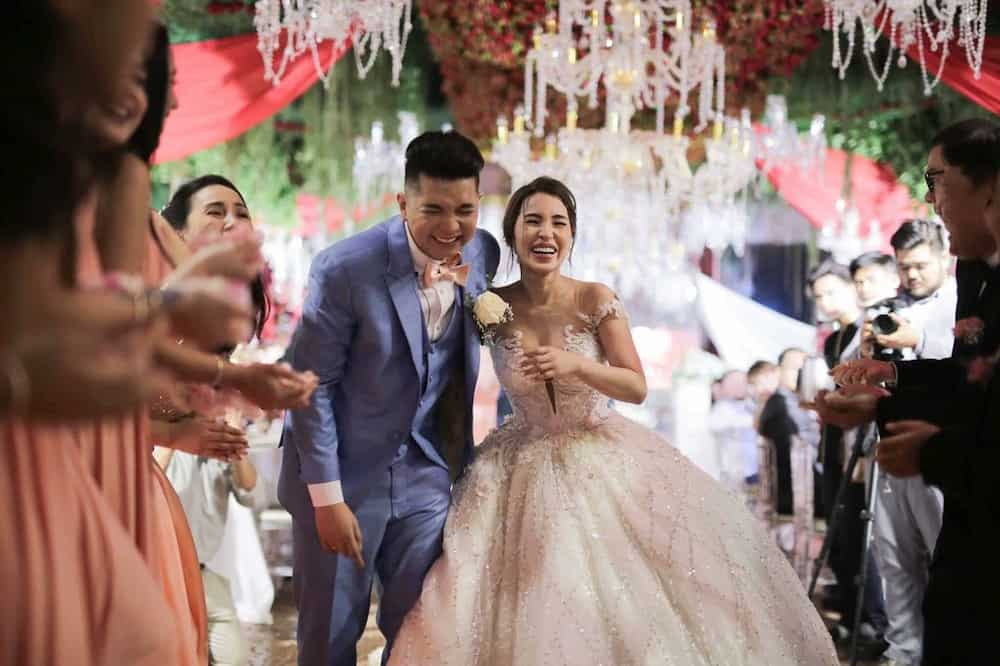 Jon and his wife, actress and internet celebrity Jelai Andres, have been together since 2015. Truth be told, this is not the first time the singer has committed an act of infidelity to his beloved. It turns out, he had already been caught with another girl in 2016 but Jelai found it in her heart to forgive him.
This time, that was not the case for the ex-couple. The separation gained the attention of the public when Jelai went live on Facebook (which she also uploaded on her YouTube) wherein she poured her emotions out in the open as she detailed Jon's infidelity.
Things got even more heated when the mistress in the picture, R-Breezy girl and actress Toni Fowler, took to Facebook to air her side of the story. Her reply to Jelai's video probably tops the most-watched Pinoy celebrity scandal videos this year.
In the end, Toni admits to her faults and apologizes to Jelai but she also explains that she was being fooled by Jon as well when he told her that he and Jelai were merely only acting all lovey-dovey for on-screen purposes.
Meanwhile, as all of this was happening, the Ex-Battalion singer was asking his wife for forgiveness. In response to this, Jelai released a parody of Skusta Klee's Much Better on YouTube under the title Mas Better where she basically calls out and disses Jon for his actions.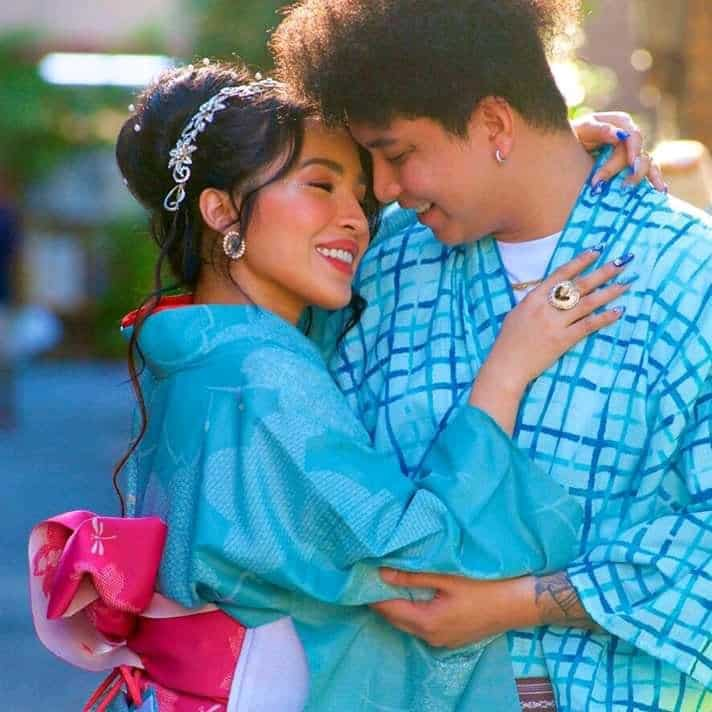 Majority of fans and netizens took to Jelai's side and supported her all throughout the issue. However, news broke out this October 2019 of the ex-couples' little reunion. The two were teasing each other and were all smiles which is why fans thought that the JoLai love was rekindled.
To clear things up, Jelai says they are not getting back together but are instead are on civil terms. Although, Jon still remains hopeful for another chance after their extremely controversial breakup and several Pinoy celebrity scandal video replies to one another.
READ ALSO: King Badger woos Jelai Andres through original song and MV, but netizens are not buying it
3. Heartbreak for the second time: Carlo Aquino and Angelica Panganiban
Fans of the once-couple Carlo Aquino and Angelica Panganiban rejoiced as the two stars made sparks fly in their 2018 movie Exes Baggage. Following their film release, netizens were surprised and at the same time rooting for the pair as they guest on TV shows while openly showing affection for each other.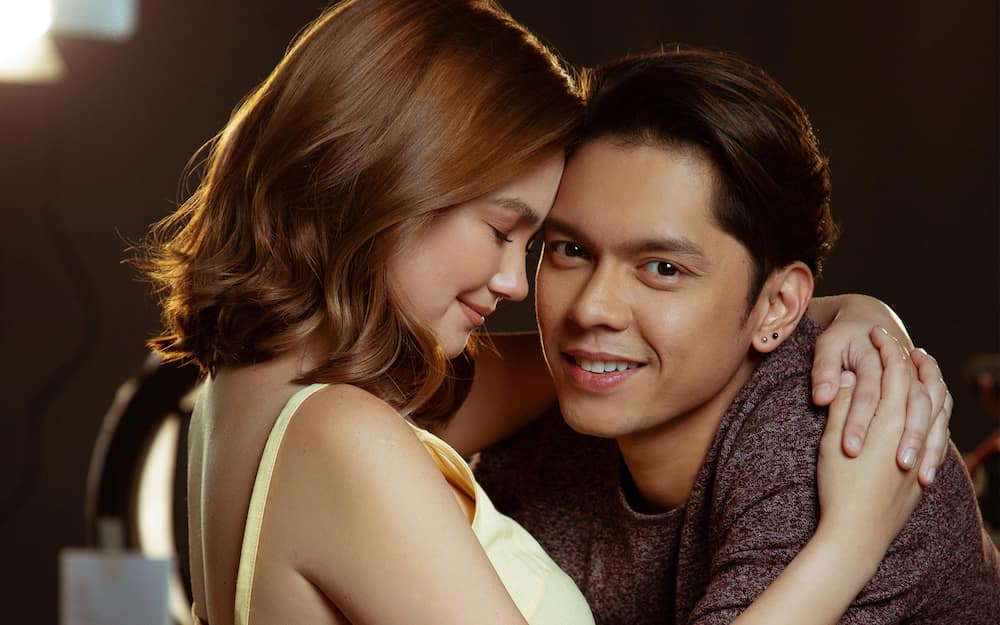 Despite their display of affection, both personalities still denied involvement with each other. However, since they do have a past with each other, fans could not help but ship the CarGel love team once more. The two were on and off-screen teenage sweethearts and maybe this was their second chance at making it a real-life romance.
Unfortunately, the love in the air quickly disappeared as Angelica announces her falling out with Carlo in March 2019. Actually, the situation was so severe that the Kapamilya personalities were not even considered friends anymore.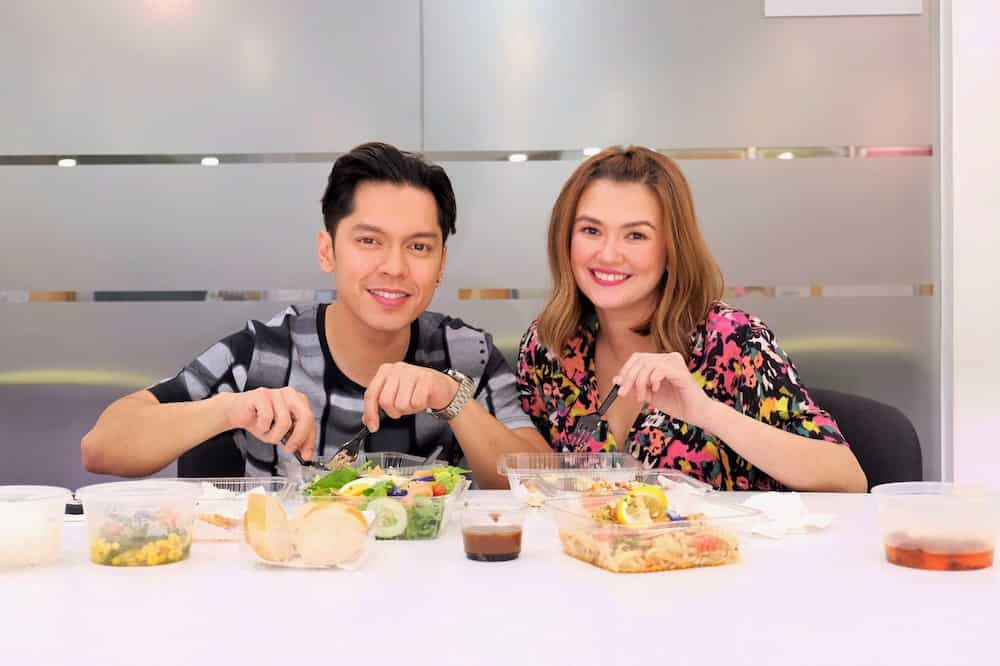 In a blink of an eye, they were no longer on speaking terms and Angelica was expressing feelings of being hurt after finding the courage to love again. It was at this time that rumors of Carlo vacationing with his girlfriend surfaced.
Angelica handled the issue by distancing herself from the actor instead of making the situation an old fashioned Filipina scandal or catfight. Meanwhile, Carlo reflects on his actions and later on admits that he may have led her on during their film promotion activities.
What makes this event even more controversial is the aftermath of the actor's unfair treatment to Angelica. Things got out of hand when angry fans started to pour their irritation and resentment out on Carlo's rumored girlfriend, Trina Candaza. In Carlo's case, he called out to fans and told them to direct their anger at him and not anyone else.
READ ALSO: Angelica Panganiban: The inspiring bio of the star
4. Chienna Filomena and Dawn Chang's ruined friendship
A controversial friendship fallout is probably the most common type of Pinay scandal out there. This year, people were closely following the feud of dancers Chienna 'Chie' Filomena and Dawn Chang, both involved in the Filipino girl group GirlTrends or now known as GT.
In April 2019, Chie reveals on Tonight With Boy Abunda that two group members, Pinoy Big Brother ex-housemate Dawn Chang, and Erin Ocampo were saying things behind her back. According to the artist, she confronted the two ladies about the backstabbing but they had nothing to say to that.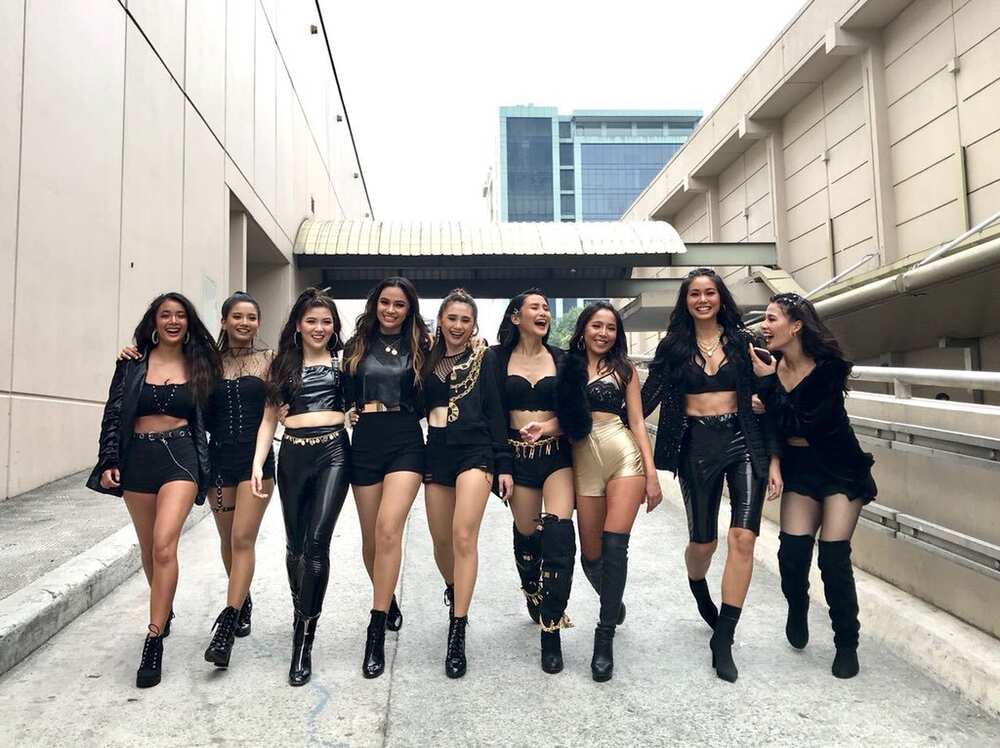 Despite the unclear resolution to the issue, Chie explains that she chose to be understanding which is why things were eventually patched up. Of course, if things had peacefully ended there, it would not be a Pinoy scandal or controversial topic for netizens.
Here's what makes it a catfight-worthy affair: Dawn answers Chie's accusations and calls her out for being 'vague' and not relaying the entire truth. The former PBB housemate also reveals that it was Chie and Erin who were caught in a fight where Chie allegedly pulled on Erin's hair. Dawn's only involvement in the issue was encouraging Erin to speak her side to the management when they were talking things over.
Following both parties' Tonight With Boy Abunda confessions, Dawn shocks fans as she announces that she was parting ways with her girl group in August. The group already had issues of its own even before Chie and Dawn's situation, like being bashed and criticized for their unsynchronized performances.
After some more shade being thrown back and forth between the two dancers, Chie throws out all hopes of reconciliation out the window. In October, she honestly tells reporters at the Star Magic's Black Magic Halloween party that too much has happened between her and Dawn to mend their friendship and that they are no longer on speaking terms.
5. Yeng Constantino's doctor shaming issue
Singer and songwriter Yeng Constantino was under fire for her hysteric post and vlog when she and her husband, Victor Asuncion, were vacationing in the beautiful island of Siargao. During their stay there, Yeng's husband met an unfortunate accident while cliff diving at the Sugba Lagoon.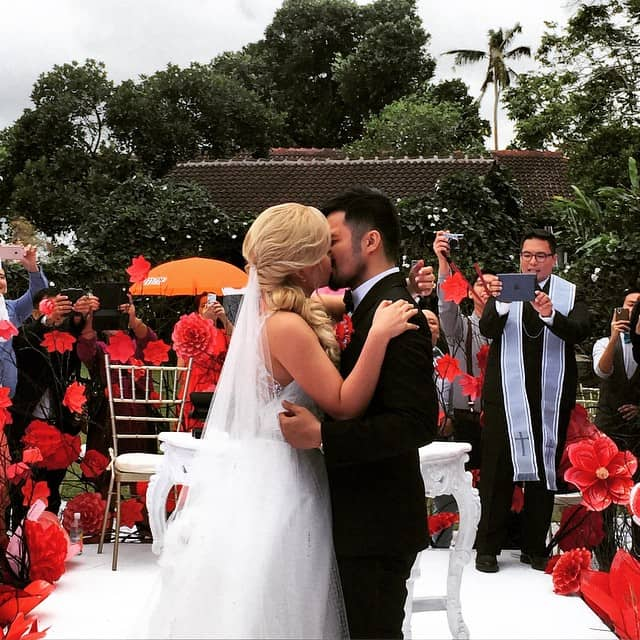 Victor was suffering from memory loss because of the impact and this resulted in a very worried and panicked Yeng. They were able to rush him to the nearest hospital (Del Carmen) and was accommodated immediately. However, the staff advised the husband and wife to transfer to Dapa Siargao hospital for better X-ray equipment.
This is where the Hawak Kamay singer first felt irritated because as a hospital near a popular cliff diving spot, they should have had equipment available. The situation quickly escalated when they arrived at the Dapa Siargao hospital as Yeng finds out that there was no X-ray operator to be found plus the machine was out of battery.
It was at this point that the singer's fuse blew. Her main concern was her husband's brain haemorrhage condition and she was furious at how the hospital lacked a sense of urgency.
She then threw negative remarks at the attending doctor, Dr. Esterlina Tan, and shamed her for not knowing how to operate the machine because she was still reading the instructions whereas her husband was laying in agony. Yeng titled her since-deleted blog as a Traumatic Experience in Siargao Hospital.
Although fans can grasp the artist's worry and panic for her husband's state, netizens called her out for her posts. As medical professionals gained notice of the incident, more and more people expressed their disappointment in her actions.
READ ALSO: Lolit Solis gives honest opinion about Yeng Constantino's doctor-shaming issue
After thinking things over, the singer realized her mistake and took accountability for her what she did. She apologized not only to the doctor but also to other medical staff for her irresponsible words. Even if things might be okay now, Yeng's Siargao #NoToDoctorShaming incident is now remembered as a Pinay celebrity scandal Twitter trend.
6. Bea Alonzo, Gerald Anderson part ways allegedly because of Julia Barretto
Three of the biggest celebrities in ABS-CBN involved in one of the most talked-about Pinoy celebrity scandals this year? Yes! First, Bea's cryptic posts on her Instagram, which she shared in July, went viral and sent fans investigating the meaning behind it.
It turns out, the actress had 'liked' a fan-posted photo of her then-longterm boyfriend Gerald Anderson with his Between Maybes co-star Julia Barretto. They were caught attending the birthday party of actor Rayver Cruz together and acting sweetly.
Celebrities like Kris Aquino, Angelica Panganiban, and Camille Prats commented words of support on Bea's posts and this added to the rumor of her and Gerald's separation.
On July 26, Bea broke her silence and revealed that no official break up happened between her and the actor. According to her, Gerald just 'quit talking to her' which is nowadays popularly called 'ghosting'. As things began to escalate, netizens pointed their finger at Julia, who had also recently broken up with ex-boyfriend Joshua Garcia, for being a relationship wrecker.
On August 05, Gerald finally speaks up and claims that his and Bea's parting ways had nothing to do with a third party. Instead, he blames it on their unresolved personal issues. Despite the star's clarification, fans still took to Julia's social media and barraged the actress with hate comments and accusations.
Not being able to stay quiet anymore, Julia releases a lengthy message on Instagram directed to Bea and attacks her for igniting the controversy. Although no official status was revealed between Gerald and Julia, he did admit to courting the actress.
Bea did not further reply to Julia's post but the issue still did not die down that easily. Recently, the Four Sisters and a Wedding actress says that she is moving on and is feeling okay.
7. Lars Pacheco's Wardrobe Mishap
Scandalous Hollywood moments almost always include celebrity wardrobe malfunctions. Unluckily, Filipinas aren't exempted from Pinay scandals like these. Last October, Miss Q&A grand finalist and transwoman Lars Pacheco suffered a rather embarrassing incident while hosting the popular noontime program It's Showtime.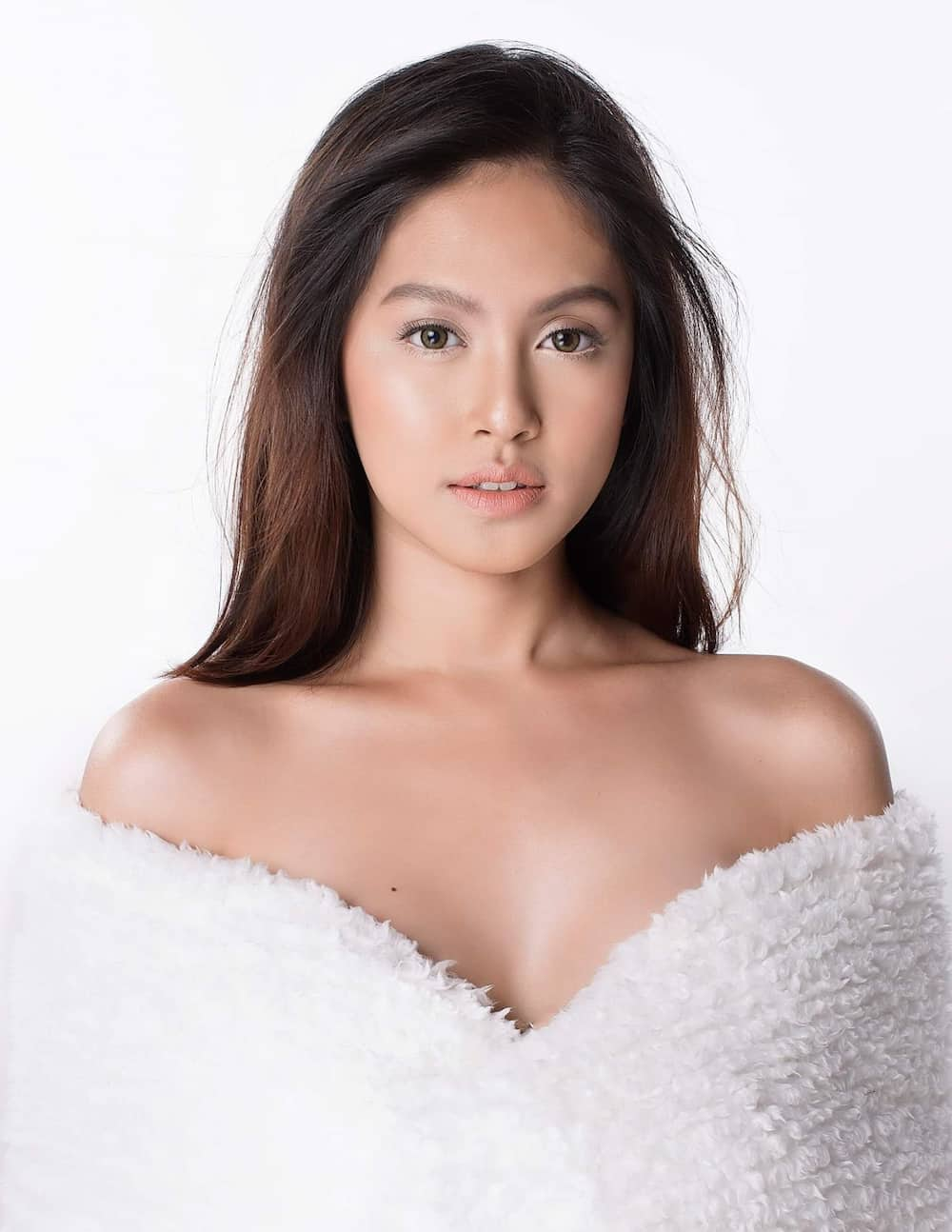 While interacting with the audience and fellow It's Showtime cast Kuya Kim, Lars' top accidentally slipped off, revealing and televising a part of the host's chest. Fans of the program were naturally shocked and soon enough the TV personality was the talk of the town.
Netizens were kind enough to encourage others to respect Lars and to stop sharing memes, photos, or videos of the incident. Soon after, the program issued an apology to anyone who might have felt offense from the wardrobe mishap.
READ ALSO: BF ni Lars Pacheco, may matinding pakiusap sa netizens matapos ang viral na 'wardrobe malfunction'
8.Keeping up with the Barrettos 2019-2020
No issue will top this year's biggest Pinay celebrity scandal involving none other than the Barretto sisters, Gretchen, Marjorie, and Claudine Baretto. For years now, netizens have witnessed how these women fought and made up since 2004. It grew from a battle among the three sisters to a full-blown fight as other family members took sides.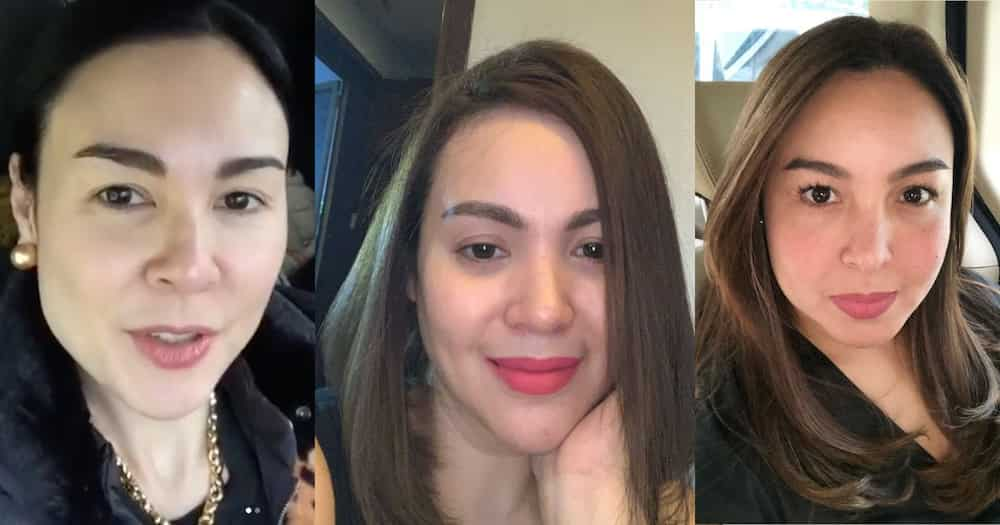 This 2019, the Barretto Saga continues with the two sisters, Gretchen and Claudine, going against Marjorie. Their most recent fight revolved around their father, Miguel Alvir Barretto, who had just passed away.
Here is an outline of their various fights this year:
Gretchen was on Bea's side during the Bea-Gerald-Julia issue and even called out and threw shady remarks at Julia, her own niece.
Gretchen blames Marjorie for supposedly being the reason for their father's heart attack as she did not invite their mother, Estrella 'Inday' Barretto, to a gathering.
Marjorie was severely affected by her estranged sister's (Gretchen) presence at their father's wake. She then refused to shake Gretchen's hand.
They fought in front of President Duterte when he was attending their father's wake.
During the wake, Nicole Barretto, Gretchen's niece, allegedly attacked her Aunt Gretchen.
A photo of a hospitalized Claudine was shared to DZMM TeleRadyo. She was in her current predicament after Marjorie allegedly became physical with her.
Marjorie claims that she is the one in the right and threatens to expose the truth. Gretchen attacks by mentioning her sister's rumored fling with Caloocan mayor Recom Echiverri.
Claudine shows their mother, Inday, a video of Marjorie supposedly calling her 'dramatic' and wanting to hurt her.
Marjorie claims that Claudine is making the story up and calls her out to see her in court.
Surprisingly, that is not the full compilation of all of their issues with each other as their fights tend to branch out to other family members as well, such as Julia and Dani Barretto. With this, it does not look like there will be an end to the Barretto madness any time soon.
9. Gretchen Barretto and Atong Ang's relationship status
Amidst her fight with Marjorie and other members of the Barretto family, Gretchen was caught in a speculated romance between her trusted friend and businessman Atong Ang. The pair was snapped together while they were asleep and holding hands during a plane ride.
Gretchen debunks the claims of a romantic relationship between her and Atong. She even says that her husband, Antonio Cojuangco, is business partners with Atong and are great friends. Atong was also there to accompany Gretchen to her father's wake as she felt awkward attending alone given that she is the estranged sister.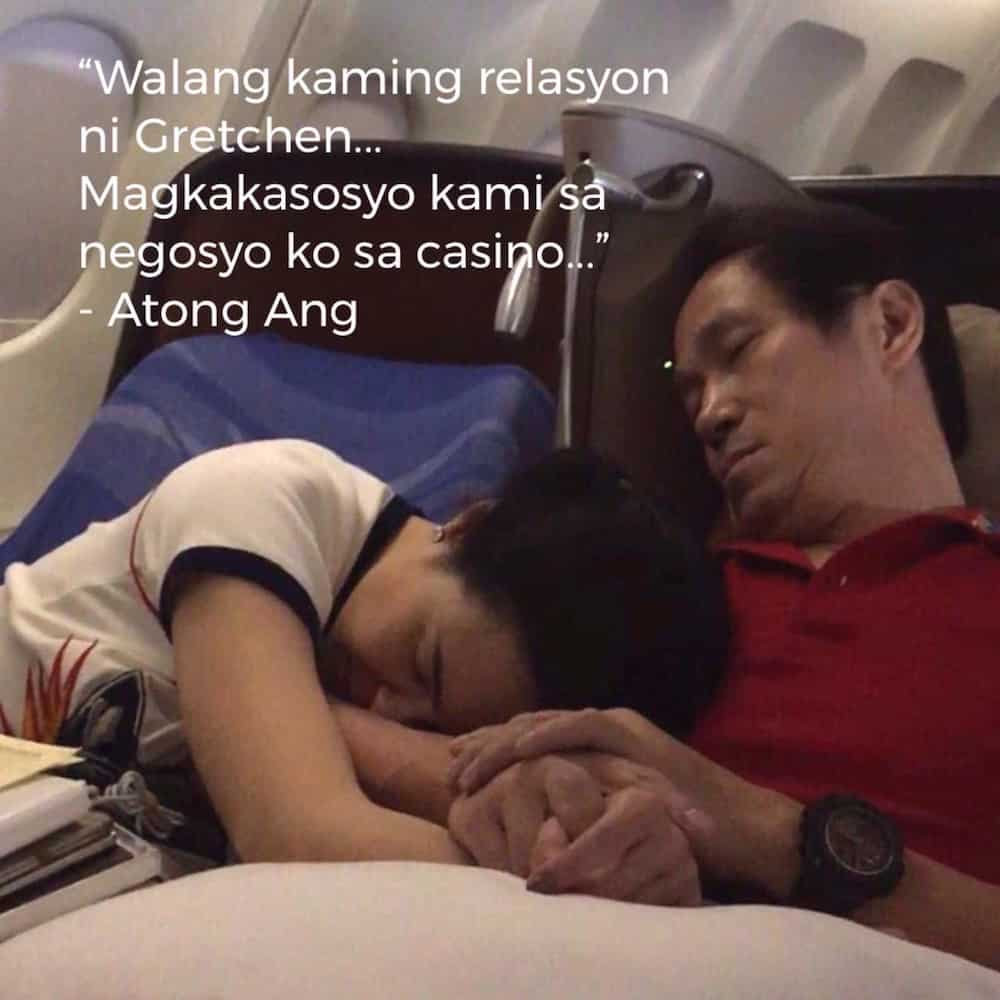 It is also important to note that there are allegations going around saying that Gretchen 'stole' Atong from her niece Nicole Barretto. With no intentions of backing down, Gretchen accuses Nicole of stealing Atong from her Aunt Claudine. Being the man caught up in this mess, Atong denies any romantic relations with the three ladies.
READ ALSO: Atong Ang finally addresses claim that he & Gretchen Barretto are in a relationship
10. Raffy Tulfo angers Filipino teachers
The latest Pinoy celebrity scandal this year revolves around Filipino broadcast journalist, Raffy Tulfo. He hosts and mediates on Wanted sa Radyo or as fans call Raffy Tulfo in Action. Usually, the journalist's show is well-accepted and is a hit with netizens. Lots of memes and content are generated from the people who seek his help and people genuinely enjoy watching the program.
However, in one of the recent episodes, Raffy has earned himself the disfavor of Filipino teachers nationwide. A family had reported their child's teacher for supposedly mistreating the child. The teacher involved, Melita Limjuco, asked the grade-two student to sit outside the classroom as a consequence for forgetting his report card at home.
With this, the family claims that their little boy must have been very humiliated. Additionally, they wanted the teacher's license to be revoked to pay for her actions. Raffy pressured the teacher to resign and have her license revoked on the show.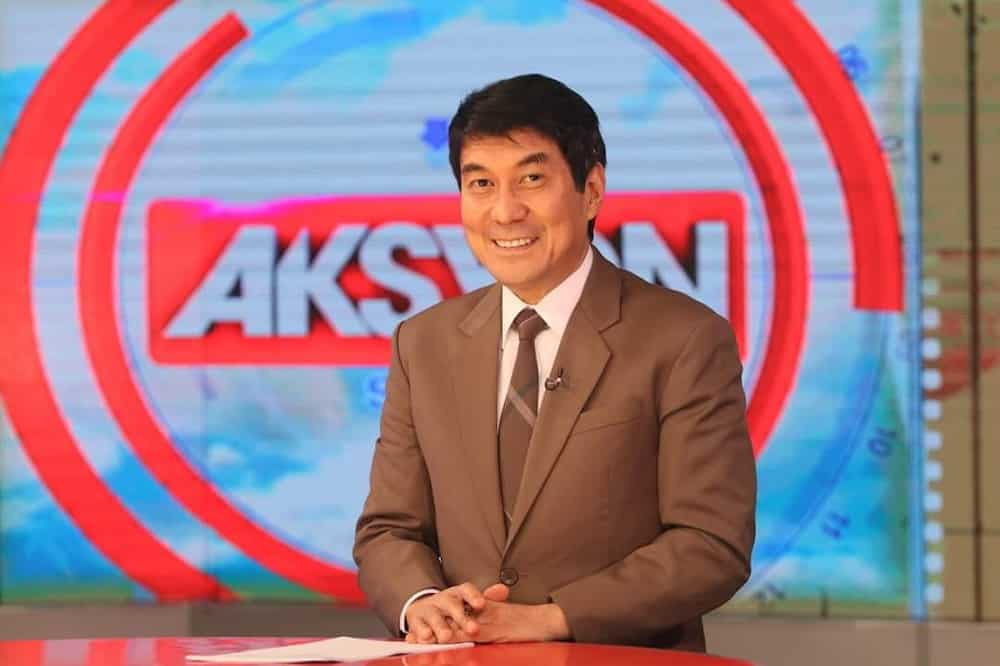 His statement unleashed the fury of teachers calling him out for his irresponsible suggestions without even giving the teacher a chance at due process. As teachers all over the country sided with the teacher Melita, Raffy refuses to take back what he said. He claims that the Department of Education fails to appeal to the real victim which is the student.
2019-2020 welcomed a lot of fiery, memorable, and controversial Pinoy celebrity scandals. Some celebrities found a peaceful resolution for their actions while others, on the other hand, chose to burn bridges instead. Whichever way their stories will unfold, one thing that is for sure is that the public will always be watching.
READ ALSO: These hugot lines love will make you laugh, cry, and fall in love over and over
Source: KAMI.com.gh