Song Joong Ki age, wedding, movies, Song Hye Kyo
Whether people know him from the hit variety show Running Man or perhaps the drama Descendants of the Sun, there is no denying that Korean actor Song Joong Ki has managed to charm his way into the hearts of fans and earn himself a top spot in the world of Hallyu stars.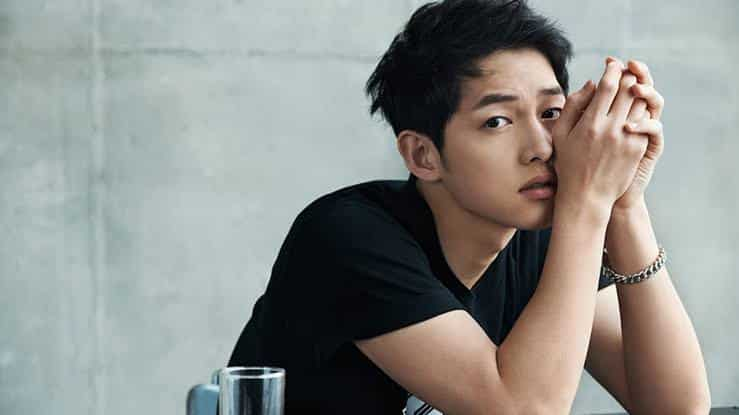 From his marriage to Descendants of the Sun love interest Song Hye Kyo to his career and numerous acting opportunities, here is your chance to get to know more about one of the most popular actors in Korea.
Song Joong Ki age, facts, and profile summary
Name: Song Joong-Ki (송중기)
Birthday: September 19, 1985
Age: 34 years old
Zodiac sign: Virgo
Birthplace: Daejeon, South Korea
Height: 178 cm or 5'10"
Profession: Actor, model, host
Fun facts
His fans are called Ki Aile, which is a Korean word which means 'Song Joong Ki's wings'
He studied at Sungkyunkwan University where he graduated with a degree in Business Administration. Since his university days, he was already quite famous on campus being the 'college crush' and even being a model of a university magazine.
He has two siblings, an older brother and a younger sister that is seven years younger than him.
He was part of the original cast of the variety show Running Man. He was a regular member of the show from 2010 to 2011. He eventually left the program in April 2011 due to conflicting movie schedules.
He is close with Running Man member Lee Kwang Soo. Even years after their time together on the variety show, they invite each other to celebrations.
He also has a close relationship with singer and actor Park Bo Gum. They are also both under the same agency, Blossom Entertainment.
In August 2013, the actor began his mandatory military enlistment. He finished his duties in May 2015 in the Goseong, Gangwon province.
He reveals that the person that gave him strength during his enlistment was none other than his best friend, Lee Kwang Soo.
Before acting, he was an athlete, specifically in the field of short skating (short track speed skating). When he was in Junior High, he managed to participate in the National Games three times as well as other large sports meets.
Despite not being able to pursue an athletic career in short skating, the actor did get the opportunity to play the role of a national speed skater in one of his dramas, Triple (2009).
His parents were the ones that enrolled him in acting classes. They did this to help him with his shyness.
READ ALSO: Park Bo Gum bio: age, height, girlfriend, and movies
The star does not have any social media accounts as he refers to himself as 'non-tech savvy' person. He adds that the online platforms are too much for him to handle because he just can not keep up.
Song Joong Ki and Song Hye Kyo are the main stars of the hit military rom-com series Descendants of the Sun, which is the drama that gained the actor his spot in Hallyu superstardom.
When the pair started dating, they became known as the Song-Song couple because of their names (Song Joong Ki Song Hye Kyo).
Song Joong Ki Descendants of the Sun, movies, and dramas
Before his big break in the acting industry, Joong Ki played supporting roles in movies like A Frozen Flower (2008) and A Case of Itaewon Homicide (2009). He bagged his first main role in the anthology Five Senses of Eros in 2009.
In the following years, he started getting bigger parts in movies such as in the feature film and box office hit A Werewolf Boy (2012) where he plays the title character, Chul Soo.
Meanwhile, in dramas, he played Goo Yong Hwa in Sungkyunkwan Scandal (2010) and the vengeful Kang Ma Roo in Innocent Man, his first leading role in a TV drama. This year, he acted as Eun Seom in Arthdal Chronicles, a history-fantasy series.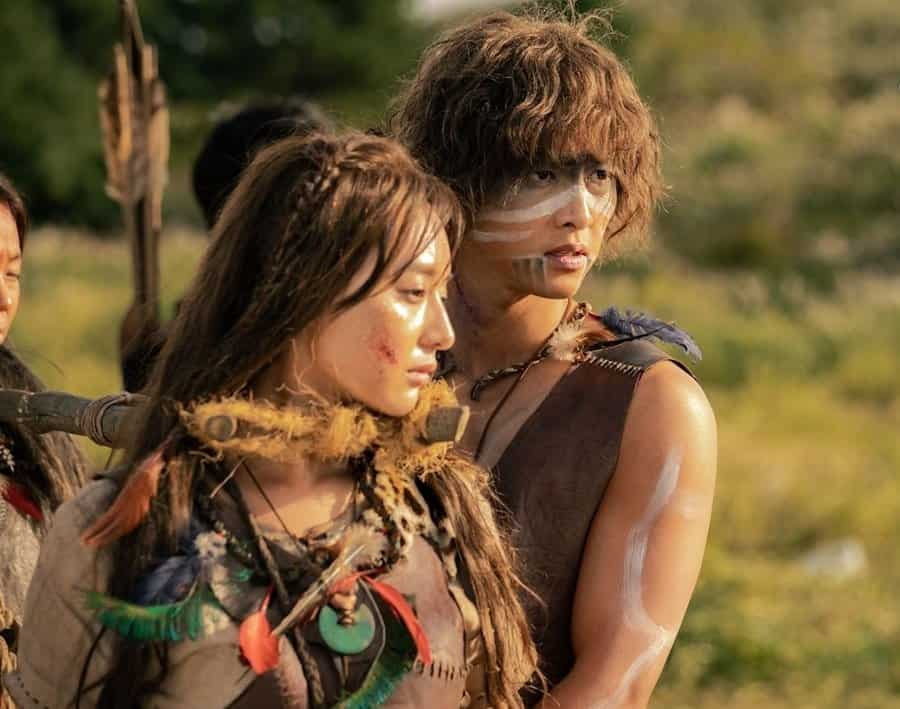 In 2016, right after his military discharge, actress Hye Kyo and Joong Ki worked together on Descendants of the Sun. Among all Song Joong Ki movies and dramas, this was the project that made a mark in the actor's career. Not only did he gain worldwide fans with the drama but he also met the woman he would marry, his co-star Song Hye Kyo.
Song Joong Ki wife and marriage
Fans were ecstatic to see the on-screen love team become a real couple off-screen. It was in July 2017, a year after filming the drama, that the couple made their relationship public while at the same time announcing their plans on getting married. As many were surprised by the unexpected news, reports showed that they had been together since mid-2015.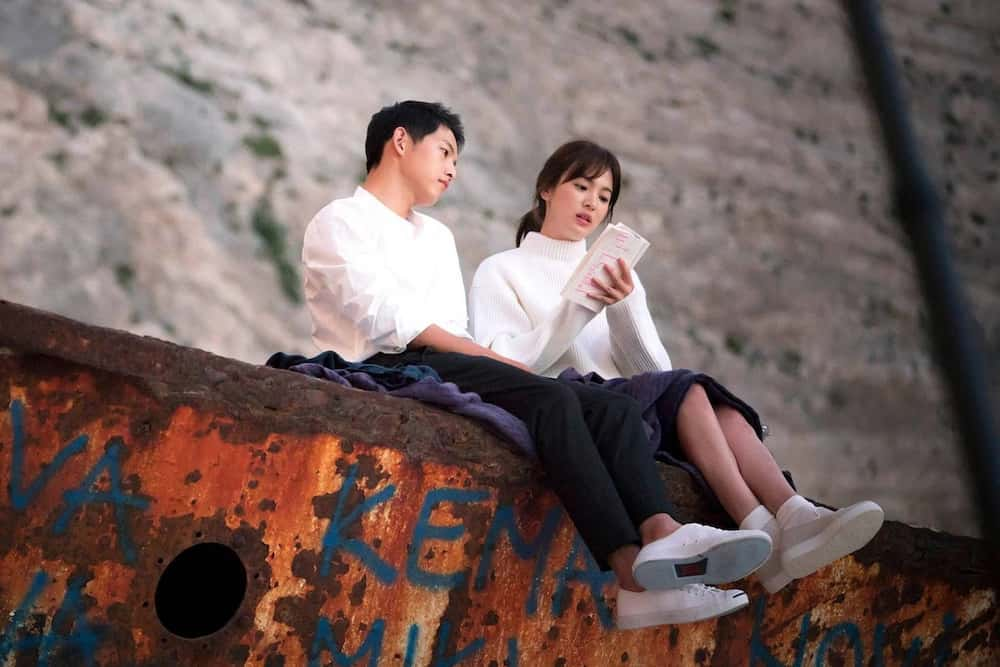 It is said that actor Jo In Sung is the person that first introduced the pair to each other. At the time (2013), he was working with Song Hye Kyo in the drama That Winter, the Wind Blows. He is also responsible for recommending Joong Ki for the role of Captain Yoo Si Jin in Descendants of the Sun.
The Song Hye Kyo Song Joong Ki wedding
To the delight of both their national and international fans, the couple tied the knot on October 31, 2017. The much talked about Song Joong Ki wedding included an outdoor ceremony at The Shilla Seoul's Yeong Bin Gwan. The actor was said to have proposed in the winter of 2016 in Japan where Song Hye Kyo was working at the time.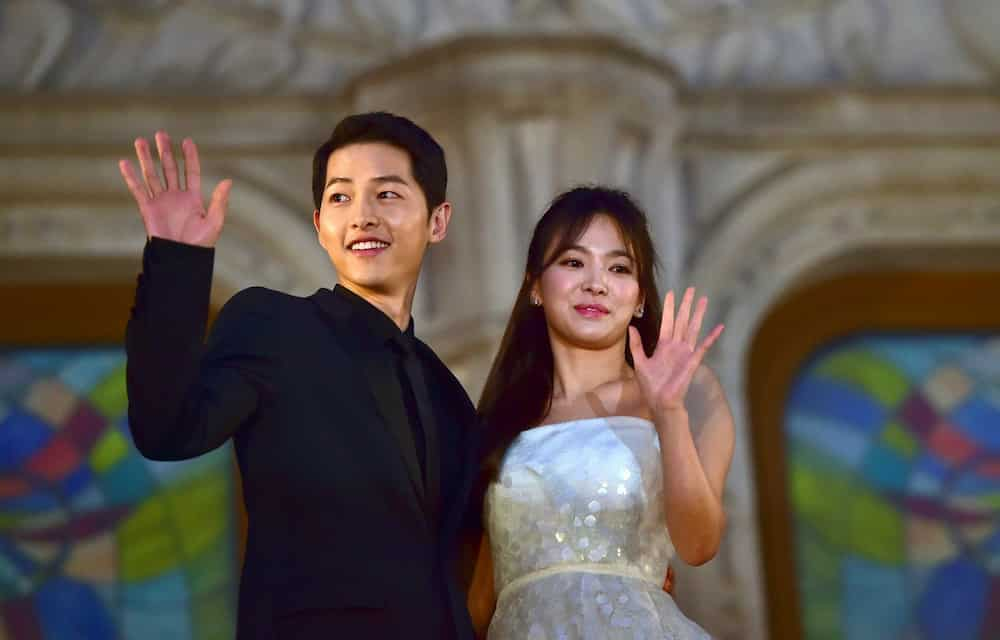 The Song Joong Ki and Song Hye Kyo wedding was attended by 300 people. Celebrities and friends of the couple like Lee Kwang Soo and Yoo Ah In gave their congratulatory messages to the couple while Park Bo Gum played the piano.
A not-so-happy ending for the couple
The couple surprised the world once again with unexpected news when Song Joong Ki filed for a divorce in June of 2019. After two years of marriage, Hye Kyo's agency released a statement saying that their difference in personalities was the reason behind the split up.
Fans were in shock that the beloved couple who were once madly in love was now breaking up. Rumors began to spread that the reason for the divorce was actually actor Park Bo Gum, Song Joong Ki's close friend and Song Hye Kyo's co-star in the TV drama Encounter. Park Bo Gum has denied any involvement in the celebrity couple's divorce.
In July 2019, the Seoul family court approved the actor and actress' divorce settlement which allowed them to legally get divorced. Rather than blaming each other, both personalities simply wish to deal with the settlement amicably.
It may be sad to see one of Korea's power couple break up, but it does not change the fact that Song Joong Ki is still the same actor that the people know and love. As he continues on his path in acting, who knows just what kind of roles, opportunities, and even love life will open for the actor.
READ ALSO: Song Joong Ki's new Kdrama ratings drop amidst his divorce issue with Song Hye Kyo
Source: KAMI.com.gh