Gazini Ganados hit the headlines this year after she won the Miss Universe pageant in the Philippines. However, this year's accomplishment was not her first. Previously, she won an award with the United Nations and ASEAN Youth. What else do you know about this Filipino beauty?
Often, beauty pageants winners woo the audience with their stunning looks. At times, appearances enable some to steal the show and emerge winners. She has spectacular beauty and a loving heart. She is also known for her significant contribution in helping the elderly and youth in society.
Gazini Ganados profile summary
Full name: Gazini Christiana Jordi Acopiado Ganados
Date of birth: 26th December 1995
Age: 23 years
Height: 1.75 m
Nationality: Filipino
Gazini Ganados biography
She was born on December 26th, 1995. Her mother is a Filipino and father, a Palestinian. Therefore, Gazini Ganados ethnicity is a combination of the two. She was born in Dapitan City, Zamboanga del Norte, Philippines. In 2007, she moved to Talisay Cebu. At this time, she was in sixth grade.
In 2010, she started her modeling career after being scouted by Sven Chua of the Origin Model & Artist Managemen. She won numerous titles as a teenager. The following year, she won Miss Milo Little Olympics. Later in 2014, she competed at the Miss World Philippines finishing among the top 13.
In 2015, she represented Sinulog Festival in Cebu and finished as the second runner-up. The following year, she was crowned Miss Cebu Schools Athletic Foundation, INC (Cesafi). Still, in 2016, she joined Miss Pearl in the Philippines and emerged as the best in Regional Costume. The next year, she joined Miss Bohol and finished as the 1st runner up. Besides, she earned a degree in tourism from San Jose Recoletos University in Cebu City.
The year 2019 brought great success to the beauty queen. She competed in Binibining Philippines on 9th June. She emerged the winner hence acquiring the tittle Miss Universe Philippines 2019. Moreover, she had the best long gown and won the Miss Photogenic award.
Gazini Ganados age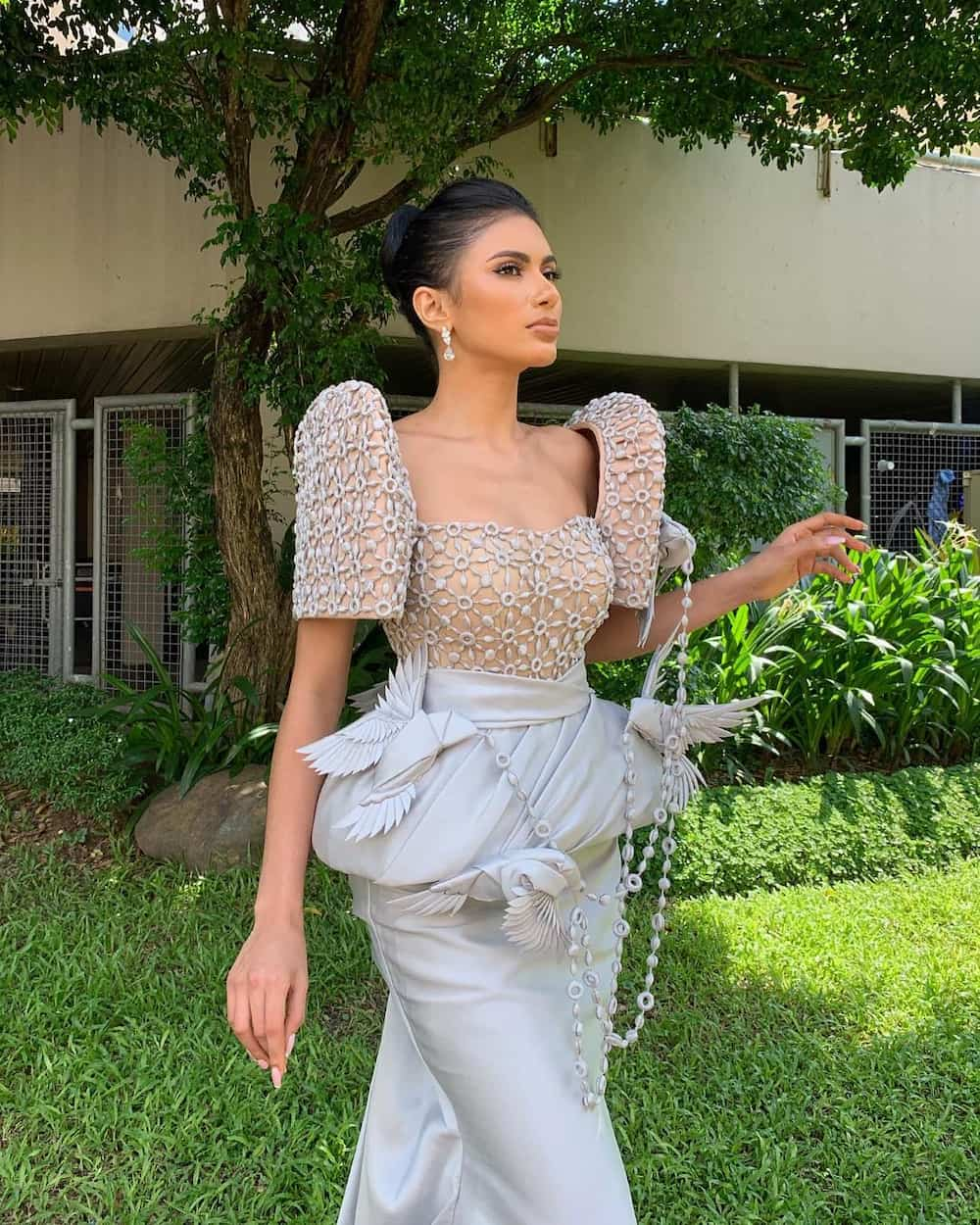 Currently, she is 23 years old. Her age is an encouragement to other young ladies from different parts of the world. It is possible to achieve dreams and be famous at a young age. Gazini Ganados birthday is on 26th December.
Her family
Very little is open to the public about her family. However, the bond between them is, no doubt, strong. For instance, she was close to her grandmother. She was devastated when she passed on. Her grand mum had succumbed to sickness due to a lack of proper medical care. This motivated her to advocate for elderly rights by ensuring they acquire the medical facilities they require.
Not much is known about Gazini Ganados parents. After winning the 2019 Miss Filipino, she publicly thanked them for being her guardian angel. However, Gazini Ganados father is not known to the public.
Moreover, she is so positive about Pakistan and speaks positively about it. She hopes when she goes there, she will bump into her father. It is her hope that he is still alive and will be happy to meet her as well. This may mean that Gazini Ganados mother raised her without her father in the picture.
READ ALSO: Marco Gumabao bio: height, age, movies, dating history
Gazini Ganados nationality
She is of Filipino nationality.
Gazini Ganados height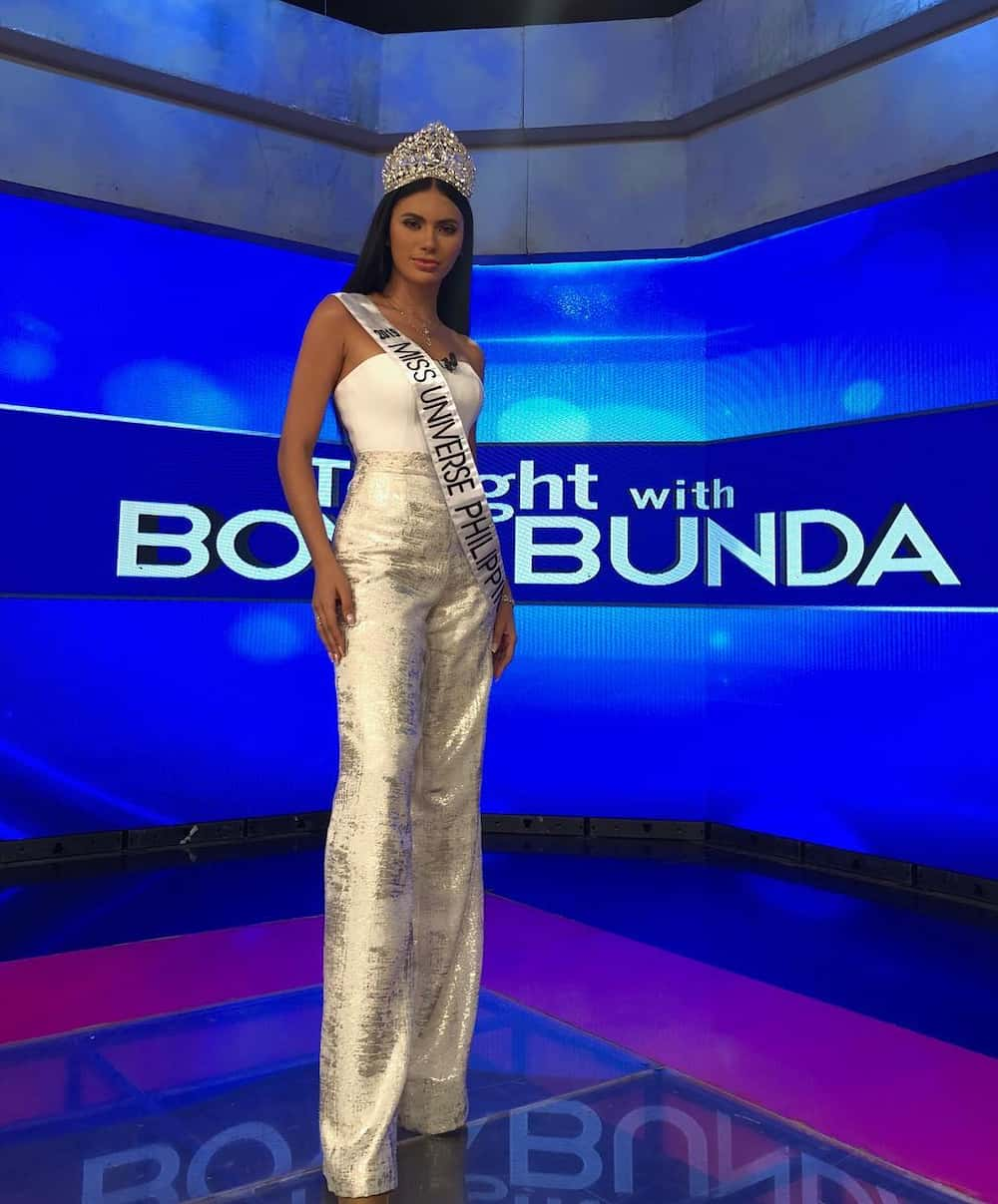 In modeling, height is one of the aspects that determine one's qualifications. The Filipino beauty is blessed with a good height and much more. She has a height of 1.75 m. This lovely height has enabled her to stand out in the crowd.
Gazini Ganados plans during her reign
During the 2019 Filipino beauty pageant, she explained the plans she had during her reign. She spoke strongly that she would advocate for women and elderly rights. She added that she was to ensure that females believe in their ambitions. She promised to work hand in hand with her competitors. This is because she did not see them as a threat and vowed to keep a bond with them.
Social media presence
She is very active in social media. You can learn about her life by following her on various social media platforms. For instance, Gazini Ganados Instagram page tells the public how she spends her days. She enjoys going to the gym, traveling and hanging out with friends. To find out more, you can follow her using her handle on Instagram. She has over 396,000 followers.
Gazini Ganados pictures
Her pictures are numerous and can be viewed by everyone on Instagram. However, if you are not on Instagram, you can look them up on the internet.
Moreover, you can check Gazini Ganados Twitter handle and follow her for more of such photos. This is in case you want to be informed of the beauty queen's activities.
Gazini Ganados Miss World plans
She is looking forward to the present the Philippines in the Miss Universe Competition. She said that she would authentically represent the Philippines in her own way. Moreover, two leading pageant camps have joined forces to help her. They have faith in her.
In the past, Gray, also a Filipino beauty, carried the entire country on her shoulders. This was during the Miss Universe National costume competition. She went to showcase local culture through accessories and gowns.
Gazini Ganados has been a public figure for a while now in the Philippines. She started modeling at a young age and has won numerous awards. Furthermore, she was crowned Miss Universe Philippine 2019. Her beauty is overwhelming and is evident when you look at her pictures. Additionally, she also has great plans for her country.
If Gazini Ganados wins the Miss Universe title, she will help the entire world. She appreciates her distinguished achievements. Moreover, she thanks all those who have helped her in every step of her career.
READ ALSO: Skusta Clee bio: age, girlfriend, real name