Kai EXO bio: Net worth, photos, tattoos, height, age
EXO has been known to produce the best singers from South Korea and China. The group has a reputation for producing massive hits that have put K-Pop on the global stage. Kai EXO is one of the beneficiaries of that group. Like many of his bandmates, Kai is a singer, songwriter, actor and dancer. Although he has many roles in the group, he is best known as the lead dancer of the group and was only the second member in the band to sign for S.M. Entertainment.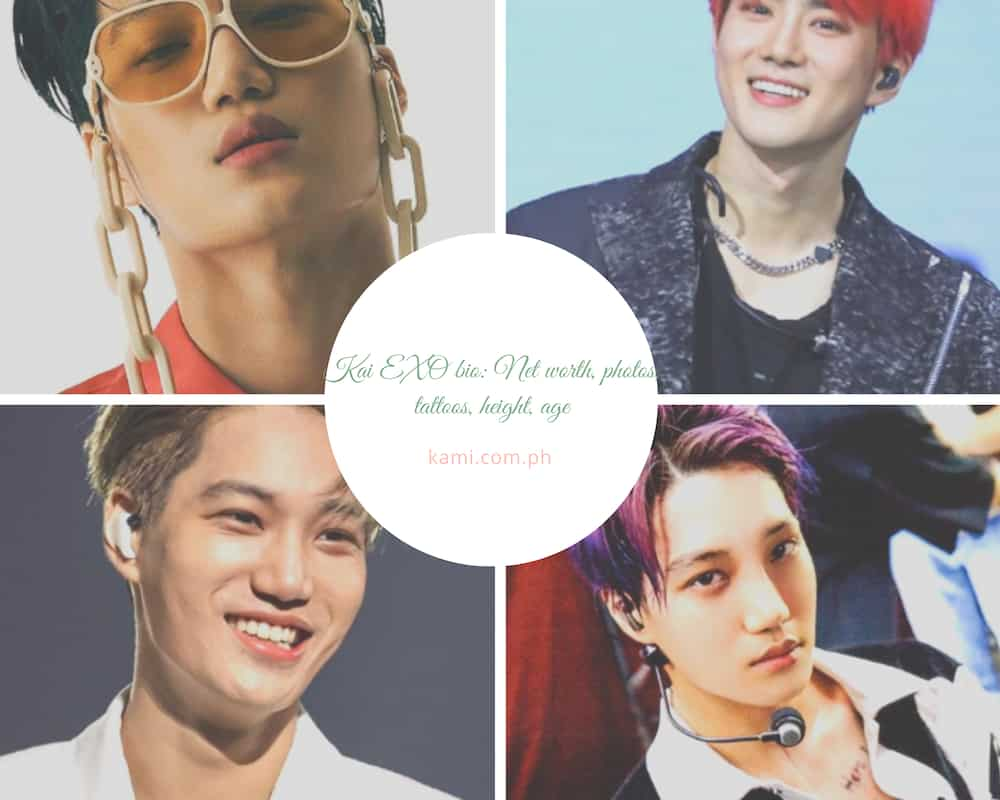 Many know him as Kai which is his stage name, but those close to him call him Kim Jong-in which is Kai EXO real name. He is an important member of the group, and as part of it, he has released four studio albums, five extended plays and twenty-one singles.
He has sold more than thirty million records in South Korea alone. This can tell that with all the success in music and acting follows commercial success. Indeed, Kai is also one of the richest stars and continues to earn more with his new releases.
Kai EXO profile summary
Birth name: Kim Jong-in
Nickname: Kai
Kai EXO birthday: 14th January 1994
Place of birth: Suncheon, South Jeolla, South Korea
Birth sign: Capricorn
Kai age: 26 Years Old
Height: 5'11" (182 cm)
Weight: 65 Kg
Profession: Dancer, singer, actor
Kai EXO biography
Kai was born on 14th January 1994 in Suncheon, South Jeolla Province, South Korea. He has two older sisters and is the only boy in the family. He showed interest in music from a young age and started dancing at the age of eight.
In the beginning, he used to do jazz dances, but after seeing The Nutcracker, he started training in ballet. He was in third grade at this time. On their part, his parents wanted him to learn Taekwondo and piano. Kai went to the Chungdam High School before joining the School of Performing Arts Seoul.
READ ALSO: Bhad Bhabie bio: Age, height, net worth, real name, tattoos
Career
When he was in 6th grade, Kim auditioned to be a member of EXO, but it was not until his second year in middle school that he got accepted. This was in the 10th S.M. Best Youth Contest which he easily won for his unique way of dancing.
He also won a popularity award at the contest. He was only 13 years old at the time. Upon becoming a member of S.M. Entertainment, he worked hard to develop skills in hip-hop, popping and locking. He was the first EXO member to be introduced to the public formally through teaser trailers.
Net worth
He might not be the highest-paid member of EXO, but Kai net worth is a figure many people would only dream of having. The South Korean entertainer is believed to have a net worth $8.5 million.
This means he earns $1 million per year, $83,333.33 per month and $19,230.77 per week. His income does not only come from EXO because he also works as an actor and has starred in several television dramas.
Kai tattoos
There is no doubt that Kim is a lover of ink and that is why most of the time he is seen with temporary tattoos all over his body from his hands, arms, chest to his belly. He is inspired by his father, who used to be an artist. That is why Kim took some of his father's art and turned it into fake tattoos just to share with his fans.
Those images were drawn by his father for a storybook he wanted to make for his grandchildren, but unfortunately, he died before doing that. Kim has, however, made it clear that he will never get permanent tattoos.
Height
When it comes to body measurements, Kai height is 182 cm (5 feet and 11 inches) tall. Corresponding with this height is his weight which is 65 kilograms (143 lbs). His other body features are black hair and brown eyes.
Kai photos
Just like all other EXO members, Kim is active in social media and posts pictures of himself and his bandmates regularly. His fans have had the opportunity to learn personal things about the entertainer through some of his photos found in Kai Instagram account.
1. Jovial Kai
Kim's laughter is infectious, and he is always in a cheerful mood. It is as if it is his job to keep the band happy and this he knows how to do. Many of his fans also love him for his character and how emotional he can get. He likes to be attached to things and takes every relationship seriously.
READ ALSO: Erin Ocampo: biography, age, height, family, Instagram
2. Charming
He is not often talked about as the most handsome guy in the group, but this does not mean he does not make the hearts of girls melt. Kim is attractive to millions of female followers dying for his love and attention. Unfortunately, the singer seems to have time only for his career and has not decided yet to settle down.
3. Designer taste
Kim has a preference for cool and expensive things, including clothes. It is not surprising sporting him rocking a Gucci designer outfit and posing for photos to remind his fans how well he is doing. We can't expect anything less than that from him considering he is only 26 years old and a millionaire.
4. Lazy Kim
He has said before that he loves being alone and we can all see why. Being indoors means he does not have to worry about his hair or the outfit he is wearing. It is a chance for him to enjoy the calm environment, but also he can't resist sharing stuff with his fans on social media. This also serves as a promotional technique because his fans will want to know whatever he is drinking.
5. Ain't no feeling better than that
For people like Kim, they would rather be nowhere else other than on stage in front of their fans performing. This is the only activity that gives them total satisfaction. That is why he must dress for the occasion and show his fans gratitude for turning up.
Kai is famously referred to as a dancer machine and for a good reason. He is the lead dancer in the EXO group and has never disappointed. Even when he got injured and spent quite a spell on a wheelchair, he came back even stronger and better. From the beginning, he knew he wanted to be a dancer and had to go against the wishes of his father who wanted him to train in Taekwondo and piano, but he insisted on dancing.
READ ALSO: Ellen Adarna profile: age, family, height, scandal
Source: KAMI.com.gh