Xiumin EXO bio: net worth, age, photos, height, sister
Xiumin is a renowned South Korean singer and actor. The young and handsome singer is currently a member of the EXO K-pop group. He only came into the limelight in 2012, but his achievements in the scene are commendable. So, what is the story behind his success?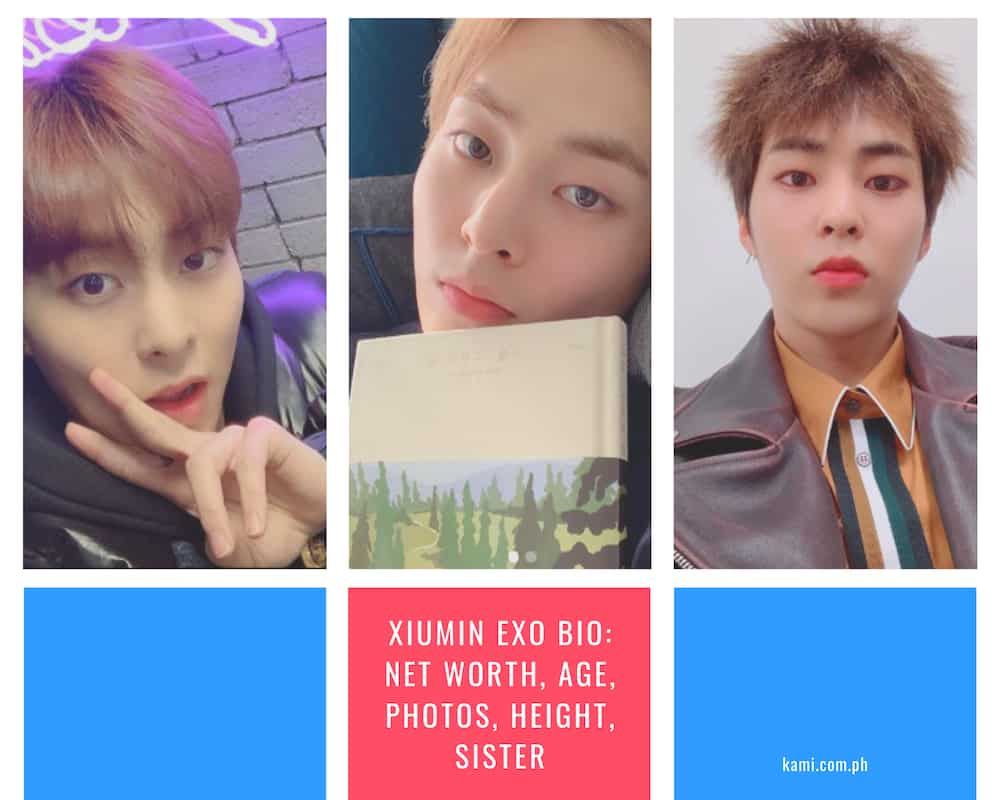 At the moment, he is the oldest member of the group. Thus, most of his group members look up to him. He takes three significant positions in the group; lead vocalist, dancer, and rapper. As some members of the band, his career and personal life are exciting and inspiring.
Xiumin profile summary
Birth name: Kim Min Seok
Nickname: Bao Zi (Little Bun), King of Detail, Mandoo
Date of birth: 26th March 1990
Age: 30 years old
Zodiac sign: Aries
Place of birth: Guri, Gyeonggi, South Korea
Sister: Kim Min Kyung
Career: Singer, actor
Band: EXO
Position: Lead vocalist, dancer, rapper
Nationality: Korean
Biography
Kim Min Seok, otherwise popularly known as Xiumin, was born on 26th March 1990. He was born in Guri, Gyeonggi Province, South Korea. He spent most of his childhood, like any other normal kid. Precisely, he engaged himself in fencing, kendo, taekwondo, and self-defence.
Unlike some celebrities, he prefers to keep his family life out of the public eye. Also, he attended Catholic Kwandong University.
Xiumin sister
The star has a little sister. Unfortunately, not a single picture of her is on any social media platform. For a long time, Xiumin has tried his best to keep her identify out of the public eye because his mother requested him to. Even so, Quora has identified her name to be Kim Min Kyung.
Xiumin would love the identity of her sister to remain as it is now. Introducing him, for example, to his colleagues would comprise his relationship with them. The star, precisely, said the following about his sister in a broadcast with Kangta's Starry Night back in 2016:
I have a reason though. I want to maintain a good relationship with all the members until the very end.
How old is Xiumin?
Interestingly, Xiumin age and his physical appearances tend to confuse many people. Most people are likely to be fooled by his looks to think that he is a teenager. Well, at the moment, the star is 30 years old. Usually, Xiumin birthday occurs on 26th March.
READ ALSO: Ylona Garcia bio: age, parents, dating, photos
Body measurements
His charming body physique is among the many things that fans and admirers love about him. As per the latest statistics available online, Xiumin height is 5 ft 8 inches. This can be translated to 173 centimetres. On the other hand, he weighs 68 kg. Xiumin abs is also another aspect of his physique that drives many ladies and admirers crazy.
Xiumin military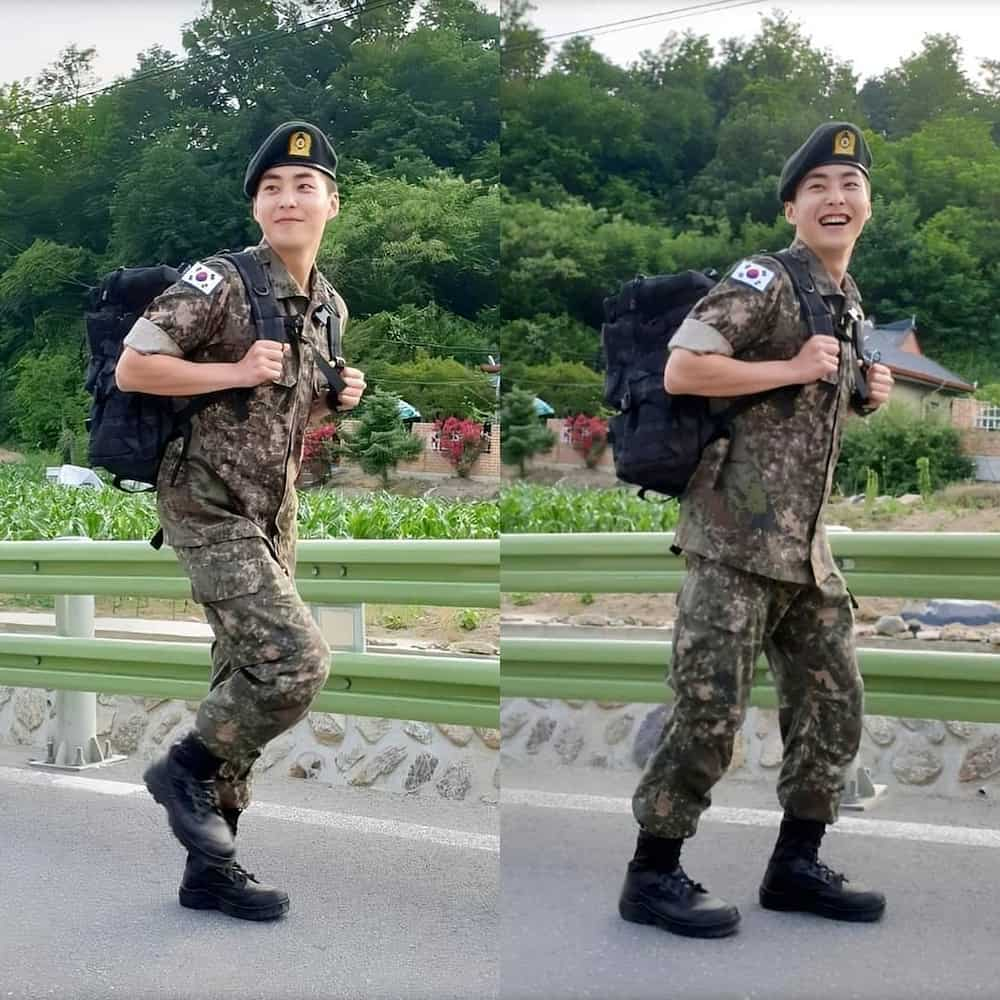 Apart from being a talented singer and actor, he is also a trained military soldier. He entered the one and half year mandatory military enlistment in 2019. During this period, he will not be performing with his colleagues. Also, soldiers have limited access to phones and internet during the one and a half years.
Net worth
The star is among the highly paid members in the k-pop industry. Currently, Xiumin net worth is estimated to range between $1 and $5 million. Most of his wealth accumulates from his singing and acting deals. Besides, apart from being the 7th member of the EXO, he is also a member of the group's subunits; EXO-M and EXO-CBX.
The pop singer owns a lavish home, car, and other fancy properties. As mentioned before, he rarely shows off his wealth and stuff as it is the case to many modern celebrities.
Xiumin photos
The 30-year old singer has many gorgeous photos on his platform. Some are those of his childhood, which have never been seen by many of his fans. Well, here are some of his photos you may love to see:
1. The innocent-looking guy
Often, he rarely has the bad boy look in most of his pictures. In most instances, he does not wear a smile on his face, but he is always cute, and he looks younger than ever.
2. Xiumin the introvert
Many at times, you will find him alone. Although he enjoys the company of his mates, he spends most of his time being alone in the house or touring. He also likes a quiet place.
3. The fashion killer
He is always neatly dressed and smart. Besides, his colleagues approve of the fact that he is smartest and tidiest one in the band. He must take a bath every day. His choice of attire is also the best.
4. Football was his first love
His love for soccer started in childhood. In an episode of Life Bar, he confessed that he was planning to join a soccer academy before a friend convinced him to accompany him for an audition at SM Entertainment.
5. … and this one too
This is one of the few looks of him that most fans have never had the opportunity to see. Many are used to see him dressed in official attire. Although he is too serious, he looks calm and classy. Also, the magic behind his looks is one thing that many would love to know.
Indeed, Xiumin is among the Korean entertainers who have helped to put the country on a global map. Last year, he entered into a mandatory military enlistment, separating him temporarily from his colleagues in the band. Overall, his achievements are commendable. They are worth emulating, especially by upcoming artists.
READ ALSO: Gennady Golovkin bio: net worth, boxing record, wife, age, latest news
Source: KAMI.com.gh