How to create a PayPal account in the Philippines
PayPal is one of the world's most secure and flexible methods of payment for individuals who prefer online transactions to handle physical cash. With this account, you can easily send or receive funds from different people in any corner of the world by a click of a button. Due to its reliability, many freelancers, as well as other online workers, are switching to transact via this platform.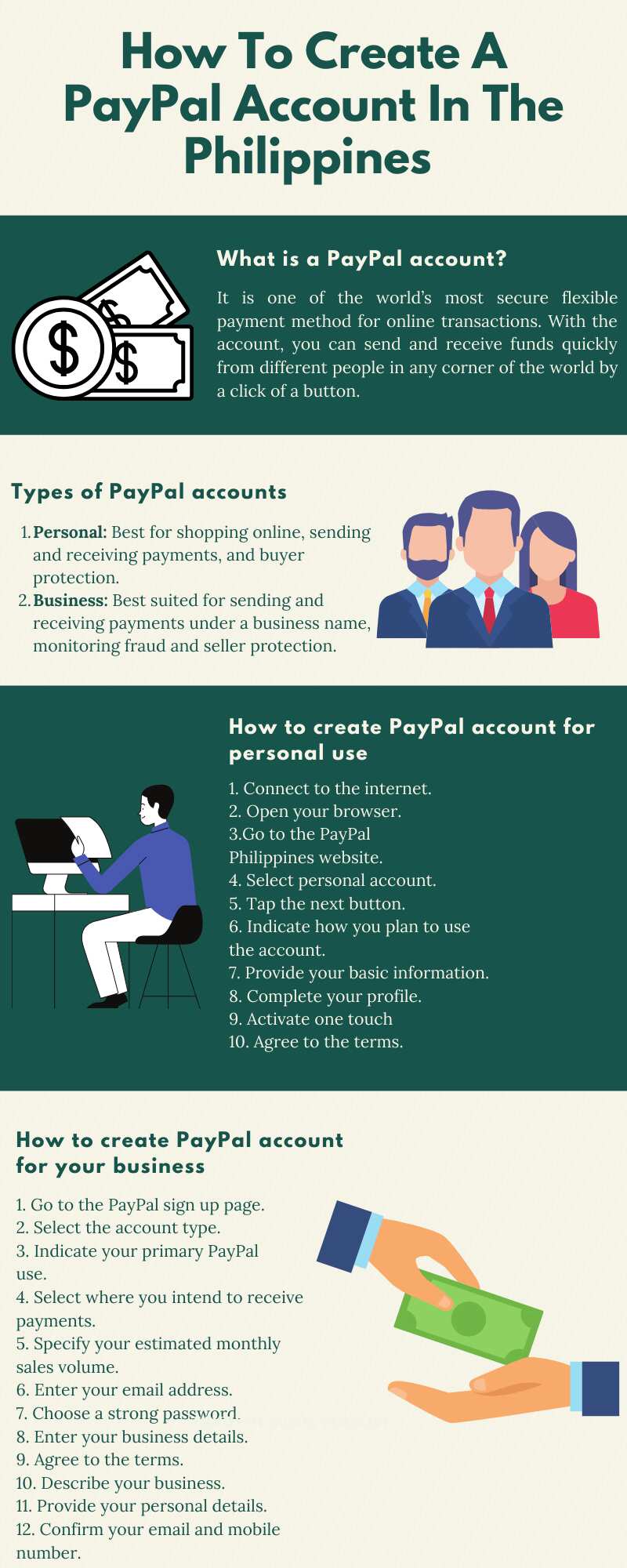 Other than receiving or sending funds, you can also do your cashless online shopping much swifter as the platform gives you an added layer of security for all your personal as well financial information. Below is what you need to know about opening a PayPal account, deleting, funding, verifying, and linking it to your bank.
Guide to creating a PayPal account
Joining this platform is free. There are two different types of PayPal accounts in the country. Each is suited for different kinds of uses. They include:
Personal: The best for doing online shopping, sending and receiving payments, as well as the protection of the buyer.
Business: The best suited for sending and receiving payments under a business name, monitoring fraud and seller protection.
READ ALSO: BulSU portal grades, sign up, login, activate
PayPal registration requirements
To successfully enrol into this platform, you will need:
A credit/debit card
Email address
Your mobile number
Personal details/business details
A browser
Active internet connection
A mobile phone, tablet, laptop or a desktop
How to create PayPal account for personal use
Use the following PayPal sign up steps to open your free personal account today:
Connect to the internet: Use your mobile data, hotspot, LAN connection, or private Wi-Fi.
Open your browser: On a mobile phone, navigate to your application list, search for the app in question then tap on its icon. On a PC, double-click on its logo.
Go to the PayPal Philippines website.
Select "Personal Account": This is the first option in the window.
Tap the 'Next' button.
Indicate how you plan to use the account: You can either be an online shopper, individual seller, freelancer or all of the above.
Provide your basic information: Type in your email address, which should be valid, first name, middle name, and last name. Create a secure password and confirm it. Tap on the 'Next' button.
Complete your profile: Enter your date of birth, nationality, your ID number, address, zip code, and mobile phone.
Activate one touch: This is a new feature introduced to enable you to stay logged in your browser.
Agree to the terms.
How to make PayPal account for your business
If you are a seller, use the following steps to enrol into this platform:
Go to the PayPal sign up page: Connect to the internet, open your browser and key in the address.
Select the account type: Since you are a seller, tap on the business account. Click on the "Next" button.
Indicate your primary PayPal use: This could be either receiving payments for goods and services offered or sending payments to your suppliers.
Select where you intend to receive payments: It can be via your website, email, link, invoicing, Upwork, or even eBay.
Specify your estimated monthly sales volume: If you are not sure, indicate so and tap on the 'Next' button.
Enter your email address: You will be using the email to login, so make sure it is valid and click on the 'Continue' option.
Choose a strong password: It should contain characters, numbers, lower- and upper-case letters.
Enter your business details: Make sure you enter the correct names, phone number, address, and your preferred primary currency.
Agree to the terms: Tap on the "Agree and Continue" option.
Describe your business: This could be either individual/sole proprietorship, sole proprietor, corporation, partnership, private corporation, public corporation, a non-profit organization, or government entity. Specify the products you sell and a business URL if available.
Provide your details: This includes your date of birth, nationality, ID number, and home address.
Confirm your email: This enables you to get valuable information concerning your account security.
Confirm your mobile phone: If you forget your password, you can recover it if you have a verified number.
How to verify PayPal Account
You need to acquire a credit or a debit card. You can also apply for a Payoneer card, which you can also use to verify your account. Your bank has a minimum balance of $2.00. This amount will be transferred to your PayPal to confirm your card is active. The amount will be refunded as soon as the verification process is over. You will also need a billing address.
How to link bank account to PayPal
To get more out of the platform, you need to connect it with your bank. This means that you will be able to fund it and withdraw any amounts directly to your banking provider. Here is the procedure that you should follow:
The first step should be a PayPal login.
Navigate to the homepage.
Once here, tap on the "Link your Bank Option."
Enter the bank name, code, and account number.
Once you initiate the process, it should take less than 30 seconds if you entered the correct details.
How to make PayPal account in the Philippines without credit card
Navigate to the signup page and select the account type.
Provide your basic information.
Set a strong password.
Follow on-screen instructions to complete the process.
You will be redirected to your homepage immediately after you are through with this procedure.
How to send money through PayPal
You can make payments to anyone with an email address even if they do not have a PayPal Philippines account. Use the steps below:
Login into the platform: Connect to the internet, open your browser, head to the login page, and provide all the necessary credentials.
Tap on "Send & Request" option: This is at the top bar menu.
Enter the recipient email address: Confirm to make sure that you have entered the correct details.
Specify the exchange rate: Choose the recipient currency, and also yours then tap on the change button.
Key in the shipping address: This is similar to a billing address.
Tap 'Continue': Follow all the instructions outlined on the screen on how to send the funds.
How can I withdraw funds from PayPal in the Philippines?
You need to login to the dashboard
Head to the 'Wallet' section.
Once here, you will be able to see your account balance. You cannot transfer or withdraw an amount that beyond this amount.
Again, you should have linked your bank account with your PayPal.
Tap on "Transfer Money" then select your credit/debit card.
The operation takes a few minutes to hours, so be patient.
How to delete PayPal account: A step by step procedure
First, transfer all the funds in your PayPal to your bank.
Initiate the procedure of account deactivation by going to the settings section
Click on the "Account Options" button
Click on "Close your Account" button. On a business account, this option is located next to your "Account Type" details.
PayPal Philippines contacts
If you experience any unusual transaction delays, technical difficulties, or you have questions and complaints, reach out via the following contacts:
Phone number: +1-402-935-2050
Active hours: 6:00 AM PT to 6:00 PM PT Monday toSunday
You can a live chat with one of their representatives using their message centre. You should be logged in for this to be possible.
A PayPal account is like a digital wallet that helps you make any transaction worldwide. The payment method is secure, convenient, and saves you some time as you do not need to enter your card details every time you are transacting. What's more, it is free and fast to open as well as set up a new account.
READ ALSO: PLDT Fibr plans 2020: review
Source: KAMI.com.gh