Chelsea players wives and girlfriends 2020: Who is dating who?
In these modern days, football can be as much about glitz and glamour as it is the actual game itself. The football players have famous better halves that are in love with the glamour. Some of the Chelsea players' wives and girlfriends are popularly known while others have opted for privacy.
Some players keep no secrecy about their wives and girlfriends on social media, while others are more private about them. Regardless of whether they are known or kept in secret, Chelsea footballers WAGs are some of the prettiest ever.
1. Pedro wife - Carolina Martin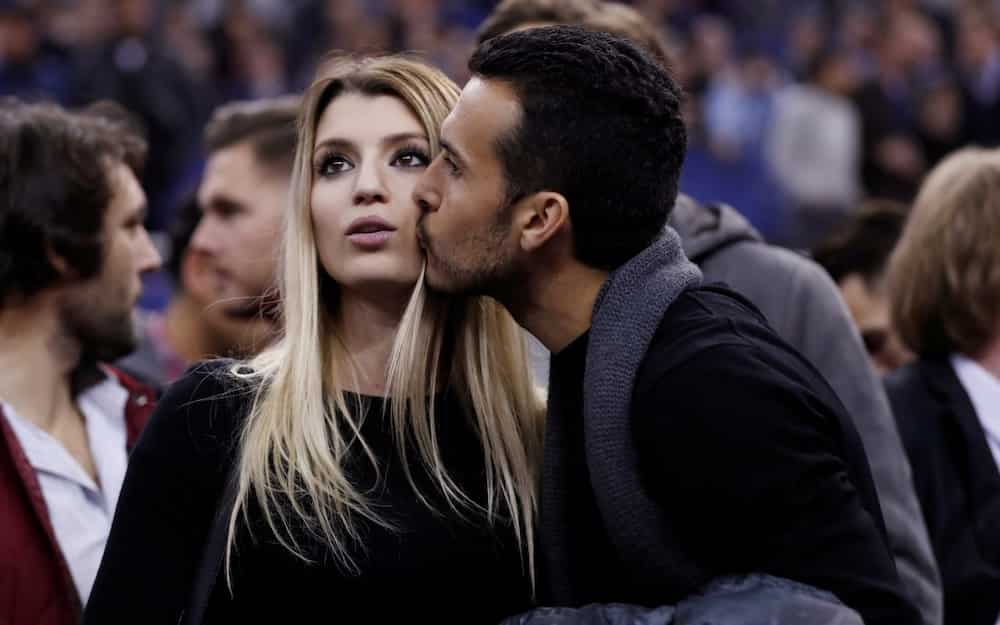 Chelsea Winger Pedro was formerly married to Carolina Martin. The duo were high school sweethearts who started dating when Pedro was just 17 years old. At that time, he didn't have a name for himself in the football sector.
The duo tied the knot in June 2015 and later on bore their firstborn son. Unfortunately, the couple is divorced, and it is alleged that Pedro has a new girlfriend.
2. Eden Hazard wife - Natacha Hazard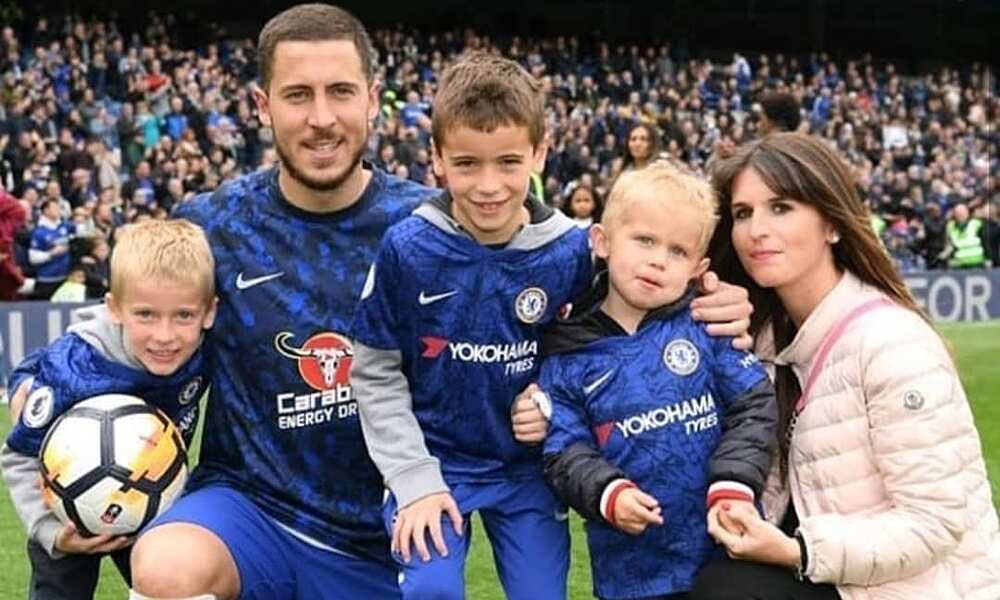 Natacha Hazard is one of the Chelsea players' hottest wives. She is the wife of Chelsea's main man Eden Hazard. The two are high school sweethearts who met while Eden was just 14 years. They began dating immediately after and have been together since then.
The couple got married in 2012 and welcomed their firstborn kid at the age of 19 years. As of now, they have three children. There are no rumors of a breakup, divorce, or extra-marital affairs between the rock-solid couple.
3. Davide Zappacosta girlfriend - Morena Urzini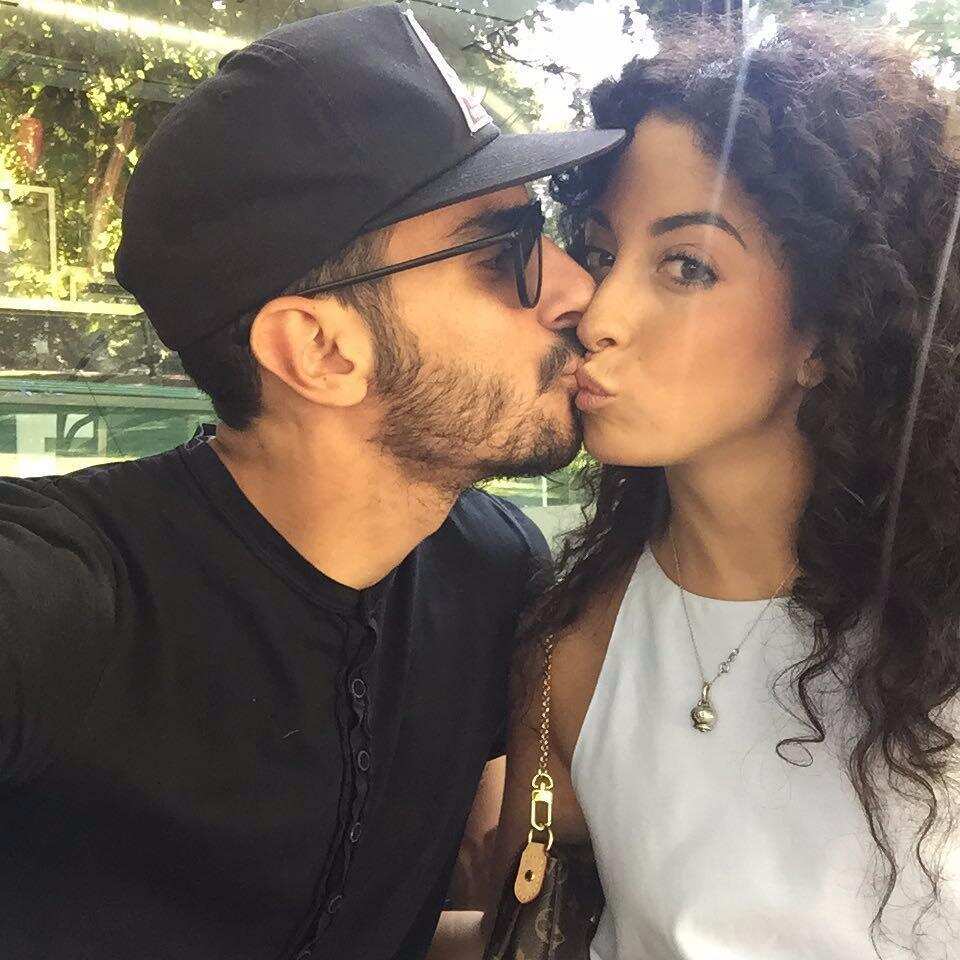 On the list of Chelsea players' hottest girlfriends is the 23 years old Morena Urzini. The duo met while Davide was playing for the Avellino in his hometown, and Morena was working at an electronics shop.
Among all the football players with their girlfriends, Davide and Morena keep their lives private. Not so much is known about Morena since Davide keeps her to himself.
READ ALSO: Premier League champions Chelsea make move to sign Cristiano Ronaldo
4. William wife - Vanessa Williams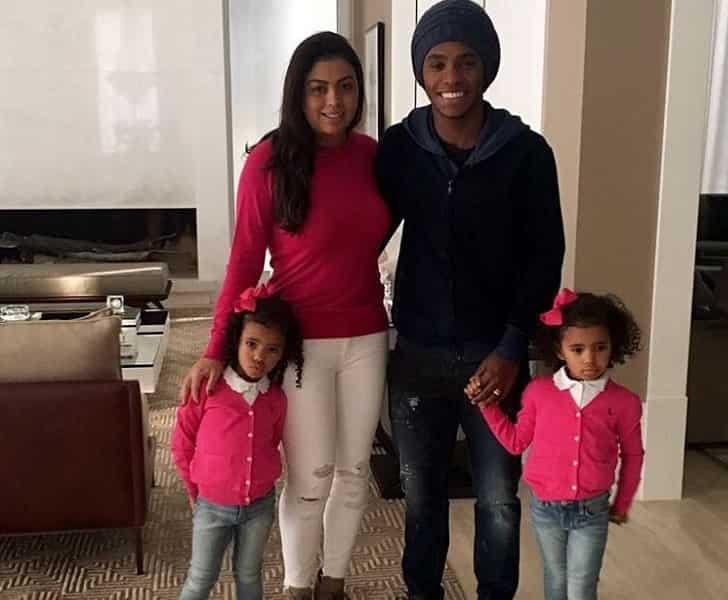 William is married to the adorable Vanessa Williams, who is one of the prettiest Chelsea FC players WAGs. The pair started dating in 2007, and after nearly four years, they exchanged their vows. In 2012 William and Vanessa welcomed adorable twins, Valentina and Manuella.
Vanessa juggles between being a lawyer, a mother, and a wife who attends most of her husband's matches. Vanessa is the perfect definition of beauty with brains.
5. Cesar Azpilicueta wife - Adriana Azpilicueta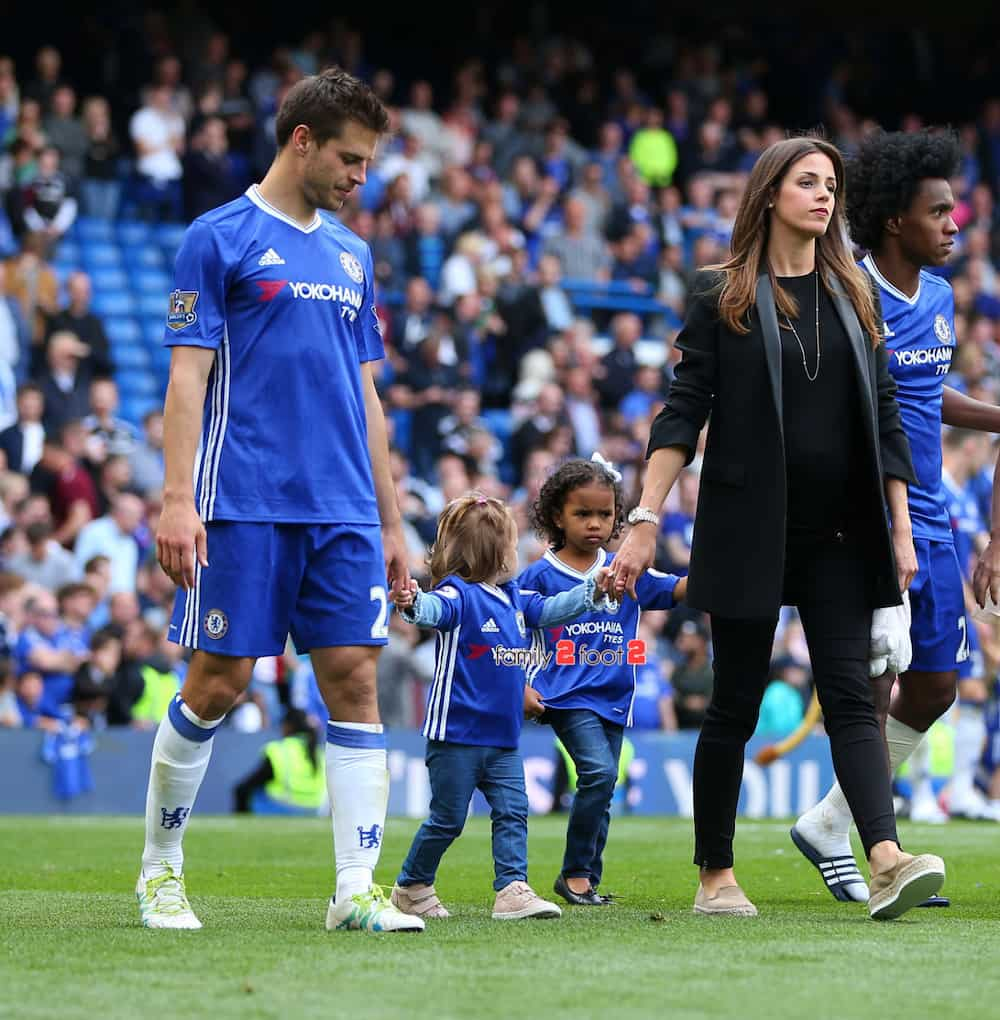 Cesar is married to his long term teenage love, Adriana. The duo met when they were young and began dating almost immediately. In June 2015, they tied the knot in Pamplona, Spain, which is the hometown of the lovebirds. They have been together since then.
The duo has a six-year-old child, born in March 2014. The baby was close to turning a year old during their wedding. Among the entire Chelsea FC players WAGs, Adriana can be considered the most private one. The Spanish beauty is, however, frequently spotted cheering her husband at his matches.
6. Willy Caballero wife - Lucia Caballero
On the list of Chelsea players and their WAGs is Willy Caballero with his lovely wife, Lucia Caballero. The longtime lovers have two adorable daughters. They welcomed their firstborn daughter Guillermina on 12th April 2002, and she was later on diagnosed with Retinal cancer. In July 2010, the duo welcomed their second daughter Aitana.
In 2017, Willy publicly announced the recovery of their daughter. Guillermina had successfully fought cancer and is now living a happy life together with her parents. The recovery of his daughter inspired Willy to play in future matches.
READ ALSO: Epic video of Patrick Garcia & his daughter Chelsea's awesome Bboom Bboom dance cover goes viral
7. Alvaro Morata wife - Alice Campello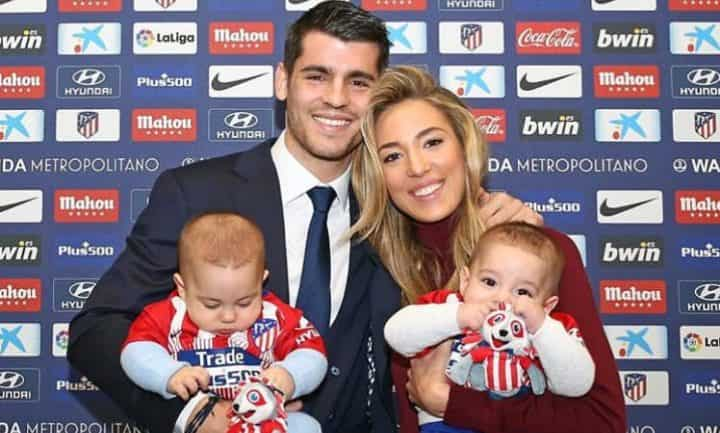 Alice is one of Chelsea football players' girlfriends who recently got married to Alvaro Morata. The Chelsea striker proposed to Alice on stage during a magic show that was taking place in Madrid in December 2016. The duo tied the knot in a star-studded wedding ceremony in 2017.
Alice is a successful model and fashion designer who launched her own brands of Avril bags. The Chelsea WAGs Instagram has more than one million followers, and this makes her as famous as Alvaro. The adorable Instagram star model gave birth to twins on 29th July 2018 named Leonardo Morata and Alessandro Morata.
8. Cesc Fabregas wife - Daniella Semaan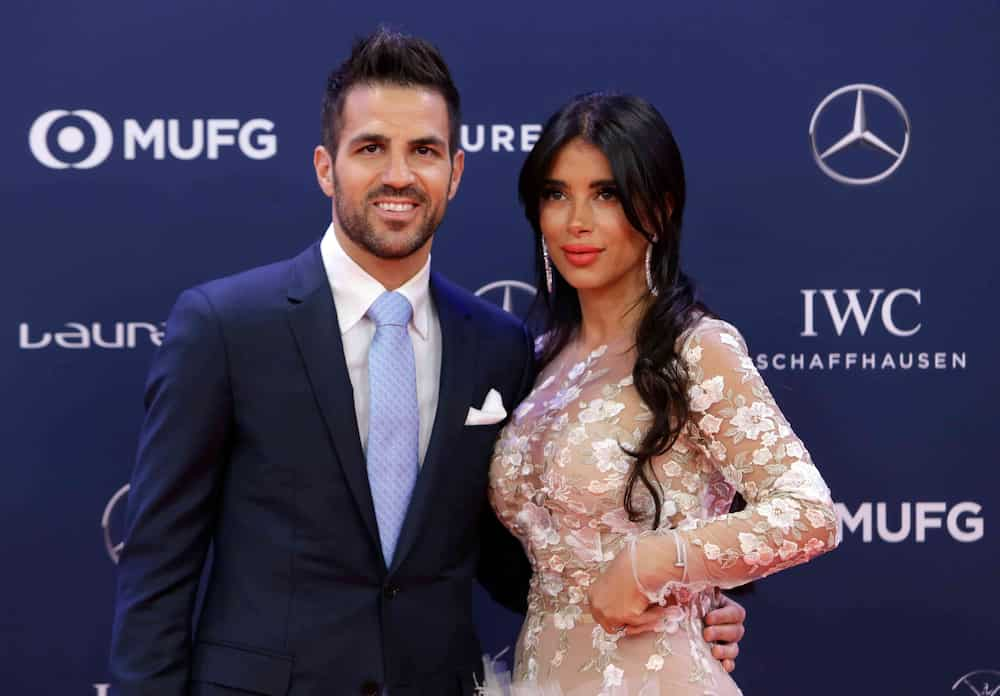 Daniella is one of the recognizable Chelsea footballers WAGs, thanks to her enviable figure and sultry looks. Daniella is twelve years older than Fabregas, and together they have three children, Lea, Capri, and Leonardo. Daniella has two other kids from her first marriage with ex-husband Elie Taktouk.
Daniella and Cesc have been together for seven years, right after the divorce of Daniella and Elie. The pair tied the knot in May 2018 at Cliveden House in Berkshire. The two first set eyes on each other at a Japanese restaurant Nozomi in London. Daniella approached Fabregas' table requesting for an autograph for his son Joseph, a huge fan of football. They swapped numbers and the rest, as they say, is history.
9. Andreas Christensen girlfriend - Katrine Fogt Friis
In the list of Chelsea players' wives and girlfriends is Andreas' girlfriend, Katrine Fogt Friis. The Danish beauty is a swimsuit model and a fan of trending designs. She also loves shopping and wearing bik*nis. She is not afraid of showing off her body, and evidently, with such a gorgeous bik*ni body, no one would resist the urge to show it off.
Katrine loves cheering his man in the crowd at the Stamford Bridge. She has no limits when it comes to offering support to the man of his dreams.
As the famous saying goes, behind every successful man, there is a woman. The above Chelsea players' wives and girlfriends are the women behind the success of these footballers.
READ ALSO: Top 10 richest football clubs
Source: KAMI.com.gh