Mapua University courses, facilities, admission, tuition fee (2020)
Mapua University is among the top-ranked universities in the Philippines. The institution's operations were partly affected by World War II as it was founded in 1925. Even so, normalcy resumed, and it gained popularity as an engineering school. Today, it has expanded operations into various campuses in a bid to cater to the education needs of Filipino and international students.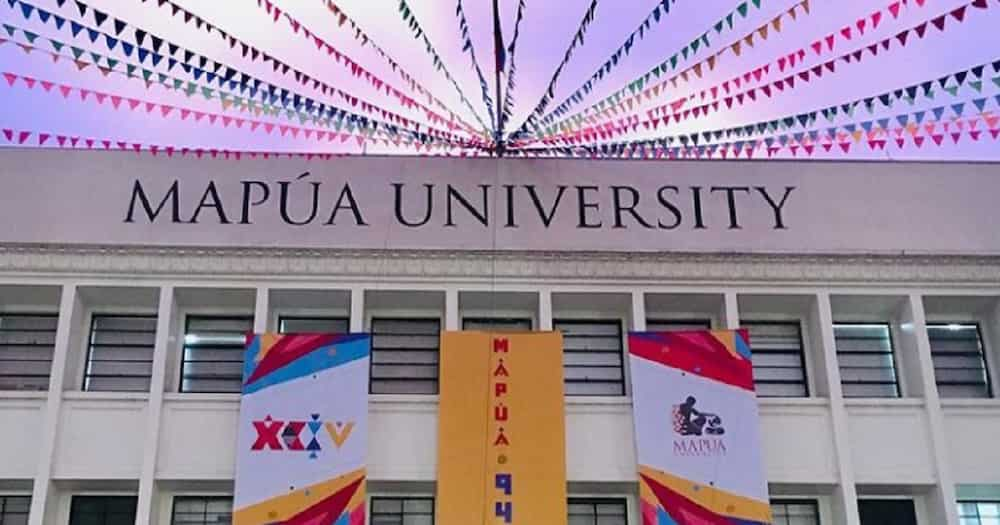 This 95-year-old institution of higher learning was the first in the Philippines to offer a bachelor's degree in the field of architecture. While in the early days it only provided civil engineering and architecture programs, this university today offers additional programs including arts and humanities and medicine at bachelors, masters, and doctorate levels. If you have been thinking about joining the Mapua University Manila, here are additional details that could facilitate your decision making.
Mapua University location
This institution is located at 658 Muralla Street, Manila, the capital city of the Philippines. Besides, the university also has branches that are located in different regions.
Intramuros branch
The Mapua University Intramuros campus is situated within the walls of Intramuros in Philippines' capital Manila. From this campus, you can access various recreation centers and malls in Manila. These include the Rizal Park, the SM City Manila, and Harrison Plaza.
If you are looking to enroll for social science, architecture, multimedia, or engineering programs, you will find them on this campus. This campus also consists of the following interconnected buildings:
The south building
The Juan Mapua memorial hall
The southwest building
The northwest building
The north building
The east building
The southeast building
The west building
Mapua University Makati
This is another one of the institution's campuses that is located in Makati, a city in Metro Manila. Programs such as business and management, information technology, and health sciences are offered on this campus.
This branch is relatively smaller in size compared to the Intramuros campus, as it is a building comprised of three floors:
Ground floor that hosts the west and east wings. The west wing is where computer laboratories are located while MITC facilities are on the east wing.
Second floor, which also has a west and east wing. The west wing is home to faculty rooms, the Cisco lecture, laboratories, and a lounge for students. On the east wing are a simulated hospital and MITC computer laboratories.
The third floor, whose west wing houses lecture rooms, a library, and a prayer room. A canteen, audiovisual rooms, and additional laboratories are on the east wing.
Mapua University facilities
Both campuses of this university are equipped with modern facilities to facilitate a great learning experience for all students. These facilities include:
Plenty of laboratories in both branches
A business center
An accounting room
Hotel suites
A bar
A simulated hospital
A gymnasium
St. Rita's chapel
Mapua University programs
This research-oriented institution of higher learning offers a variety of science-related programs. Some are offered at the Intramuros campus and others at the Makati campus.
Mapua University courses offered at the Makati branch include:
Bachelor of Science in Computer Science
Bachelor of Science in Information Systems
Bachelor of Science in Entertainment and Multimedia Computing
Master of Science in Information Technology
Bachelor of Science in Accountancy
Bachelor of Science in Entrepreneurship
Bachelor of Science in Hotel and Restaurant Management
Bachelor of Science in Business Administration
Some of the courses offered at the Intramuros campus are:
Bachelor of Science in Architecture
Bachelor of Science in Interior Design
Bachelor of Science in Chemistry
Bachelor of Science in Biological Engineering
Bachelor of Science in Chemical Engineering
Bachelor of Science in Environmental Engineering
Masters of Science in Chemical Engineering
Masters of Science in Chemistry
PhD in Chemistry
PhD in Materials Science and Engineering
PhD in Environmental Engineering
Bachelor of Science in Geology
Bachelor of Science in Civil Engineering
Bachelor of Science in Electrical Engineering
Bachelor of Science in Computer Engineering
Bachelor of Science in Industrial Engineering
Bachelor of Science in Educational Technology
Bachelor of Science in Psychology
Bachelor of Science in Statistics
Bachelor of Science in Multimedia Arts and Sciences
Bachelor of Science in Physics
READ ALSO: 15 top universities in the Philippines 2020: List
Mapua University careers
From time to time, Mapua University campus advertises job opportunities for teaching and non-teaching positions on its website. For example, currently, the university needs a technical assistant. For more of such career opportunities, you can always check their website.
Mapua University application
Mapua University admission process entails the submission of all requirements and payment of the applicable application fees. For example, regular applicants are required to submit a filled-out Mapua University application form, an ID, and the relevant application fees.
Once an applicant has submitted the requirements, they have to take Mapua University entrance exam whose result they know immediately after completing it. They will then have to pay for the reservation of an enrollment slot for their program of choice. The reservation fee is 5,000 PHP and is non-refundable.
The final step is to view the enrollment schedule and requirements. Come on the scheduled enrollment date and complete the process. According to the 2020 enrollment schedule for the Makati branch, the process will be conducted between April 28, 2020, and April 30, 2020. As for the Intramuros campus, enrollment is scheduled to run between May 4, 2020, and May 9, 2020.
The Mapua University online application process also entails the same procedure. Applicants can download the application forms online through the university website.
Tuition charges
Mapúa University undergraduate tuition and fees range between 130,000 and 195,000 PHP per year. The Mapua University tuition fee for students undertaking a master's degree falls between 44,000 and 92,000 per year. Students enrolling for a doctorate pay between 65,000 and 74,000 PHP per an entire program.
How to go to Mapua University
One way through which to get into this institution is by applying for enrollment. Another way is by acquiring a scholarship. Mapua University scholarship can be need-based, merit-based, or context-based.
Applicants looking for a scholarship into this center of learning can visit its website regularly and check for any scholarship openings and then apply for them.
Additional details about Mapua University
Besides information about the application, programs, and tuition fees at this institution, these additional details speak more about its identity.
Logo
The Mapua University logo features many details such as 1925, its year of establishment, a builder and a binary code. It also has an image of a globe, pixels, the miR-941 gene, and the Greek ionic column.
Senior high school
This institution also offers education to senior high school students. Mapua University senior high school was established in 2016, and it has since been providing an engaging and enriching environment to learners.
Mapua University Davao is another notable Mapua school that was started in 2018. It enrolls both senior high school and college students.
Uniform
The Mapua University uniform requirement is that students dress appropriately. There is no uniform requirement except for P.E uniforms for senior high school students. These can be purchased at the Mapua bookstore.
Alumni
This institution has been the learning center of choice for many students over the years. Mapúa University notable alumni include Ricky Davao an actor, Joseph Ejercito Estrada a former president of the Philippines, and Pablo Antonio, a national artist for architecture.
Contact details
For any clarifications and additional information, applicants can use the following contact information to reach the university's representatives:
Mapua University address: 658 Muralla St, Intramuros, Manila, 1002 Metro Manila Philippines
Mapua University contact number: +63 2 8247 5000
Website: mapua.edu.ph
Mapua University is a center of learning excellence. It is no wonder some of the famous figures in the Philippines attended this top-ranked university in the country.
READ ALSO: Arellano University branches, courses, contact number, admission (2020)
Source: KAMI.com.gh