Cenomar requirements, meaning, expiration, where to get
Cenomar is a vital government document to have in the Philippines. If you are planning on getting married, you need to learn more about this essential certificate. Do you know how to get Cenomar in the Philippines?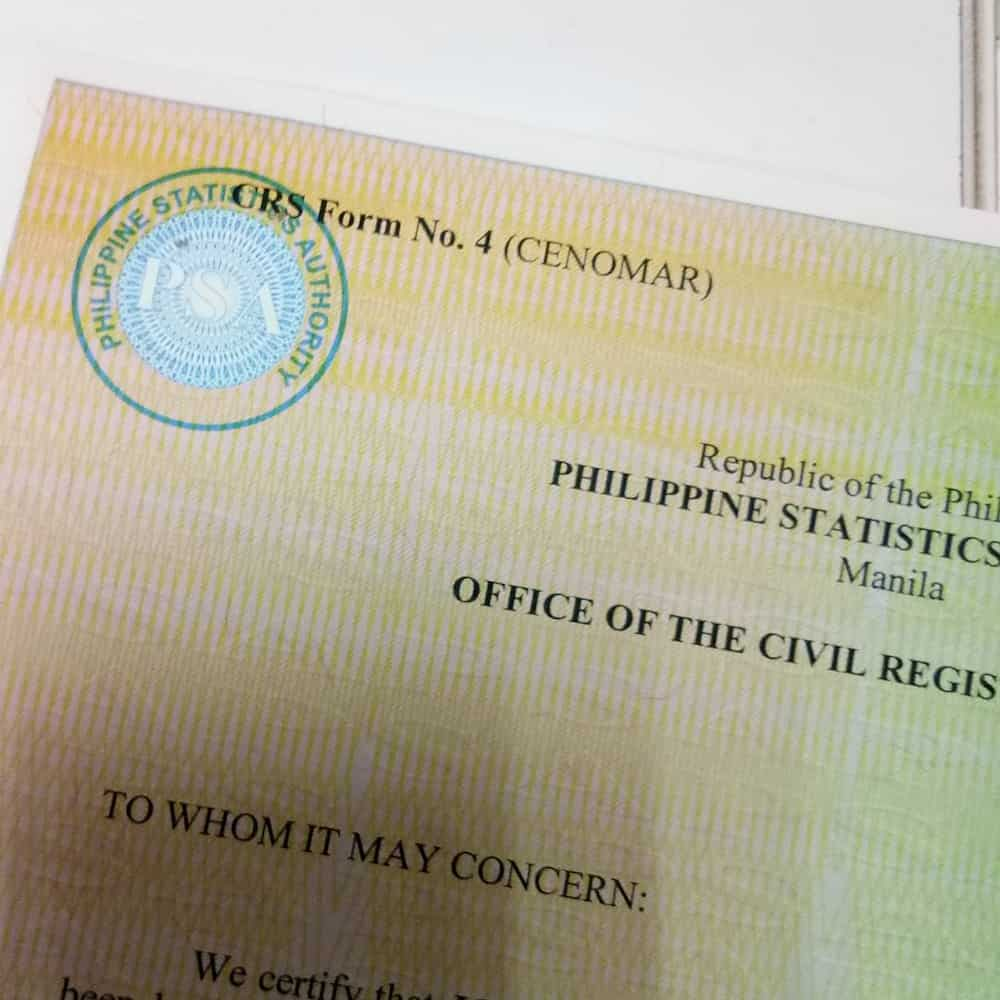 Cenomar is a requirement for marriage license and fiancé visa application. You might also need to provide it for embassy verification and other travel purposes. This document can also be produced as a backup document in some legal issues.
What is Cenomar?
This PSA issued document stands for Certificate of No Marriage Record. It can also be referred to as Certificate of No Record of Marriage or Certificate of Singleness. This document provides evidence that a person has not contracted any marriage. Find out more about Cenomar in this article.
Cenomar requirements
The documents needed to apply for this certificate are:
Filled application form
A valid ID
Authorization letter for Cenomar (If requesting for someone else)
Certificate fee
A valid ID is one that contains a clear photo of the owner, their full name and signature. It also needs to be issued by an official authority for it to be considered valid.
Where to get Cenomar
You can get this certificate at any Cenomar PSA office or SM mall. Processing takes a shorter period if you make a walk-in request. You can also get it electronically through PSA accredited websites such as:
Online applications take longer, but are the best if you need your certificate to be delivered. Filipinos living abroad might find this option more useful.
How to get Cenomar
You can acquire this documentation by filling application forms at walk-in locations, or online. After this, you will be required to pay a Cenomar fee to process your request. You will then obtain a release date for the certificate. Below are different ways you can use to apply.
Application at PSA offices
It is the best option if need your document urgently. The only shortcoming is that, you might experience long ques of applicants at PSA branches. Below is a step by step guide on how to apply.
1.Visit the nearest PSA office.
2. Get a green PSA Cenomar application form.
3. Fill out the application form with the following details:
Father's full name
Mother's maiden name
Date of birth
Place of birth
Name and address of requesting person
Number of copies needed
Purpose of certification
4. Compile your documents and give them to the evaluating officer for checking and approval.
5. Pay required application fees to the cashier.
6. Get an official stamped receipt containing the date and time when your certificate will be released.
7. Go to the releasing area if the receipt shows you will get your certificate on the same day.
8. Collect your Cenomar.
READ ALSO: How to get UMID ID 2020: Step by step guide
Application at SM malls
SM malls act as PSA partner establishments. However, processing here takes slightly longer than at PSA branches. This alternative offers courier delivery in case you are unable to collect your certificate. Below is a step by step procedure on how to apply.
Go to the nearest SM mall.
Obtain a white Cenomar form and fill it.
Head to the cashier with the filled form, required documents and application fees.
Obtain an official receipt and claim stub that contains your certificate's release date.
Go back on the release date with the receipt, claim stub and a valid ID.
Get your certificate.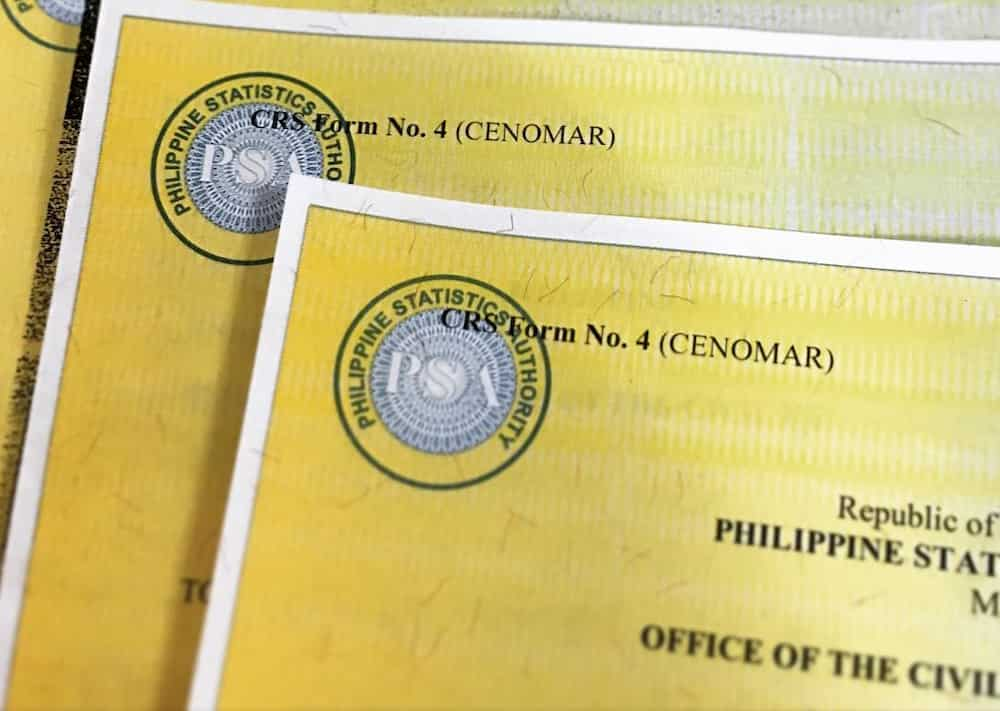 Via PSA Serbilis
PSA Serbilis is a website that offers Cenomar online application. When your certificate is ready, it is delivered either through courier services or via registered mail. PSA Serbilis offers delivery both in the Philippines and abroad. The step by step guide for application is as follows:
1. Go to the PSA Serbilis website.
2. Click on the "Request" tab.
3. Select "Online Application."
4. Click on the "Click here to request now" tab.
5. Check the terms and conditions box and select "I agree."
6. Fill out contact and delivery information and press "Next."
7. Fill out the application form with the following information:
Number of copies requested
Name
Gender
Birth place
Birth-date
Mother's maiden name
Father's full name
Purpose of your request
8. Get a batch number that you will use when paying the application fees.
9. Wait for verification of payment.
10. Check order status and date of delivery.
Via PSA Helpline
It is a resident handling site for Cenomar, meaning it only it processes and delivers requests within the Philippines. The following are the steps to follow:
Visit the PSA Helpline website.
Fill in your personal details and click on "Order now."
Choose "Cenomar" from the options.
Select purpose of the request.
Fill in the required details and click "Submit."
Give all the additional details requested and click "Continue."
Pay processing fees.
Confirm your order.
Wait for your Cenomar delivery.
Please note that the PSA Helpline website is currently not accepting applications. You can use the above guide when it resumes services.
READ ALSO: Philhealth: login, registration, membership, benefits
How much is Cenomar?
Cenomar price for the different stations are as follows:
PSA offices: Php 210 for each copy
SM malls: Php 235 for each copy
PSA Helpline: Php 465 for each copy
PSA Serbilis: Php 430 (Philippines) and USD 25.30 (abroad) for each copy
How many days to get Cenomar?
The duration of time it takes to get this certificate is dependent on your method of application. The waiting time is shown below.
PSA offices: Same day
SM malls: 7 days
PSA Helpline: 2 – 7 days
PSA Serbilis: 7 – 13 days (Philippines) and 6 – 8 weeks (abroad)
Cenomar expiration
Cenomar validity is six months from the date of issue. For example, if the date of issue was 1st March 2020, it will expire on 30th August 2020.
Cenomar sample
The certificate you will receive will contain your name, date of birth and your place of birth. It will also contain your parents details. Below is a sample of this document.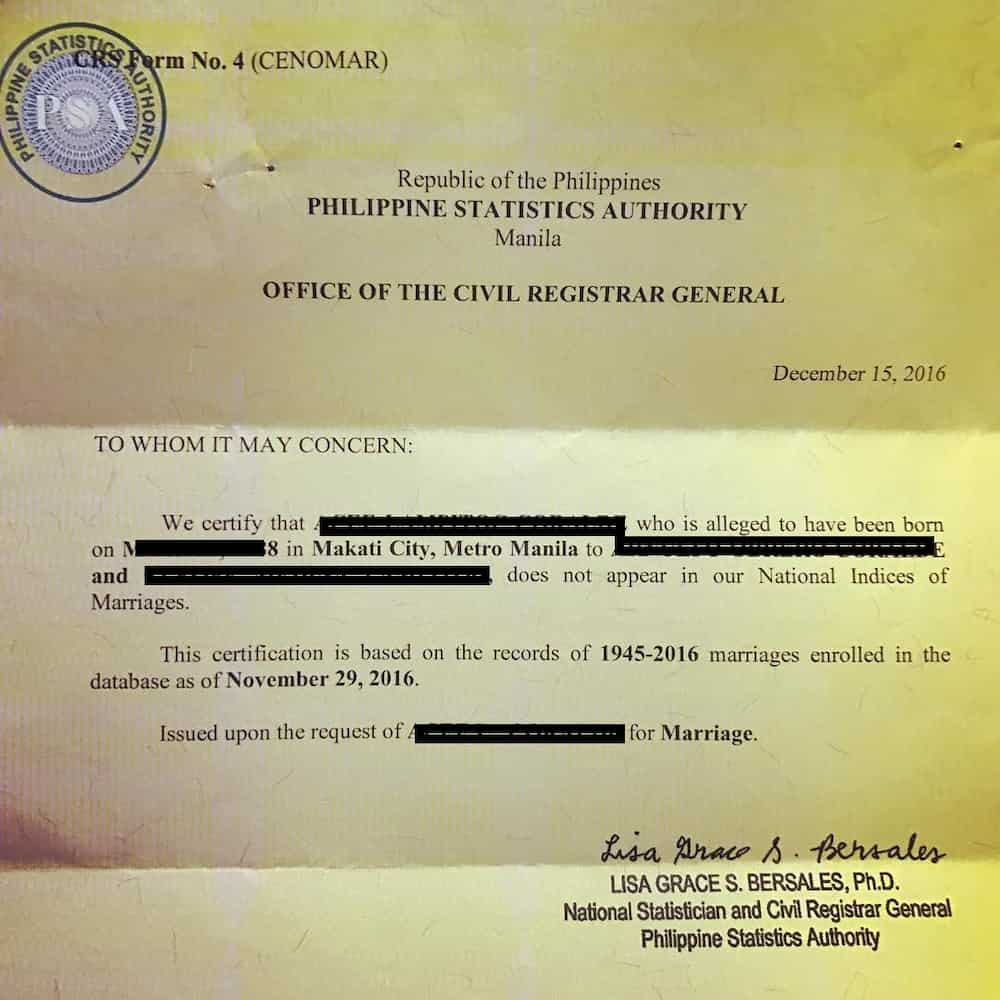 Can I get Cenomar for my fiancé?
You can request for the document on behalf of your fiancé. However, you cannot claim it for them. The only people who can claim this documentation for another person are the owner's kin. That is; owner's parents or children of legal age.
You will need to provide an authorization letter from the owner and a valid ID for you to claim this document. The letter must contain the name of the authorized person and details of the owner.
READ ALSO: How to cite a website with no author APA
Cenomar is a vital document that confirms that you have not contracted any marriage. It is accessible through PSA offices and online. Hopefully, all the questions you had about how to get Cenomar have been answered in this comprehensive guide.
Source: KAMI.com.gh