Kris Aquino: age, height, net worth, illness, scandal
Kris Aquino, popularly known as the "Queen of All Media" is an influential Filipino businesswoman, television host, actress, product endorser, philanthropist, and producer. She comes from a family of highly prominent people, including Philippines' presidents. As a woman, she has done enough already making her a darling for many people.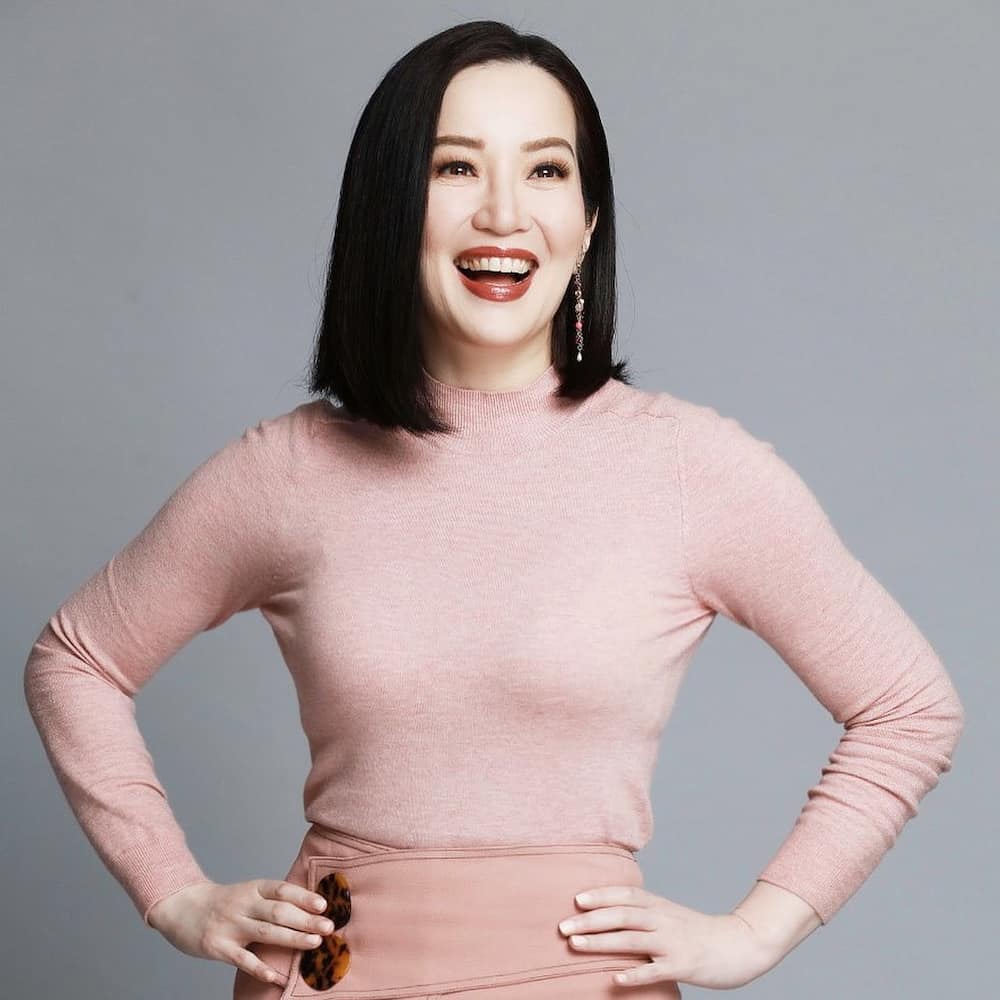 Aquino family is among the most influential in the Philippines. Her family owns and co-owns many businesses in the country, including movie production companies. At the moment, she has a considerable stake in Star Cinema and owns several restaurants in the country. Stick around as we explore her life as a jack of all trades.
Kris Aquino profile summary
Birth name: Kristina Bernadette Cojuangco Aquino
Date of birth: 14th February 1971
Zodiac sign: Aquarius
Age: 49 years old
Place of birth: Quezon City, Philippines
Kids: Joshua Aquino, James Aquino Yap
Parents: Benigno Aquino Jr. (father), Corazon Cojuangco-Aquino (mother)
Siblings: Benigno Aquino III, Victoria Elisa, Aurora Corazon, Maria Elena
Occupation: Actress, businesswoman, producer, host
Years active: 1986 - present
Nationality: Filipino
Biography and family background
Kristina Bernadette Cojuangco Aquino was born on 14th February 1971 in Quezon City, Philippines. She is the daughter of Benigno Aquino Jr. and Corazon Cojuangco-Aquino. Kristina happens to be the lastborn in the family of four known siblings.
Her father was a renowned politician who was jailed, forced into exile, and later assassinated. While at exile, Kris vigorously led her father's political campaign. It saw her being featured on the cover pages of The New York Times and Time Magazine. At the moment, she was seven years old.
After Benigno's death, his legacy was continued with her wife and son. For instance, her mother later became the 11th president of the Philippines. On the other hand, Benigno Aquino III was the 15th president of the Philippines. He held the mantle of power from 2010 to 2016.
Siblings
Kris Aquino siblings are as follows; Benigno Aquino III, Victoria Elisa, Aurora Corazon, and Maria Elena. Each one of them is into various fields, making names for themselves. Her family, in particular, is one that everyone would love to be associated with not only because of its success but also how they have always held themselves on the public.
How old is Kris Aquino?
As per 2020, Kris Aquino age is 49. Her physical appearance might deceive you to thinking that she is in her early 30s. Usually, Kris Aquino birthday happens on the 14th of February. While turning 49 years old, she posted a series of posts on her Instagram, including the notes she received from her family members.
READ ALSO: Erin Ocampo: biography, age, height, family, Instagram
Education background
Kris Aquino education is largely the reason behind her success. She first attended Colegio San Agustin- Makati for high school studies. She then later proceeded to Ateneo de Manila University. It is in this institution that she graduated with a BA of Arts in English Literature. She was a classmate to Karen Davila and Pinky Webb.
Marital status
The actress is on record to have been in three unsuccessful relationships. The first one was between her and Phillip Salvador. It led to the birth of her first son, whose name is Joshua. Unfortunately, the relationship did not work out.
In 2003, she fell in love with Joey Marquez, a comedian. Again, the relationship ended with the actress exposing him of infecting her with a s3xually transmitted disease. She also accused him of threatening with a gun.
Between 2005 and 2010, she was in a marriage with James Yap, a professional basket player. They tied the knot with the player in a civil marriage ceremony that was attended by her family and close relatives. Similarly, the marriage hit the dead-end in 2010 with the actress again coming public about it. Kris Aquino and James Yap formalized their separation in 2012.
Life as a mother
Kris Aquino children are Joshua Philip and James Yap Jr. She gave birth to the boys with Phillip Salvador and James Yap, respectively. She has been with them since she gave birth to them.
Kris Aquino height
Kris Aquino height in feet is 5' 3", which can be translated to 1.6 m.
Illness history
Kris Aquino illness is among the challenges she has endured in life. According to the information available on the public limelight, she was diagnosed with chronic spontaneous urticarial in Singapore.
Kris Aquino disease seems to have affected her greatly, especially her body. She took to her Instagram page, sharing the pictures of the effects of her illness to raise awareness.
In a live Facebook broadcast, Kris revealed that she was suffering from a form of lopus that saw her lose 15 pounds in a span of a month. No doubt, Kris Aquino lupus condition is a serious one because it causes severe pain to the body.
Career progression
Her career is an exciting one and worth envying, especially by admirers. Her career can be divided into three main categories, as follows:
1. Filmography
Kris entered the entertainment scene in 1986. So far, she is on record to have worked with VIVA Entertainment, ABS-CBN, Star Cinema, APT Entertainment, Cornerstone Entertainment, and East West Artists. That said, some of Kris Aquino movies include:
Pido Dida Sabay Tayo (1990)
Geron Olivar (1993)
Bakit Pa Kita Minahal (1994)
Tasya Fantansia (1994)
The Fatima Buen Story (1994)
Saan Ako Nagakamali (1995)
Dekada '70 (2002)
Sukob (2006)
Hiwaga ng Panday (1998)
You and Me Against the World (2003)
Feng Shui (2004)
Mano Po 6: A Mother's Love (2009)
Sisterakas (2012)
Instant Mommy (2013)
Torky and My Little Bossing (2013)
The Amazing Praybeyt Benjamin (2014)
All You Need is Pag-ibig (2015)
Etiquette for Mistresses (2015)
I Love You, Hater (2018)
Crazy Rich Asians (2018)
Kris Aquino Crazy Rich Asians was her latest drama series. In the series, she stars as Princess Intan.
2. Production company
She is the owner of Kristina C. Productions popularly known as K Productions. The company is the one responsible for the productions of famous TV series such as Instant Mommy, My Little Bossings, Dalaw, Segunda Mano among many others. The firm is co-owned by Star Cinema.
3. Kris Aquino blog
She also has a travel and cooking blog.
Kris Aquino scandal
In 2019, Nicko Falcis Kris Aquino controversy left many people in shock. Nicko Falcis, who was her manager and financial partner, were in a financial feud that lasted for approximately a year. Kris Aquino Nicko Falcis feud was later settled through her legal team.
Kris Aquino and Mocha Uson were put on the spotlight after Uson posted a picture of Benigno Aquino, her father, being kissed by two women. Kris was angered to the extent that she directly confronted her through a post. The actress told Uson to respect her family as she seemed to cross the lines.
Net worth
According to the latest statistics released by Celebrity Net Worth, Kris Aquino net worth $10 million. Her wealth is accumulated through her multiple showbiz careers. Also, Kris Aquino house is proof that she is, indeed, a wealthy woman.
Social media presence
Like most celebrities, she is available in most social media platforms. Below are the handles of some:
Kris Aquino Twitter: @krisaquino214
Kris Aquino Instagram: @krisaquino
Kris Aquino is a jack of all trades. Unlike most of her family members, she chose to venture into the showbiz scene as well as entrepreneurship. Luckily, all the ventures seem to be worth her sacrifice. For that matter, she is a role model for women who would love to excel in life, just like their male counterparts.
READ ALSO: Bernard Palanca: bio, family, age, scandal, children
Source: KAMI.com.gh