Andre Iguodala bio: Wife, current team, trade, age, net worth
Andre Iguodala A.K.A. Andre Tyler Iguodala Iggy is an American basketball player. The talented National Basketball Association (NBA) swingman has been one of the most valuable players in the league helping the Golden State Warriors clinch the title on several occasions. His career has been on an onward trend after leaving Lanphier High School, and he can proudly say that he achieved his dreams.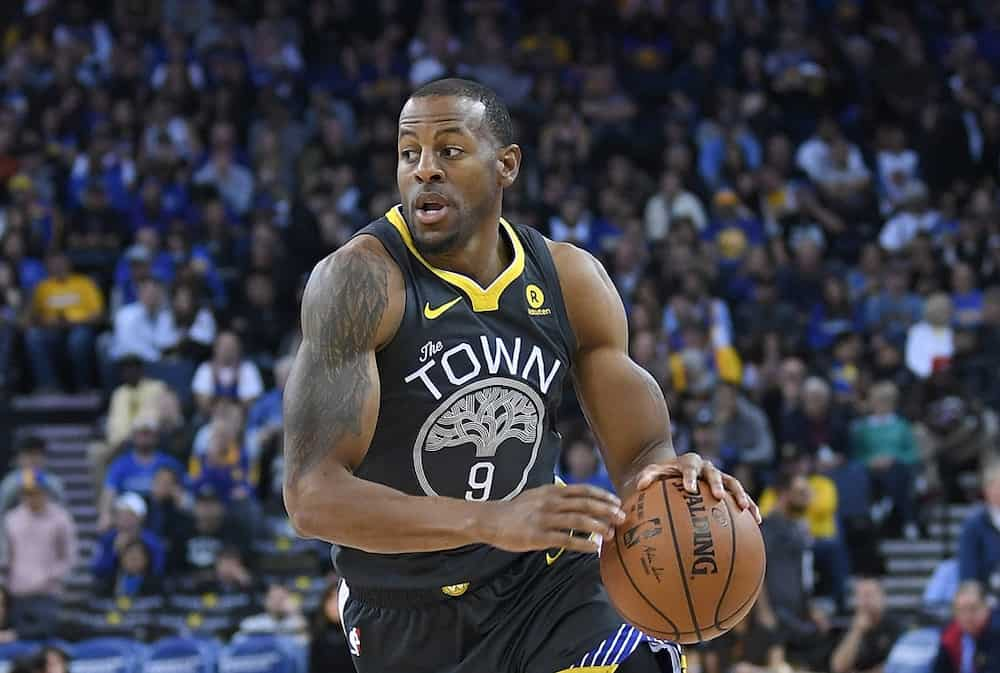 There are very many professional and amateur basketball players, but not all make it to the level Andre Iguodala has. It takes talent and perseverance to be the best as Andre's journey demonstrates.
For Ander, it was not always basketball as he is said to have excelled as well when he was a student at Lanphier High School. Despite the academic prowess, basketball would have the final say on his future as he decided to be a professional player.
Andre Iguodala profile summary
Name: Andre Tyler Iguodala
Nickname: Iggy
Andre Iguodala birthday: January 28, 1984
Age: 36
Birthplace: Springfield, Illinois
Nationality: American
Height: 6'6"
Weight: 98 kg
High School: Lanphier
College: Arizona
Andre Iguodala biography
Iguodala was born in Springfield, Illinois, in the United States. His mother is an African American, while his father is Nigerian. He has an older brother by the name Frank who played for Lake Land College. Since his brother influenced him, he loved basketball from a young age, and he supported the Chicago Bulls being a fan of Michael Jordan.
Andre went to Lanphier High School within Springfield, his hometown, before attending the University of Arizona. While studying there, he excelled not only in academics but as an athlete as well. His first award would come in those years as he took home the All-Conference academic honours and named on the National Honor Roll.
He was also a State Journal Student-Athlete of the Week more than once. His influence in the school basketball team helped them become runners-up at the Illinois High School Association Class AA state tournament. As a professional basketball player Iguodala has played for the Philadelphia 76ers, Denver Nuggets, Golden State Warriors and Miami Heat.
Andre Iguodala wife
Iguodala is married to his childhood sweetheart Christina Guitierrez since 2015. They got married at One&Only Palmilla in Los Cabos, Mexico. They have been blessed with two children. Andre Iguodala daughter goes by the name London and his son, Andre Jr.
College career
Previously, he had intended to play for Arkansas but ended up in Arizona. His preferences were either Kansas or Arkansas, primarily because the latter used a 1-3 system that would have given him the freedom to run the point whenever there was an opportunity.
He had visited the Arkansas campus with his parents, and they were impressed by the enormity of the school gymnasium and the vast crowds of fans during practice sessions.
Upon learning that Arkansas head coach had been fired, Iguodala decided to go to Arizona instead. There he would team up with other future NBA stars such as Channing Frye, Luke Walton, Mustafa Shakur, Salim Stoudamire, and Hassan Adams.
While still a sophomore, Iguodala was named MVP of the team after topping in rebounds, assists, and steals in 2003/4. He was also featured in the All-Pac-10 First Team, and The Associated Press named him Honorable Mention All-America.
His three triple-doubles made him join Jason Kidd as the only players to ever register two or more triple-doubles in a single season in the history of Pac-10. His career at Arizona helped the Wildcats make it to the NCAA Tournament in both seasons. After that, he left college basketball for the NBA draft.
READ ALSO: Hashtag members profile: names, age, height
NBA career
Iguodala's professional career in the NBA can be summarized below:
2004–2012: Philadelphia 76ers
2012–2013: Denver Nuggets
2013–2019: Golden State Warriors
2020–present: Miami Heat
Philadelphia 76ers
2004 was his very first professional season, and as a rookie, Iguodala was selected 9th overall in the NBA draft by Philadelphia 76ers. In that first season, he became the only Philadelphia 76er to start all 82 regular-season games and an additional five playoff games thus silencing critics immediately.
Hee was not only the only rookie to register a triple-double but also the only Philadelphia 76er to do so. His hard work earned him a spot in the All-Rookie First Team. At the Rookie Challenge segment of the All-Star Weekend, he was a starter.
When the NBA Rookie of the Year votes was cast, he emerged number four that year. In the second season, Iguodala was also the only player in his team to play all the games. At the Rookie Challenge that year he won the MVP honours.
He went on to be very successful with the Philadelphia 76ers, and in his final season, he made it to the NBA All-Star selection.
Denver Nuggets and Golden State Warriors
His next destination was the Denver Nuggets in 2012. He played for Denver Nuggets for only one year. Although he had some excellent performances, he did not reach the level he was at while playing for the Philadelphia 76ers.
In 2013, he left the Denver Nuggets for the Golden State Warriors. He started the career with the new team well, but a strained hamstring caused him to miss twelve consecutive games. He returned about a month later and had an immediate impact as he was named to the 2014 All-NBA Defensive first team.
The 2014/15 season marks the highlight of his career. Surprisingly, he was moved from the starting rotation to the sixth man reserve position. This was the first time in his career he was starting as a reserve. He would, however, help the Warriors enter the 2015 NBA Finals with a standout performance against the Atlanta Hawks.
He earned his place into the starting lineup and was later named the Finals MVP. Andre Iguodala finals MVP honours made him break a record as the first player to receive the accolades without starting a single game during the regular season. He went on to shine at the Golden State Warriors including winning a second NBA Championship.
Current team
His contribution to the Golden State Warriors saw him rewarded with a contract extension until 2020. However, before the contract expired he was traded to the Memphis Grizzlies and then the Miami Heats which is his current team.
Andre Iguodala heat career may have just started, but he will probably make some significant contributions for the team and be remembered as a legend when he leaves.
Trade
Andre Iguodala trade rumours came as a surprise because he was having a good time at the Golden State Warriors. However, given that he is not a young player anymore, teams want to have a piece of the veteran player before he retires.
One of those teams is the Miami Heat who agreed to acquire him from the Grizzlies. He has been signed on a two-year deal to end in 2022.
Age
Andre Iguodala age is 36 years as of January 2020. His birthplace is Springfield, Illinois. His birth sign is Aquarius.
Iguodala body measurements
Andre Iguodala height is 1.98 m (6 feet 6 inches) tall. His weight is 98 kgs. His body measurements reveal an incredibly athletic body that has helped him build a career as a basketball player.
Andre Iguodala net worth
Iguodala is an investor in the technology industry, and he has advocated for other athletes to follow in his footsteps. The annual Players Technology Summit that takes place in San Francisco's Silicon Valley is a result of his partnership with entrepreneurs.
The player has also invested in companies such as Facebook, Twitter, and Tesla. Alongside other business interests, Iguodala is estimated to have a net worth of $50 million. Andre Iguodala contract shows that his salary is a whopping $12.3 million.
Andre Iguodala is one of those people who make basketball look natural and exciting. At 36 years of age, he has not given any hints of retiring soon. When he retires, he will be remembered as one of the greatest basketball players who broke several records in his career. The good thing about him is that he mentors young children and has a big heart, as shown by his involvement in charity.
READ ALSO: Kyuhyun's profile: age, height, girlfriend, birthday, family
Source: KAMI.com.gh