Lee Min Ho bio: age, girlfriend, dating history, net worth, pictures
Lee Min Ho is one of the most celebrated and most recognized Korean actors all around the globe. Even after being in the industry for a long time now, his charisma has never faded; instead, it became stronger as years passed. Just a mention of his name and the hearts of all the girls who love him will surely flutter.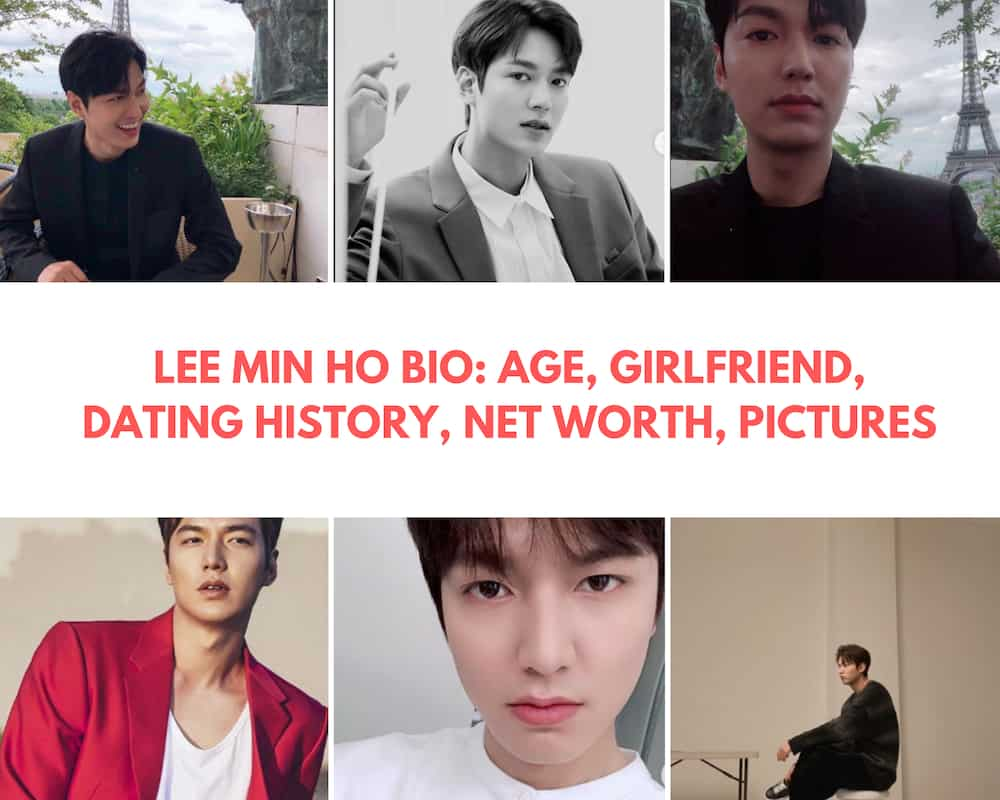 The actor's international stardom is unbelievable. Lee Min Ho is never absent from lists ranking the top Korean actors or most popular actors, up to this day.
Lee Min Ho profile summary
Name: Lee Min Ho (이민호)
Age: 32 years old
Birthday: June 22, 1987
Place of birth: Heukseok-dong, Dongjak-gu, Seoul, South Korea
Nationality: Korean
Height: 6 feet 2 inches
Weight: 156 lbs.
Instagram: @actorleeminho
Biography
Lee Min Ho was born on June 22, 1987, at Heukseok-dong, Dongjak-gu, Seoul, South Korea. Growing up, Lee dreamed of becoming a professional football player. His passion and skills gave him the opportunity to play in the field. He was selected to be part of the youth football class when he was young,
Unfortunately, he was forced to stop playing because of an injury when he was in 5th grade. When he reached his sophomore year, he took an interest in acting. He continued learning his skills in acting by choosing a major in Film & Art at Konkuk University.
At the age of only 16, he started auditioning and landed minor roles in several television dramas such as Nonstop 5 and Recipe of Love.
Career
The actor debuted in 2003 as part of the EBS series, Secret Campus. At first, he used the stage name Lee Min but eventually went back to using his original name.
In 2006, he faced a severe car accident that put his acting career on hold. He got severely injured and has no other option but to stay in the hospital for several months. Upon his recovery, he then received his first leading role in the high-school drama Mackerel Run in 2007.
The actor's career catapulted in 2009 when he, out of many other actors, was chosen to play the lead role of Gu Jun-Pyo in KBS's Boys Over Flowers, the Korean adaptation of the popular Shōjo manga of the same name. The series became a big hit throughout South Korea and other Asian countries.
Lee Min Ho became even popular because of the series, and it gained him many endorsement deals and created another Korean Wave throughout Asia, which made him one of the brightest Hallyu stars.
Since then, Lee starred in many hit drama series and even movies. Below are some of those.
Sharp 1 – 2003 (KBS2)
Recipe of Love – 2005 (MBC)
Secret Campus (Bimilui Kyojeong) – 2006 (EBS) – Park Doo Hyun
I am Sam (Ayi em saem) – 2007 (KBS2) – Heo Mo-Se
But I Don't Know too – 2008 (MBC) – Min Wook Gi
Personal Taste (Gaeinui Chwihyang) – 2010 (MBC) – Jeon Jin-Ho
City Hunter (Siti Hyunteo) – 2011 (SBS) – Lee Yun-Seong
Faith (Shinui) – 2012 (SBS) – General Choi Young
The Heirs (Sangsokjadeul) – 2013 (SBS) – Kim Tan
The Legend of the Blue Sea (Pooreun Badaui Junsul) – 2016 (SBS) – Heo Joon-Jae / Dam Ryung
Public Enemy Returns (Kang Cheol-joong: Public Enemy 1-1) – 2008 – Jung Ha-Yeon
Our School's E.T. (Woolhakgyo ET) – 2008 – Oh Sang-Hoon
Gangnam Blues (Gangnam 1970) – 2015 – Kim Jong-Dae
Bounty Hunters (2016) – Yi-San
After being discharged from the military, another Lee Min Ho new drama was made. In 2019, Lee was cast, along with Kim Go Eun, in the fantasy romance drama The King: Eternal Monarch, written by The Heirs writer Kim Eun-sook. The series is aired on Netflix and emerged as the most viewed K-drama by global audiences. It is based on Einstein's theory of everything or parallel universe split theory and also Stephen hawking's Time-travel theory.
Net worth
The actor is one of the highest-paid artists in South Korea. According to Celebrity Net Worth, Lee Min Ho net worth is a massive $10 million. He is reportedly being paid around $58,700 for every appearance in dramas. Indeed, the 32-year-old is one of the most expensive actors in his homeland.
Lee Min Ho dating history
Many people, especially his fans, want to know Lee Min Ho girlfriend in the past and if he has one right now.
The actor started dating Park Min Young, after meeting on the set of City Hunter in 2011. Unfortunately, the couple briefly ended their relationship after dating for five months, due to some misunderstandings.
After some time, he began an intimate affair with his co-actress of The Heirs, Park Shin Hye, in 2013. When the rumors of their dating spread, they eventually separated and broke up.
His latest relationship was with the South Korean actress, Bae Suzy. Lee then joined compulsory military service in 2017. When Lee was serving for the South Korean military, his relationship started to lose its grip. The actor returned to his limelight life after discharge from the public service duty in 2019. Unfortunately, the two broke up after the actor's military release.
Up to this writing, Lee hasn't decided to link up with a new date and is currently busy on his upcoming filming projects.
READ ALSO: Park Bo Gum bio: age, height, girlfriend, and movies
Lee Min Ho pictures
The actor is also fond of posting photos on his Instagram account. It helps his fans become updated to his personal life, and in some way, get to know him more.
1. New love team
Above is a photo of Lee Min Ho and Kim Go Eun, his newest love team in the industry. It w is a promotional photo for their fantasy romance drama called The King: Eternal Monarch.
2. Dog lover
The actor also loves dogs, based on the photo above. It looks like his dog is one of his stress relievers as he was able to show his quirky side by posing with a wacky face.
3. Love for nature
Min-Ho seems to love the ocean, or nature in general. It is good to know that he has time to visit such places to take a break from his heavy workloads and be able to relax.
Facts about Lee Min-Ho
He likes to go bowling and play games whenever he hangs out with his friends.
He is a big Leonardo DiCaprio fan.
He has the habit of talking while he sleeps.
He can only tolerate drinking 2 glasses of alcohol and 4 beer cup of soju.
He was paid 60 million for his role in the drama Personal Taste.
Indeed, Lee Min Ho the king of Korean dramas will always be loved by his fans all around the world. We are excited about his upcoming projects, and we know you are too.
READ ALSO: Lee Jong Suk bio: TV shows, awards, age, who is he
Source: KAMI.com.gh