Gwen Garci profile: Age, biography, husband, Instagram
Gwen Garci is a famous Filipino actress in not only the Philippines but also Asia at large. She is best known for roles in Ligalig (2006), Kasal-Kasalan (Sakalan - 1998), and Ugat (2003) films. She is also famous for her steamy sensual roles in movies. As an élite performer, we all expect her career to be full of notable accomplishments, right?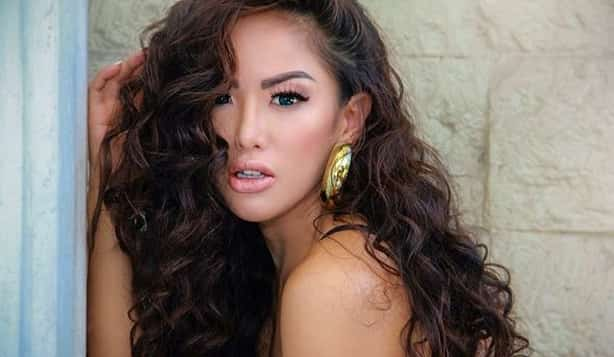 Other than acting, Gwen Garci wiki websites suggest that she is also a model. She has been the Filipino favorite cover girl in most of the men's magazines because of her killer body. Although she is close to her 40s, the actress looks young, beautiful and is often dressed to kill. Here is what you need to know about Gwen Garci wedding, daughter, husband, age, scandals, and much more.
Gwen Garci profile summary
Name: Mai Lee Ang
Date of birth: 7th May 1981
Place of birth: Tuba, Lucon Island, Philippine
Star sign: Taurus
Gwen Garci age: 38 as of February 2020
Nationality: Filipino
Occupation: Actress and model, a realtor
Famous for: Kasal-Kasalan film, Viva's Hot Babes
Height: 1 meter 70 centimeters (5 feet 7 inches)
Gwen Garci daughter: Naima Kimora
Gwen Garci actress's biography
Garci was born in Tuba, Lucan Island, Philippine, on 7th May 1981. This means that she is 38 years old currently and will hit the 39-mark come May 2020.
Little to no details are known about her childhood. Neither is her educational background nor her parents' details distinguished. Gwen is of Chinese, Japanese, Spanish, and Filipino descent.
Modeling and acting career
Mai Lee Ang entered the showbiz industry in the 20th century. Initially, she used the name Gwen Garcia, but as a result of her manager Jessica Rodriguez's suggestion, she dropped the last letter "a" in Garcia to adopt the name "Garci." There were a lot of celebrities using the name "Garcia" in the Philippines showbiz and so by having a unique name, she would quickly push her brand forward.
By the age of 16 years, she was already modeling! Young Garci participated and won in a local Body Shots contest. Her long career can be broken down into the following parts:
1. Gwen Garci and Viva Hot Babes
In 2001, a girl's group consisting of s*xy up-comers was formed by Viva Entertainment. Maui Taylor, Kristine Jaca, Sheree, Mykes Hermandez, Hazel Cabrera, Jen Rosendani along with Gwen, joined it. It was later branded "Hot Babes."
The band was officially launched in 2003's January edition of the FHM Magazine. The girls were introduced to all the Filipinos in a much-publicized copy of "Hotstuff" Magazine. During the first month, lots of copies were sold, forcing the company to print 4 million pieces for the following months.
The group members, including Gwen, were marketed as a pool of s*xy screen sirens. Soon they released the first special Hot Babes film with Garci, Jaca, and Cabrera starring along with Ella V, Anna Leah, and Agcaoili, who had supporting roles.
2. Gwen Solo ventures
Despite being loved by many, Garci's career never took off as she only appeared in softc*re film scenes. This forced her to adopt other solo ventures such as wedding modeling from which she churned out some earning and also built her name.
3. Gwen's new life in Las Vegas
The sensual starlet embarked on a new life in 2013. Speaking in an interview with ABS CBN News, the Hot Babe former member cited that she left the group to venture into other opportunities such as the Real Estate industry.
She, however, disclosed that she would rejoin the girls in the future. Gwen added on and said that she would go back to Philippine's showbiz industry anytime she wants.
READ ALSO: Kyuhyun's profile: age, height, girlfriend, birthday, family
Gwen Garci movies
Gwen has taken part in the following films:
1998 - Kasal-kasalan
2003 - Sukdulan
2003 - S*x Drive as Vivian
2003 - Narito ang puso ko (TV series)
2003 - Masamang ugat as Gina
2003 - First Time as Cris
2004 - Masikip sa dibdib - The Boobita Rose Story as Gwen
2004 - Mano Mano 3 - Arnis the Lost Art
2005 - Boso as Liza
2005 - K, (the Php. 1,000,000 Videoke Contest TV series) as herself
2006 - Extra! Extra! (TV series) as the competitor
2006 - Ligalig as Eleonor
2006 - Home Boy (television series) as herself
2007 - Marimar (TV series) as Olga
2007 - 3 Days of Darkness as Michiko
2008 - Room 213 as the photographer
2009 - Butas as Maya
2009 - Heavenly Touch as Sheila
2009 - Ang beerhouse as Jewel and Ningning
2010 - Bigasan as Wilma
2011 - My Binondo Girl (television series) as Lorraine
2013 - Sabine as Adriana
While under the Hot Babes group, she took part in the following s*xy home videos:
Hot Stuff - The Video in 2003
Viva Hot Babes Videoke Volume 1 by OPM Hits in 2003
Viva Hot Babes Videoke Volume 2 by Current Hits in 2003
Viva Hot Babes Videoke Volume 3 by Pop Standards in 2003
Er*tica - Lessons of the Flesh in 2005
Pinoy Kama Sutra in 2006
Bosom Bodies - Twin Peaks Exposed in 2007
Viva Hot Babes Gone Wild in 2007
Gwen Garci husband
The star is currently single. However, she has been in several relationships. Here are some of them:
Nicola Coccia
Gwen lived with Nicola for almost four years. Together they were blessed with a daughter.
Andrew Wolff and Gwen Garci
The star has also been linked with Andrew Wolff. Their whirlwind relationship was the talk of the town.
Gwen Garci and Mo Twister
Gwen and Mo Twister were among the principal cast of the "Hot Babes Gone Wild." DJ Mo Twister engaged in a truth and dare game with Garci and fans could notice some chemistry. However, none of them has ever come out to admit they were in a relationship.
Social media platforms
She is active on the following social media platforms.
Gwen Garci Instagram: @gwen8
Gwen Garci Facebook: @Garci.Gwen
Gwen Garci Twitter: @gwengarci15
Gwen Garci is undoubtedly talented. She has excellent modeling and acting skills. Most of the Filipinos and other international communities love her roles and always enjoy watching home videos and films she has been featured.
READ ALSO: Kai Sotto height, age, biography, family, stats
Source: KAMI.com.gh