Sue Ramirez bio: Height, age, Instagram, tattoo, photos
Manila is home to some of the Philippine's finest and most beautiful actresses and other celebrities. One doesn't need to look far to see faces such as that of Sue Ramirez. She has been making headlines with her roles in television series such as Pangako Sa 'Yo. Sue also doubles as a singer and model.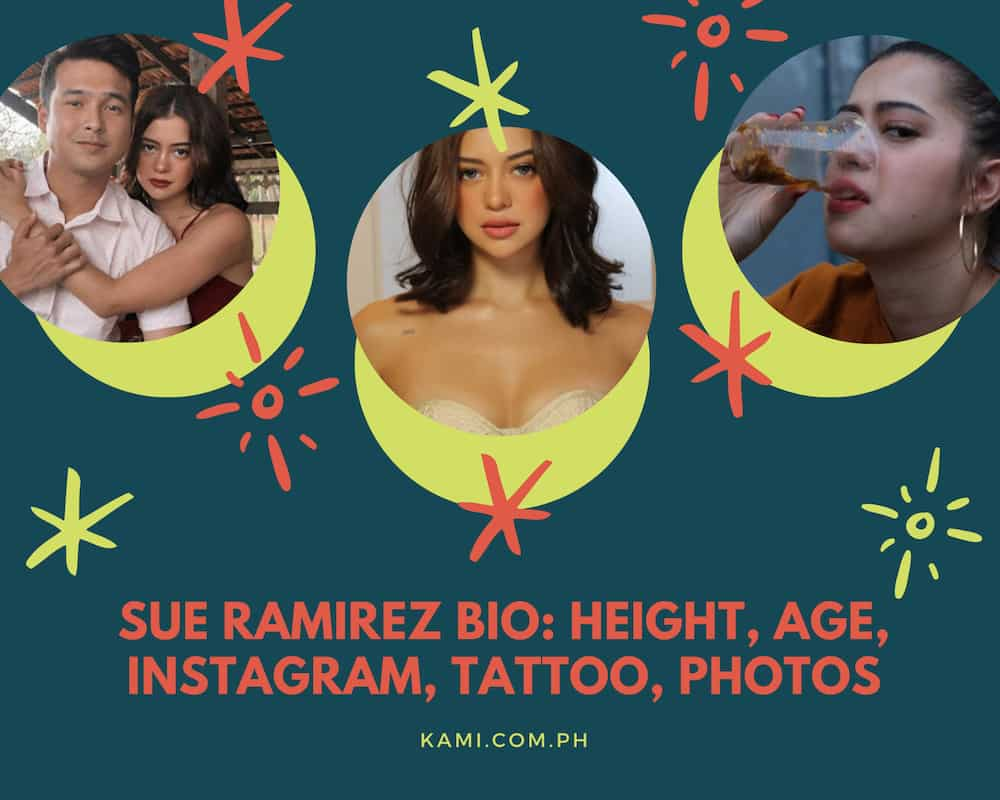 Sue Ramirez entered the acting stage during her early teenage years with minor supporting stints in ABS-CBN shows such as Annaliza, Angelito, and Mula sa Puso. After appearing in those shows, she was hungry for more, and her determination earned more and even bigger roles.
With experience and increasing appearances on the screen, she quickly became a household name not only in Manila but the entire Philippines and beyond. Since then, she has been nominated for several awards, demonstrating her competence as an actress and public figure.
Sue Ramirez profile summary
Real name: Sue Anna Garina Dodd
Nickname: Sue Ramirez
Date of birth: 20th July, 1996
Place of birth: Paranaque City, Philippines
Sue Ramirez age: 23
Nationality: Filipino
Parents: James Peter Dodd & Concepcion Garina Dodd
Brother: James Dodd
Sisters: 3
Height: 5ft 4 in
Education: Sacred Heart School in Paranaque
Profession: Actress, singer, model
Sue Ramirez biography
Sue Ramirez was born on Saturday, 20th July, in 1996 in the city of Paranaque, Philippines. The Filipino-American singer, actress, and model is the daughter of James Peter Dodd and Concepcion Garina Dodd. She is the last born of four siblings, a brother known as James Dodd and three sisters whose names have not been disclosed to the public.
Sue Ramirez father, James Peter Dodd, is an American citizen who used to be a senior officer of the US state department before retiring. Her mother, Concepcion Garina Dodd, on the other hand, is a Filipina hailing from Splay City, Negros, Occidental. Sue attended the Sacred Heart School in Paranaque.
READ ALSO: iKON members profile names, age, height, Instagram
Sue Ramirez height
Anna stands at five feet and four inches tall. Her other body measurements are in the ratio of 33-25-34 inches (chest-waist-hips). Besides, she has black hair and black eyes.
Boyfriend
Is Sue Ramirez dating now? Many, especially men, would be wishing that the beautiful actress is single, but unfortunately for them, she is in a relationship. Although she is the kind that prefers to keep such matters private, it emerged that she is dating Joao Constancia after they had been seen together for a long time.
Sue Ramirez movies and programs
The youthful actress has appeared in several television shows including:
Mula Sa Puso (2011)
Angelito: Batang Ama (2011)
Annaliza (2013-2014)
Dream Dad (2014)
Pangako Sa 'Yo (2015)
Dolce Amore (2016)
La Luna Sangre (2017)
Hanggang Saan (2017-2018)
A Soldier's Heart (2020)
In addition to the television shows, Sue Ramirez has also been featured in several movies such as:
Aswang (2011)
Just The Way You Are (2015)
A Second Chance (2015)
The Debutantes (2017)
Meant to Beh: Ika-something na Utos (2017)
Ang Babaeng Allergic sa WiFi (2018)
Morocco (2019)
Sunshine Family (2019)
Dead Kids (2019)
Cuddle Weather (2019)
I'm Ellenya L. (2019)
Kid Alpha One (2020)
Morocco (2020)
Mommy Issues (2020)
Tattoo
The beautiful Filipina queen has some tattoos, but you won't be able to see them if you are not too keen. Some of her new tattoos have been viewed as controversial by some of her fans. Sue Ramirez tattoo feature flowers inked on the left wrist and an eye inside a triangle near her elbow of the right arm.
Many appreciated the beauty of the tattoos, but others were quick to conclude that the eye inside a triangle tattoo is a symbol of Illuminati. The tattoos were done by a tattoo artist called Jeffrey Serrano.
READ ALSO: Erin Ocampo: biography, age, height, family, Instagram
Sue Ramirez photos
The photos of Sue attract thousands of likes and comments from her fans daily. These are people who visit her profile just to be updated on her recent activities and the kind of things she promotes.
Social Influencer
Not anybody can be an influencer in the world of social media. Many do claim to be social influencers, but without millions of followers, it is not possible to push an idea or product on people.
With 6.9 million followers, it is easy for Sue to attract large brands that would be willing to pay her to showcase their products, just like in the picture above. Beauty products are some of the things that she promotes or endorses more as young women are likely to copy whatever she likes.
Lonely girl?
Even celebrities were not spared from the effects of the Covid-19 that has spread throughout the world. In the Philippines, the president declared an enhanced community quarantine meaning the country was under lockdown.
Even at that, Sue was indoors following the restrictions, but she found a way to make herself feel good by trying out new earrings and sharing the photos with her fans.
Woman's most loyal friend
Sometimes having people as friends can be frustrating because, at some point, they do disappoint. Puppies, on the other hand, will stick by your side and won't even complain. That is why Sue Ramirez enjoys a good company with her puppy. She even does her workouts with the puppy, something that many of her fans admire.
Rocking pink in a style
This outfit was more of a statement by Sue. It seems she was referencing to bullies who criticize her about what she wears. In any case, she does look amazing and also revealed that the photo was taken after a detox session, something that many other women should consider doing.
Hot Sue Ramirez
Most of her photos have tens of thousands of likes, but this one has hundreds of thousands of likes, and it does not take rocket science to know why. She is rocking a b*kini in a swimming pool. Men will flock this post just to admire how beautiful she is while women will be demanding to know where to buy a similar b*kini and how to attain such a lean body shape.
Instagram
Sue Ramirez is a famous person when it comes to social media. She has over 6.9 million follows on Instagram alone. Here is her handle:
Sue Ramirez Instagram: sueannadoodles
The Filipino-American Sue Ramirez is a beauty queen who lives her life as she wants and not based on the perceptions of other people. She will wear an outfit to make her critics feel bad, and she won't twitch a muscle over it. Other than that, she is a sweet girl with a likable personality as long as there is no bad blood with her. She is very active on Instagram, where she posts photos regularly promoting products or updating her fans on her recent undertakings.
READ ALSO: Bhad Bhabie bio: Age, height, net worth, real name, tattoos
Source: KAMI.com.gh