Infinite members profile: Names, age, instragram, positions
Infinite is one of the most famous boys groups in South Korean. Woollim Entertainment formed this boy band in 2010. The group debuted in 2010 with their first EP dubbed First Invasion. If you are a fan and a follower of the band, then Infinite members are not new to you. Nonetheless, their popularity has grown far and wide thanks to their fantastic work.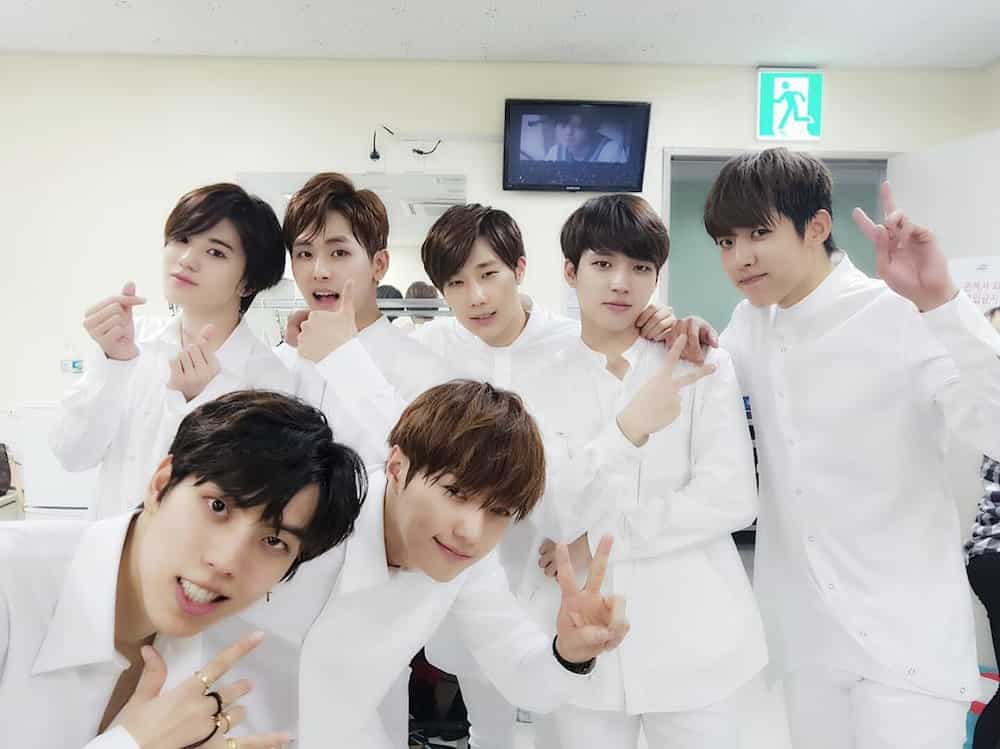 As at the moment, there are six Kpop Infinite members. Initially, they were seven but in 2007, Hoya left from the group. Currently, Infinite members names are Sungkyu, Dongwoo, Woohyun, Sungyeol, L, and Sungjong.
Throughout their career, the group has released several songs, taken part in various concerts across Asia, featured in films and television shows and more importantly won a considerable number of awards.
Infinite members profile summary
Other than their commonly used stage names, each Infinite members full name may be an area of interest to a majority of their fans worldwide. A more in-depth look at pieces of information such as Infinite members height, age, and generally, Infinite members profile and facts will help us understand more about this team.
Interesting facts of the group are as follows:
Agency: Woollim Entertainment
Debut: Jun 9th, 2010
Years active: 2010 - present
Country: South Korea
Fantom: Inspirit
Infinite members favorite color: Pearl metal gold
Facts about Infinite members
Despite being among the most celebrated group in the Asian continent, some facts remain unknown about these members. For instance, information pertaining to Infinite members birthdays, Infinite members age and height.
Find below Infinite members Hangul plus other crucial pieces of information.
Sungjong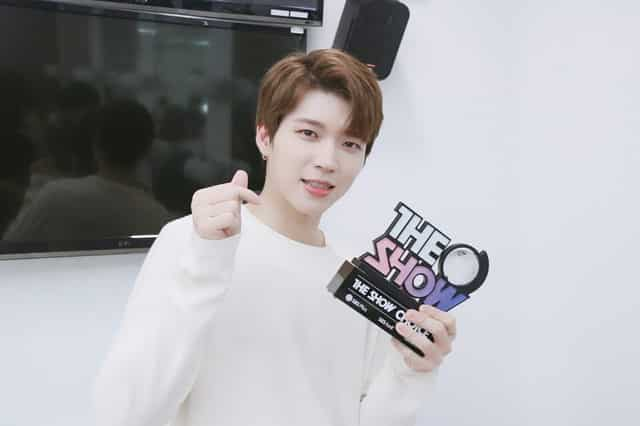 Real name: Lee Sung Jong
Hangul: 이성종
Stage name: Sungjong
Nickname: Diva, Beautiful Man, Jjong
Date of birth: September 3rd, 1993
Age: 26 years
Zodiac sign: Virgo
Place of birth: Seoul, South Korea
Height: 5 feet 10 inches or 179 cm
Weight: 54 kg
Blood type: A
Nationality: South Korean
Position: Vocalist, Maknae
Sub-unit: Infinite F
Instagram page: @ssongjjong.ifnt
Twitter account: @infiniteyounges
Random facts about Infinite members Sungjong
He thinks that he is photogenic.
He has a brother who is three years younger than him, named Seonkyu.
His role model is Michael Jackson.
Among all the Infinite members, he is the best at girl group dances.
His favorite color is yellow.
Likes to release his anger by punching the stuffed doll.
Sungjong listed his eyes as the body part he is most confident with.
His ideal type of girl is one who is chubby and cute.
Woohyun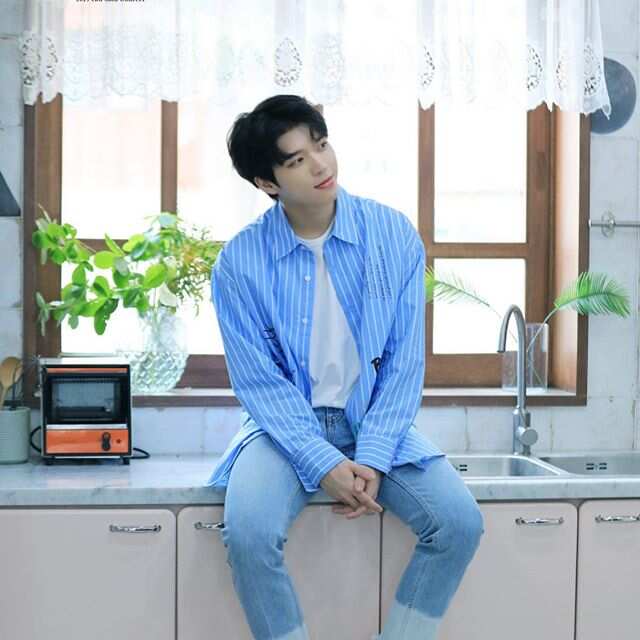 Real name: Nam Woo Hyun
Hangul: 남우현
Stage name: Woohyun
Nickname: Namu
Date of birth: February 8th, 1991
Age: 29 years
Zodiac sign: Aquarius
Place of birth: Chungcheong, South Korea
Blood type: B
Height: 5 feet 9 inches or 176 cm
Weight: 58 kg
Nationality: South Korean
Position: Main vocalist, lead dancer, temporary Leader
Instagram page: @nwh91
Twitter account: @wowwh
Random facts about Infinite members Woohyun
He actively plays soccer in the FC Men, a soccer team which consists of members from idol groups.
He has an elder brother by the name Nam Bo Hyun who is a popular BBQ restaurant owner.
He passed the audition by singing Stevie Wonder's Lately.
He dreamt of becoming a soccer player, but he gave up because he didn't have much stamina.
He used to work at his family restaurant.
He has a dream to become a national variety MC like Yoo Jae Suk.
He used to dislike Sungkyu at first but, he is very close to him at the moment.
READ ALSO: Hashtags members: names, ages, girlfriends, fun facts
Sungyeol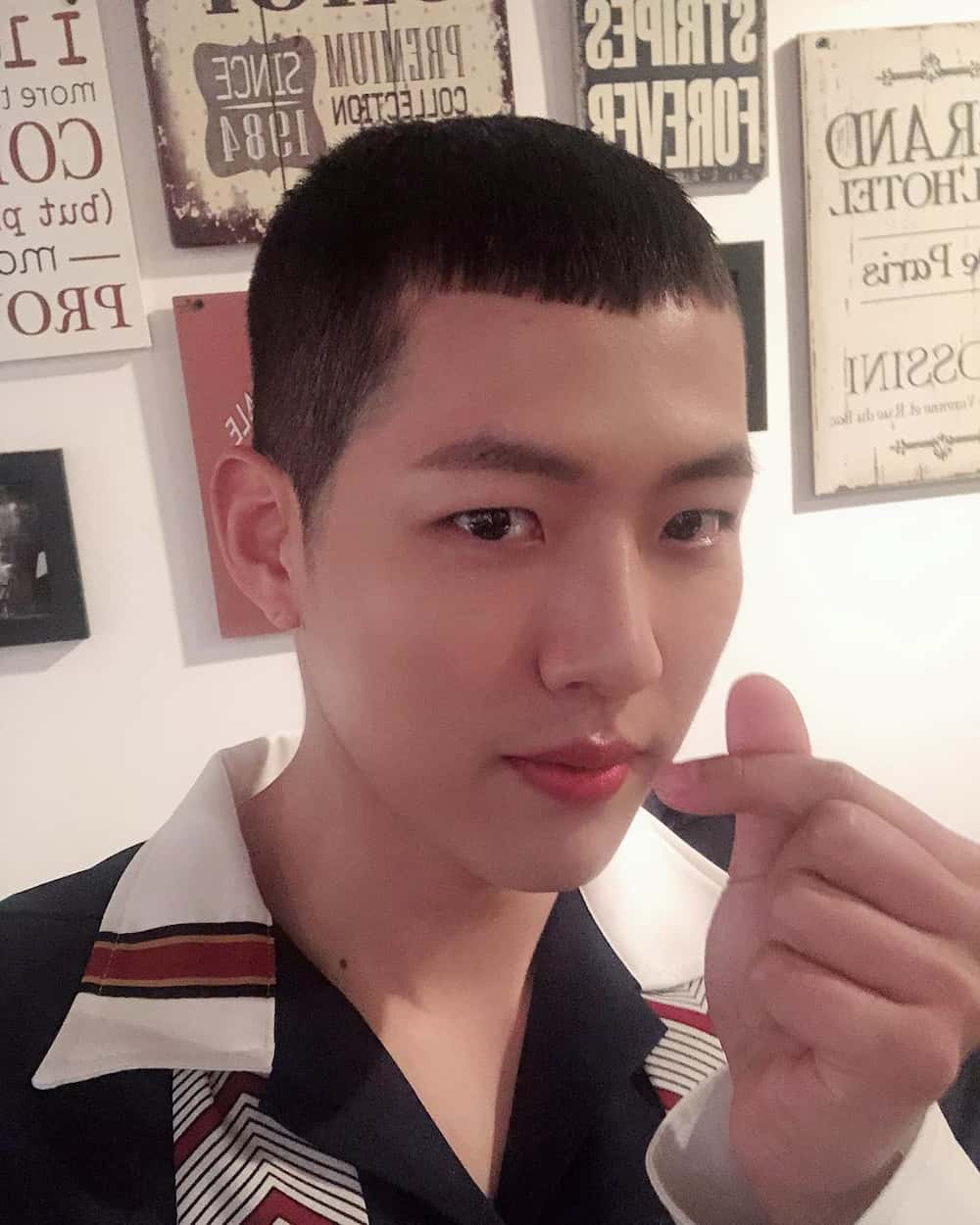 Real name: Lee Seong Yeol
Hangul: 이성열
Stage name: Sungyeol
Nickname: Choding, Kindergarten boy
Date of birth: August 27th, 1991
Age: 28 years
Zodiac sign: Virgo
Place of birth: Yongin, Gyeonggi-do, South Korea
Height: 6 feet or 183 cm
Weight: 59 kg
Blood type: B
Nationality: South Korean
Position: Sub-vocalist
Instagram page: @leeseongyeol_1991
Twitter account: @Seongyeol1991
Random facts about Infinite members Sungyeol
He is a fan of Taeyeon of Girls Generations.
He was a trainee actor on S.M Academy.
He graduated from Daekyung University, majoring in Applied Music.
He has dyslexia, which runs in his family.
Sungyeol's favorite food is Ton Katsu
He admitted to having a crush on Taeyeon of Girls' Generation.
He used to pet a turtle and parrot.
Dongwoo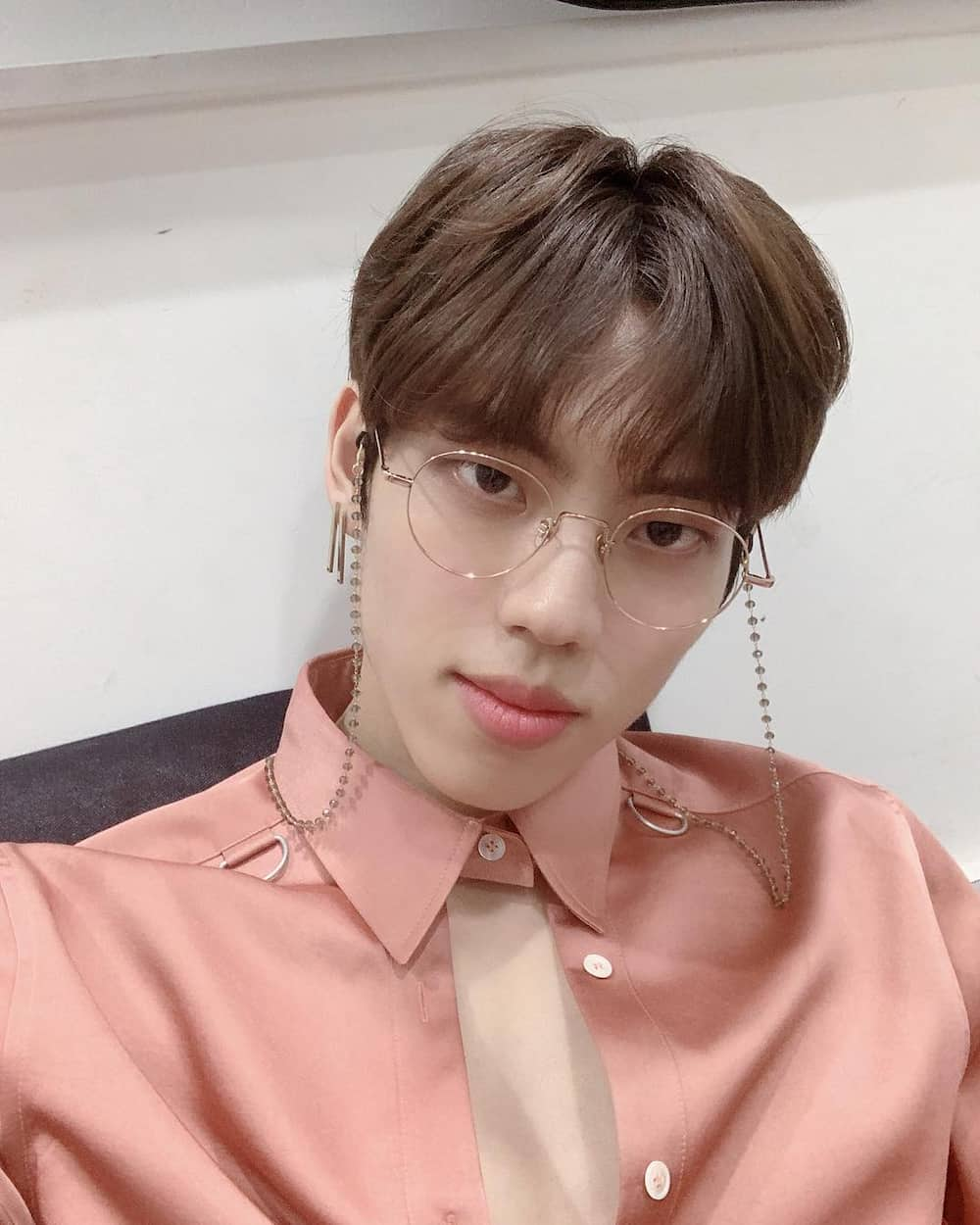 Real name: Jang Dong Woo
Hangul: 장동우
Stage name: Dongwoo
Nickname: Dinosaur, Monkey Boy, Mother of Infinite, Smile Man
Date of birth: November 22nd, 1990
Age: 29 years
Zodiac sign: Sagittarius
Place of birth: Guri, South Korea
Height: 5 feet 9 inches or 171 cm
Weight: 58 kg
Blood type: A
Nationality: South Korean
Position: Main rapper, main dancer, vocalist
Instagram page: @ddong_gg0
Twitter account: @inspiritddww
Random facts about Infinite members Dongwoo
He is officially registered as a songwriter with the Korean Music Copyright Association.
He a graduate of Daekyung University.
His favorite colors are green, gold and white.
He chose BEAST's Yoseob as an idol he wants a duet with.
He easily shed tears especially towards things that are related to Infinite.
He has two elder sisters.
He went to the same school with EXO's Xiumin.
Myungsoo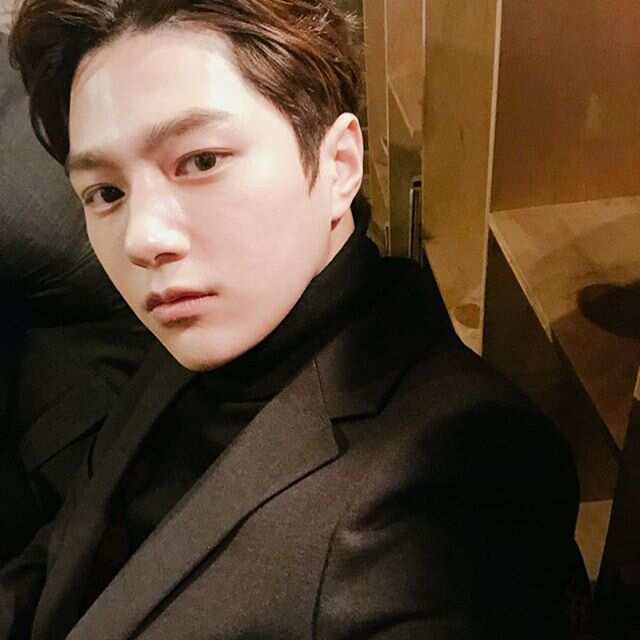 Real name: Kim Myung Soo
Hangul: 김명수
Stage name: L/Myungsoo
Nickname: Cold City Man, Center
Date of birth: March 13th, 1992
Age: 27 years
Zodiac sign: Pisces
Place of birth: Seoul, South Korea
Height: 5 feet 11 inches or 180 cm
Weight: 60 kg
Blood type: O
Nationality: South Korean
Position: Lead vocalist, visual
Instagram page: @kim_msl
Twitter account: @INFINITELKIM
Random facts about Infinite members Myungsoo
He is a graduate of Daekyung University, majoring in Applied Music.
He was a voice actor for the cartoon 'Welcome to the Convenience Store.'
He feels that a habit he needs to fix is his stubbornness.
His hair is naturally curly and frizzy.
Out of the Infinite members, he eats a lot.
Has a younger brother.
He has a higher temper.
He was inspired to become a singer by Craig David.
Sunggyu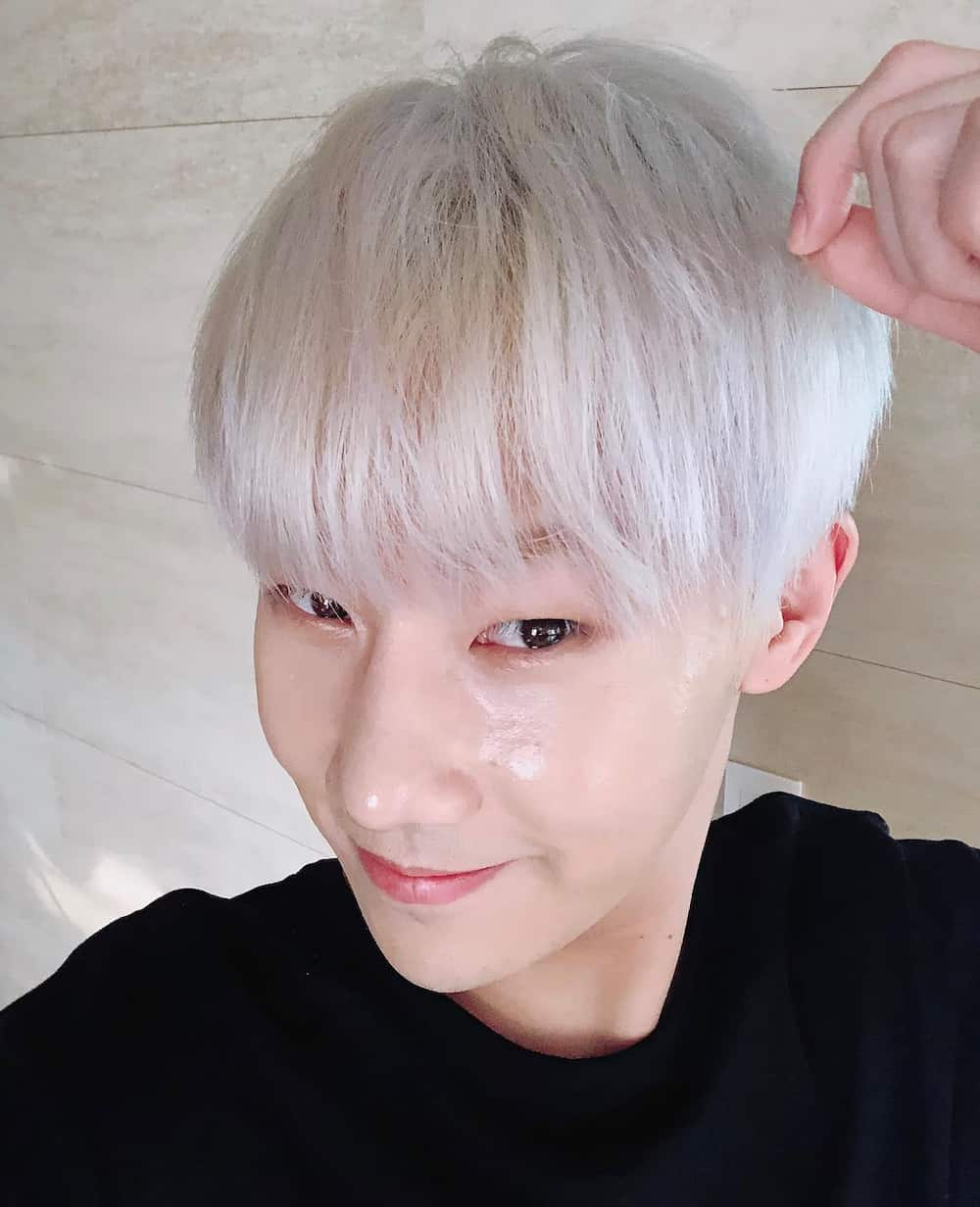 Real name: Kim Sung Gyu
Hangul: 이성종
Stage name: Sunggyu
Nickname: Grandpa, Leader, Hamster, Gyujiji
Date of birth: April 28th, 1989
Age: 30 years
Zodiac sign: Taurus
Place of birth: North Jeolla, South Korea
Height: 5 feet 10 inches or 178 cm
Weight: 62 kg
Blood type: A
Nationality: South Korean
Position: Leader, main vocalist
Instagram page: @gyu357
Twitter account: @kyuzizi
Random facts about Kim Sung Gyu
He was the fastest member who learnt the scorpion dance.
While in Senior High School, he was in a school band called Comabeat.
His parents were not supportive of his desire to become a singer.
He was enlisted in the military on May 14th, 2018 and was discharged on January 8th, 2020.
He was a part-time worker at a cafe before his debut.
He acted in the drama Pure Love of 2013.
Infinite members personalities have been their greatest assets in their entertainment career. The group has released songs, acted dramas as well as movies.
READ ALSO: BTOB members' profile: Age, facts, birthday, height, religion
Which is your Infinite members favorite number? Check some of their best selling collections below.
Korean albums
Over the Top released in 2011
Season 2 released in 2014
Top Seed produced in 2018
Japanese albums
Koi ni Ochiru Toki produced in 2013
For You released in 2015
Air produced in 2017
The group has also featured in a number of television shows and movies. Find out below some of the exciting dramas and films they have appeared in.
Infinite members movies
Infinite Concert: Second Invasion Evolution the Movie 3D
Grow: Infinite's Real Youth Life
Infinite members drama list
You're My Oppa in 2010
Japan Days Of Infinite in 2010
Sesame Player in 2011
Birth Of A Family in 2012
Ranking King in 2012
Korea Infinite Busan Wish Travel in 2012
10 Days In Japan Story in 2013
This Is Infinite in 2014
Every1 Infinite's Showtime from 2015 to 2016
Infinite members Instagram and Twitter accounts
The group is an active member of the social media fraternity, where it has a substantial number of followers. If you want to keep yourself updated about the group current and future projects, you can follow them using the links below.
Infinite members Twitter account: @official_ifnt
Instagram page: @official_ifnt_
vLive channel: Infinite channel
Who are Infinite members girlfriends?
Despite rumors existing here and there concerning the relationships of some members, their relationship status remains unclear.
Infinite members fight
Despite the friendly demeanor portrayed on cameras, two of the team's members have been involved in a fight before. On a radio program way back in 2015, Infinite revealed that L and Sungyeol came to blows at one point. However, the reason for their disagreement has never been revealed.
Infinite members remain to be amazing artists to watch out for not only in South Korea but also in the entire Asian continent. They are indeed an inspiration to many upcoming singers around the world.
READ ALSO: Bigbang members' profile: age, height, military, dating
Source: KAMI.com.gh