Rodrigo Duterte is the current president of Philippine having been elected to the country's top job in 2016. The 'Punisher', as many would love to refer to him is, without a doubt, one of the most popular presidents in the world. He is also the first Philippines president from Mindanao and the first one to have worked in the three arms of government.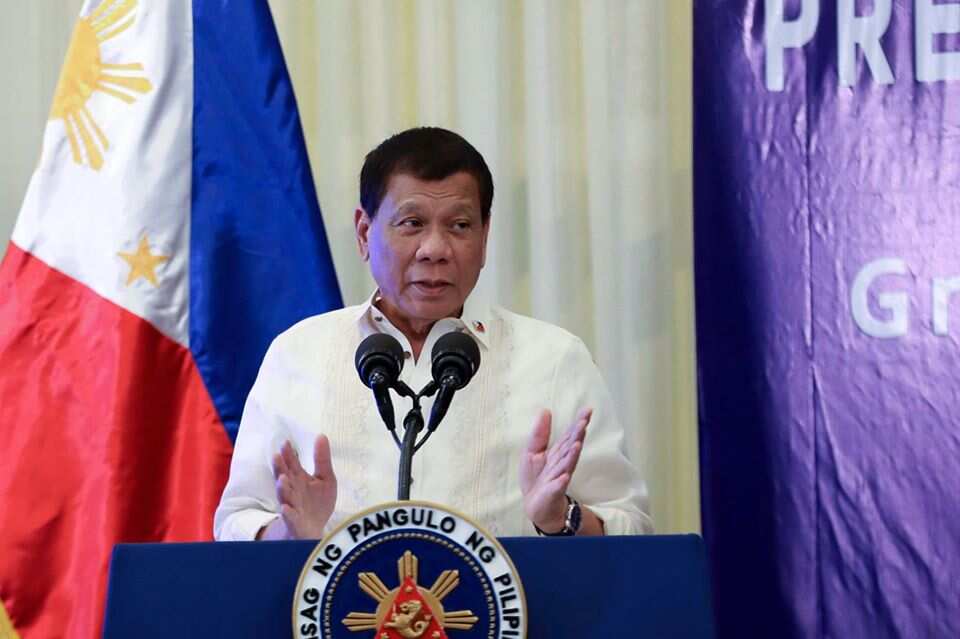 Before becoming the president, the lawyer and politician served as a mayor of Davao City for seven terms. The rise of Duterte to the presidential seat has not been smooth, he has had to face numerous human right criticisms, but his relentless effort to stop criminals has kept him going.
Rodrigo Duterte profile summary
Real name: Rodrigo Roa Duterte
Nickname: Digong or Rody or the punisher or Duterte Harry
Rodrigo Duterte birthday: March 28th, 1945
Rodrigo Duterte age: 74 years
Zodiac sign: Arie
Place of birth: Maasin, Lyete, Philippines
Profession: Politician, lawyer
Sexual orientation: Straight
Rodrigo Duterte height: 5 feet 7 inches or 1.7 meters
Rodrigo Duterte biography
Rodrigo Duterte was born on March 28th, 1945 in Maasin, Lyete in the Philippines. He is the son of Vicente G. Duterte and Soledad Roa. His father was a provisional governor of Davao, and Soledad, on the other hand, was a teacher and a community activist.
Education
He started his education at Laboon Elementary school in Maasin. However, within a year, his parents moved to Davao City, where he joined Santa Ana Elementary School and graduated in 1956. In high school, Digong was expelled twice because of unruly behavior. He later joined High School Department of the Holy Cross College in Digos where he continued with his studies.
READ ALSO: Rico Blanco bio: age, wife, family, dating history
Upon completing his high school education, Rodrigo Duterte joined Lyceum of the Philippines University in Manila to pursue a degree in political science. He earned his degree in 1968 and went on to enroll for a law degree at San Beda College where he graduated in 1972.
Career and Rodrigo Duterte achievements
After his graduation from the San Beda College in 1972, Rodrigo began working at City Prosecution Office of Davao City.
Davao City mayor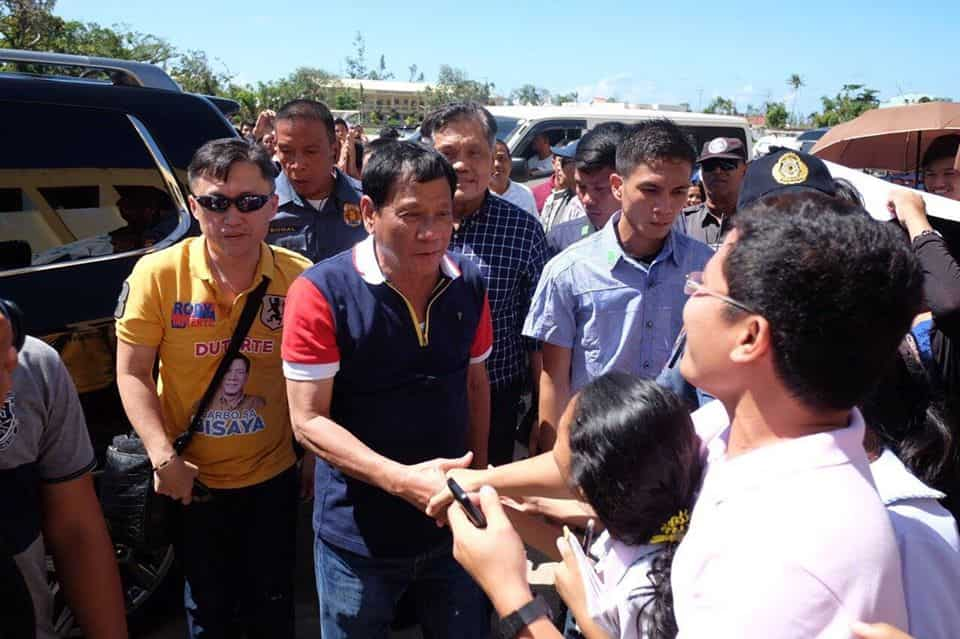 In 1977, the sixteenth president of Philippines was named special counsel at the City Prosecution Office of Davao City. Two years later he became an assistant to the City prosecutor, and in 1986, he changed ranks from law to politics as he was elected vice mayor of Davao City.
In the same year, the then-president of Philippines Ferdinand Marcos was ejected from office in the 'People Power Revolution' and a result there was an increase in crime cases, particularly in Davao City. When he was elected as a mayor in 1988, he sought to hunt down all those involved in criminal activities. He did so by imposing curfews and strict drinking laws.
Rodrigo also permitted the actions of vigilante 'Duterte Death Squad' and 'Davao Death Squad' to crackdown and kill over 1000 gang members and drug dealers. Because of the controversial methods, he was called the 'Punisher'. Nonetheless, he helped lower the rate of criminal activities in the city.
READ ALSO: Bela Padilla bio: age, height, parents, real name
Additionally, he became more famous for enforcing a ban on smoking and his LGBT-friendly measures. As a result, he served the city for seven terms.
President
After initially dismissing the proposition that he would run for the country's top job, he decided to run in late 2015. Among his campaign pledges were to revive the steel industry and have a new federal parliamentary government in the country. However, his campaigns took a fresh twist with outrageous statements.
He would promise to kill criminals and his refusal to apologize for a joke he made over the rape of Australian missionary attracted criticism. His controversial remarks drew a comparison to the United States President Donald Trump. Rodrigo's campaigns won him the presidency in 2016 and on June 30th, 2016 he was inaugurated as the 16th president of Philippines.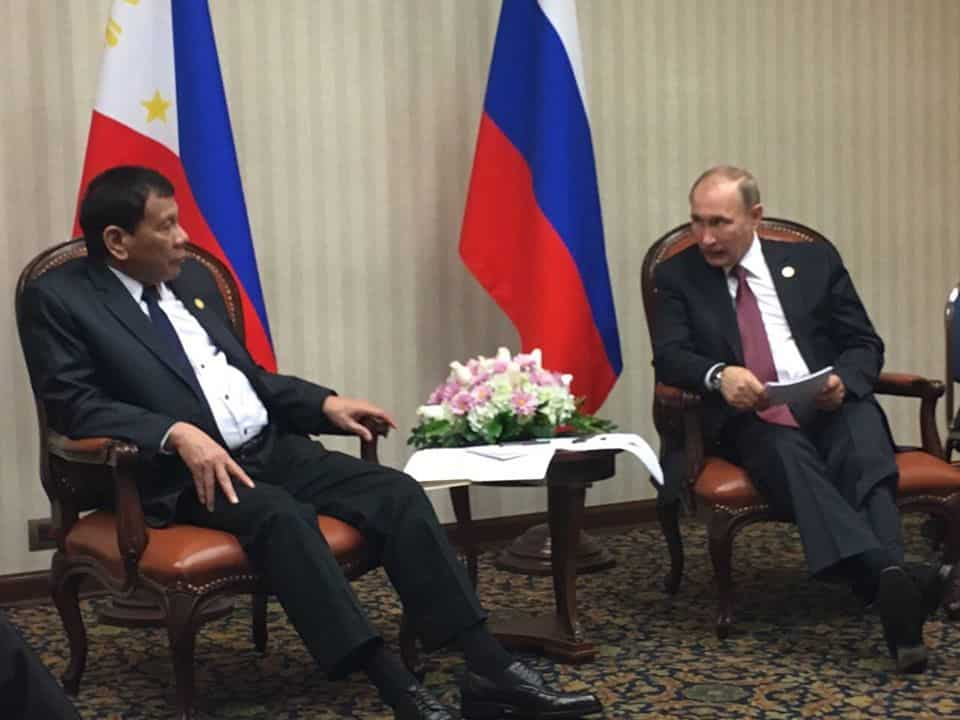 His first six months in office saw more than six thousand people killed on his war against drugs. Whereas some of the people were killed during police operations, an overwhelming number lost their lives from extrajudicial killings. It thus attracted criticism from the Roman Catholic and human right activist.
However, the president was quick to respond by counter-accusing the church of corruption and sexual abuse. In 2018, the International Criminal Court opened a preliminary investigation into the 'war on drugs' that resulted in the loss of lives of more than 6000 people. In March, Rodrigo Duterte made it public that his country would be withdrawing from the Statute, a threat that became official in March 2019.
Domestic and international human right organisations continue to criticize his leadership. Still, he remains adamant and dismisses them going as far instructing the police to shot the activist if they stand in the way against justice.
Rodrigo Duterte net worth
The Philippines president's net worth was estimated to be P28.540 in 2017. As of December 31st 2017, he had total assets worth P29,340,321.07.
Rodrigo Duterte wife and family
He first married Elizabeth Zimmerman, a flight attendant in 1973 and the couple had three children. Two of his children Sara and Paolo have followed their fathers into politics. His marriage was however annulled in 2000. The president also has a daughter with Honeylet Avancena, his common-law partner.
READ ALSO: Alice Dixson bio: age, children, dating history, family
Rodrigo Duterte daughter
Sara Duterte first rose to prominence when she punched a sheriff in 2011 for implementing a court order to demolish shanties. She is currently the mayor of Davao City, a position formerly held by her father. As a mayor, Sara has emerged as an influential politician. In the mid-term election, the determined Sara worked closely with prominent politicians to campaign for candidates who pledged support to his father.
Nine of the candidate she rallied support for won their senate sits. Her significant involvement in the country's politics hands her a high political profile with speculations that she is likely to take over the presidential seat when her father hung the boots in 2022.
Rodrigo Duterte quotes
The president has been known to make controversial remarks. Nonetheless, some of his statements, like the ones below, depicts intelligence and his leadership acumen.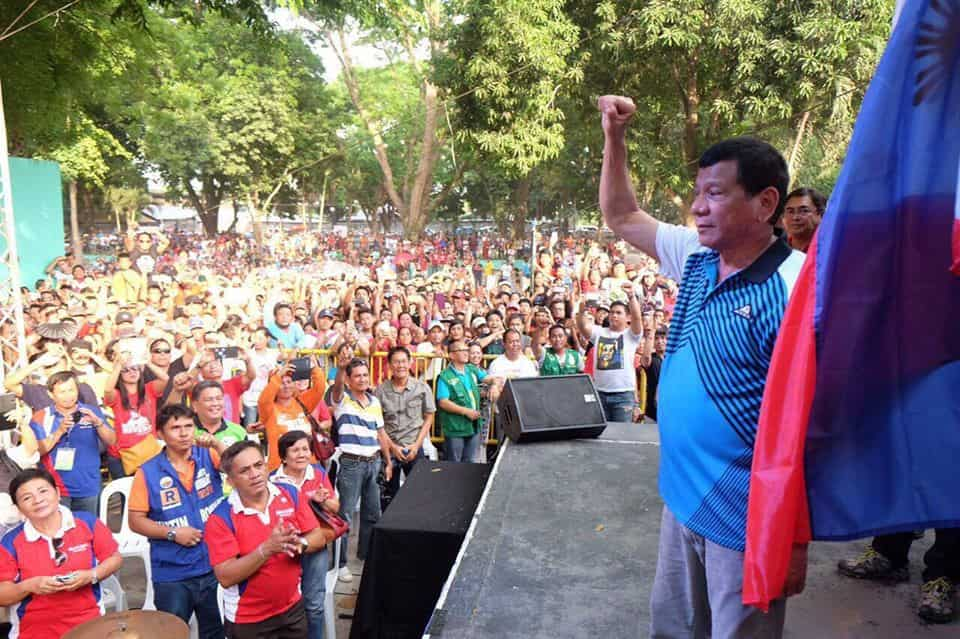 I am no American puppet. I am the president of a sovereign country, and I am not answerable to anyone except the Filipino people. Son of a bitch, I will swear at you.
Hitler massacred 3 million Jews. Now, there are 3 million drug addicts. I'd be happy to slaughter them.
Forget the laws on human right. If I make it to the presidential palace, I will do just what I did as mayor. You drug pushers, hold-up men and do-nothings, you better go out. Because I would kill you, I'll dump all of you into Manila Bay, and fatten all the fish there.
They are saying that I'm part of a death squad? True, that's true.
I was angry she was raped, yes that was one thing. But she was so beautiful. I think the mayor should have been first. What a waste.
Rodrigo Duterte memes
Following his controversial stances, the Philippines president has become an internet sensation with memes featuring his image coming from left, right, and center. Check out some of this most amazing memes.
Portraying his harsh tone of drug dealers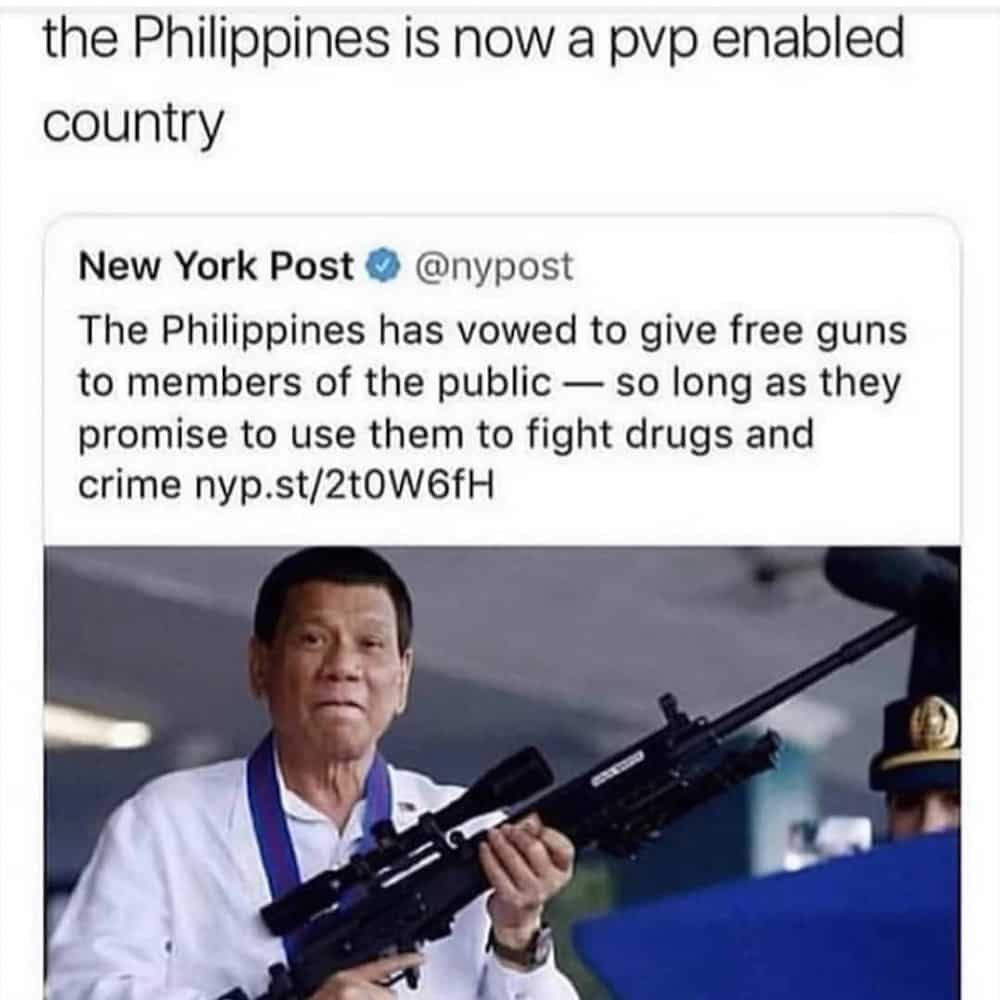 Sometimes he can be too harsh with words on fellow leaders.
Rodrigo Duterte is, without doubt, one of the famous rulers on the globe. He is popularly identified with his extrajudicial measure against drug lords and peculiar reputation.
READ ALSO: Kris Lawrence bio: age, net worth