Video ng pintuan ng simbahan na ayaw bumukas para makarampa na si bride, viral
- A video of a church door that is seemingly stuck and refused to open has gone viral
- What made the video tickle the fancy of netizens was that the bride was actually outside the door, standing
- Two people were trying to open the door, one on the left and the other on the right
- They made several attempts to get it open, even asking for help before it finally gave in, and allowed the waiting bride to make her bridal walk
A video of a church door, refusing to budge and open wide in order for the bride to make her grand bridal walk has gone viral.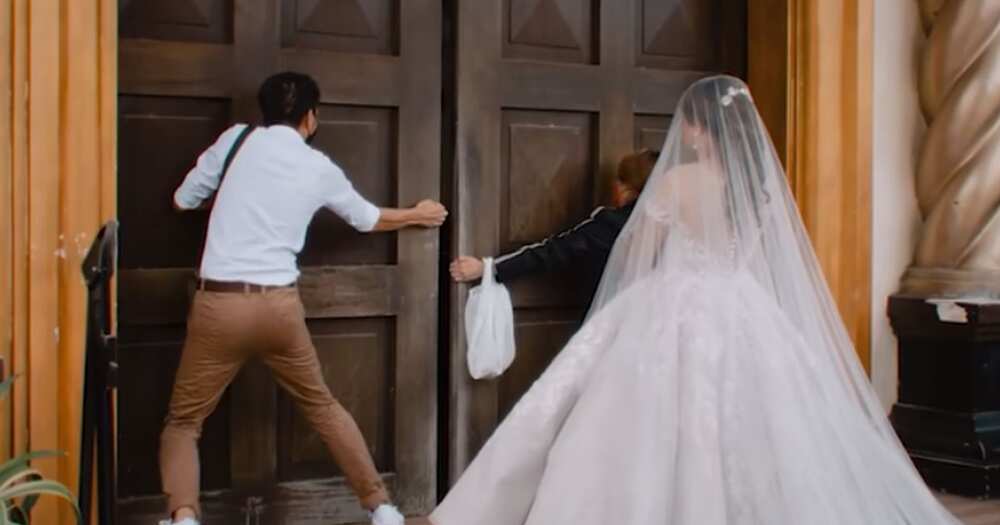 In the video uploaded by News5, the bride was already standing outside the church, just waiting to make her grand entrance.
However, both left and right panels of the door refused to budge.
Two people were already trying to open it, with one trying to open the right panel, and the other trying to open the left.
One could see the profound effort that the two people were exerting in order to open the doors.
They even asked for help or else, the bride may not be able to enter the church.
Finally, they were able to open the door and the bride got to make her much-awaited bridal walk.
Viral stories are often the ones that touch the emotions of people. Many of these stories are about how people overcome obstacles and become victorious. Others are about humorous circumstances, though there are a few that talk about sad endings.
One example of a viral video was that of a boodle fight held recently in Bacolod City. Many netizens reacted and expressed their opinions about it. The said boodle fight was in commemoration of the so-called Lechon Festival in Barangay Cabug, Bacolod City, as part of their annual charter day anniversary. In the video of the said banquet attended by many participants, one can see several people scooping out the lechon piled in the middle of the table with their bare hands and taking it away.
As regards a viral story, a recent story that grabbed netizens' attention was that of a Pinay teenager who has gone viral after calling Charles & Keith luxury in a video. Subsequently, she received a surprise gift from Charles & Keith, the maker of the bags, who made two Gabine bags that they customized just for her. The company also commended Zoe Gabriel for the grace that she showed in handling the situation. Aside from this, the company also hoped that it will remind Zoe of the special moment when she inspired so many.
Source: KAMI.com.gh