Video ng isang staff na mala-superhero sa bilis kung magligpit ng pinagkanan sa isang fastfood resto, viral
- The video of a staff who moved with a superhero-like speed in cleaning up a table in fastfood resto
- In the video, one can see the unidentified staff move with great speed in picking up the tableware presumably left by customers who ate there
- While the uploader did not say where and when the video was taken, what seemed to be a geotag that read Lapu-Lapu City, Philippines, appeared at the beginning of the footage
- As of writing, the said video has already reached 5.1M views, with 214K reacts and 11K comments
The video of a staff who, with a speed like that of a superhero in cleaning up a table in what appeared to be like a fastfood restaurant, has gone viral.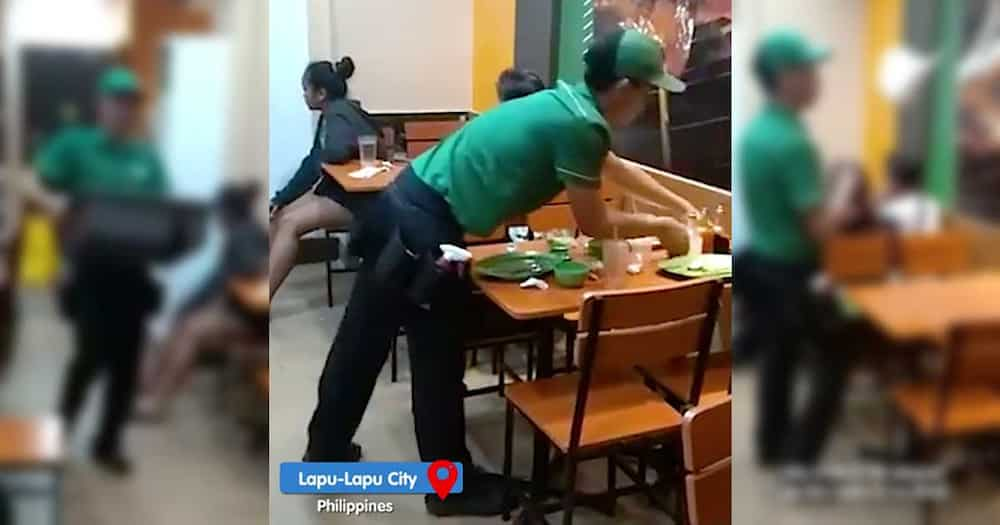 In the video, one can see the unidentified staff casually moving towards a table presumably left by customers who ate there.
After setting down the dish buss or bus out tray that he carries with him, he started picking out the tableware beginning with the glass tumblers, followed by spoons, forks, and plates, with great speed and putting them inside the dish buss.
With moves similar to that of bartenders mixing and pouring out drinks, he took out his cleaning cloth and table cleaner spray and started to wipe the table with speed and style.
He then proceeded to clean the condiments contained in glass flasks in a similar speedy and stylish fashion.
Not content with cleaning the table, he then arranged the chairs properly before leaving.
Although the video uploader did not say where or when was the footage taken, what seemed to be geotag reading Lapu-Lapu City, Philippines, can be seen at the beginning of the vid.
As of writing, the said video has gained around 5.1M views, with 214K reacts and 11K comments.
Viral stories are often the ones that touch the emotions of people. Many of these stories are about how people overcome obstacles and become victorious. Others are about humorous circumstances, though there are a few that talk about sad endings.
One example of a viral video was that of a boodle fight held recently in Bacolod City. Many netizens reacted and expressed their opinions about it. The said boodle fight was in commemoration of the so-called Lechon Festival in Barangay Cabug, Bacolod City, as part of their annual charter day anniversary. In the video of the said banquet attended by many participants, one can see several people scooping out the lechon piled in the middle of the table with their bare hands and taking it away. As of posting, the video, which has been posted on a local online news outfit, Digicast Negros, has already gained 52K reacts and 18K comments with more than 2.2 million views.
As regards a viral story, a recent story that grabbed netizens' attention was that of a Pinay teenager who has gone viral after calling Charles & Keith luxury in a video. Subsequently, she received a surprise gift from Charles & Keith, the maker of the bags, who made two Gabine bags that they customized just for her. The company also commended Zoe Gabriel for the grace that she showed in handling the situation. Aside from this, the company also hoped that it will remind Zoe of the special moment when she inspired so many.
Source: KAMI.com.gh