Maternity Leave in the Philippines, explained
- Lawmakers have been seeking to improve the benefits of all pregnant working women and mothers in the country
- The Senate and House of Representatives have been working to increase the Philippines maternity leave
- Now, the decision is up to President Duterte if he will sign it into law
PAY ATTENTION: Click "See First" under the "Following" tab to see KAMI news on your News Feed
Giving birth could really be hard to all women, especially to all working moms and/or solo mothers. Therefore, many lawmakers have been pushing to increase the maternity leave entitled to every pregnant woman. As stated in Republic Act No. 1161 Section 14 A, every employee under the Act is entitled to sickness benefit. Wherein, the employer shall pay for the employee's confinement and such.
Many amendments have been made to this Act and KAMI has learned all these from Smart Parenting and ABS-CBN news. Here's your guide to knowing more about the current state of maternity leave in the Philippines.
Republic Act 7322 (1992)
As an amendment to Section 14 A of RA 1161, RA 7322 is the existing law which aims to increase the maternity leave for women workers in all private sectors. This includes 60 paid leave for those who went through normal delivery and 78 for those who had caesarian section (C-section). The 60-day leave is also applicable to those who experienced miscarriage and abortion. Female employees must be given 100% of their basic salary and allowances. However, the Act limits the benefit for the first four deliveries only.
Social Security System (SSS) must reimburse the employer for the advanced benefits given to the employee once the receipt of proof has been received.
Republic Act 8282 (Social Security Law)
Back in 1997, RA 8282 also known as Social Security Law has been passed where in it states that all female member of Social Security System (SSS) are entitled to maternity benefits given that they had paid a three-month contribution in the preceding semester of the childbirth. The benefits are the same as mentioned in RA 7322, 60 and 78 paid leave for the first four child birth.
The employer is required to give the full maternity leave within the 30 days it has been filed. For those declared as self-employed or voluntary, SSS will give the benefits to them directly.
Senate Bill 2982 (Expanded Maternity Leave Law of 2015)
In 2015, lawmakers have filed Senate Bill 2982 or the Expanded Maternity Leave Law of 2015. The goal of the bill was to increase the maternity leave from 60 days to 100 days for all working women in both private and public sectors. In addition, this applies for both normal or caesarian deliveries. This also entails an option of additional 30-day leave without pay.
Pregnant workers who availed the maternity leave and benefits must get not less than 2/3 of their regular monthly salaries.
PAY ATTENTION: Using free basics app to access internet for free? Now you can read KAMI news there too. Use the search option to find us. Read KAMI news while saving your data!
Senate Bill 1305 (Expanded Maternity Leave Law of 2017)
On the other hand, Senate Bill 1305 or Expanded Maternity Leave Law of 2017 seeks to increase the paid maternity leave to 120 days for women workers in both public and private sectors. This also adds an option of 30-day leave without pay.
The bill also provides parental leave for adoptive parents whether male or female. They will be given 30-day paid leave after legally adopting a child of any age to have an ample time to adjust.
Solo parents can get an additional 30-day leave which makes it to 150 days of paid leave. For first time mothers, she can transfer up to 30 days of leave to her husband or any family member that helps her take care of the newborn.
On that note, the Paternity Leave Act of 1996 declared that married male workers are entitled to 7 days of leave upon the delivery of his legal spouse for the first four deliveries.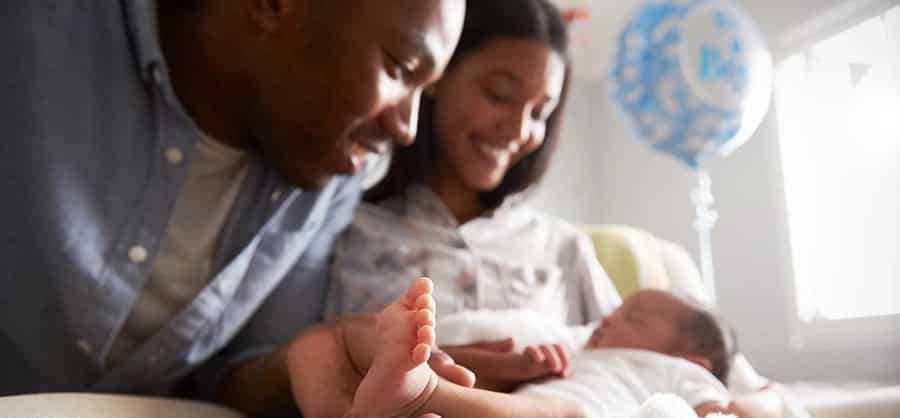 The maternity leave also covers married or unmarried women even female workers in informal economy.
For those non-members of SSS, they will be covered by PhilHealth Circular No. 022-2014 or Social Health Insurance Coverage and Benefits for Women About to Give Birth. You can read more about it here.
House Bill 4113 (100 Day Maternity Leave Law)
Recently, House of Representatives has passed on final reading the House Bill 4113 which seeks to make the maternity leave good for 100 days. This is shorter than Senate Bill 1305 which proposed to increase the maternity bill up to 120 days.
Expanded Maternity Leave Act of 2018
In the Expanded Maternity Leave Act of 2018, it has been stated to increase the maternity leave for 105 days. This Act also seeks to allow to transfer 7 days of leave to the fathers which then extends their paternal leave to 14 days.
The Act also states that solo working mothers could get an additional 15 days of paid leave which will make it to a total of 120 days. All pregnant female workers also have a choice to avail an additional 30 days of leave but without pay. The Act covers all pregnancies may the female be married or unmarried.
During the bicameral conference last October 3, 2018, the Senate and the House has ratified the bill for all working mothers. The Act has been passed to Malacañang and the decision is now up to President Rodrigo Duterte.
Today we are going to ask Philippines strangers some very funny Tagalog tricky questions! Do you think you can answer them correctly? These individuals from the Philippines have their answers! Is Jollibee an Ant or a Bee? This questions might sound easy, but in reality, they are pretty tricky and it is easy to make a mistake! – on KAMI HumanMeter YouTube channel!
Source: KAMI.com.gh